We lived in a unique universe . . . There was a distinct bond between us because we were in it together. We were taught about school, work, animals, God, the Puritan ethic and baseball. And we seemed to miss out on bullies and hoods, dope peddlers and girls.
-CJ Kingston II describing growing up on the Farm

Times have changed a lot on our farm and in the surrounding Casablanca Valley since CJ Kingston settled there in 1918. Our family has passed along many stories and traditions over the years, but we get most of our perspective, history and understanding of the past from the third generation, which includes five siblings: CJ II (now deceased), Peter, Michael, Susan and Sally.
The Kingston children lived on the farm from birth until they turned 13, at which time they went to the United States to attend boarding school. Until that point they were homeschooled by their mother, Janet.
For this blog we've attempted to paint a picture of what life was like for them as children on the Farm, and in the US, in the 40s and 50s. We sent questions to each of the siblings, all of whom currently live in the States, with the exception of Sally who still resides on the Farm and in Santiago with her husband, Enrique. We also had an additional phone conversation with Michael, to clarify a few points.
We hope it provides you with a glimpse of what it was like for our family growing up in Casablanca, Chile.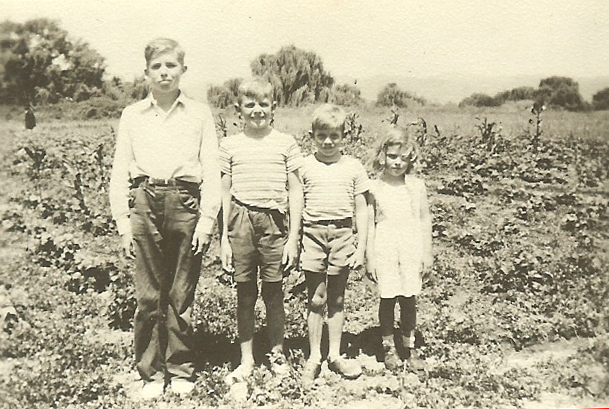 What did you do when you weren't homeschooling?
Michael: School was held in the morning and generally was over by lunch time, including homework. Mother was the teacher, she was pretty strict, and she followed a detailed course schedule laid out by Calvert, a correspondence school system from Baltimore, MD. The afternoons were free and we used to ride bicycles (mine was black, Peter's was red, and they had no gears) around the farm or ride horseback with Manuel Vega who was in charge of the animals on the farm: milking herd, beef herd, calves, bulls, oxen, etc. Peter's favorite horse was named Alazan de Paso (after which we named our flagship Pinot Noir), and my favorite horse was called Churin. We used Chilean saddles, which were lined with lambswool, making them very soft.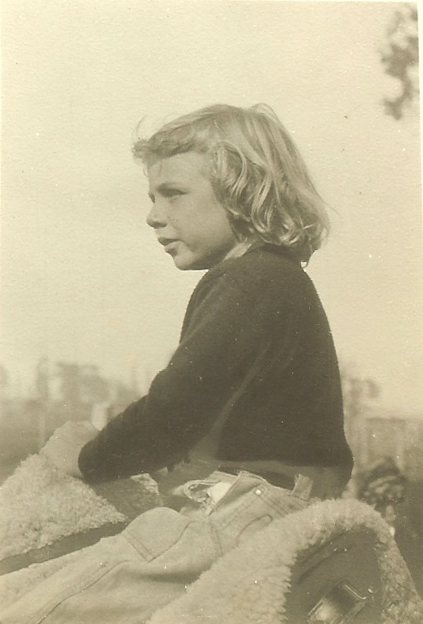 There was no heat in the house, so we would do our homework around the fireplace. Even now, we still have hot water bottles hanging on the door behind the kitchen. We listened to baseball games broadcast by the Armed Forces Radio Service after the news report, and we all had favorite teams. I was a Cleveland Indians fan because my brothers had the top two teams: Peter had the White Sox and CJ was a Red Sox fan. Every day, we would take the results and convert them into team standings.
Did you help out on the farm a lot? What was that like?
Susan: Yes, I was very busy. I'd get up at 4:45AM to help Manuel Vega bring the cows into the lechería and then stay and help milk them. I'd go home at 8:30 to shower and start school.
Peter: I had a bunch of rabbits. We all had our own cow which Gramps gave us after we learned to milk them.
Michael: My last few years on the farm before high school in the US included a focus on the pig business which Peter, CJ and I started with two sows and a boar, but which quickly grew to approximately 1,000 animals! Each sow would produce 12 to 14 piglets every time with approximately 1.5 litters per year. I put myself through a year of Princeton thanks to the pigs.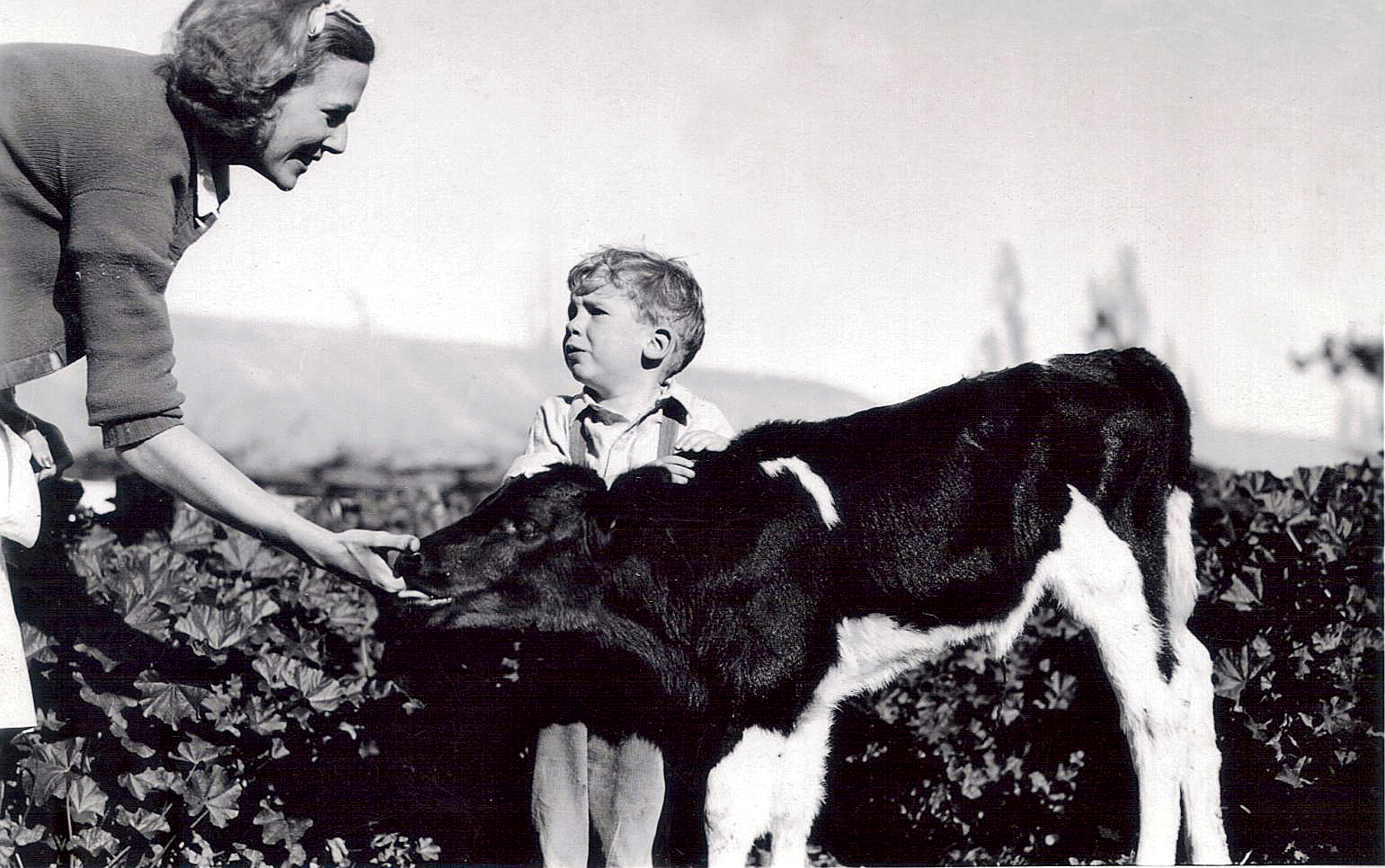 Who were your friends in the neighborhood?
Susan: We didn't really have a neighborhood; we were out in the country. I had one friend from Australia, about two hours away, and two more in the hills above Valparaiso about an hour away that I'd see a couple of times a year. Dominga, our maid, would bring her niece, Beña, to visit and we'd have a great time together.
Sally: My friends were Nancy and Eliana, Manuel Vega's daughters.
Peter: My only English-speaking friend was Pat Tracey, an American who lived two hours away – one valley over.
Michael: At the end of the day there were generally pick-up fútbol (soccer) matches with the kids from the families who lived and worked on the Farm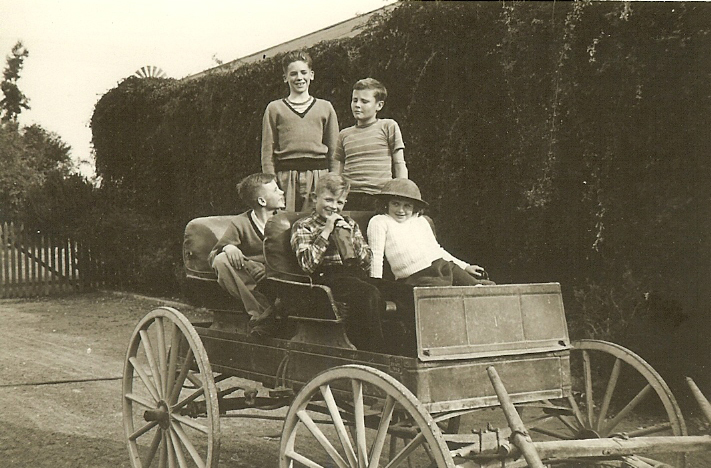 How is Casablanca today different than it was then?
Susan: Casablanca was less prosperous in the 50s and 60s. People walked or rode their bikes to town. Cars were scarce and considered a luxury. There were no supermarkets then, only small shops selling specific items. Houses were either grand (with surrounding acreage for horses, etc.) or shacks with no indoor plumbing. Today, Casablanca is a busy commercial center, with banks, supermarkets, restaurants, and more. Rental property is booming. People choose to live in Casablanca because they work in the valley's vineyards and wineries, restaurants, etc. In the 50s, farm work was the only work available, and landowners usually provided housing on the farms.
Michael: Casablanca always had dairy and beef cattle farms, and most people just passed through en route to Valparaiso or Santiago. When we were growing up, the highway was a narrow two-lane road with two winding "cuestas" or mountain passes—almost a five hour drive between the two cities. It's now a four-lane highway with two tunnels, and takes just over an hour. The smaller trucks have been replaced by 18-wheelers and many of the farms have been converted into vineyards as Casablanca has become known for producing premium wines, especially Pinot Noir, Chardonnay, Sauvignon Blanc and Syrah.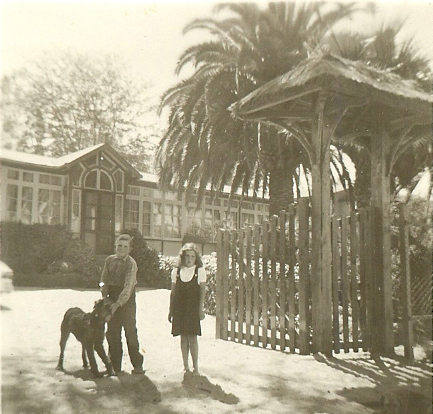 What were the celebrations of the 18 de Septiembre (Chile's biggest national holiday) like in Casablanca then? Did you attend them?
Peter: We usually went to the rodeo in Casablanca. Dad always loaned them our biggest steers which gave the horses a hard time.
Michael: The larger animals had less chance of being injured and generally would provide the greatest challenge to the vaqueros.
Susan: I dreamt I was going to be the best female rodeo rider, so I paid very close attention to the way the vaqueros handled the animals. Once the rodeo was over, the party started. That's when I'd go home.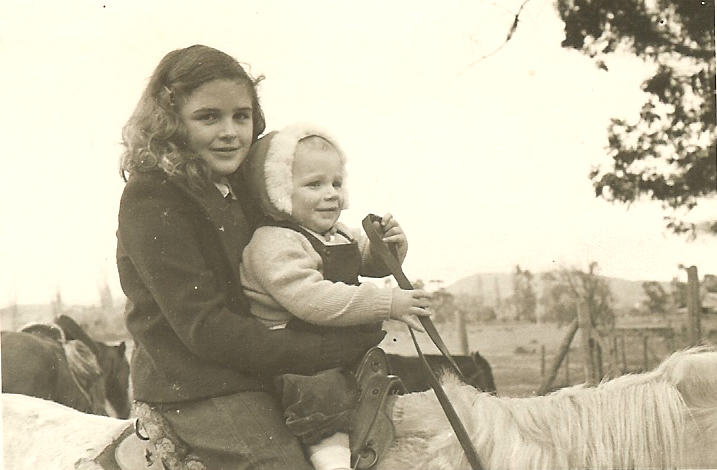 Did you take trips outside of Casablanca often? If so, where did you go?
Sally: Often, no. We went on some Sundays to Algarrobo and Viña del Mar to see Grandma and Gramps when they were around.
Susan: When Grandpa and Grandma were living in Viña del Mar, we'd have long [Sunday] lunches there. Sally and I would escape to Grandma's room and try on all her jewelry and makeup. About once a month we'd go to Santiago. It took four hours by car on a good day (assuming a truck hadn't broken down on one of the cuestas and blocked all traffic). Needless to say, I'd always try to avoid these trips. Once or twice a year we'd be invited to the Bowers for lunch. They lived north of Limache. [Which was about a two hour drive then.]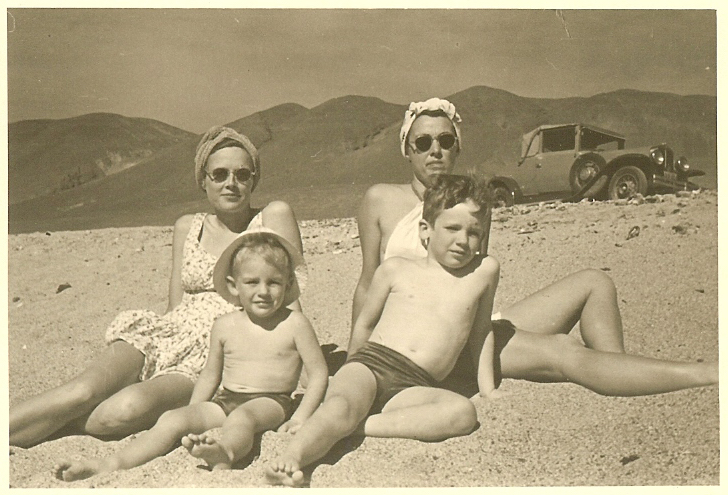 After graduating from college, did you think of moving back to Chile?
Michael: Yes, I did consider going back to Chile but in 1962 the country's economy was in terrible shape and would only get worse as it moved into the Allende years. The opportunities working for a US company in Latin America on regional economic development issues proved to be more compelling at the time.
Peter: I went back to Chile to help Grandma and Grandpa who had helped me with college tuition. After a year and a half, I had to go to the US to beat the draft and to go into the US Navy [as an officer, instead of enlisting] for 4 ½ years.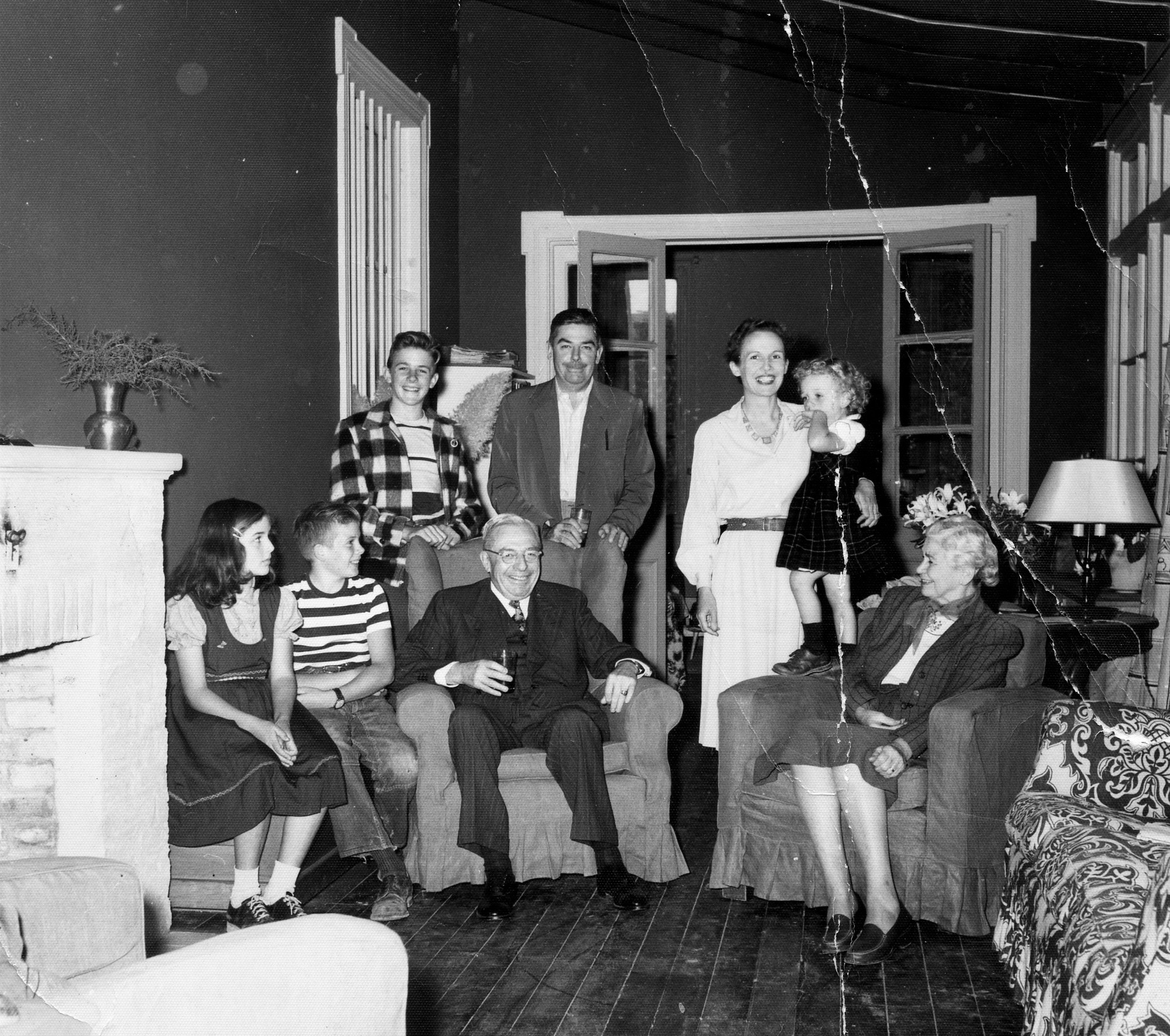 Are there still a lot of the same people/families living in Casablanca as when you grew up there or has it changed a lot?
Michael: Yes, many families who used to live on the farm now live in Casablanca or other smaller communities in the valley. It is not unusual to run into them at the grocery store.
Peter: Those who manage other farms in the valley are still around or have let the next generation take over. The biggest change is all of the vineyards which cover the valley.
Was it a shock to go live in the U.S. when you were 13 or were you really ready to go? Who did you stay with? Or did you go to a boarding school?
Susan: I was very homesick when we moved to the US. I spent idle moments plotting the best bus route back to Chile since I knew Mom wouldn't let me fly. I went to Cambridge High & Latin School in Cambridge for my junior and senior years of high school and adjusted when I got caught up in the college application process.
Peter: We all (CJ, Peter, and Michael) went to Holderness School where we lived from September to May. It was a small school (about 34 students in my class) and had some terrific teachers, especially Joe Abbey. We visited the Lenoxes (Mother's sister's family in NJ) at Thanksgiving and the Dwights (Father's elder sister's family in Ohio) at Christmas. We all got into student government and each became president of the school in our senior year.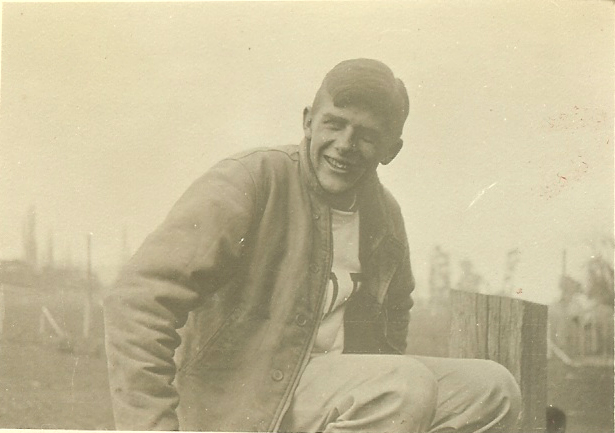 Had you been the U.S. much before that?
Michael: Early in World War II, Dad worked in Bolivia for the OSS, a CIA predecessor organization. During that period we lived in Antofagasta (Chile) because it was closer to Bolivia. The Germans were in Bolivia because they were interested in the metals available there to build military machinery. Dad had some mining connections dating back to my grandfather's mining interests in Bolivia so that worked as his cover while he spied on the Germans. But when Dad's OSS boss was poisoned, it became clear Dad's cover was also blown and that it was time to return to the States. That's when we went to live on Cape Cod with our grandparents (Mother's side). Then our parents purchased a home there as the war continued. Dad joined the Navy after that but was never shipped anywhere. We returned to the Farm as soon as the war was over.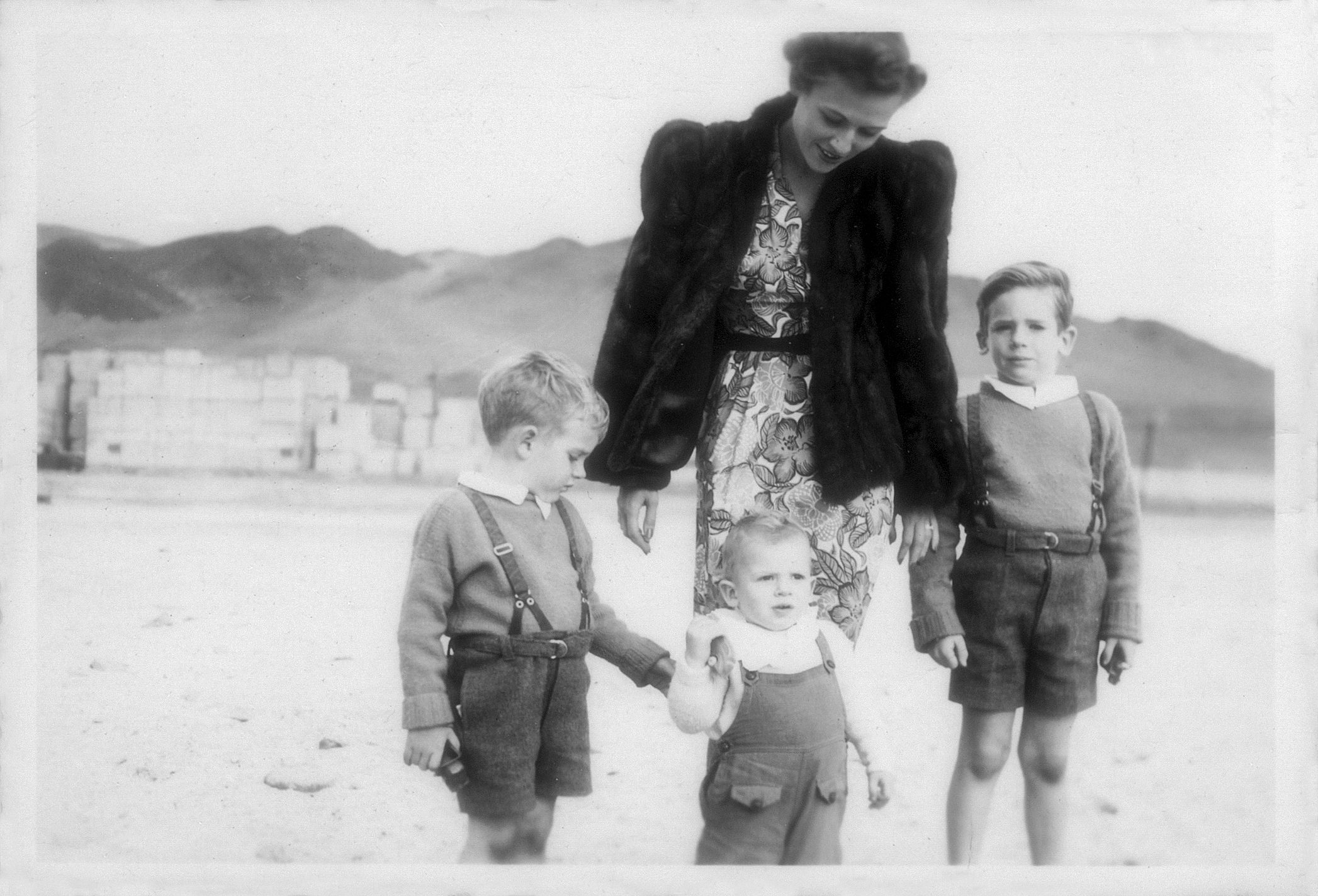 What surprised you about being in the U.S. versus Chile?
Michael: Life on the Farm and life in school in the US were very, very different, and I believe we all accepted those differences. Chile was the countryside, nature, animals, but also a relatively solitary life that required some inner resources and self-reliance. Holderness brought you together with other boys (no members of the opposite sex), so there was camaraderie, sports, as well as studies. So, they were very different worlds.
What did you miss the most about Casablanca when you were gone (apart from family)?
Susan: My horse, Manuel Vega, and riding with him.
Sally: I missed the Farm the most.

For most travelers to Chile, Santiago is both the starting and ending point. Whether you're heading to Patagonia, Atacama or - we hope - visiting us in the Casablanca Valley, you'll likely spend some time in Chile's dynamic capital city. Where you stay after a long international flight can make a big difference in your perception of the country, so we want to help you get your visit to Chile off to a good start.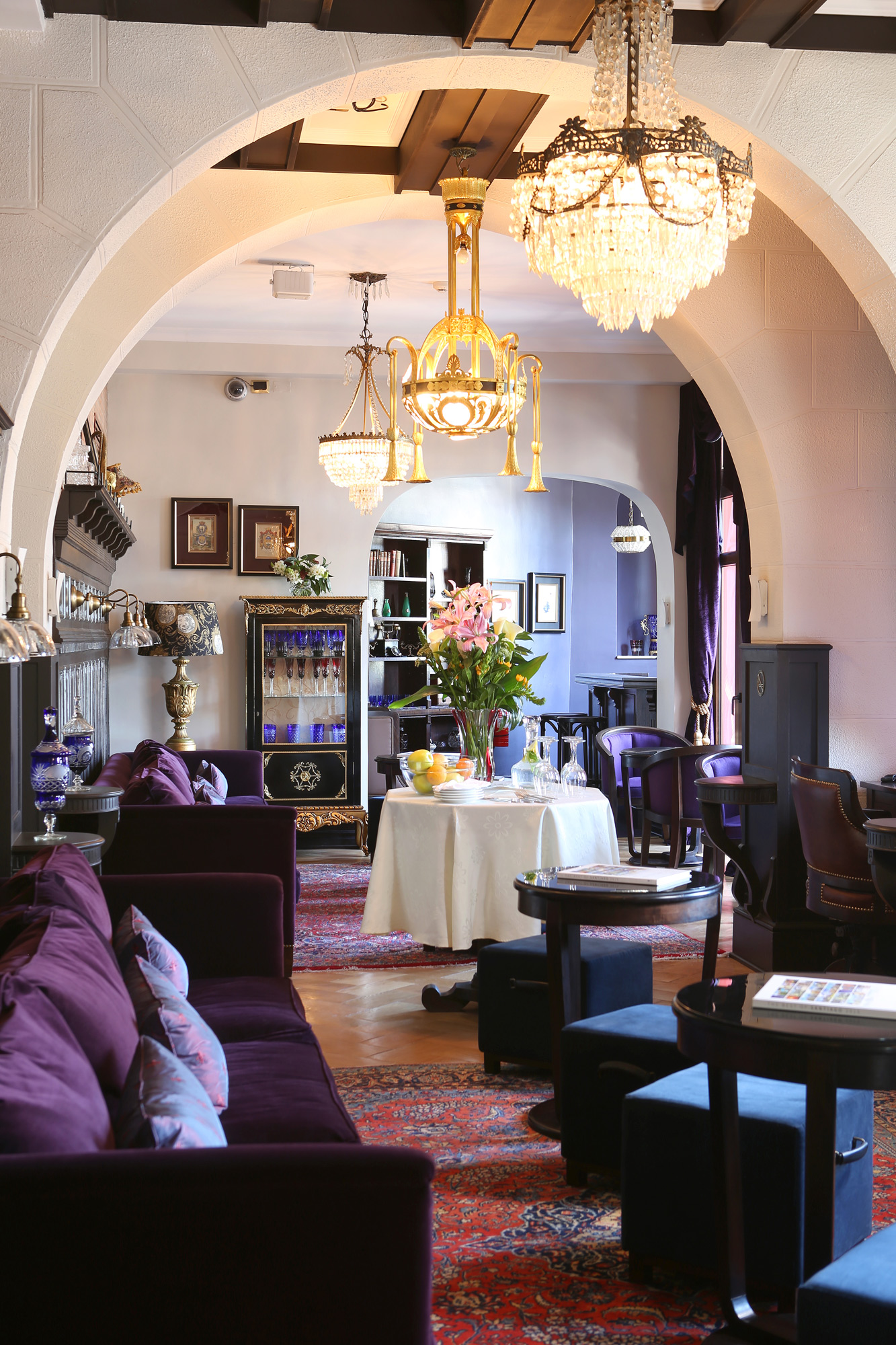 Our sense of the current hotel scene is that it's undergoing a subtle renaissance. It used to be that everyone we knew stayed in large international chain hotels for convenience. Lodging was basically utilitarian in nature, and there wasn't a lot of thought given to design or service. Over the past decade that has shifted. Now Santiago offers a number of great stylish boutique hotels and good service is an important part of the equation.
Whenever we write a post we try to incorporate our experiences, or those of our family members. We also try to ensure that we cover topics that reflect unique aspects of Chile's culture and history. This is a little difficult when it comes to lodging because we live nearby and don't frequently stay in Santiago hotels. Also, Chileans are subtle when it comes to touting their culture and history. Unlike a resort in Hawaii, for example, where you might find tiki-themed hotels with Asian-fusion fare served on palm fronds and spa treatments that leave you smelling like plumeria, Chileans are more refined. Their lodging offerings reflect this trait.
Below is our list of recommendations, based upon where we've stayed and where friends and extended family have reported are the best lodging options. When deciding where to stay we look at location and cleanliness first, then amenities, such as a pool (when traveling with the kids). We hope you find it helpful!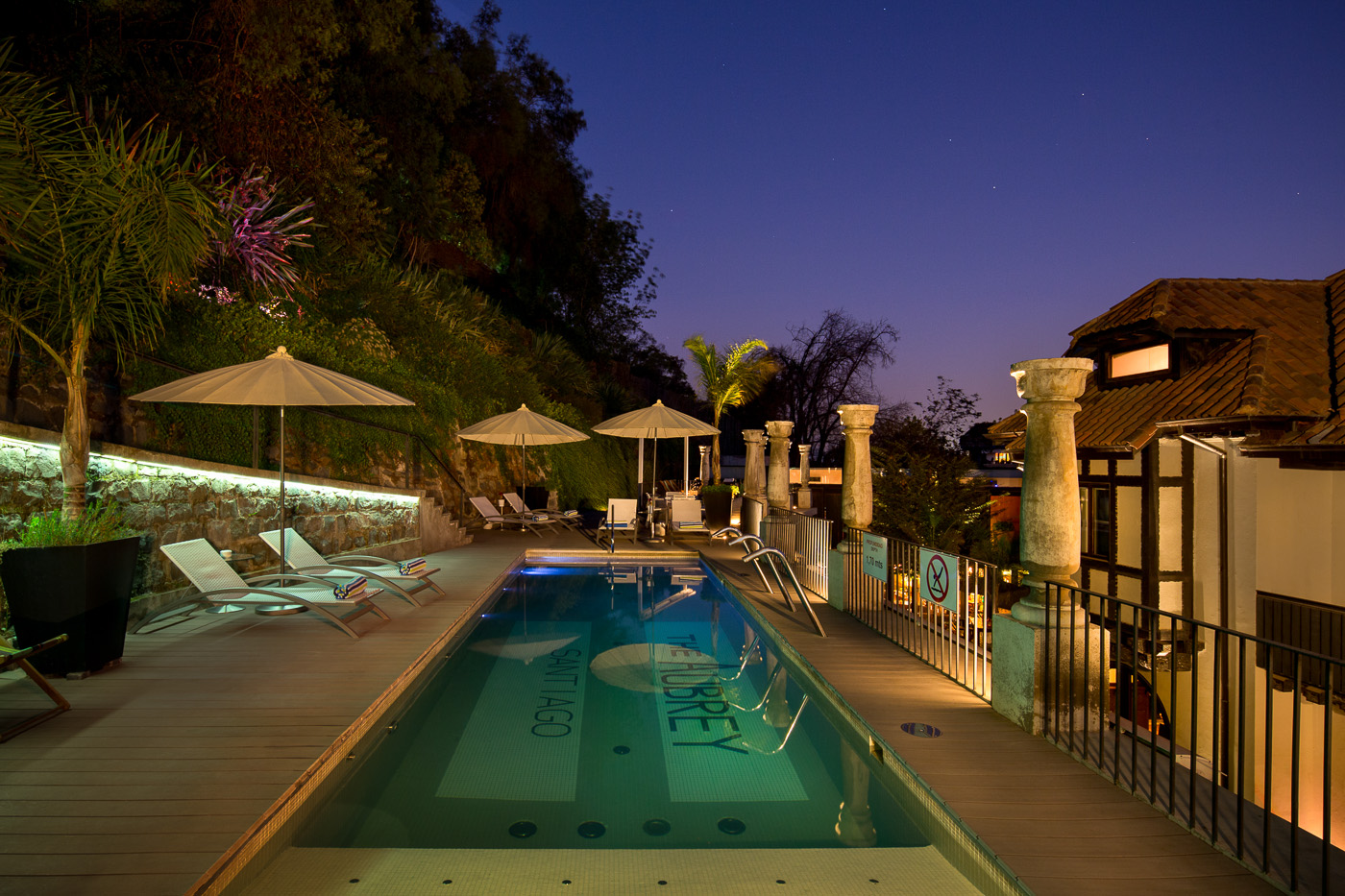 Lastarria
One of our current favorites is The Singular, a newer hotel located in a hip, up-and-coming part of town (the Lastarria neighborhood) near Parque Forestal, Bellas Artes and a great alley coffee shop called Colmado. It's classically styled and has all the modern amenities you need. We found the rooms to be generous, quiet and great for sleeping because of the hushed tones of the furnishings and the blackout shades. We also love the decor that mixes "old" and "new" Chile. The combined lobby/bar for example, contains modern furniture with antique framed art, traditional brass floor lamps and stocked bookshelves. It's cozy and inviting, yet sophisticated at the same time. They also have a spectacular sister hotel in Puerto Natales, in Patagonia, that was built in a restored mill.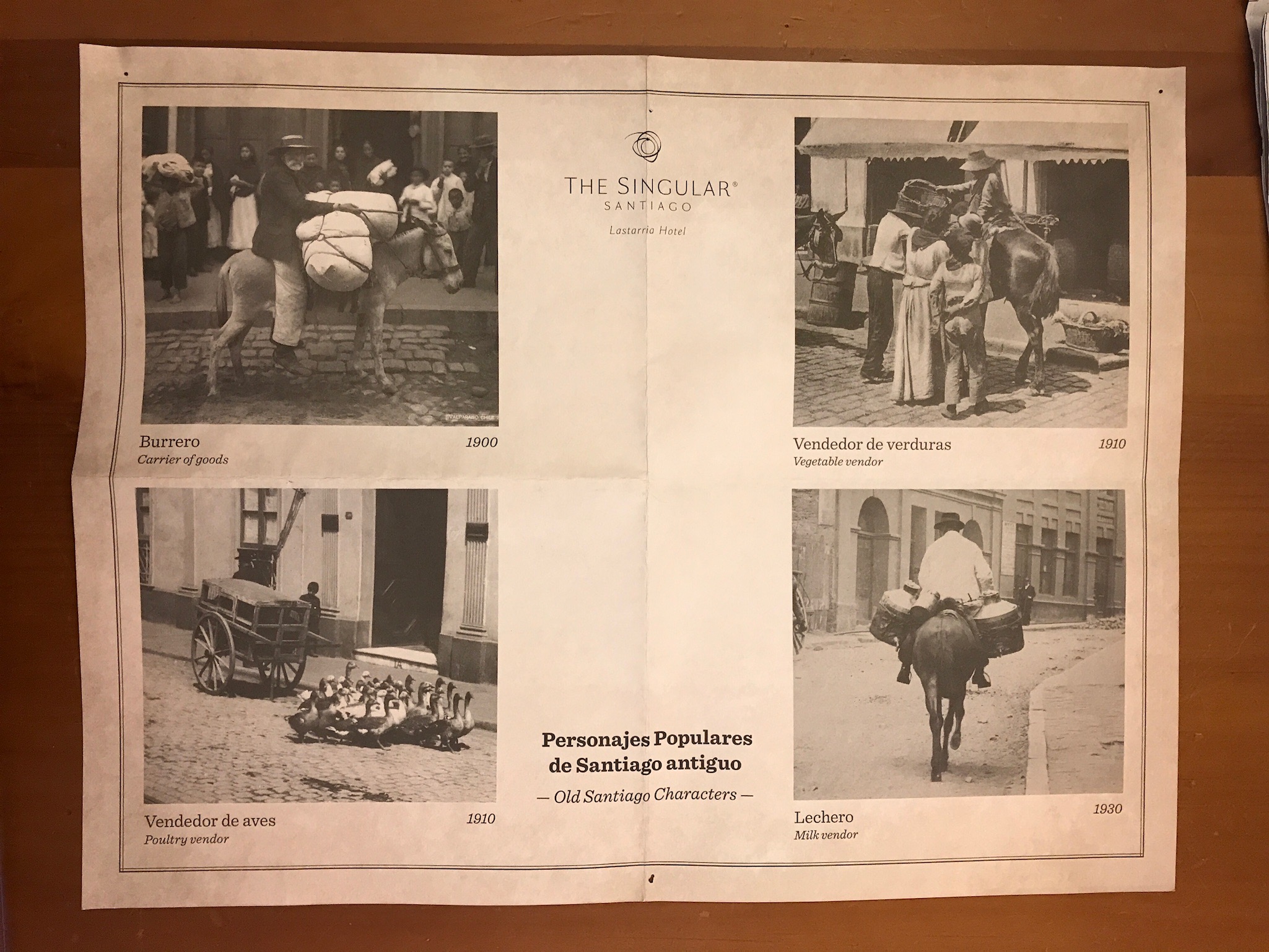 Another option is the Lastarria Boutique Hotel. Although we haven't actually stayed there, we mention it as an option because of its location near restaurants such as Bocanariz and La Moneda. In addition, a number of our friends have stayed the night, and give it rave reviews – especially the excellent service and the garden pool.
Bellavista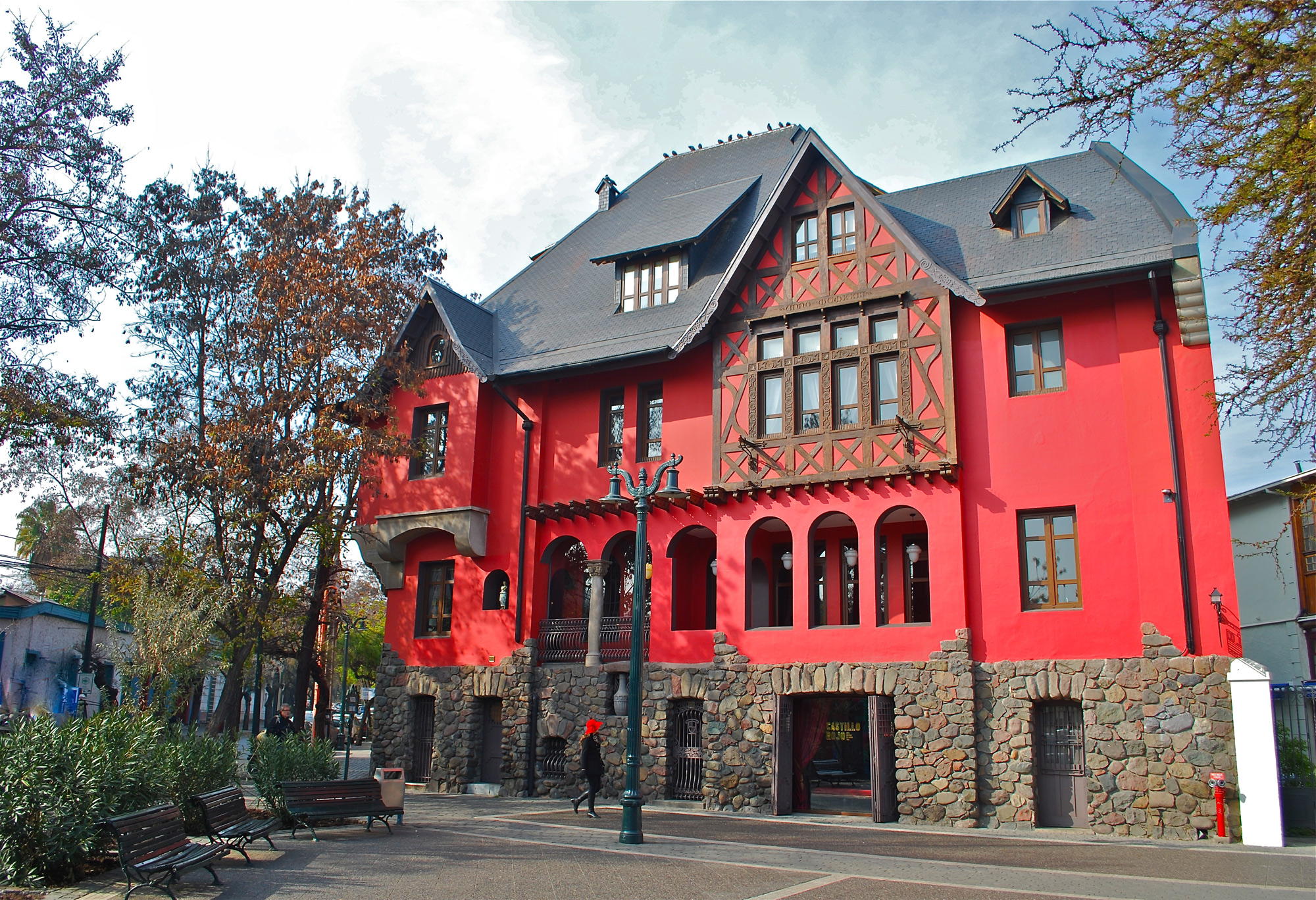 Many tourists who go to the bohemian Bellavista neighborhood are there because one of Pablo Neruda's funky homes, La Chascona, is situated there. Another unusual Bellavista landmark is a hotel called Castillo Rojo, which literally looks like a big red castle. It's actually a refurbished mansion, and the 19 rooms include historic details such as hardwood floors and original doors with stained glass panels. The lobby has a stylish old world feel complete with velvet curtains and cushions, Oriental rugs and candelabras. Breakfast is included at the Beppo Café, a cute restaurant with exposed brick walls, and the hotel is slated to open another restaurant specializing in Argentine fare soon. We can't attest to the food there (because it's not yet open), but we highly recommend the French bistro next door.
For the past decade The Aubrey was the only intimate boutique hotel in town. Once the home of a local politician, it has just 15 rooms. We like the interesting outdoor spaces including its beautiful hillside terraces, a streamlined pool and balconies with views. Each of the rooms is decorated differently, making it feel as though you are staying in someone's (fancy) house instead of a standard hotel room. The only drawbacks are that it's near the zoo and Bellavista has a few too many student bars for our taste.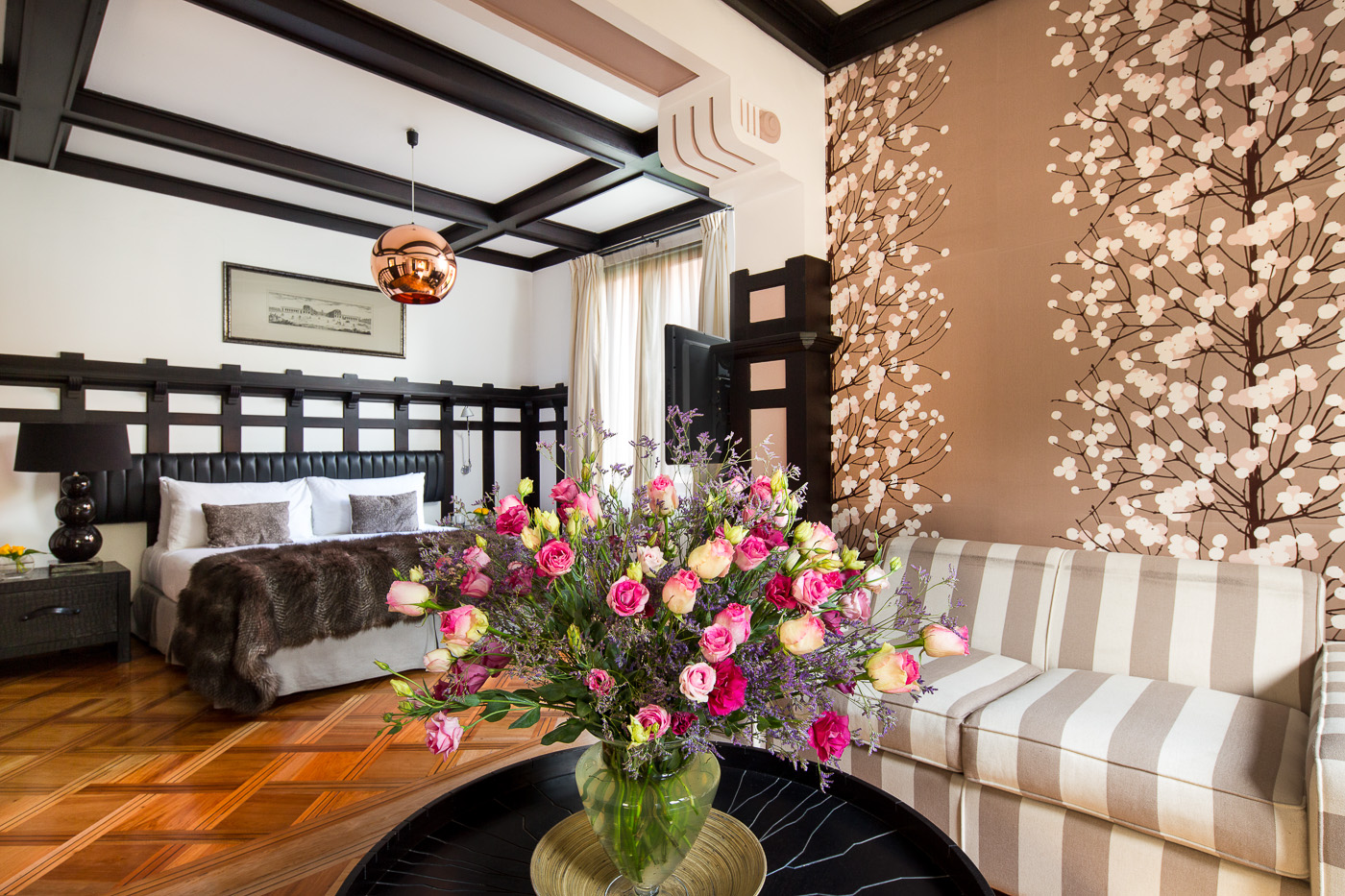 Providencia
If you are a fan of France and French traditional decor, La Reve might be a good choice for you. It's currently ranked first on TripAdvisor and friends from San Francisco who just visited thought the location was excellent. They told us they "enjoyed Chile all day and felt happy being French at night."
The family-run Vila Franca, also in Providencia, is a simpler and cheaper option to the other boutique hotels we've mentioned. We stayed here years ago and found the proprietors to be delightful; they tried very hard to make sure that everything was to our liking. We found the modest rooms to be clean and comfortable and breakfast is very Chilean - lots of fruit, bread and butter and cold cuts.
In the event that you'd prefer apartment-style lodging, we suggest the Hotel Orly, another one of Santiago's first boutique hotels that also happens to be housed in a former French-style mansion. They offer a variety of guest room layouts in the main building, as well as a separate building of family apartments with kitchens that will sleep up to five people. We like the generous buffet breakfast, and the hotel's commitment to the environment that it demonstrates through the use of LED lighting and thermopanel windows.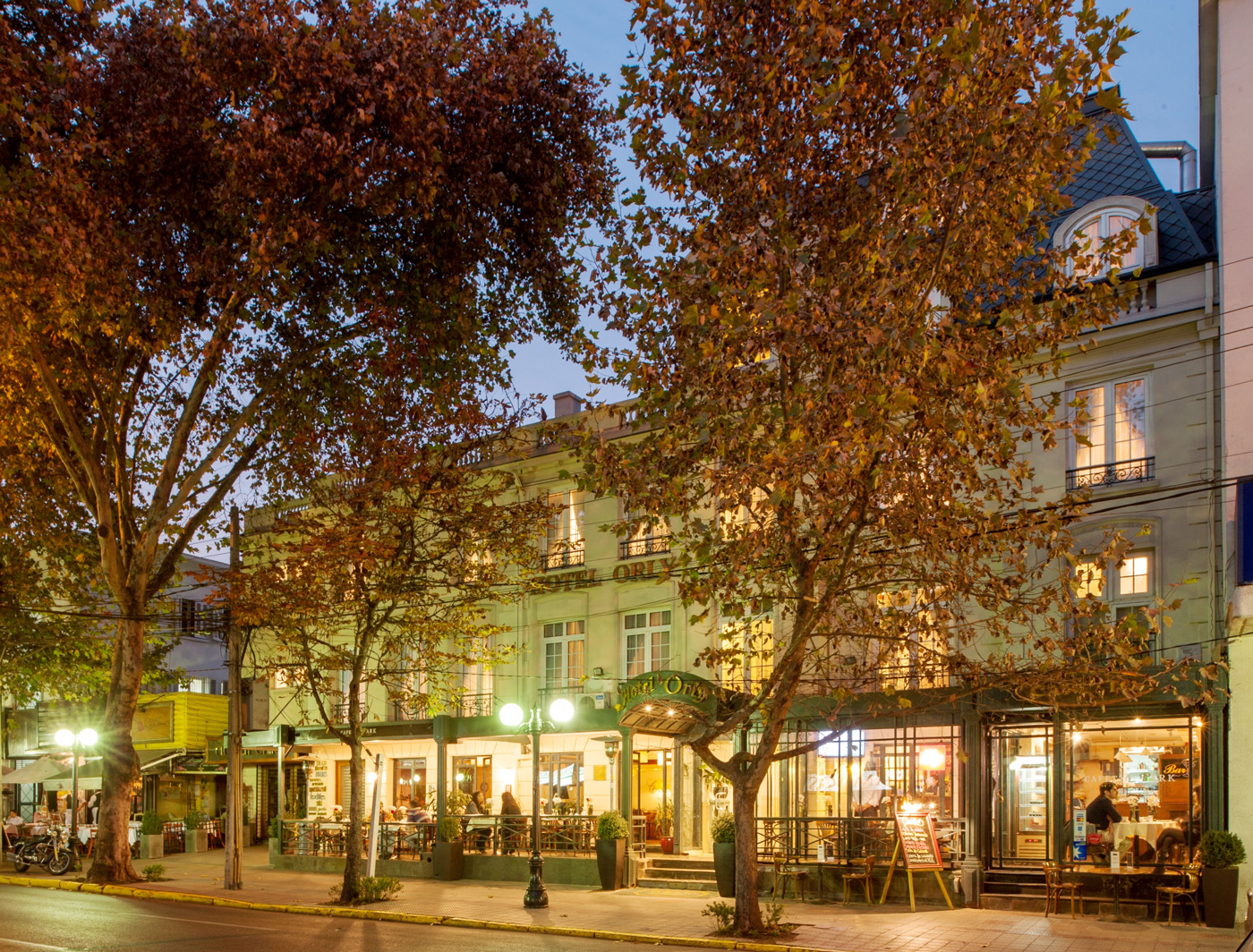 Tried and True International Chain Hotels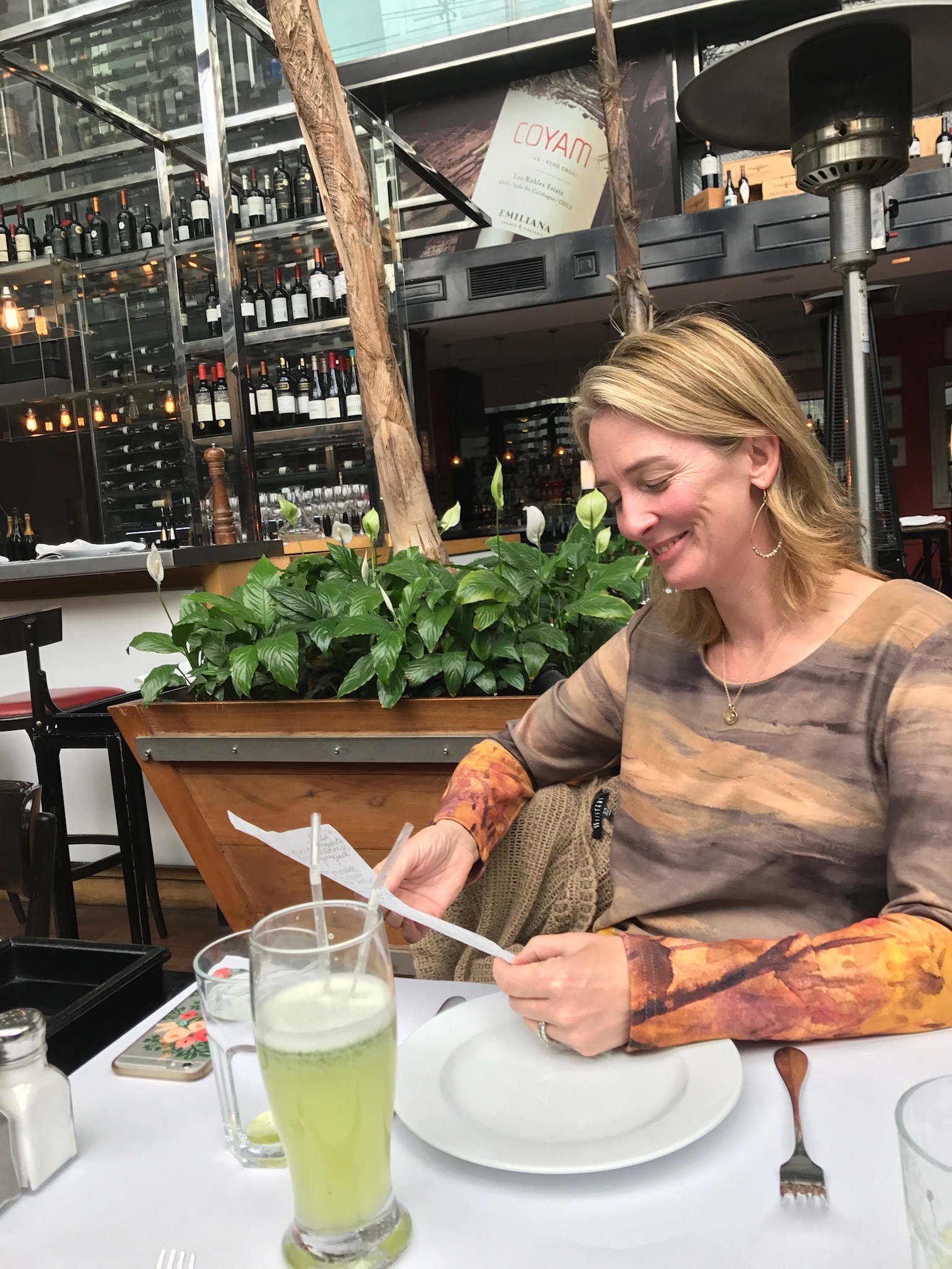 We used to live around the corner from the W and sometimes stayed there on weekends as a mini-getaway. Like most W hotels, this one is very hip (we recall the lobby music sounding like something you'd hear in a dance club) and the rooms were extremely comfortable. We loved the fabulously rich breakfasts consisting of lots of fresh Chilean fruit, as well as eating ceviche and sampling wines at KM 0, the hotel's chic basement restaurant that receives natural light from a stylish atrium above it.
As you would probably expect, The Ritz-Carlton radiates old-school charm and reliability. There are always beautiful fresh flower arrangements when you enter the foyer, and the concierge and staff are truly exceptional. We recently stayed there and discovered half of the floors had just been renovated, so make sure to ask for an updated room. You will often find many business travelers at the Ritz due to its location in the financial district, however it's a great fit for families, too. Our kids love the rooftop pool. And if you like to work out, the gym is a treat as well.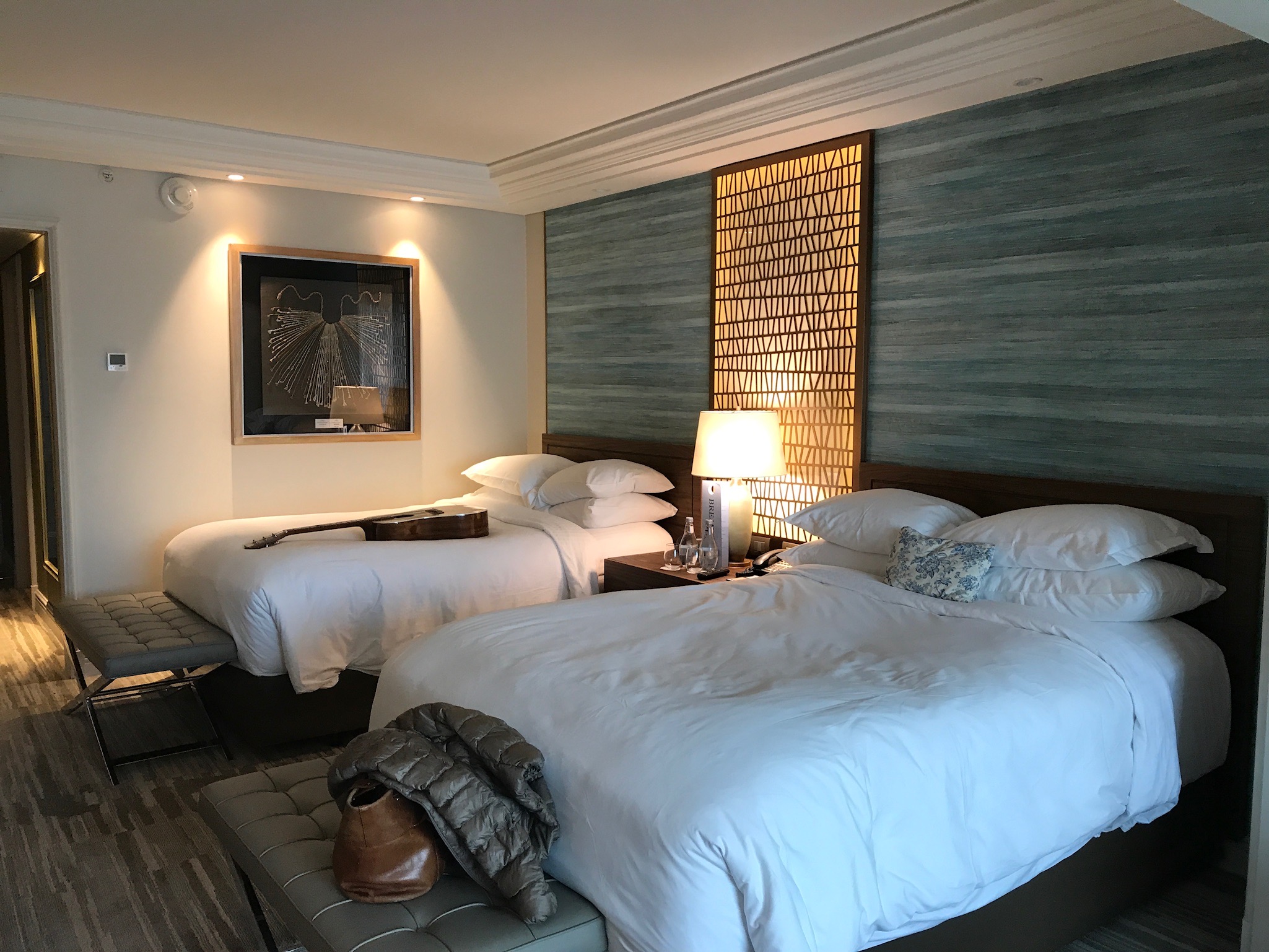 As always, we hope you find this information useful and will someday come stay with us at our vineyard. More about that to come soon! If you have questions or need more information about lodging, we're here to help. Feel free to give us a call at 1 (650) 854-4146 or e-mail us at guests@kingstonvineyards.com

Just about every craft cocktail lover we meet in the US attributes the pisco sour to Peru. But don't tell Chileans that. The heart of the slushy cold beverage, pisco, is actually the national spirit of both countries, and there's a long-standing rivalry between the nations over which country invented it — and whose version is better. Pisco serves as the base liquor for both Chilean and Peruvian pisco sours, but Peruvians add lime juice, bitters and frothy egg whites to the mix. Chileans make a simpler variety blended with the pure, fresh juice of the pica lime. Recently, you can also find trendier varieties supplemented with cucumbers or basil for added flair.
Our family ends many days and starts many evening meals year-round like most Chileans do – with a pisco sour. We even have a dedicated spot on the farm – affectionately dubbed Pisco Hill – where we drink them. For generations our family has been climbing to the top of the hill overlooking what is now the vineyard, with freshly made quesillo from our dairy cows and our pisco sours in tow. Some of our happiest family times take place here; while we watch the sun set, the kids have a blast running around getting thistles stuck in their socks.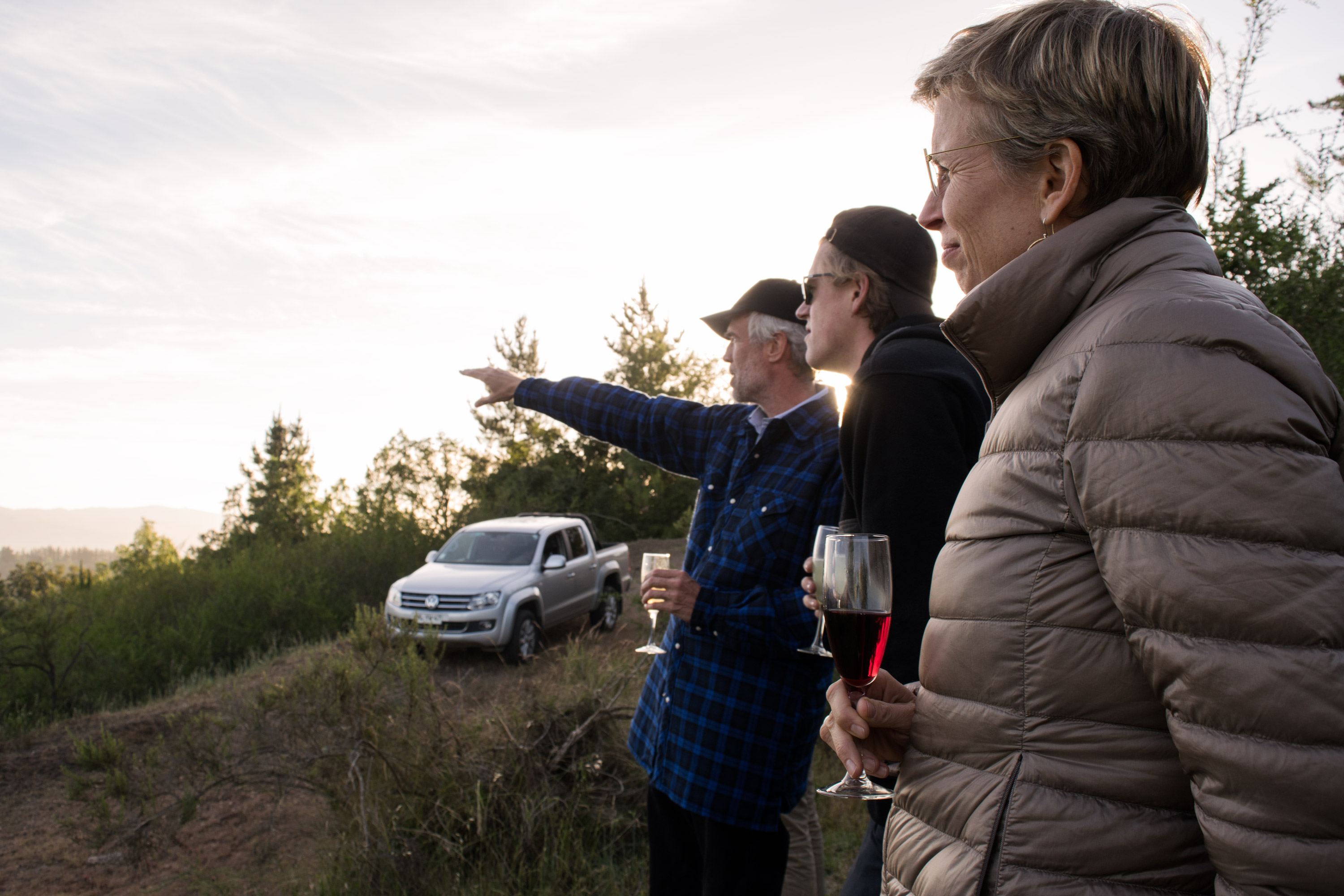 Although we love drinking pisco sours, we must admit something that might alarm you purists out there – we generally only make them from scratch for guests. We're usually just too tired to make that effort after a day on the farm. You can buy pre-made pisco sours in a bottle, much like the margaritas you get in the US with the alcohol already in them, so we do that instead. We store them in the freezer until we're ready to head for the hill. That way they're perfect level of slushiness when we get to the top. But for those of you who want to try your hand at making your own, here's our winemaker, Amael's, favorite recipe. It's a bit of a blend between what we think are the best parts of a pisco sour: Chilean pisco (of course), limón pica (you'll have to use lime if you can't find limón pica), and egg white – but none of the bitters on top.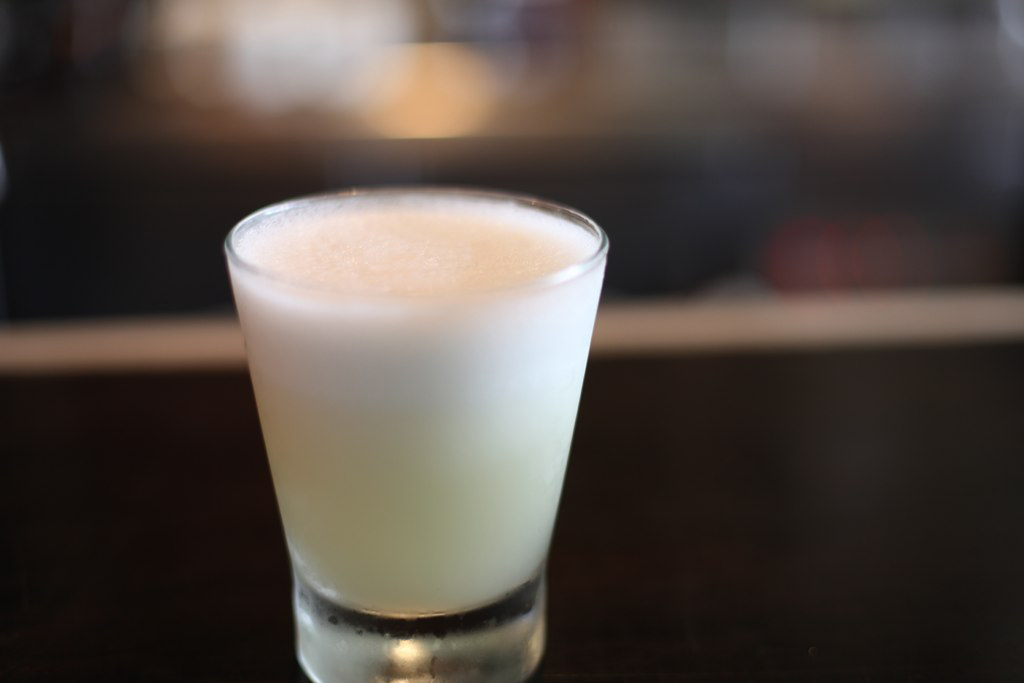 Amael's Pisco Sour Recipe
1 part limón de pica juice (or lime juice if you can't find limón de pica)
1 part simple syrup
2.5 parts pisco
1 egg white
Lots of ice
Combine all the ingredients in a blender and serve in a tall narrow glass, such as a champagne flute, or a short cocktail glass.
We should mention that these are very potent! We really don't recommend drinking more than one per evening.
The Asado
The asado is Chile's version of a BBQ and most hosts kick off the event by handing guests a pisco sour when they walk in the door. Unlike a typical American BBQ though, the asado is a marathon affair. They usually begin around 1 PM and can continue well past dessert, which in Chile may not be served until 10 PM. (We have distinct memories of our great-grandparents sitting under a wisteria-covered pergola trying to figure out how to get rid of guests who wouldn't go home long after dessert was finished.)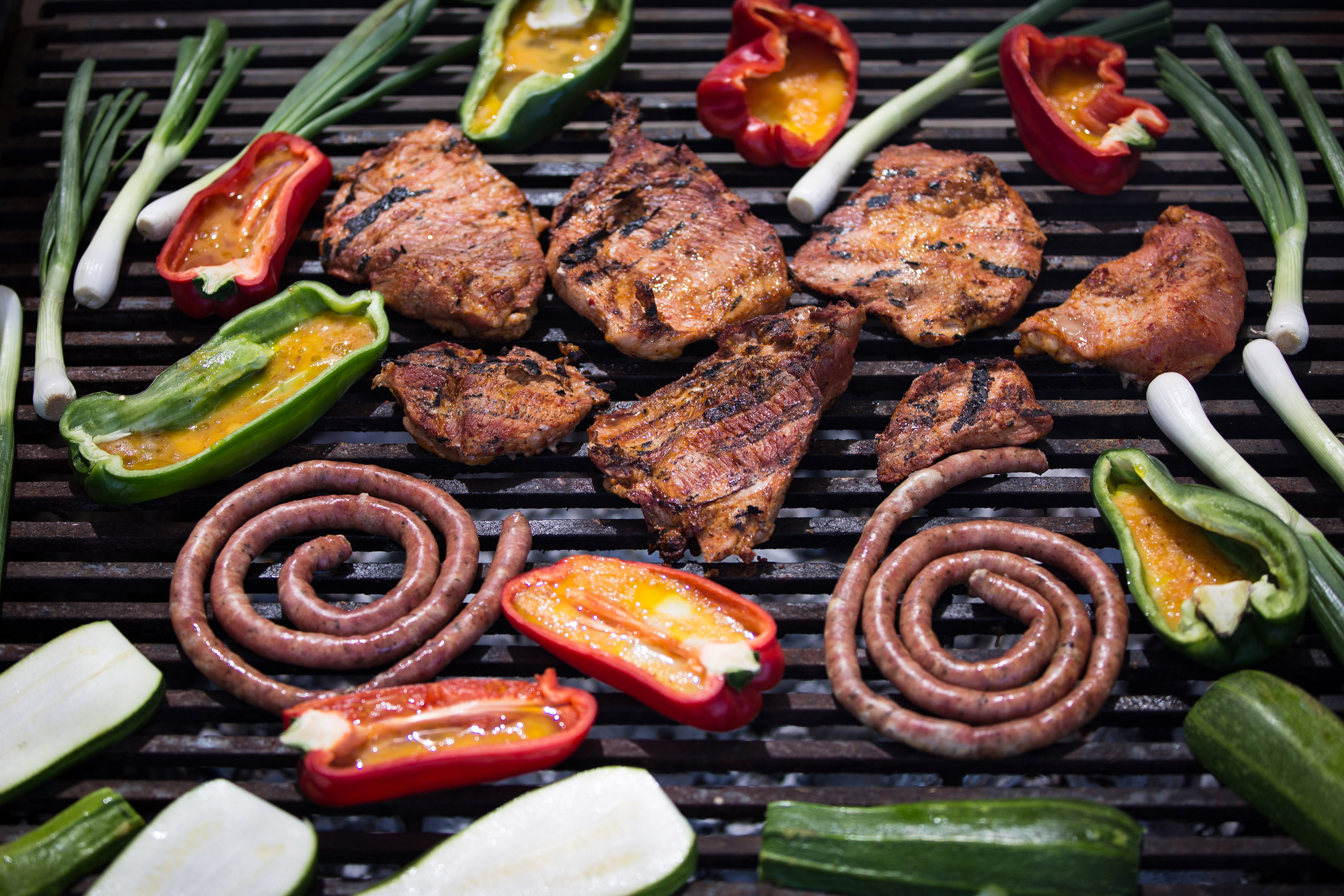 If you're ever invited to an asado, there are a couple of things you should know. First, it's a carnivore's delight. With nearly 2,700 miles of coastline, Chileans eat their fair share of fish, but the asado is all about the meat. Not long after you're served your pisco sour (the red wine comes out later) the "appetizer" course of meat appears. Often there are cheeses and a ceviche set out at this point, too. Then the meat just keeps coming. Although we'd been to asados as kids, we didn't remember this when we were invited to one as adults. So we ate the first offering as if it were the main course, and then had two or three full meals after that. This brings us to the second thing you need to know: arrive hungry.
Many kinds and cuts of meat are served at an asado, and vary depending upon where you are. But they're all cooked on a massive grill, called a parilla, and typically include large cuts of lamb or grass-fed beef. Entire lambs are grilled on a metal pole called an asadon. (We had a good chuckle when one of our wonderfully earnest Chilean winery employees translated the meal we were about to serve to a roomful of guests as "goat on a stick.") Generally you'll also find hearty servings of chorizo on buns, and anticuchos, which are like shish kebabs. Side dishes such as tomato salad and potatoes abound, too. The eating concludes with a super-sweet dessert, usually consisting of manjar, which you might also know as dulce de leche. Because Chile is a very family-friendly country, kids are always included in these festive gatherings. So if you plan to take yours to an asado you will want to plan accordingly.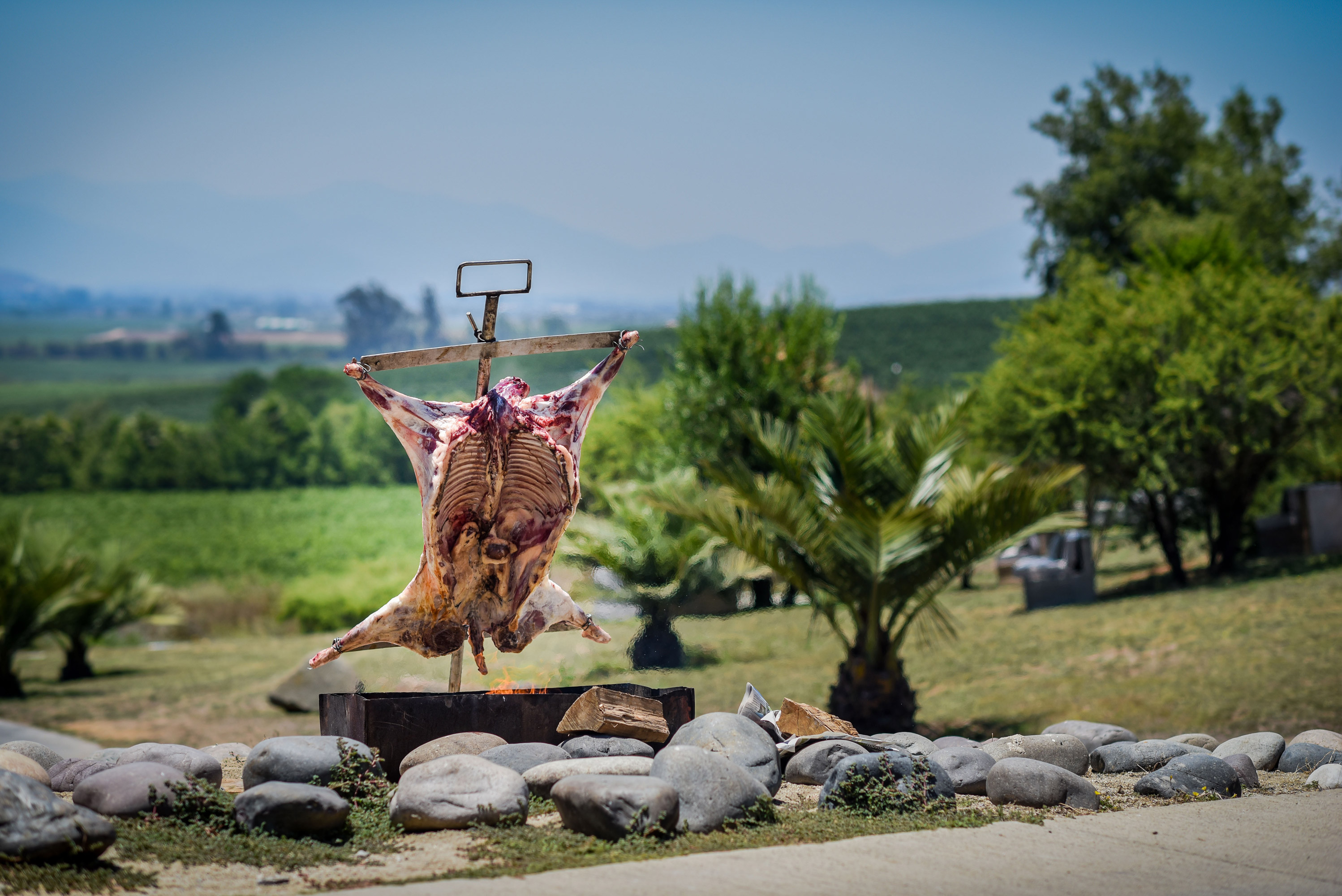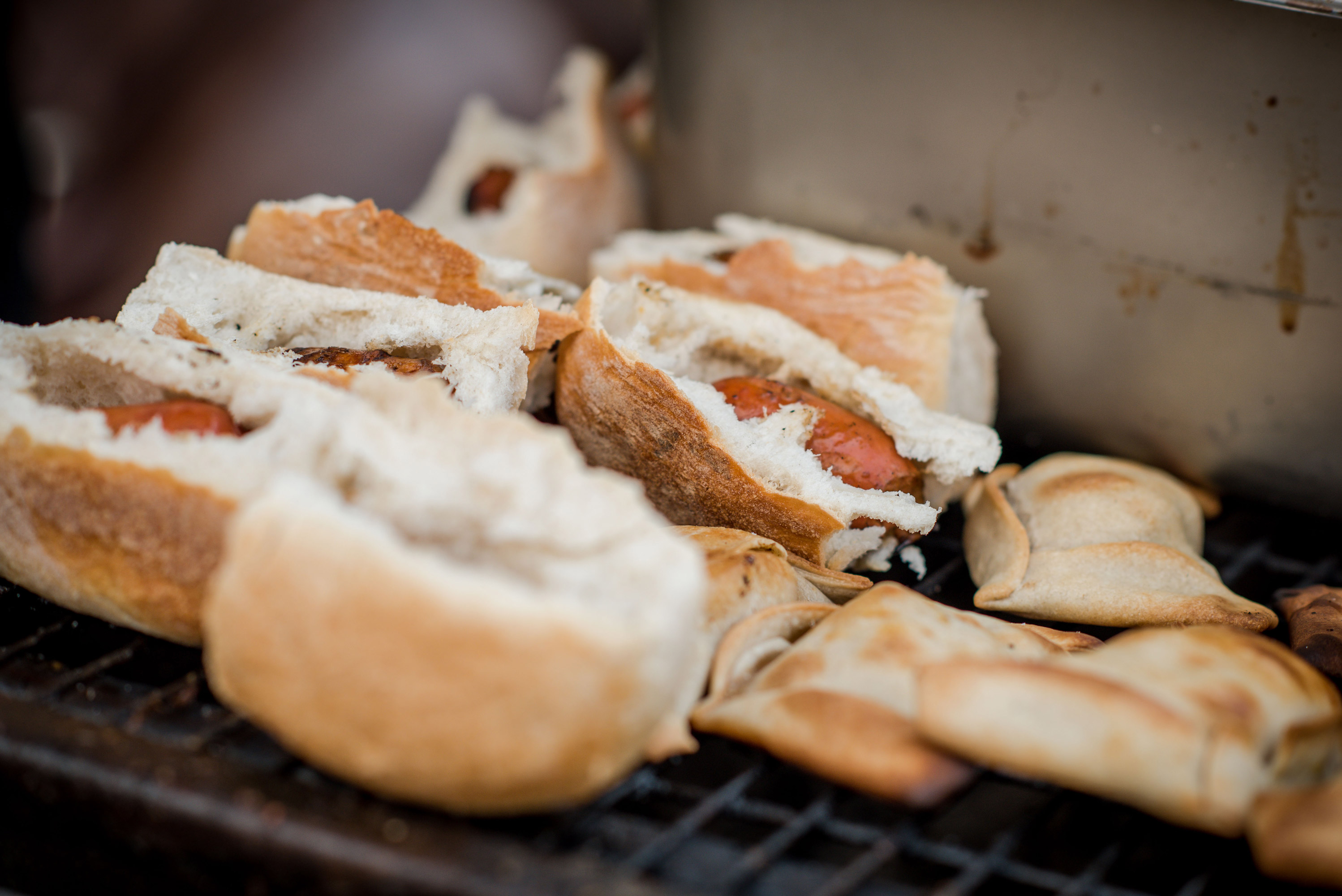 While most asados take place in the summer, the biggest celebration involving the traditional barbecue actually occurs in the spring. Starting around September 1, red, white and blue flags begin to emerge, marking the beginning of nearly a month of celebrations of Chile's Independence Day. Officially held on September 18, it marks the date that the Chilean people declared independence from Spain in 1810. However, they didn't actually break free from Spanish rule until eight years later, on February 12, 1818, after a long war. Although historians would probably disagree with us, we think they chose the September date (spring in Chile) to celebrate Fiestas Patrias because Chileans are too busy with other parties in the summer. That's when many people leave the cities and head to the coast or the lake district to relax by the beach and grill meat to their heart's content.
Come Visit! As always, we'd love to welcome you to our farm to sample our wines, have a meal in our tasting room, or even try a fresh pisco sour. (We promise to make it from scratch, not serve the pre-made version that we often drink.) Salud!

Just about everyone who visits Chile passes through Santiago at some point. Because the vast, eclectic city has so much to offer, we've decided to divide up our blog posts into three parts so that we can focus on different aspects of the thriving capital. In January we wrote about Santiago's imaginative food scene. Today we're sharing great ways to spend a day or two in the city. Here's our short list of our personal favorites. We hope you enjoy it!
What to do in Santiago
1. Explore Barrio Italia. We love this colorful area for its funky niches, secret passageways, unique shops, and creative flair.We think of it as a mini SOHO. About four blocks long, it's packed with artists refining their crafts — on one of our visits we peeked through a window and watched Senegalese dancers practicing to drums. Nearby, a man made petite wooden guitars by hand. The architecture feels European, yet the brightly painted storefronts carry everything from antique books to artisan shoes to baby bibs that are uniquely Chilean.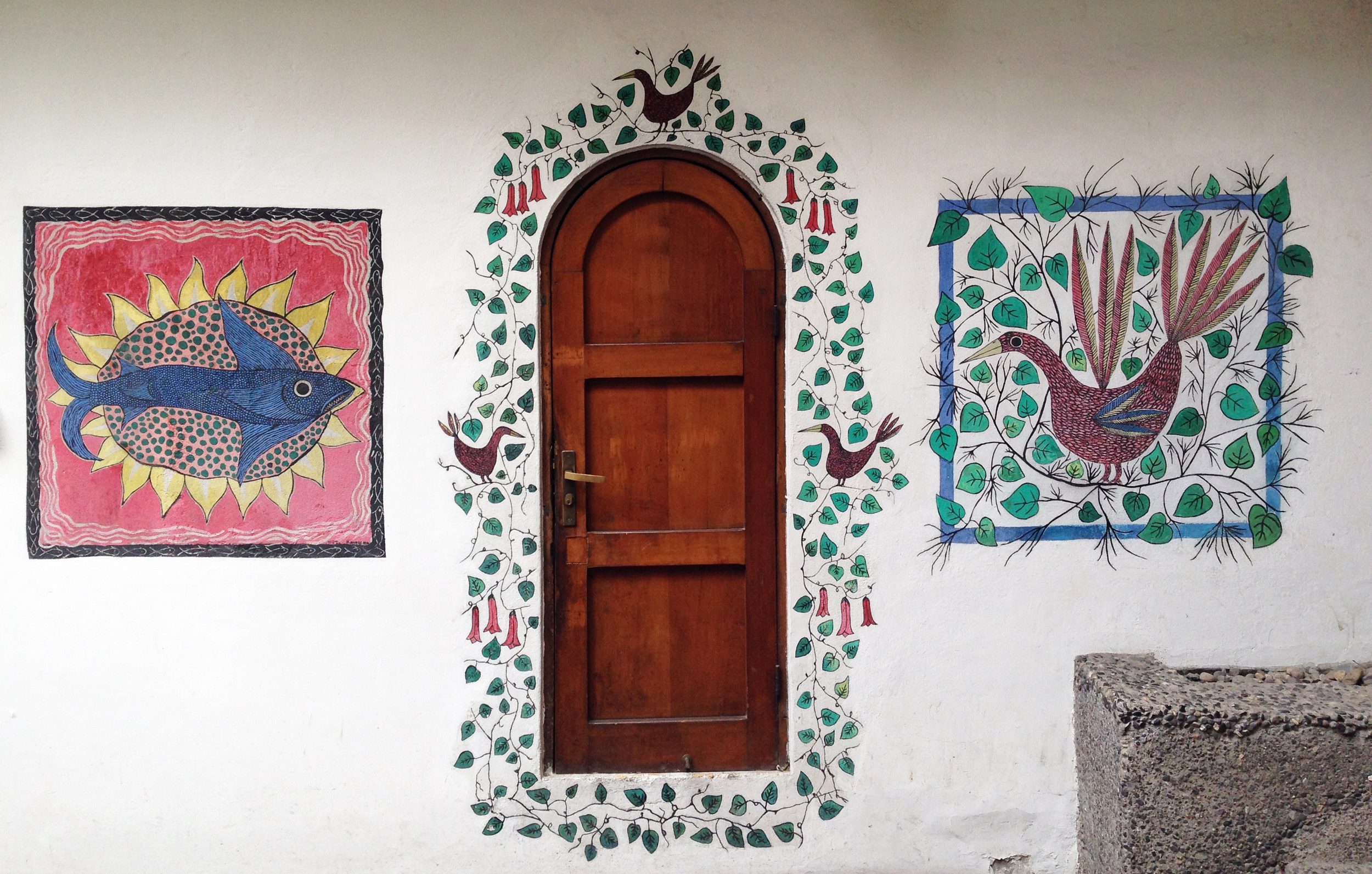 We recommend spending a few hours wandering around. If you happen to love chocolate as we do (there are some days when we have it with breakfast, lunch and dinner) stop by Xoco Por Ti, a teeny hot chocolate shop (which also sells coffee) located in a quaint hidden courtyard. Chileans love jazz, so you will always hear music coming from someplace. If you go at night, The Jazz Corner is fun for live music and a glass of wine.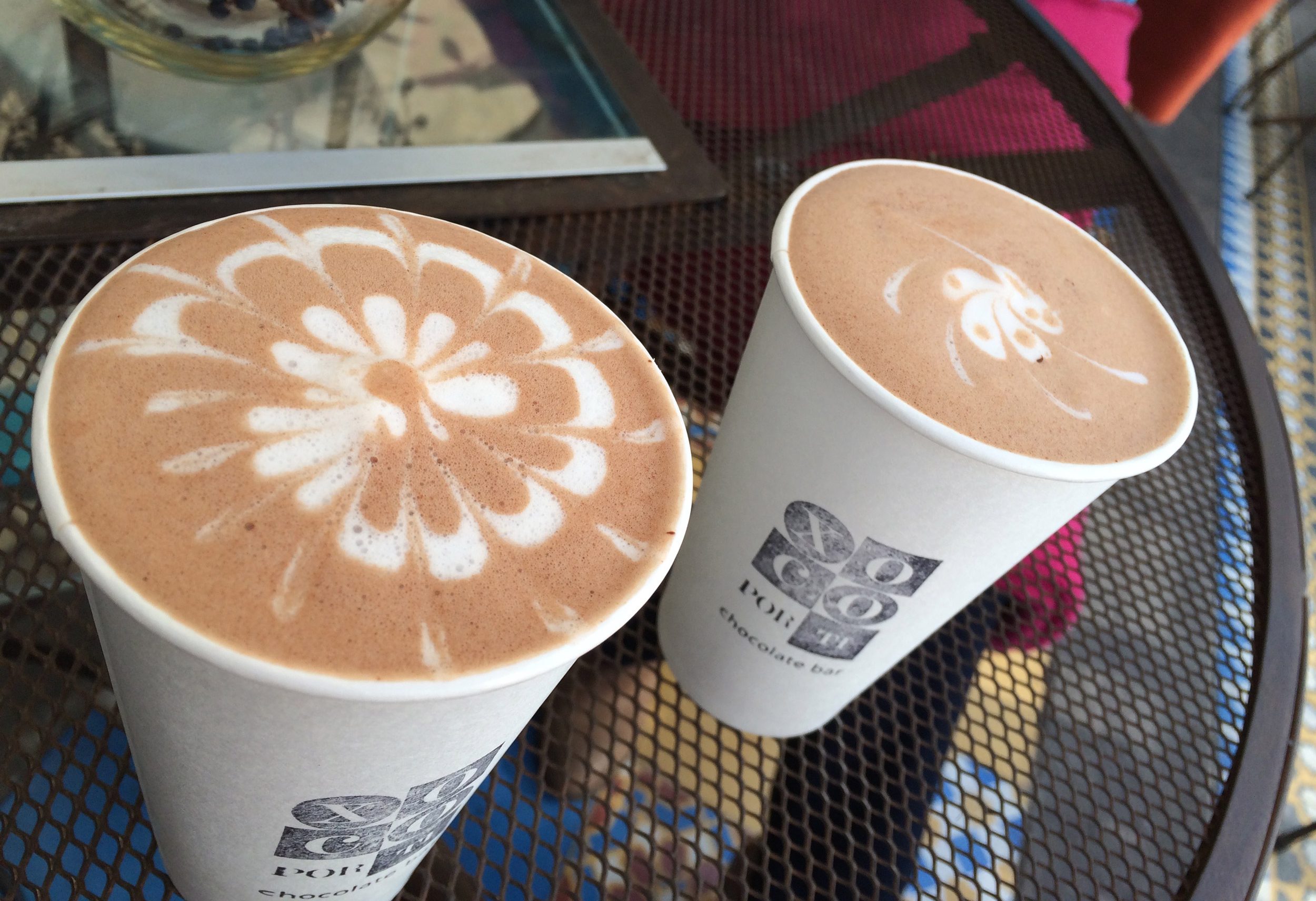 2. Visit a Park. Santiago's biggest common area, Parque Bicentenario, also happens to be its newest. Much like San Francisco's Crissy Field, the re-claimed, well-planned locals' open space is on the edge of a nice residential neighborhood, called Vitacura. A pleasant place for people watching, there are running and biking trails, the play structures are incredibly clever and unique, and it has clean bathrooms! Our kids love going because you can feed the flamingos and black necked swans; little gumball machines distribute the food for 100 pesos. Cool sculptures, such as a massive two-story bronze sculpture featuring larger-than life bicyclists looking through telescopes, are scattered throughout the park.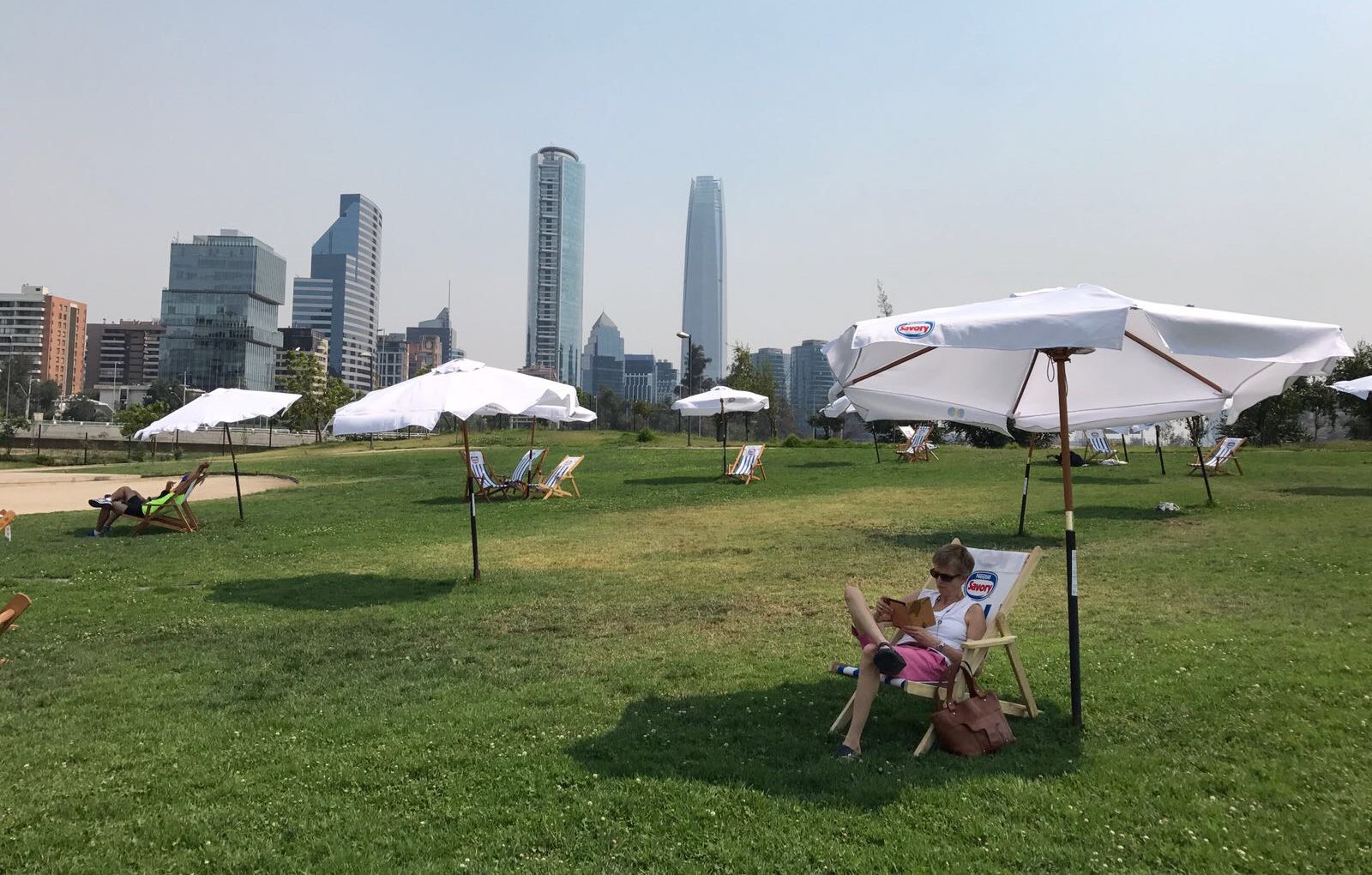 On weekends, you can also expect to find artists selling their works along the park perimeter. The park's January Festival de Cine Wikén shows large screen, open air movies at dusk. Throughout the park there are colorful beach chairs and umbrellas set up so it's easy to find a spot for taking in the scene. It's also a great place for a picnic with smoked Patagonian salmon from nearby La Pesca de Mekis, a whole wheat mushroom empanada from La Punta, or just grabbing una paleta de chocolate from the ice cream truck.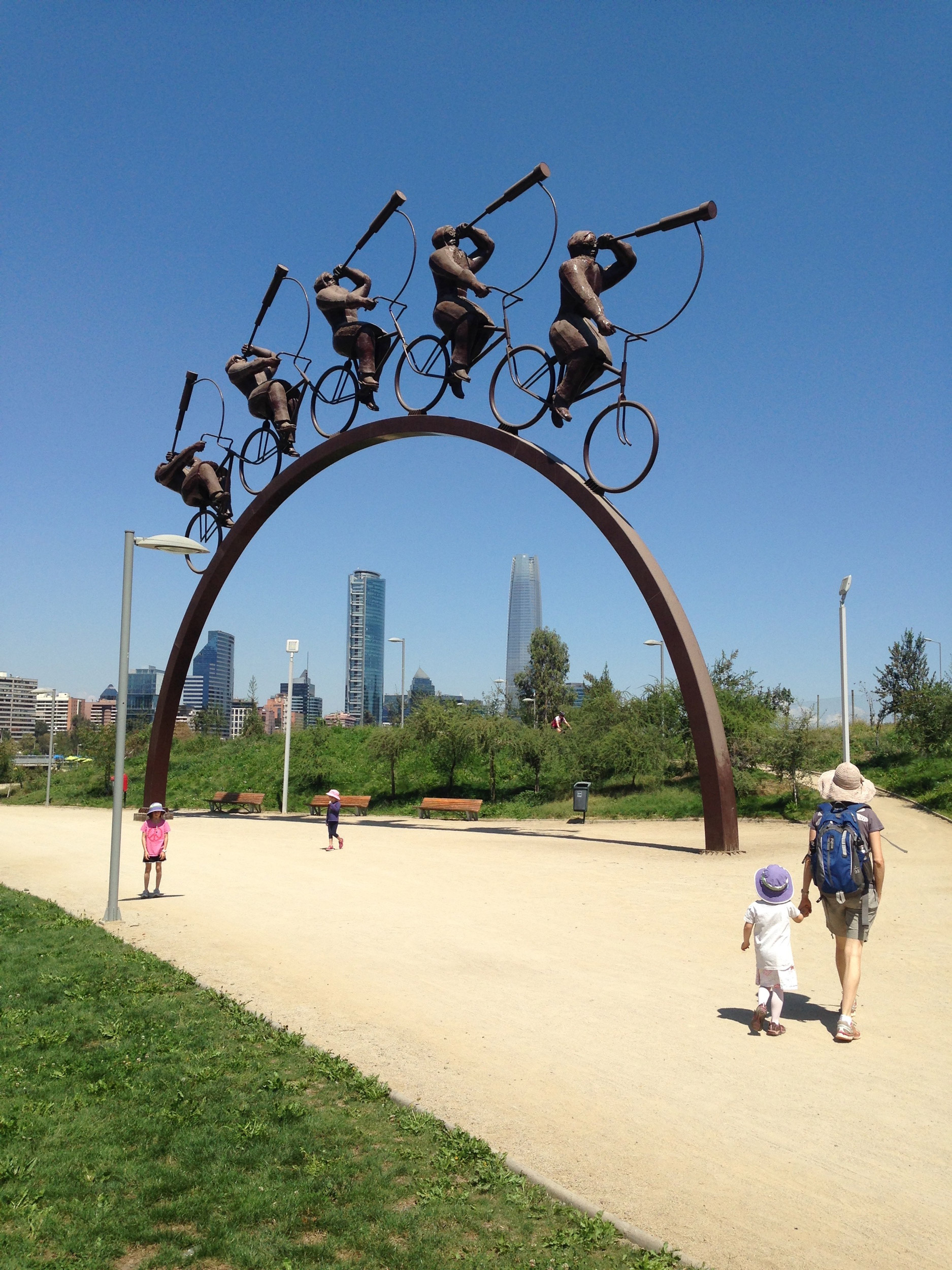 If you don't have much time but want to get outdoors, we recommend Parque Forestal, nestled downtown close to El Centro. Much smaller than Parque Bicentenario, the pretty tree-canopied park features antique streetlamps and stone fountains and feels like an urban oasis in the middle of the bustling city. It's a nice place for a stroll and is an easy walk from some of our favorite hotels, including the Singular, in the Lastarria neighborhood. We recommend stopping in Castillo Forestal for a basil lemonade.
3. Check out a Museum. Santiago has a number of great museums but the two that stand out for us are the Museo Chileno de Arte Precolombino and the Museo de la Memoria y los Derechos Humanos. As a college student at Princeton I adored Professor Griffin's Pre-Colombian art history class, so I always enjoy visiting the recently redone Museo Chileno de Arte Precolombino, located in the heart of downtown. The beautifully designed museum is a quiet sanctuary amid hectic surroundings. Small and purposely dark, the state-of-the art space showcases and preserves Incan and Mayan art in ingenious ways – you press a button, for example, that slowly opens a glass-topped drawer containing centuries old textiles in order to see them up close. All of the pieces are nicely curated (and captioned in both Spanish and English) so that you don't get overwhelmed. We find one of the most fascinating objects to be a "quipu", which looks like a sea creature made of knots, used for keeping track of finances; we think of it as an ancient version of Quicken.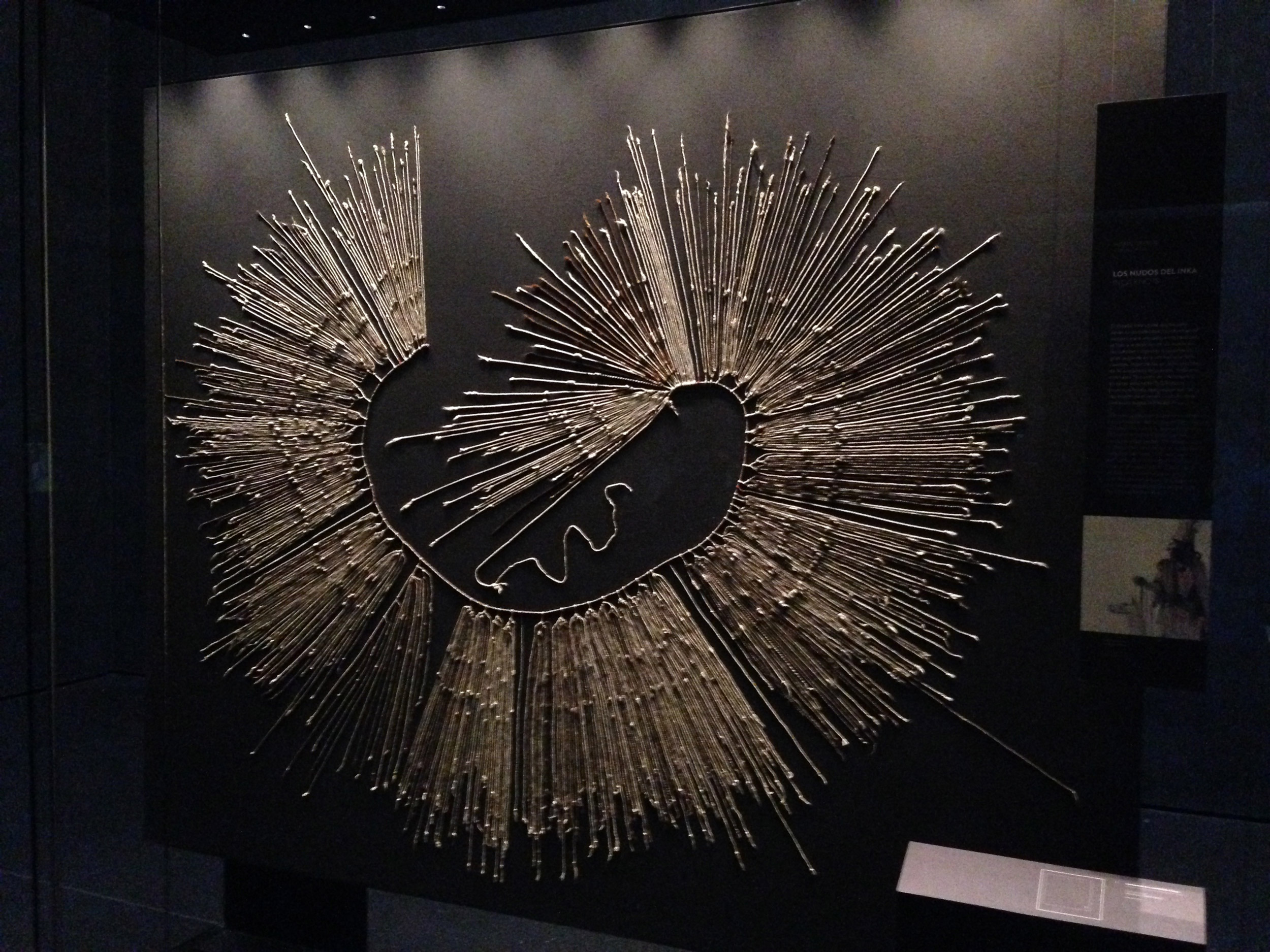 The Museo de la Memoria y los Derechos Humanos has a completely different vibe. A visit here is an emotional and sobering experience – it's much like going to the September 11 Memorial – and often elicits powerful, visceral reactions. The tour begins underground and guides you up three floors, each level representing different years in Chile's recent and traumatic history. Amazing videos of actual footage accompanied by English audio guides make you feel as though you're there, living the vivid history that leads to one of Chile's darkest hours. We highly recommend it if you're interested in learning about Chilean history and politics; we left the kids at home for this one.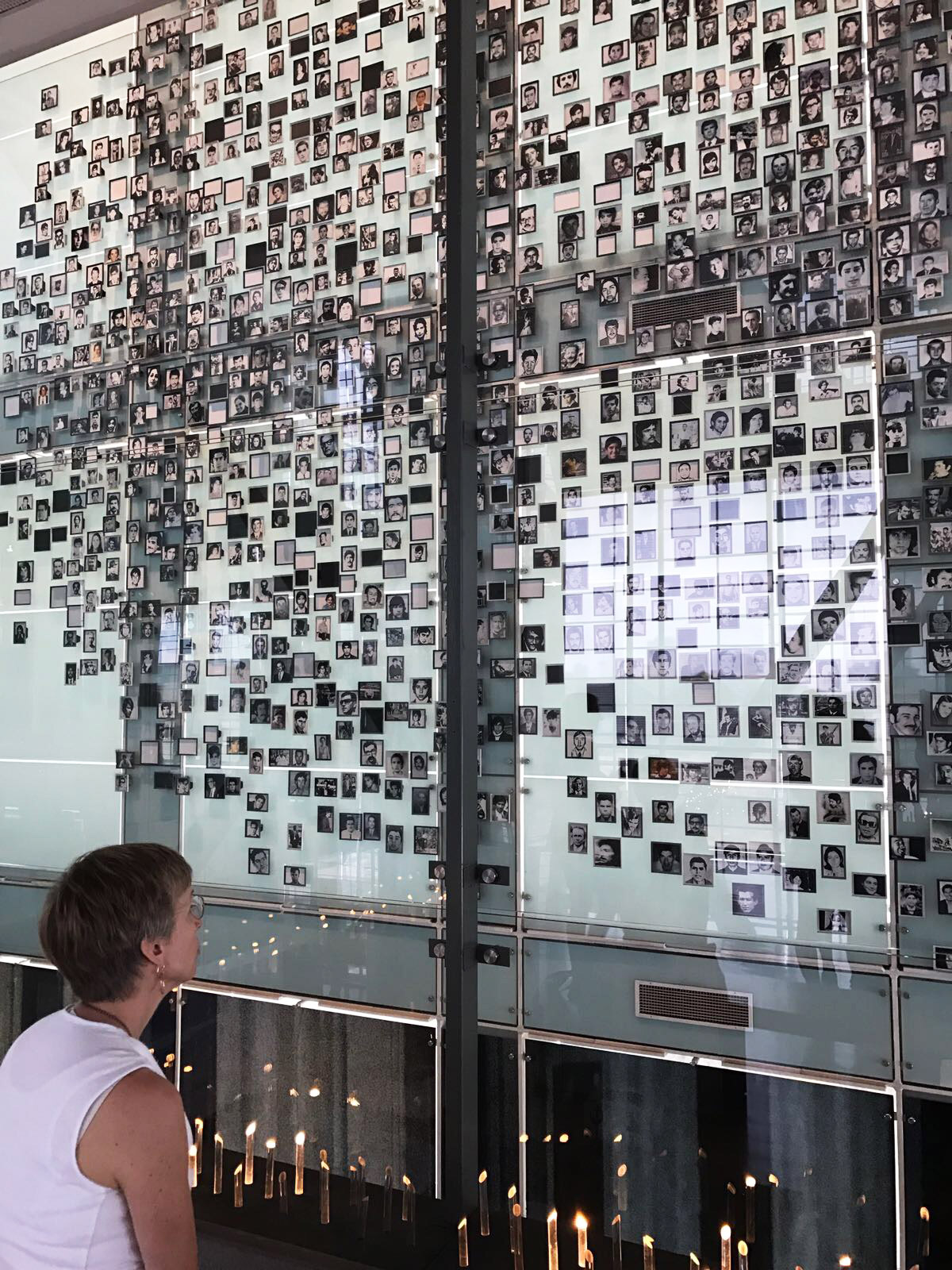 Afterwards, decompress at Parque Quinta Normal by riding a pedal-operated go kart or paddle boat (we laughed a lot while doing this because our boat only went in circles) or playing with old-school wind-up toys sold by park vendors. If you're looking for an off-the-beaten path spot for lunch, the quirky Peluqueria Francesa is a good bet. It's the only place in the world (that we know of) where you can walk through an active barbershop with men getting shaves in original barber chairs to reach a restaurant. Waiters wearing collared shirts, ties and vests serve food amid decorations including antique grooming sets, razors, and posters of "classic" hairstyles. While the ambiance is much of the fun, the food is good, too.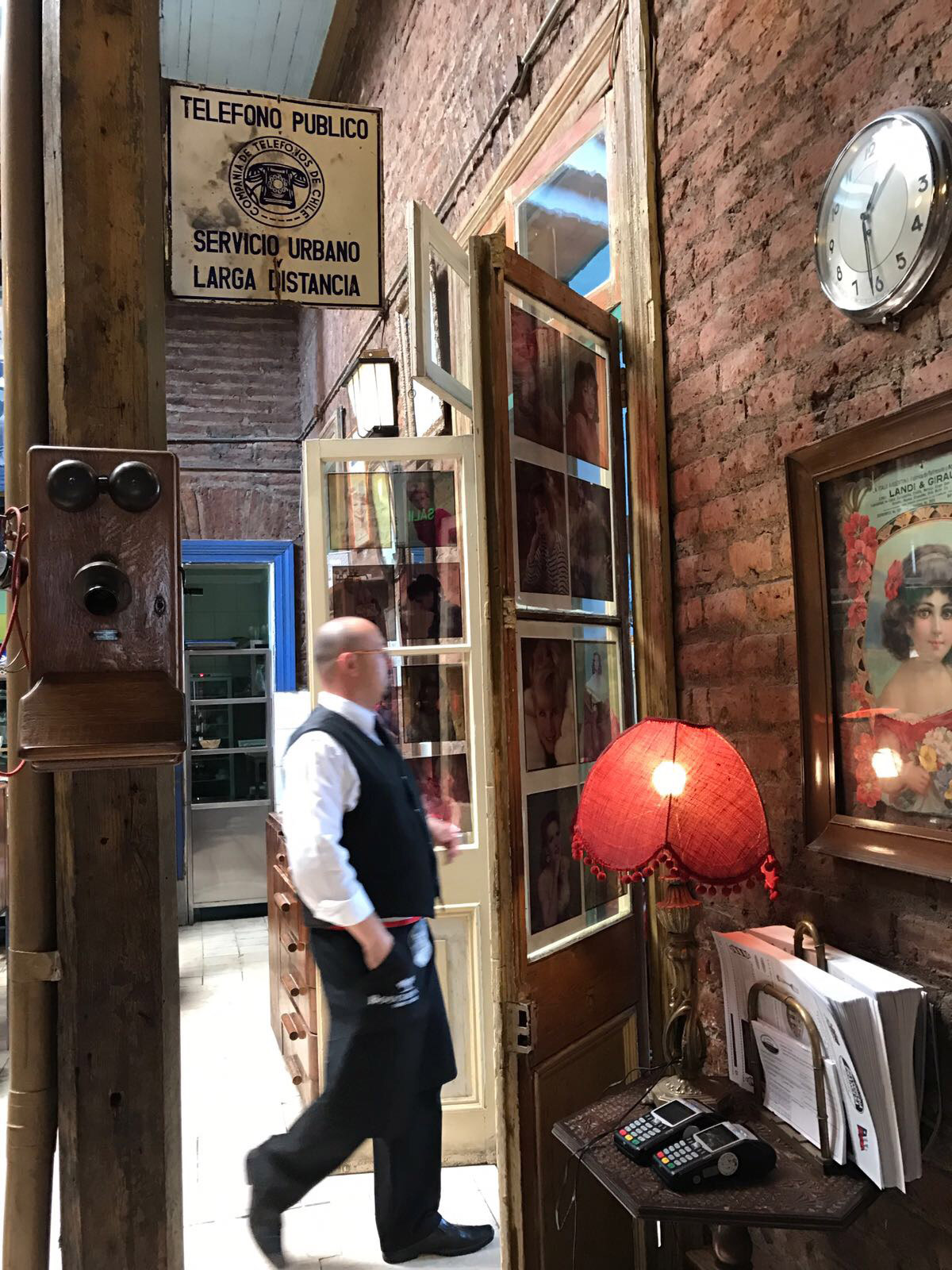 4. Stroll through Barrio Yungay. We recently explored this historic part of town after eating at Peluqueria Francesa and loved it. The eclectic neighborhood features quaint European architecture and cobblestone streets that make us think it's someplace our grandparents would have hung out, hidden behind a good amount of not-so-quaint graffiti. It's a small area, and like all of Santiago, it has its fair share of Chilean flair. Our favorite discovery was a literal "catwalk" two stories up where someone had created a suspended walkway from their window to a tree so their cat could get out for fresh air.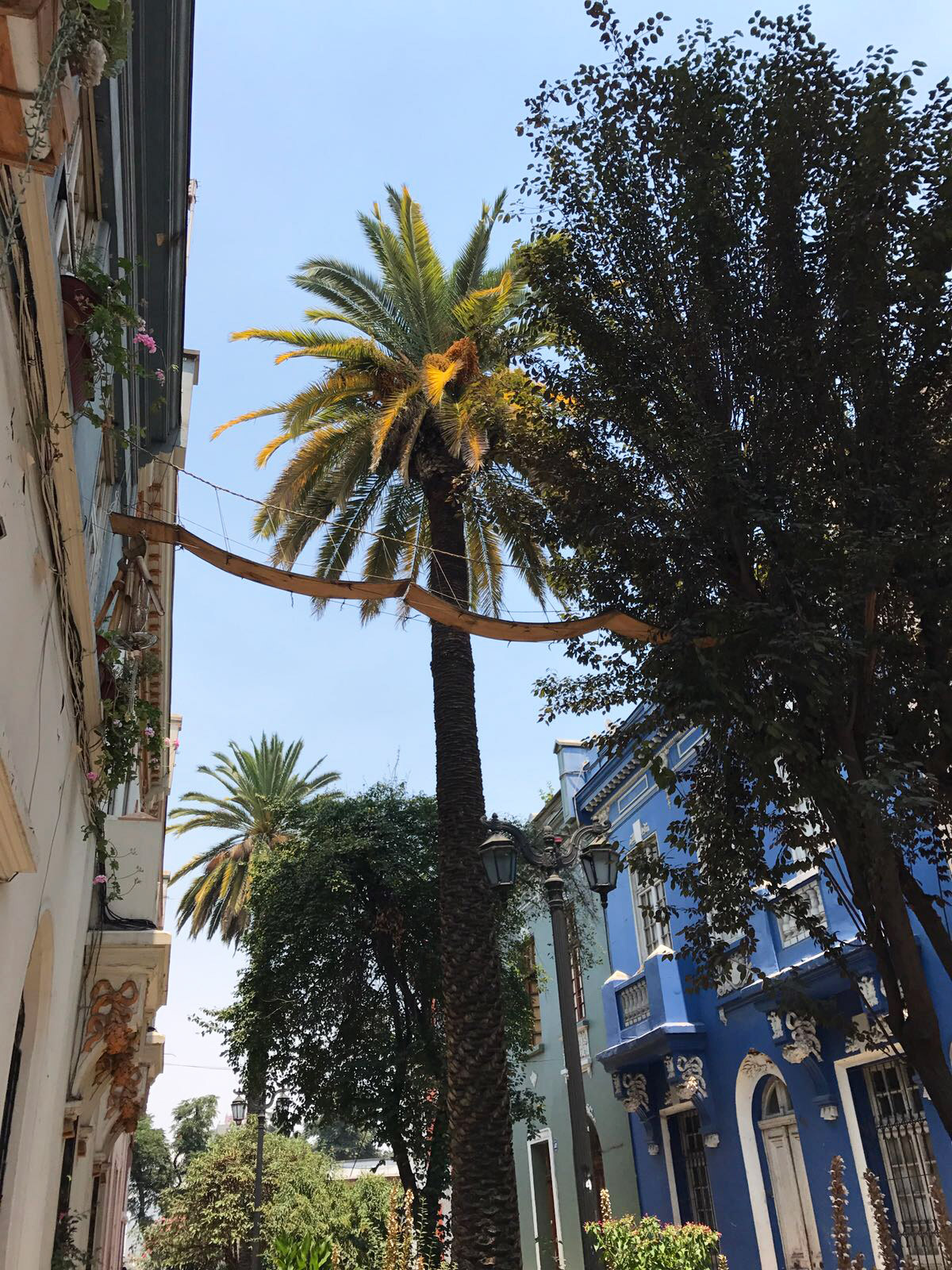 5. Hang out in Barrio Lastarria. Located near the Universidad Católica, this neighborhood is filled with young "heepsters" (as Chileans say it) sitting outside and enjoying life. Art fans might want to check out a show at the GAM, a performing arts center named for Chile's beloved poet Gabriela Mistral, or visit Interdesign, a super-cool design store. Known for its late night scene, we generally go to Lastarria in the daytime for coffee or ice cream and people watching. And speaking of ice cream...
6. Eat Ice Cream! We've alluded to this a number of times in previous posts, but Chileans LOVE ice cream. It's somewhat of a national passion – you can even buy it on buses. According to a 2010 USDA commodities study, Chile is the largest ice cream consumer in Latin America. We don't doubt it. People seem to eat it every day, at all times of day - we always smile at the sight of serious-looking businessmen in three-piece suits devouring a cone mid-afternoon. Shops specializing in traditional Chilean flavors such as manjar (dulce de leche) or chirimoya (custard apple) are all over town, and the city offers a number of artisanal shops selling flavors such as mild avocado or cantaloupe. You really can't go wrong with any of them, but we especially like El Toldo Azul, a newish artisanal shop in the El Golf neighborhood (our kids swear by the chocolate ice cream) or the original Emporio La Rosa near Lastarria.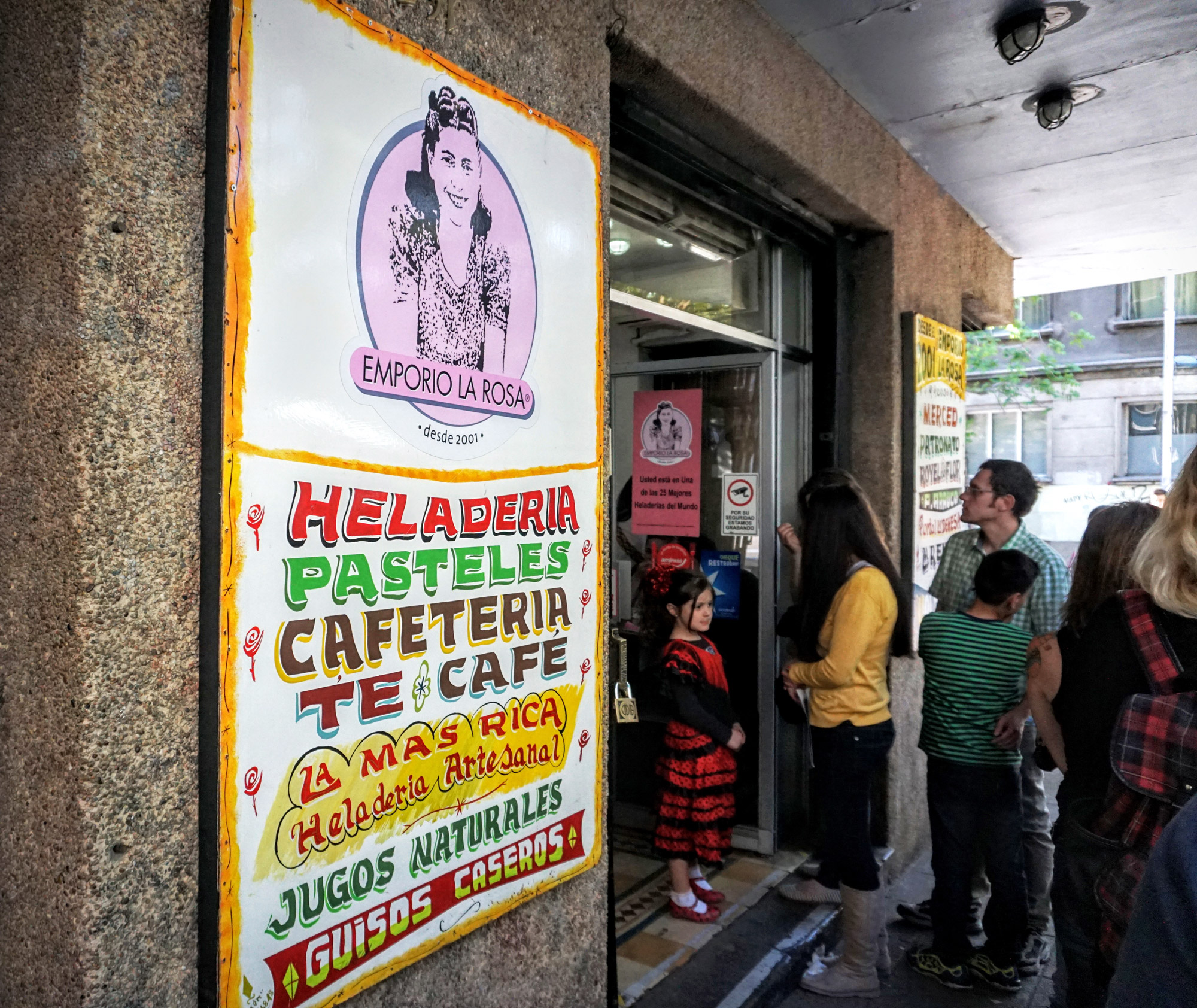 7. Tour Pablo Neruda's House. A great way to glimpse the life of Chile's most famous poet and also get a dose of history is to visit La Chascona Casa Museo, one of Pablo Neruda's three homes, located in the Bellavista neighborhood. An audio tour (available in both English and Spanish) follows a brief movie and takes you through the bright blue, quirky set of buildings connected by walkways that make up the home Neruda built for his mistress. Eclectic artwork gives you a sense of his aesthetic. The tour takes roughly an hour, but make sure to keep in mind there is often a line to get in and the stairs may pose challenges for those who are less mobile.
8. Go for a Guided Walk. One of the best ways to get an overview of Santiago is to take a walking tour. We highly recommend Tours 4 Tips, a company founded by our friends, a Kansan married to a Chilean. They offer a 3-hour "highlight" tour that takes you through the Bellas Artes neighborhood and by La Moneda (the presidential palace) and an "offbeat" version, which walks you through the Esmeralda neighborhood, the Mercado Central (which we referenced in our "Where to Eat" post), and the General Cemetery, a surprisingly relaxing place.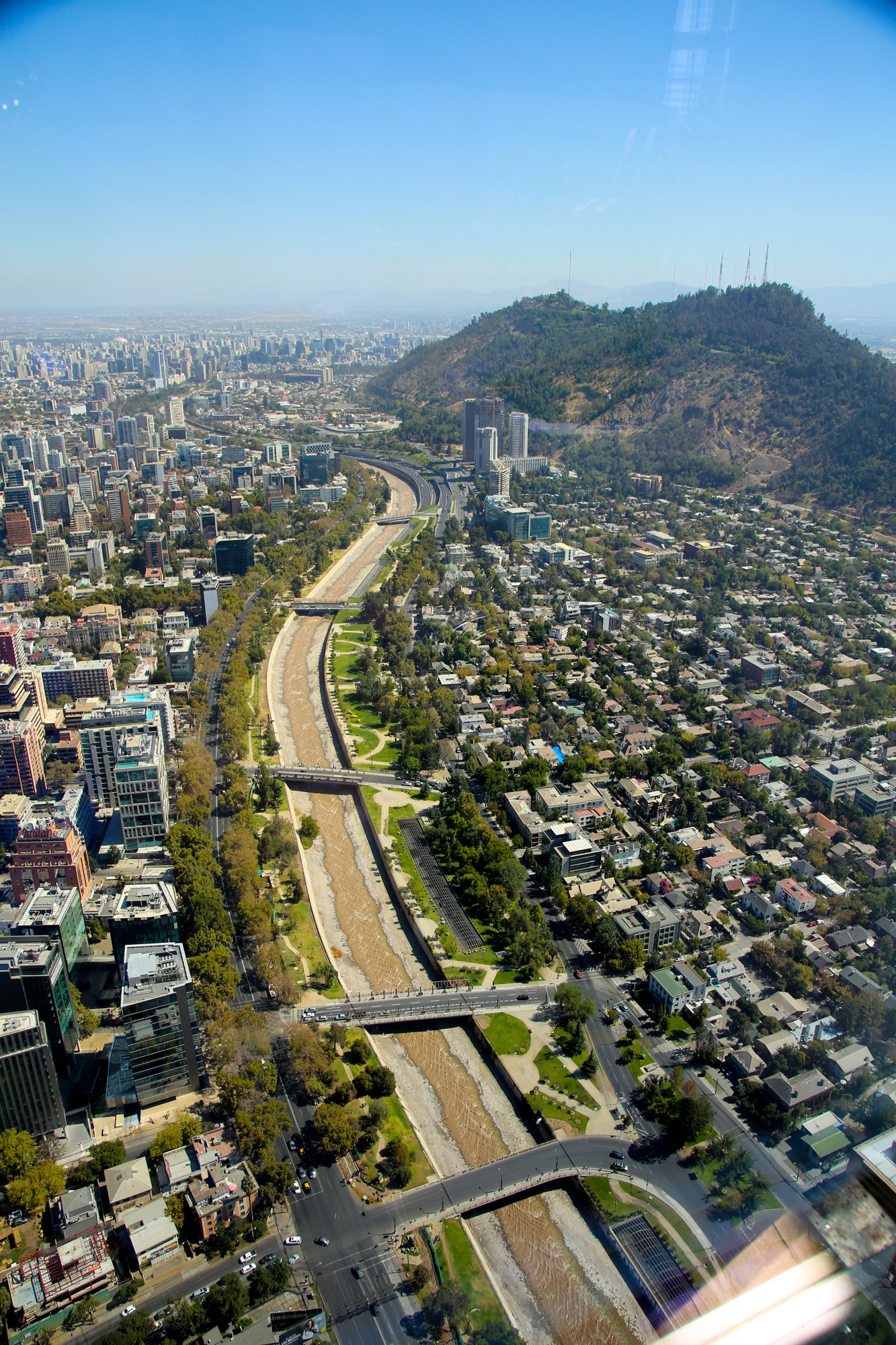 9. Take in the View. For a birdseye view of the city, go for a ride on the newly refurbished Teleferico Metropolitano to Cerro San Cristobal. The recently restored gondola floats above the city, making a fun experience for kids of all ages. A 22-meter statue of the Virgin Mary overlooks the Catholic city. While you can hike to the base of the statue if you want, we mostly enjoy going for the gondola ride and the view. This is a popular tourist destination so be aware of pickpockets.
10. Get out of Town. One of Santiago's most magnificent features is its backdrop: the Andes. If you're interested in heading for the mountains but don't have much time, we recommend Cajón del Maipo a beautiful canyon located about an hour's drive from Santiago. (We'd be happy to recommend drivers, should you decide to go.) There is a dam and a reservoir which can be viewed from numerous walking and hiking trails – some easy, some quite challenging – and there are also action-adventure opportunities. Cascada de las Ánimas, an ecotourism destination that has been run by our winemaker Amael's family for generations, offers zip lining over a canyon, horseback riding and soaking in thermal hot springs surrounded by the soaring Andes. There is also a wonderful lodge and cabins, should you want to stay for the night.

We're Here to Help
Recently someone asked us why we do this blog. It's because we feel Chile is such a special place that it deserves to be shared. As Chilean-Americans, we feel we offer a unique perspective on the country – we can view it as Chileans do, as well as see it through the eyes of Americans – which we hope is helpful for those considering a trip to Chile. Of course, we hope you'll come see us at our vineyard in Casablanca, too!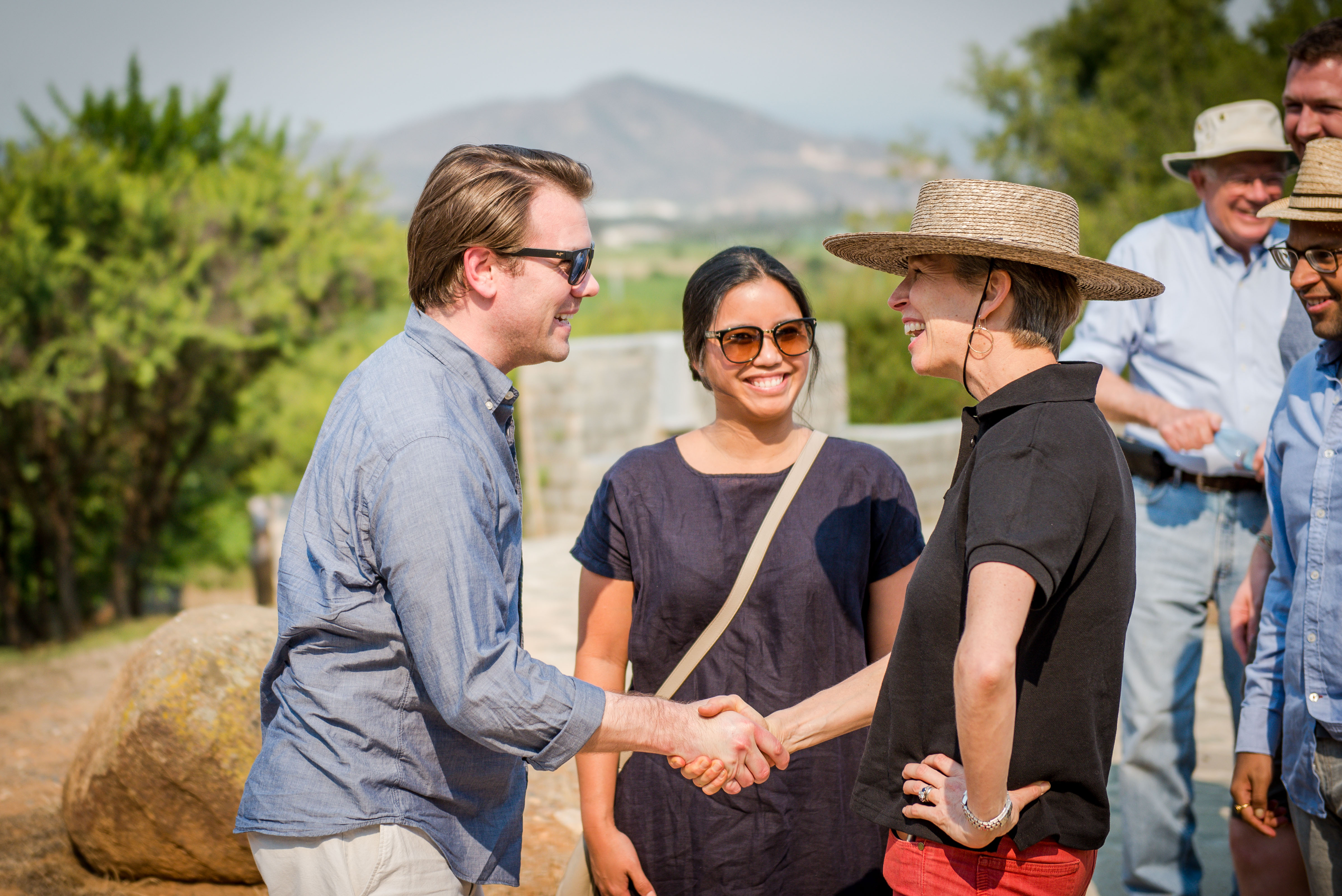 As always, feel free to contact us with questions. We'd be happy to provide additional suggestions based upon your itinerary and interests.

As I write this post, Byron and I are flying south to join Amael and our crew for the 2017 harvest. This is Byron's and my fifteenth vintage making handcrafted wines on our family's century-old farm in Chile's Casablanca Valley. It's striking (and humbling) to look back and realize how far we've come. Fifteen years ago, we flew down with our winemaking equipment in ski bags. We rented a small rincón at our neighbor's winery, because we didn't have our own. Byron and Mary's daughter, Audrey, was a toddler, happily snacking at the casa patronal on bananas from Ecuador.
Kicking off the 2017 vendimia, we've rarely been more re encouraged and hopeful about the wines we're making from our family's vineyard. We've spent nearly two decades aspiring to make bright, energetic wines with character that speak clearly of a place – our family's vineyard in the western Casablanca hills. Our most recent wines affirm we're getting closer to that ever elusive goal. It's tempting to say it all happened in the blink of an eye. But remembering the ski bags of yesteryear reminds us that it has taken time to reach this point.
Byron recently described our newest wines from Kingston Family as seeming like a "quantum leap forward." Meanwhile, his record banana-eating toddler leaves for college this September. What happened? What's changed? What switch did we flip?
The harmony we find in our wines today evolved from the gradual accumulation of a series of small, careful adjustments we've made throughout a long arc of patient study, enological play, and the gentle passage of time. The following are a few principles of winemaking we've relied on over the years at Kingston Family:
A light touch approach. Our winemakers Amael and Byron see their role more as stewards than rainmakers of wine. They carefully guide our wines through a natural process, with their fingerprints always at the margin. For example, they pay special attention to our Sauvignon Blanc using minimal sulfur, and instead rely more on the naturally low pH and high acidity to keep the wines fresh. Thanks to this hands-off approach, our 2016 Cariblanco is the most expressive we've ever made.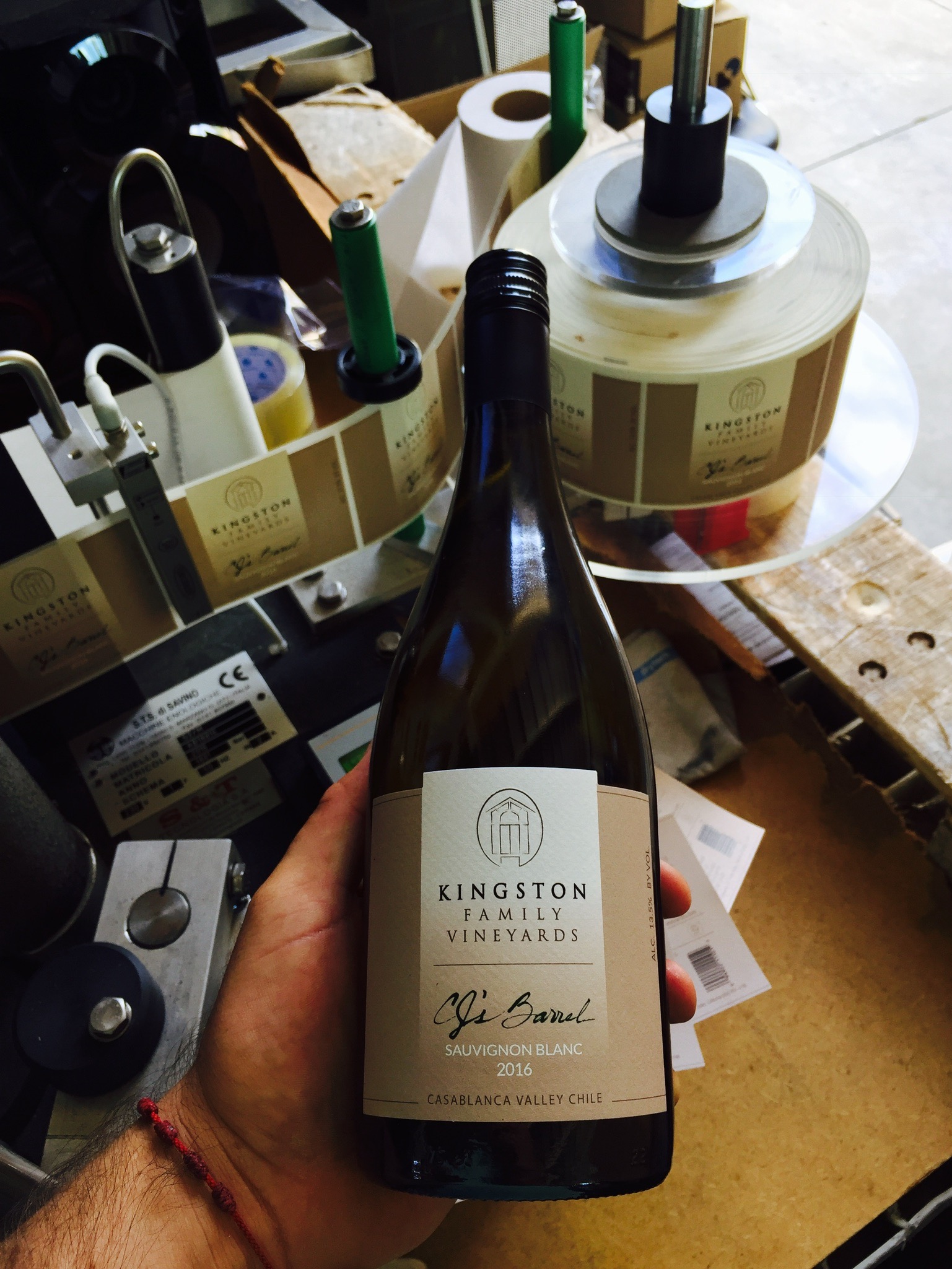 Enological play. We're always trying new things to stay open minded in the cellar. We often ask ourselves "how can we use tradition in new, creative ways?" or "what if...?" In 2016, we fermented and aged some of our Sauvignon Blanc in a concrete egg. The fruit came exclusively from our oldest 1999 vines next to the winery. We're so pleased with the results that we decided to debut our first ever CJ's Barrel Sauvignon Blanc. Amael and Byron also decided to experiment with making a Rosé. Conventional wisdom says Rosé is often made with Pinot Noir, but we chose to play with an early batch of our Syrah grapes. Chile's Patricio Tapia of Descorchados Magazine recently tasted and named it "one of Chile's Best Rosés of 2016." We plan to release our 2016 Rosé of Syrah to our club members later this spring or early summer.
Our vines are approaching 20 years old. Our first grapevines planted in 1998 have matured, allowing us to focus more on flavor, aroma, and "character" in our winemaking decisions. Our 2015 Syrahs show a finesse and harmony on the palate not found before. Older Pinot Noir vines allow earlier picking for their fullest expression, with a lighter touch in the winery. Starting in 2013, we backed off on Pinot Noir extractions, and surprisingly, less extraction led to more flavorful wines. Across the board, our upcoming 2016 Pinot Noirs are the brightest, freshest and least tannic, but most flavorful Pinots that we have ever made.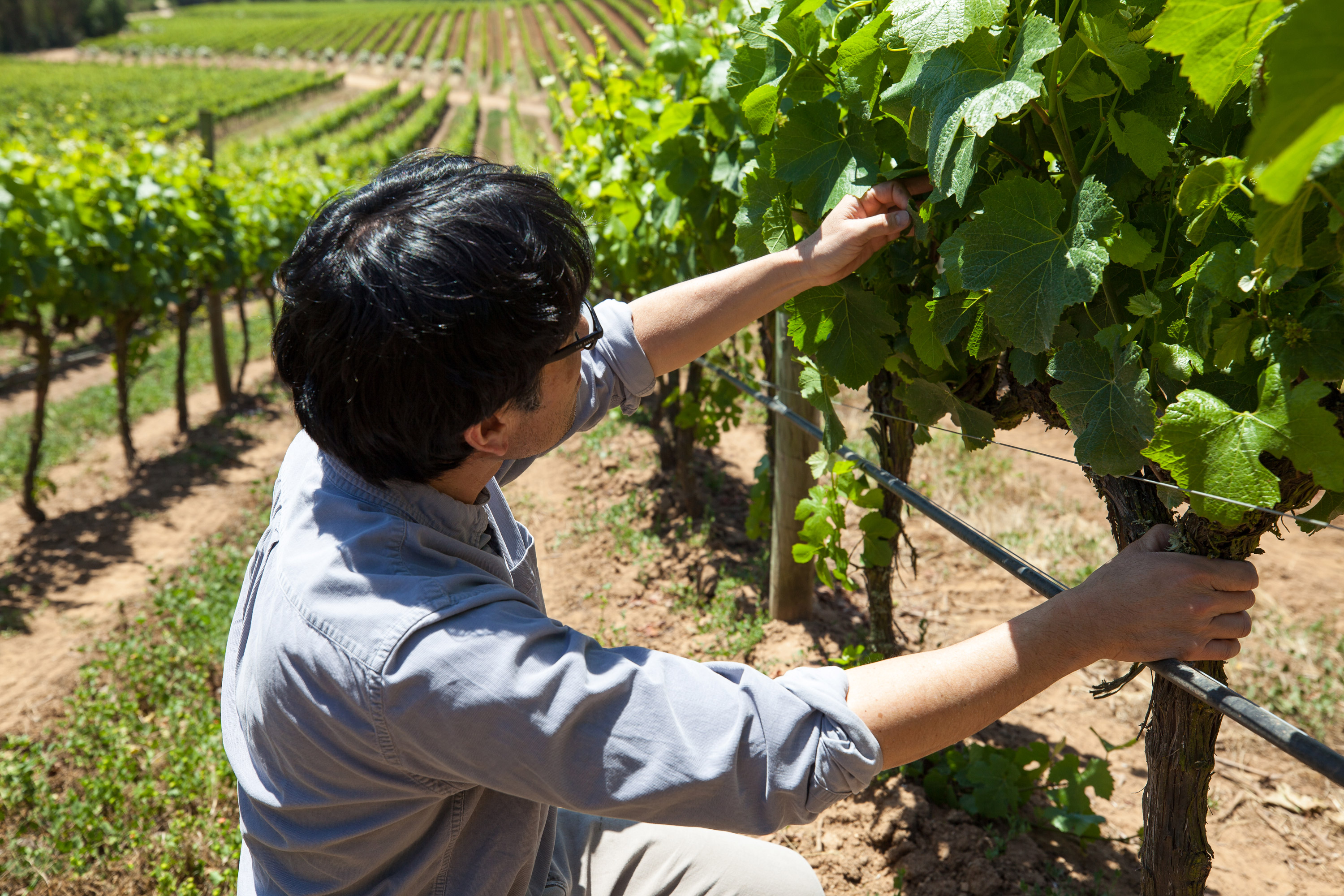 We hope you enjoy our wines and share your feedback with us. We've handpicked some special spring sets to make it easier for you to order. Wishing you all the best this spring season in the United States, and thank you for your encouragement and support of our family's wines from Chile.

We've discovered that many travelers to Santiago expect a "South American" vibe similar to what you might find in Peru or Ecuador. Usually people are surprised to discover that the city feels more European than Latin American. Situated at the base of the dramatic Andes, one of Santiago's most notable features is its penchant for interesting design and varied architecture: In any given neighborhood you're likely to see colonial or neoclassical buildings next to ultra-modern skyscrapers or incredibly unique structures such as the Consorcio National Insurance building, which features a 30,000-square-foot vertical garden on its front.
Probably what excites us most about Santiago is the booming food scene. In the past decade or so we've noticed the same creative passion and energy the city's architects have put into its buildings is now being poured into its food. Defined by fresh local ingredients prepared with a Chilean riff on other cultures, the resulting fare is a delicious melting pot of internationally-influenced cuisine. Below we highlight some of our recommendations for these innovative restaurants as well as our favorite places for quick bites, classic Chilean food, coffee, and sweets. We've organized them by neighborhood, most of which are no more than 20 minutes apart by taxi or metro (which is clean and efficient although like many capital cities' public transport, be wary of pickpockets).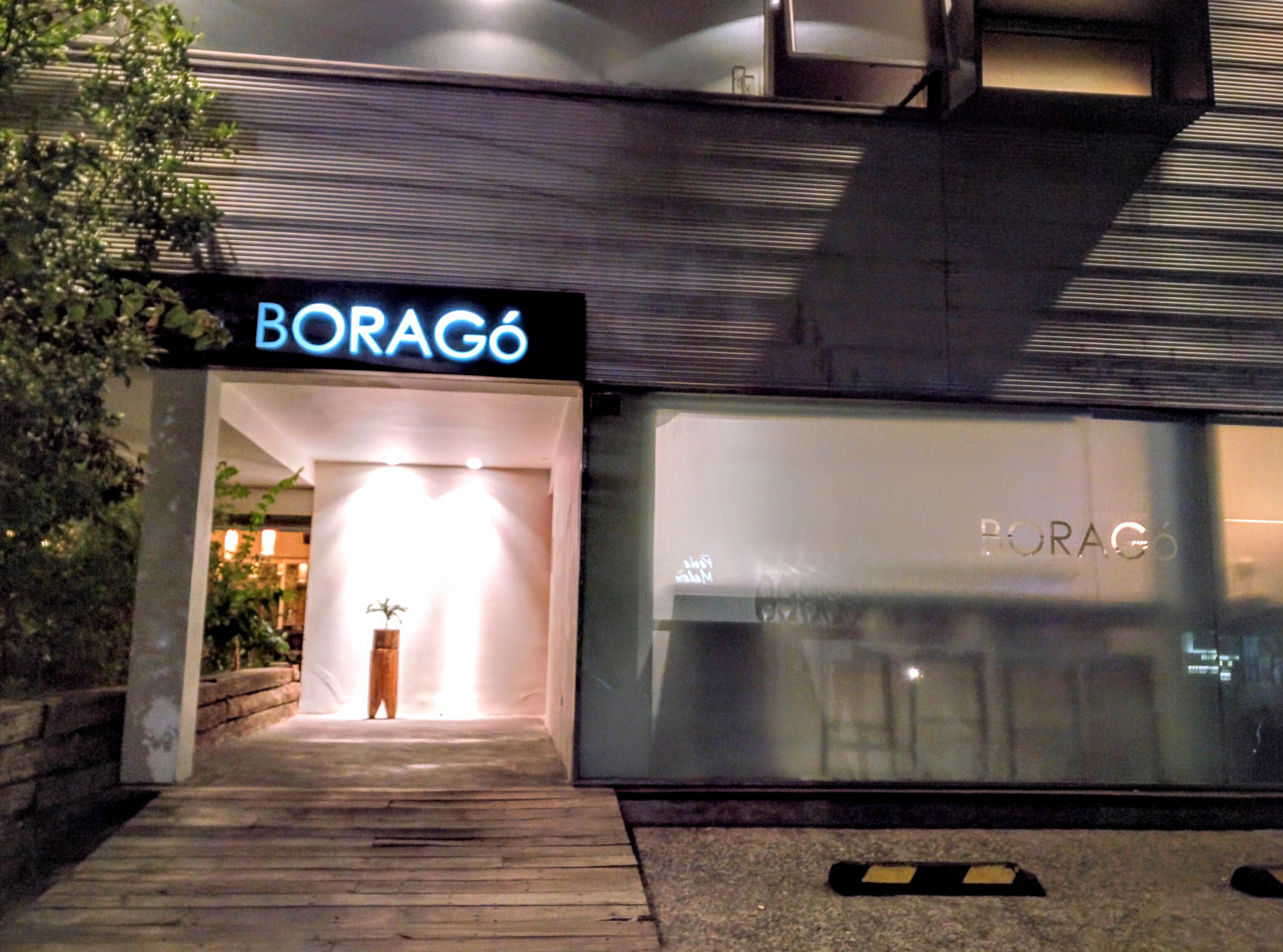 Vitacura
Probably the hottest restaurant in Santiago right now is Boragó, located in Vitacura, one of the city's most fashionable comunas. Named one of Latin America's 50 Best Restaurants in 2014, it reminds us of Noma in Denmark. The sleek spot is known for its use of 100 percent Chilean ingredients, many of which are foraged or sourced from remote regions such as Patagonia and Atacama, and are uniquely prepared and presented in a way that reflects nature. In lieu of a plate for example, you might find your abalone served on a rock. We are particularly excited about Boragó at the moment because we just got the great news that they'll be serving our 2015 Cariblanco Sauvignon Blanc on their 2017 tasting menu.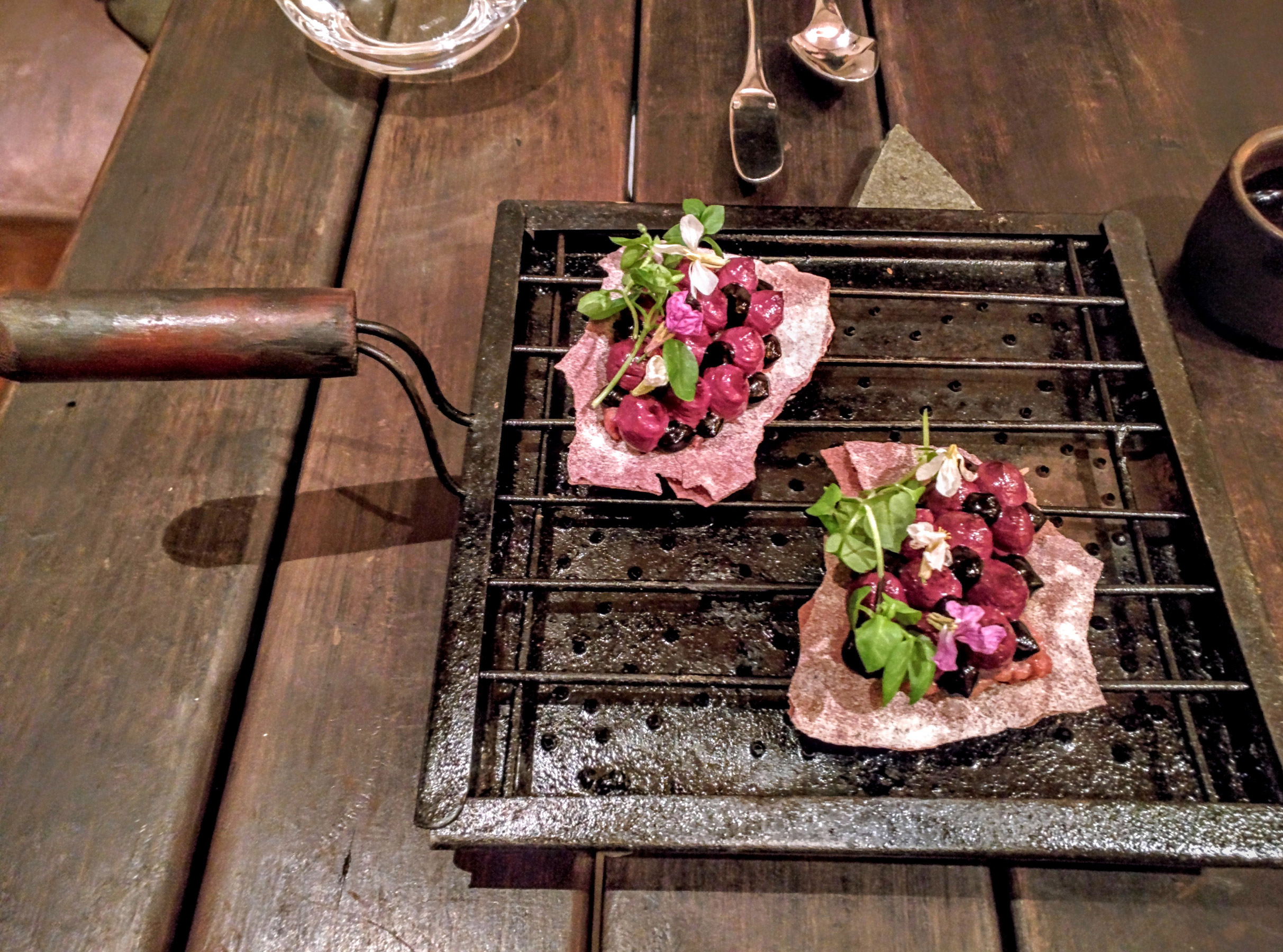 If you're in the mood for Japanese fusion fare, our winemaker Amael highly recommends Naoki. A great example of the current food scene, Naoki prepares Japanese-style food made with high-quality ingredients from Chile such as papaya from La Serena and piure, a rare seafood from the coast.
One of our favorite "go-to" spots is Mestizo overlooking Parque Bicentenario. The semi open-air eatery with cool architecture features delicious seafood. It's a great spot for brunch or lunch (make sure to make reservations) followed by a walk through the park to check out the pink flamingos and black-necked swans. On the west side of the park you'll find the artisanal ice cream truck is worth seeking out. An alternative for seafood is La Pesca de Mekis which doubles as a market and an oyster bar. Nearby, Quinoa is another excellent place for lunch. One family member loves the mango lassi; the salads are yummy, too. If you're into modern art you might want to visit the Patricia Ready Gallery of Art on Avenida Espoz and eat at its high-ceilinged, bright and tasty restaurant, Cilantro Bistro.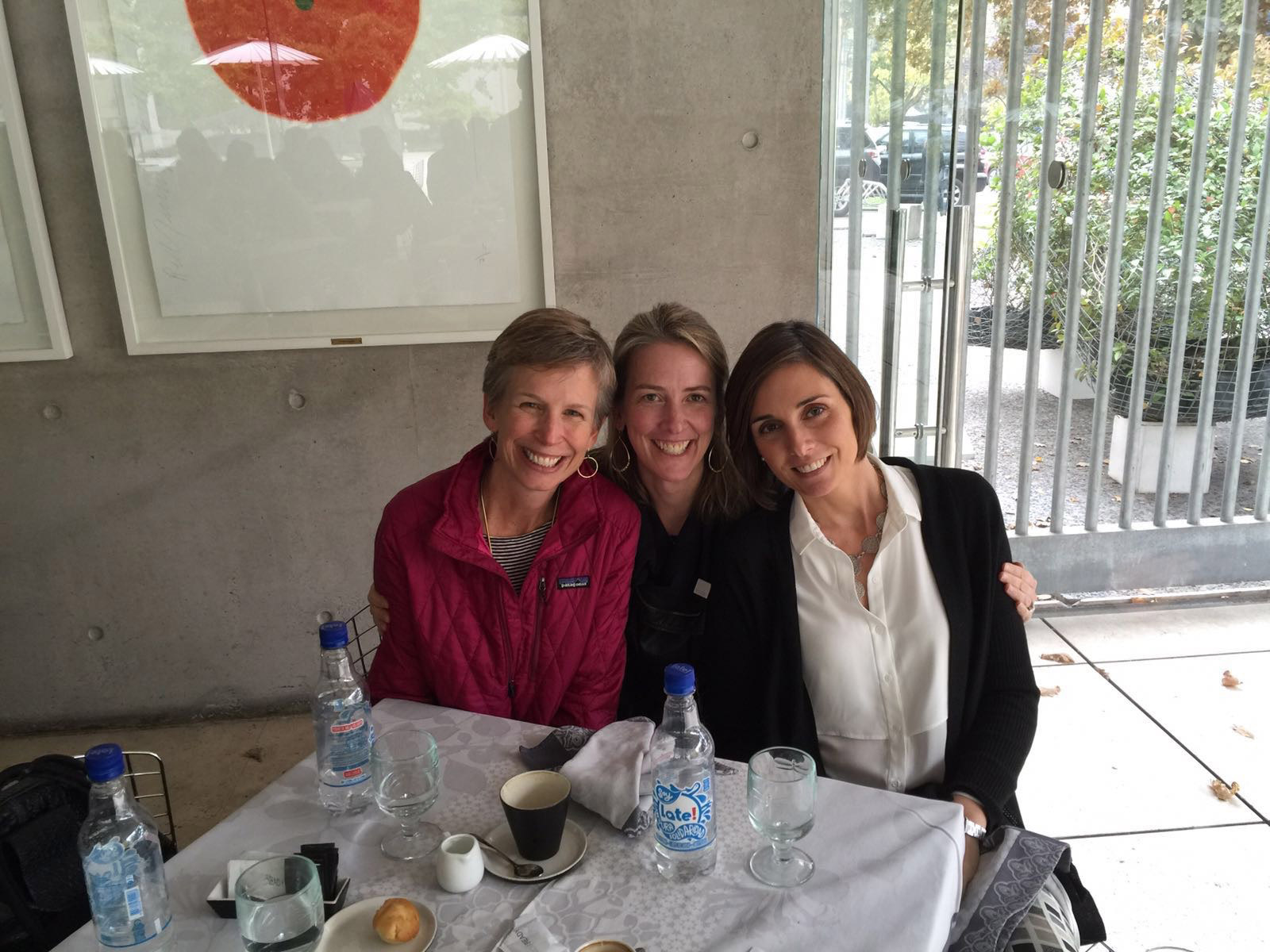 For something quick and simple, we often stop at La Punta for empanadas. The restaurant serves 14 different varieties with ingredients such as shrimp and onions or whole wheat with mushrooms. We like that every empanada type has a unique fold, each of which is cleverly decoded on the napkins so you can zero in on the aji de gallina, or the jamón queso, which are our personal favorites. And, while Chile is not known for its steak in the same way as neighboring Argentina, there are restaurants that specialize in meat offerings: Cuerovaca, located on the pedestrian walkway Paseo el Mañío, is one of the best in town.
El Golf in Las Condes
If you're in Santiago on business, it's likely that you'll be spending some time in El Golf in the Las Condes neighborhood. Affectionately known to ex-pats as "Sanhattan," El Golf is the heart of Santiago's financial district. Upscale hotels such as The Ritz and W have locations here, and much like Manhattan, there is a wide range of restaurants. Estro at the Ritz has outstanding food.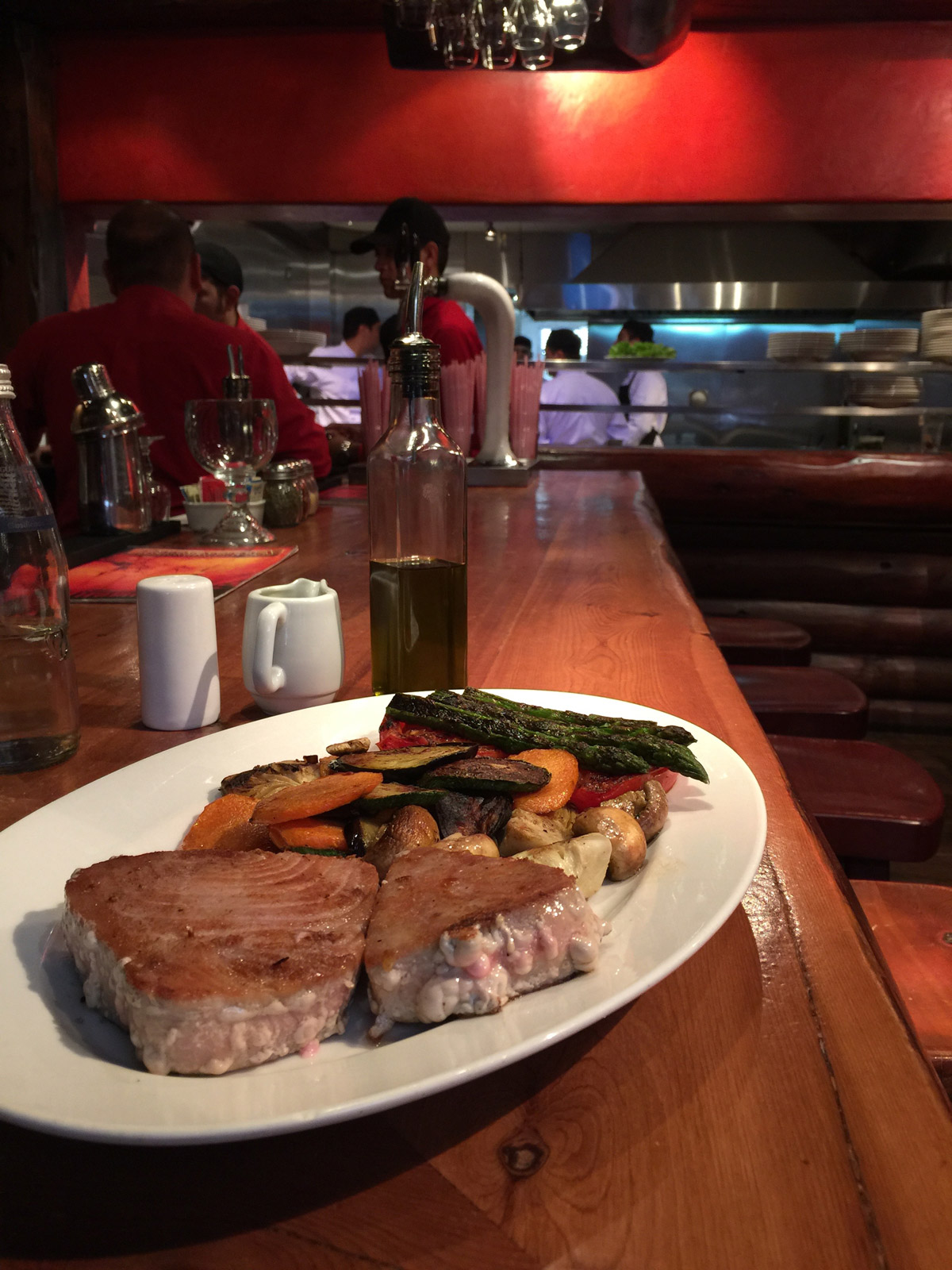 If you're looking for something fast and familiar Streat Burger might be a good bet. We think of it as Chile's version of Shake Shack. For something else that vaguely resembles a North American mainstay but is very Chilean, try the completo at Domino. It's a hot dog topped with ketchup, mayonnaise and avocado.
Should you happen to be in town with children, a good family-friendly choice is Pizzeria Tiramisu. Our kids love the pizza (although they insist that the pepperoni is not pepperoni – it's salami) and swear by the frambuesa, a natural raspberry juice drink similar to a smoothie.
Of course, most people will require coffee at some point during their visit so we feel the need to make a point here. We've noticed that North Americans often expect that coffee everywhere in South America will be excellent because Colombia is situated "nearby." Actually, this is not the case. Until very recently even Chile's most sophisticated restaurants regularly served Nescafé – menu listings actually read "Nescafé" instead of "coffee" – and just about everyone drank the powdered stuff. Fortunately, in recent years the coffee craze has taken off so you can now find a good cup with less effort. We suggest Cafetín for its laid-back atmosphere and creative breakfast eats like artisan yogurt and fresh granola served in a mason jar.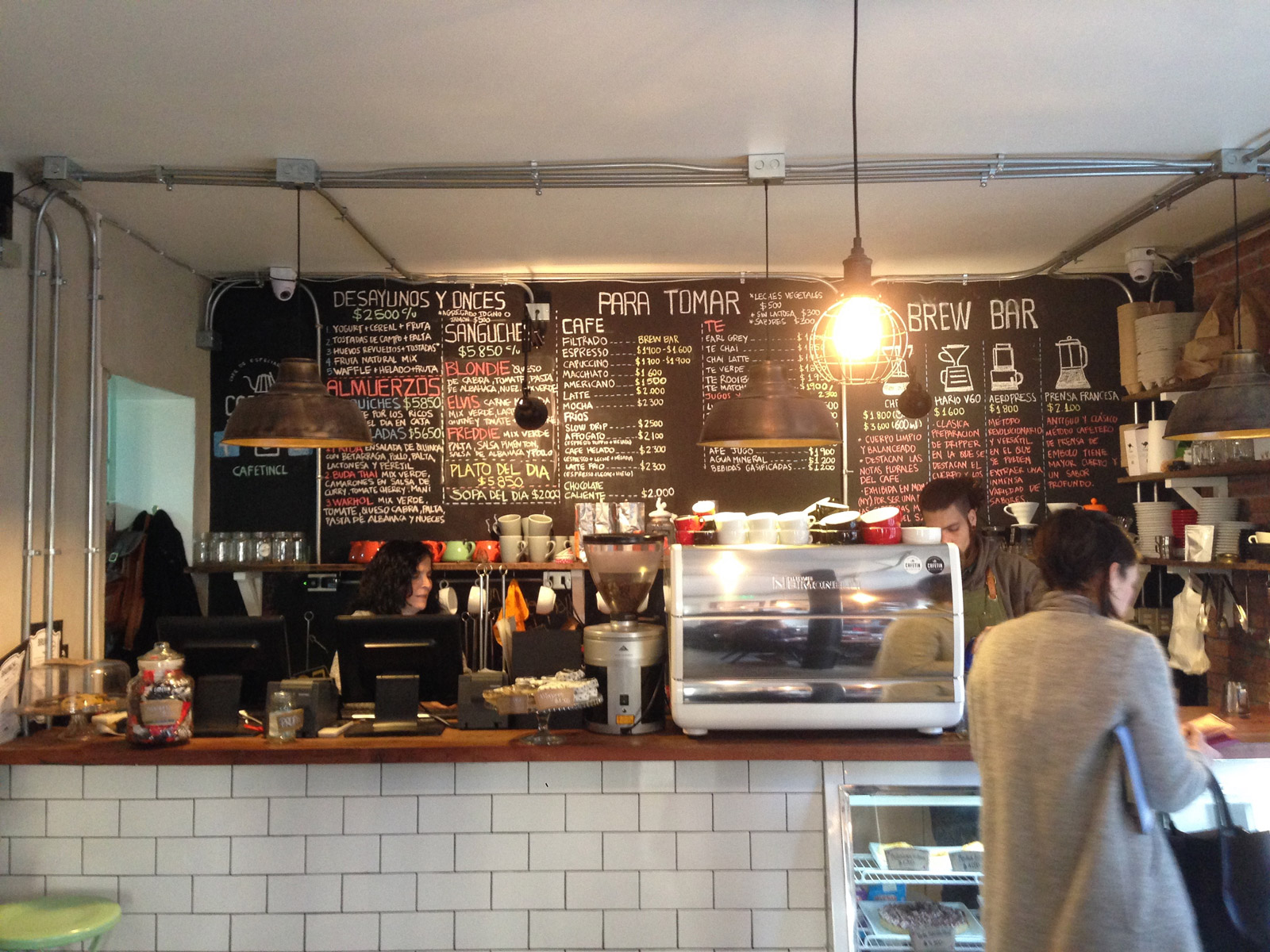 Providencia
You may or may not spend time in Providencia during your visit to Santiago, but you can't miss the massive feature that marks its border: the Costanera Center, the tallest building in Latin America. Completed in 2013, this architecturally striking landmark literally shoots sunlight in all different directions serving as a beautiful beacon of sorts. Nearby, 99 Restaurante is one of our current preferred hot spots. With its minimalist design and beautifully plated entrees, the market-concept restaurant features whatever is fresh and available that day at La Vega, Santiago's main food market.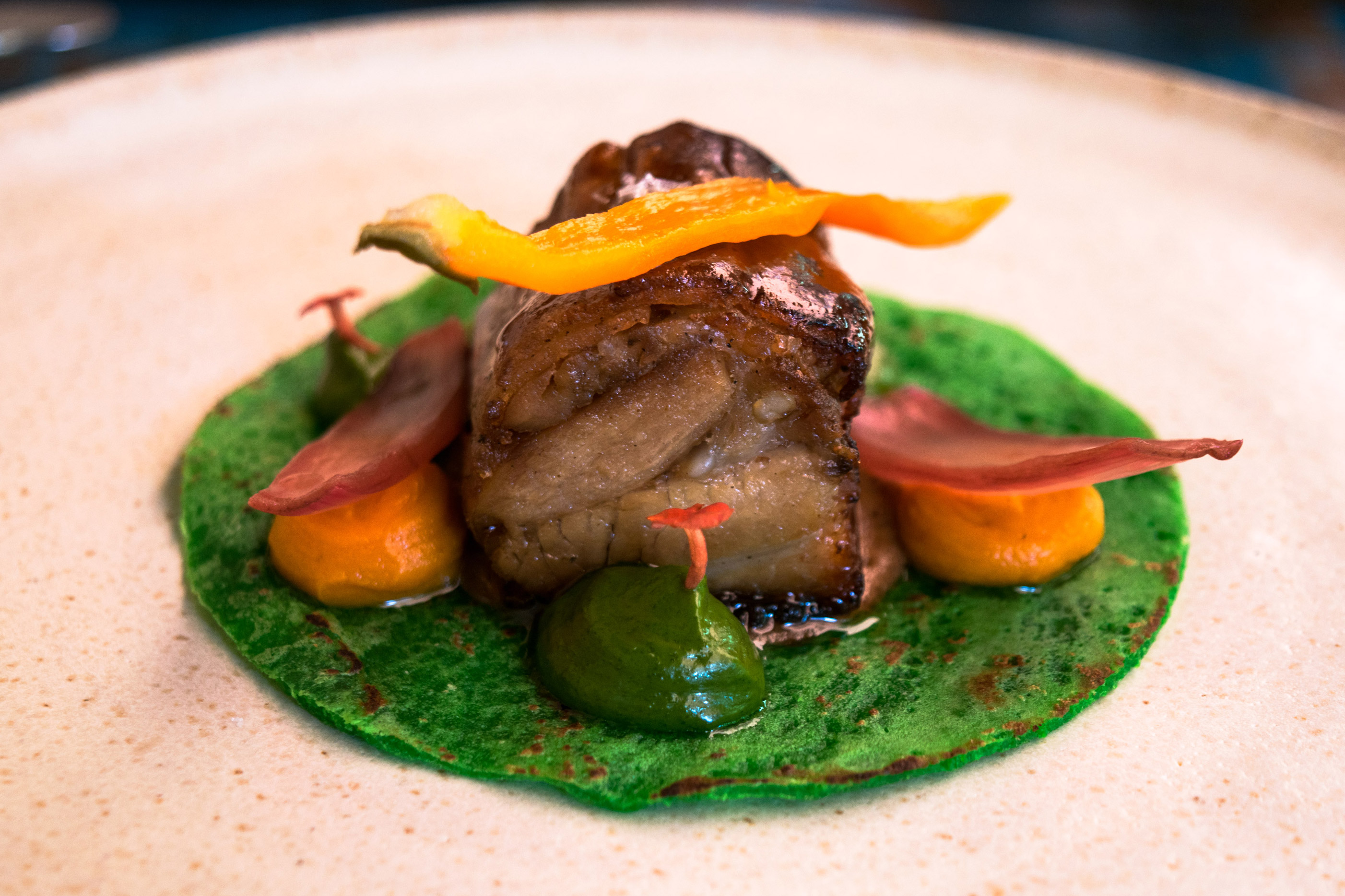 One of our all-time favorites is Aquí Está Coco. The eco-friendly restaurant serves tasty fresh Chilean seafood and amazing pisco sours. Some of its unique design qualities include a ceiling made from the hull of an old boat and a bathroom sink cut from a wood that operates with a foot pedal. Another popular choice is Astrid y Gastón, from the celebrity Peruvian chef Gastón Acurio, who founded La Mar Cevicheria in San Francisco, Santiago, and a number of other restaurants throughout South America.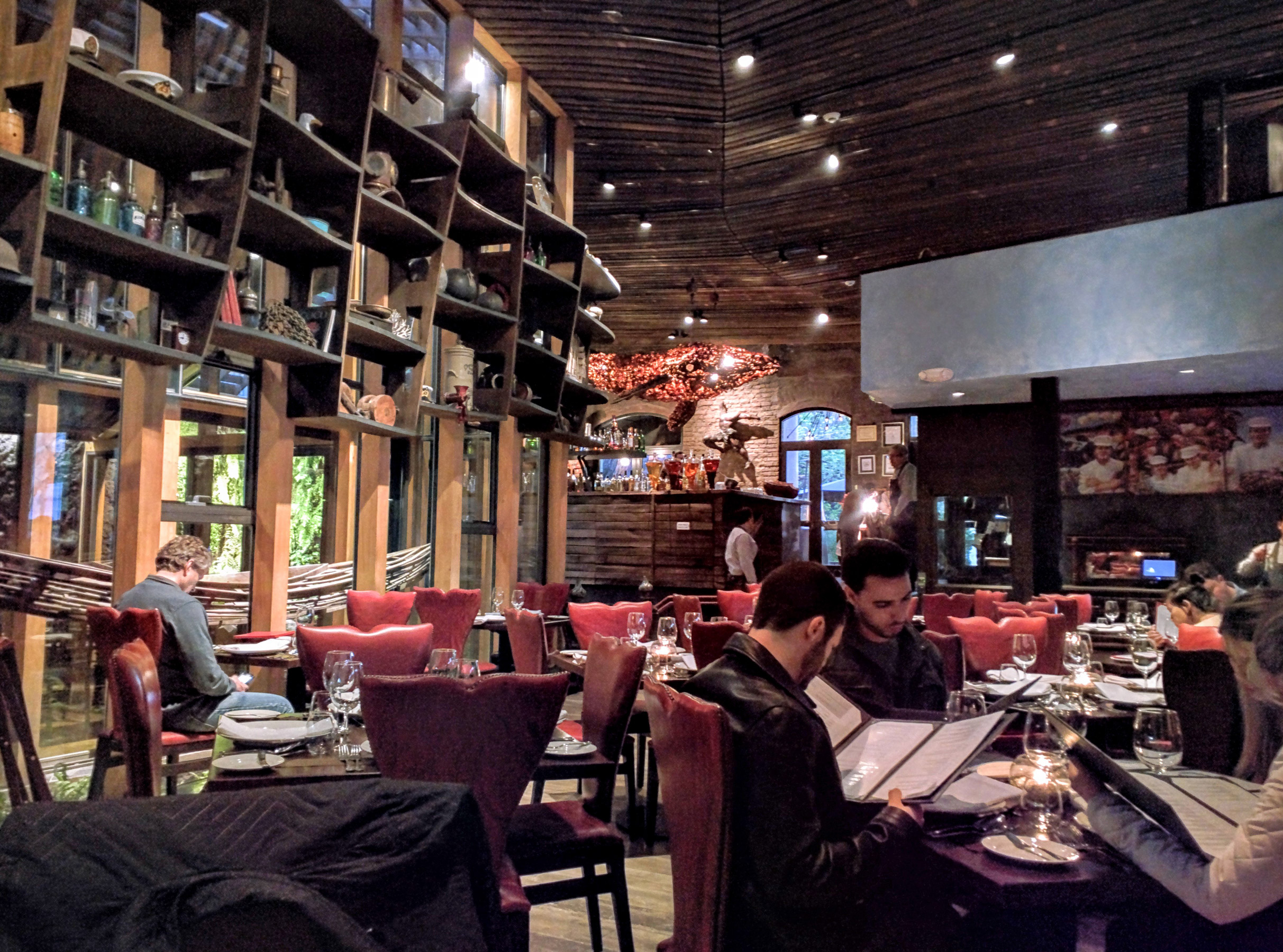 For more casual fare with a bit of flair, La Burguesia is in a league of its own. Imagine juicy burgers topped with fresh grilled avocado and zapallo, a Chilean squash, and you get the idea. Another option is Fuente Alemana, a hopping sandwich shop that sells German beer and acts as a reminder of Chile's history. You can try a completo, here, too. Another popular classic café is Bar Liguria, where you can sit on the sidewalk and watch the world go by.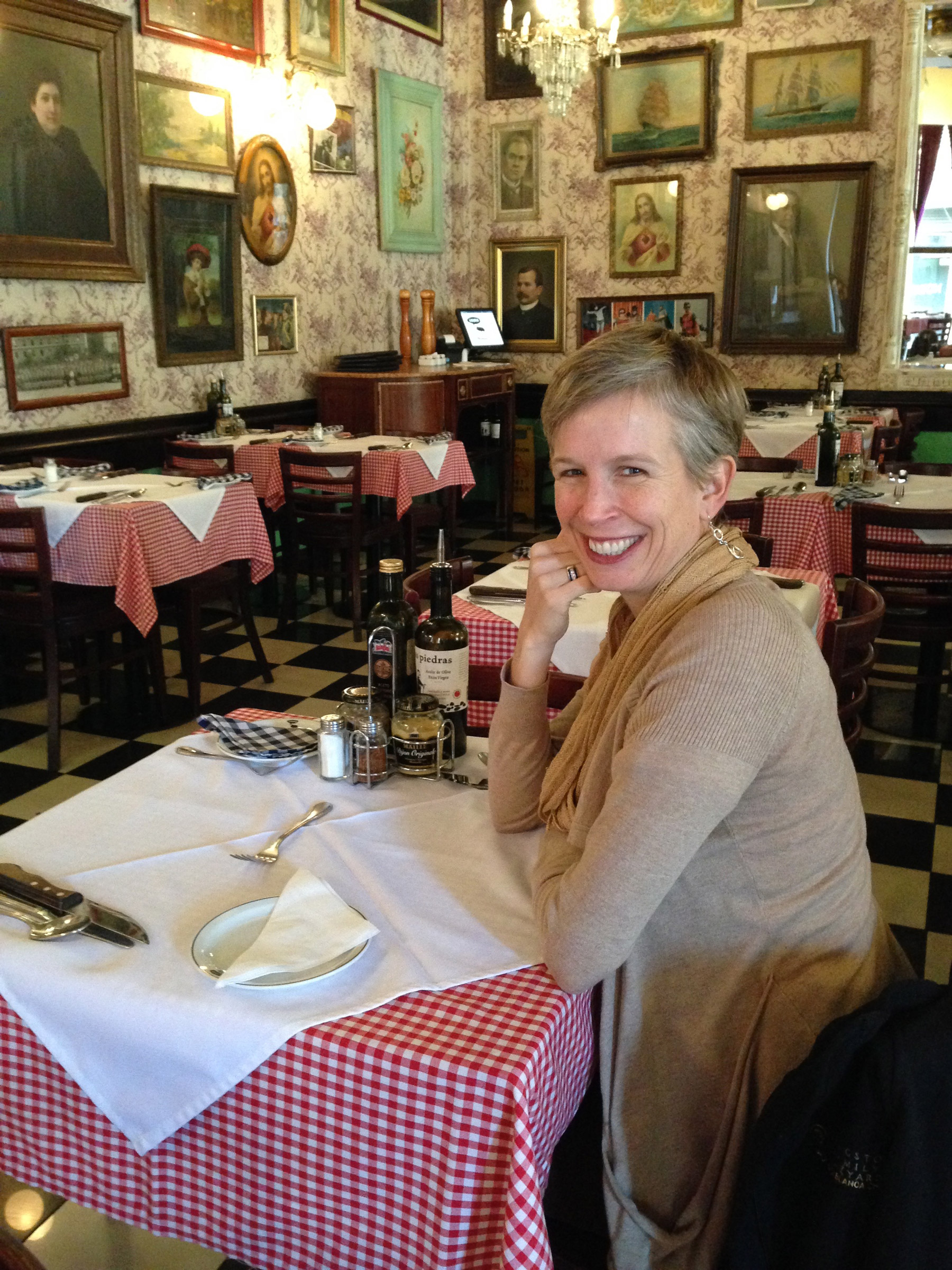 If you're looking for pastries or coffee, Faustina has a wonderful relaxed atmosphere. For ice cream try Sebastian; we like manjar chips, which tastes like a combination of dulce de leche and caramel with chocolate chips.
One of our most beloved stops is Dulcería La Violeta, a gem of a bakery staffed by little old ladies wearing old-fashioned white dresses and hats. Housed in a historic building tucked between modern ones, a step through the front door feels like a leap back in time. We love the tortas de mil hojas, a multi-layered cake that literally translates to "1000 layers" made with manjar.
Bellavista Neighborhood
Most visitors to Santiago will end up in Barrio Bellavista at some point because it is home to poet Pablo Neruda's famous La Chascona house. The trendy area has a bohemian vibe, lots of art galleries and clubs, and is continually sprouting hip new restaurants. It's a great place for people-watching but we find it sometimes to be a bit gritty and more appealing to youngsters due to the nightlife scene.
Our top restaurant choice for adventurous eaters since 2013 is Peumayen. According to the New York Times which reviewed it, the name means "dream place" in Mapudungun, the language spoken by native Mapuche people. The menu features creative and unique ingredients (think braised oxtail or horse meat) from Chile's many different regions and most options are prepared using the time-honored traditions of the Chile's native ancestors.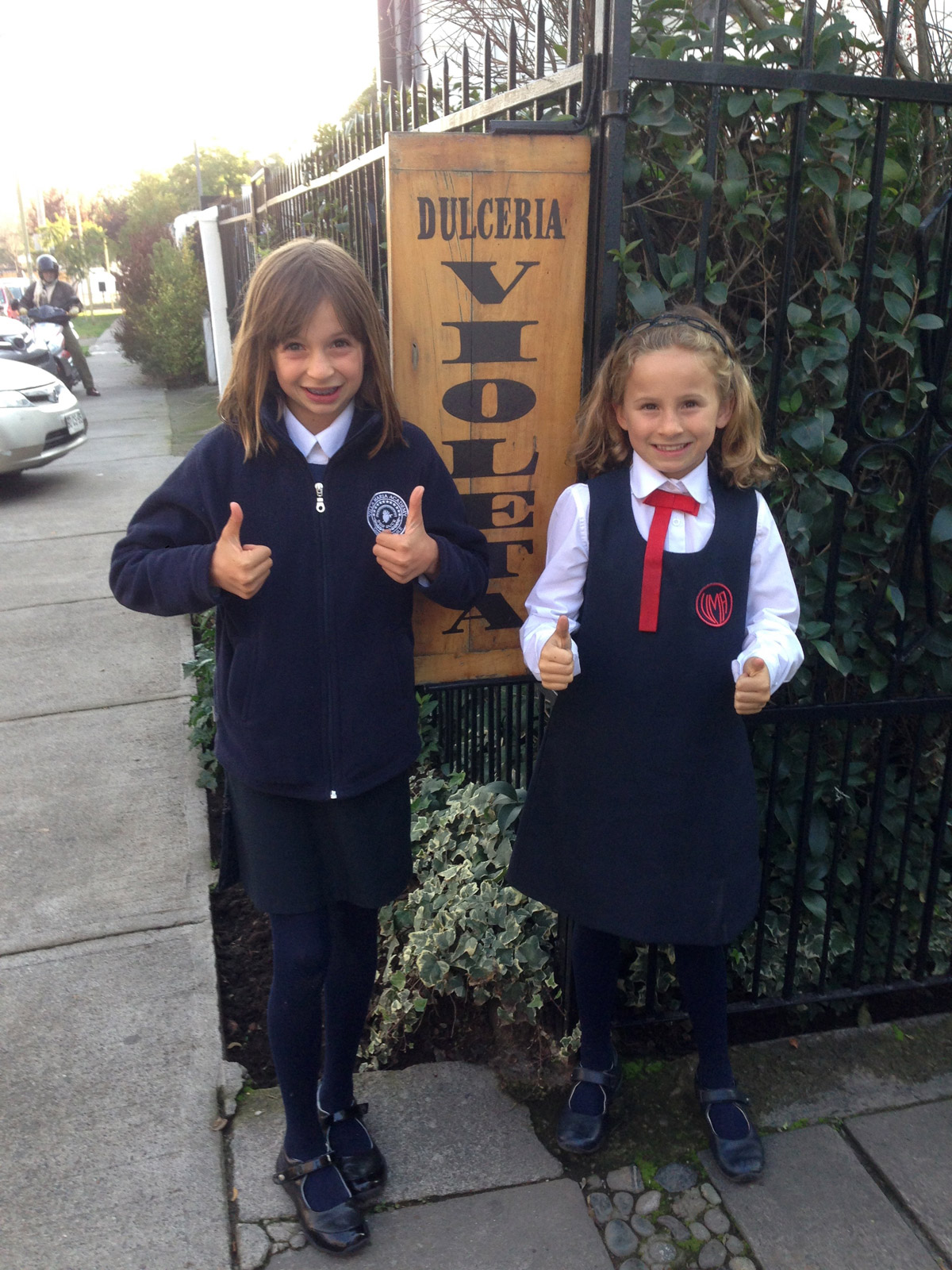 Lastarria
Located in the heart of Santiago, this historic barrio includes the Museo de Bellas Artes and the Museo de Artes Visuales (MAVI), among others. With its cobblestone streets, architecture that looks more French than Latin American, busy cafés with outdoor seating, quaint shops, and strolling buskers and musicians, this artsy area has recently experienced a revival of sorts. For dinner, we recommend the wine bar Bocanariz, which literally translates to "mouth-nose" and is known for its small plates and wine pairings with an extensive list of lesser-known hard-to-find wines. We like that the always-busy spot is family-friendly; we once took our kids and the waiter brought milk for our four-year-old without us even asking for it.
A nice option for a drink and an appetizer is the rooftop bar at the beautiful new hotel, The Singular. In our opinion, the decor and fare is reflective of Chile itself; a tasteful mix of old and new. For lunch we recommend Castillo Forestal, located in Parque Forestal. The French-style café makes delicious basil lemonade and has tables for playing chess. Colmado, near The Singular, serves great coffee, as well as freshly-baked bread, vegan and gluten-free snacks and amazing desserts. One of our favorites is the pork and mozzarella on their housemade bread.
Although a small example, we feel this form of creativity somewhat typifies the larger food movement in Santiago – a touch of innovation, a dose of whimsy, some international elements and fresh ingredients, many of which you'll only find in Chile.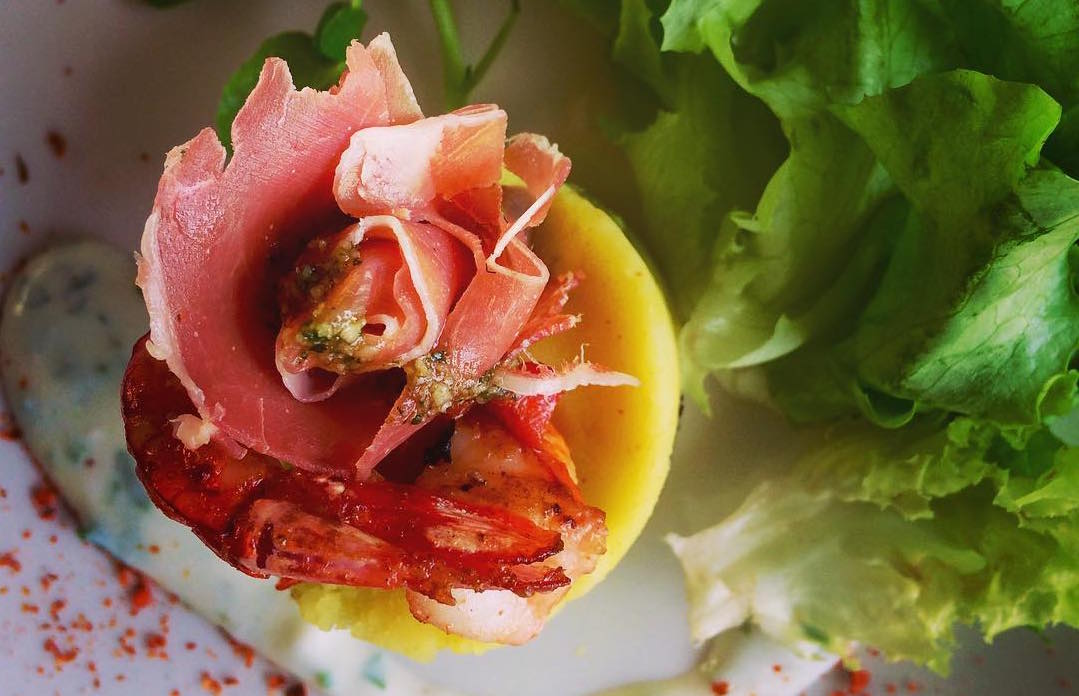 We're Here to Help
If you are in need of additional dining recommendations, feel free to e-mail us at guests@kingstonvineyards.com or call +1 (650) 854-4146. If you plan a day trip to Valparaíso and wine country, we'd love to welcome you to Kingston Family Vineyards for an intimate tour and wine tasting. We also offer privately catered lunches on our terraza (advance reservations only, please) with a panoramic view of the Casablanca Valley.

It's been a busy few weeks leading up to today's fall release but we're pleased it is here and we can finally share our 2015 Alazan Pinot Noir (150 cases) and 2015 Tobiano Pinot Noir (275 cases) now available on our website.
Our Old Corral Club members have already received their early allocations, along with the club-only special bottlings of our 2015 CJ's Barrel Pinot Noir and 2015 Sabino Chardonnay. Some of our Old Corral Club members in California were even able to join us in my backyard last Tuesday to taste our new wines with our Chilean winemaker, Amael Orrego, who was visiting from Chile.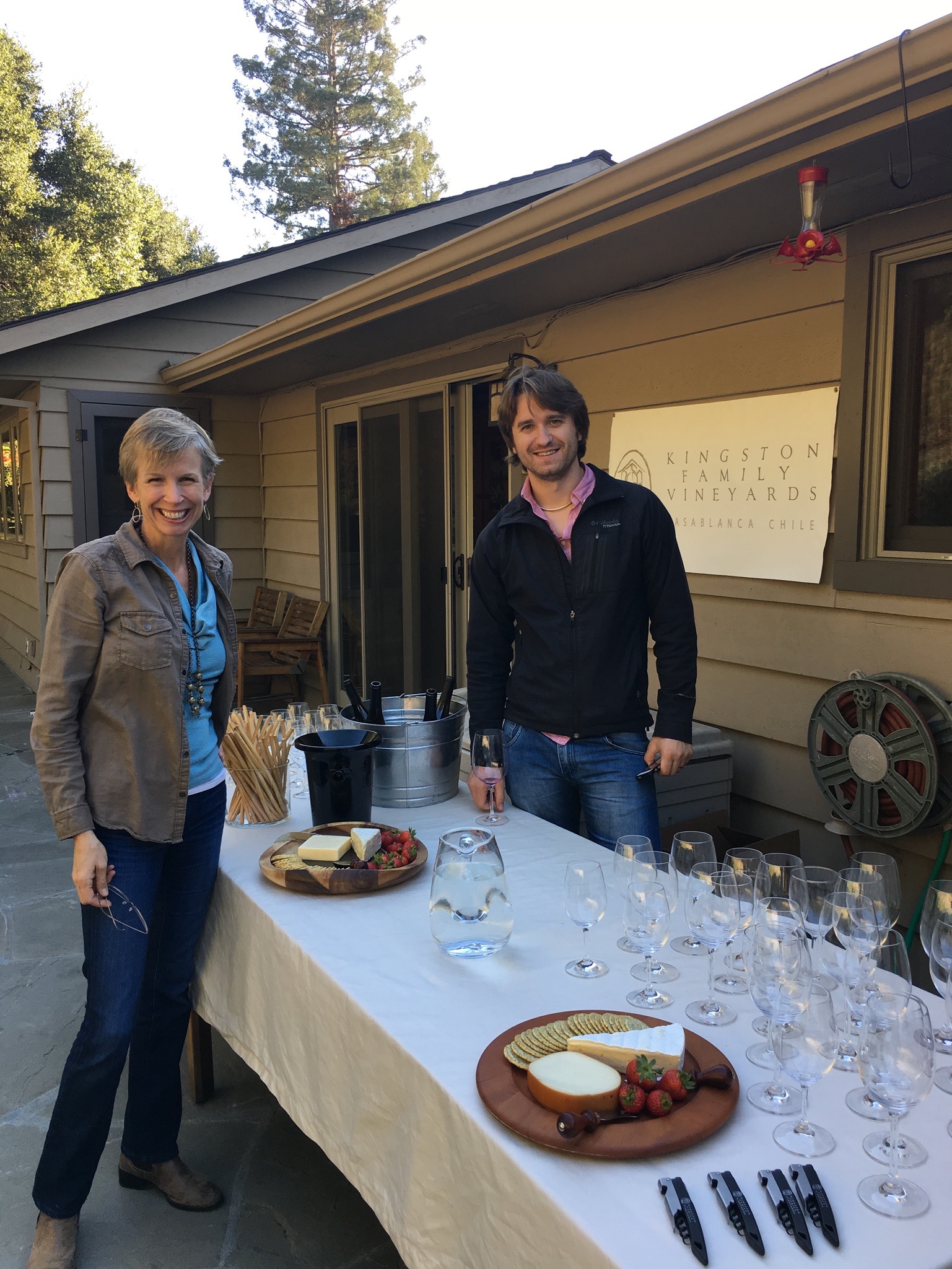 The purpose of Amael's trip was multifold but one was was to attend James Suckling's Great Wines of the Andes events in Miami and New York and pour our 2015 Alazan Pinot Noir and 2014 Bayo Oscuro. This year, for the first time ever, we previewed our wines to the press, sharing them with former Senior Editor of Wine Spectator, James Suckling, during his trip to Chile earlier this year. He awarded our three (then unreleased) Pinot Noirs 96, 95 and 92 points respectively, and our newest Syrahs 94 and 93 points.
We've been fortunate to recently receive great accolades from other members of the press as well. In its current October 2016 issue, Wine & Spirits Magazine gives 93 points to our 2013 Lucero Syrah, namingit among their Top 100 Best Buy of 2016. In its November 2016 issue, Wine Enthusiast awards 91 points to our 2015 Cariblanco Sauvignon Blanc, commenting:"[Kingston Family], one of Chile's go-to producers of Sauvignon Blanc, has bottled a winner."
The 2015 vintage was exceptional. The brightness and energy of our new wines reflect the careful shifts our team has been making at the winery and in the vineyard. Our winemakers Amael and Byron explain more in their tasting notes (found when you click "Read more" in the descriptions on the individual wine pages linked) about the behind the scenes changes we've been making in the vineyard and the winery that you can now taste and see in the bottle.
For those of you who order our new wines, I hope you'll share with us any feedback you may have. We are grateful for your support and enthusiasm for what we're up to on the Farm. From all of us at Kingston Family, thank you for your support.
Muchos saludos,
Courtney Kingston

On occasion we come across tasty family recipes from years past that show a piece of our family's history. The one below, which we've dubbed CJ's Chicken, is the first of many we hope to share going forward.
This particular recipe was a favorite of CJ Kingston II, (not to be confused with his namesake, Carl John Kingston, family patriarch and founder of the Farm), the oldest of the third generation of Kingstons in Chile. Born and raised on the Farm in Chile, CJ II as he's called within the family, grew up to become an avid cook and fan of entertaining friends and family at his home. Often he would make this recipe because of its suitability for a group of five or six and its simplicity to make.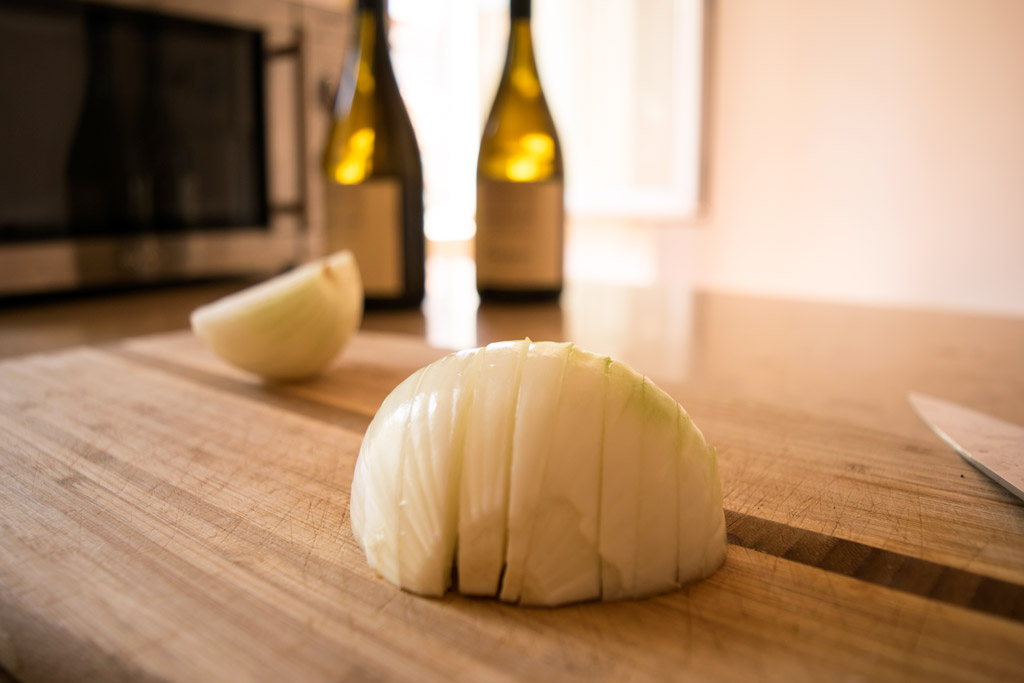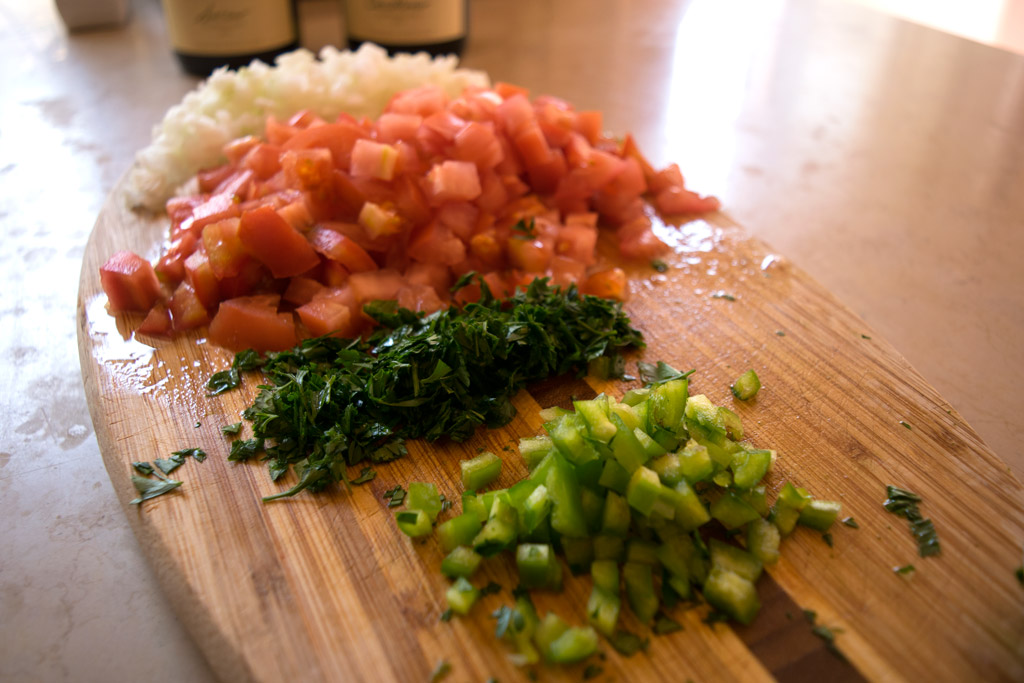 As we were preparing to make this dish we noticed that the recipe was not Chilean or American but possibly Portuguese or Brazilian given its name. Entitled "Galinha à moda de Ana Pereira" with references to the recipe's author as Mrs. Pereira, we wondered where the recipe might have come from. A Brazilian or Portuguese neighbor? A friend who often made the recipe and introduced it to CJ? The answer turned out to be simpler, it is a Portuguese recipe found in CJ's beloved stained copy of Brazilian Cookery by Margarette de Andrade. Wanting to share it with his sister, Susan, CJ wrote it out by hand adding his own notes for best preparation.
With the origins of the recipe solved, we delved into the preparation, buying the ingredients and prepping them for cooking. The most difficult part of this simple recipe was probably just chopping up all the ingredients. In retrospect we probably did not need to chop the onions and tomatoes so small since they managed to melt into the sauce over the hour or so of simmering. Throughout the cooking process we photographed, did lots of tasting and prepared rice and a salad. Most importantly, however, we found time to invite a group of friends over to share it. We paired the meal with our 2015 Cariblanco and 2014 Sabino and it was quite the hit. Now, we hope you'll enjoy sharing it with your family and friends accompanied by a nice glass of wine.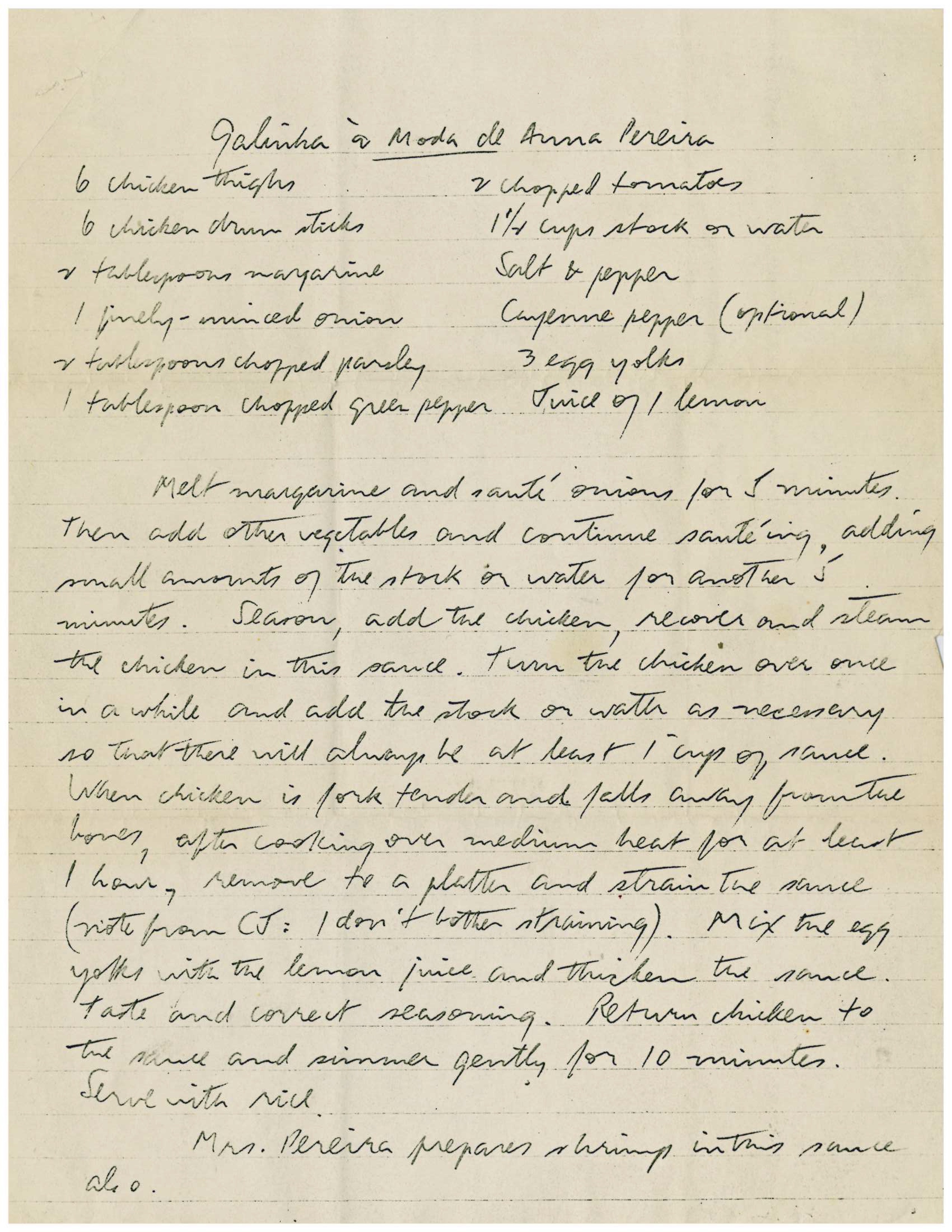 CJ's Chicken Recipe
Ingredients:
6 chicken thighs
6 chicken drumsticks
2 tablespoons of margarine (or butter*)
1 finely minced onion
2 tablespoons of chopped parsley
1 tablespoon of chopped green pepper
2 chopped tomatoes
1 1/2 cups stock or water
Salt and pepper
Cayenne pepper (optional)
3 egg yolks
Juice of 1 lemon
Directions:
1)Melt margarine and sauté onions for 5 minutes.
2) Then add other vegetables and continue sautéing adding small amounts of the stock or water for another 5 minutes.
3) Season the sauce, add the chicken, re-cover and steam the chicken in this sauce. Turn the chicken over once in a while and add the stock or water as necessary so that there will always be at least 1 cup of sauce.
4) When chicken is fork tender and pulls away from the bones, often cooking over medium heat for at least 1 hour, remove to a platter and strain the sauce (Note from CJ: I don't bother straining).
5) Mix the egg yolks with the lemon juice and add to thicken the sauce. Taste and correct seasoning.
6) Return chicken to the sauce and simmer gently for 10 minutes.
7) Serve with rice (*or salad).
Note: Mrs. Pereira prepares shrimp in this sauce also.
*Notes from our most recent preparation of the dish

In the past few years our family has been fortunate to travel to two of Chile's remarkable ski areas – Portillo, the country's oldest and best-known ski resort, and Farellones, a mountain village surrounded by three ski areas collectively known as Tres Valles.
While we're more than happy to take a few runs when we get the chance, we're not really avid skiers. So for added perspective on the snow scene, we talked with some of our friends who ski a lot: Ellen Guidera, a former ski instructor and wife of Henry Purcell, whose family has owned and operated Ski Portillo for the past 55 years; and Brian Pearson, a Vermont native whose company,Upscape Travel, specializes in ski and adventure travel tours in Chile.
Portillo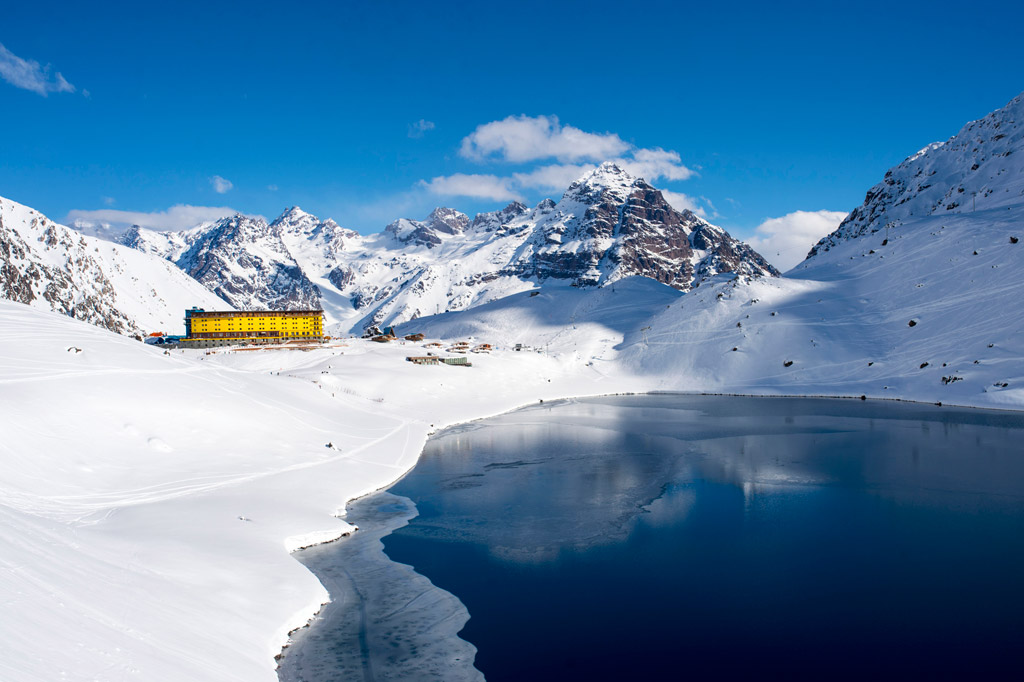 Just about everyone who skis has heard of Portillo. It's well-known as a summer destination for hardcore skiers and boarders, yet most people don't realize how different the Portillo experience is from that of other resorts. We think this is what makes it so special. Unlike skiing in the United States, you book your stay at Ski Portillo for a full- or half-week. Many of the weeks are themed (e.g. "Family Week" or "Friends Week"), and a large percentage of Portillo's clientele returns year after year during that same week. A number of families have been going for generations.
The resort itself consists of a cozy, banana yellow lodge with "450 pillows," as Ellen describes it. Situated at 9,450 feet, the cheerfully-colored hotel serves as a beacon in snowstorms and is surrounded by three towering peaks, Tres Hermanos, and overlooks Laguna del Inca, a glassy, postcard-perfect lake. You get there by taking the main road to Argentina, a hairpin-heavy route that is not for the feeble. The resort runs vans to and from the airport though, so most hotel guests don't actually drive it themselves.
There is no town associated with Portillo, so just about everything (but the skiing) happens inside or next to the lodge itself. Guests have access to a full-court gym, fitness center, restaurant and bar, heated outdoor pool, hot tub, movie theater, game room, health clinic and beauty salon. The old-school style hotel feels warm and welcoming, almost like home. In fact, during our most recent stay, our room was located near the peluqueria, outside of which one of the legendary Saint Bernards spends much of his time sleeping in the hallway. We discovered this is because the beauty salon staff give him cookies.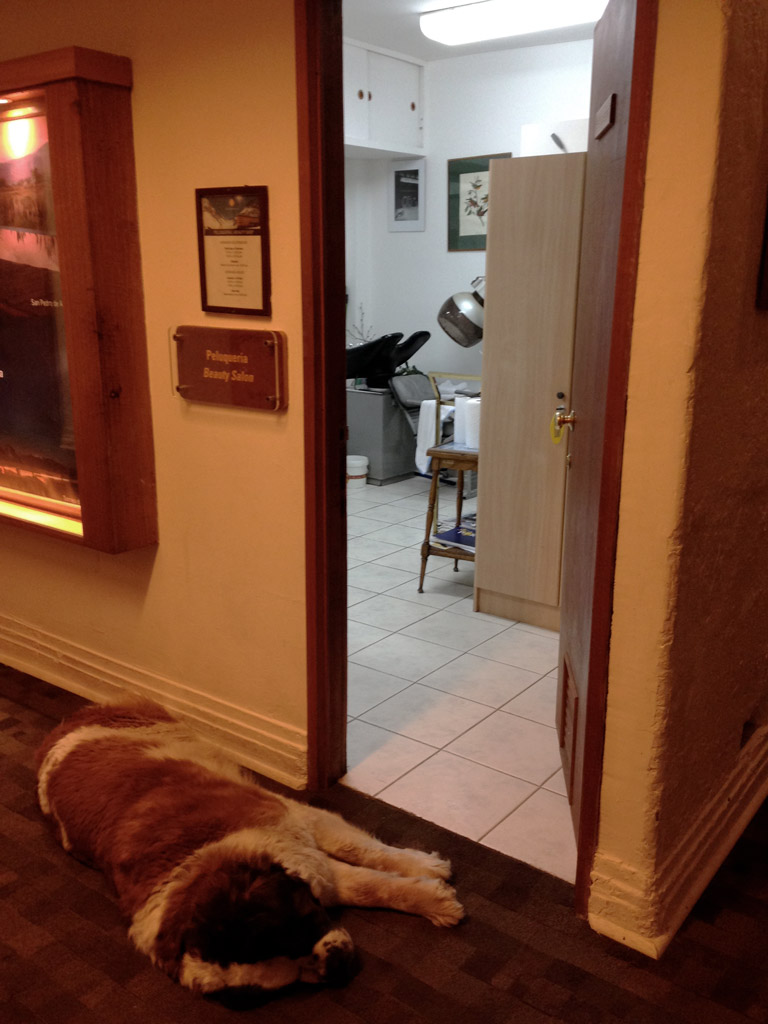 Last year we went to Portillo for one of two wine-themed weeks, called Wine Festival Week, which occurs in late August and also happens to be the most popular time for North American visitors. During this week a handful of small Chilean wineries host tastings après-ski. We had a great time pouring our wines for the guests – many of whom were insanely tall Austrian ski team members. This year our winemaker Amael and his wife Sofia will be participating in Wine Festival Week; we'll also be hosting 15 guests for a snowshoe lunch and wine picnic during Friends Week.
The dining scene at Portillo is also quite different than that at U.S. ski resorts. There is a lively on-mountain restaurant (and bar with excellent pisco sours that stays open until midnight) called Tio Bob's, however guests of the hotel eat most of their four daily meals at the hotel itself. Everyone gets an assigned table and the super-friendly waiters serve the same tables for the entire week. We love this for the camaraderie and lasting friendships it fosters. Chef Rafael Figueroa, who started his career at Portillo as a teenager and is still there decades later, prepares delicious locally-sourced hearty fare and also offers vegetarian options. We found the service to be top notch at Portillo too, which is somewhat of an anomaly in Chile. (In general Chileans focus more on the food itself than service.) There's also a festive nightlife scene with great live music during dinner and rowdier bands that start playing around 10 or 10:30 each night in the hopping hotel bar.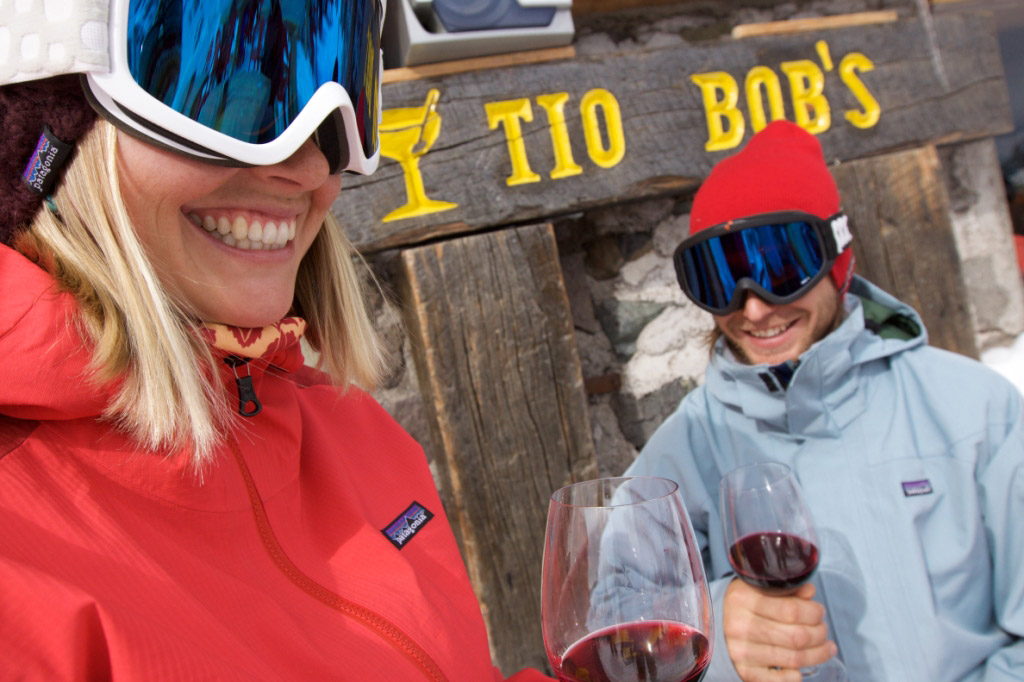 Of course, there's an excellent reason the U.S., Canadian, Norwegian and Austrian National ski teams train at Portillo during their summers: The skiing is amazing. With 1,235 acres of skiable terrain, dry fluffy powder similar to Colorado's, and off-piste and heli-skiing options, Portillo is one of the best places in the world to hit the slopes. More than half of the terrain is advanced or expert level, but the other 45 percent of runs are beginner or intermediate and are groomed to corduroy nightly. Lift lines are basically non-existent. The resort has an expertly-staffed ski school and single-day lift tickets are available for those not staying at the hotel. It's also just really cool to hang out for a week in the same place as the ski team members; they're basically guests like everyone else, and there are lots of opportunities to watch them train.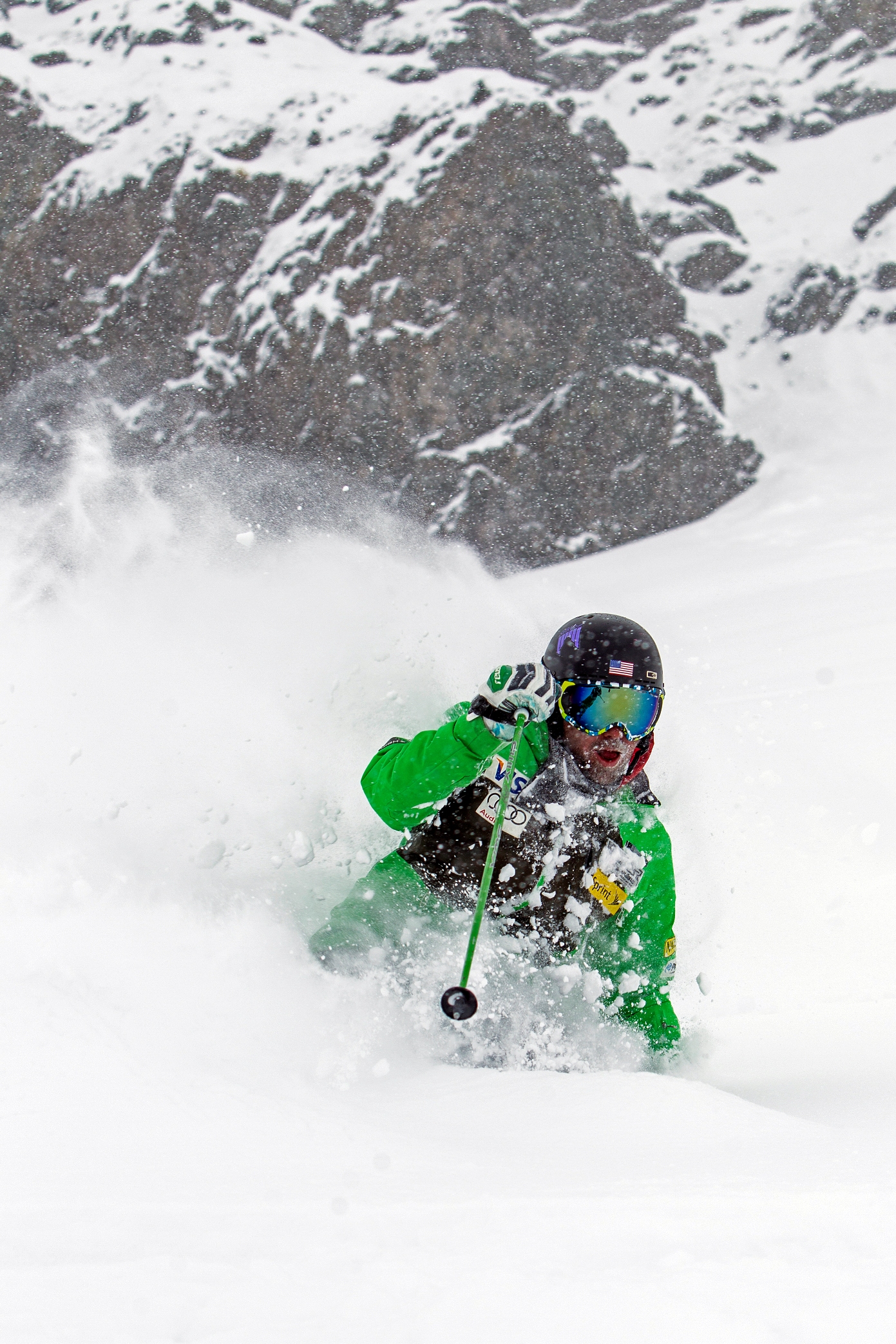 We feel a special connection to Portillo and the Purcell family because, like us, the Purcells are a Chilean-American family bridging two cultures. Over the years our family has accumulated lots of funny stories related to our work in Chile, as have the Purcells. Our favorite Portillo anecdote involves Henry Purcell, who started as general manager in 1961 after graduating from the Cornell University School of Hotel Management. Upon arriving at the hotel, which was not in operation, he found a sheep named Lumumba residing in the living room.
Obviously, there is no livestock living in the hotel today, but Americans who visit Portillo - and Chile in general - should expect the unexpected from time to time. Chileans are known for enjoying the moment as opposed to doing things in a hurry. When traveling there, we often find we have to remind ourselves to check our Type A personalities at the gate. We mention this because most of the guests at Portillo are Chilean or Brazilian, and the timing of everything reflects that. The "early" dinner session begins at 8 p.m., for example, with most South American visitors opting for the 9 p.m. time slot. (Although, as Ellen tells us, once the North Americans have had a few days to chill out and get into local mode, they often change their dinner to the 9 p.m. time period.) We love this about Portillo; once we decompress we're much better prepared to appreciate our friends, family and the stunning natural setting.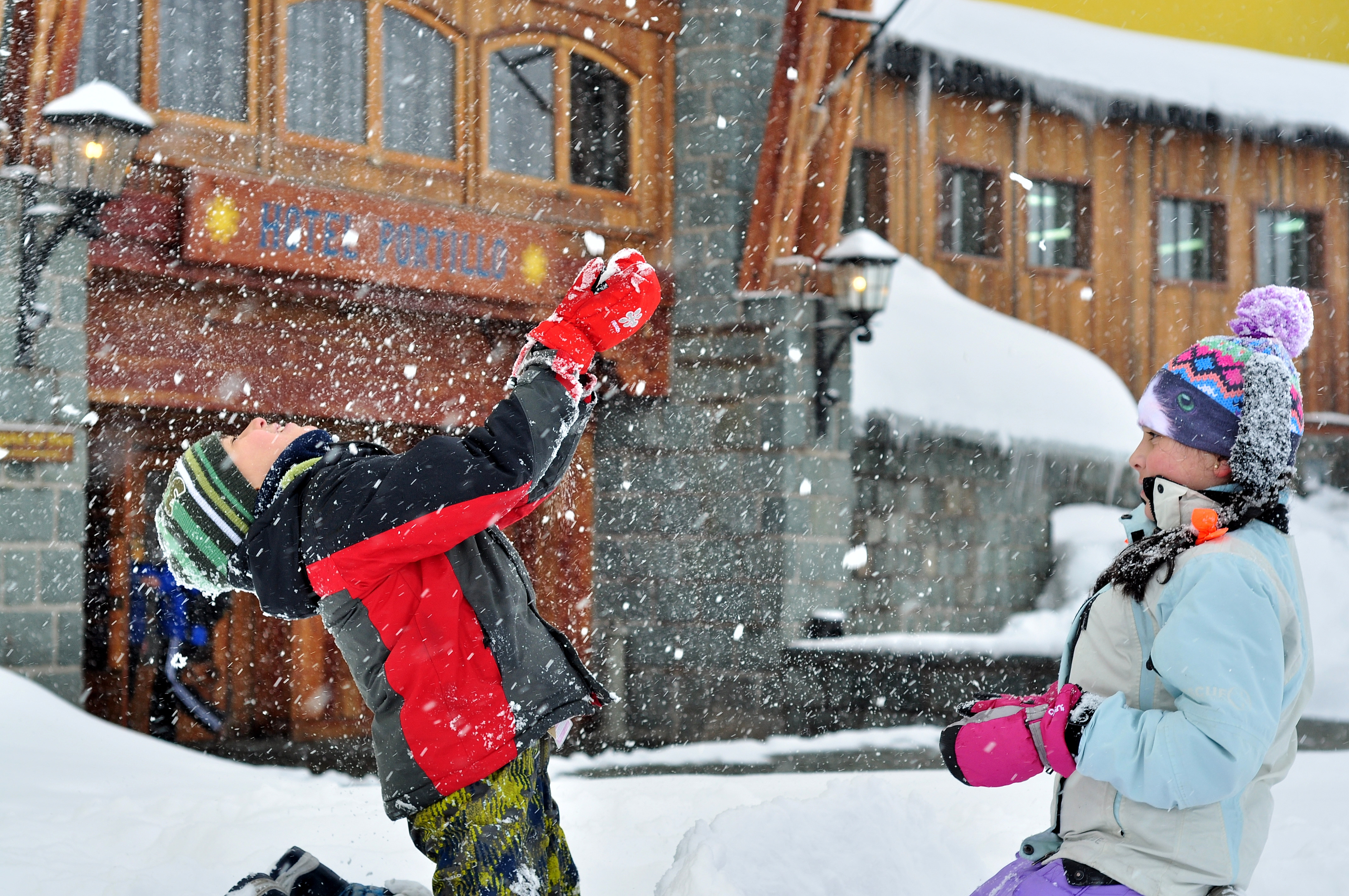 Farellones/Tres Valles
If you're interested in trying out a variety of ski mountains, or don't have a week to spare, most people head to Farellones, a high mountain village surrounded by El Colorado and La Parva ski areas and the nearby Valle Nevado. Located about an hour-and-a-half from Santiago, getting to Farellones is part of the fun – the steep, windy road that accesses the town has 40 switchbacks. Although it makes for a long day, it is possible to do a day trip. And many Americans who ski in Chile like that you can arrive in Santiago in the morning and, much like Vail or Park City, be on the mountain by 1 p.m.
At this point we feel we should remind you, again, to expect the unexpected. Just because you can get to Tres Valles from Santiago in an hour-and-a-half, doesn't mean you actually will get there in 90 minutes. The narrow, twisting, barely two-lane, hairpin road is not I-70 or I-80. When we drove it last year we had to stop and wait while a donkey leisurely made its way across the road. And though it happens infrequently, snowstorms can cause the roads to shut down or simply make it more difficult to get there, chains and four wheel drive are a must if you decide to go in winter.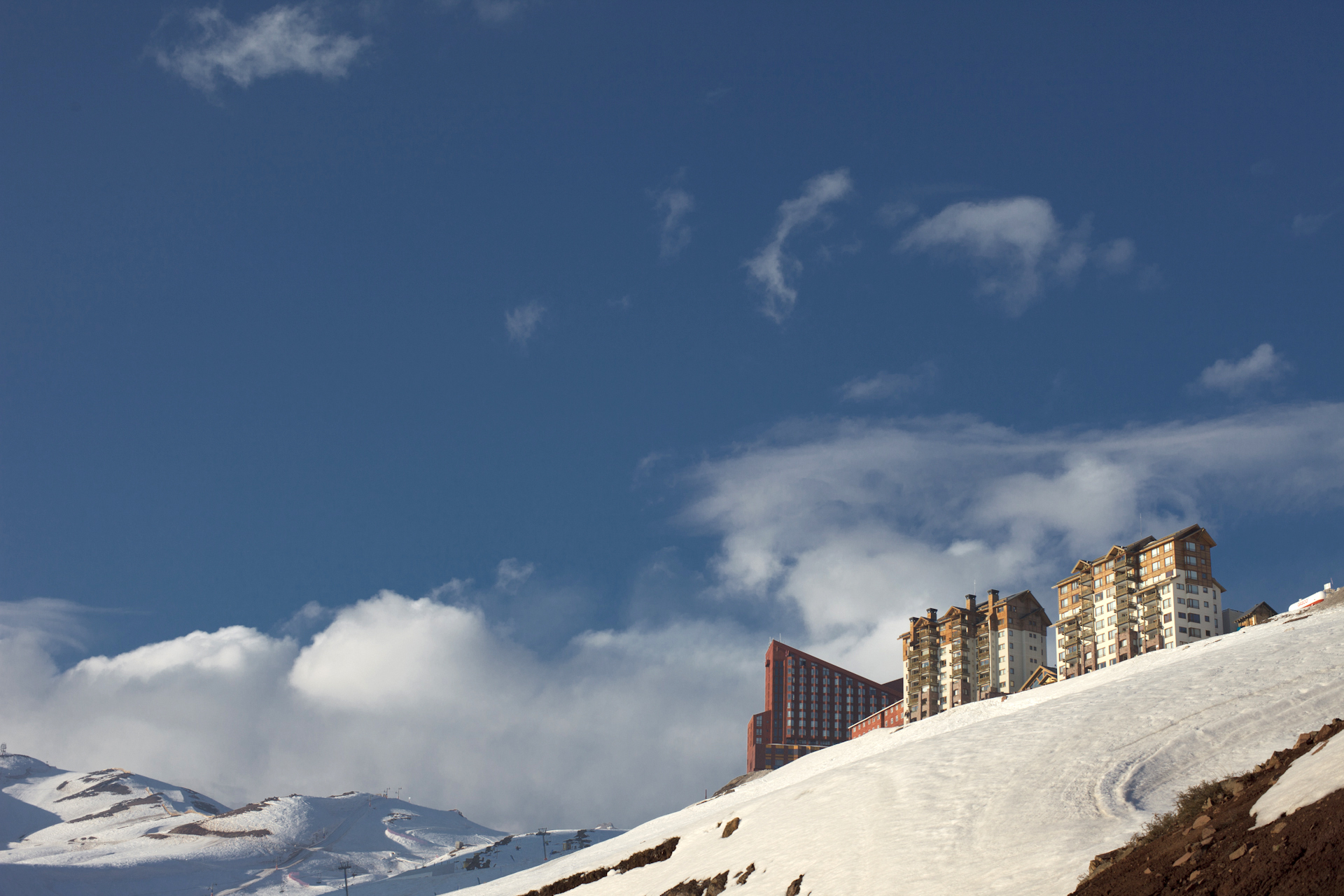 But of course, most people who visit Chile in winter are up for an adventure! And Tres Valles presents many opportunities for that.
Of the three resorts, Valle Nevado is the newest, built in 1989. It also has the most modern infrastructure – it's the only resort in Chile that has a gondola (but the gondola runs from a parking area to a mid-mountain restaurant, so you don't actually use it for skiing in the traditional sense). Most of the terrain is intermediate, advanced or expert – our friend Brian tells us there are some pristine backcountry bowls for off-piste missions – and about 10 percent of the runs are beginner level. The base lodge is located above tree line at 9,800 feet, so if you're not acclimated, it will take your breath away in both the literal and figurative senses. Even if you're not a skier, it's worth the drive up there just to feel the power of the magnificent Andes.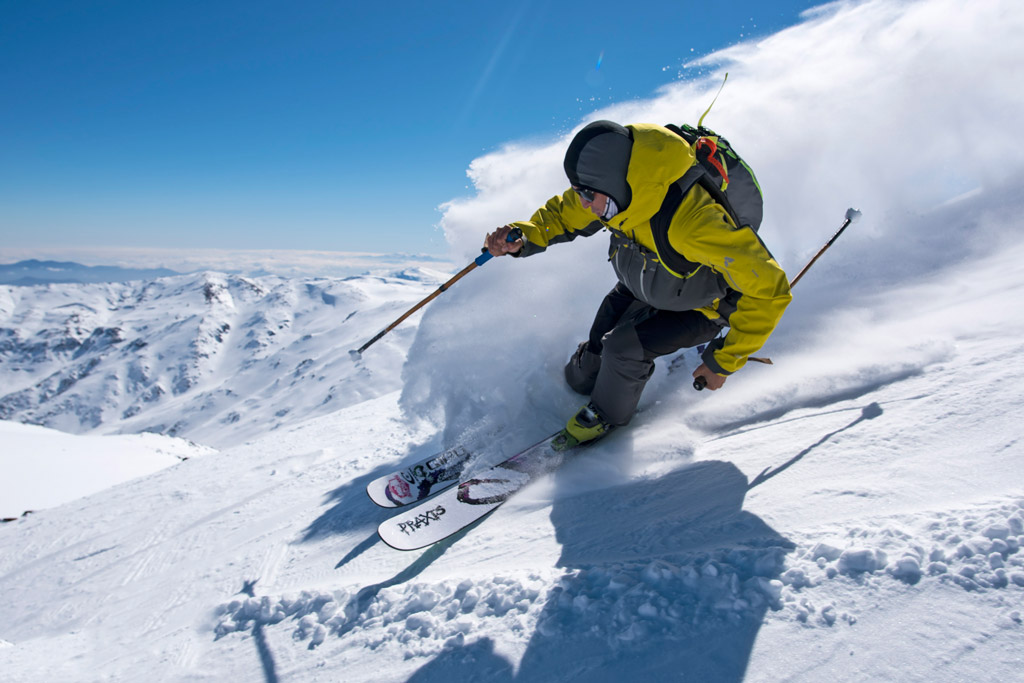 Nearby El Colorado is more of a "locals" mountain with older lifts. Many of the runs are beginner or intermediate. For expert skiers, the eastern side gets tons of snow and offers steep pitches and interesting chutes for those who can handle them. La Parva, the third ski area in Tres Valles, has good treeless intermediate terrain and excellent views. For experts there is some great hike-to terrain above the resort.
As we mentioned earlier, we are not ardent skiers, so for a more detailed sense of the possibilities we suggest checking out Upscape's website to learn about guided tours of Chile's ski country. In addition to having excellent knowledge of many Chilean ski resorts, including some we haven't visited, Upscape offers heli-skiing and works with Ski Arpa, the only cat skiing outfit in South America running back country tours. Located at 13,000 feet, Ski Arpa is a rugged, high-altitude wonderland that overlooks Mt. Aconcogua, a 22,838-ft. giant, and the Pacific. Some of the tours also include visits to local wineries (which is how we met Brian in the first place) and include stays at quaint Chilean chalets and inns.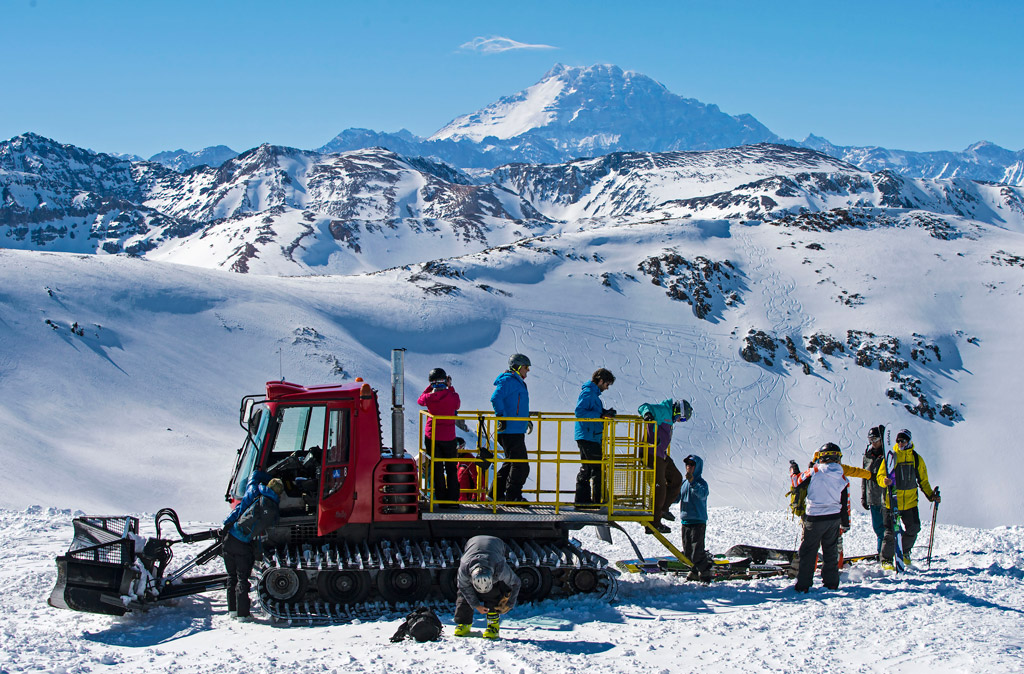 During our talks with both Ellen and Brian, we laughed about one of the issues that sometimes occurs while skiing in Chile. Occasionally there are big storms – storms like the one that just dumped a record-breaking nine feet on Portillo – that shut down the roads that get you to (and from) the resorts. Not only do the roads shut down, but the lifts close, too. So there could be piles and piles of fresh champagne powder and a bluebird sky beckoning. And you may be dying to get out there. But you won't be able to do that. The lifts will open when the lift ops can reach them. Sometimes this takes a while. Which means that you will have to slow down, take lots of deep breaths, savor your breakfast (and maybe lunch) and enjoy the glorious one-of-a-kind surroundings. Eventually you will get outside and experience some of the best skiing this earth has to offer.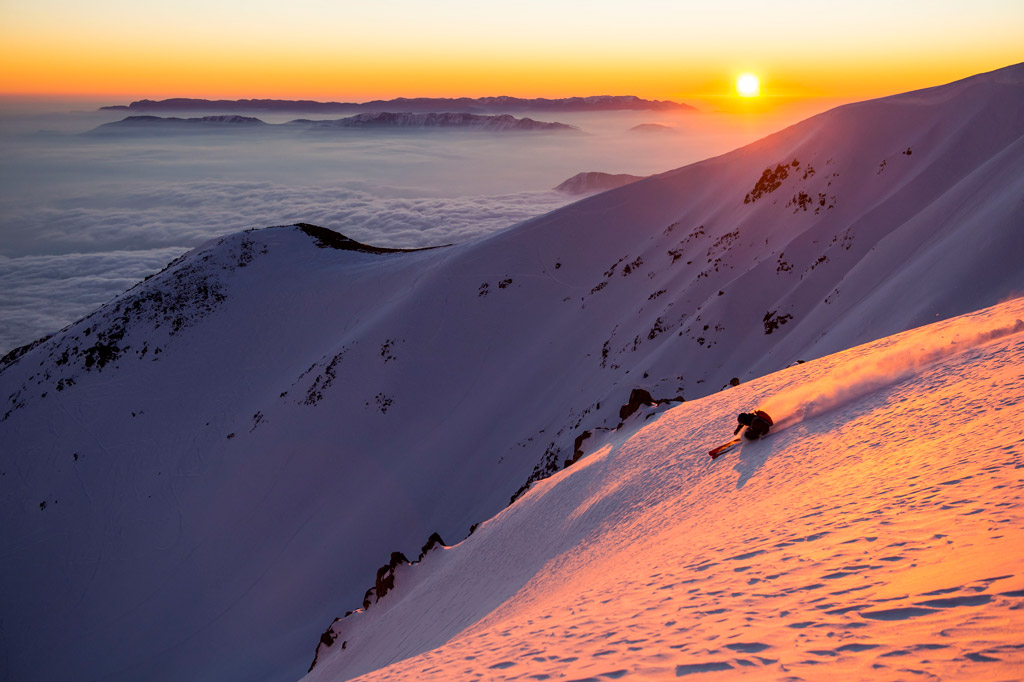 If you find yourselves with some extra time during your visit to Chile, stop by our winery for a tour. We'd love to see you.

When deciding which travel destinations to write about for this blog, we've chosen to focus on those that are uniquely Chilean and unlike anywhere else in the world. Valparaiso is one such place. With its brightly painted buildings, abundant street art, crazy steep hills, Bohemian vibe, wiring that would cause a U.S. building inspector to go weak in the knees, cats everywhere, and lately, a hip food scene, "Valpo" (as some people call it) has originality and character oozing from its historic rainbow-colored seams.
Located just thirty minutes from our family's winery in the Casablanca Valley, we often go for the day and sometimes spend the night. Here are our recommendations for what to see, do and expect in this eclectic city by the sea.
Getting There
If you're visiting Valparaiso from Santiago, we suggest arriving mid-morning and staying at least through dinner so that you can have two full meals and experience the city lights at night. One of the most common comments we hear from guests at our winery is that they wish they had allotted more time in Valparaiso, so if your schedule allows, it might be worth it to stay longer.
We suggest hiring a driver to get you from Santiago and back (we'd be happy to provide some names) instead of renting a car because rentals are only available in stick shift. If you haven't driven one for a while – or ever – practicing on roads that are steeper, curvier and narrower than San Francisco's Lombard Street might not be the kind of adventure you're seeking.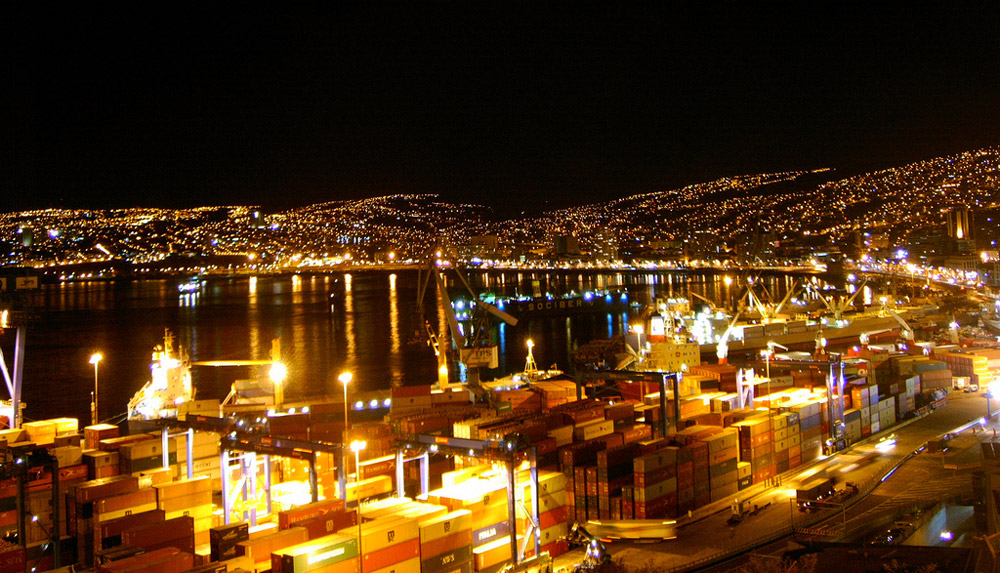 Finding Your Way
You'll likely notice something unusual about Valparaiso the instant you look at a map. The area closest to the water appears to be a traveler's dream: The streets are neatly delineated in traditional grid fashion. But then, emerging from the tidy grid and closely resembling a plate of spaghetti are oodles of interconnecting squiggly lines. These are the roads snaking up the city's sheer hillsides. Unlike places that take advantage of a waterfront location for tourism, Valparaiso's low, flat "plano" represents the working port section of town. This makes sense because of the city's history – before the Panama Canal existed Valparaiso was the largest port between Europe and the west coast of the Americas – and until recently Valparaiso wasn't really a tourist "destination" at all. But you're going to want to head for los cerros (the hills).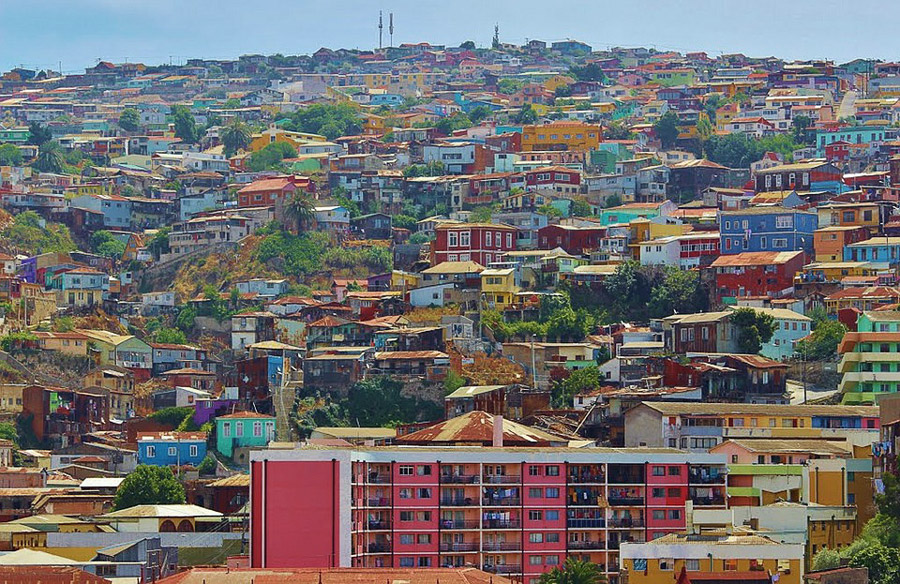 The two most visited cerros of Valparaiso are Cerro Concepción and Cerro Alegre. Both make up part of the area that was designated a Unesco World Heritage Site in 2003. If you are in decent shape, it's fun to explore them on foot. Like London or any old city that grew organically, the streets go every which way and are dictated by the topography. Sometimes they change names, and direction, so it's easy to get lost. We find this part of the allure.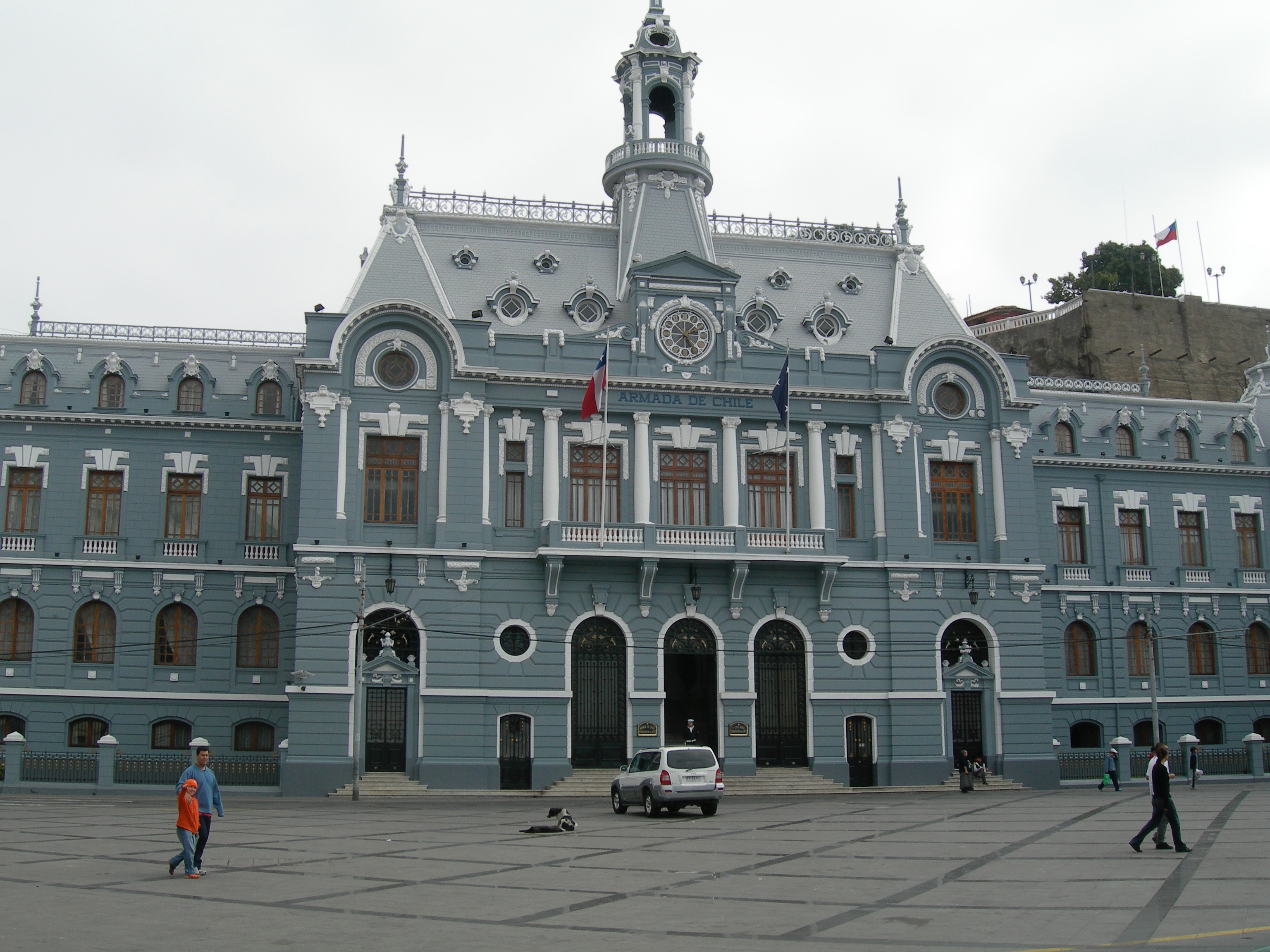 If you prefer to have more structure to your visit, a number of companies offer guided walking tours. We highly suggest one of the three-hour "Tours 4 Tips" tours that leave from Plaza Sotomayor every day at 10 a.m. and 3 p.m. Alternatively, there are do-it-yourself routes indicated by markers in the pavement. These take you up and down a number of narrow staircases and along the paseos that provide views of the city and sea. If you're interested in getting a better feel for the hills and the staircases, and you're not subject to motion sickness, the annual Valparaiso Cerro Abajo mountain bike race provides an extreme example of a way to get downhill.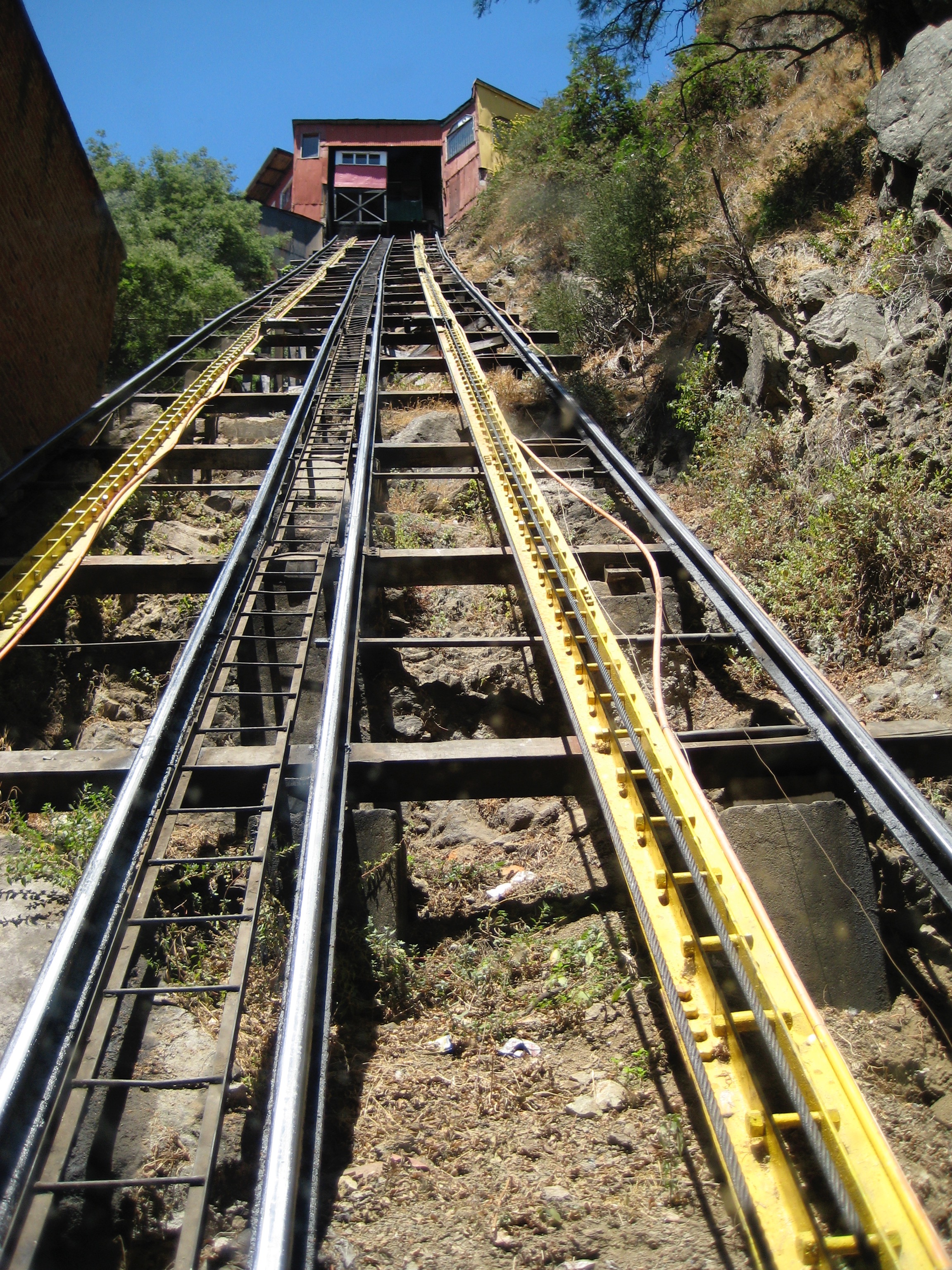 In our opinion, a slightly safer way of getting down (or up) the hills is on one of the city's famous ascensores, which are funicular elevators that cost 100 pesos (less than 15 cents) per person. The first one, built in 1883 and still in operation, is located on Cerro Concepción. When on it we're reminded that our great-grandfather rode the same one a century ago. Going up (or down) the rickety elevators may cause you to pause and hope you've had a good life – that is, until you look out and consider the colorful hodgepodge of art and activity that makes Valparaiso so fascinating.
What to See
For most people, Valparaiso is not a "love at first sight" type of place. Many of the brightly painted buildings are old and weathered and there is graffiti everywhere. As we mentioned, it's not easy to get from place to place, and to be honest parts of the city are gritty and dirty. But once you study the street art, or take note of the funky new buildings cropping up among the ancient Victorian homes, or bump along the insanely steep streets, or try to count all of the cats hanging out on tin roofs and in windowsills, you may start to like it. At least that's been our experience. For us, Valparaiso is a city that grows on you. If you compare it to Santiago, the capital is mature and sophisticated; Valparaiso, though old, is still young at heart, free-spirited, and doesn't take itself too seriously.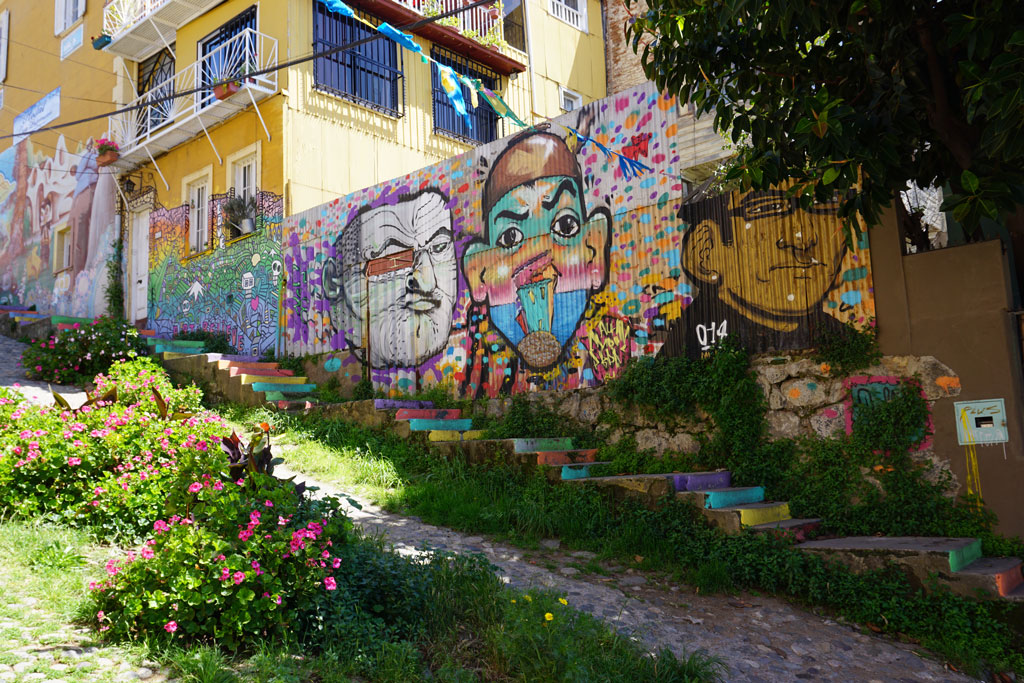 Nowhere is this more evident than in the street art, which decorates a large percentage of the city's walls and can be divided into two categories: murals and graffiti. While it's often hard to distinguish the two, murals are legal and commissioned by homeowners to prevent unwelcome tagging. Graffiti, which is everywhere, is illegal. But graffiti "artists" respect the muralists' work and won't scribble on top of it. Because a clean wall is essentially a blank canvas, porteños pay muralists to paint their homes instead of leaving it up to the bombers (as they're now called in the U.S).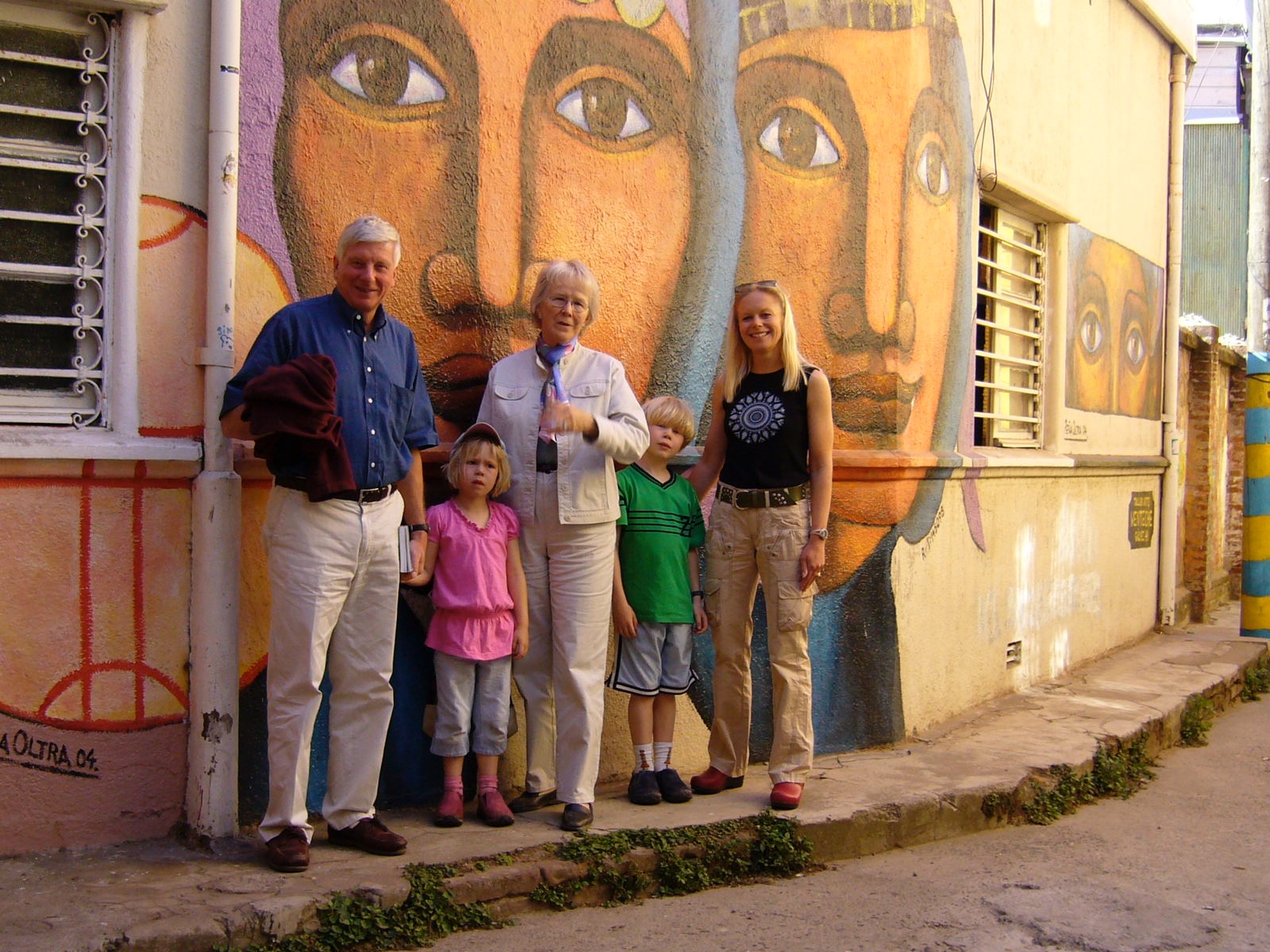 In addition to street art, you'll find lots of hidden alleyways, shops, restaurants and unusual sightings on the hills that provide glimpses of the happy-go-lucky nature of Valparaiso. Recent visits have revealed a "store" that someone set up outside a kitchen window on a street in the 30-degree gradient range. Sale items included an egg carton containing cracked egg shells planted with delicate little flowers and a cast-iron skillet, also filled with planted eggs.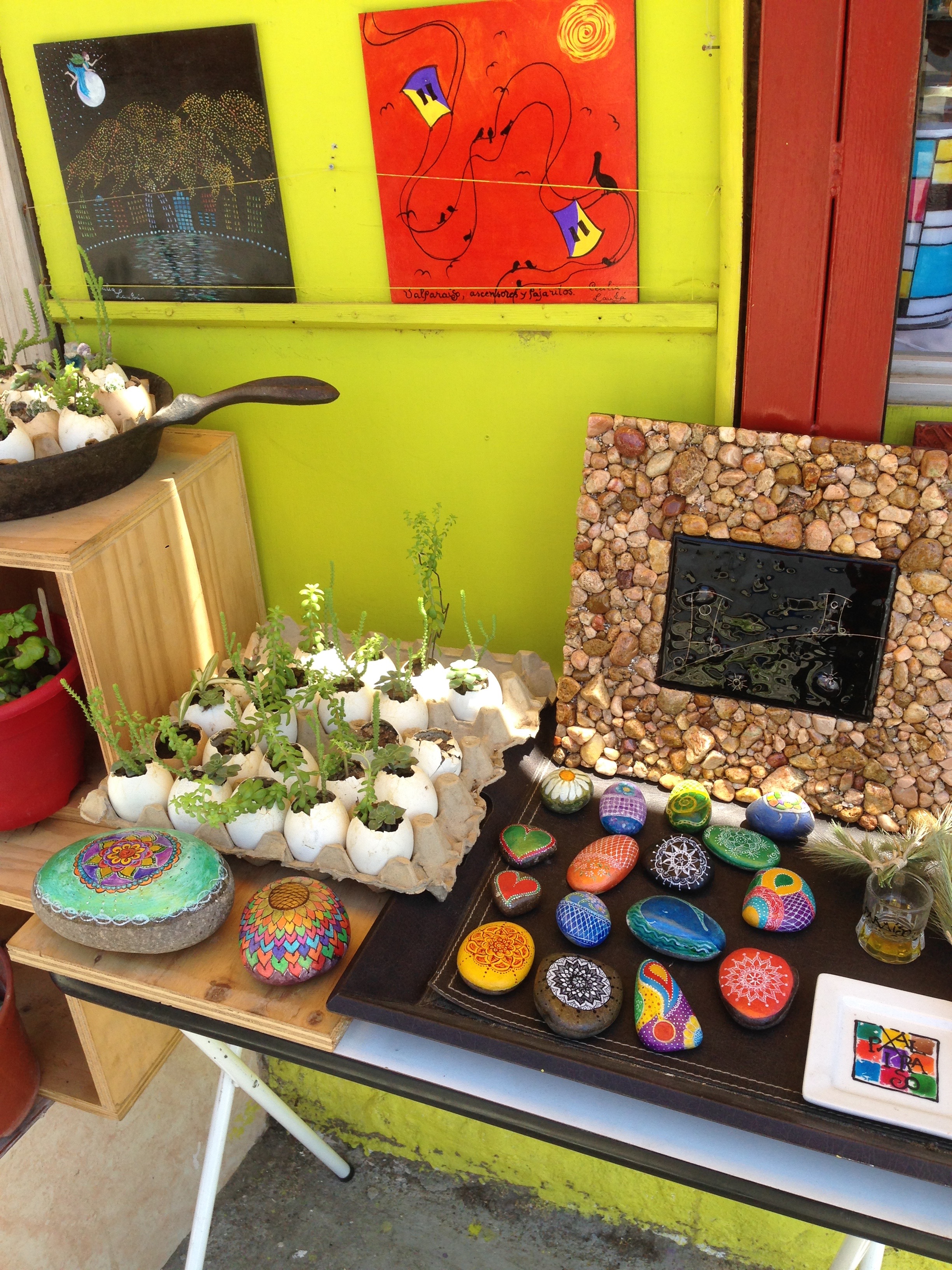 Another sighting involved a street performer, for lack of a better term, who was operating a finger puppet show. To view the show you had to sit in a chair and cover your head with a black sheet. The puppeteer then draped the other end of the sheet over his head and the performance began. We can't think of anyplace else where someone would consider sitting on a sidewalk, with their head waist-level under a sheet, to see a puppet show; yet we witnessed a mother who dutifully stood next to her young daughter as she took in a performance.
We also saw lots of cats (seven from one vantage point) and at least three of them were hanging out on corrugated tin roofs. If you happen to prefer dogs, don't worry, there are a fair amount of scruffy mutts roaming around, too. Unlike some of the dogs in Santiago, they're not wearing sweaters. Also, it's good to keep in mind that picking up after your pet is definitely not Chilean, so you generally need to watch where you step.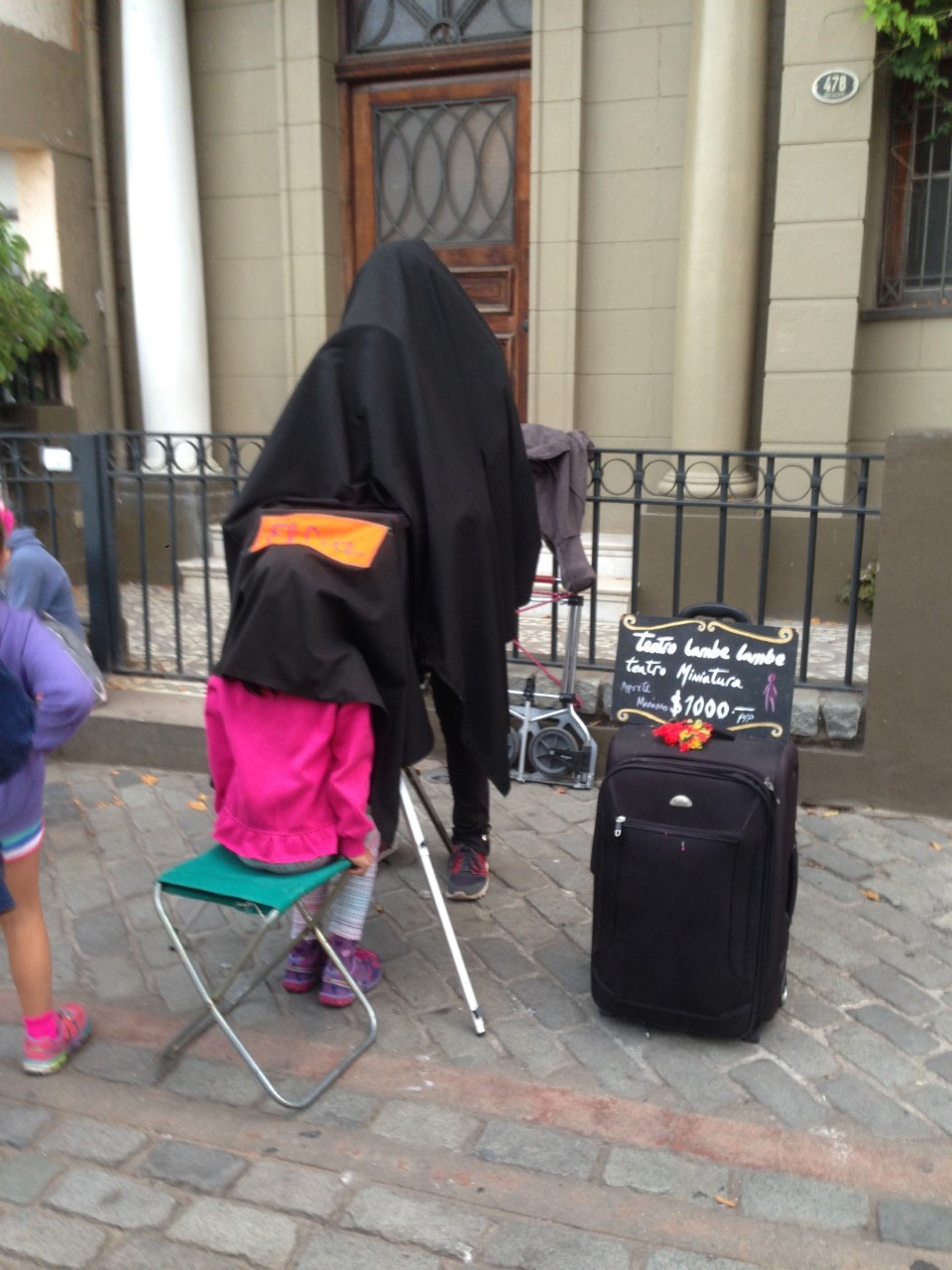 One gray morning we strolled around the city and were struck by all the seagulls squawking overhead. Maybe this is why a restaurant was playing the entire "Flock of Seagulls" album when we stopped in for lunch. On another day we listened to a man walk the streets as he beat a gas canister, over and over and over again, to alert people that he was in the neighborhood. He was selling gas for estufas, which are essentially space heaters, that many people use to warm their homes in the winter. And just about every time we head outside we stop to wonder about the tangle of wires emerging from power poles – it seems miraculous that the electricity works at all.
If you happen to be in Valparaiso on a Sunday at noon, one of our favorite things to do is attend the organ concert at St. Paul's Church. We like sitting in the historic wooden pews while listening to the beautiful organ that was made in England and donated by a British resident in 1903. Not only is the music lovely (most of the time – the organists are volunteers), but the church provides a cool respite on hot days. It also serves as a great example of the city's diverse history and its ties to Europe. On the back wall is a list of British soldiers who died fighting for England during both World Wars. And down the hill from the church are two fire stations: one formed by Germans and one by English ex-pats. Called bomberos, the all-volunteer fire departments still fight the city's fires today.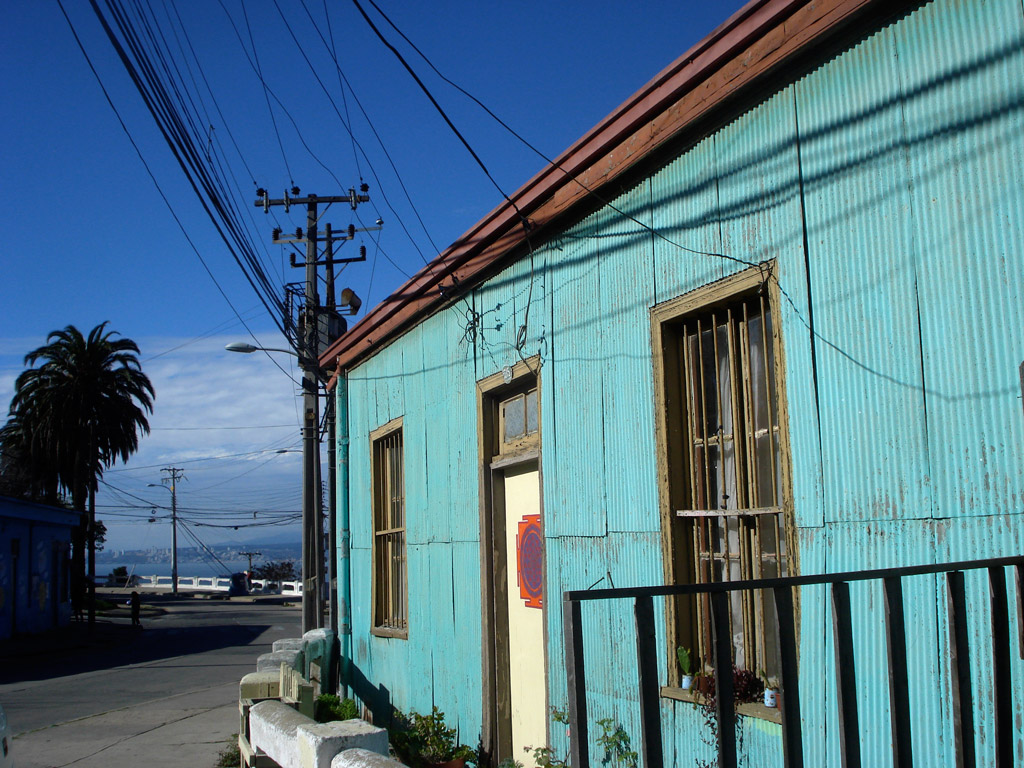 Where to Eat
One of the top reasons to visit Valparaiso these days is for the food – and the ice cream. After walking the city you'll probably want to eat. Porteños generally don't sit down for lunch until at least 1:30, so you'll need to plan for that. We really like Café Turri, Pasta e Vino and Café Vinilo. Other popular spots are Almacén Nacional, a newish restaurant that serves Chilean classics, and Restaurant Montealegre, in the boutique hotel Casa Higueras, which has an outdoor terrace with views of the Pacific. On Cerro Concepción Restaurant La Concepción serves a mouth-watering ceviche and a dangerously delicious pisco sour. But our absolute favorite spot – and our consulting winemaker Byron Kosuge's "happy place" – is Espiritu Santo.
Located on Cerro Bellavista, the minimalist restaurant and hosteria is owned by our new friend, Doña Laura, and her son, Manuel. Tastefully decorated, we think Espiritu Santo typifies the city itself; aged and worn on the outside, warm and welcoming inside. The innovative menu features fresh, locally-caught fish and organic vegetables. Some recent meals we've loved there include octopus with miso sauce and rock fish perched upon polenta, olives and roasted vegetables. Our winemaker, Amael Orrego, and a few of our guides are also fans of the house cocktail made with freshly squeezed grapefruit juice.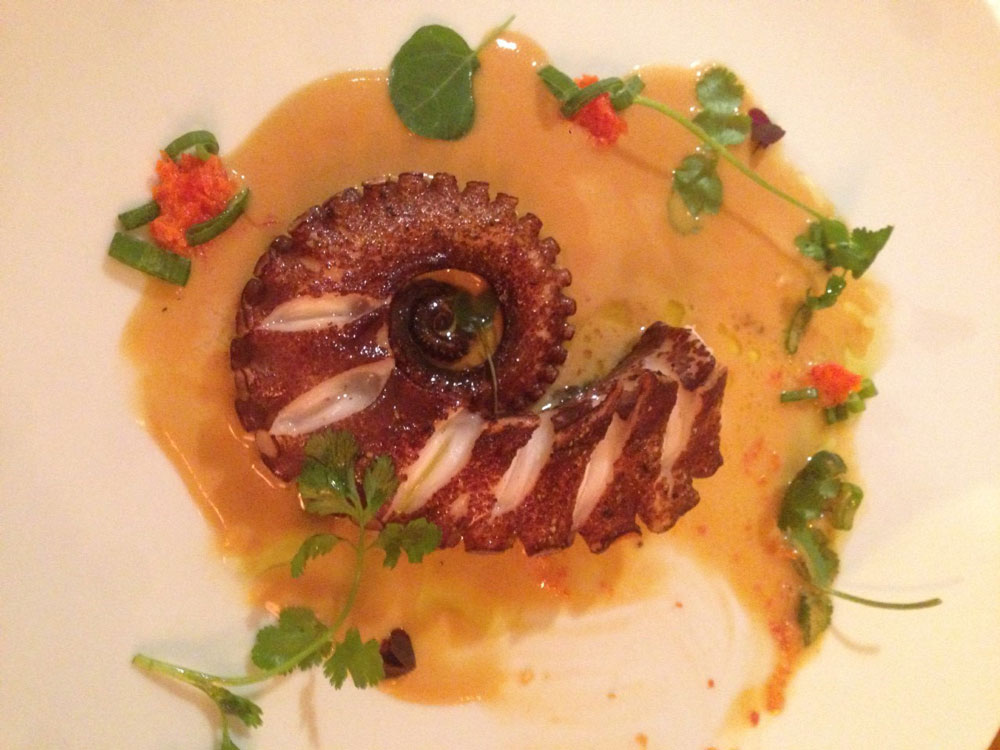 If you're spending the night, we might suggest trying someplace else for lunch and saving dinner for Espiritu Santo. However, one of the advantages of eating there at lunchtime is that it is located just a few blocks from La Sebastiana, one of Pablo Neruda's three homes. (The other two are located in Santiago and Isla Negra.) The five-story house offers an audio tour, and provides insight into the life of Chile's most famous poet. It's a must see if you're into poetry, literature or Chilean history.
Earlier we made a reference to ice cream. While in general porteños don't take themselves too seriously, they mean business when it comes to ice cream! We find it makes a great afternoon snack because dinner comes late, at 9 p.m. Lots of little shops sell inventive and ever-changing flavors; we stopped in a dulceria during our last visit and had a hard time deciding between pears and wine, pistachio, and limon de pica, which is a special kind of green lemon found throughout Chile and commonly used in pisco sours.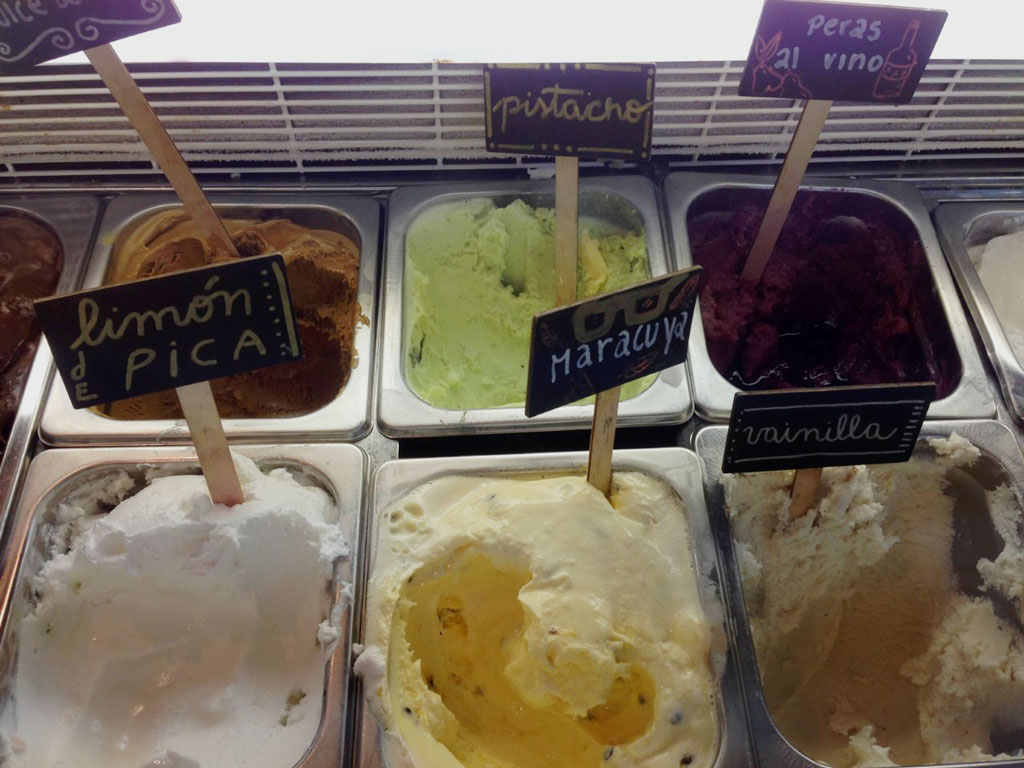 Where to Stay
We recommend a number of lodging options, all of which are quite different from each other. We love Hosteria Espiritu Santo – it's simple, clean, quiet and comfortable. Zero Hotel, a B&B located in a huge historic Victorian house, is also a great choice. It has unobstructed views of the city and the ocean in the distance. For a sophisticated yet cozy option, we suggest Casa Higueras. Palacio Astoreca opened in 2012 in a restored national monument, and has a spa. The trendiest option, Hotel Fauna, has really cool architecture, but it can be noisy. Next door is Via Via, an excellent boutique hotel with arguably the best Belgian beer selection in the city, and a delicious lunch menu.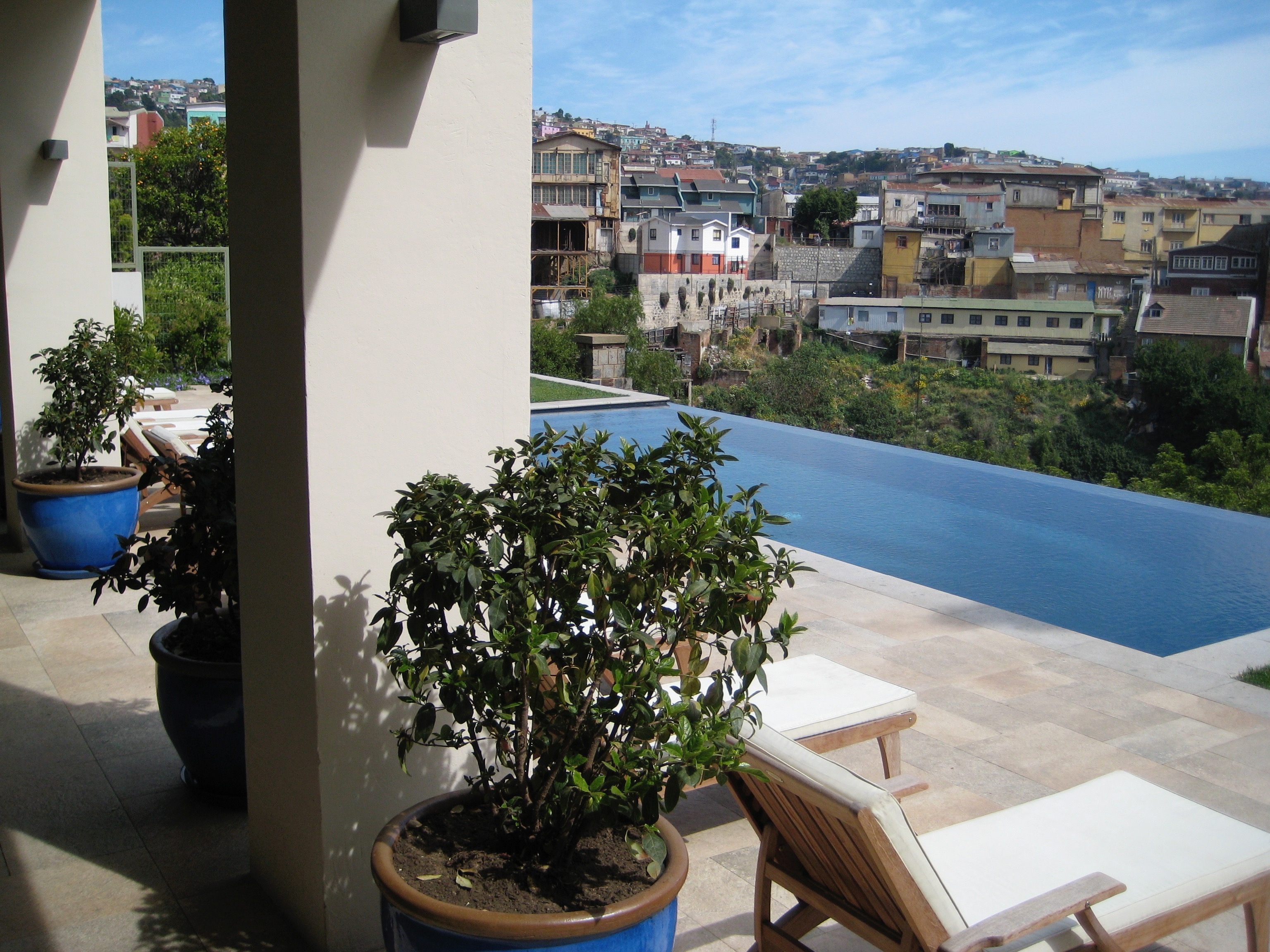 Morning in Valpo
If you happen to spend the night and need something to do in the morning, we suggest heading over to Mercado El Cardonal to check out the piles of local produce. We think it's fun to see the mountains of cheap avocados, barrels of olives and variety of local fruits and seafood that you won't find in the U.S. Upstairs you'll discover a smorgasbord of mom and pop lunch spots, all serving the same classic Chilean sandwiches: barros Luco (a beef and cheese sandwich named after a past president), barros jarpo (ham and cheese), a completo (a hot dog covered with tomato, avocado, and sauerkraut), or the completo's more popular brother, a completo italiano (hot dog smothered with tomato, avocado and mayonnaise).
An alternative is to stop by our winery for lunch and a tour on your way back to Santiago. With advance notice, we'd be happy to arrange a private, catered meal (minimum of four people), that pairs three courses with our wines.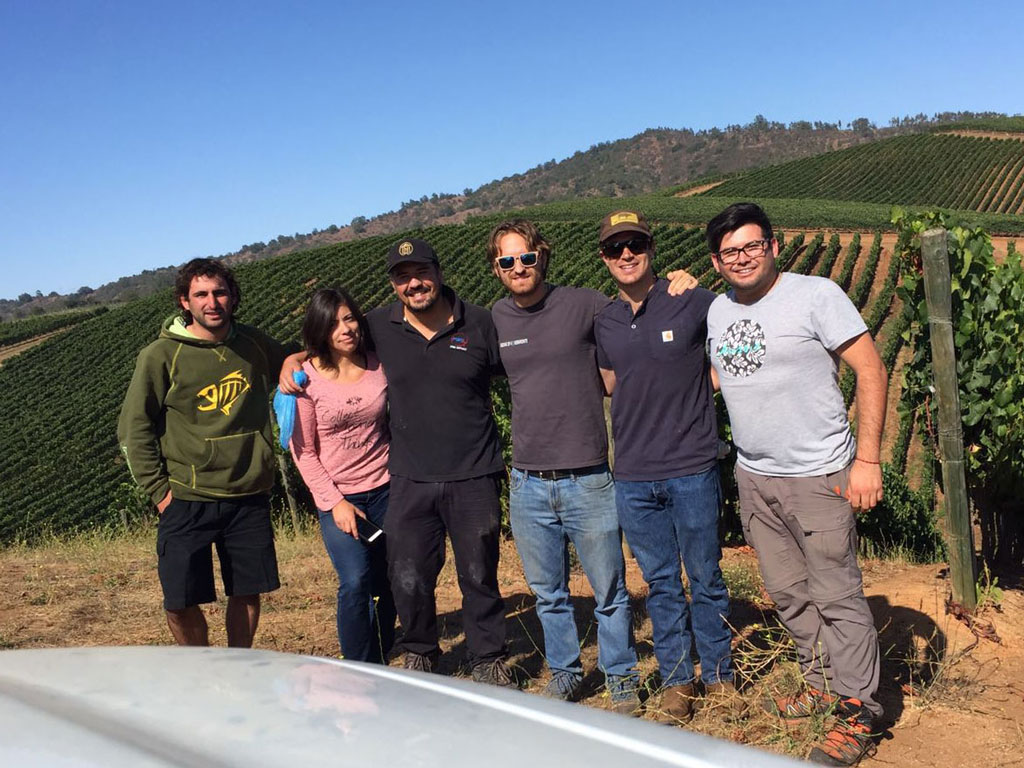 How Can We Help?
Many of our crew at the winery live in Valparaiso. Should you be looking for additional tips about the city, feel free to e-mail us at guests@kingstonvineyards.com with questions. We're happy to help!
¡Saludos!