Blog
February 6, 2018 | Travel | Lora Kelley
The Kingston Family Fellowship Program

Wait so...how did you end up here? a visitor asked as I wrapped up the intro section of my tour at Kingston Family Vineyards. It's a fair question, and one I am asked almost daily. Guests are often surprised to be greeted (with our signature welcome glass of Rosé!) by a New York-born, Chicago-raised 22-year-old when they step foot onto a Chilean vineyard. The answer is that, after spotting a random Facebook post in a university job board that I rarely check, I stumbled upon a unique opportunity: the Kingston Family Vineyards fellowship. For the past three years, Kingston Family Vineyards has offered recent college graduates the chance to move to Chile to lead tours with the hospitality team, engage with a new culture, and throw ourselves into the day-to-day operations of a small, binational family business in the Casablanca Valley. This year, Taylor Myers and Aubree Andres, recent Princeton graduates from Florida and Boston, respectively, and I moved to Chile in September to get to work at the winery.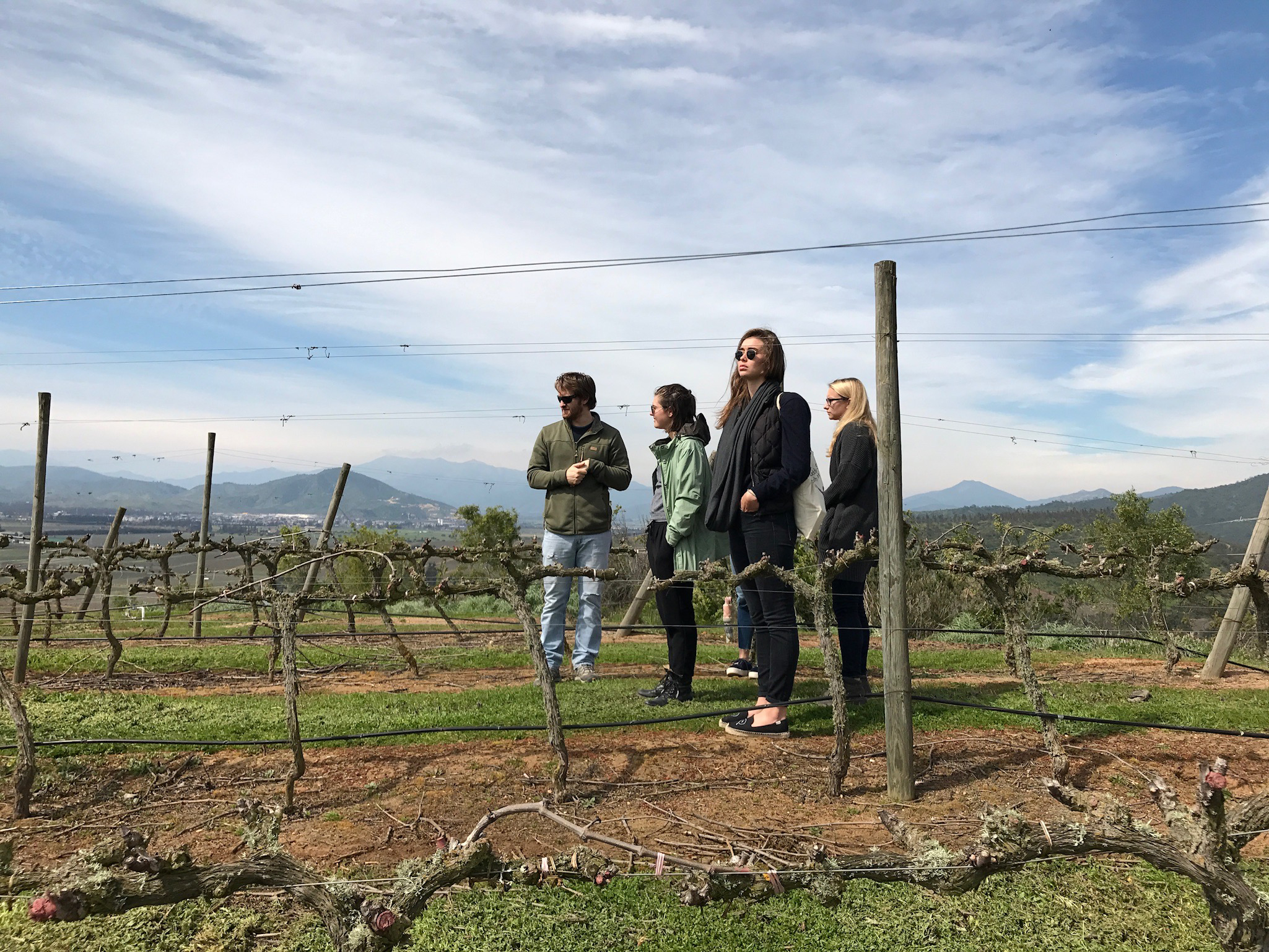 A History Lesson
In the spring of 2014, as she was preparing to graduate from Princeton with a B.A. in History, Blaire Bloxom spotted an ad that caught her eye in the Princeton alumni magazine. She noted the name "Kingston Family Vineyards" and decided to reach out to the Kingstons to inquire about a job on their farm. Initially, the family discussed the possibility, but decided a young college graduate wasn't in the cards for that year. But Blaire persisted. A year later, as she was sharpening her Spanish working in Ecuador, she reached out to the Kingstons again. This time, they invited her to come down to Chile to work on the farm for a year. And thus Blaire launched an exciting precedent! In the couple of years since Blaire came down to Chile, the family has worked to develop the recent graduate roles, bringing on Constanza Beytia as a Chilean mentor. Jen Kingston, in charge of Human Resources and fellowship training, says that, "the Kingston family is so thankful for the ways in which the fellows have consistently brought new ideas and great energy to our developing business."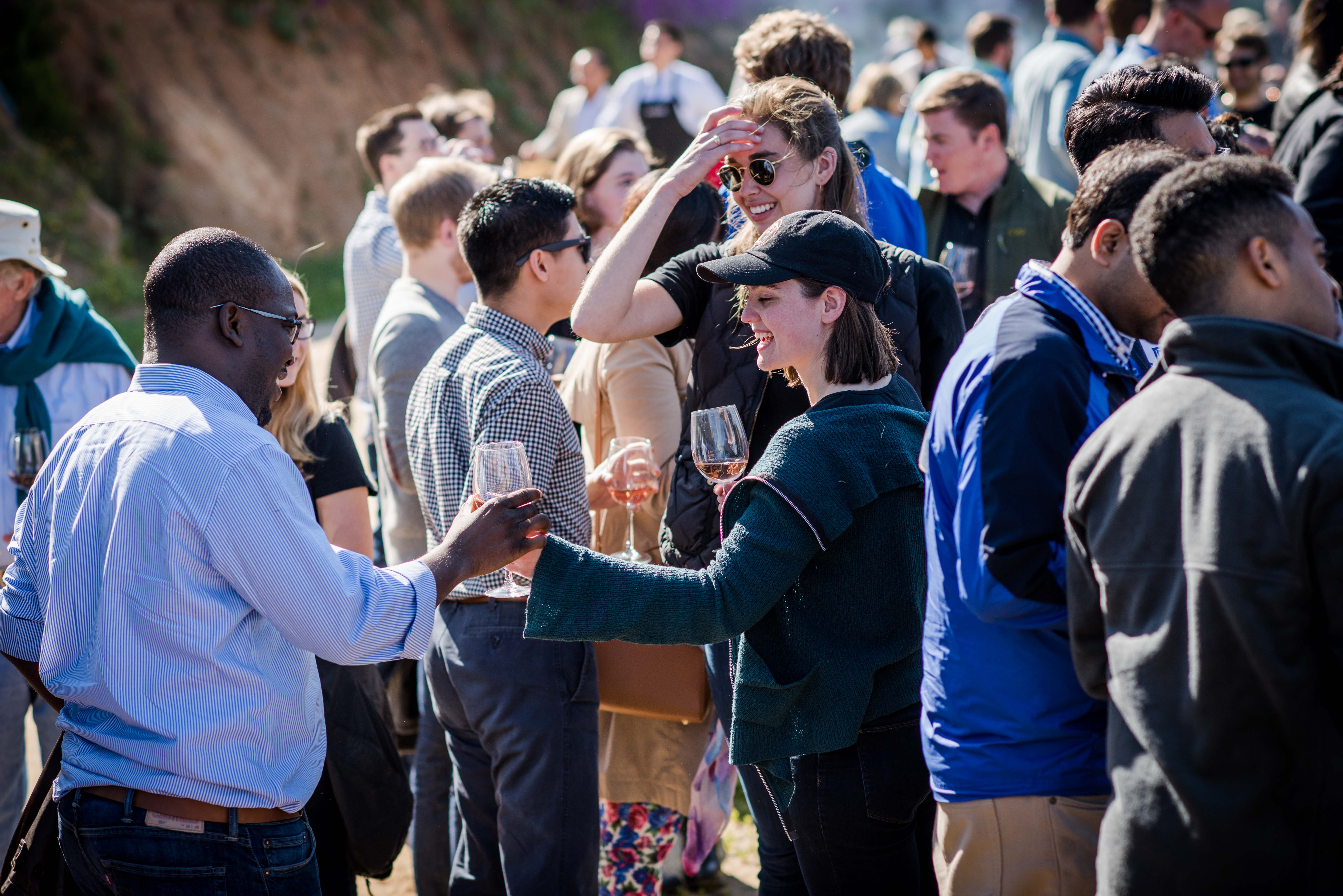 A Day in the Life
There is no such thing as a "typical" day at Kingston Family Vineyards. The core of a fellow's job is leading tours and tastings for guests. On busy days, fellows lead as many as three tours each. I've had days where I've greeted a group of Americans for a 10 AM tour, taken a quick lunch break, then spent the rest of the afternoon walking bike tour groups around the cellar or pouring tastings for newlyweds.
Even on days when our schedules are less packed with tours, we keep busy with tasks around the winery. With harvest, events, and big shipments to the US on the horizon, there are always opportunities to get our hands dirty. Hand-labeling bottles while blasting music in the barrel room is a regular pastime, and we help out with restocking our little on-site wine shop almost daily. Sometimes our tasks are less routine: one day last month, Aubree and I put on knee-high wader boots and got into the fountain to shovel out the leaf-filled water as part of spring cleaning! Other days we pile into the vineyard's white pickup truck for stick-shift driving lessons in the vines. ("A good skill for someone working on a farm," Michael Kingston, age 76, confirmed when I recounted our stick-shift escapades to him.) Working on a small team where everyone wears so many hats enables us to try out a range of jobs and apprentice with team members, from our winemaker Amael Orrego to our client partnerships manager Marco Vera.
We also have the opportunity to work on projects in other parts of the business that interest us. This allows us to learn about the inner workings of a small family vineyard beyond hospitality. For example, last year Douglas Guyett initiated a project on financial modeling, and Ben Culver worked with our agriculture team on organic farming. So far this year, Taylor, a chemistry major in college, has been learning from our part-time wine chemist in the lab. Meanwhile, Aubree has been spearheading recruitment for next year and putting her art minor to good use building sculptures out of used corks. Working with our marketing manager on projects like this very blog post has been a highlight for me.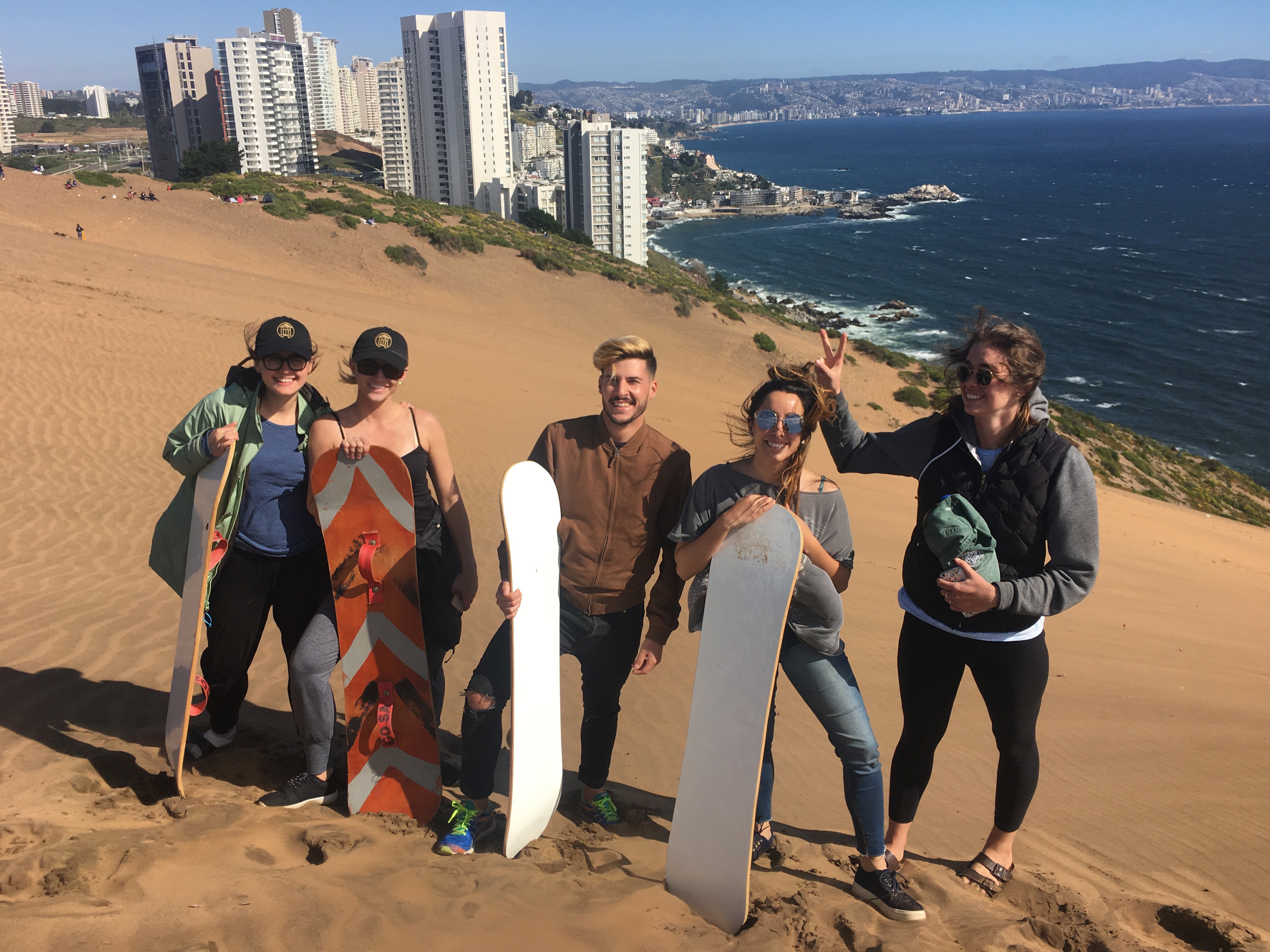 Life in Chile
After visitors learn about how on earth I ended up in Chile, they're often curious to know where we live, and what life is like for us here. The fellows share an apartment in Viña del Mar, a gem of a city on the ocean about forty minutes from the vineyard. Our building is full of Chilean families, and we are a short walk from the ocean and the lively local farmers market. We can practice our Spanish daily with everyone from our doormen to the attendants at the small museum across the street, and while we've had a couple of mishaps with the intricate network of local buses, for the most part we're figuring it out. It doesn't hurt that most of our Chilean team members live in Viña del Mar or nearby Valparaiso and are always willing to help. We carpool to the vineyard with them in the morning, too. Personally, I'm famous for sleeping in the car from the moment we hit the highway until we pull into the winery for our daily team breakfast in the kitchen.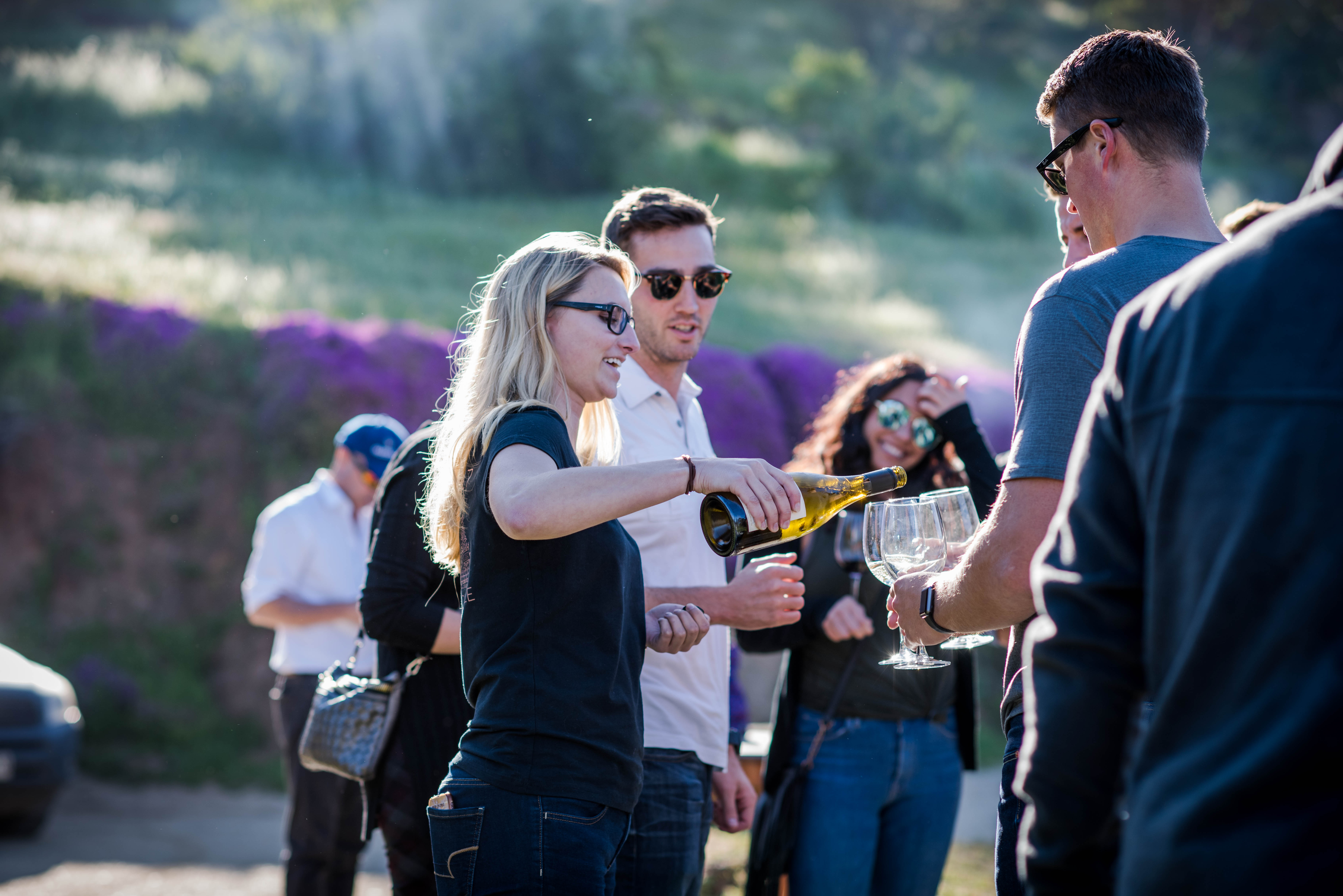 Sharing the Kingston Story
Fellows are daily stewards of the Kingston's family story on the Farm. I've been asked more than once if I am a member of the Kingston family, perhaps a great-great-great granddaughter of CJ Kingston or a cousin of Courtney Kingston. While the answer is no, I have been delighted to share the family's rich history on the Farm since arriving in early September. There are black and white photos of the family and farm everywhere in the winery, and Louise Kingston has been generous about sharing the stories of the photos and the generations of Kingstons pictured in them. The vineyard is just the latest chapter of the Kingston family's nearly 100-year story on their farm, and the fellowship opportunity, while only three years old, is an exciting addition to the constantly evolving and growing family business. Whether we're shoveling leaves, leading tours, or carefully placing the Kingston label on a new bottle of sparkling wine, we are grateful we ended up here.
Comments
Commenting has been turned off.