Blog
August 5, 2015 | Travel | Courtney Kingston
Seven Days in Chile's Lake District

Over the years our family has had many opportunities to explore Chile – first as kids, later as young adults and now, as parents. Last year we had the good fortune to travel to the country's three most popular destinations: The Lake District, Patagonia and The Atacama Desert. Our vacations were filled with many memorable adventures, amazing scenery, lots of great food and wine, and, of course, a few mishaps. Friends often ask us for advice about Chilean travel, so we've decided to put together a sample itinerary based upon highlights of our own trips. We will share our experiences in a three-part travel series, beginning with the Lake District.
Sample Seven-Day Itinerary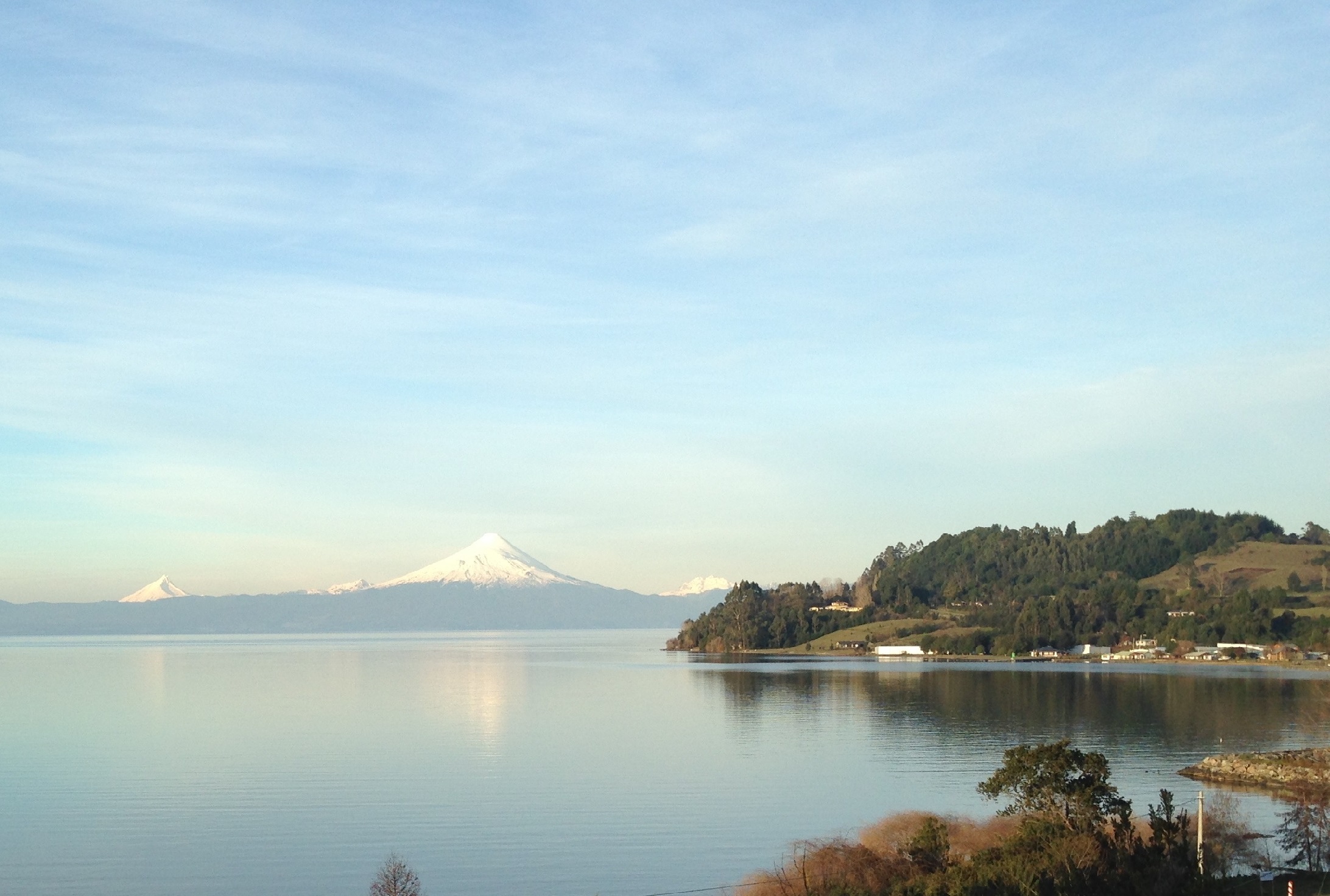 Located in southern Chile, the Lake District, or Región de Los Lagos, is best known for its spectacular scenery made up of emerald green hills, snow-capped volcanoes, historic fishing villages, farms speckled with sheep, lush forests, national parks and – you guessed it – lots of lakes. An adventurer's paradise, the area is a popular travel destination for chilenos, but is less known to international travelers than Atacama and Patagonia.
When arriving in The Lake District just about everyone comments upon how green it is. The climate is temperate, much like Ireland or Portland, Oregon, and it can get very rainy at times. Most tourists visit during the Chilean summer, but in our opinion the best times of year to go are March/April (fall) or November/December (spring) because it is less crowded. Last year we went in winter (July) and were practically the only Americans vacationing there; it was a little chilly -- and definitely wet -- but well worth the visit. The region had an amazing mystical quality to it that felt special and original to Chile.
In addition to the gorgeous scenery and lots of opportunities for playing outside, the area's diverse history provides a unique mix of culture that you won't find anyplace else. Once inhabited by the indigenous Huilliche people, the region was conquered by the Spanish in the 1540s. Later, in the 1850s, German settlers from Hamburg began to put down roots. As a result, many of the geographical names are in the Huilliche language, some of the area's biggest attractions are hundreds of wooden churches built by Spanish Jesuit missionaries, and the architecture in several areas is distinctly German.
One reason we like the Lake District is because of the creative spirit that pops up in unexpected ways and places. Sometimes striking, often quirky, there's a sense of Chilean artistry that has flourished since Pinochet's military government left power in 1990. We saw it in unusual locations such as outdoor metal sculptures perched upon a hilltop, at a restaurant that prominently featured wool woven into its décor and in modern architecture accentuated by sustainably harvested wood from local forests.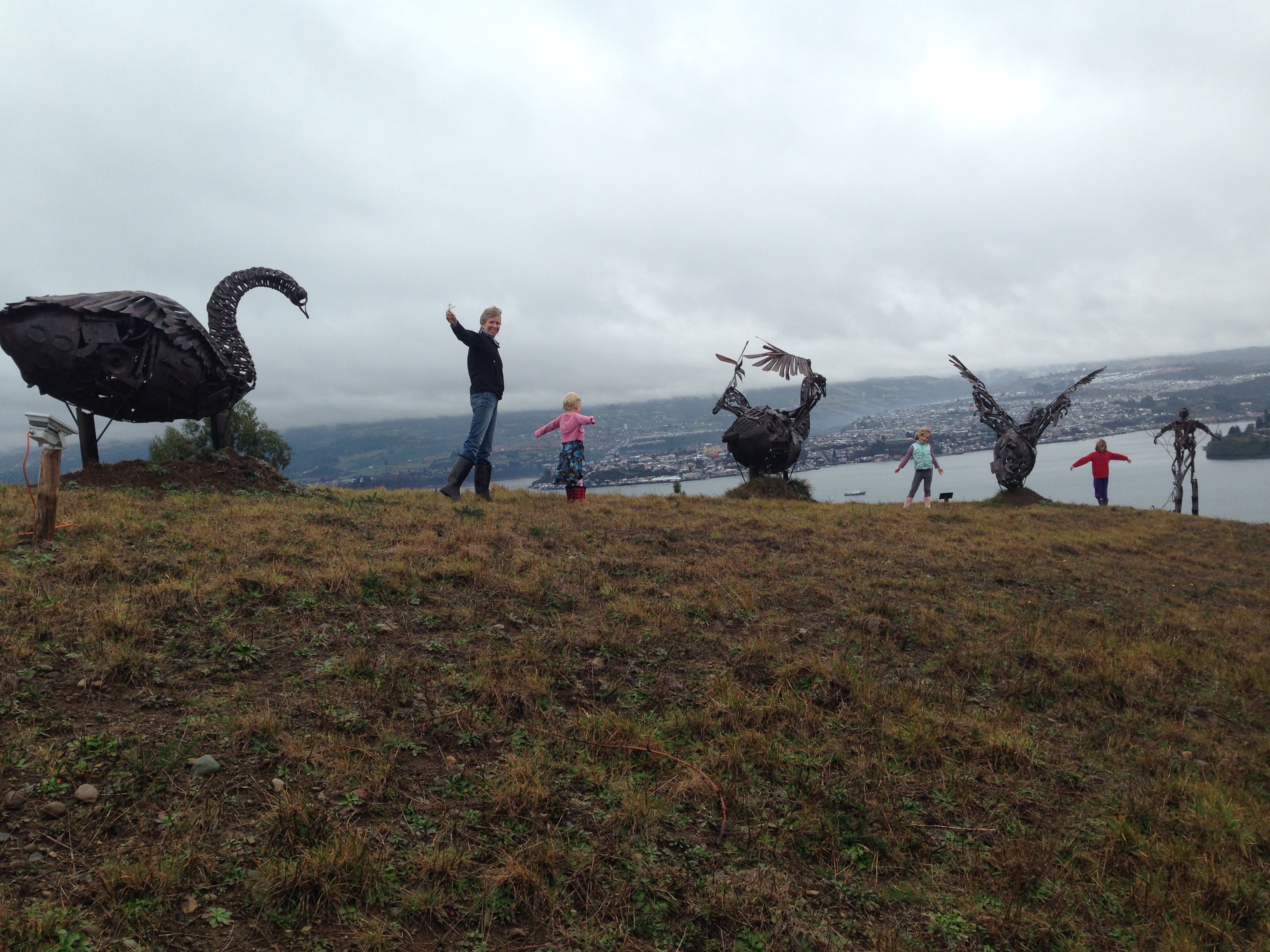 Anyone who travels to Lake District should know that not everything functions like clockwork. You'll want to allow extra time for just about everything you do, because you never quite know what's around the next corner. There could be a traffic jam (cows crossing the road), snowfall at high elevations, or even a volcanic eruption (or two).
Day 1 – Chiloé
The easiest way to get to the Lake District is by plane. Two airlines, LAN Chile and Sky Airlines, operate many direct daily flights from Santiago. LAN Chile tends to be more expensive than Sky, which is somewhat like Southwest Airlines in the U.S. We recommend flying into Puerto Montt, about an hour's drive from the island of Chiloé.
Taking a morning flight into Puerto Montt should give you enough time to explore some of the area's bigger towns and small fishing villages in a day, should you want to do that. Upon arrival, you can rent a car at the airport or arrange for pick-up by your hotel. A few hotels even offer free transportation and will plan daily excursions for you, eliminating the need for a rental vehicle entirely. Assuming you rent a car, head south to Pargua to catch the car ferry for the crossing to Chiloé. You should know this is not like a ferry to Nantucket. There are really no "schedules" – the boats seemingly just go back and forth between the island and the mainland – so you might have to wait a while. The boarding process is very low-key, too. When the road disappears into the water you stop your car and wait for the ferry to pull up.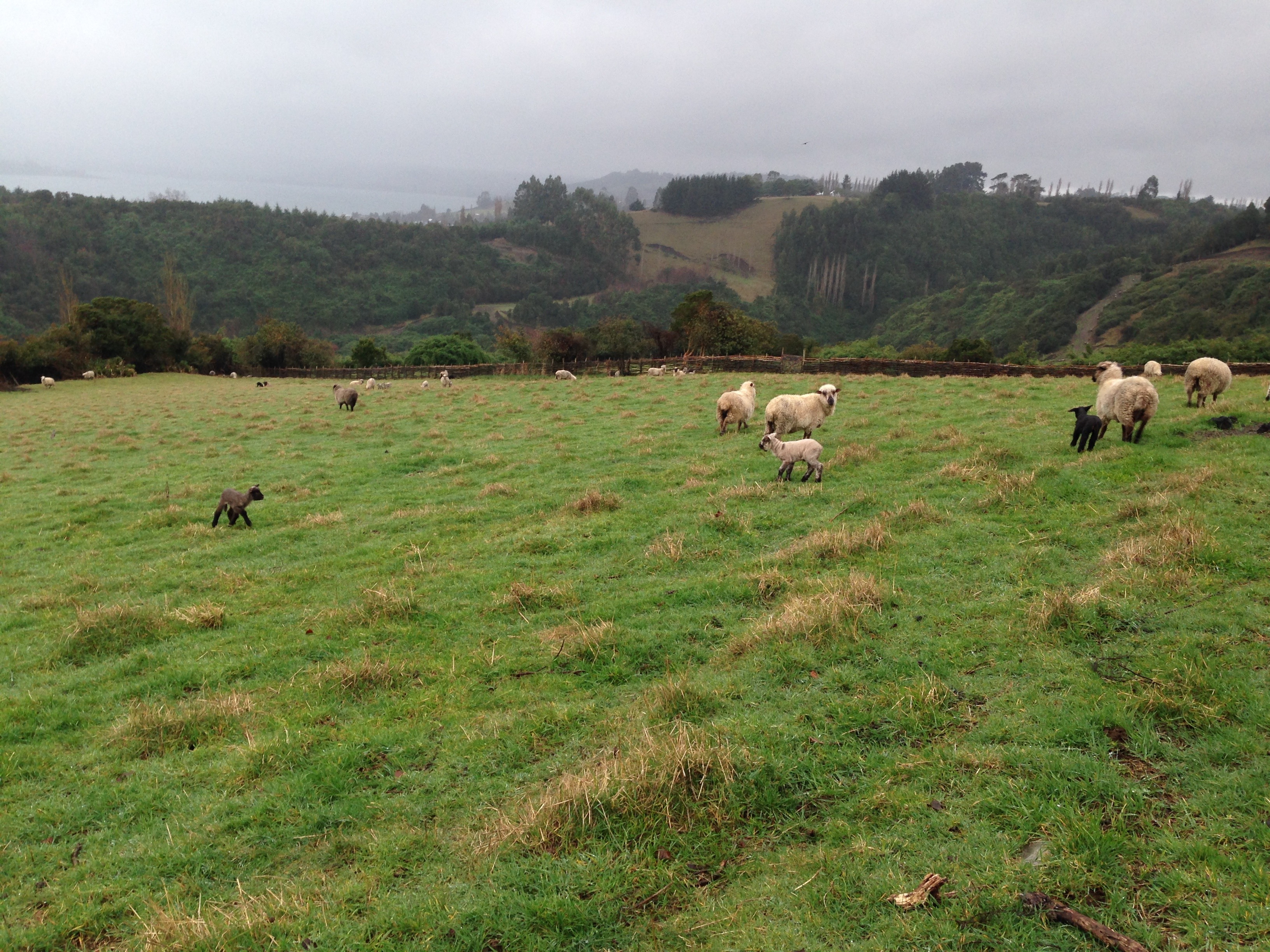 In the event that you're hungry when you reach land, you might try the sour apple empanadas being sold along the roadside – they're delicious and made from a local variety of apple. Some people go to the seaside city of Ancud for lunch with the hope of seeing penguin colonies that inhabit the area from November through March. We suggest heading southeast toward Castro, the teeny capital of Chiloé, and checking into your hotel.
We stayed at the Centro del Ocio, located on the Peninsula Rílan, about 20 minutes from downtown Castro. The wood-shingled buildings are linked together by walkways, which is typical of the area because of the soggy ground. The hotel has a beautiful view overlooking the archipelago, and the cabins are positioned on the hillside above a sheep farm. If you're lucky you might see a monito del monte, a rare tree mouse that resembles a mini possum, but is cuter. We're pretty sure one resides in the casa antigua, an original building on the property. We also highly recommend Tierra Chiloé, a new sustainably-built boutique hotel, or you could try one of the "palafitos" for a truly local experience. The colorful houses perched on stilts along the water's edge were once the homes of fishermen who would tie up their boats to the stilts and climb up a ladder to the door. Our friend Maria Paz's family owns Palafito del Mar, a contemporary-style B&B that prominently features local wood.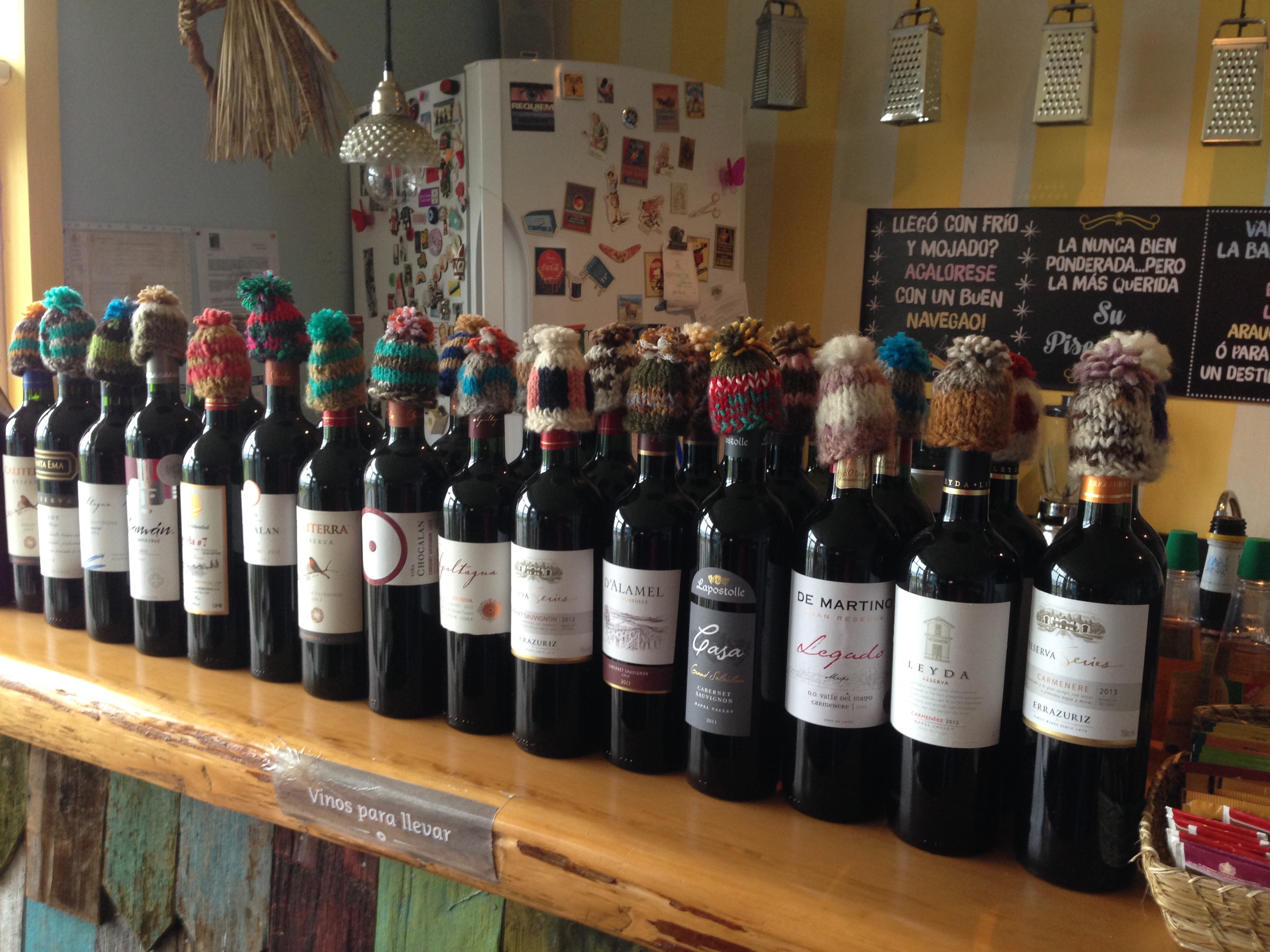 Dinner comes late in Chile so make sure to plan accordingly. Most restaurants will let you in around 8 p.m., but chilenos won't start arriving until at least 9. (To fend off hunger, a common practice is to take "onces," which is similar to high tea and happens between 5 and 7 p.m.) For dinner, Sacho is considered the top seafood restaurant in town, known for its curanto (a traditional chilote meal consisting of fish, meat, potatoes, dumplings and vegetables), soups and other crab dishes. We like it because it's casual and kid-friendly. Other popular spots are Rucalef Putemun (you'll need reservations) and Mercadito, a cozy spot that sports wine bottles wearing little woolen caps. Licor de Oro, a Chilotan liqueur that tastes somewhat like Limoncello, completes most meals on the island.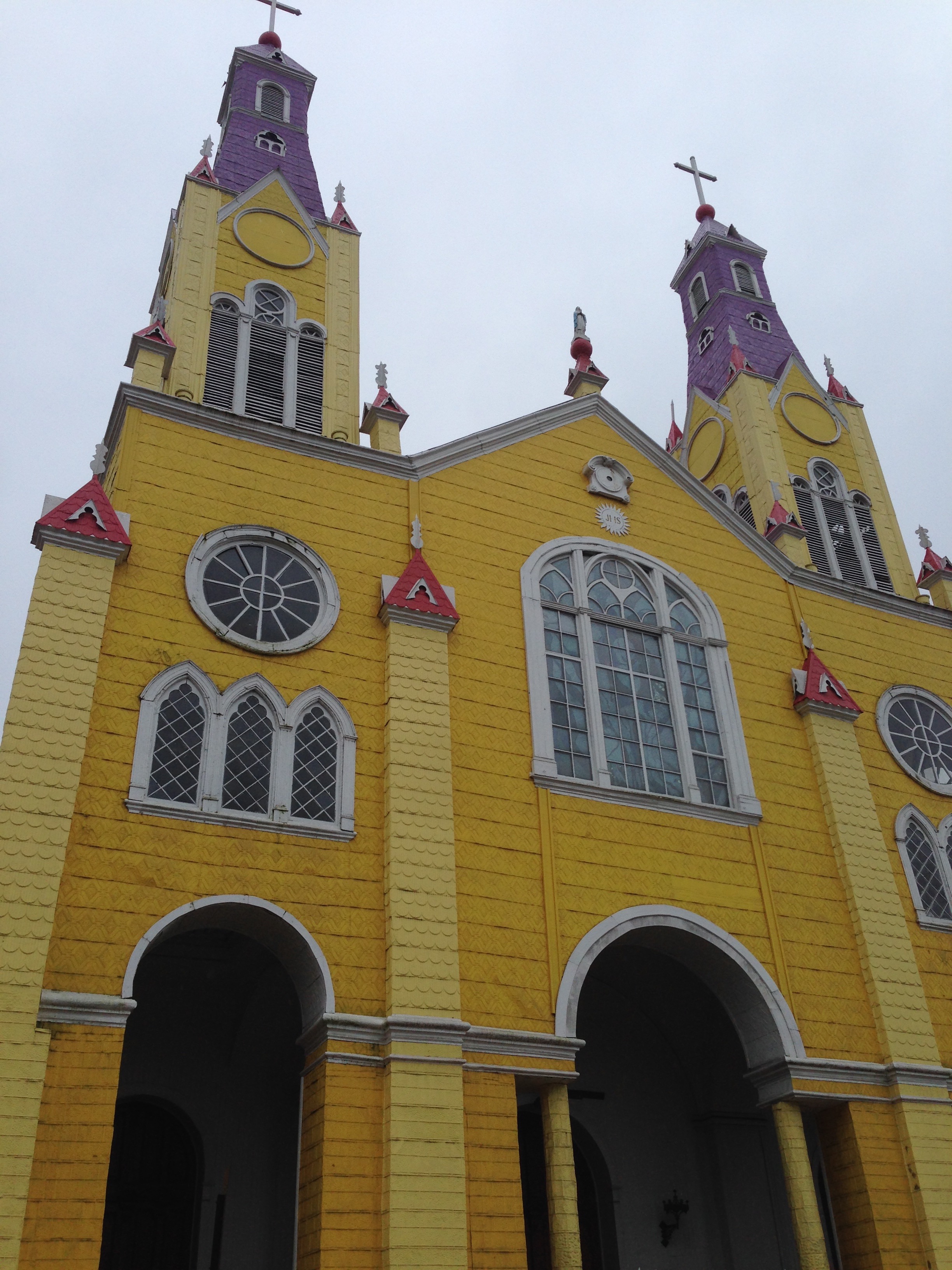 Day 2 – Chiloé
Due to its small size, it's easy to take in Castro's sights in a few hours. You can't miss – and wouldn't want to – the bright yellow and purple Iglesia de San Francisco. In addition to being an important historical landmark, you'll notice that all of the religious icons are wearing wool sweaters. MAM Chiloé, a modern art museum housed in an old converted barn, is another "must-see" in our opinion. One friend believes it to contain the best art in all of Chile.
If you were to visit these places in the morning, you would still have time for afternoon activities. Some options are heading to the beach (windswept Cucao is a lovely choice, although it is about an hour's drive), taking a ferry to a neighboring island such as Isla Quinchao, or going to the "feria" (outdoor market) in Dalcahue for original woolens. We purchased colorful yarn at the Puerto Montt airport and later bought long, wooden knitting needles in Dalcahue. If you prefer not to rent a car and explore on your own, many private tours are available. Tierra Chiloé, for example, offers half- and full-day excursions that range from boat trips to horseback riding to visiting cultural attractions. Their experienced bilingual guides provide access to off the beaten path locales that you might not otherwise find.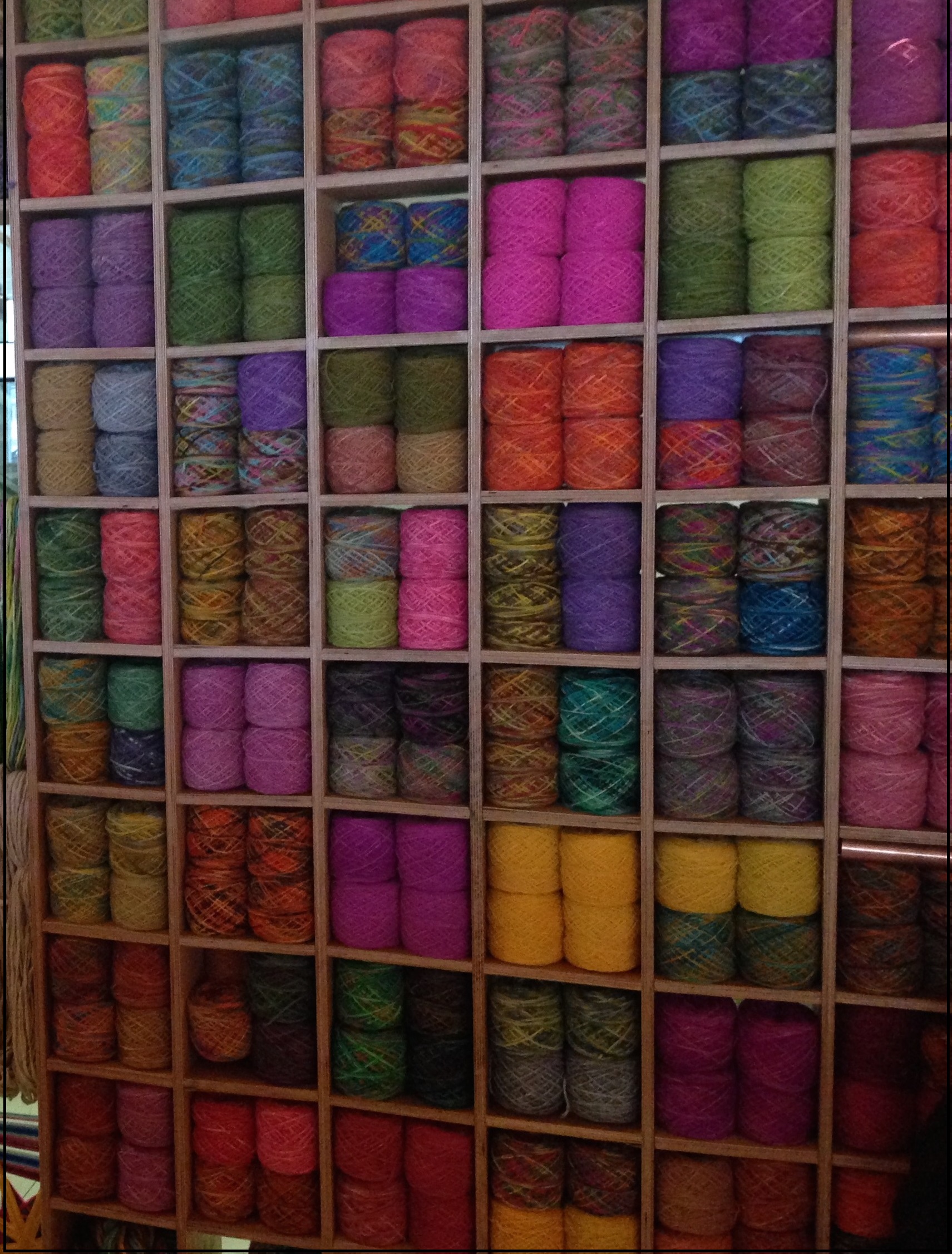 Day 3 – Puerto Varas/possibly Frutillar/Petrohue
Saying good-bye to Chiloé is never an easy thing to do, but adventure awaits! Roughly 200 km north of the island is Lago Llanquihue, Chile's second largest lake. You'll know you've arrived when you spot Volcán Osorno, a breathtaking snow-capped volcano that looks like Mt. Fuji, and Volcán Calbuco, which erupted in April of this year. Situated along the lakeshore is Puerto Varas, a postcard-perfect town with the stunning white Iglesia del Sagrado Corazón de Jesús at its center. Assuming you departed from Chiloé in the morning, La Jardinera Gastropub would make a good stop for lunch. It has a lovely cottagey feel, features organic fare and the sommelier knows our wines, which we were very excited to learn. You could also try Donde El Gordito, which chef Anthony Bourdain profiled on his TV show.
At this point you'll have to make some choices: Do you want to hop back in the car and drive east to Lago Todo los Santos or have an outdoor adventure? Another option is to continue north to the "must-see" village of Frutillar Bajo, located 30 minutes from Puerto Varas. Your decision really depends on how much time you want to spend driving.
Puerto Varas serves as a gateway of sorts to the rugged outdoors. The surrounding area offers many chances for adventure, ranging from gentle hikes to more extreme activities such as canyoning, a combination sport that involves technical climbs, swims and jumping off boulders into rivers. The most common water activities are sea kayaking, canoeing, rafting, boat touring and fly-fishing, or you can stick to land and see the area by bike. Numerous tour companies are stationed in town, ready to help you get out and about.
We opted to head to the Petrohue Lodge, on the banks of Lago Todo Los Santos. However, we highly recommend visiting Frutillar Bajo at some point during your visit. The quaint resort town was colonized by Germans in the 1850s and features houses with German architecture, tidy rose-lined streets, and is famous for its pastries such as "kuchen," which is essentially a pie made with local raspberries and strawberries. Known in Chile as "La Ciudad de Musica" for its annual music festival, Frutillar is also home to Teatro del Lago, a contemporary performing arts center that has hosted some of the world's best known musicians including Yo-Yo Ma and Plácido Domingo. It's a gorgeous venue and we think its restaurant, Café CapPuccini, has the best espresso in town. It also has great high-speed Wi-Fi, which is not a given elsewhere.
If you decide to stay for a night or two in Frutillar, we recommend Hotel Serenade de Franz Schubert. The charming B&B has a veranda overlooking pretty gardens, rooms named after composers, and wonderful breakfast served on floral china. (Frutillar is not far from Interstate 5, which takes you to Puerto Montt, so if you cannot make it at this point in your travels, you can always stop on the way to the airport on your last day in the Lake District.)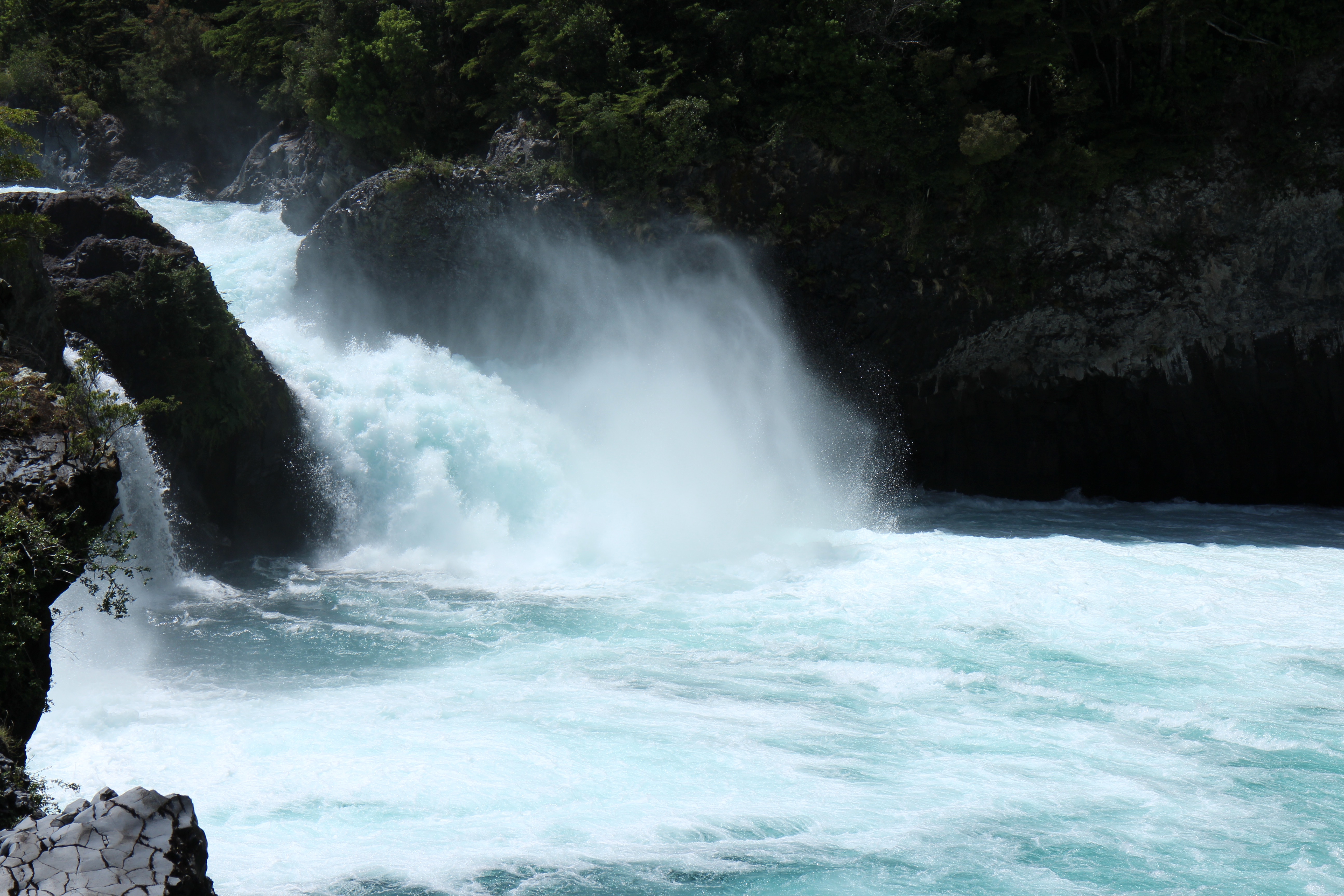 Day 4 – Petrohué
After a day of travel, the lush natural surroundings of the Parque Nacional Vicente Pérez Rosales provide the opportunity for lots of fresh mountain air. The only lodging option in the park is the Petrohué Lodge, situated at the base of Volcán Osorno. It's not fancy – there is no TV, phone or Wi-Fi – but the Swiss-style hotel has an old-school feel that we like. It's distinctly Chilean in that the first time we were there, in 2000, the same person (Marcelo) greeted us at the door, was our waiter, guide, concierge, bell-man, and by the end of our visit, friend. While there, you'll want to visit , the magnificent chute-like waterfalls that tumble over black volcanic rock into turquoise water. There's an information center that is nice, new and informative.
Day 5 – Petrohué
A second day in Petrohué provides countless opportunities for getting outdoors. The Lodge offers guided treks ranging from a half-day to six days that vary in terms of difficulty. Three of the treks can be completed in one day or less: the "Trek El Rincon," which involves hiking along the base of Volcán Osorno through ancient landslides and native forests; the "Desolation Pass Trek"; and the Trek Paso los Pumas," a full-day adventure that includes boating across Lago de Los Santos, crossing creeks and walking through a valley of endangered alerce trees. Many tourists also go white-water rafting on the Petrohué River. We stayed on land and had almost as much fun watching a duck endlessly surf the river's Class IV rapids.
Day 6 – Puyehue
A scenic three-hour drive past snow-peaked volcanoes, farmlands and Lago Rupanco gets you to Lago Puyehue and the Cantarias Lodge and Spa. Widely recognized for its world-class fly fishing, the chilly crystal waters in the surrounding area are filled with salmon and trout (Rainbow and Brown). Experienced fly-fishing guides are available at the Lodge and will create custom outings based upon your needs. The owner, Javier, is great and took us on a boat ride on the lake. We couldn't miss the many nesting bandurrias (black-faced ibis), which are very loud, goose-size birds whose beaks look a lot like downturned divining sticks.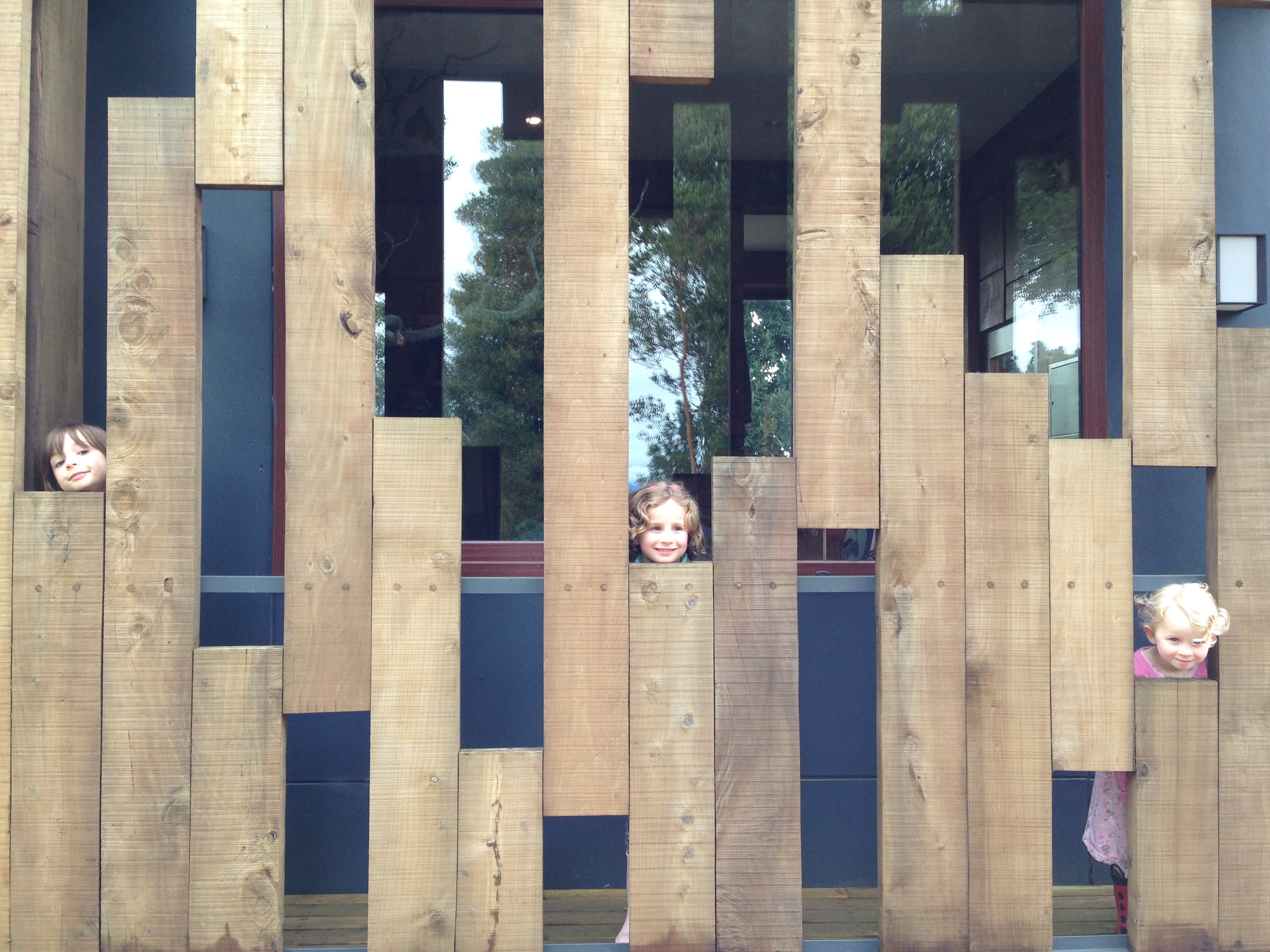 The creative gourmet food at the restaurant, which we found to be the best in the area, followed by a glass of wine next to Cantarias' volcanic rock fireplace made for a wonderful last meal in the Lake District.
Day 7 – Puerto Montt/Santiago
Many travelers use Puyehue as a stop along the way to Villa La Angostura, an especially picturesque town in Argentina near Bariloche. You'll need a visa to do this – as well as a few more days – so we are not going to profile that journey here. We are also leaving out Parque Pumalín in Región Aysén, an amazing 715,000-acre nature preserve created by The North Face founder Douglas Tompkins, which we also strongly recommend, but cannot easily be fit into a one-week trip. Instead, we suggest making the three-hour drive back to the airport in Puerto Montt and returning to Santiago. (Make sure to build in some extra time in your itinerary because of unforeseen issues.)
Once you return to the Santiago area, we welcome you to visit our family's vineyard in Casablanca. It's an easy afternoon outing from the city. ¡Bien Viaje!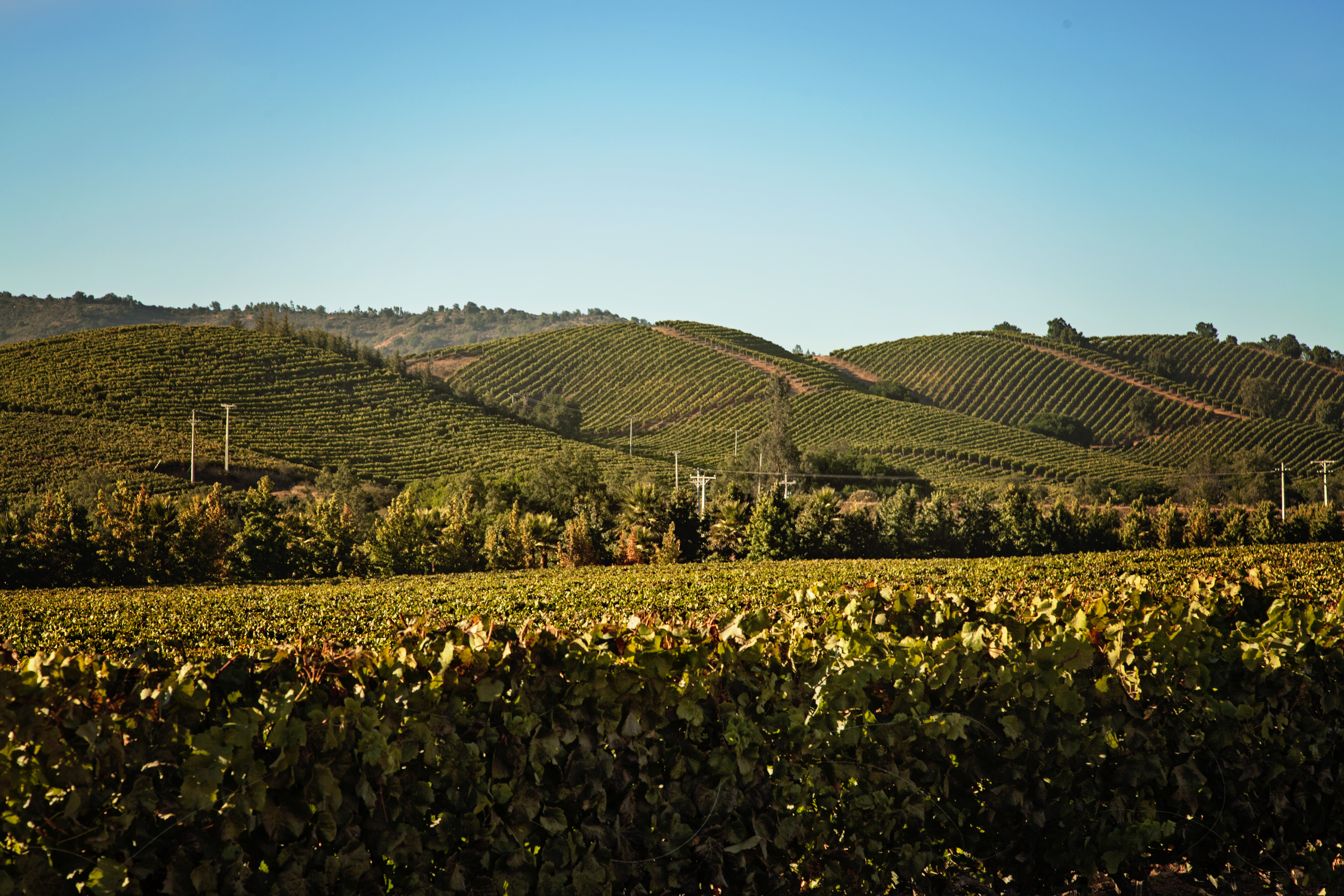 We hope you've found this information helpful. Feel free to e-mail us at guests@kingstonvineyards.com if you find yourself in need of planning assistance. TripAdvisor is also a great resource.
Comments
Commenting has been turned off.