Blog
March 6, 2018 | Winemaking | Courtney Kingston
Byron Kosuge: In His Own Words

Nearly 16 years ago I was introduced to Byron Kosuge by mutual friends. At the time, he had been quietly making a name for himself in the wine world for more than a decade. I was drawn to his soft-spoken, humble personality and sensed the depth of his wine knowledge. After a few subsequent conversations we got to know him better and began to understand just how well-respected he was. (Byron reminded us of the famous ad campaign by E.F. Hutton: When E.F. Hutton talks, people listen.)
In 2002 we approached Byron about working with us. (Truth be told, I kind-of stalked him. With lots of old Chilean maps.) Knowing he could easily find wineries in his own Napa backyard, I tried to appeal to his sense of adventure and the "psychic" value of expanding his winemaking career on another continent. I went to a seminar Byron led at the World of Pinot Noir and introduced myself afterwards. Dad and I then further sought Byron out after a Wine Chemistry 101 class at University California at Davis. The class went so far over our heads that 30 minutes into it Dad (who has a Harvard Executive MBA and worked in banking for 40 years) wrote me a note in the margin of his starkly blank legal pad: "Must hire someone to do this!" We've never looked back.
Below Byron talks about his experiences working with us, his perspective on Californian and Chilean wines, and where he sees Kingston Family Vineyards in the future.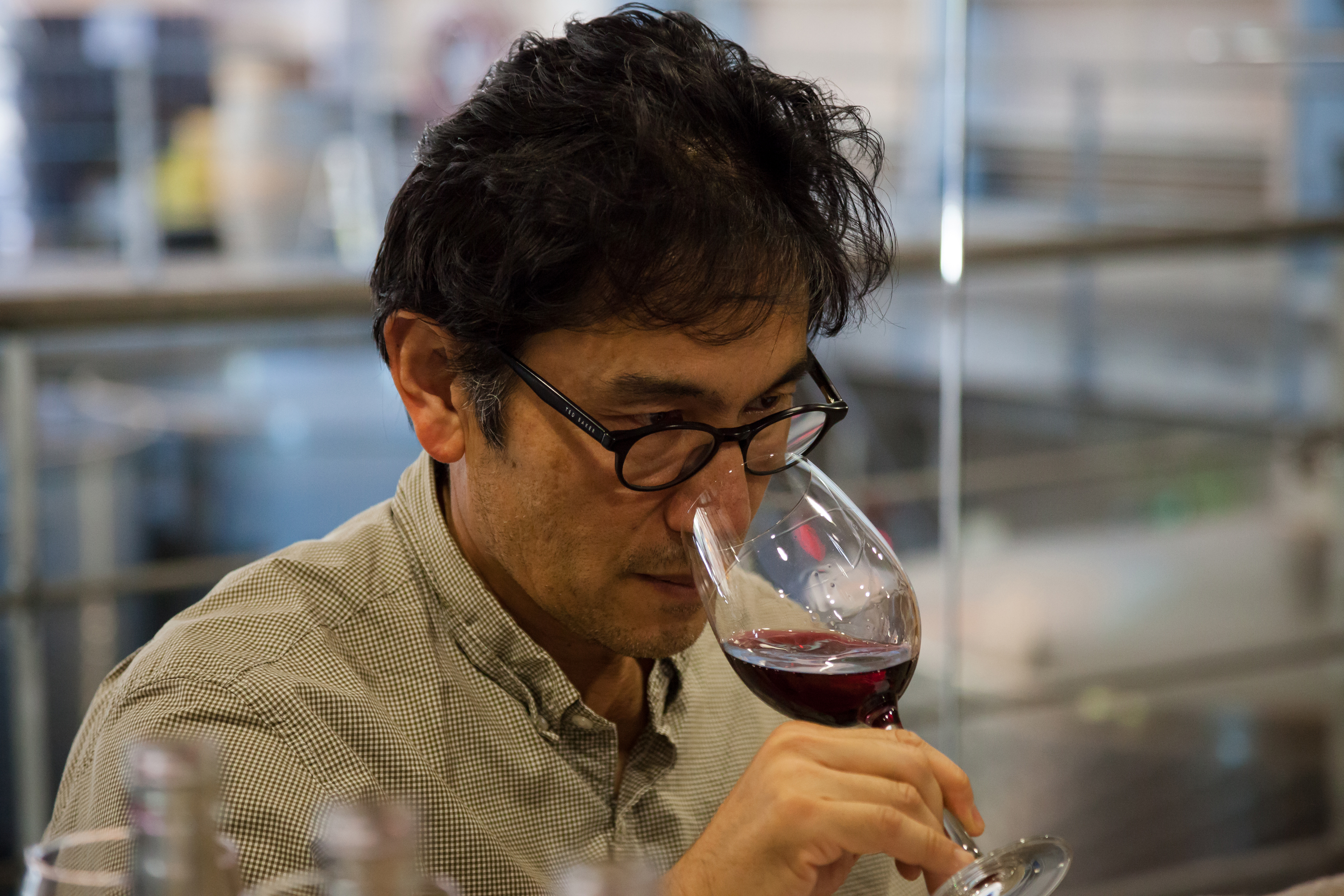 How did you first get involved with winemaking?
I started my wine career as a hobbyist. Not making the stuff, but as an enthusiastic student/consumer. I was pretty young to have an interest in fine wine, in fact I first got interested in wine before I turned 21. Like most, I first learned about European wines, and managed to taste my way through quite a few of the most famous wine regions of France and Germany. I devotedly read the Alexis Lichine Encyclopedia of Wine and the Hugh Johnson Wine Atlas.
But things really got going when I got a job in a restaurant while going to college at UC Davis, and met a few like-minded folks. This was when the notion of a wine-centric restaurant was pretty new. I majored in English Literature at first but later found wine and switched my degree. I bounced back and forth between wine and literature for a couple of years, and even took a year away from working in a winery to go for a Masters in American Literature at the University of Washington before deciding that enough was enough; I was going to focus on wine exclusively. By this time I was 27 years old and felt like I needed to apply myself towards something resembling a career.
How did you decide to embark on a winemaking adventure in Chile?
I had just left a full-time job at Saintsbury, where I had worked for many years, and was looking to do multiple winemaking projects, including something in the Southern Hemisphere. I figured that would be a good way to work abroad without interfering with my responsibilities back home in California. My initial interest was New Zealand, as I have friends there and had visited twice in the late nineties/early 2000s.
Around the same time I met Courtney and Michael [Kingston], liked them, and on the advice of friends Ann Kraemer and Ken Bernards — both of whom knew Courtney — decided to look into it a bit more. One thing led to another, and here I am 15 years later.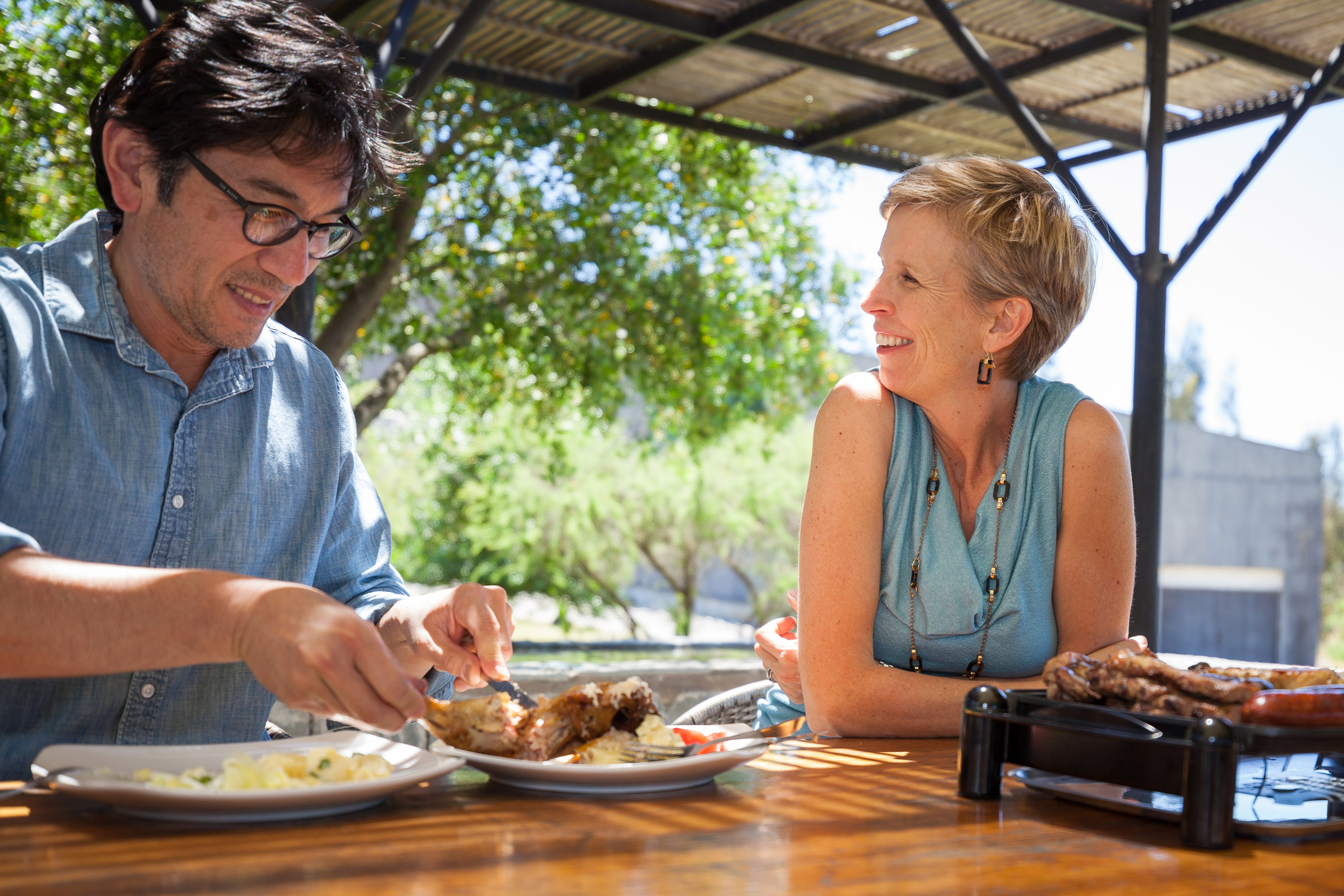 Byron and Courtney hard at work taste-testing a new summer asado for our guests on the terraza.
After more than 15 years and countless overnight flights to Chile, why do you still do it?
When I started with Kingston Family, I didn't have a sense of how long I would continue with it. Often, with consulting work, there is a life span associated with a project and at some point I feel like my involvement is no longer necessary. Sometimes that's within a couple of years, other times it can be four or five years. So I suppose I thought it might run five or six years.
But my role at Kingston was more than just an advisor. In the beginning, we were working in a rented corner of someone else's winery and I was driving over late at night to do punchdowns. It was a fun adventure and I felt a great responsibility for it. But since I don't live down there we all realized that we had to get people in place in Casablanca who would steer the ship, so to speak.
When we built our own winery in 2006, this became even more important. Today, we have a talented winemaker in Amael and an excellent staff both on the production and sales side, and I am much more an advisor and consultant. I could step back and the ship would continue to sail happily along. But I still feel a sense of responsibility and ownership of the Kingston Family wines, and I am enjoying this stage of what we've built together over the past fifteen years. The Kingstons have become good friends and it's always a pleasure to work with your friends.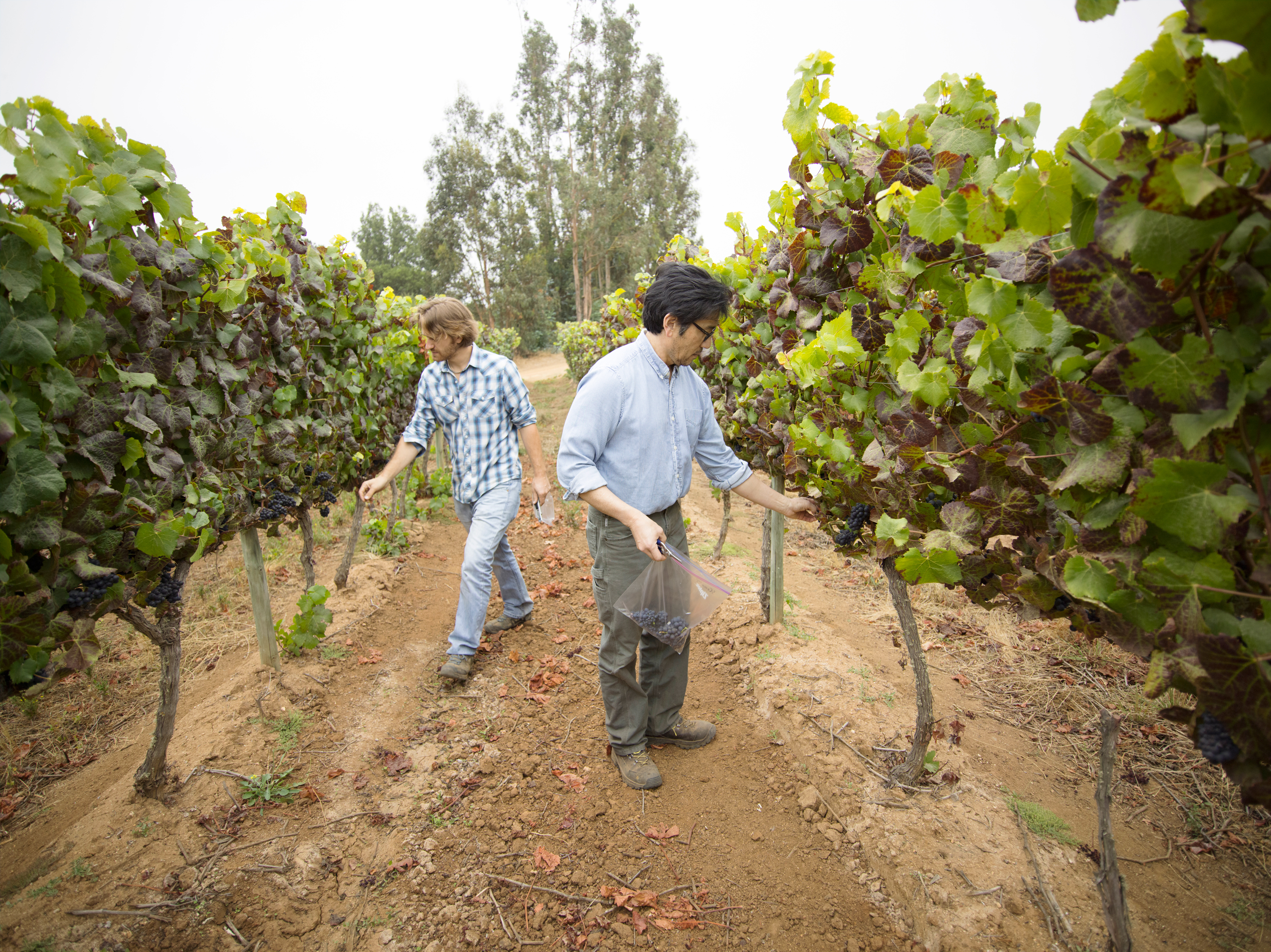 What do you see as the similarities and differences between California and Chile, and the wines these regions produce?
That's the kernel of my interest in making wine down there and has been from the beginning. There are numerous similarities in geography and climate. Chile is a mirror image of California in terms of latitude and geological history (both are defined by their proximity to the intersection of tectonic plates, and the mountains were formed in similar ways. Lots of earthquakes, too.) Also, the climate in both places is largely defined by the Pacific Ocean. The cold water currents are the same as — but a mirror image of — those in the northern Pacific.
These similarities led me to believe that the wines would taste the same. But they could not be more different. So clearly there is more going on than just soil and climate when it comes to defining the flavors in the wines.
This, by the way, also shows up in some of the fruits and vegetables, which taste different in South America. My then three-year-old daughter Audrey loved the bananas when I took her to Chile 15 years ago, and claimed that they were different, and better, than the bananas back home.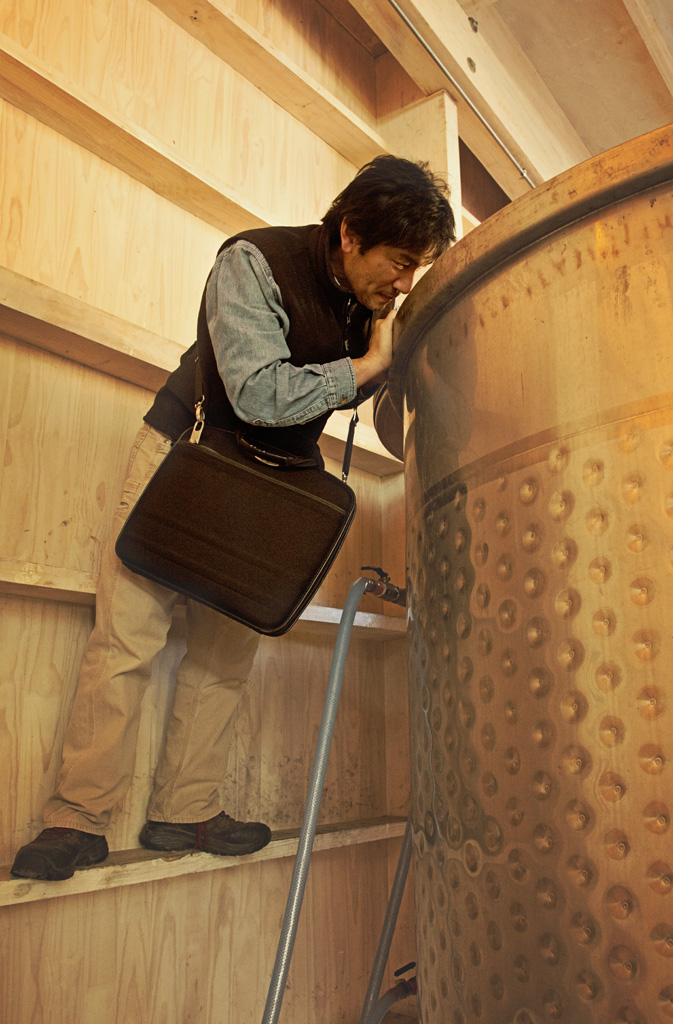 You make and sell your own B. Kosuge Wines. Tell us a little about them.
I started making a little wine of my own shortly after I began working for the Kingstons. It was, and continues to be, more of a psychological and creative outlet than a money making endeavor, and with it I get to do all the things that I would not necessarily be able to do with my clients' wines. I make several different Pinot Noirs, a little Chardonnay and a Gamay Noir (the grape of Beaujolais). I've been really interested the last ten years or so in exploring what you might call "New Traditionalism" in California winemaking and B. Kosuge Wines allows me to do that on my own dime.
What is your favorite memory of a visit to the Farm?
There have been a great many pleasant memories, and I can't really recall one that stands out above the others, but there is one story that I find myself telling repeatedly: One of my favorite things about being on the Farm is the evening pisco at the house. At the end of the day, we will adjourn to the veranda or the living room and enjoy a little happy hour, which typically consists of a pisco sour, salted peanuts, quesillo (a soft farmhouse cheese that is made at the house), pebre (a very typical Chilean relish somewhat reminiscent of pico de gallo, that goes on pretty much everything) and some crackers. The pisco sour is sort of the official cocktail of Chile (and Peru). Despite our collective foodie tendencies, the pisco sour of choice at the casa comes out of a bottle—Campanario Sour, which you can get at any grocery store. We stick it in the freezer so it turns into a slushie. It's delicious with salted peanuts.
Amael, David Gates (our vineyard consultant from Ridge Vineyards), and Byron enjoy happy hour with the fellows on the Kingstons' veranda.
If you had a crystal ball, where would you predict Kingston Family Vineyards will be ten years down the road?
If you'd asked me the same question ten years ago I would never have guessed that Kingston Family Vineyards would be leveraging the winery in Chile to generate a mailing list and wine club here in the US, but that is in fact what has happened. Hosting private tastings and tours at the winery has turned the project into a great success. It's a lot of work—a LOT—but it has worked beyond my wildest expectations. So, other than being confident that we'll keep pushing forward as best we can, I don't really know where the next breakthrough will come from.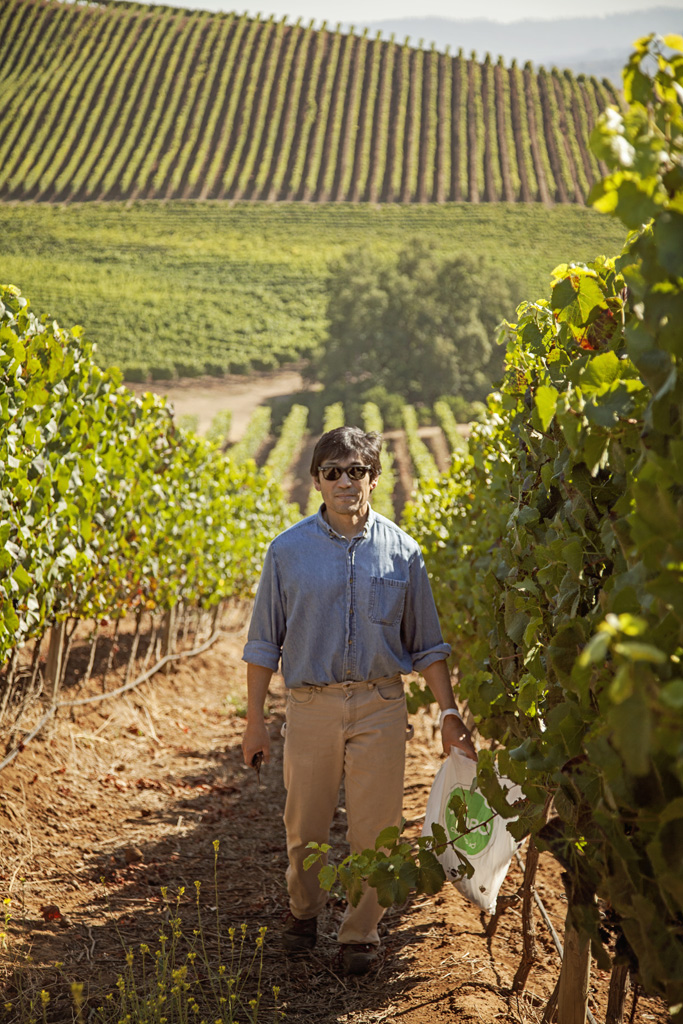 In terms of winemaking and grape growing, the future is a bit more clear. We're well down the path towards organic farming which is exciting and which I think is necessary for the health of the Farm over the long haul. With winemaking, we've figured out enough now that I feel confident that the wines will continue to get better. We've gotten to the point where many of the vines are 20 years old, which is huge. There really is no substitute for mature vines.
What is your favorite bottle of wine to take to a dinner party?
I like to experiment a bit when it comes to sharing a bottle with others, and it depends upon the kind of dinner party and who the other guests are. My default would be Cru Beaujolais, which is versatile with food, not terribly expensive and which I love to drink any time. But many, if not most times, I'll look through my cellar or go to a shop and browse around until I find something interesting. Often it's something I have not had before, although I am careful to choose a wine that I am reasonably sure will be good, or that is recommended by someone I trust. There are a great many interesting wines to try and it's fun to share discovery with others.
Comments
Commenting has been turned off.