Blog
October 11, 2016 | Winemaking | Courtney Kingston
Our 96 Point Fall Release

It's been a busy few weeks leading up to today's fall release but we're pleased it is here and we can finally share our 2015 Alazan Pinot Noir (150 cases) and 2015 Tobiano Pinot Noir (275 cases) now available on our website.
Our Old Corral Club members have already received their early allocations, along with the club-only special bottlings of our 2015 CJ's Barrel Pinot Noir and 2015 Sabino Chardonnay. Some of our Old Corral Club members in California were even able to join us in my backyard last Tuesday to taste our new wines with our Chilean winemaker, Amael Orrego, who was visiting from Chile.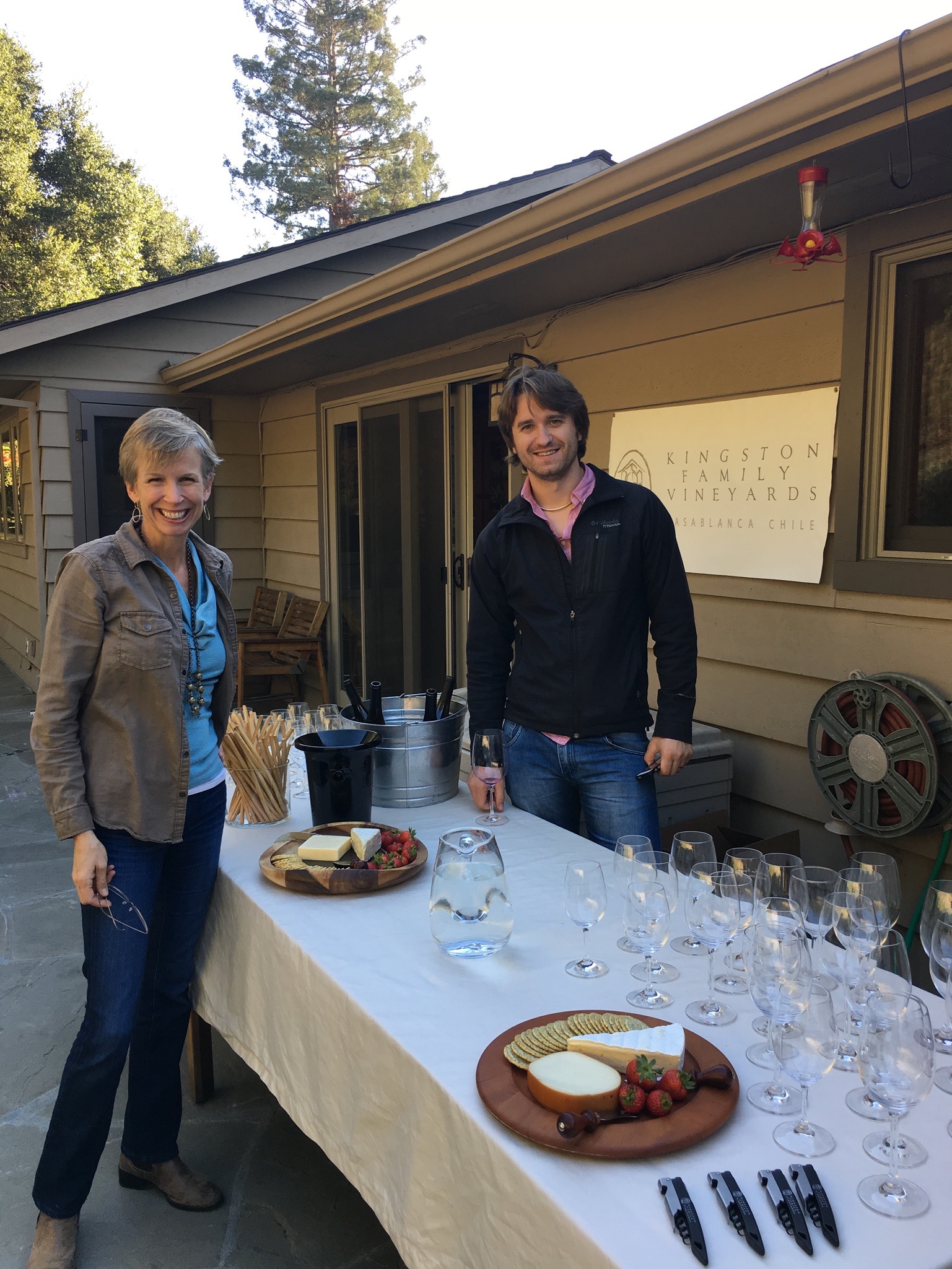 The purpose of Amael's trip was multifold but one was was to attend James Suckling's Great Wines of the Andes events in Miami and New York and pour our 2015 Alazan Pinot Noir and 2014 Bayo Oscuro. This year, for the first time ever, we previewed our wines to the press, sharing them with former Senior Editor of Wine Spectator, James Suckling, during his trip to Chile earlier this year. He awarded our three (then unreleased) Pinot Noirs 96, 95 and 92 points respectively, and our newest Syrahs 94 and 93 points.
We've been fortunate to recently receive great accolades from other members of the press as well. In its current October 2016 issue, Wine & Spirits Magazine gives 93 points to our 2013 Lucero Syrah, namingit among their Top 100 Best Buy of 2016. In its November 2016 issue, Wine Enthusiast awards 91 points to our 2015 Cariblanco Sauvignon Blanc, commenting:"[Kingston Family], one of Chile's go-to producers of Sauvignon Blanc, has bottled a winner."
The 2015 vintage was exceptional. The brightness and energy of our new wines reflect the careful shifts our team has been making at the winery and in the vineyard. Our winemakers Amael and Byron explain more in their tasting notes (found when you click "Read more" in the descriptions on the individual wine pages linked) about the behind the scenes changes we've been making in the vineyard and the winery that you can now taste and see in the bottle.
For those of you who order our new wines, I hope you'll share with us any feedback you may have. We are grateful for your support and enthusiasm for what we're up to on the Farm. From all of us at Kingston Family, thank you for your support.
Muchos saludos,
Courtney Kingston
Comments
Commenting has been turned off.