Blog

2020. What a trying, heart-breaking, anything-but-simple year on so many fronts. Making good wine relies on planning and precision, two luxuries that we were not afforded in a time of such uncertainty. However, a bit of serendipity allowed us to move forward with wine production even as the world shut down, and we ended up with an assortment of vintages as varied and complex as the year itself.
Reflections on a Challenging Season
Over the last eighteen months the pandemic created obstacles for businesses and communities across the world. Our small Kingston Family Vineyards team in Casablanca Valley, Chile was no exception. Everyone on our team had to quickly pivot to new roles (with the tasting room closed) and new protocols, such as social distancing and mask wearing, while harvesting and sorting grapes and making wine. That was on a good day. At more challenging times during the pandemic, there were mandatory lockdowns or periods when our winemaker, Amael Orrego, was in quarantine and had to have vials of KFV wines in-process driven to him for tasting and monitoring.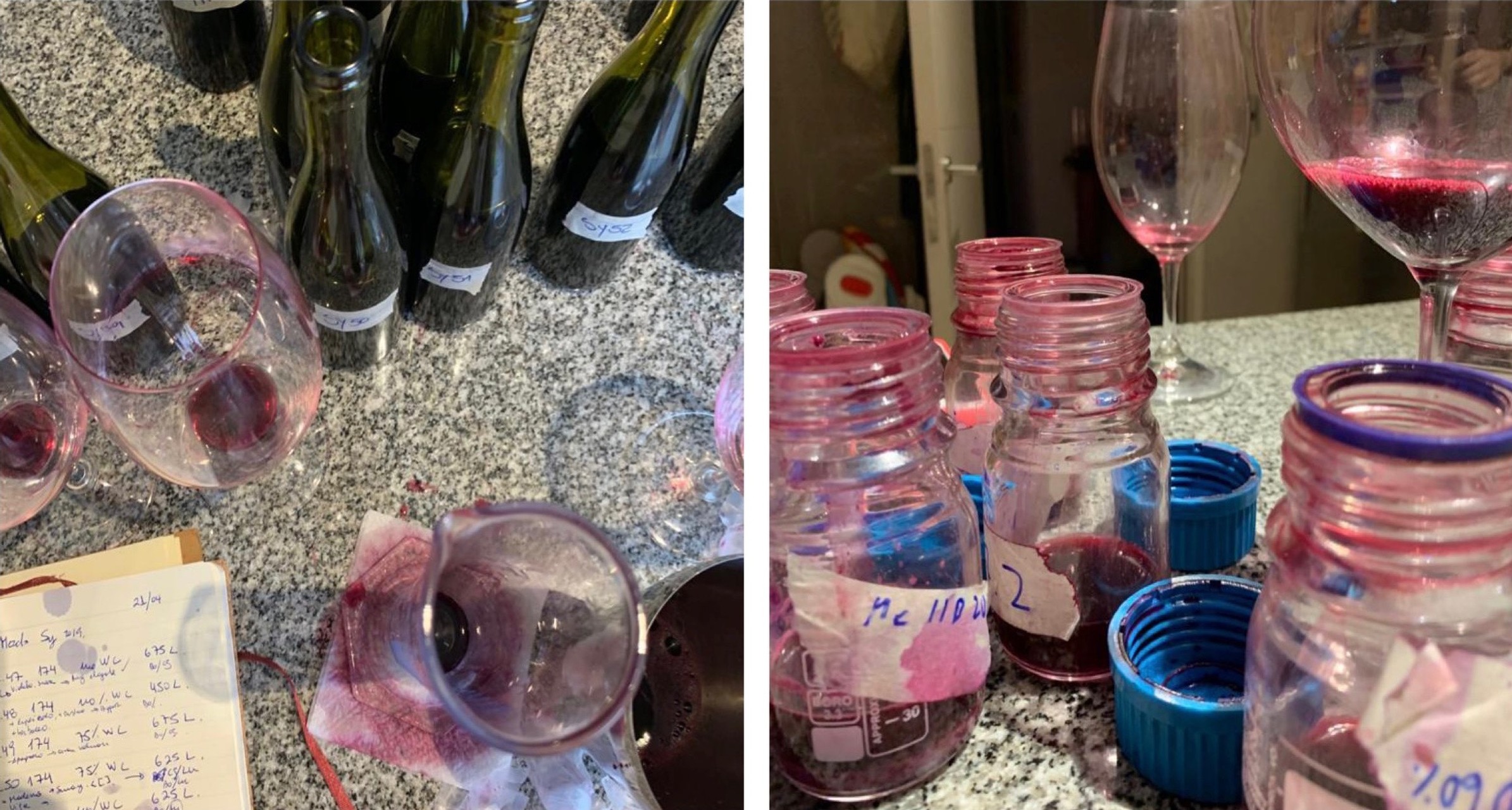 Amael expressed the difficulty of operating during the pandemic while also offering an optimistic outlook: "It was such a year for personal growth, especially in terms of developing more patience and understanding each one of the different processes of vine growing and winemaking so much better. I had the time to slow down and focus even more on the fundamentals." Team member and veteran employee, Coni Beytía, described her personal journey and the way in which our small team supported one another during the pandemic: "This time made me realize how lucky I am to work with our team. I felt very supported not just by the family, but also by my coworkers."
Counting Our Blessings
The first blessing we recieved was an unexpectedly warm climate resulting in an early harvest: while we usually start picking in late February and continue all the way until the end of April, in 2020 all of our grapes were in the winery by March 23rd, just about a week after the reality of the pandemic came to a head across the globe. Even though the U.S. participants in our hospitality fellowship program had to be sent home almost immediately following the closing of our tasting salon, the incredible work put in by our Chilean staff to get all our grapes harvested in time saved us from paralysis.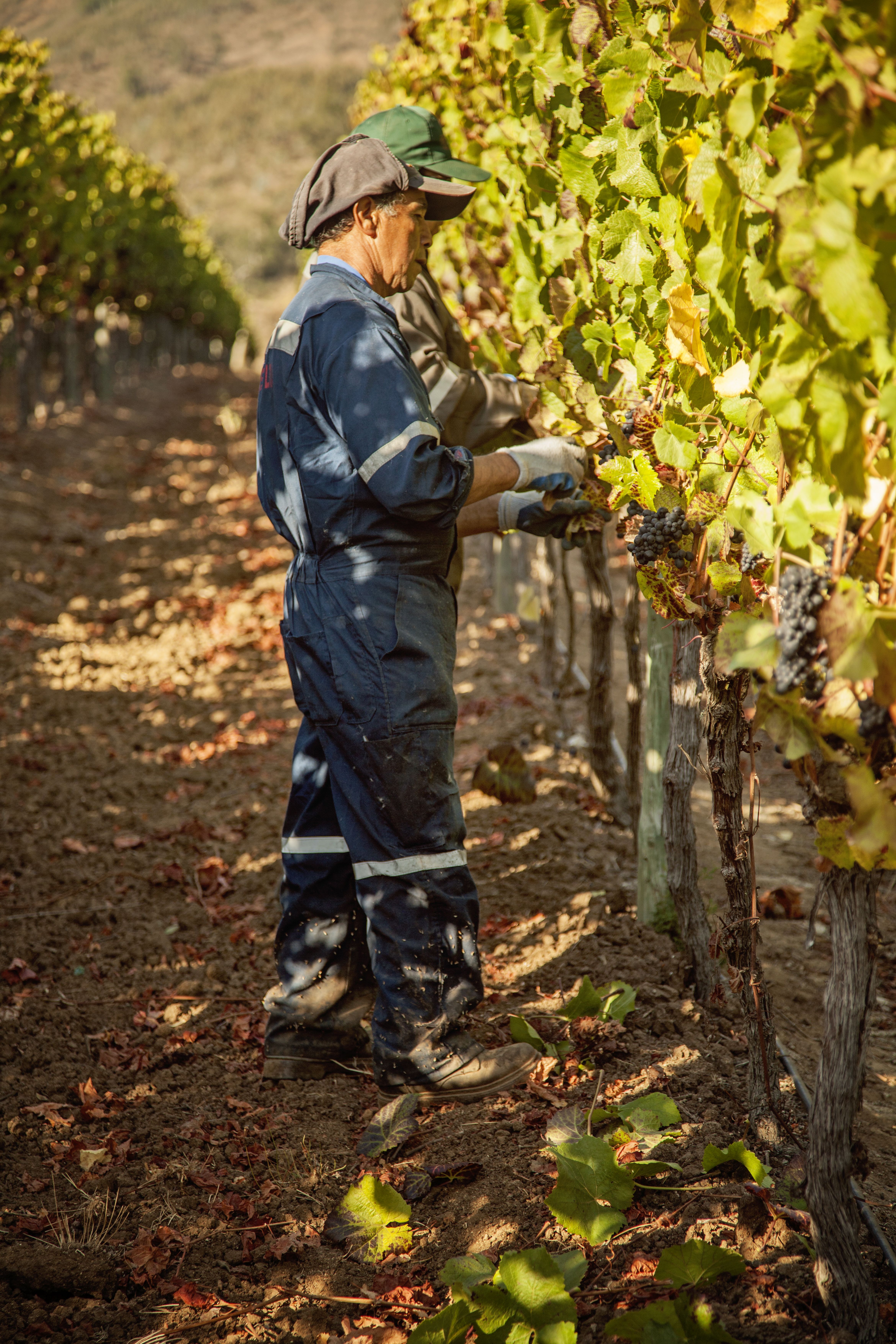 The second blessing was the agricultural exemption we received from the government to continue winemaking operations even as the country fell under strict lockdowns. Those employees who were allowed to travel to the winery from their homes – among them our cellar master Manuel Fuentes – were warriors in seeing the winemaking process to completion.
The End Result
It ended up being an excellent year for our Sauvignon Blanc and Syrah, both of which tend to do well in warmer climates. The Sauvignon Blancs are flush with notes of citrus like pineapple, papaya and mango, with a mouthfeel that is smooth and medium-to-full bodied. The Syrah is darker and richer than in previous years, with beautiful textures and tension across the palate. While wines from warmer years tend to evolve a bit faster, these vintages should have life in the bottle for at least a decade into the future. The Pinot Noir and Chardonnay vintages from 2020 were success stories as well; very balanced and with an appealing acidity, they contain a great expression of red fruit and spices. The Chardonnay is more tropical in nature but maintains that butteriness that moves with ease across the tongue.
Kingston At Home
With the shutdown of our winery due to the pandemic, we could no longer offer in-person tastings and tours to our guests. Soon after, Chile declared a state of catastrophe and closed its borders. Things were feeling bleak. However, we soon found a silver lining admist all the chaos and uncertainty: if people couldn't come to Kingston then Kingston Family Vineyards would come to them.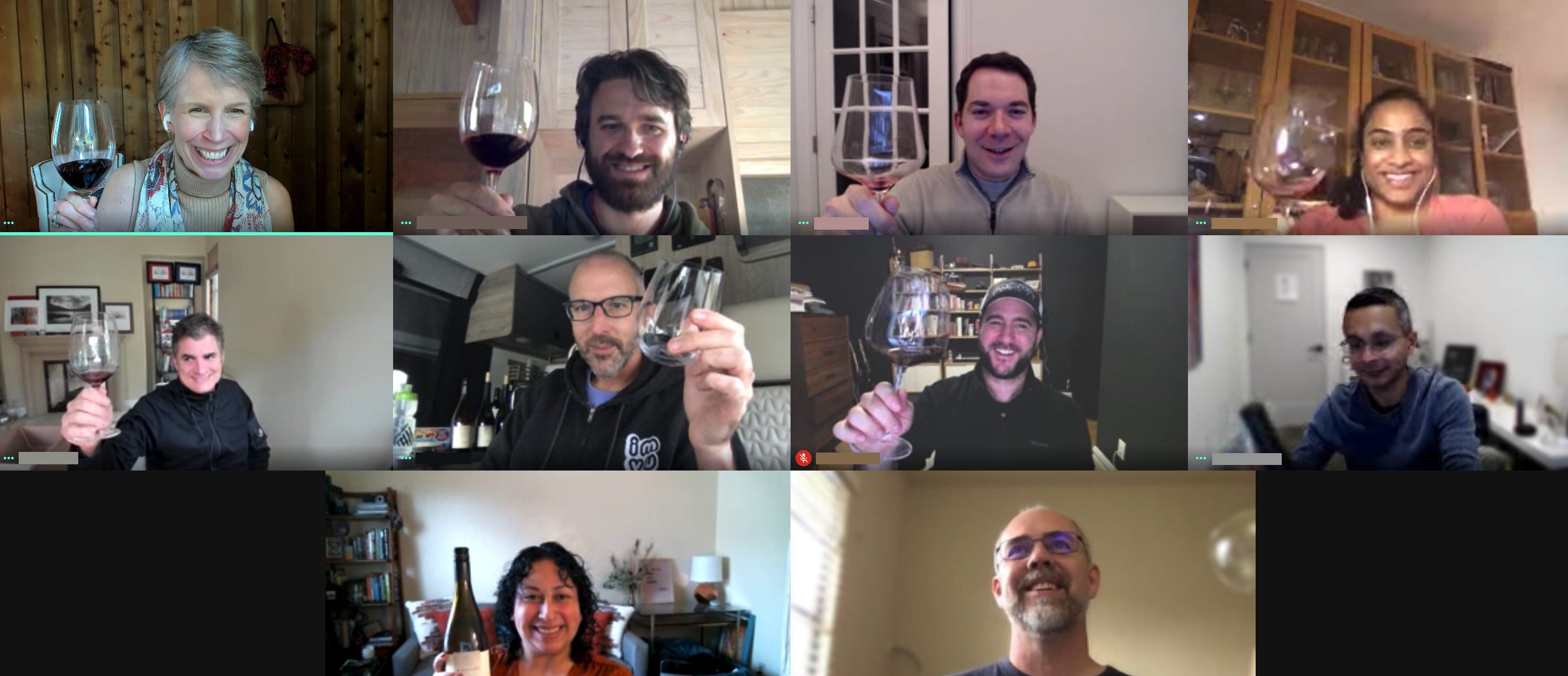 We quickly shifted to offering virtual wine tastings, shipping bottles to customers in advance. Our goal was to bring a little taste of Chile and our family vineyard into our customers' homes. Virtual tastings enabled people from all over the globe to come together and raise a glass. We hosted professors and MBA students for immersive education events, tech companies, alumni groups, birthday celebrations, book clubs, and more. With all the challenges the pandemic has created, "bringing a little bit of light into this difficult time," Courtney Kingston says, "is what we have aimed to do."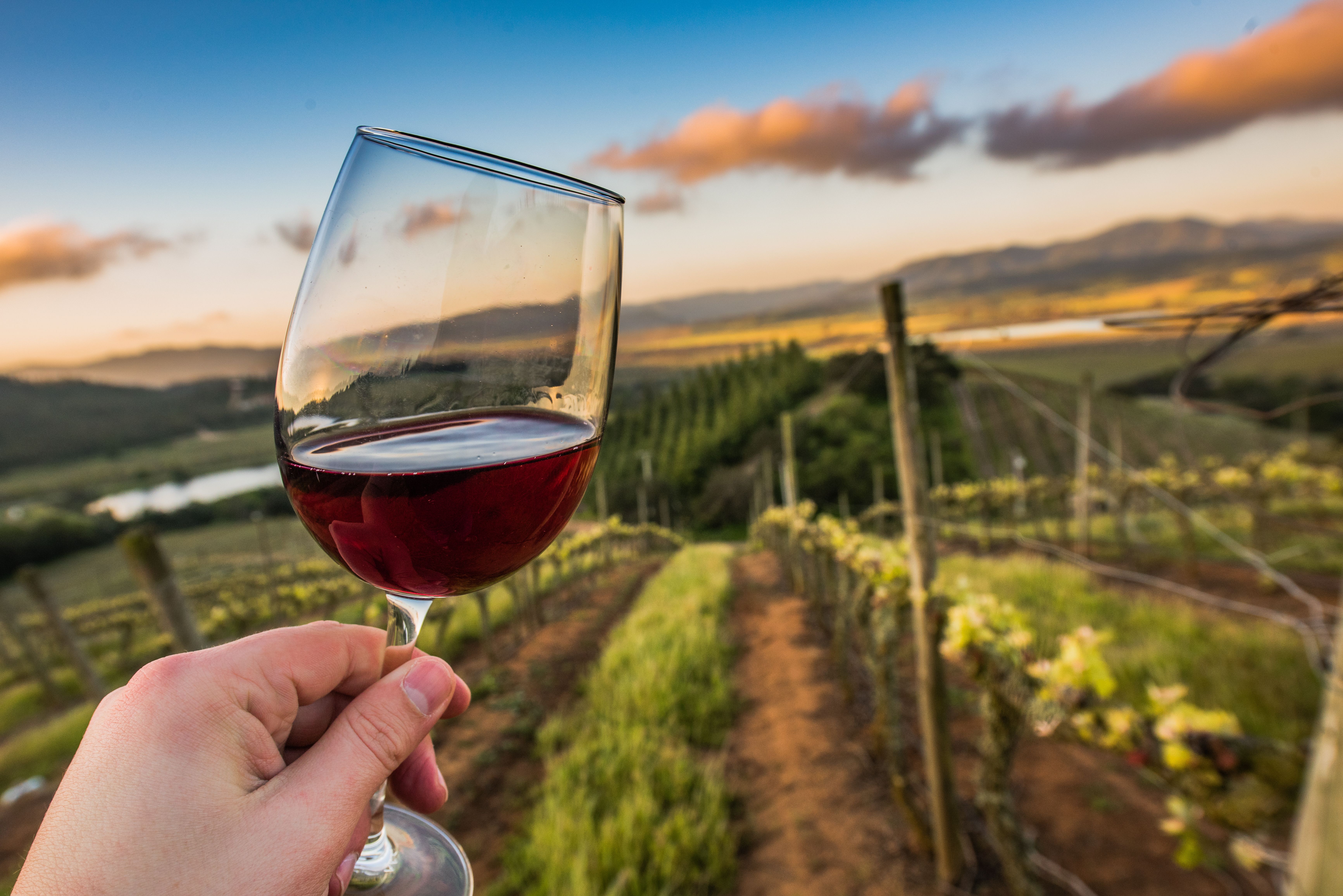 We hope that you experience something very special in this year's new wines knowing that they were made in challenging times with tremendous perseverance and care from our small and committed Chilean team to whom we are so grateful.
Stay well and we look forward to sharing a glass with you, either virtually or in-person, very soon!


This past year certainly was one of never-ending challenges. Covid-19 upended many aspects of normal life—and winemaking was no exception. Producing and bottling wine during a global pandemic presented its own set of trials. The only way we were able to harvest grapes at all during the crisis was because of an agricultural exemption granted by the Chilean government. But we forged on, and this Spring in our Wine Club Release package we are presenting a lineup of wines as vibrant and enticing as ever.
Given that 2020 was an unusually warm year, the grapes were ready for harvest earlier than is typical—in March, which also happened to be when Covid-19 spread its fingers across the world. Thankfully though, we were able to carry on with this early harvest even amidst the chaos, bringing us our 2020 wines, two of which are included in the Spring Release package: the Rosillo Rosé and the Cariblanco Sauvignon Blanc. The 2020 Rosillo Rosé is fresh and creamy on the palate, with notes of candied orange and strawberries. The Cariblanco Sauvignon Blanc contains elements of citrus and dry herbs in the mouth.
Our 2019 wines, in contrast to the 2020 harvest, come from a season that was cooler. Our 2019 Bayo Oscuro, which our winemaker Amael describes as one of the best Bayos we've ever made, is bursting with blackberries and slightly smoky notes. Esteemed British wine critic and Master of Wine, Tim Atkin, has awarded this Syrah 96 pts and our 2019 Lucero Syrah 95 pts. Many of our other wines received high marks as well, including a 95 pt rating for our 2019 CJ's Barrel Sauvignon Blanc.
Also included in the exclusive package is the 2018 Sparkling, which began as an experiment during the 2017 harvest: 50% Pinot Noir and 50% Chardonnay, this wine contains aromas of toasted brioche and red berries, while flavors of almonds and hazelnuts give way to a creaminess in the mouth.
Below is the complete assortment of wines in the standard Spring Release package by club (you can alter your package by utilizing our User's Choice option):
2019 CJ's Barrel Syrah
2019 Bayo Oscuro Syrah
2019 Lucero Syrah
2019 Alazan Pinot Noir*
2019 CJ's Barrel Pinot Noir
2019 Rosillo Rosé*
2020 Rosillo Rosé
2019 CJ's Barrel Sauvignon Blanc*
2020 Cariblanco Sauvignon Blanc*
2018 Sparkling
2016 Sabino Chardonnay*
*Especial Club only
We are so looking forward to sharing these special wines with you, and we want to thank you for your membership and support of our family winery! Wishing health and healing to you and your family as we look to the future with hope.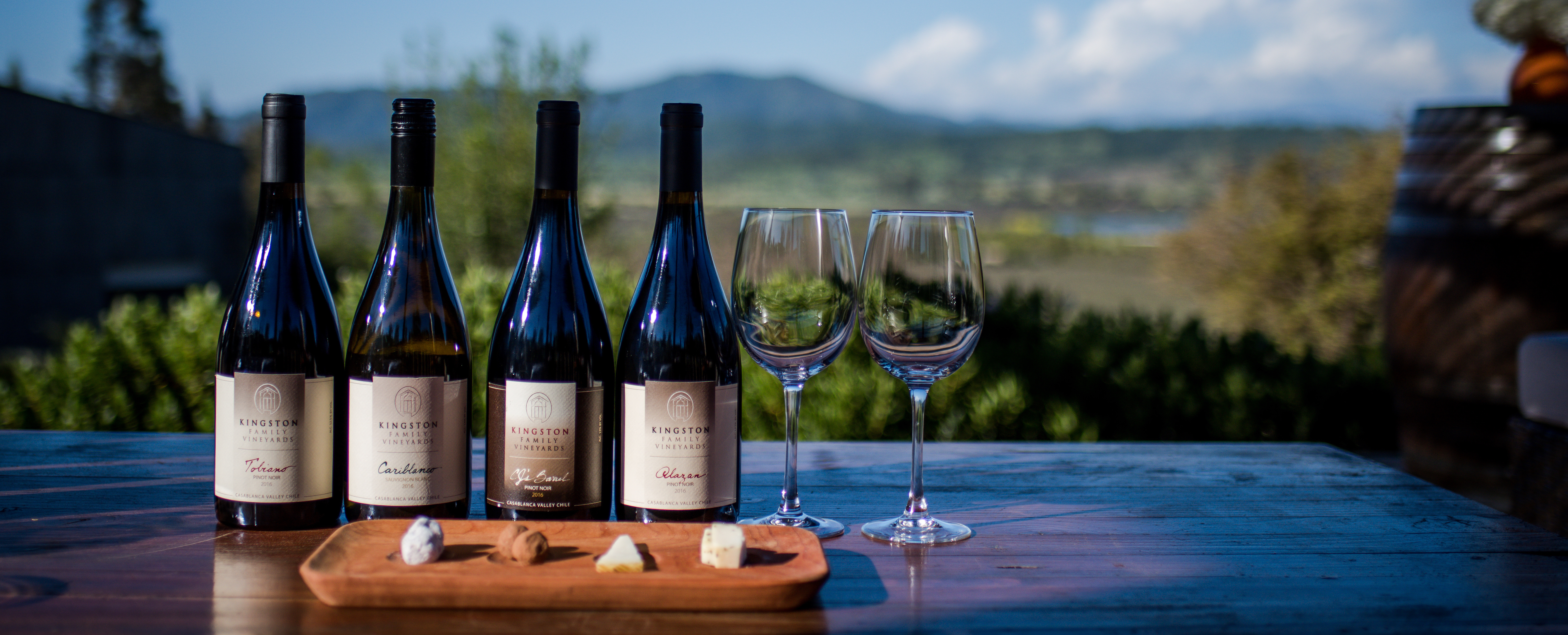 This year's fall release offers you the chance to be—in spirit if not in the flesh— whisked down to our vineyard in the heart of the Casablanca Valley, where Pacific winds linger over grape-studded hills. This particular assortment of wines speaks of resilience; each bottle is reflective of the arduous journey from the vine to your door.
Every step of the process is key: the harvesting of our organically grown grapes by our harvest interns leads next to juice extraction, fermentation, pressure, filtration, and finally months of aging in our oak barrels and concrete eggs. The precision applied to each of these steps seeks to preserve the taste and feel of the vineyard while also bringing you a wine abundant in the desired body and flavor.
Our head winemaker, Amael Orrego, highlights the nobility and expressiveness of the Pinots included in the club package, among them the 2019 La Cantera Pinot Noir. La Cantera, along with the 2018 Late Harvest Sauvignon Blanc, is one of the wines we are distributing for the first time in the 2020 Fall Release. Amael glows when talking about La Cantera, saying that this was such a unique wine that we took the initiative to independently bottle this small lot of only 100 cases. Also included in the shipment is our well-loved Alazan, called "one of Chile's truest, most recognizable Pinot Noirs" by Wine Enthusiast magazine. According to Amael, the aromatic expression of this year's Alazan is particularly complex, achieving "an abundance of red fruit, spices, and earthy notes." Below is the complete line-up of wines you will receive in your Fall Release shipment:
La Cantera Pinot Noir 2019
Alazan Pinot Noir 2019
Tobiano Pinot Noir 2019
CJ's Barrel Pinot Noir 2019
CJ's Barrel Syrah 2017
Merlot 2018
Late Harvest Sauvignon Blanc 2018
CJ's Barrel Sauvignon Blanc 2018
Sabino Chardonnay 2019
CJ's Barrel Chardonnay 2018
We hope you are looking forward to uncorking this special set of wines as much as we are looking forward to sharing it with you. As always, we thank you for your support of our family's vineyard.

Rúcula! Albahaca!
It's a Wednesday morning in Viña del Mar, Chile and I'm welcomed to the produce market by the calls of a vendor, announcing sales on his arugula and basil. I orient myself around the market labyrinth based on hearing his distinct crow. I'll buy cherries from the woman next to his stall, and the Peruvian woman with the hydroponic tomatoes is right around the corner. Every Wednesday morning, I stock up on fresh produce to prepare meals for guests: cherry ice cream to pair with Tobiano Pinot Noir; the best tomatoes to make traditional Chilean pebre.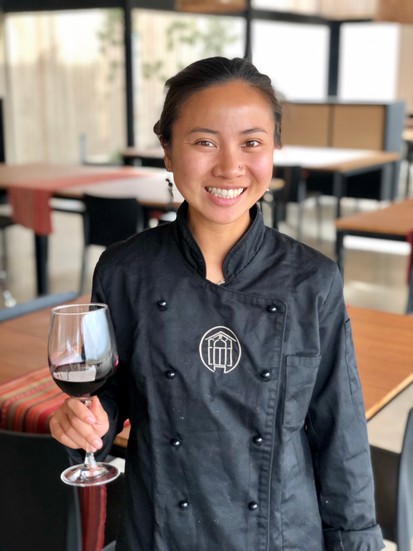 My name is Alex and I've morphed into a young chef cooking up lunches at Kingston Family Vineyards. When I'm not visiting my new friends at the produce market, you would find me at our tasting room overlooking Casablanca Valley, where I work alongside 4 other Americans as part of the vineyard's Fellowship Program. For the past 4 years, the vineyard has welcomed recent college graduates to join its tight-knit team for a bi-national work exchange. This year, the fellows all live together in one apartment in Viña del Mar, carpooling to work in a car that Michael Kingston fondly named Zarzar 2.0. Our primary role is to host tours and tastings for vineyard guests, but we've been known to do everything from hand-label wine bottles in the cave to, well, cook.
The Kingston Fellowship is a cultural exchange and the chance to create a lasting impact for a small family business. We're able to engage at every level of the operation, from collaborating with Amael Orrego, our talented Chilean winemaker tackling sustainable agriculture challenges; to working directly with Courtney Kingston, our spunky female founder. As a young woman, I constantly find my fuel in Courtney's entrepreneurial spirit, her openness toward our grand ideas and her acceptance of the mistakes that often come in tow.
I graduated from Stanford University in 2018, armed with a degree in Earth Systems science and with a lifelong culinary passion. I was drawn to Kingston as a critical environmental teaching moment, since the vineyard began a transition to organic agriculture in 2016. Yet by a fortuitous turn of fate, I found myself tasked with initiating a new commercial kitchen operation in Kingston's recently inaugurated tasting room.
What began as an unlikely opportunity to bring food service in-house, has now evolved into a new Culinary Fellowship. The Culinary Fellowship is an opportunity for a passionate home cook or culinary student to gain experience leading a professional kitchen while driving the creative direction of Kingston Family Vineyards. The Culinary Fellow will be tasked with embracing Chilean tradition and bringing international flair into food offerings that highlight the best qualities of our wine.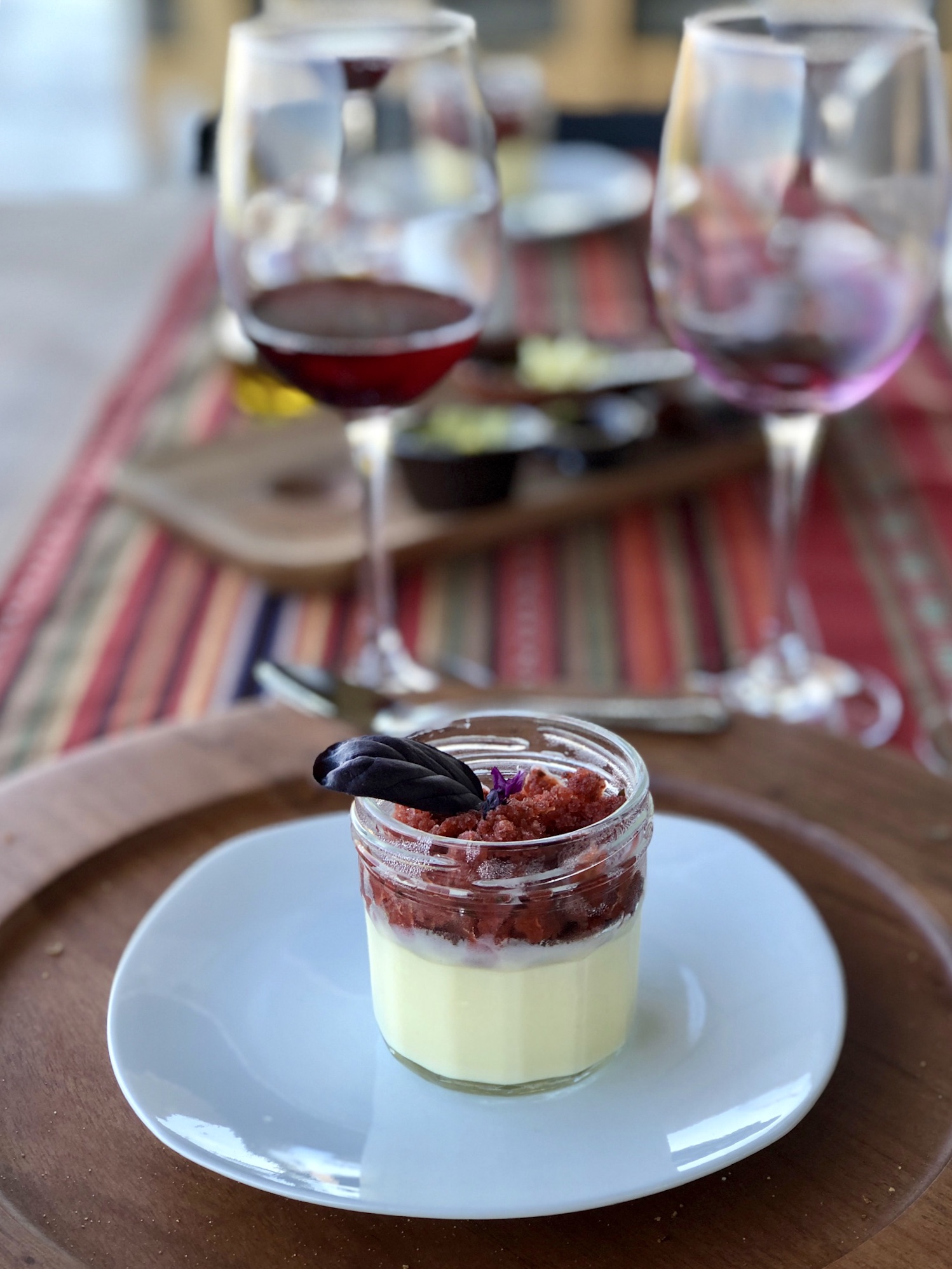 Six months ago, I began chatting with Amael about the characteristics of each wine varietal to express with each dish. We experimented: sampling chocolate-raspberry cookies with Lucero Syrah and fish rillettes with Cariblanco Sauvignon Blanc. We ordered pots and pans to outfit the kitchen; contacted cheesemongers, artesanal marmalade producers and local farms to source our ingredients. I shadowed the talented catering chefs who execute larger events at the vineyard. We now serve gourmet lunches, each dish intended to showcase a Kingston Family wine using thoughtfully procured ingredients.
As Kingston Family Vineyards fellows, we knock out 10 lunch reservations on a busy summer Saturday. I haggle for pulpo from my "octopus hook-up" at the fish market in the morning and make sopapillas with my coworker, Macarena, on rainy afternoons. We have no guarantee for how each day might unfold. What I can guarantee, without exaggeration, is that this fellowship is the adventure of a lifetime.
To learn more about our Culinary Fellowship, please contact Alex Nguyen-Phuc at alex@kingstonvineyards.com or guests@kingstonvineyards.com.

Propped on the mantle in our farmhouse living room are old orange candles we made from wax my grandfather used to preserve his homemade cheddar cheese. They're there, in part, as a reminder of the disastrous cheese business he founded in the 40s that ended with a burnt down cheese hut.
I often look at them and reflect on the lesson learned from that endeavor. My grandfather thought making cheddar would be a great way to capitalize on the family's dairy business and use the cows for something other than milk. But Chileans are particular about their cheese – and they don't like cheddar. At all. It was a complete flop.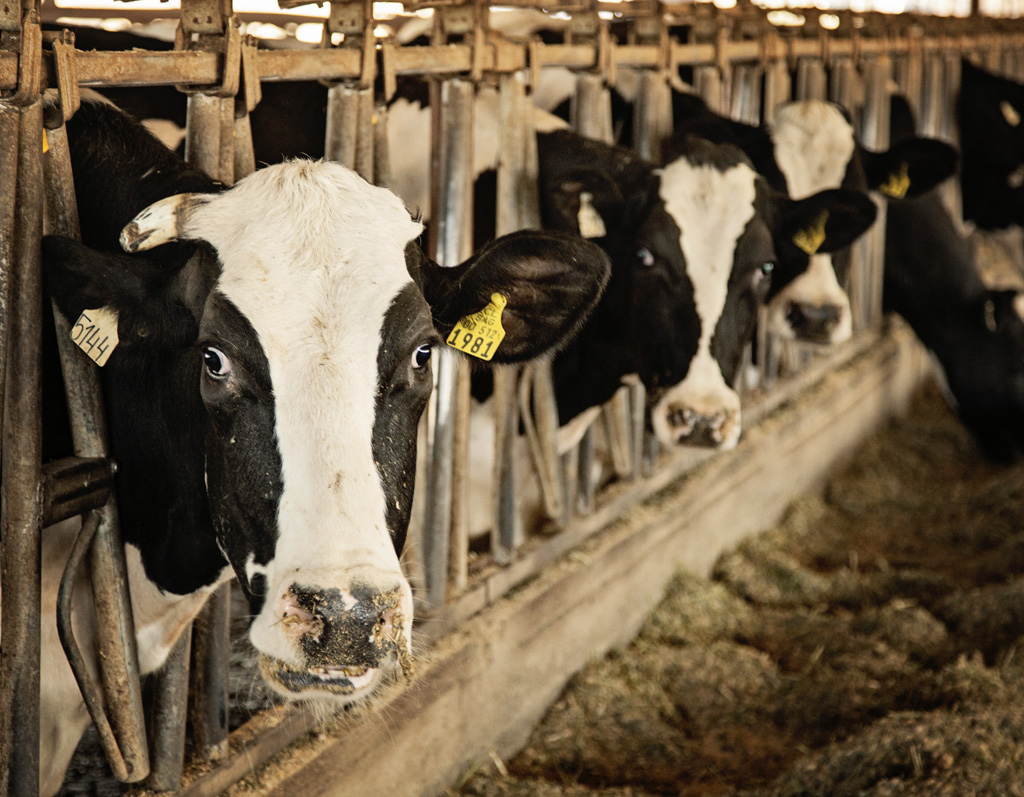 Which is why we're cautiously dipping our toes into our latest undertaking: small batch ice cream.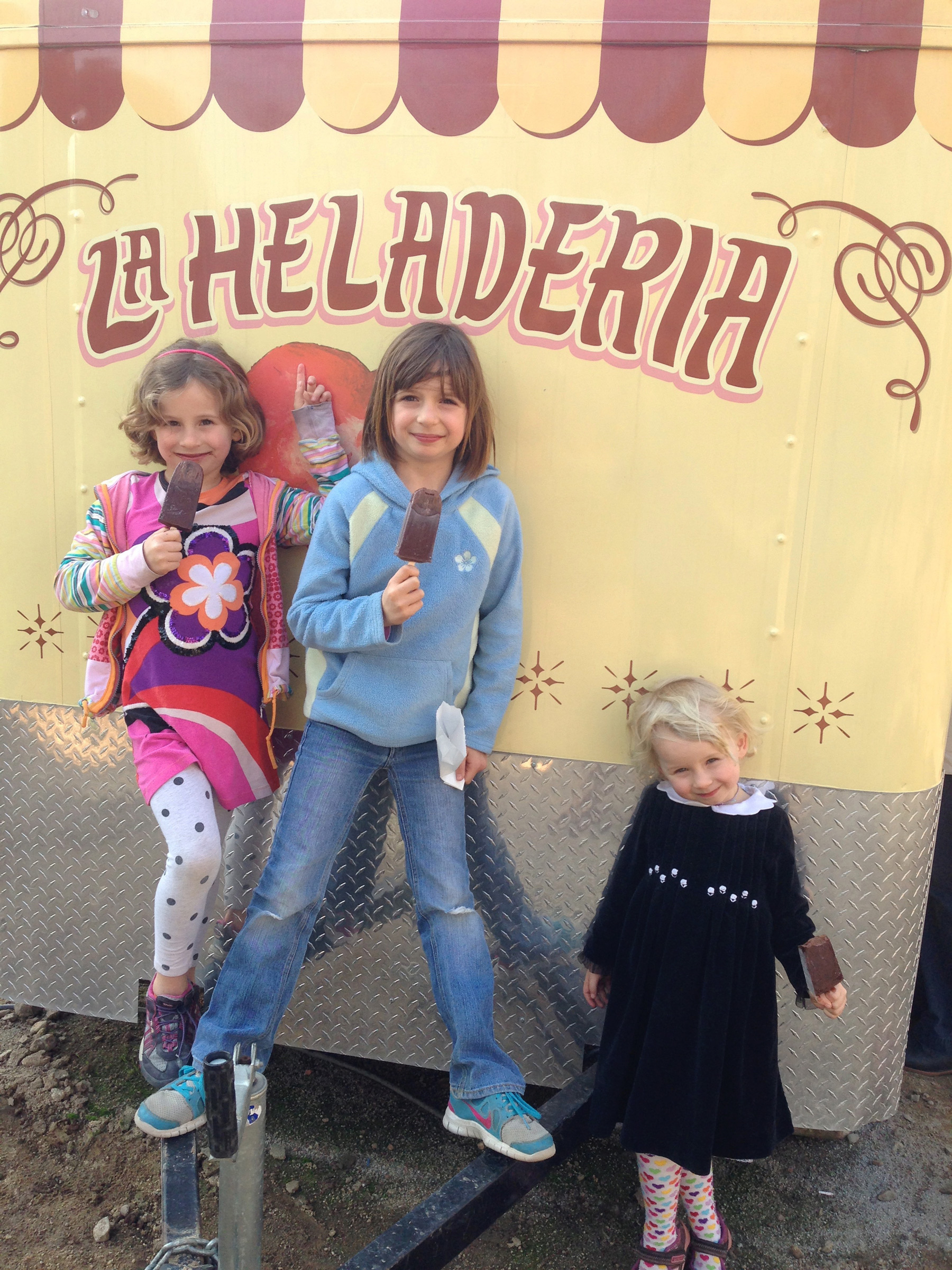 As I've mentioned in previous posts , Chileans LOVE ice cream. They eat it year round, rain or shine. I always smile when I'm in Santiago's financial district and see grown business men in suits devouring ice cream on palitos (sticks).
Our farm's Holstein dairy cows have been supplying milk to the Santiago community for nearly a century. We're excited about using some of that milk to try our hand at homemade ice cream for our guests. We've also got the perfect person to make ice cream: our talented winemaker, Amael.
Over time we've discovered that Amael's interests go far beyond wine. He loves to experiment in the kitchen and we often find him cooking with wild herbs found on the farm, making mozzarella cheese (a type that Chileans do like) for our winery crew, and crafting small batches of ice cream in traditional flavors such as mint chocolate (made from nibs donated by a friend's bean to bar chocolate company called Obolo) and more imaginative ones like rosé sorbet.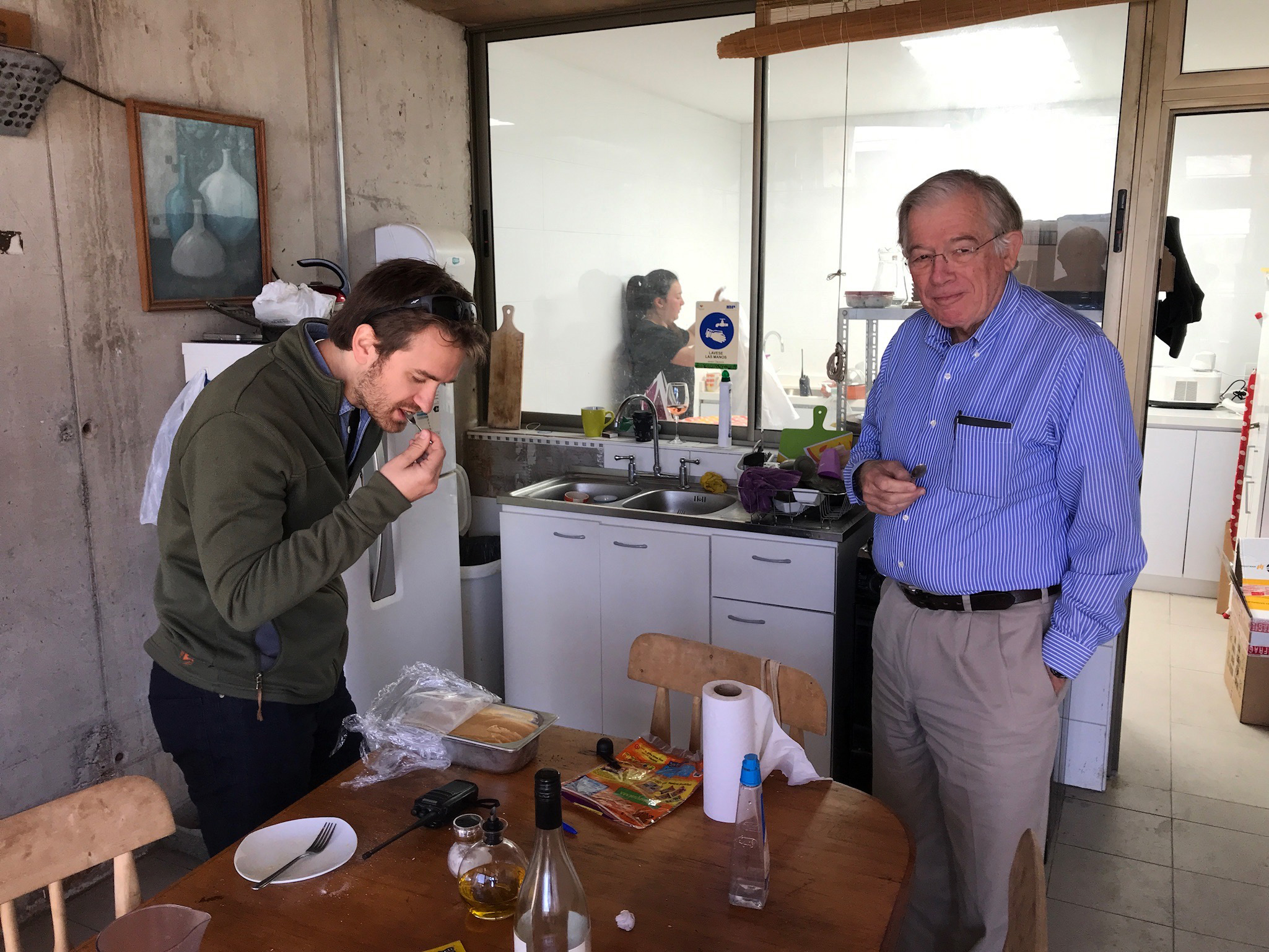 Given that just about everyone who works on the farm likes ice cream, we're all excited about the possibilities. We hope you are, too. As soon as our new kitchen is finished we'll have a beautiful new space in which to experiment with local Casablanca ingredients, and a lovely area for our guests to exclusively sample it.
If you have suggestions for flavors, please send them our way! We're always open to new ideas.
Salud!

We can hardly believe that 2018 marks our 20th anniversary as a winery. Over the years we've had lots of thrilling moments and countless "firsts" – planting the first vines, picking the first grapes, hiring our first winemaker, transitioning to organic farming – the list goes on and on. We've made mistakes along the way and learned a lot from them. Our focus has always been on trying to make the best wine we could. So much so that we weren't always thinking about other aspects of owning a winery. Such as hosting visitors.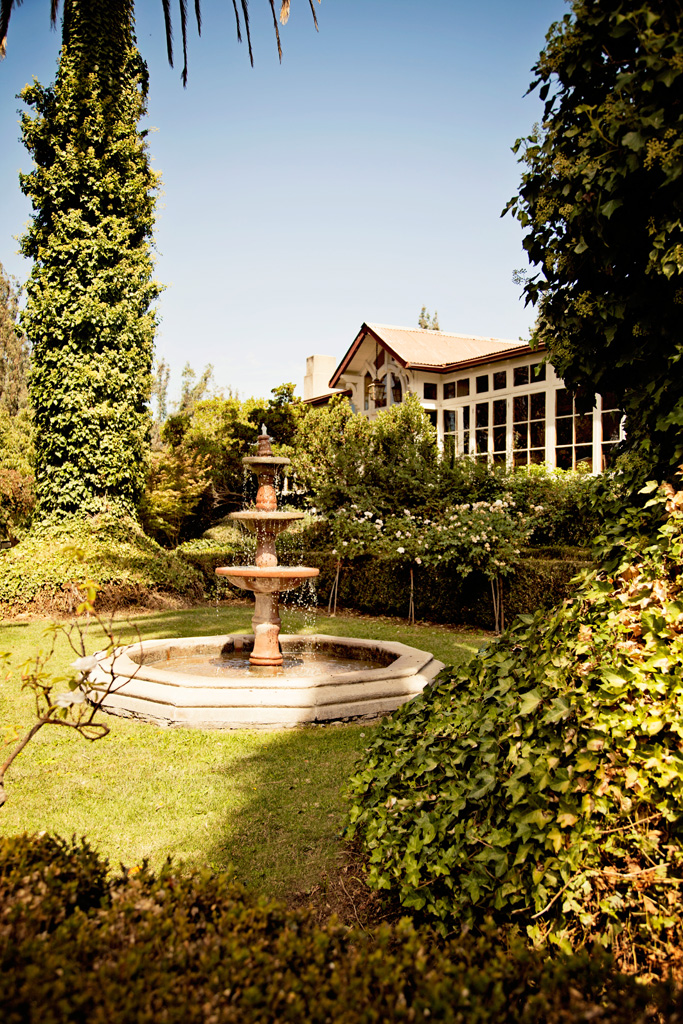 Yet that is increasingly what we've been doing for the past eight years or so, ever since our first "guest" arrived. We laugh about it now, but we we were pretty shocked that sunny afternoon in 2010 when friends of a friend dropped by to see the winery. My dad and I were eating lunch at the house when something caught his eye outside. He went over to the window, then came back and whispered "Courtney – there's someone in garden. Does anyone know them?"
Since then, we've been incredibly fortunate to welcome many of you to our farm. With regular flights from the US, as well as improvements in GPS, it continues to get easier to stop by and see us – whether you're on the way home from vacationing in Patagonia or the Lake District, or in Santiago for business. We know it's the wine you've been coming for – and we hope we've exceeded your expectations in that area – but we must admit, we never really had a "grand plan" for what to do with you when you got here. Truth be told, we've been winging it. Which is why we're incredibly excited to share some news: last May we broke ground on a beautiful new tasting room with a fully-equipped professional kitchen. It's currently on track to be finished in November.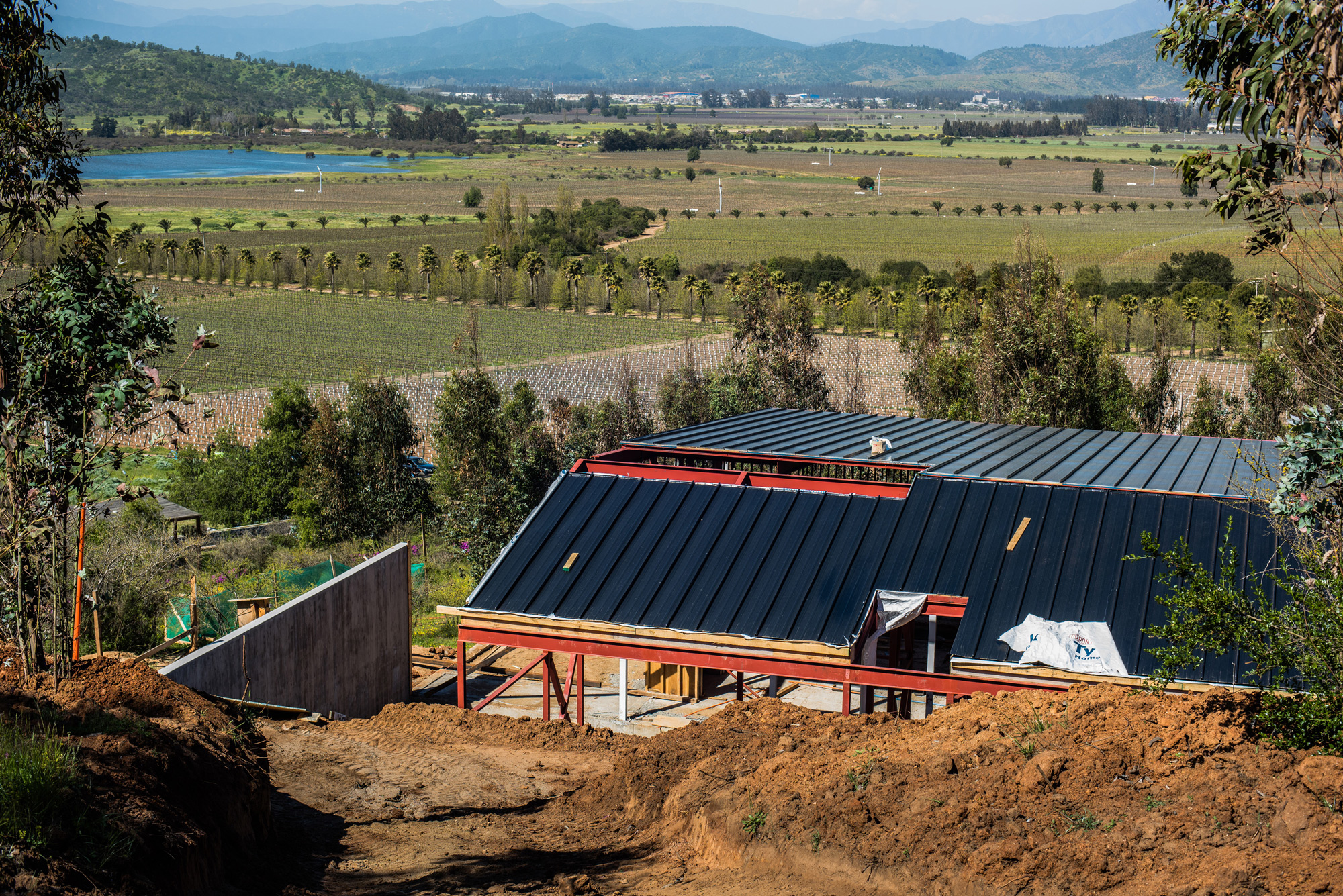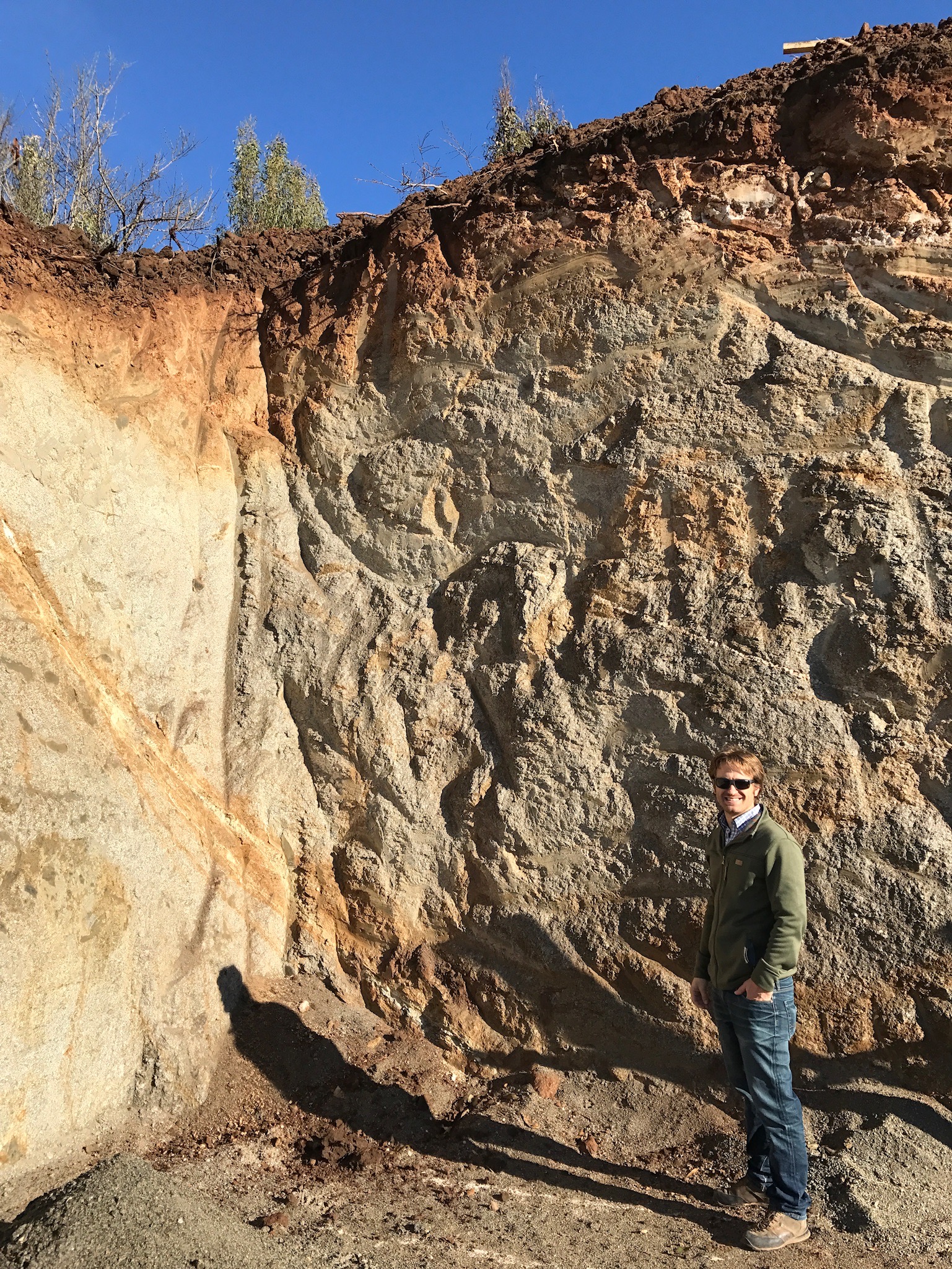 Those of you who have enjoyed a glass of wine or a paired tasting on our terraza probably understand why we're growing. Our current cozy spot is great for a small group. Until it gets cold. Or dark – because we don't have lights. At which point we move you inside to our staff kitchen, which is essentially an office kitchen, or into the middle of the winery, by the destemmer. We then throw a batik tablecloth (sewed by my mom for my brother's wedding reception) over a wine barrel and pull up some chairs. Although intimate and memorable, this set-up is really not ideal, especially during harvest when we're literally pumping pinot over your heads. There's no view from inside, either.
We have huge hopes and dreams for the new tasting room. We started planning and designing nearly two years ago. We're hoping to create an environment (or "onda", as we say in Chile) where our guests can try our wines, relax as if they're at home, and come to love the beautiful views of the Casablanca Valley as much as we do. We're especially excited about the professional kitchen, which will allow us to host harvest dinners and evening tastings under starry skies, offer Chilean cooking classes with guest chefs, and make artisan cheeses and homemade ice cream from our own cows. Who knows what else we can do... We're open to your suggestions.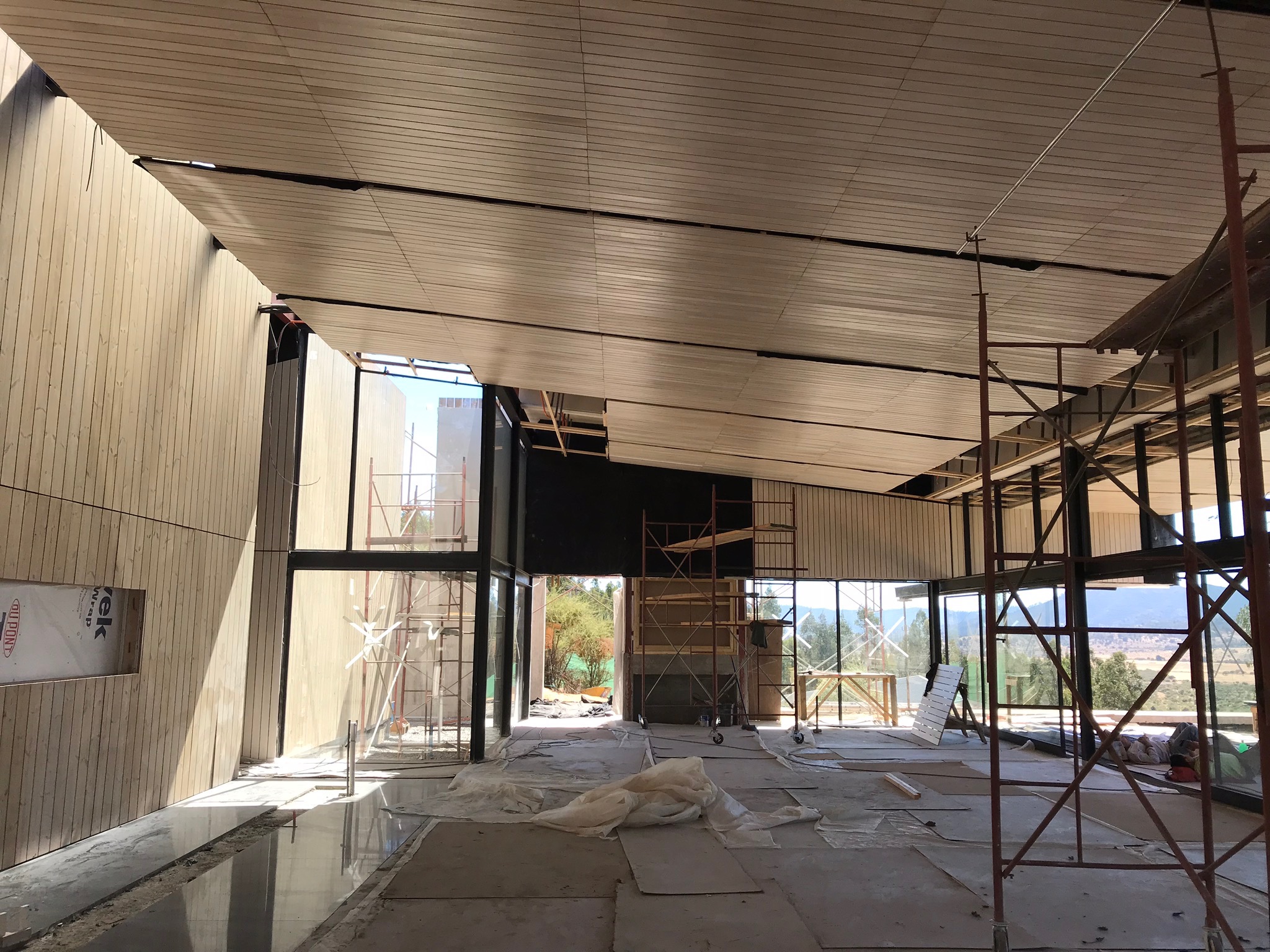 This project has been a long time coming. Although we never imagined we would need it when we first started out 20 years ago, we're excited about what this building means for our family and its future on our nearly 100-year-old farm. We hope the new tasting room creates a sense of place that marries the past and present. We want it to be welcoming for first-timers to Chile, and for it to beckon those of you who have been before to come back. We sincerely hope you will join us here in 2019. We may even be able to offer you a place to stay… More on that later!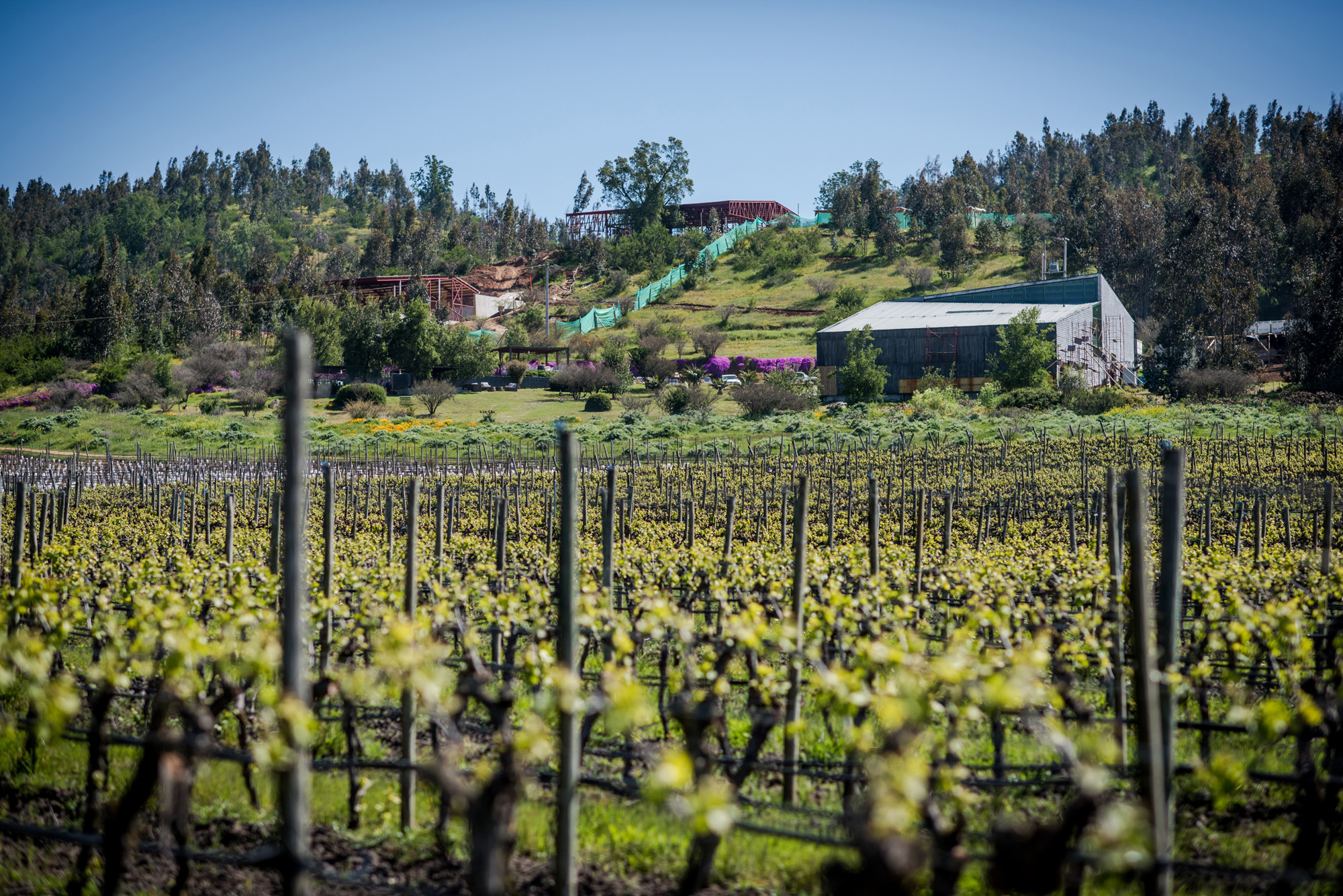 Nearly 16 years ago I was introduced to Byron Kosuge by mutual friends. At the time, he had been quietly making a name for himself in the wine world for more than a decade. I was drawn to his soft-spoken, humble personality and sensed the depth of his wine knowledge. After a few subsequent conversations we got to know him better and began to understand just how well-respected he was. (Byron reminded us of the famous ad campaign by E.F. Hutton: When E.F. Hutton talks, people listen.)
In 2002 we approached Byron about working with us. (Truth be told, I kind-of stalked him. With lots of old Chilean maps.) Knowing he could easily find wineries in his own Napa backyard, I tried to appeal to his sense of adventure and the "psychic" value of expanding his winemaking career on another continent. I went to a seminar Byron led at the World of Pinot Noir and introduced myself afterwards. Dad and I then further sought Byron out after a Wine Chemistry 101 class at University California at Davis. The class went so far over our heads that 30 minutes into it Dad (who has a Harvard Executive MBA and worked in banking for 40 years) wrote me a note in the margin of his starkly blank legal pad: "Must hire someone to do this!" We've never looked back.
Below Byron talks about his experiences working with us, his perspective on Californian and Chilean wines, and where he sees Kingston Family Vineyards in the future.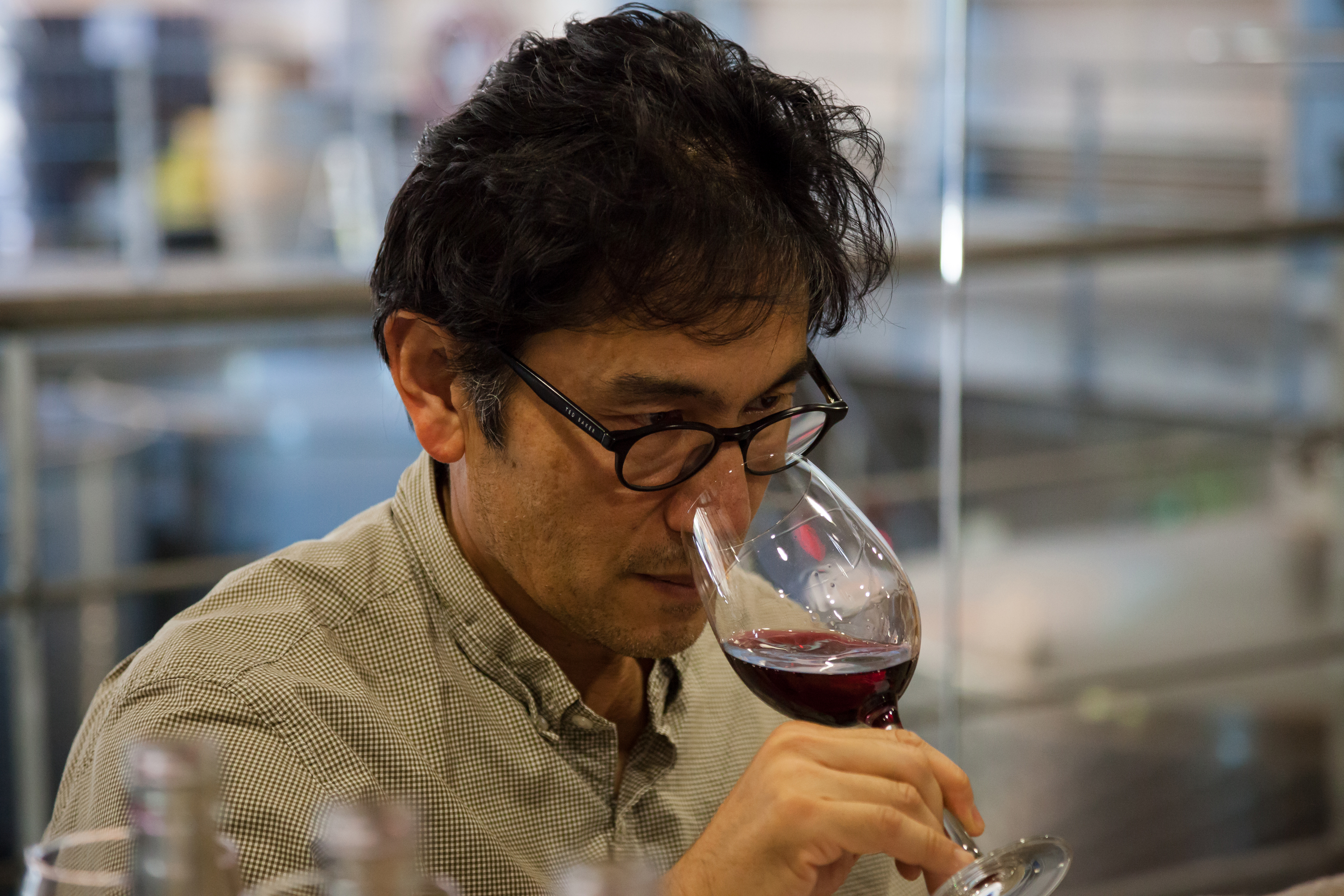 How did you first get involved with winemaking?
I started my wine career as a hobbyist. Not making the stuff, but as an enthusiastic student/consumer. I was pretty young to have an interest in fine wine, in fact I first got interested in wine before I turned 21. Like most, I first learned about European wines, and managed to taste my way through quite a few of the most famous wine regions of France and Germany. I devotedly read the Alexis Lichine Encyclopedia of Wine and the Hugh Johnson Wine Atlas.
But things really got going when I got a job in a restaurant while going to college at UC Davis, and met a few like-minded folks. This was when the notion of a wine-centric restaurant was pretty new. I majored in English Literature at first but later found wine and switched my degree. I bounced back and forth between wine and literature for a couple of years, and even took a year away from working in a winery to go for a Masters in American Literature at the University of Washington before deciding that enough was enough; I was going to focus on wine exclusively. By this time I was 27 years old and felt like I needed to apply myself towards something resembling a career.
How did you decide to embark on a winemaking adventure in Chile?
I had just left a full-time job at Saintsbury, where I had worked for many years, and was looking to do multiple winemaking projects, including something in the Southern Hemisphere. I figured that would be a good way to work abroad without interfering with my responsibilities back home in California. My initial interest was New Zealand, as I have friends there and had visited twice in the late nineties/early 2000s.
Around the same time I met Courtney and Michael [Kingston], liked them, and on the advice of friends Ann Kraemer and Ken Bernards — both of whom knew Courtney — decided to look into it a bit more. One thing led to another, and here I am 15 years later.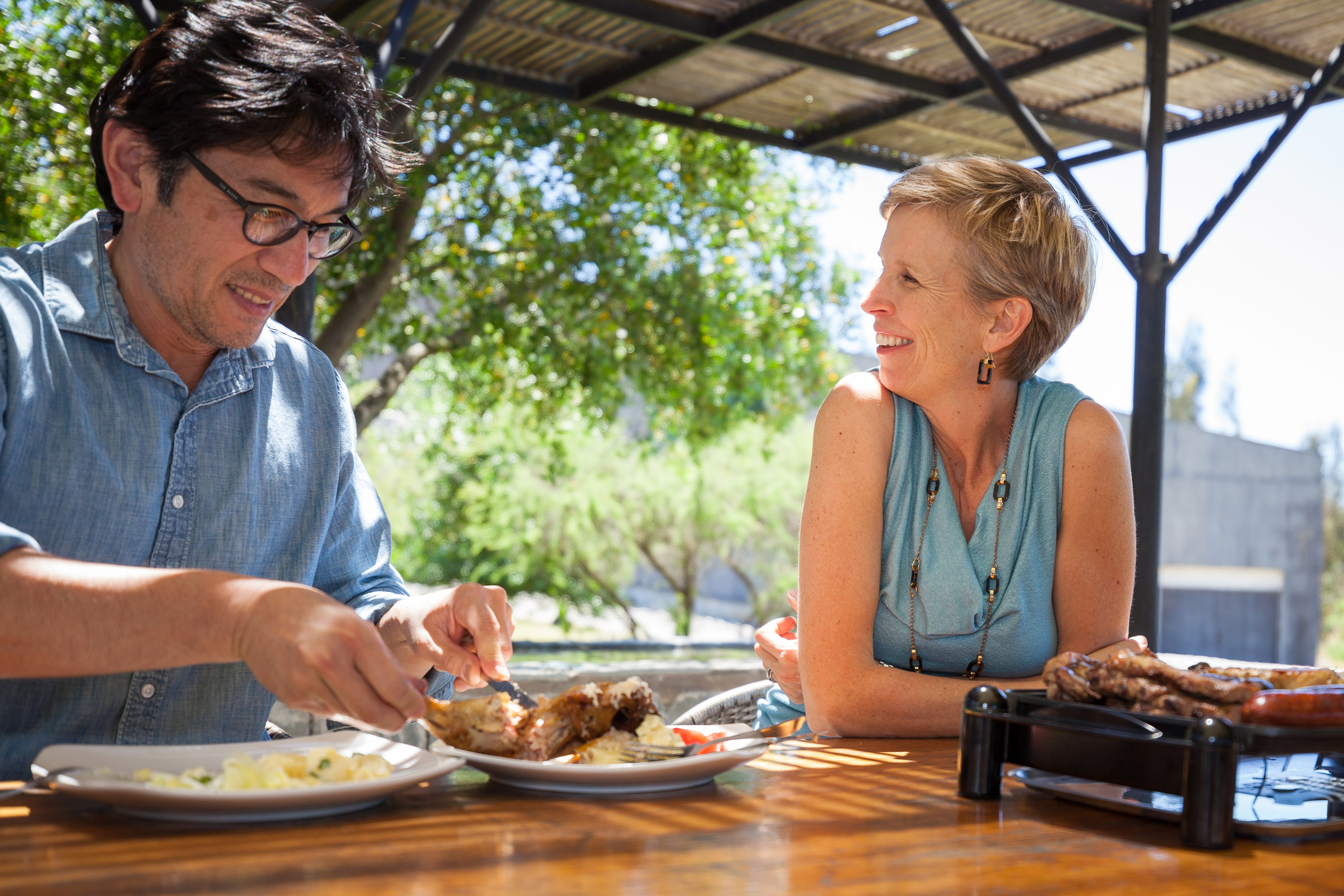 Byron and Courtney hard at work taste-testing a new summer asado for our guests on the terraza.
After more than 15 years and countless overnight flights to Chile, why do you still do it?
When I started with Kingston Family, I didn't have a sense of how long I would continue with it. Often, with consulting work, there is a life span associated with a project and at some point I feel like my involvement is no longer necessary. Sometimes that's within a couple of years, other times it can be four or five years. So I suppose I thought it might run five or six years.
But my role at Kingston was more than just an advisor. In the beginning, we were working in a rented corner of someone else's winery and I was driving over late at night to do punchdowns. It was a fun adventure and I felt a great responsibility for it. But since I don't live down there we all realized that we had to get people in place in Casablanca who would steer the ship, so to speak.
When we built our own winery in 2006, this became even more important. Today, we have a talented winemaker in Amael and an excellent staff both on the production and sales side, and I am much more an advisor and consultant. I could step back and the ship would continue to sail happily along. But I still feel a sense of responsibility and ownership of the Kingston Family wines, and I am enjoying this stage of what we've built together over the past fifteen years. The Kingstons have become good friends and it's always a pleasure to work with your friends.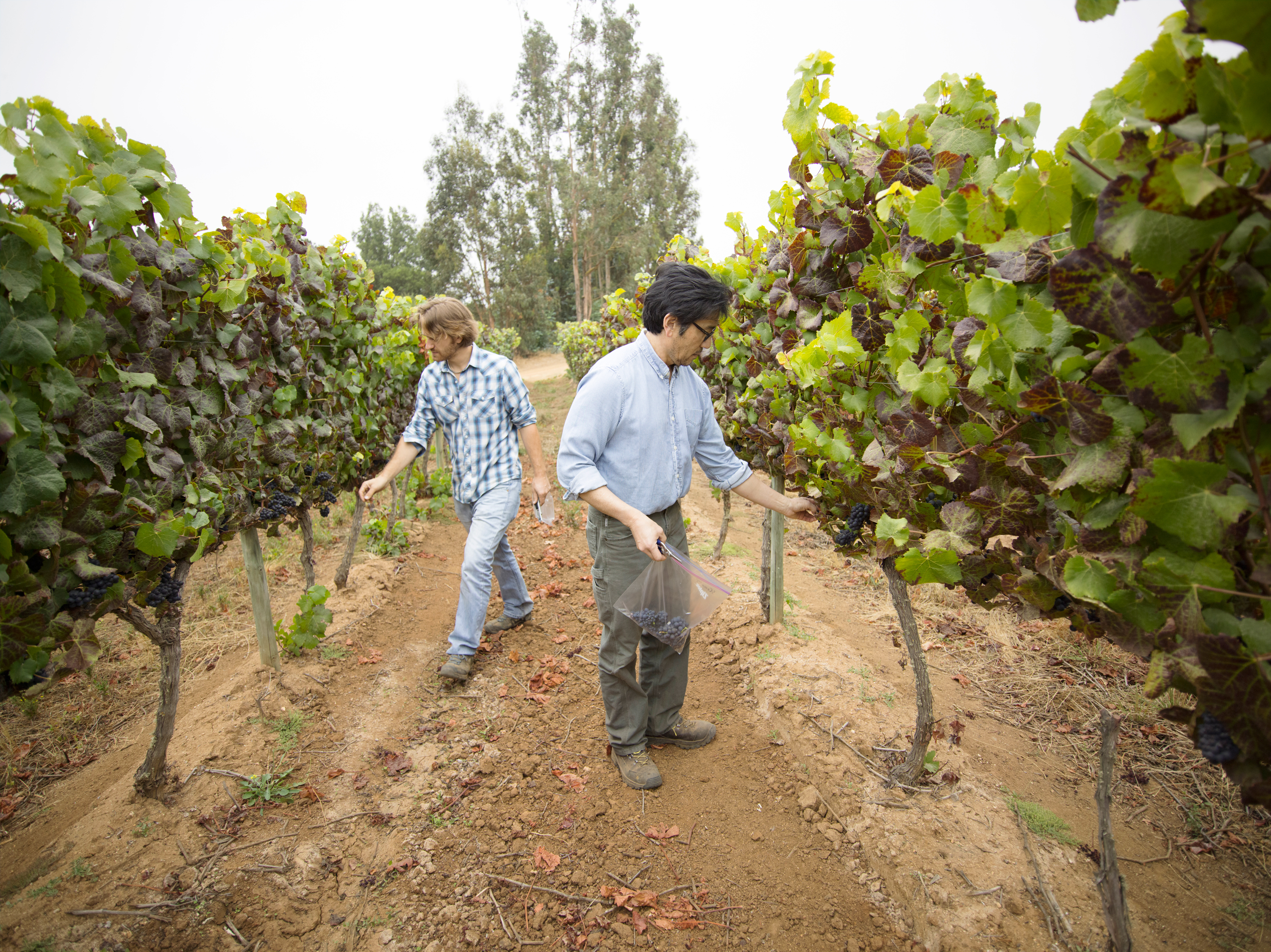 What do you see as the similarities and differences between California and Chile, and the wines these regions produce?
That's the kernel of my interest in making wine down there and has been from the beginning. There are numerous similarities in geography and climate. Chile is a mirror image of California in terms of latitude and geological history (both are defined by their proximity to the intersection of tectonic plates, and the mountains were formed in similar ways. Lots of earthquakes, too.) Also, the climate in both places is largely defined by the Pacific Ocean. The cold water currents are the same as — but a mirror image of — those in the northern Pacific.
These similarities led me to believe that the wines would taste the same. But they could not be more different. So clearly there is more going on than just soil and climate when it comes to defining the flavors in the wines.
This, by the way, also shows up in some of the fruits and vegetables, which taste different in South America. My then three-year-old daughter Audrey loved the bananas when I took her to Chile 15 years ago, and claimed that they were different, and better, than the bananas back home.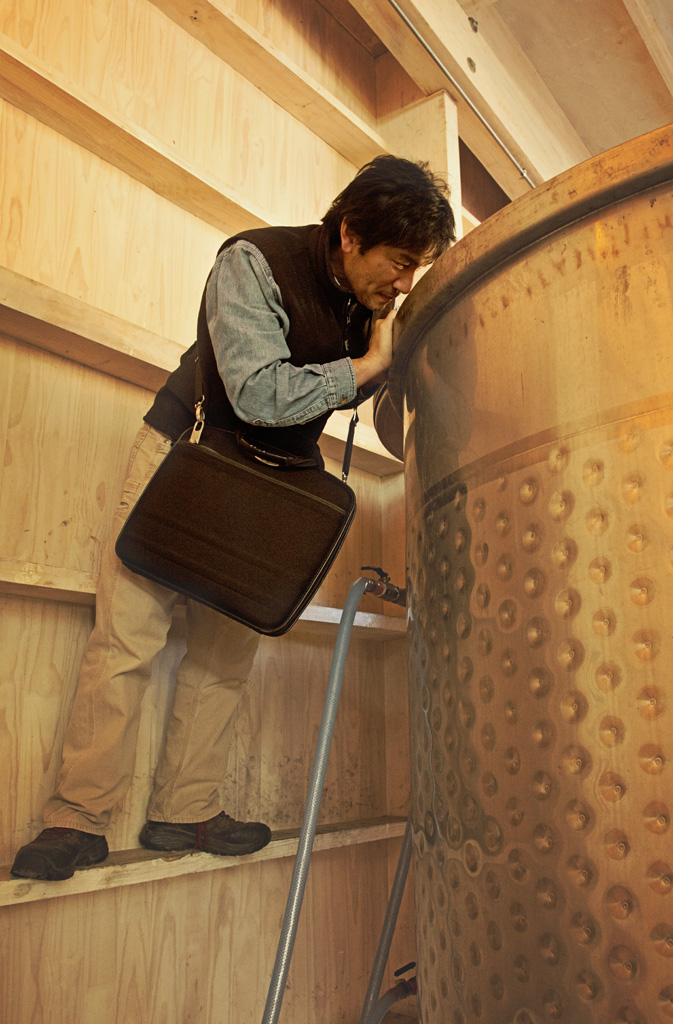 You make and sell your own B. Kosuge Wines. Tell us a little about them.
I started making a little wine of my own shortly after I began working for the Kingstons. It was, and continues to be, more of a psychological and creative outlet than a money making endeavor, and with it I get to do all the things that I would not necessarily be able to do with my clients' wines. I make several different Pinot Noirs, a little Chardonnay and a Gamay Noir (the grape of Beaujolais). I've been really interested the last ten years or so in exploring what you might call "New Traditionalism" in California winemaking and B. Kosuge Wines allows me to do that on my own dime.
What is your favorite memory of a visit to the Farm?
There have been a great many pleasant memories, and I can't really recall one that stands out above the others, but there is one story that I find myself telling repeatedly: One of my favorite things about being on the Farm is the evening pisco at the house. At the end of the day, we will adjourn to the veranda or the living room and enjoy a little happy hour, which typically consists of a pisco sour, salted peanuts, quesillo (a soft farmhouse cheese that is made at the house), pebre (a very typical Chilean relish somewhat reminiscent of pico de gallo, that goes on pretty much everything) and some crackers. The pisco sour is sort of the official cocktail of Chile (and Peru). Despite our collective foodie tendencies, the pisco sour of choice at the casa comes out of a bottle—Campanario Sour, which you can get at any grocery store. We stick it in the freezer so it turns into a slushie. It's delicious with salted peanuts.
Amael, David Gates (our vineyard consultant from Ridge Vineyards), and Byron enjoy happy hour with the fellows on the Kingstons' veranda.
If you had a crystal ball, where would you predict Kingston Family Vineyards will be ten years down the road?
If you'd asked me the same question ten years ago I would never have guessed that Kingston Family Vineyards would be leveraging the winery in Chile to generate a mailing list and wine club here in the US, but that is in fact what has happened. Hosting private tastings and tours at the winery has turned the project into a great success. It's a lot of work—a LOT—but it has worked beyond my wildest expectations. So, other than being confident that we'll keep pushing forward as best we can, I don't really know where the next breakthrough will come from.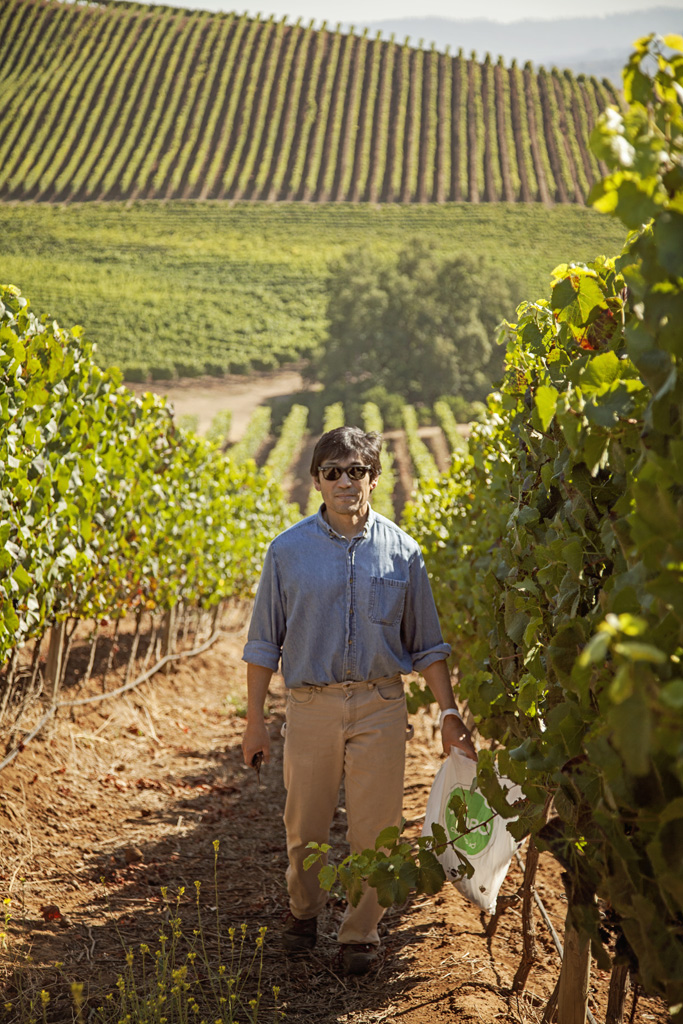 In terms of winemaking and grape growing, the future is a bit more clear. We're well down the path towards organic farming which is exciting and which I think is necessary for the health of the Farm over the long haul. With winemaking, we've figured out enough now that I feel confident that the wines will continue to get better. We've gotten to the point where many of the vines are 20 years old, which is huge. There really is no substitute for mature vines.
What is your favorite bottle of wine to take to a dinner party?
I like to experiment a bit when it comes to sharing a bottle with others, and it depends upon the kind of dinner party and who the other guests are. My default would be Cru Beaujolais, which is versatile with food, not terribly expensive and which I love to drink any time. But many, if not most times, I'll look through my cellar or go to a shop and browse around until I find something interesting. Often it's something I have not had before, although I am careful to choose a wine that I am reasonably sure will be good, or that is recommended by someone I trust. There are a great many interesting wines to try and it's fun to share discovery with others.

Wait so...how did you end up here? a visitor asked as I wrapped up the intro section of my tour at Kingston Family Vineyards. It's a fair question, and one I am asked almost daily. Guests are often surprised to be greeted (with our signature welcome glass of Rosé!) by a New York-born, Chicago-raised 22-year-old when they step foot onto a Chilean vineyard. The answer is that, after spotting a random Facebook post in a university job board that I rarely check, I stumbled upon a unique opportunity: the Kingston Family Vineyards fellowship. For the past three years, Kingston Family Vineyards has offered recent college graduates the chance to move to Chile to lead tours with the hospitality team, engage with a new culture, and throw ourselves into the day-to-day operations of a small, binational family business in the Casablanca Valley. This year, Taylor Myers and Aubree Andres, recent Princeton graduates from Florida and Boston, respectively, and I moved to Chile in September to get to work at the winery.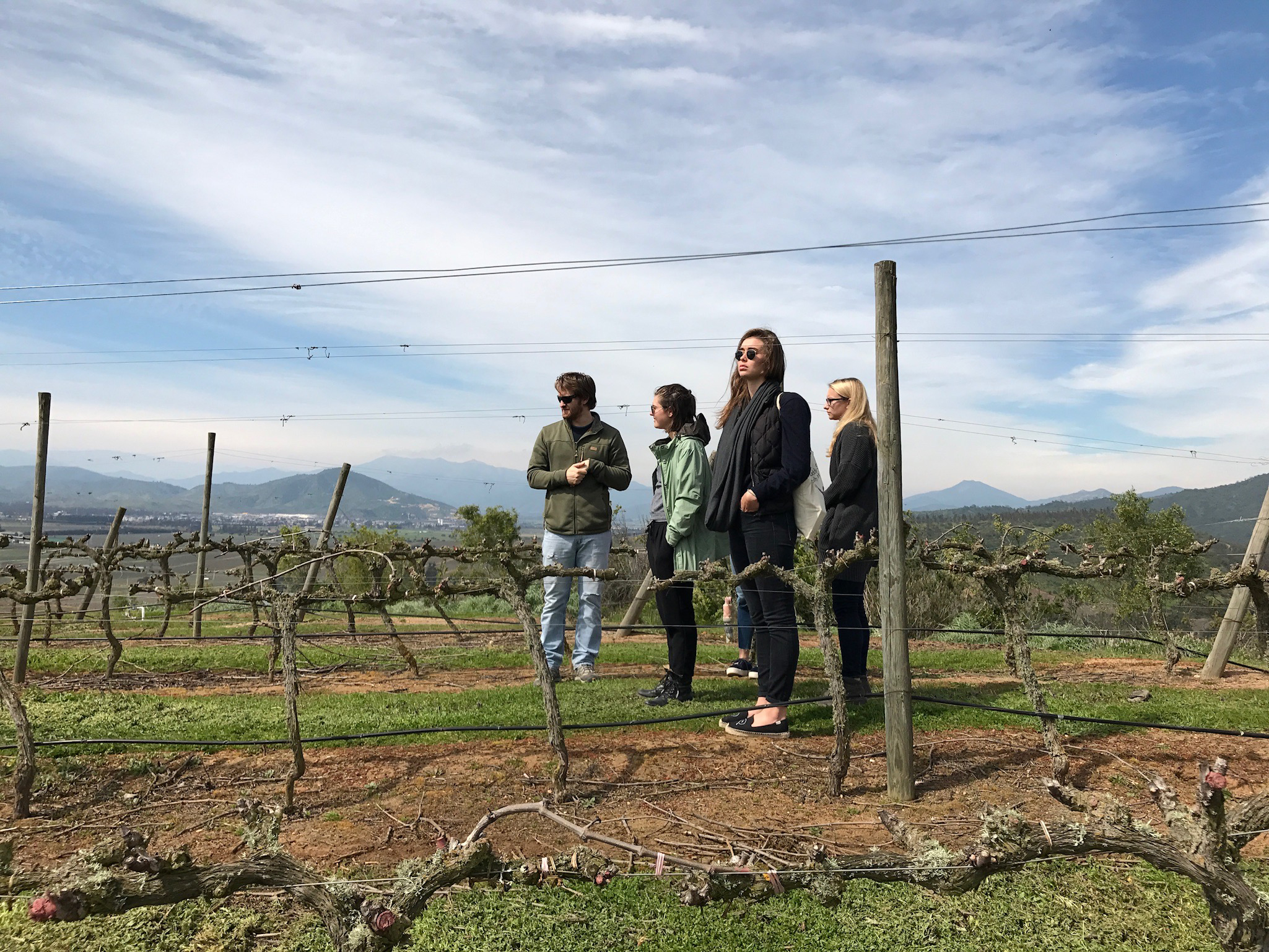 A History Lesson
In the spring of 2014, as she was preparing to graduate from Princeton with a B.A. in History, Blaire Bloxom spotted an ad that caught her eye in the Princeton alumni magazine. She noted the name "Kingston Family Vineyards" and decided to reach out to the Kingstons to inquire about a job on their farm. Initially, the family discussed the possibility, but decided a young college graduate wasn't in the cards for that year. But Blaire persisted. A year later, as she was sharpening her Spanish working in Ecuador, she reached out to the Kingstons again. This time, they invited her to come down to Chile to work on the farm for a year. And thus Blaire launched an exciting precedent! In the couple of years since Blaire came down to Chile, the family has worked to develop the recent graduate roles, bringing on Constanza Beytia as a Chilean mentor. Jen Kingston, in charge of Human Resources and fellowship training, says that, "the Kingston family is so thankful for the ways in which the fellows have consistently brought new ideas and great energy to our developing business."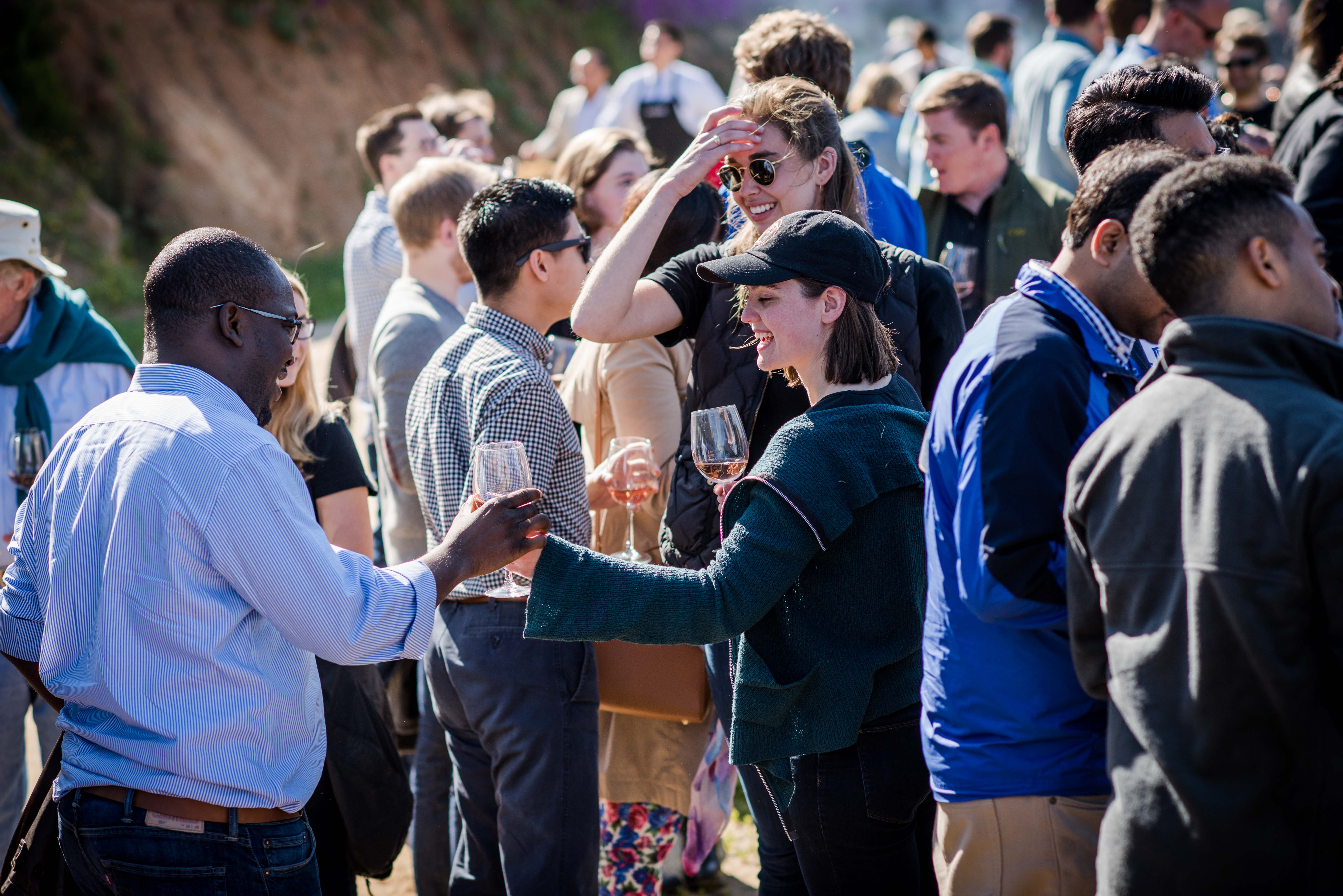 A Day in the Life
There is no such thing as a "typical" day at Kingston Family Vineyards. The core of a fellow's job is leading tours and tastings for guests. On busy days, fellows lead as many as three tours each. I've had days where I've greeted a group of Americans for a 10 AM tour, taken a quick lunch break, then spent the rest of the afternoon walking bike tour groups around the cellar or pouring tastings for newlyweds.
Even on days when our schedules are less packed with tours, we keep busy with tasks around the winery. With harvest, events, and big shipments to the US on the horizon, there are always opportunities to get our hands dirty. Hand-labeling bottles while blasting music in the barrel room is a regular pastime, and we help out with restocking our little on-site wine shop almost daily. Sometimes our tasks are less routine: one day last month, Aubree and I put on knee-high wader boots and got into the fountain to shovel out the leaf-filled water as part of spring cleaning! Other days we pile into the vineyard's white pickup truck for stick-shift driving lessons in the vines. ("A good skill for someone working on a farm," Michael Kingston, age 76, confirmed when I recounted our stick-shift escapades to him.) Working on a small team where everyone wears so many hats enables us to try out a range of jobs and apprentice with team members, from our winemaker Amael Orrego to our client partnerships manager Marco Vera.
We also have the opportunity to work on projects in other parts of the business that interest us. This allows us to learn about the inner workings of a small family vineyard beyond hospitality. For example, last year Douglas Guyett initiated a project on financial modeling, and Ben Culver worked with our agriculture team on organic farming. So far this year, Taylor, a chemistry major in college, has been learning from our part-time wine chemist in the lab. Meanwhile, Aubree has been spearheading recruitment for next year and putting her art minor to good use building sculptures out of used corks. Working with our marketing manager on projects like this very blog post has been a highlight for me.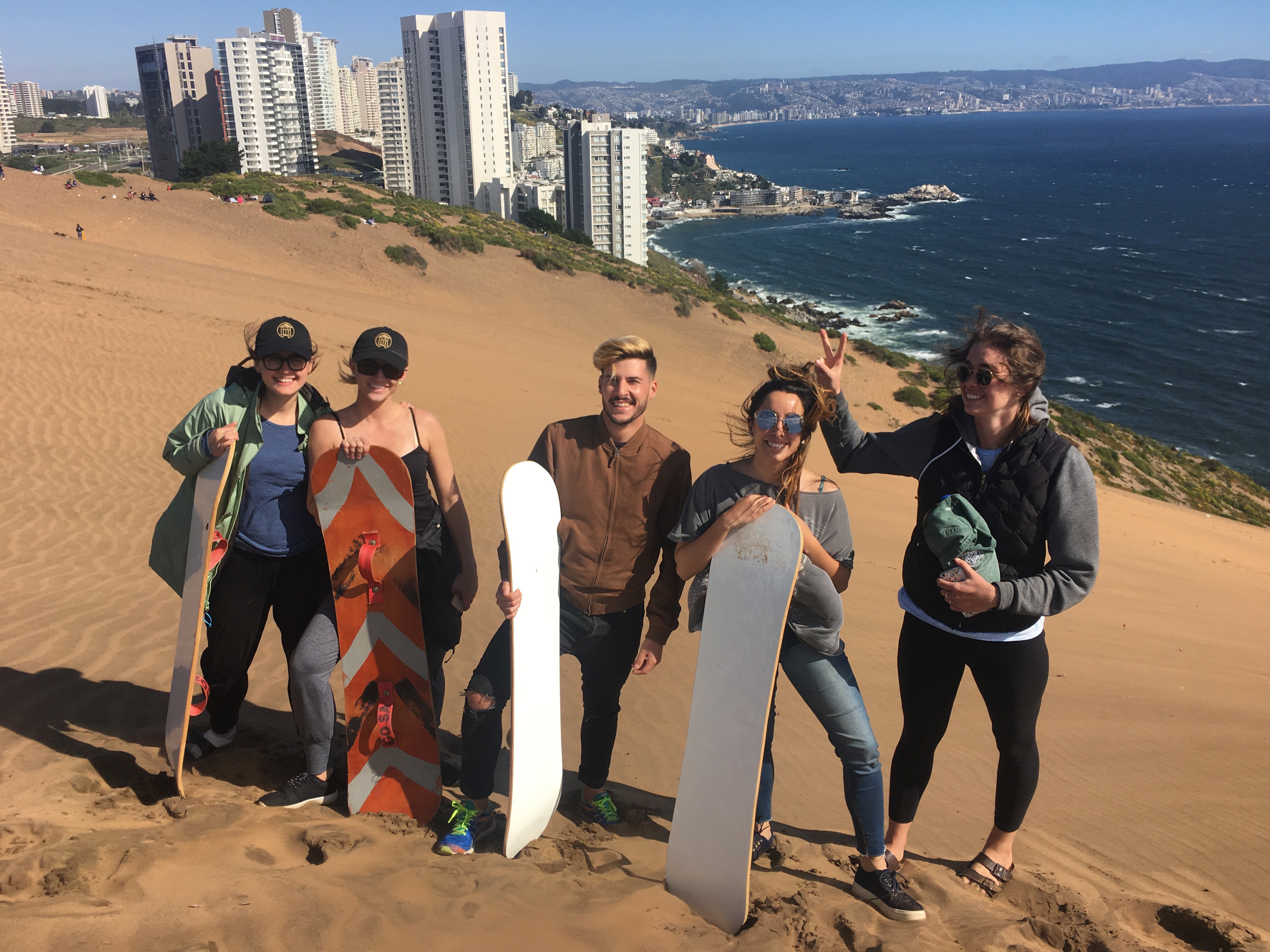 Life in Chile
After visitors learn about how on earth I ended up in Chile, they're often curious to know where we live, and what life is like for us here. The fellows share an apartment in Viña del Mar, a gem of a city on the ocean about forty minutes from the vineyard. Our building is full of Chilean families, and we are a short walk from the ocean and the lively local farmers market. We can practice our Spanish daily with everyone from our doormen to the attendants at the small museum across the street, and while we've had a couple of mishaps with the intricate network of local buses, for the most part we're figuring it out. It doesn't hurt that most of our Chilean team members live in Viña del Mar or nearby Valparaiso and are always willing to help. We carpool to the vineyard with them in the morning, too. Personally, I'm famous for sleeping in the car from the moment we hit the highway until we pull into the winery for our daily team breakfast in the kitchen.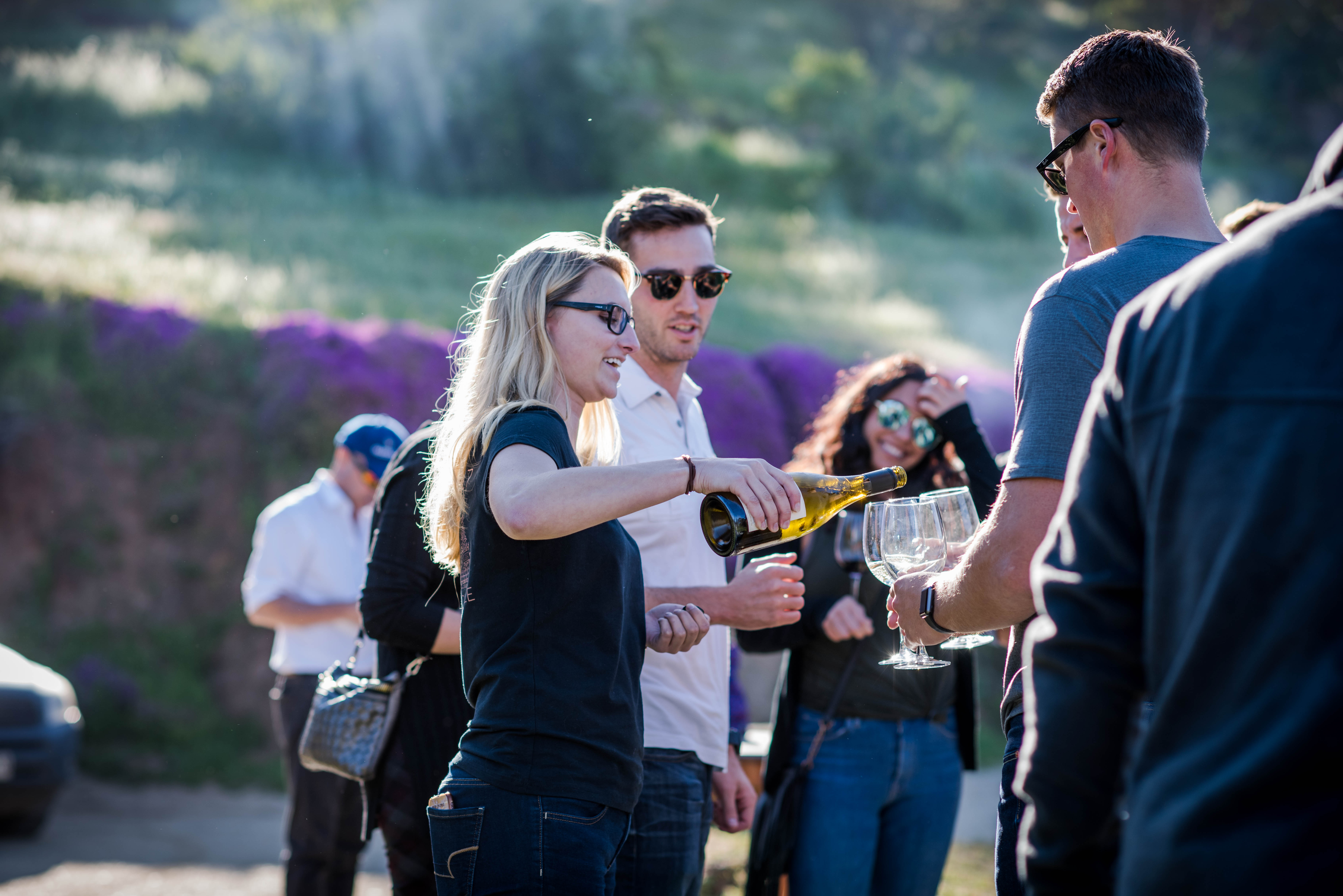 Sharing the Kingston Story
Fellows are daily stewards of the Kingston's family story on the Farm. I've been asked more than once if I am a member of the Kingston family, perhaps a great-great-great granddaughter of CJ Kingston or a cousin of Courtney Kingston. While the answer is no, I have been delighted to share the family's rich history on the Farm since arriving in early September. There are black and white photos of the family and farm everywhere in the winery, and Louise Kingston has been generous about sharing the stories of the photos and the generations of Kingstons pictured in them. The vineyard is just the latest chapter of the Kingston family's nearly 100-year story on their farm, and the fellowship opportunity, while only three years old, is an exciting addition to the constantly evolving and growing family business. Whether we're shoveling leaves, leading tours, or carefully placing the Kingston label on a new bottle of sparkling wine, we are grateful we ended up here.

We lived in a unique universe . . . There was a distinct bond between us because we were in it together. We were taught about school, work, animals, God, the Puritan ethic and baseball. And we seemed to miss out on bullies and hoods, dope peddlers and girls.
-CJ Kingston II describing growing up on the Farm

Times have changed a lot on our farm and in the surrounding Casablanca Valley since CJ Kingston settled there in 1918. Our family has passed along many stories and traditions over the years, but we get most of our perspective, history and understanding of the past from the third generation, which includes five siblings: CJ II (now deceased), Peter, Michael, Susan and Sally.
The Kingston children lived on the farm from birth until they turned 13, at which time they went to the United States to attend boarding school. Until that point they were homeschooled by their mother, Janet.
For this blog we've attempted to paint a picture of what life was like for them as children on the Farm, and in the US, in the 40s and 50s. We sent questions to each of the siblings, all of whom currently live in the States, with the exception of Sally who still resides on the Farm and in Santiago with her husband, Enrique. We also had an additional phone conversation with Michael, to clarify a few points.
We hope it provides you with a glimpse of what it was like for our family growing up in Casablanca, Chile.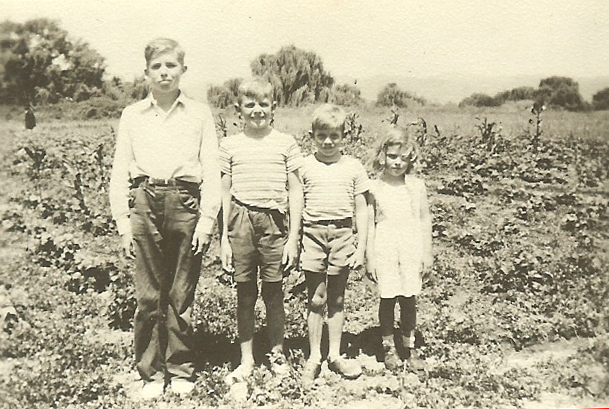 What did you do when you weren't homeschooling?
Michael: School was held in the morning and generally was over by lunch time, including homework. Mother was the teacher, she was pretty strict, and she followed a detailed course schedule laid out by Calvert, a correspondence school system from Baltimore, MD. The afternoons were free and we used to ride bicycles (mine was black, Peter's was red, and they had no gears) around the farm or ride horseback with Manuel Vega who was in charge of the animals on the farm: milking herd, beef herd, calves, bulls, oxen, etc. Peter's favorite horse was named Alazan de Paso (after which we named our flagship Pinot Noir), and my favorite horse was called Churin. We used Chilean saddles, which were lined with lambswool, making them very soft.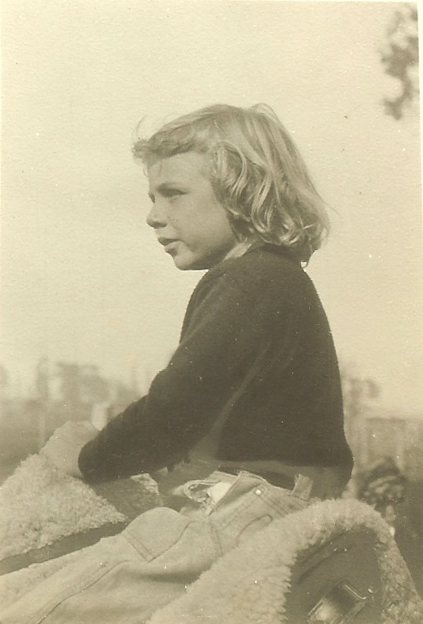 There was no heat in the house, so we would do our homework around the fireplace. Even now, we still have hot water bottles hanging on the door behind the kitchen. We listened to baseball games broadcast by the Armed Forces Radio Service after the news report, and we all had favorite teams. I was a Cleveland Indians fan because my brothers had the top two teams: Peter had the White Sox and CJ was a Red Sox fan. Every day, we would take the results and convert them into team standings.
Did you help out on the farm a lot? What was that like?
Susan: Yes, I was very busy. I'd get up at 4:45AM to help Manuel Vega bring the cows into the lechería and then stay and help milk them. I'd go home at 8:30 to shower and start school.
Peter: I had a bunch of rabbits. We all had our own cow which Gramps gave us after we learned to milk them.
Michael: My last few years on the farm before high school in the US included a focus on the pig business which Peter, CJ and I started with two sows and a boar, but which quickly grew to approximately 1,000 animals! Each sow would produce 12 to 14 piglets every time with approximately 1.5 litters per year. I put myself through a year of Princeton thanks to the pigs.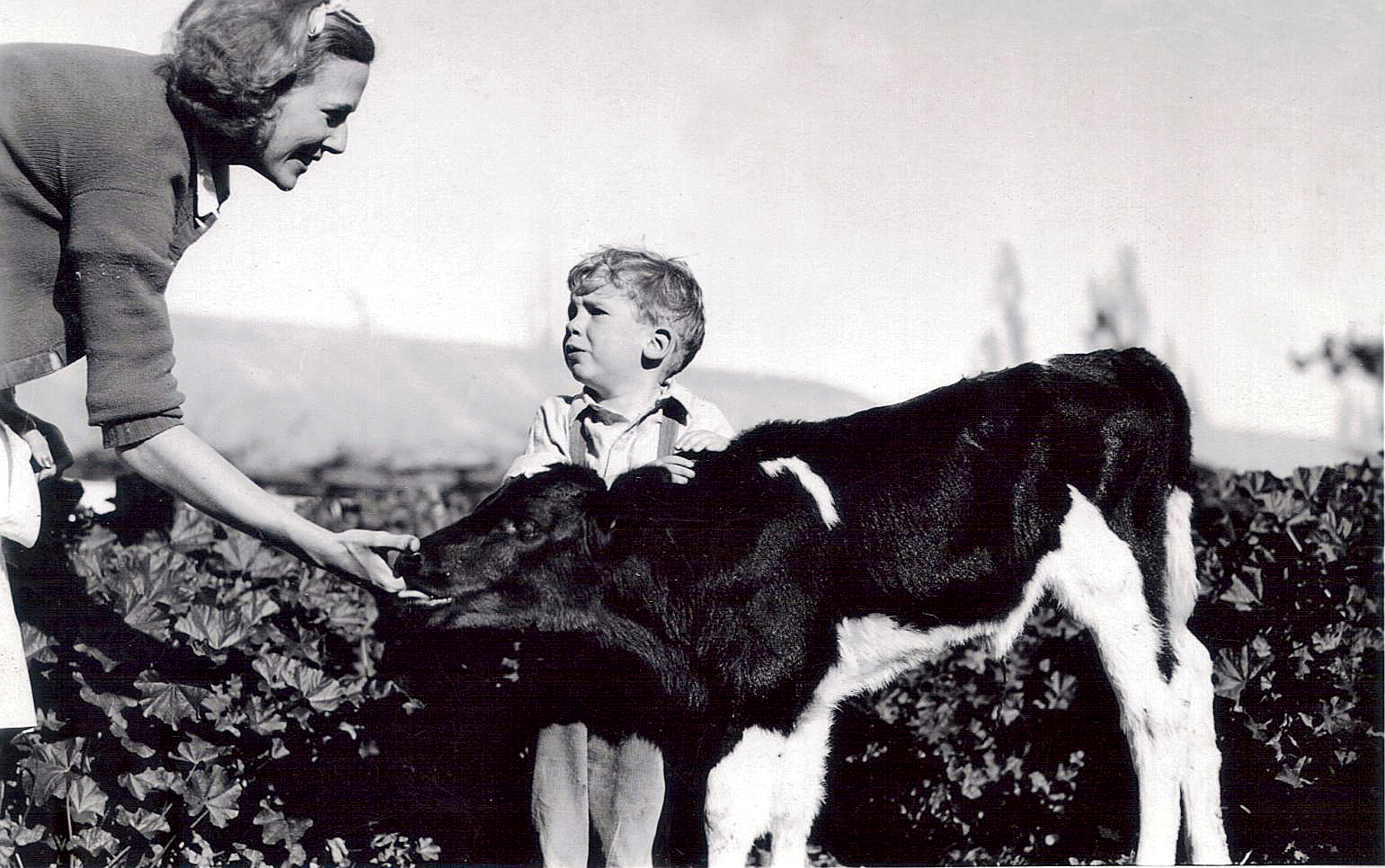 Who were your friends in the neighborhood?
Susan: We didn't really have a neighborhood; we were out in the country. I had one friend from Australia, about two hours away, and two more in the hills above Valparaiso about an hour away that I'd see a couple of times a year. Dominga, our maid, would bring her niece, Beña, to visit and we'd have a great time together.
Sally: My friends were Nancy and Eliana, Manuel Vega's daughters.
Peter: My only English-speaking friend was Pat Tracey, an American who lived two hours away – one valley over.
Michael: At the end of the day there were generally pick-up fútbol (soccer) matches with the kids from the families who lived and worked on the Farm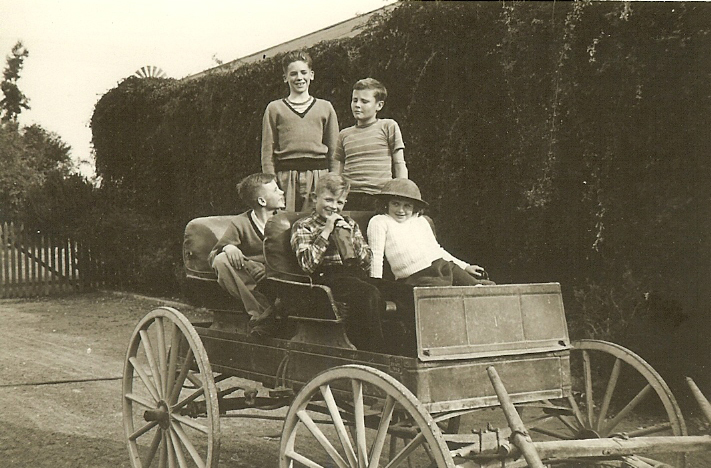 How is Casablanca today different than it was then?
Susan: Casablanca was less prosperous in the 50s and 60s. People walked or rode their bikes to town. Cars were scarce and considered a luxury. There were no supermarkets then, only small shops selling specific items. Houses were either grand (with surrounding acreage for horses, etc.) or shacks with no indoor plumbing. Today, Casablanca is a busy commercial center, with banks, supermarkets, restaurants, and more. Rental property is booming. People choose to live in Casablanca because they work in the valley's vineyards and wineries, restaurants, etc. In the 50s, farm work was the only work available, and landowners usually provided housing on the farms.
Michael: Casablanca always had dairy and beef cattle farms, and most people just passed through en route to Valparaiso or Santiago. When we were growing up, the highway was a narrow two-lane road with two winding "cuestas" or mountain passes—almost a five hour drive between the two cities. It's now a four-lane highway with two tunnels, and takes just over an hour. The smaller trucks have been replaced by 18-wheelers and many of the farms have been converted into vineyards as Casablanca has become known for producing premium wines, especially Pinot Noir, Chardonnay, Sauvignon Blanc and Syrah.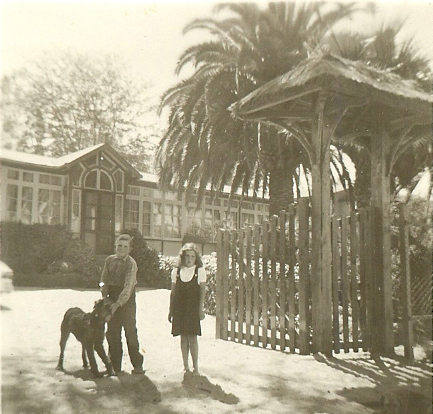 What were the celebrations of the 18 de Septiembre (Chile's biggest national holiday) like in Casablanca then? Did you attend them?
Peter: We usually went to the rodeo in Casablanca. Dad always loaned them our biggest steers which gave the horses a hard time.
Michael: The larger animals had less chance of being injured and generally would provide the greatest challenge to the vaqueros.
Susan: I dreamt I was going to be the best female rodeo rider, so I paid very close attention to the way the vaqueros handled the animals. Once the rodeo was over, the party started. That's when I'd go home.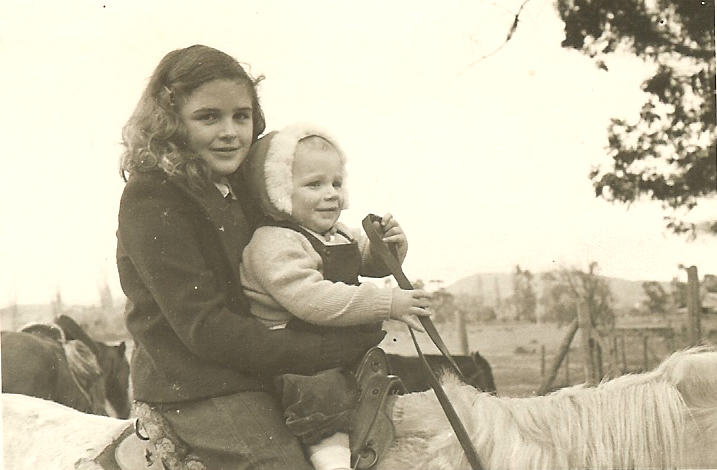 Did you take trips outside of Casablanca often? If so, where did you go?
Sally: Often, no. We went on some Sundays to Algarrobo and Viña del Mar to see Grandma and Gramps when they were around.
Susan: When Grandpa and Grandma were living in Viña del Mar, we'd have long [Sunday] lunches there. Sally and I would escape to Grandma's room and try on all her jewelry and makeup. About once a month we'd go to Santiago. It took four hours by car on a good day (assuming a truck hadn't broken down on one of the cuestas and blocked all traffic). Needless to say, I'd always try to avoid these trips. Once or twice a year we'd be invited to the Bowers for lunch. They lived north of Limache. [Which was about a two hour drive then.]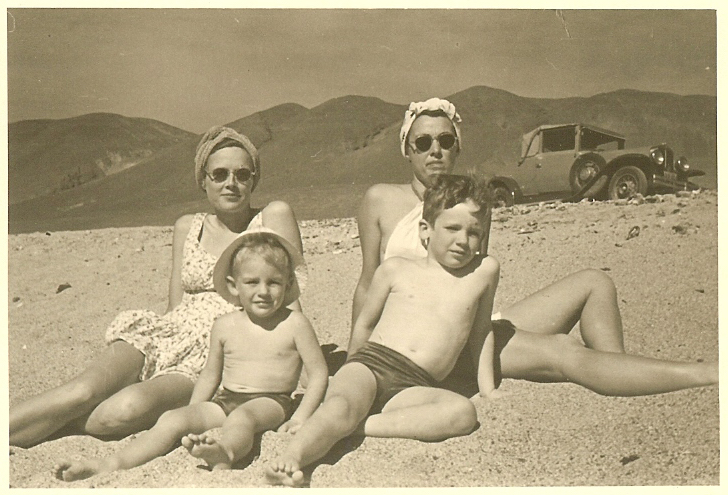 After graduating from college, did you think of moving back to Chile?
Michael: Yes, I did consider going back to Chile but in 1962 the country's economy was in terrible shape and would only get worse as it moved into the Allende years. The opportunities working for a US company in Latin America on regional economic development issues proved to be more compelling at the time.
Peter: I went back to Chile to help Grandma and Grandpa who had helped me with college tuition. After a year and a half, I had to go to the US to beat the draft and to go into the US Navy [as an officer, instead of enlisting] for 4 ½ years.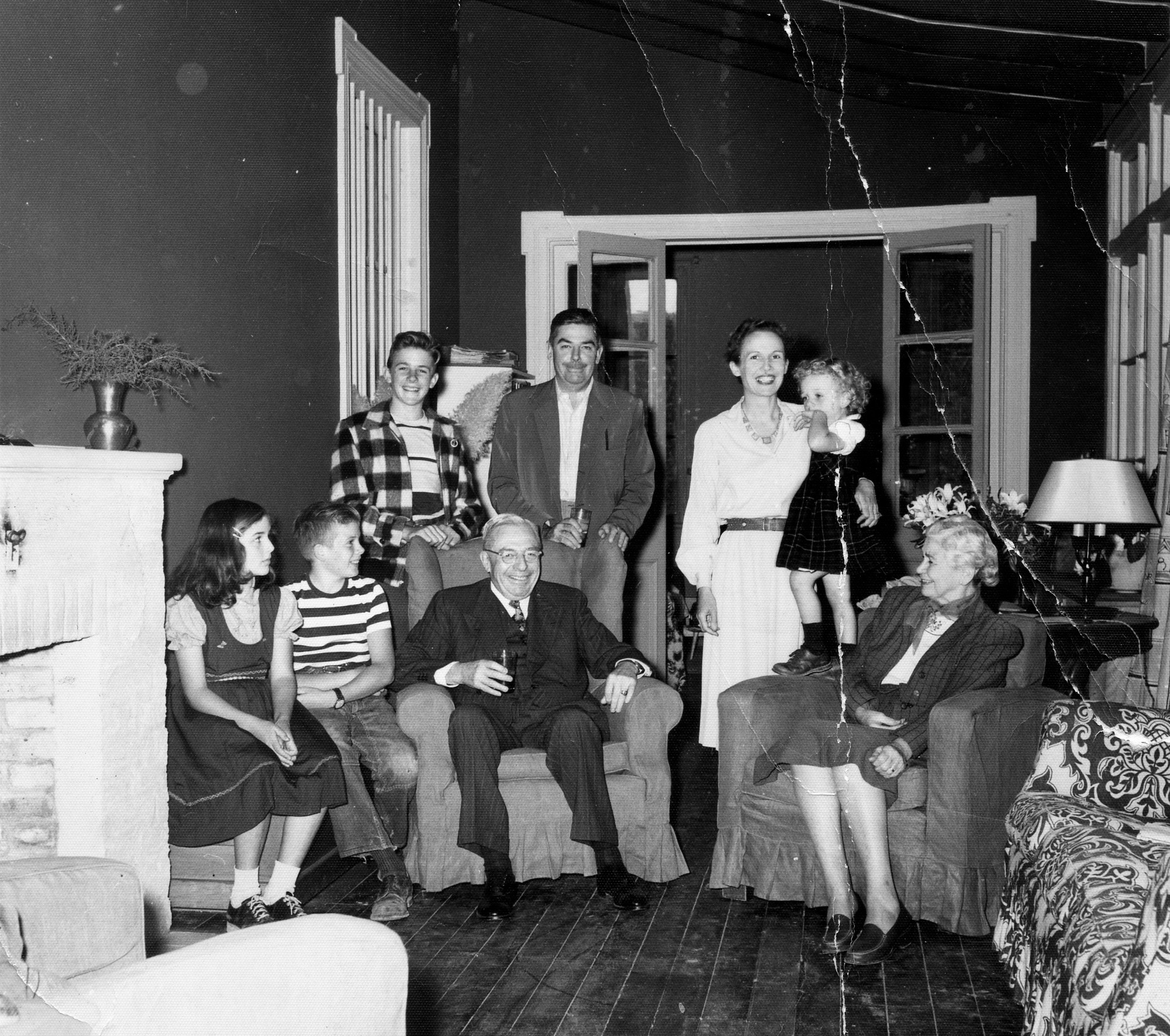 Are there still a lot of the same people/families living in Casablanca as when you grew up there or has it changed a lot?
Michael: Yes, many families who used to live on the farm now live in Casablanca or other smaller communities in the valley. It is not unusual to run into them at the grocery store.
Peter: Those who manage other farms in the valley are still around or have let the next generation take over. The biggest change is all of the vineyards which cover the valley.
Was it a shock to go live in the U.S. when you were 13 or were you really ready to go? Who did you stay with? Or did you go to a boarding school?
Susan: I was very homesick when we moved to the US. I spent idle moments plotting the best bus route back to Chile since I knew Mom wouldn't let me fly. I went to Cambridge High & Latin School in Cambridge for my junior and senior years of high school and adjusted when I got caught up in the college application process.
Peter: We all (CJ, Peter, and Michael) went to Holderness School where we lived from September to May. It was a small school (about 34 students in my class) and had some terrific teachers, especially Joe Abbey. We visited the Lenoxes (Mother's sister's family in NJ) at Thanksgiving and the Dwights (Father's elder sister's family in Ohio) at Christmas. We all got into student government and each became president of the school in our senior year.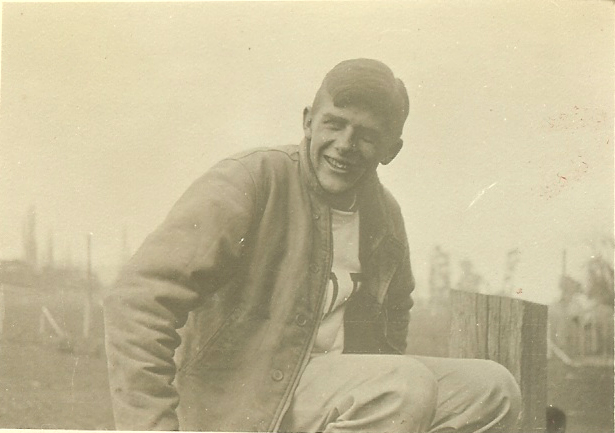 Had you been the U.S. much before that?
Michael: Early in World War II, Dad worked in Bolivia for the OSS, a CIA predecessor organization. During that period we lived in Antofagasta (Chile) because it was closer to Bolivia. The Germans were in Bolivia because they were interested in the metals available there to build military machinery. Dad had some mining connections dating back to my grandfather's mining interests in Bolivia so that worked as his cover while he spied on the Germans. But when Dad's OSS boss was poisoned, it became clear Dad's cover was also blown and that it was time to return to the States. That's when we went to live on Cape Cod with our grandparents (Mother's side). Then our parents purchased a home there as the war continued. Dad joined the Navy after that but was never shipped anywhere. We returned to the Farm as soon as the war was over.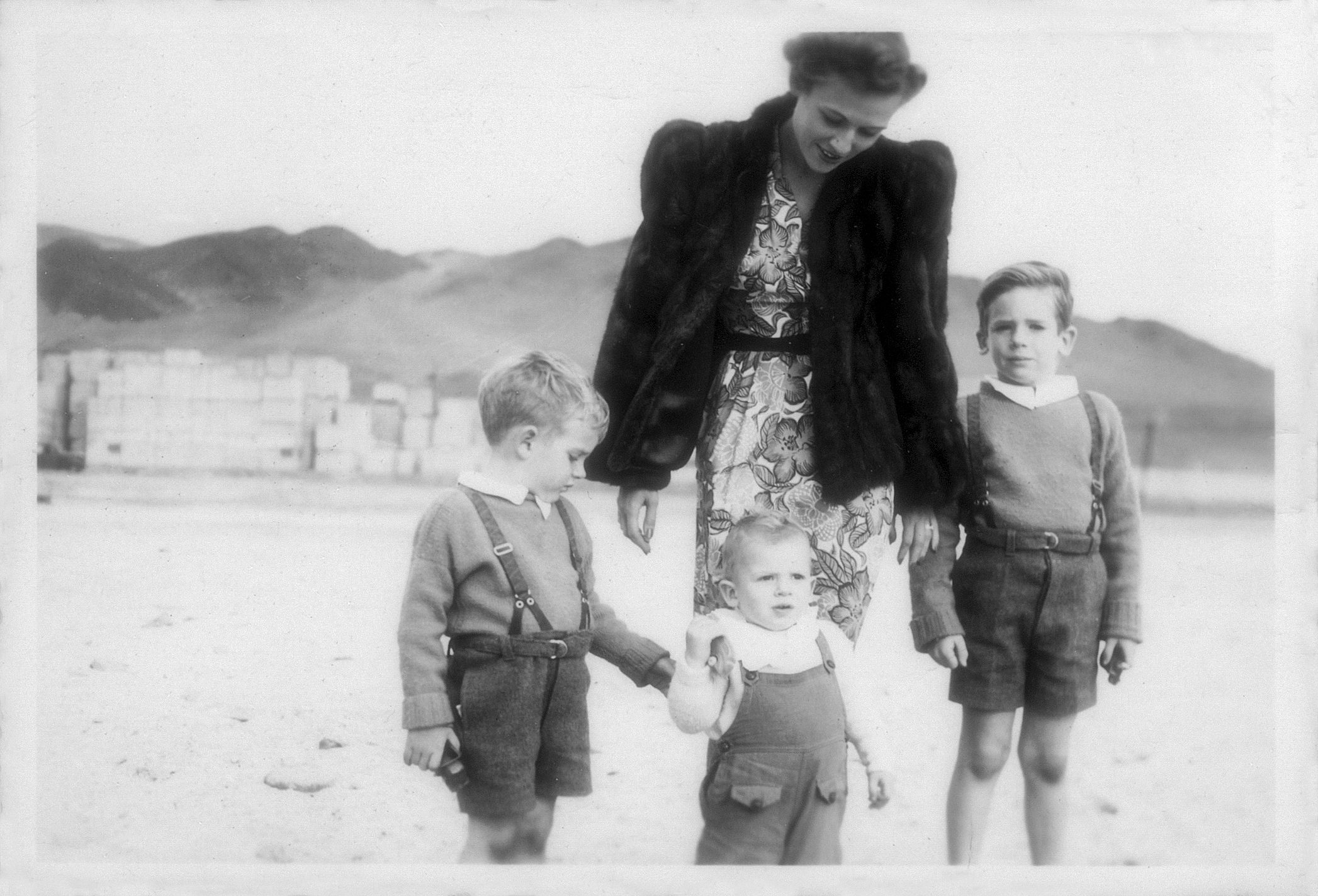 What surprised you about being in the U.S. versus Chile?
Michael: Life on the Farm and life in school in the US were very, very different, and I believe we all accepted those differences. Chile was the countryside, nature, animals, but also a relatively solitary life that required some inner resources and self-reliance. Holderness brought you together with other boys (no members of the opposite sex), so there was camaraderie, sports, as well as studies. So, they were very different worlds.
What did you miss the most about Casablanca when you were gone (apart from family)?
Susan: My horse, Manuel Vega, and riding with him.
Sally: I missed the Farm the most.

For most travelers to Chile, Santiago is both the starting and ending point. Whether you're heading to Patagonia, Atacama or - we hope - visiting us in the Casablanca Valley, you'll likely spend some time in Chile's dynamic capital city. Where you stay after a long international flight can make a big difference in your perception of the country, so we want to help you get your visit to Chile off to a good start.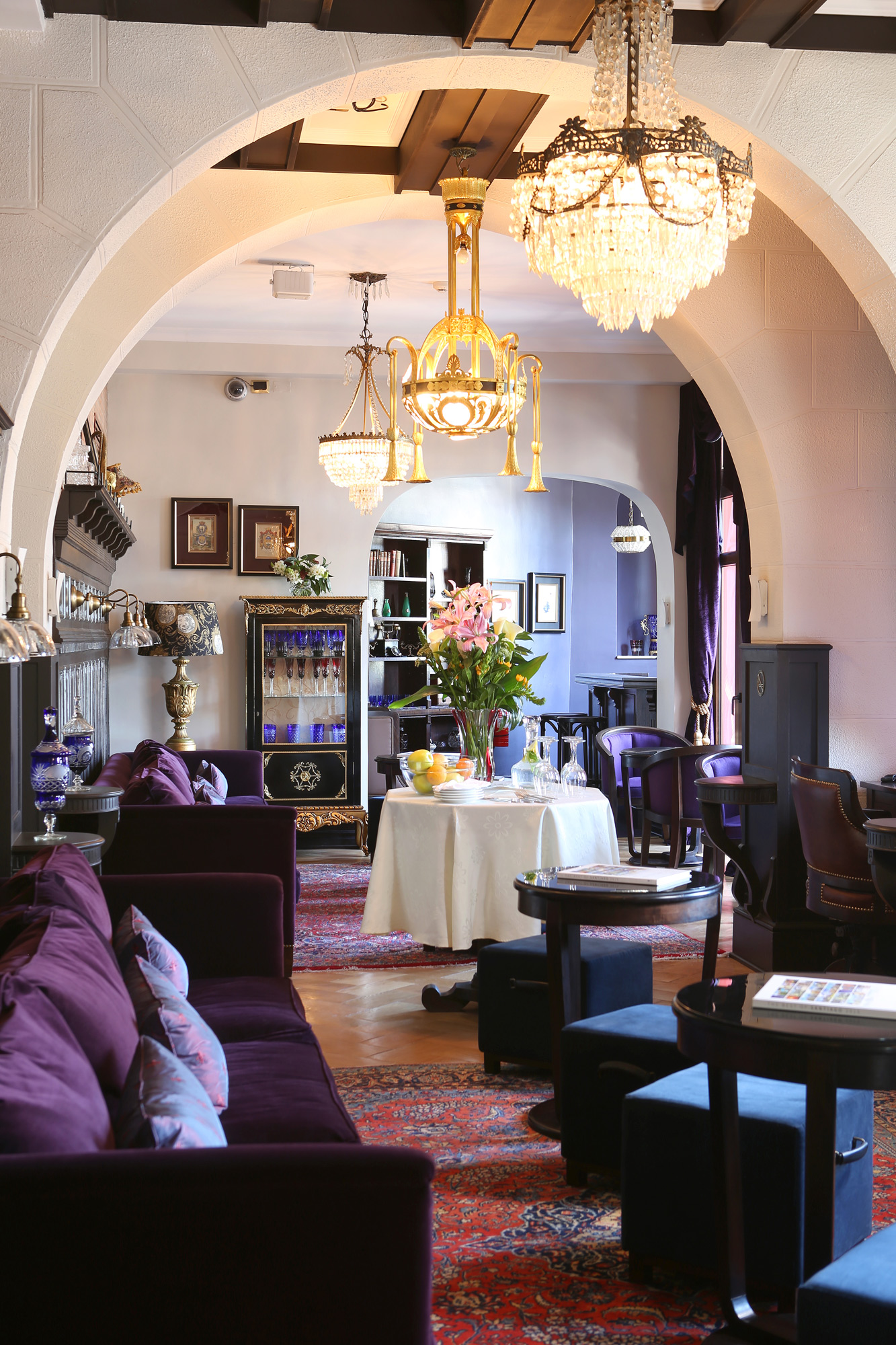 Our sense of the current hotel scene is that it's undergoing a subtle renaissance. It used to be that everyone we knew stayed in large international chain hotels for convenience. Lodging was basically utilitarian in nature, and there wasn't a lot of thought given to design or service. Over the past decade that has shifted. Now Santiago offers a number of great stylish boutique hotels and good service is an important part of the equation.
Whenever we write a post we try to incorporate our experiences, or those of our family members. We also try to ensure that we cover topics that reflect unique aspects of Chile's culture and history. This is a little difficult when it comes to lodging because we live nearby and don't frequently stay in Santiago hotels. Also, Chileans are subtle when it comes to touting their culture and history. Unlike a resort in Hawaii, for example, where you might find tiki-themed hotels with Asian-fusion fare served on palm fronds and spa treatments that leave you smelling like plumeria, Chileans are more refined. Their lodging offerings reflect this trait.
Below is our list of recommendations, based upon where we've stayed and where friends and extended family have reported are the best lodging options. When deciding where to stay we look at location and cleanliness first, then amenities, such as a pool (when traveling with the kids). We hope you find it helpful!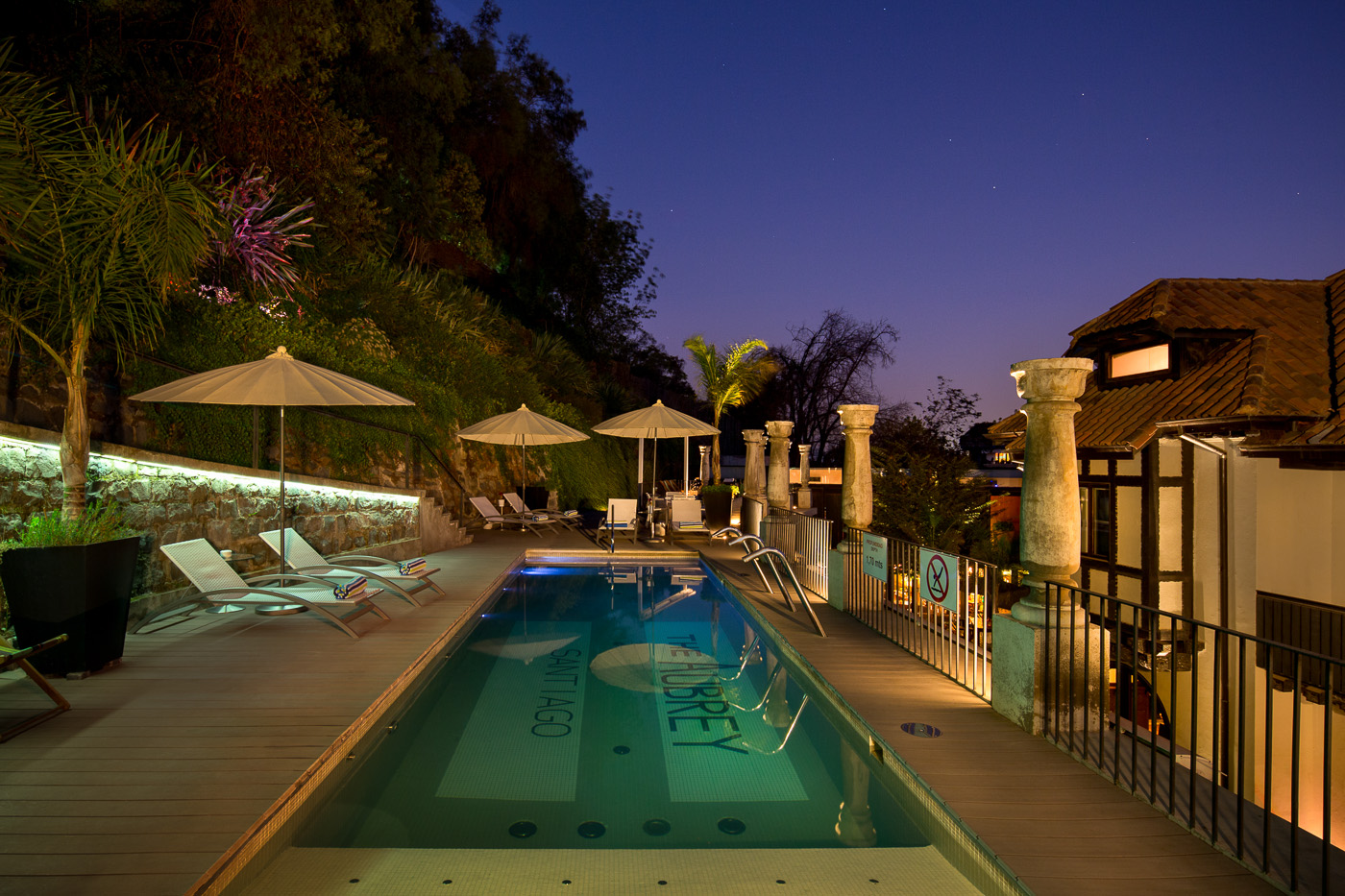 Lastarria
One of our current favorites is The Singular, a newer hotel located in a hip, up-and-coming part of town (the Lastarria neighborhood) near Parque Forestal, Bellas Artes and a great alley coffee shop called Colmado. It's classically styled and has all the modern amenities you need. We found the rooms to be generous, quiet and great for sleeping because of the hushed tones of the furnishings and the blackout shades. We also love the decor that mixes "old" and "new" Chile. The combined lobby/bar for example, contains modern furniture with antique framed art, traditional brass floor lamps and stocked bookshelves. It's cozy and inviting, yet sophisticated at the same time. They also have a spectacular sister hotel in Puerto Natales, in Patagonia, that was built in a restored mill.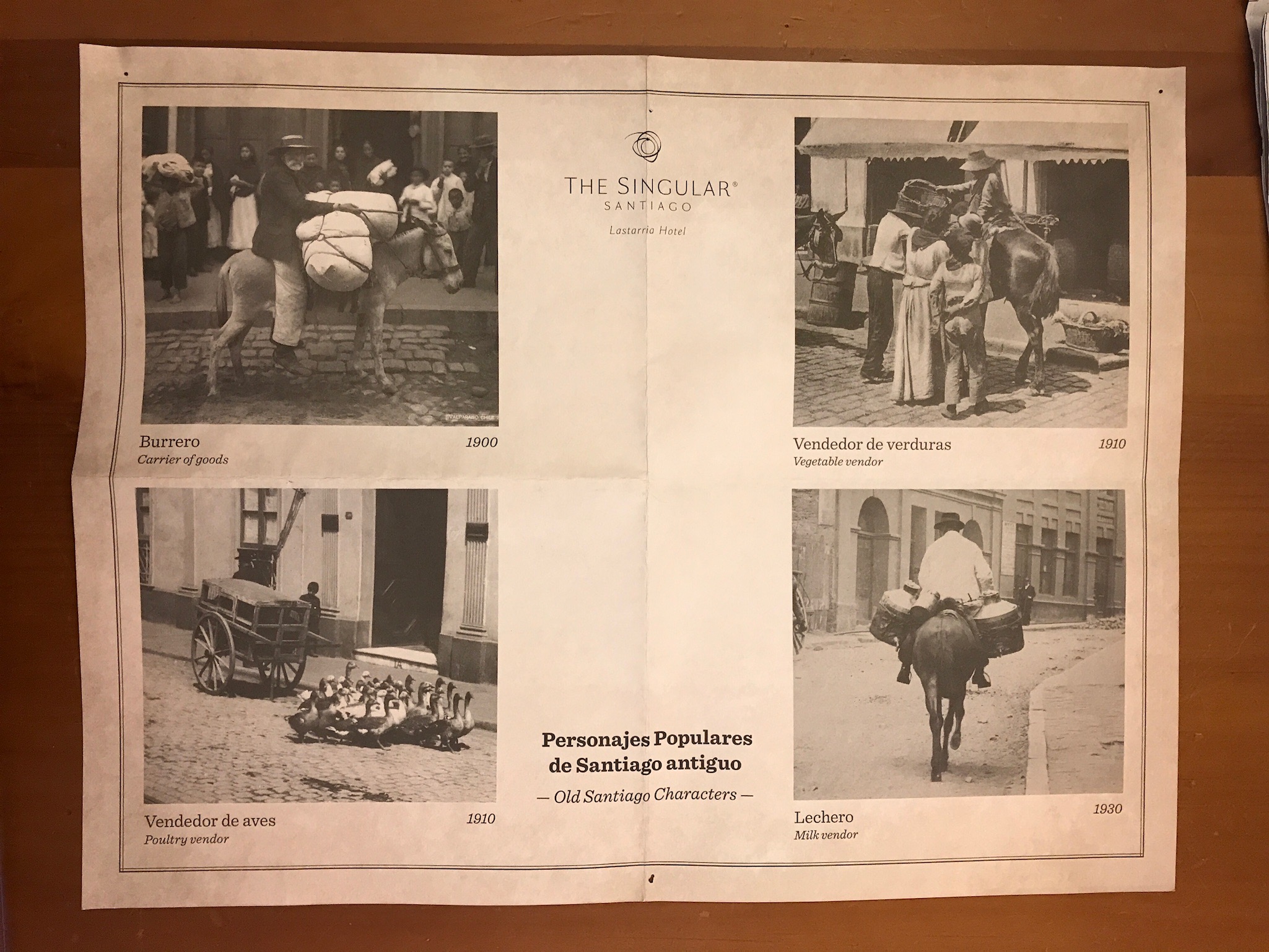 Another option is the Lastarria Boutique Hotel. Although we haven't actually stayed there, we mention it as an option because of its location near restaurants such as Bocanariz and La Moneda. In addition, a number of our friends have stayed the night, and give it rave reviews – especially the excellent service and the garden pool.
Bellavista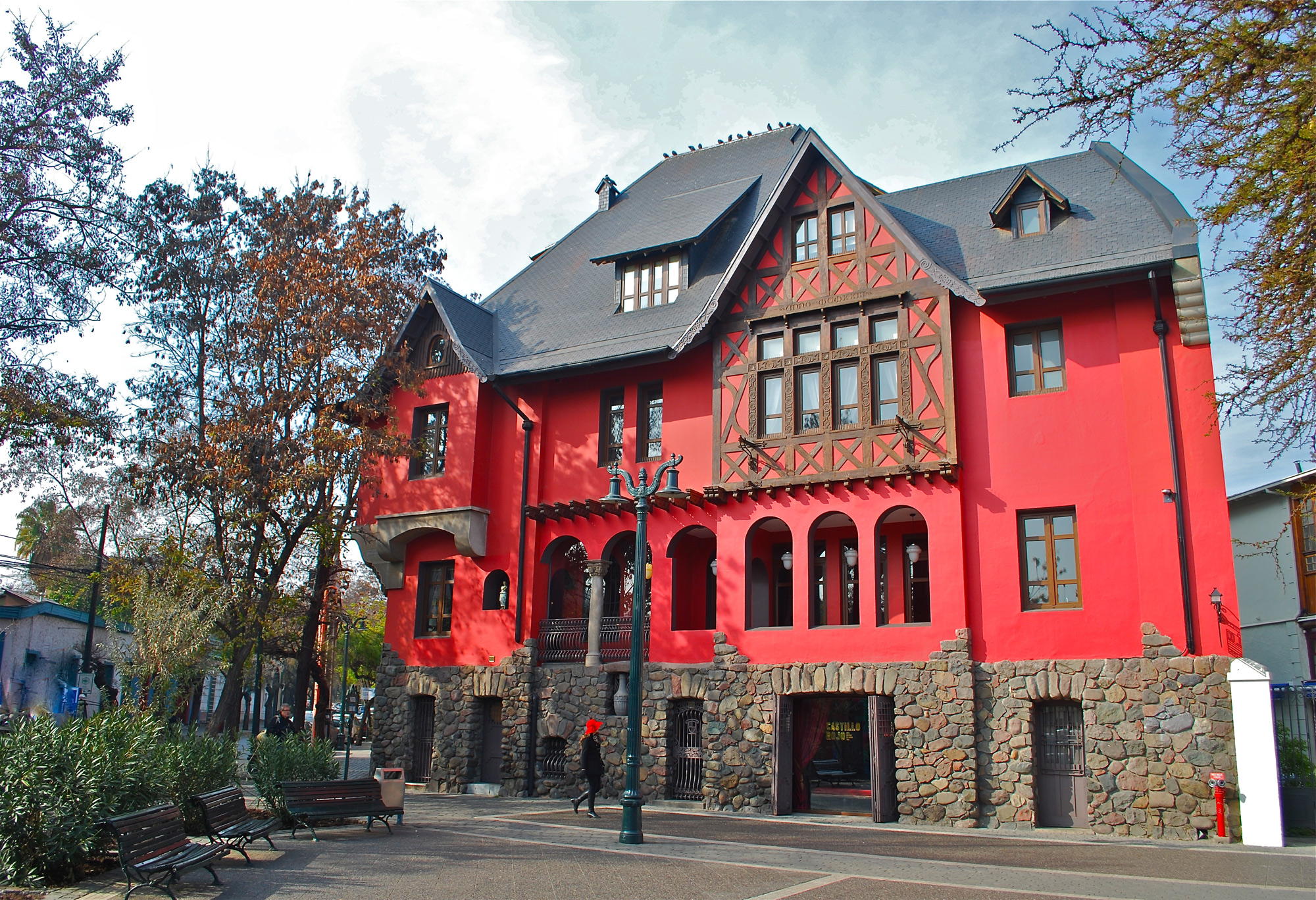 Many tourists who go to the bohemian Bellavista neighborhood are there because one of Pablo Neruda's funky homes, La Chascona, is situated there. Another unusual Bellavista landmark is a hotel called Castillo Rojo, which literally looks like a big red castle. It's actually a refurbished mansion, and the 19 rooms include historic details such as hardwood floors and original doors with stained glass panels. The lobby has a stylish old world feel complete with velvet curtains and cushions, Oriental rugs and candelabras. Breakfast is included at the Beppo Café, a cute restaurant with exposed brick walls, and the hotel is slated to open another restaurant specializing in Argentine fare soon. We can't attest to the food there (because it's not yet open), but we highly recommend the French bistro next door.
For the past decade The Aubrey was the only intimate boutique hotel in town. Once the home of a local politician, it has just 15 rooms. We like the interesting outdoor spaces including its beautiful hillside terraces, a streamlined pool and balconies with views. Each of the rooms is decorated differently, making it feel as though you are staying in someone's (fancy) house instead of a standard hotel room. The only drawbacks are that it's near the zoo and Bellavista has a few too many student bars for our taste.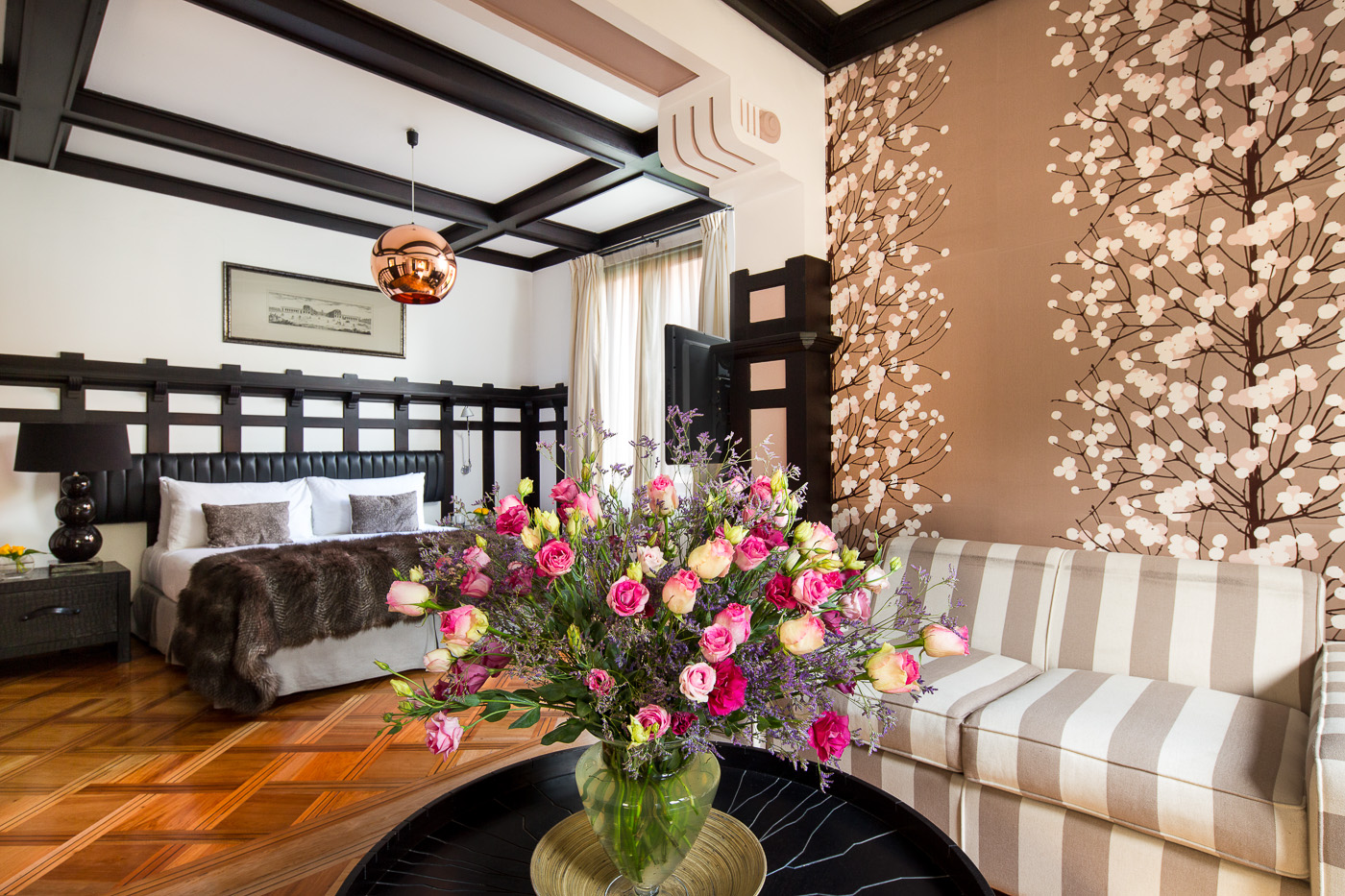 Providencia
If you are a fan of France and French traditional decor, La Reve might be a good choice for you. It's currently ranked first on TripAdvisor and friends from San Francisco who just visited thought the location was excellent. They told us they "enjoyed Chile all day and felt happy being French at night."
The family-run Vila Franca, also in Providencia, is a simpler and cheaper option to the other boutique hotels we've mentioned. We stayed here years ago and found the proprietors to be delightful; they tried very hard to make sure that everything was to our liking. We found the modest rooms to be clean and comfortable and breakfast is very Chilean - lots of fruit, bread and butter and cold cuts.
In the event that you'd prefer apartment-style lodging, we suggest the Hotel Orly, another one of Santiago's first boutique hotels that also happens to be housed in a former French-style mansion. They offer a variety of guest room layouts in the main building, as well as a separate building of family apartments with kitchens that will sleep up to five people. We like the generous buffet breakfast, and the hotel's commitment to the environment that it demonstrates through the use of LED lighting and thermopanel windows.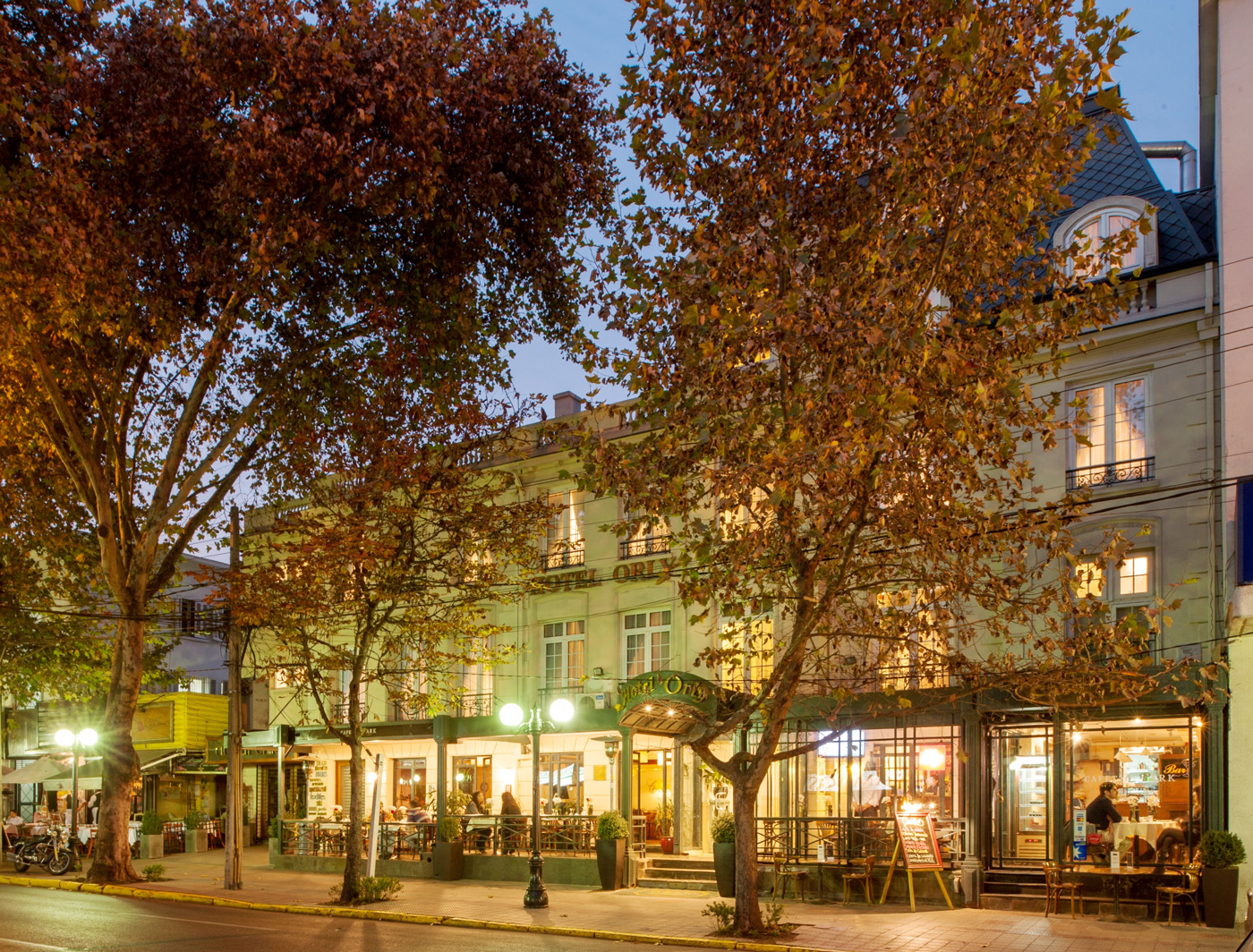 Tried and True International Chain Hotels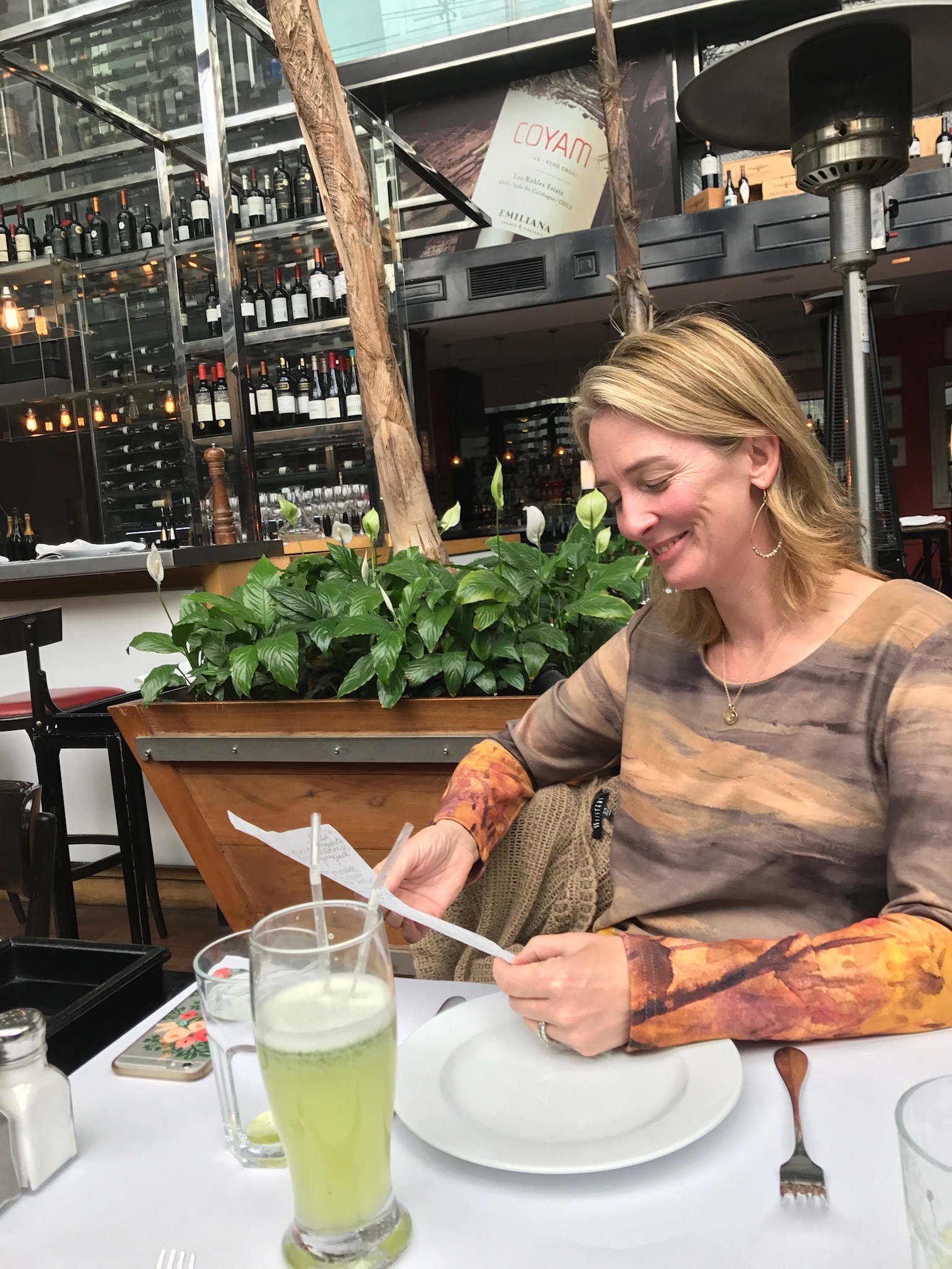 We used to live around the corner from the W and sometimes stayed there on weekends as a mini-getaway. Like most W hotels, this one is very hip (we recall the lobby music sounding like something you'd hear in a dance club) and the rooms were extremely comfortable. We loved the fabulously rich breakfasts consisting of lots of fresh Chilean fruit, as well as eating ceviche and sampling wines at KM 0, the hotel's chic basement restaurant that receives natural light from a stylish atrium above it.
As you would probably expect, The Ritz-Carlton radiates old-school charm and reliability. There are always beautiful fresh flower arrangements when you enter the foyer, and the concierge and staff are truly exceptional. We recently stayed there and discovered half of the floors had just been renovated, so make sure to ask for an updated room. You will often find many business travelers at the Ritz due to its location in the financial district, however it's a great fit for families, too. Our kids love the rooftop pool. And if you like to work out, the gym is a treat as well.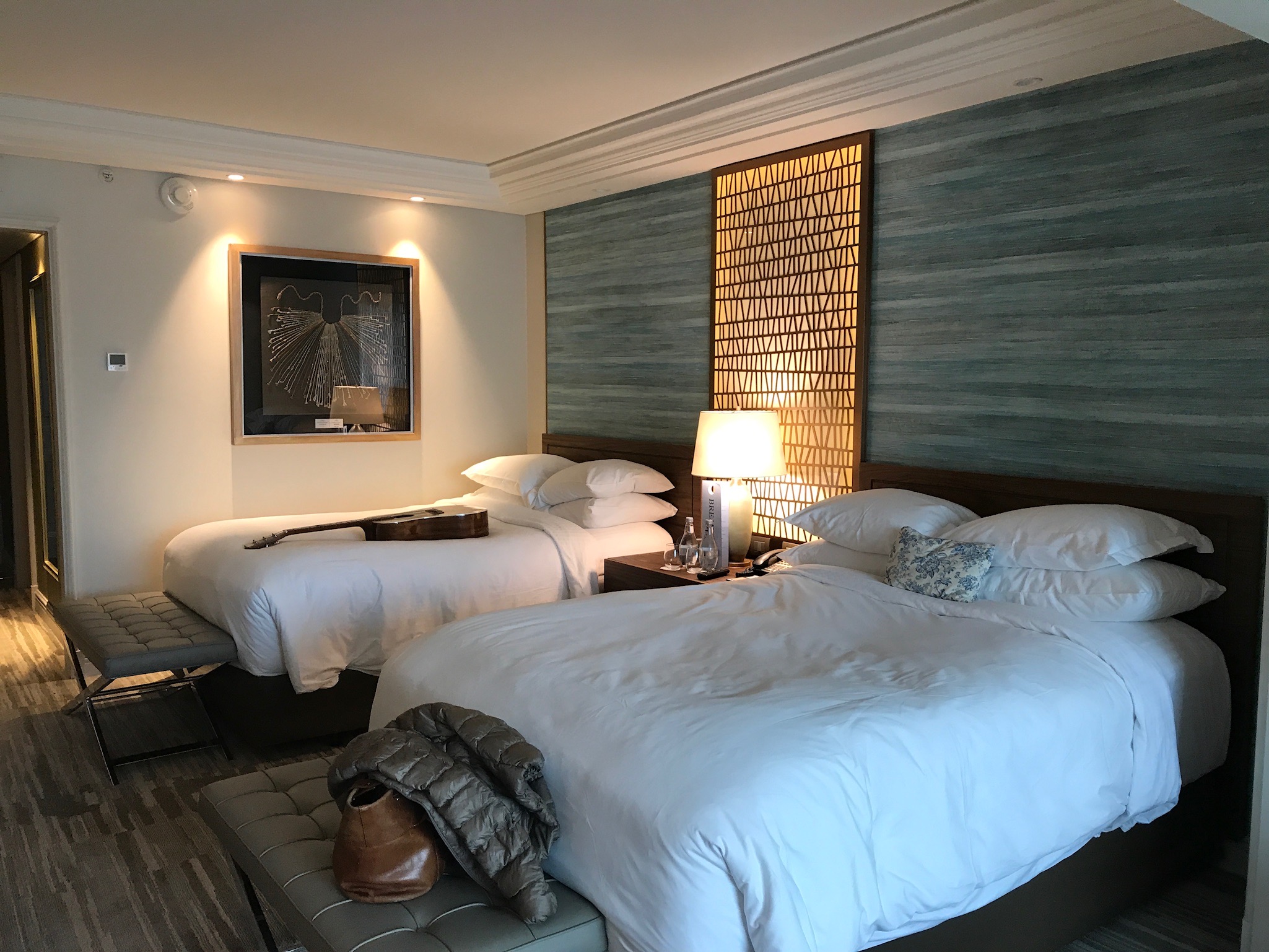 As always, we hope you find this information useful and will someday come stay with us at our vineyard. More about that to come soon! If you have questions or need more information about lodging, we're here to help. Feel free to give us a call at 1 (650) 854-4146 or e-mail us at guests@kingstonvineyards.com