Rúcula! Albahaca!
It's a Wednesday morning in Viña del Mar, Chile and I'm welcomed to the produce market by the calls of a vendor, announcing sales on his arugula and basil. I orient myself around the market labyrinth based on hearing his distinct crow. I'll buy cherries from the woman next to his stall, and the Peruvian woman with the hydroponic tomatoes is right around the corner. Every Wednesday morning, I stock up on fresh produce to prepare meals for guests: cherry ice cream to pair with Tobiano Pinot Noir; the best tomatoes to make traditional Chilean pebre.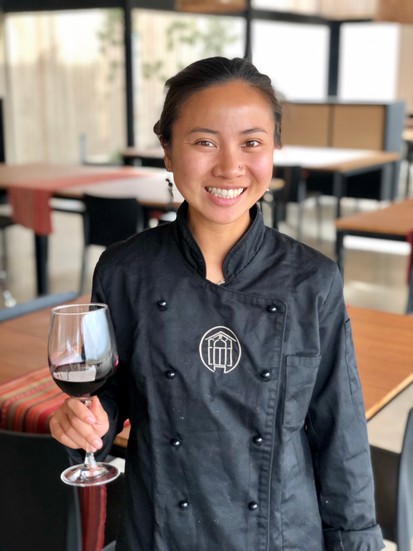 My name is Alex and I've morphed into a young chef cooking up lunches at Kingston Family Vineyards. When I'm not visiting my new friends at the produce market, you would find me at our tasting room overlooking Casablanca Valley, where I work alongside 4 other Americans as part of the vineyard's Fellowship Program. For the past 4 years, the vineyard has welcomed recent college graduates to join its tight-knit team for a bi-national work exchange. This year, the fellows all live together in one apartment in Viña del Mar, carpooling to work in a car that Michael Kingston fondly named Zarzar 2.0. Our primary role is to host tours and tastings for vineyard guests, but we've been known to do everything from hand-label wine bottles in the cave to, well, cook.
The Kingston Fellowship is a cultural exchange and the chance to create a lasting impact for a small family business. We're able to engage at every level of the operation, from collaborating with Amael Orrego, our talented Chilean winemaker tackling sustainable agriculture challenges; to working directly with Courtney Kingston, our spunky female founder. As a young woman, I constantly find my fuel in Courtney's entrepreneurial spirit, her openness toward our grand ideas and her acceptance of the mistakes that often come in tow.
I graduated from Stanford University in 2018, armed with a degree in Earth Systems science and with a lifelong culinary passion. I was drawn to Kingston as a critical environmental teaching moment, since the vineyard began a transition to organic agriculture in 2016. Yet by a fortuitous turn of fate, I found myself tasked with initiating a new commercial kitchen operation in Kingston's recently inaugurated tasting room.
What began as an unlikely opportunity to bring food service in-house, has now evolved into a new Culinary Fellowship. The Culinary Fellowship is an opportunity for a passionate home cook or culinary student to gain experience leading a professional kitchen while driving the creative direction of Kingston Family Vineyards. The Culinary Fellow will be tasked with embracing Chilean tradition and bringing international flair into food offerings that highlight the best qualities of our wine.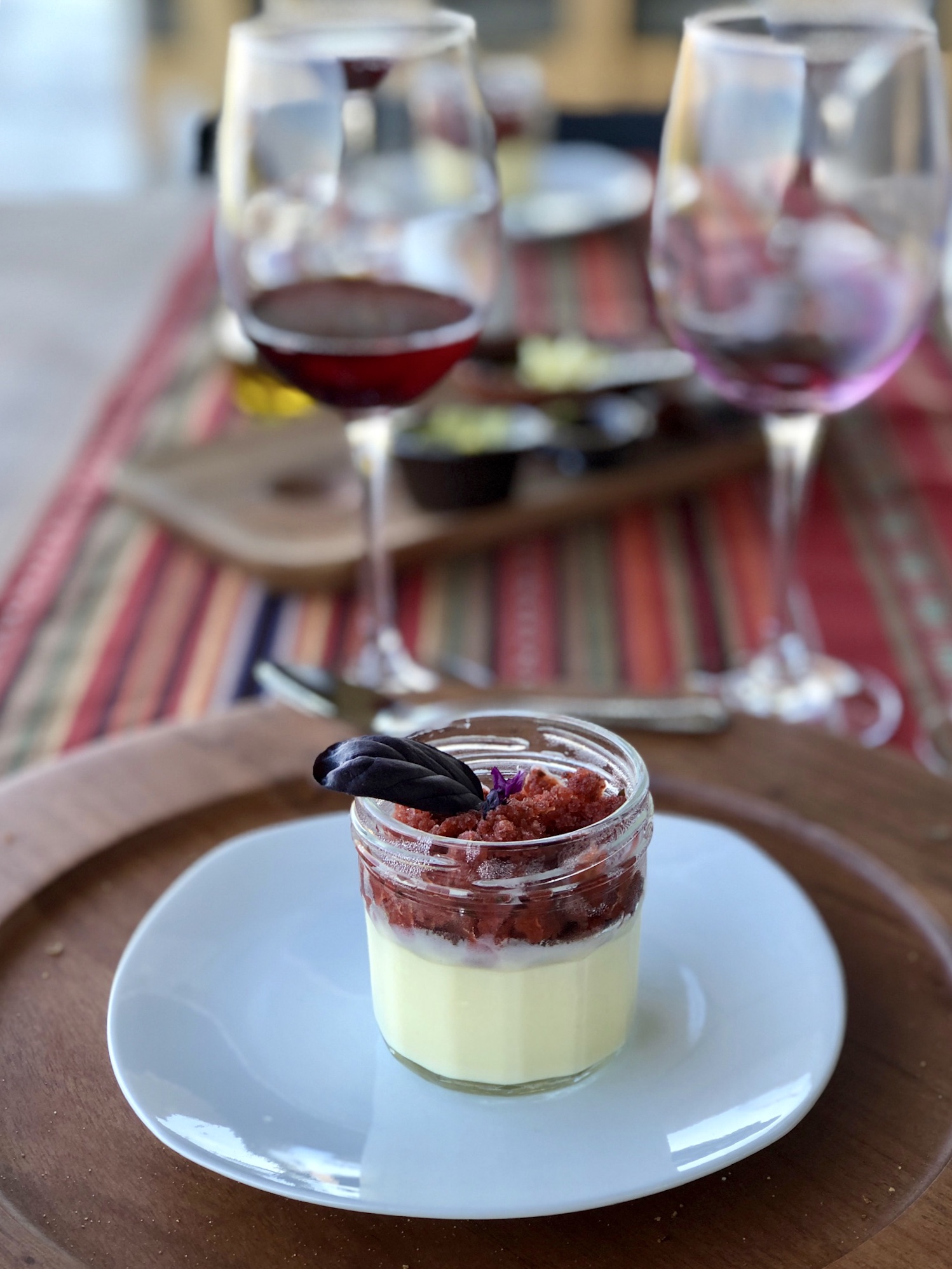 Six months ago, I began chatting with Amael about the characteristics of each wine varietal to express with each dish. We experimented: sampling chocolate-raspberry cookies with Lucero Syrah and fish rillettes with Cariblanco Sauvignon Blanc. We ordered pots and pans to outfit the kitchen; contacted cheesemongers, artesanal marmalade producers and local farms to source our ingredients. I shadowed the talented catering chefs who execute larger events at the vineyard. We now serve gourmet lunches, each dish intended to showcase a Kingston Family wine using thoughtfully procured ingredients.
As Kingston Family Vineyards fellows, we knock out 10 lunch reservations on a busy summer Saturday. I haggle for pulpo from my "octopus hook-up" at the fish market in the morning and make sopapillas with my coworker, Macarena, on rainy afternoons. We have no guarantee for how each day might unfold. What I can guarantee, without exaggeration, is that this fellowship is the adventure of a lifetime.
To learn more about our Culinary Fellowship, please contact Alex Nguyen-Phuc at alex@kingstonvineyards.com or guests@kingstonvineyards.com.

Propped on the mantle in our farmhouse living room are old orange candles we made from wax my grandfather used to preserve his homemade cheddar cheese. They're there, in part, as a reminder of the disastrous cheese business he founded in the 40s that ended with a burnt down cheese hut.
I often look at them and reflect on the lesson learned from that endeavor. My grandfather thought making cheddar would be a great way to capitalize on the family's dairy business and use the cows for something other than milk. But Chileans are particular about their cheese – and they don't like cheddar. At all. It was a complete flop.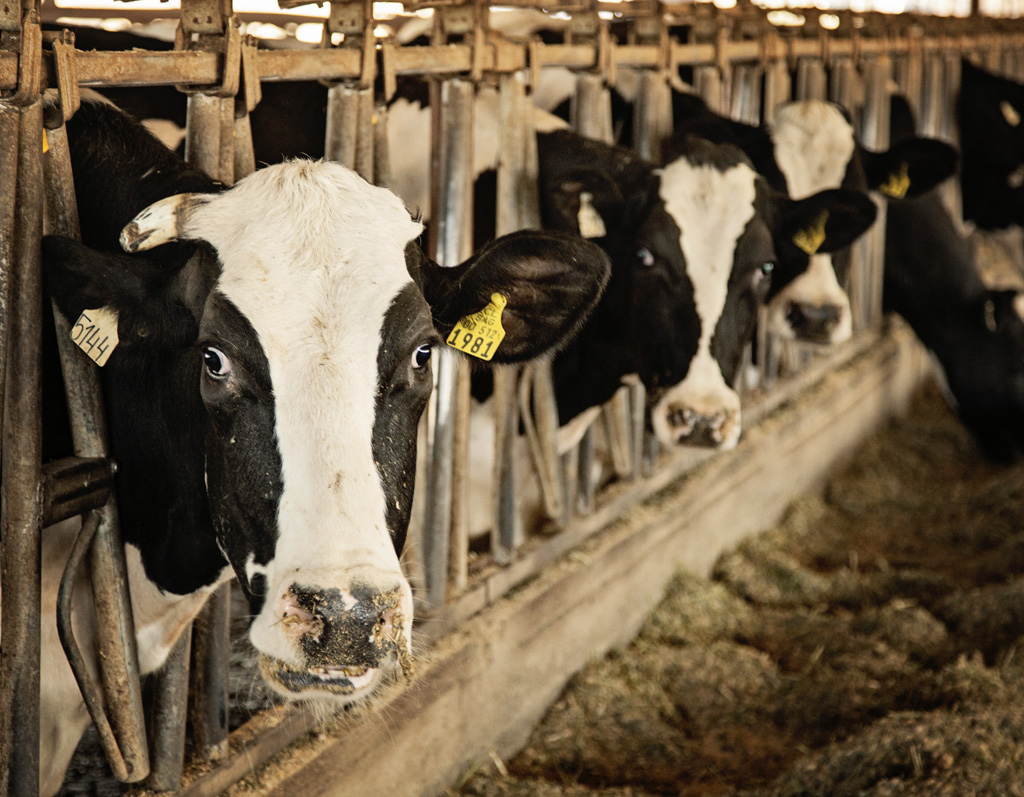 Which is why we're cautiously dipping our toes into our latest undertaking: small batch ice cream.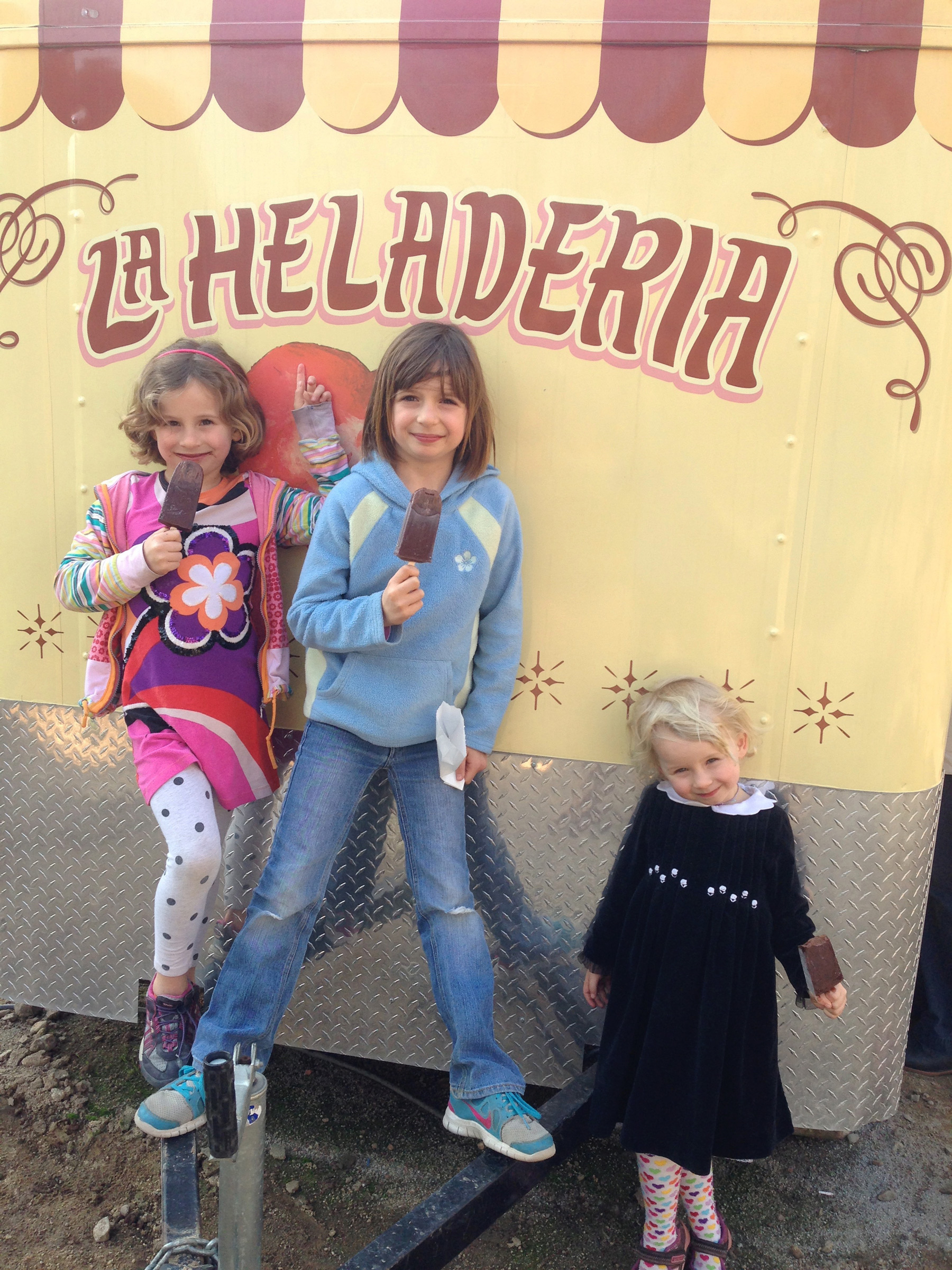 As I've mentioned in previous posts , Chileans LOVE ice cream. They eat it year round, rain or shine. I always smile when I'm in Santiago's financial district and see grown business men in suits devouring ice cream on palitos (sticks).
Our farm's Holstein dairy cows have been supplying milk to the Santiago community for nearly a century. We're excited about using some of that milk to try our hand at homemade ice cream for our guests. We've also got the perfect person to make ice cream: our talented winemaker, Amael.
Over time we've discovered that Amael's interests go far beyond wine. He loves to experiment in the kitchen and we often find him cooking with wild herbs found on the farm, making mozzarella cheese (a type that Chileans do like) for our winery crew, and crafting small batches of ice cream in traditional flavors such as mint chocolate (made from nibs donated by a friend's bean to bar chocolate company called Obolo) and more imaginative ones like rosé sorbet.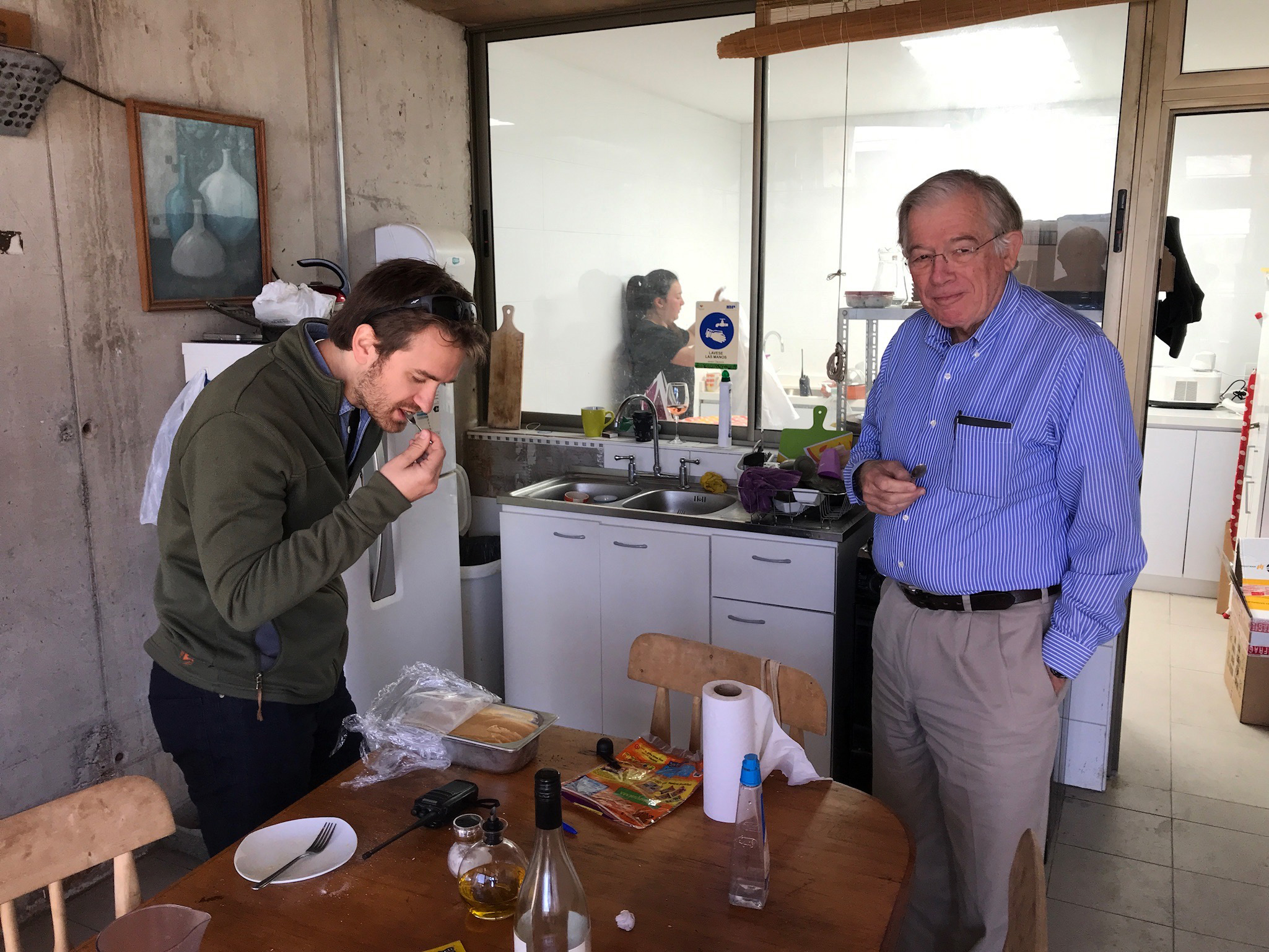 Given that just about everyone who works on the farm likes ice cream, we're all excited about the possibilities. We hope you are, too. As soon as our new kitchen is finished we'll have a beautiful new space in which to experiment with local Casablanca ingredients, and a lovely area for our guests to exclusively sample it.
If you have suggestions for flavors, please send them our way! We're always open to new ideas.
Salud!

We can hardly believe that 2018 marks our 20th anniversary as a winery. Over the years we've had lots of thrilling moments and countless "firsts" – planting the first vines, picking the first grapes, hiring our first winemaker, transitioning to organic farming – the list goes on and on. We've made mistakes along the way and learned a lot from them. Our focus has always been on trying to make the best wine we could. So much so that we weren't always thinking about other aspects of owning a winery. Such as hosting visitors.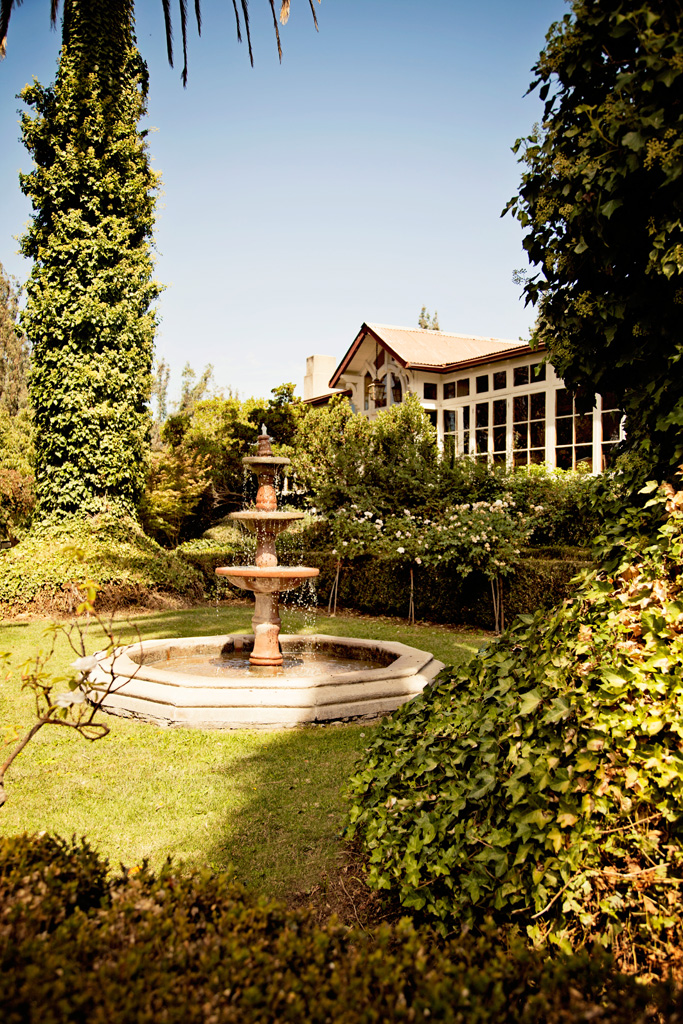 Yet that is increasingly what we've been doing for the past eight years or so, ever since our first "guest" arrived. We laugh about it now, but we we were pretty shocked that sunny afternoon in 2010 when friends of a friend dropped by to see the winery. My dad and I were eating lunch at the house when something caught his eye outside. He went over to the window, then came back and whispered "Courtney – there's someone in garden. Does anyone know them?"
Since then, we've been incredibly fortunate to welcome many of you to our farm. With regular flights from the US, as well as improvements in GPS, it continues to get easier to stop by and see us – whether you're on the way home from vacationing in Patagonia or the Lake District, or in Santiago for business. We know it's the wine you've been coming for – and we hope we've exceeded your expectations in that area – but we must admit, we never really had a "grand plan" for what to do with you when you got here. Truth be told, we've been winging it. Which is why we're incredibly excited to share some news: last May we broke ground on a beautiful new tasting room with a fully-equipped professional kitchen. It's currently on track to be finished in November.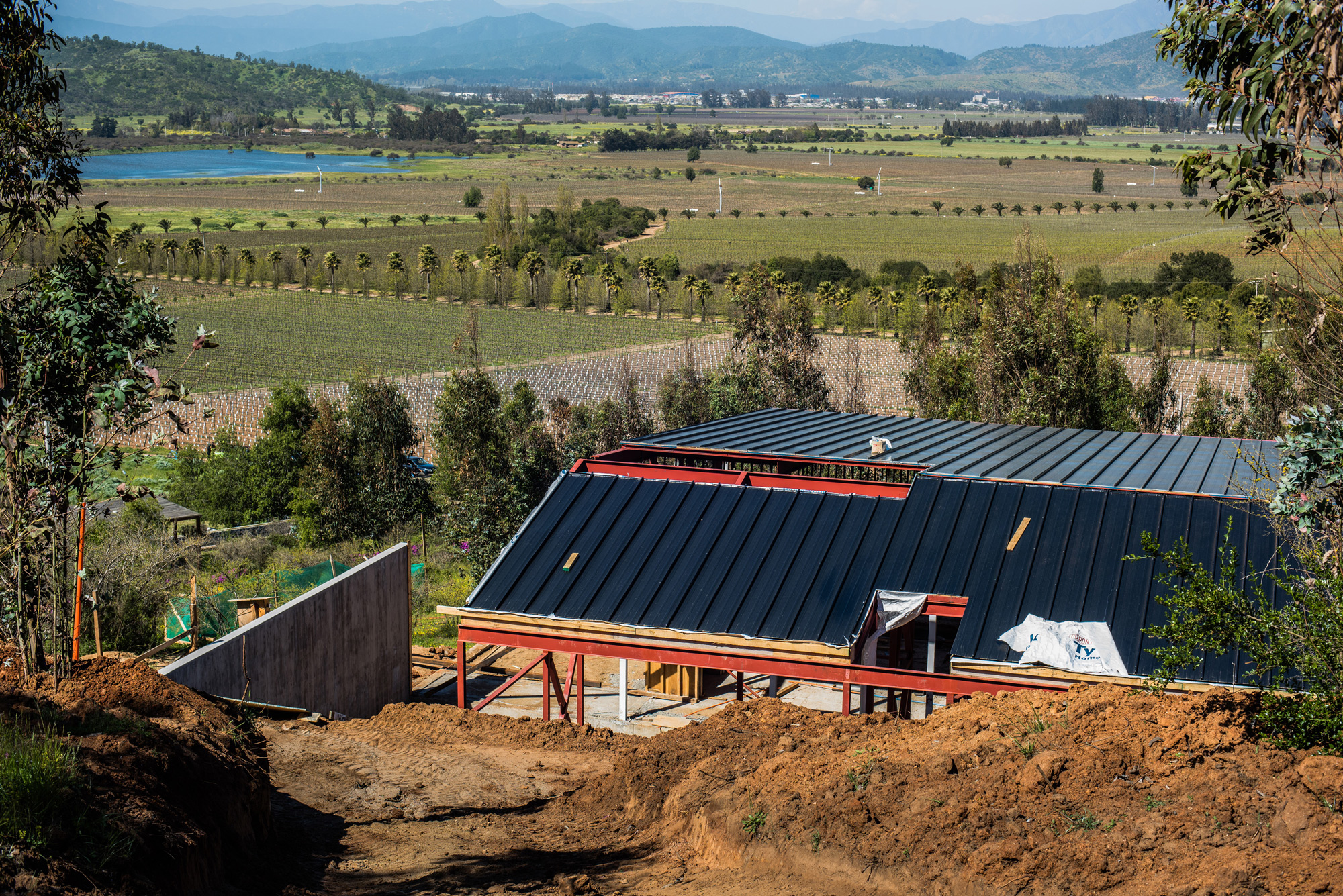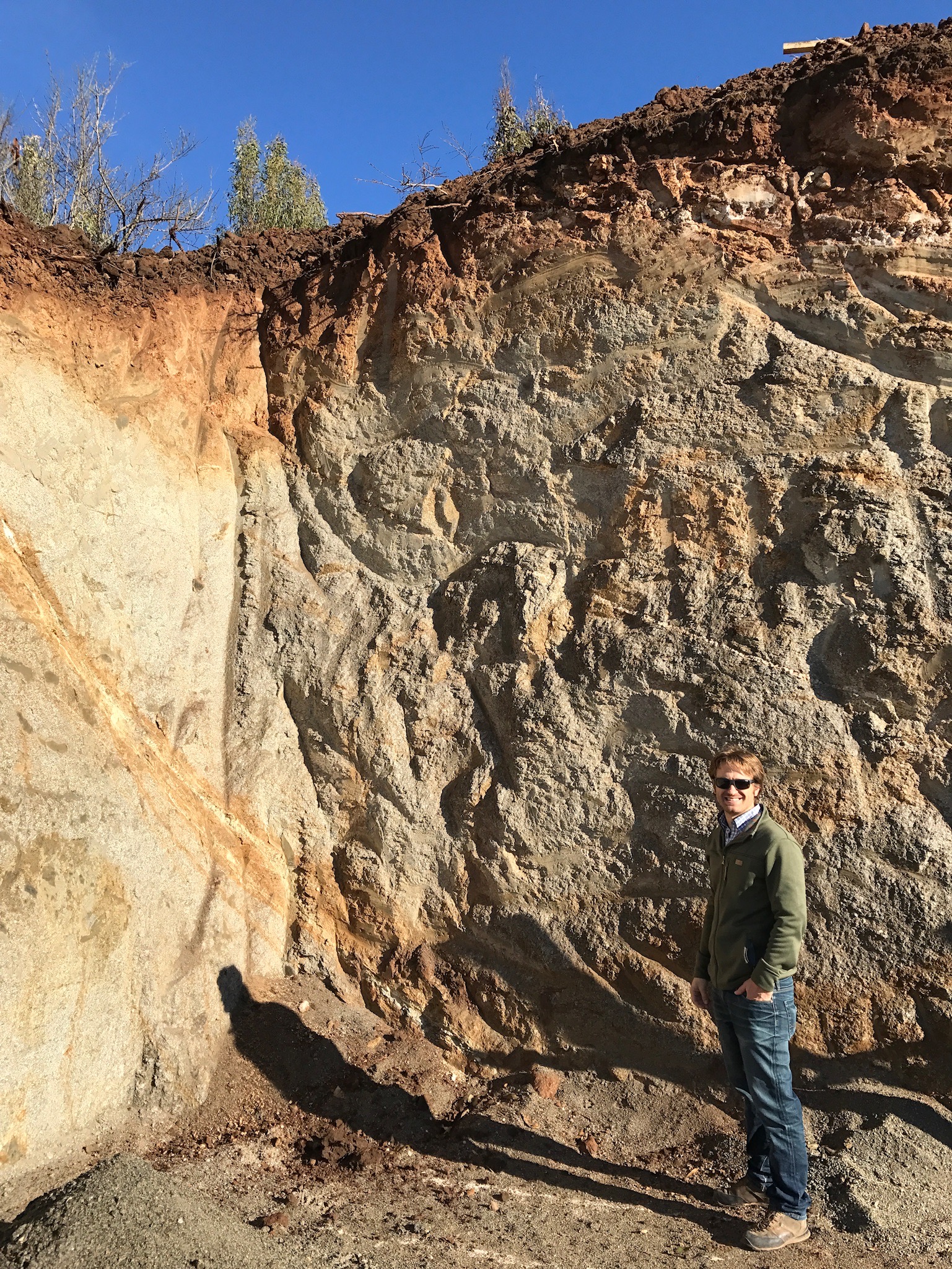 Those of you who have enjoyed a glass of wine or a paired tasting on our terraza probably understand why we're growing. Our current cozy spot is great for a small group. Until it gets cold. Or dark – because we don't have lights. At which point we move you inside to our staff kitchen, which is essentially an office kitchen, or into the middle of the winery, by the destemmer. We then throw a batik tablecloth (sewed by my mom for my brother's wedding reception) over a wine barrel and pull up some chairs. Although intimate and memorable, this set-up is really not ideal, especially during harvest when we're literally pumping pinot over your heads. There's no view from inside, either.
We have huge hopes and dreams for the new tasting room. We started planning and designing nearly two years ago. We're hoping to create an environment (or "onda", as we say in Chile) where our guests can try our wines, relax as if they're at home, and come to love the beautiful views of the Casablanca Valley as much as we do. We're especially excited about the professional kitchen, which will allow us to host harvest dinners and evening tastings under starry skies, offer Chilean cooking classes with guest chefs, and make artisan cheeses and homemade ice cream from our own cows. Who knows what else we can do... We're open to your suggestions.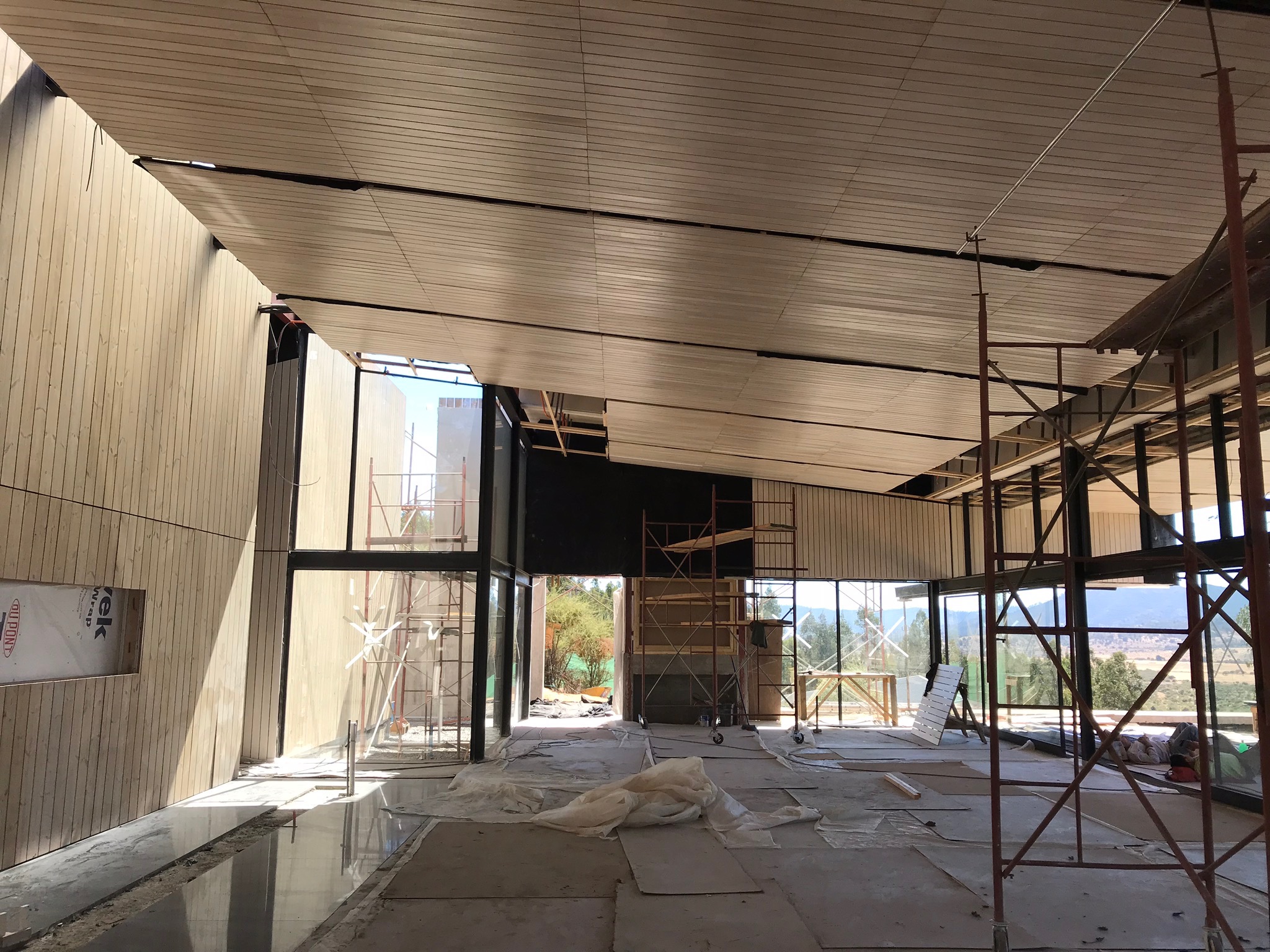 This project has been a long time coming. Although we never imagined we would need it when we first started out 20 years ago, we're excited about what this building means for our family and its future on our nearly 100-year-old farm. We hope the new tasting room creates a sense of place that marries the past and present. We want it to be welcoming for first-timers to Chile, and for it to beckon those of you who have been before to come back. We sincerely hope you will join us here in 2019. We may even be able to offer you a place to stay… More on that later!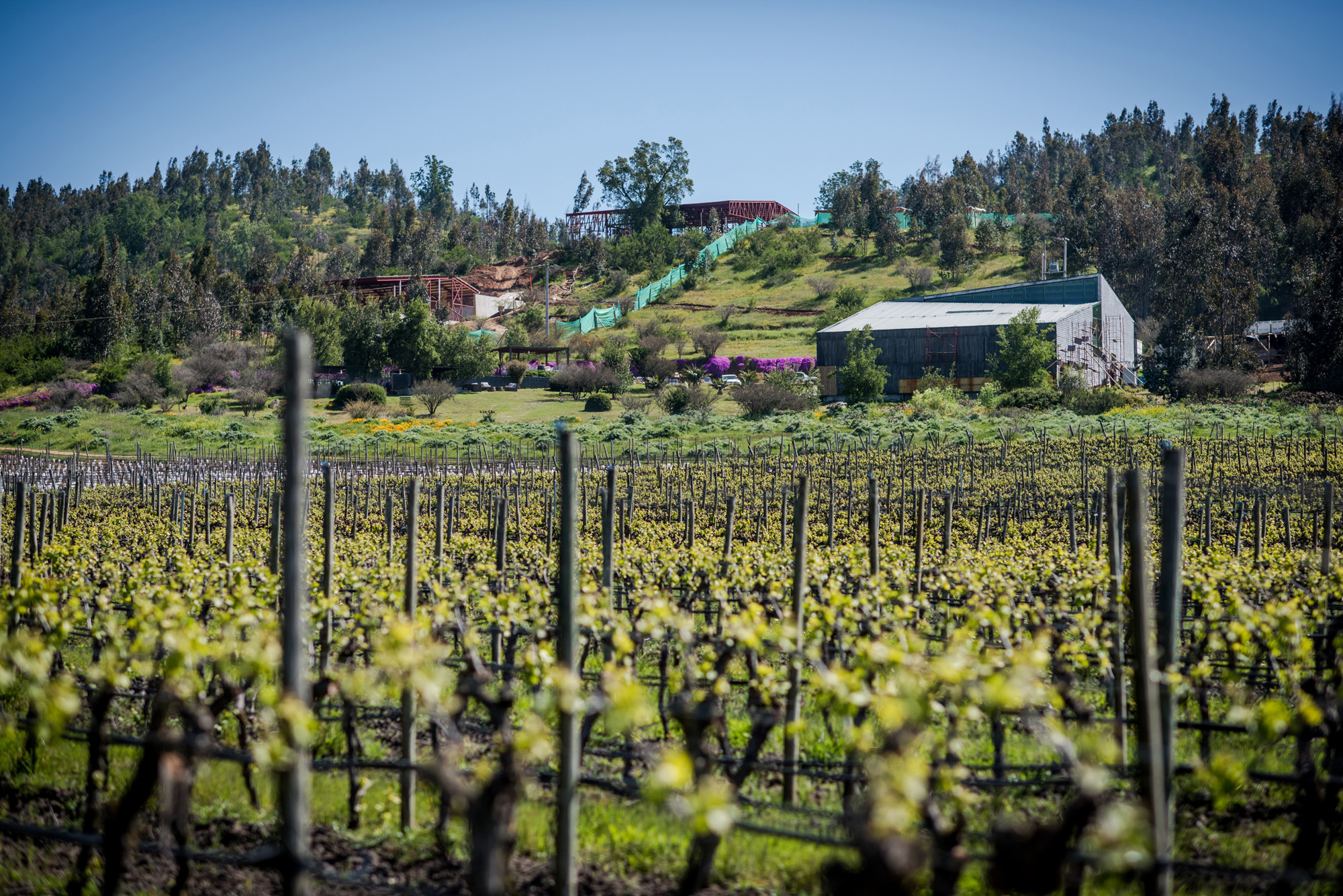 Nearly 16 years ago I was introduced to Byron Kosuge by mutual friends. At the time, he had been quietly making a name for himself in the wine world for more than a decade. I was drawn to his soft-spoken, humble personality and sensed the depth of his wine knowledge. After a few subsequent conversations we got to know him better and began to understand just how well-respected he was. (Byron reminded us of the famous ad campaign by E.F. Hutton: When E.F. Hutton talks, people listen.)
In 2002 we approached Byron about working with us. (Truth be told, I kind-of stalked him. With lots of old Chilean maps.) Knowing he could easily find wineries in his own Napa backyard, I tried to appeal to his sense of adventure and the "psychic" value of expanding his winemaking career on another continent. I went to a seminar Byron led at the World of Pinot Noir and introduced myself afterwards. Dad and I then further sought Byron out after a Wine Chemistry 101 class at University California at Davis. The class went so far over our heads that 30 minutes into it Dad (who has a Harvard Executive MBA and worked in banking for 40 years) wrote me a note in the margin of his starkly blank legal pad: "Must hire someone to do this!" We've never looked back.
Below Byron talks about his experiences working with us, his perspective on Californian and Chilean wines, and where he sees Kingston Family Vineyards in the future.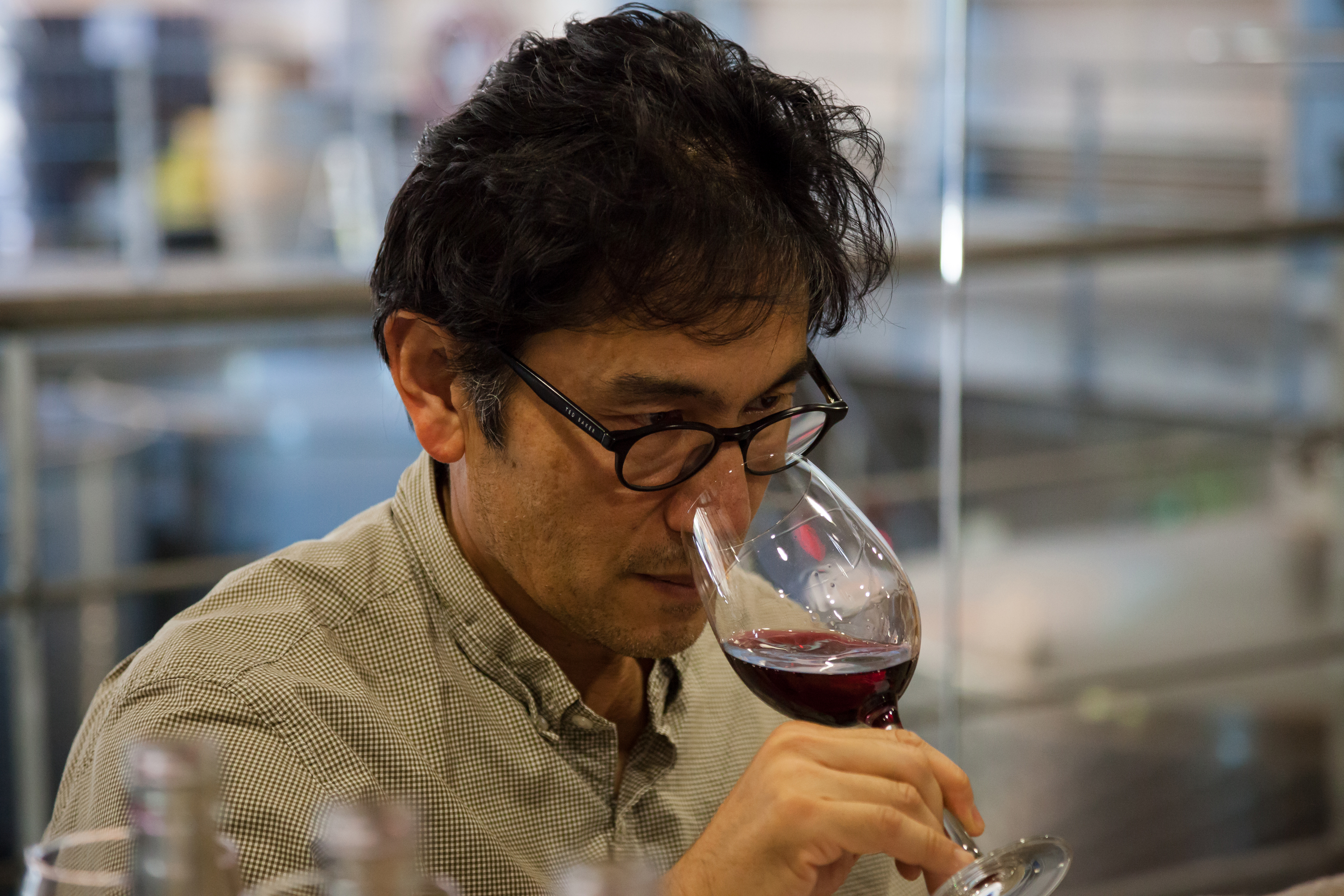 How did you first get involved with winemaking?
I started my wine career as a hobbyist. Not making the stuff, but as an enthusiastic student/consumer. I was pretty young to have an interest in fine wine, in fact I first got interested in wine before I turned 21. Like most, I first learned about European wines, and managed to taste my way through quite a few of the most famous wine regions of France and Germany. I devotedly read the Alexis Lichine Encyclopedia of Wine and the Hugh Johnson Wine Atlas.
But things really got going when I got a job in a restaurant while going to college at UC Davis, and met a few like-minded folks. This was when the notion of a wine-centric restaurant was pretty new. I majored in English Literature at first but later found wine and switched my degree. I bounced back and forth between wine and literature for a couple of years, and even took a year away from working in a winery to go for a Masters in American Literature at the University of Washington before deciding that enough was enough; I was going to focus on wine exclusively. By this time I was 27 years old and felt like I needed to apply myself towards something resembling a career.
How did you decide to embark on a winemaking adventure in Chile?
I had just left a full-time job at Saintsbury, where I had worked for many years, and was looking to do multiple winemaking projects, including something in the Southern Hemisphere. I figured that would be a good way to work abroad without interfering with my responsibilities back home in California. My initial interest was New Zealand, as I have friends there and had visited twice in the late nineties/early 2000s.
Around the same time I met Courtney and Michael [Kingston], liked them, and on the advice of friends Ann Kraemer and Ken Bernards — both of whom knew Courtney — decided to look into it a bit more. One thing led to another, and here I am 15 years later.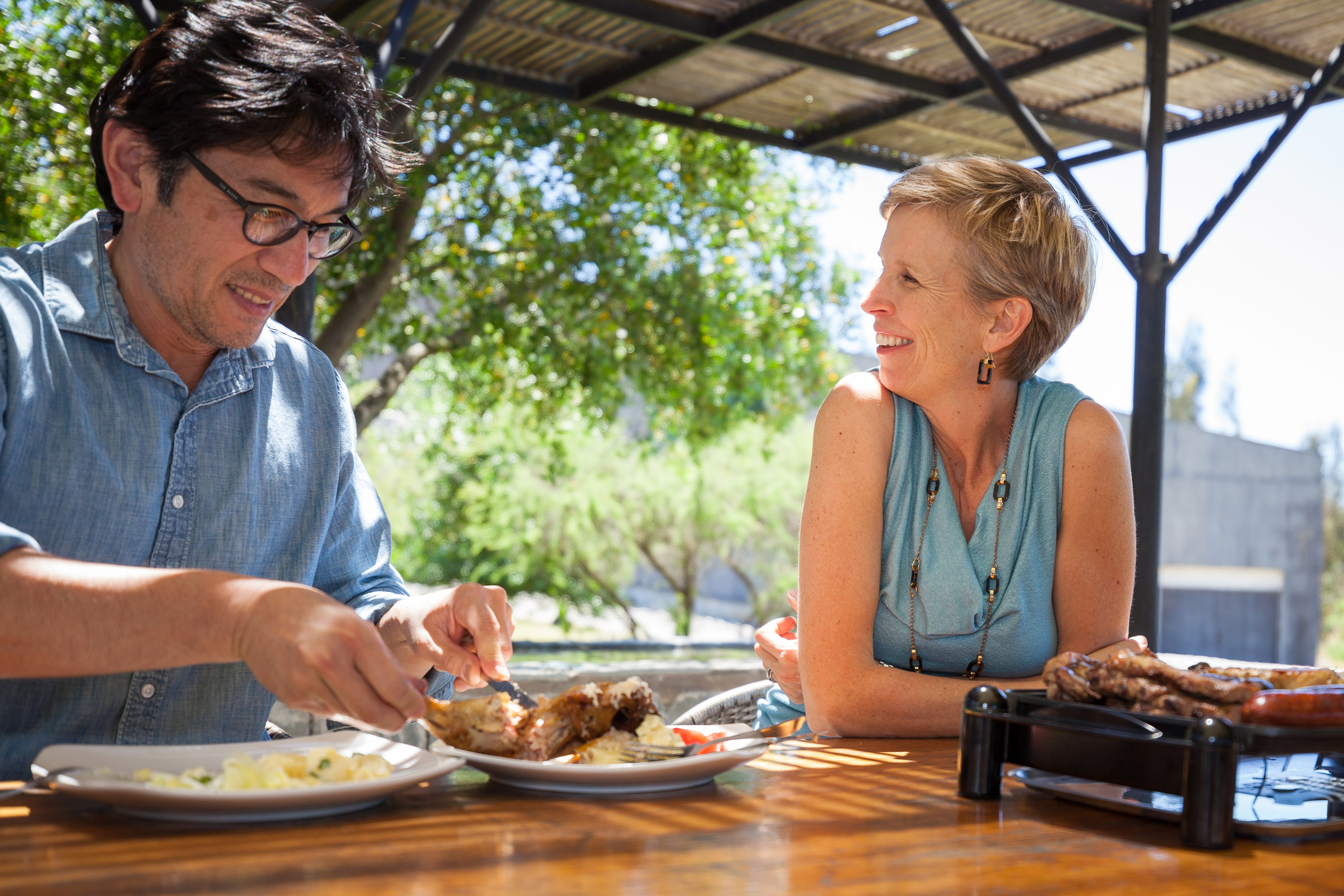 Byron and Courtney hard at work taste-testing a new summer asado for our guests on the terraza.
After more than 15 years and countless overnight flights to Chile, why do you still do it?
When I started with Kingston Family, I didn't have a sense of how long I would continue with it. Often, with consulting work, there is a life span associated with a project and at some point I feel like my involvement is no longer necessary. Sometimes that's within a couple of years, other times it can be four or five years. So I suppose I thought it might run five or six years.
But my role at Kingston was more than just an advisor. In the beginning, we were working in a rented corner of someone else's winery and I was driving over late at night to do punchdowns. It was a fun adventure and I felt a great responsibility for it. But since I don't live down there we all realized that we had to get people in place in Casablanca who would steer the ship, so to speak.
When we built our own winery in 2006, this became even more important. Today, we have a talented winemaker in Amael and an excellent staff both on the production and sales side, and I am much more an advisor and consultant. I could step back and the ship would continue to sail happily along. But I still feel a sense of responsibility and ownership of the Kingston Family wines, and I am enjoying this stage of what we've built together over the past fifteen years. The Kingstons have become good friends and it's always a pleasure to work with your friends.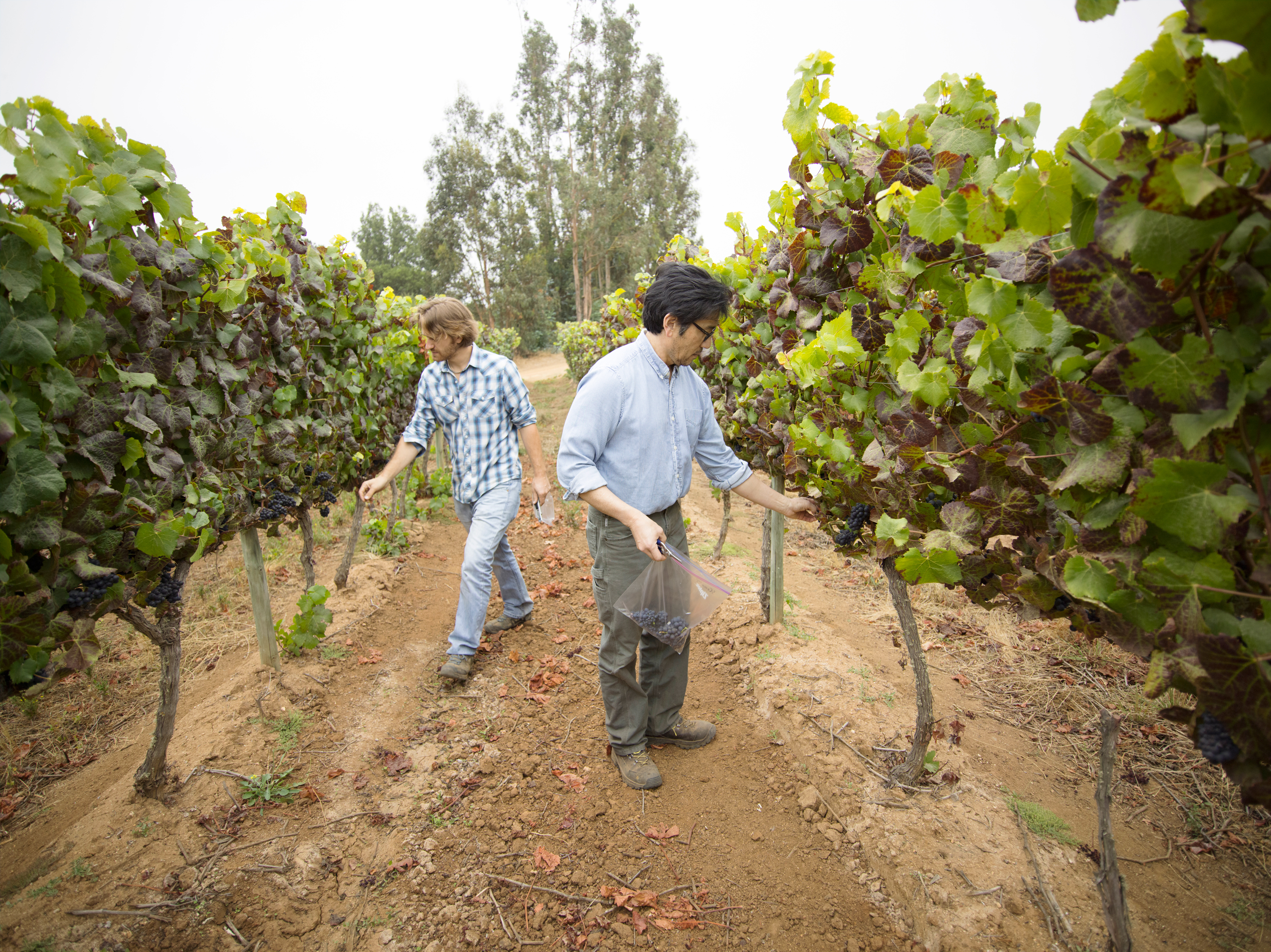 What do you see as the similarities and differences between California and Chile, and the wines these regions produce?
That's the kernel of my interest in making wine down there and has been from the beginning. There are numerous similarities in geography and climate. Chile is a mirror image of California in terms of latitude and geological history (both are defined by their proximity to the intersection of tectonic plates, and the mountains were formed in similar ways. Lots of earthquakes, too.) Also, the climate in both places is largely defined by the Pacific Ocean. The cold water currents are the same as — but a mirror image of — those in the northern Pacific.
These similarities led me to believe that the wines would taste the same. But they could not be more different. So clearly there is more going on than just soil and climate when it comes to defining the flavors in the wines.
This, by the way, also shows up in some of the fruits and vegetables, which taste different in South America. My then three-year-old daughter Audrey loved the bananas when I took her to Chile 15 years ago, and claimed that they were different, and better, than the bananas back home.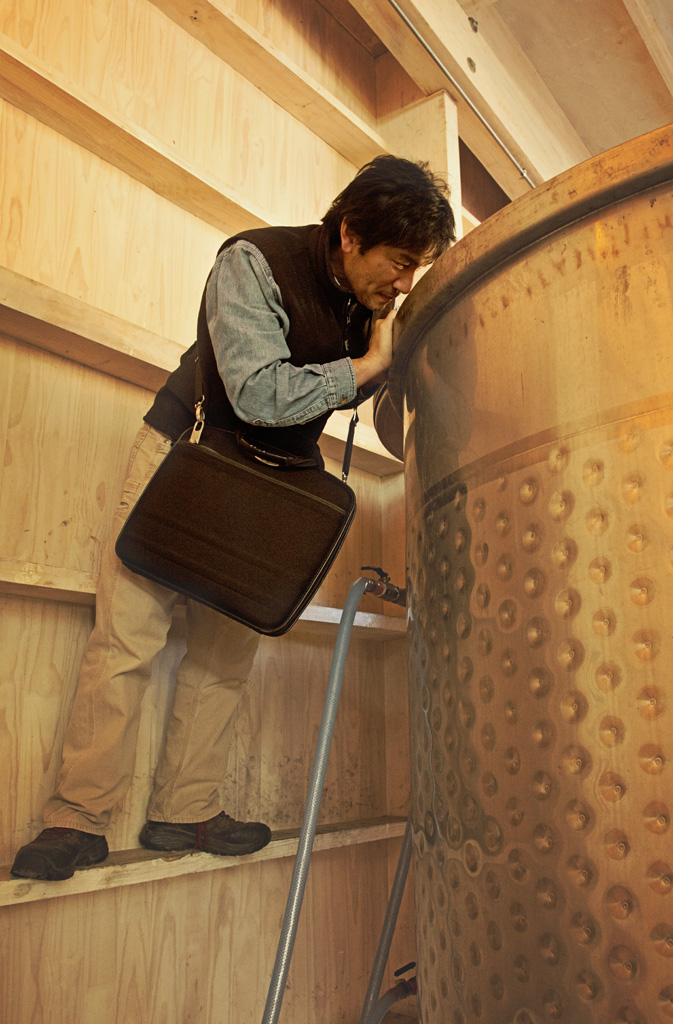 You make and sell your own B. Kosuge Wines. Tell us a little about them.
I started making a little wine of my own shortly after I began working for the Kingstons. It was, and continues to be, more of a psychological and creative outlet than a money making endeavor, and with it I get to do all the things that I would not necessarily be able to do with my clients' wines. I make several different Pinot Noirs, a little Chardonnay and a Gamay Noir (the grape of Beaujolais). I've been really interested the last ten years or so in exploring what you might call "New Traditionalism" in California winemaking and B. Kosuge Wines allows me to do that on my own dime.
What is your favorite memory of a visit to the Farm?
There have been a great many pleasant memories, and I can't really recall one that stands out above the others, but there is one story that I find myself telling repeatedly: One of my favorite things about being on the Farm is the evening pisco at the house. At the end of the day, we will adjourn to the veranda or the living room and enjoy a little happy hour, which typically consists of a pisco sour, salted peanuts, quesillo (a soft farmhouse cheese that is made at the house), pebre (a very typical Chilean relish somewhat reminiscent of pico de gallo, that goes on pretty much everything) and some crackers. The pisco sour is sort of the official cocktail of Chile (and Peru). Despite our collective foodie tendencies, the pisco sour of choice at the casa comes out of a bottle—Campanario Sour, which you can get at any grocery store. We stick it in the freezer so it turns into a slushie. It's delicious with salted peanuts.
Amael, David Gates (our vineyard consultant from Ridge Vineyards), and Byron enjoy happy hour with the fellows on the Kingstons' veranda.
If you had a crystal ball, where would you predict Kingston Family Vineyards will be ten years down the road?
If you'd asked me the same question ten years ago I would never have guessed that Kingston Family Vineyards would be leveraging the winery in Chile to generate a mailing list and wine club here in the US, but that is in fact what has happened. Hosting private tastings and tours at the winery has turned the project into a great success. It's a lot of work—a LOT—but it has worked beyond my wildest expectations. So, other than being confident that we'll keep pushing forward as best we can, I don't really know where the next breakthrough will come from.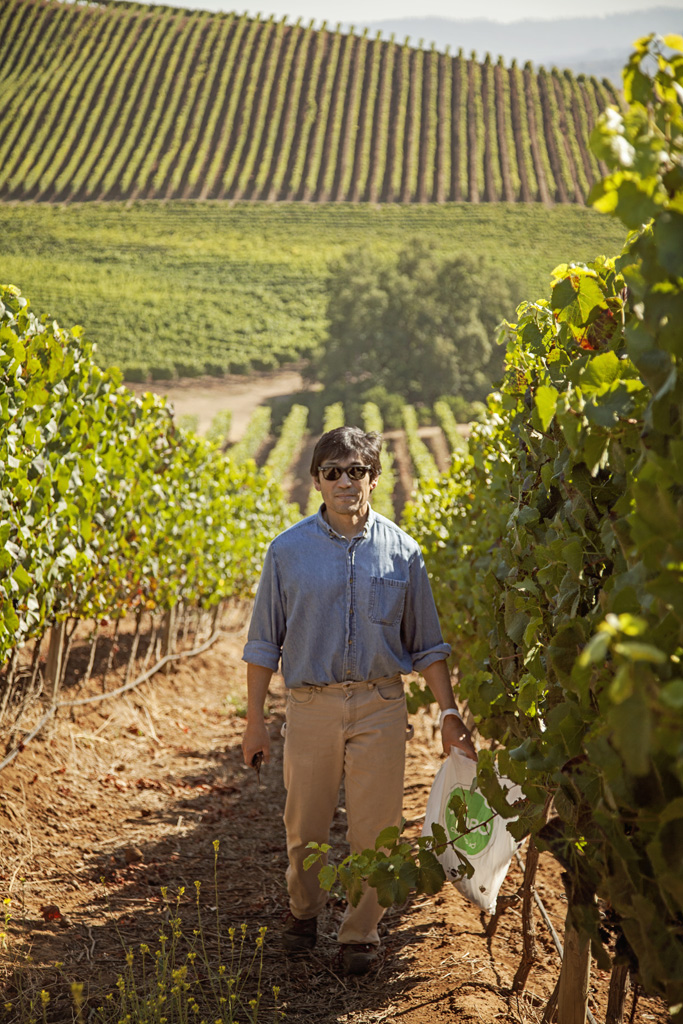 In terms of winemaking and grape growing, the future is a bit more clear. We're well down the path towards organic farming which is exciting and which I think is necessary for the health of the Farm over the long haul. With winemaking, we've figured out enough now that I feel confident that the wines will continue to get better. We've gotten to the point where many of the vines are 20 years old, which is huge. There really is no substitute for mature vines.
What is your favorite bottle of wine to take to a dinner party?
I like to experiment a bit when it comes to sharing a bottle with others, and it depends upon the kind of dinner party and who the other guests are. My default would be Cru Beaujolais, which is versatile with food, not terribly expensive and which I love to drink any time. But many, if not most times, I'll look through my cellar or go to a shop and browse around until I find something interesting. Often it's something I have not had before, although I am careful to choose a wine that I am reasonably sure will be good, or that is recommended by someone I trust. There are a great many interesting wines to try and it's fun to share discovery with others.

Wait so...how did you end up here? a visitor asked as I wrapped up the intro section of my tour at Kingston Family Vineyards. It's a fair question, and one I am asked almost daily. Guests are often surprised to be greeted (with our signature welcome glass of Rosé!) by a New York-born, Chicago-raised 22-year-old when they step foot onto a Chilean vineyard. The answer is that, after spotting a random Facebook post in a university job board that I rarely check, I stumbled upon a unique opportunity: the Kingston Family Vineyards fellowship. For the past three years, Kingston Family Vineyards has offered recent college graduates the chance to move to Chile to lead tours with the hospitality team, engage with a new culture, and throw ourselves into the day-to-day operations of a small, binational family business in the Casablanca Valley. This year, Taylor Myers and Aubree Andres, recent Princeton graduates from Florida and Boston, respectively, and I moved to Chile in September to get to work at the winery.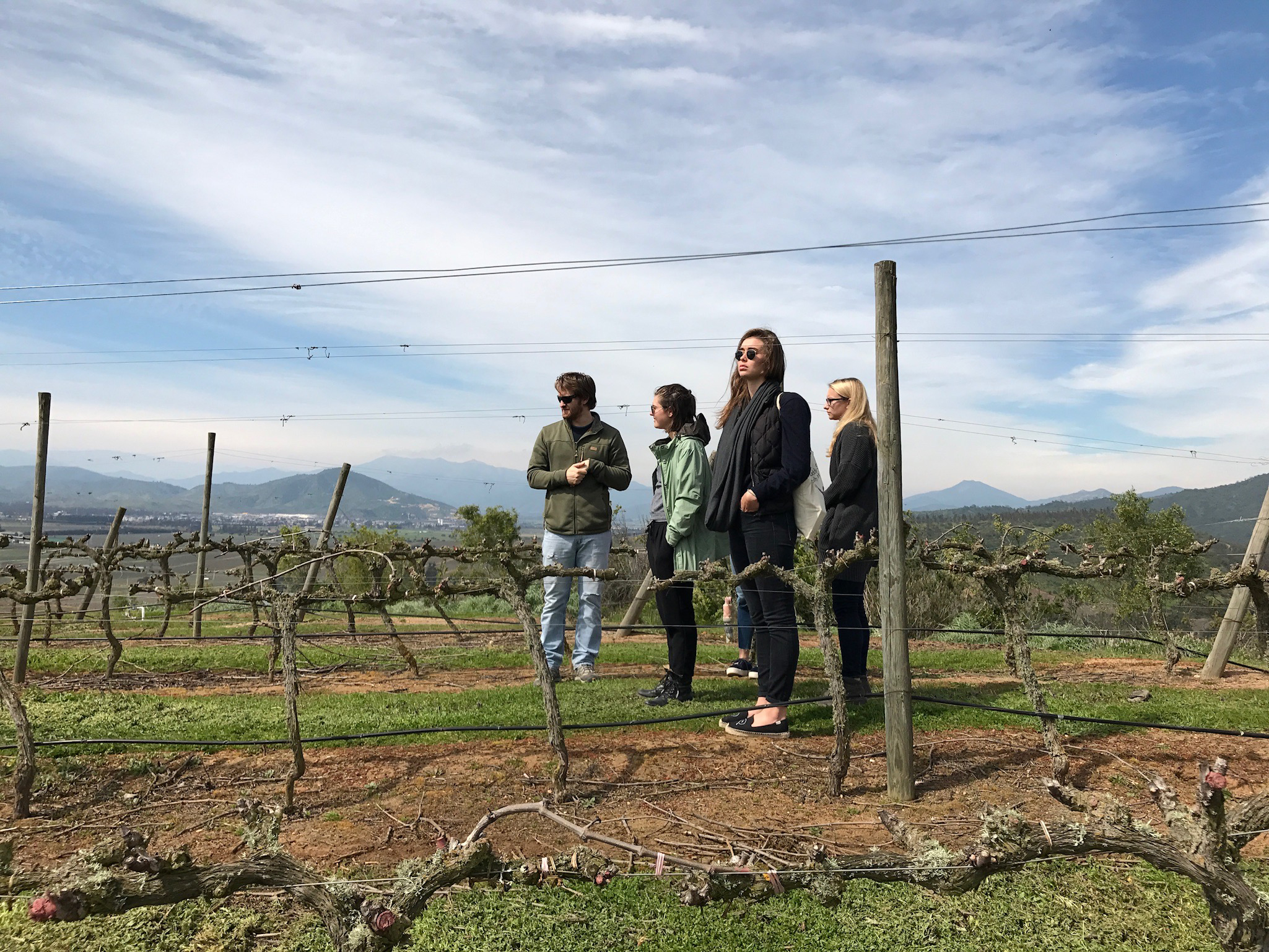 A History Lesson
In the spring of 2014, as she was preparing to graduate from Princeton with a B.A. in History, Blaire Bloxom spotted an ad that caught her eye in the Princeton alumni magazine. She noted the name "Kingston Family Vineyards" and decided to reach out to the Kingstons to inquire about a job on their farm. Initially, the family discussed the possibility, but decided a young college graduate wasn't in the cards for that year. But Blaire persisted. A year later, as she was sharpening her Spanish working in Ecuador, she reached out to the Kingstons again. This time, they invited her to come down to Chile to work on the farm for a year. And thus Blaire launched an exciting precedent! In the couple of years since Blaire came down to Chile, the family has worked to develop the recent graduate roles, bringing on Constanza Beytia as a Chilean mentor. Jen Kingston, in charge of Human Resources and fellowship training, says that, "the Kingston family is so thankful for the ways in which the fellows have consistently brought new ideas and great energy to our developing business."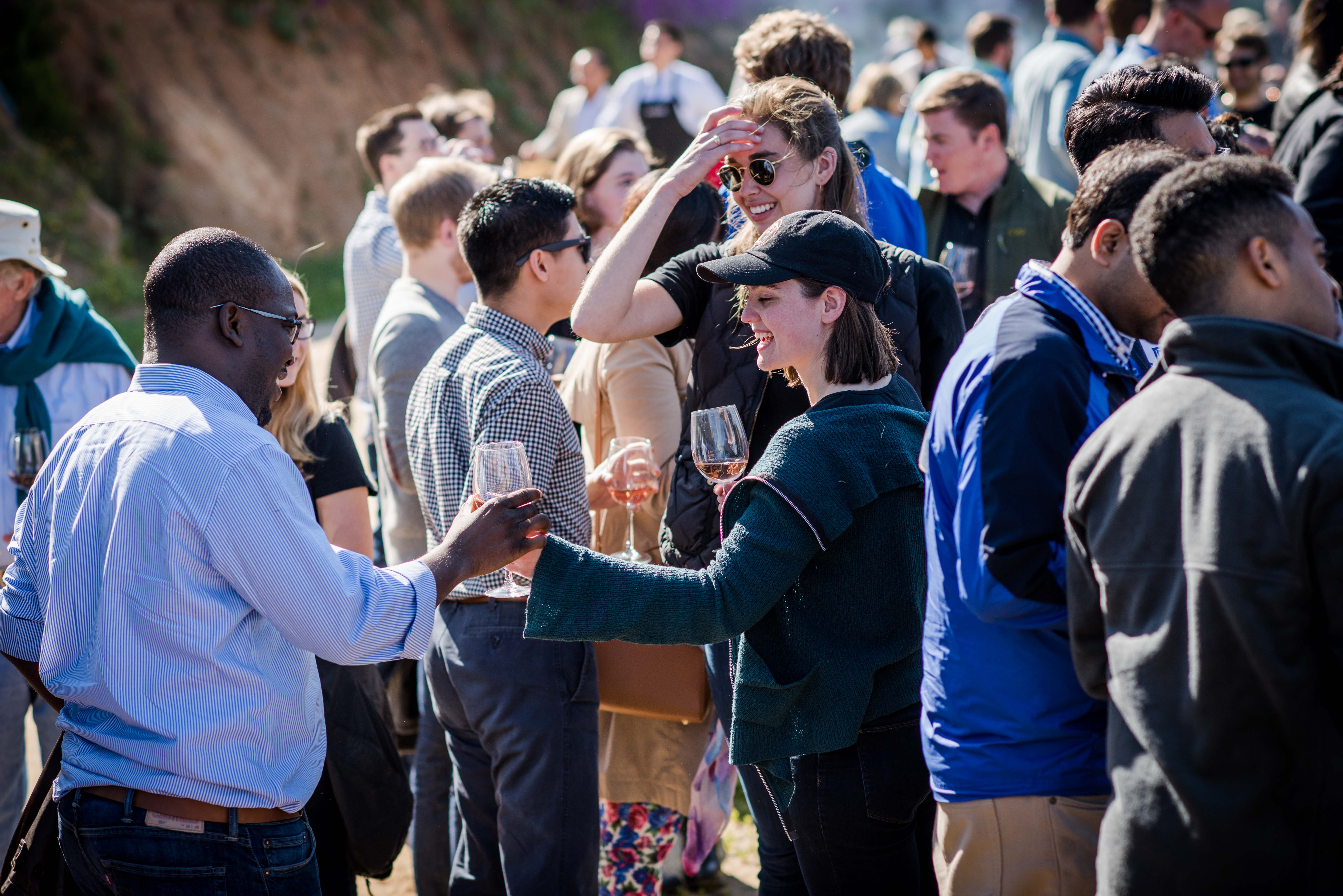 A Day in the Life
There is no such thing as a "typical" day at Kingston Family Vineyards. The core of a fellow's job is leading tours and tastings for guests. On busy days, fellows lead as many as three tours each. I've had days where I've greeted a group of Americans for a 10 AM tour, taken a quick lunch break, then spent the rest of the afternoon walking bike tour groups around the cellar or pouring tastings for newlyweds.
Even on days when our schedules are less packed with tours, we keep busy with tasks around the winery. With harvest, events, and big shipments to the US on the horizon, there are always opportunities to get our hands dirty. Hand-labeling bottles while blasting music in the barrel room is a regular pastime, and we help out with restocking our little on-site wine shop almost daily. Sometimes our tasks are less routine: one day last month, Aubree and I put on knee-high wader boots and got into the fountain to shovel out the leaf-filled water as part of spring cleaning! Other days we pile into the vineyard's white pickup truck for stick-shift driving lessons in the vines. ("A good skill for someone working on a farm," Michael Kingston, age 76, confirmed when I recounted our stick-shift escapades to him.) Working on a small team where everyone wears so many hats enables us to try out a range of jobs and apprentice with team members, from our winemaker Amael Orrego to our client partnerships manager Marco Vera.
We also have the opportunity to work on projects in other parts of the business that interest us. This allows us to learn about the inner workings of a small family vineyard beyond hospitality. For example, last year Douglas Guyett initiated a project on financial modeling, and Ben Culver worked with our agriculture team on organic farming. So far this year, Taylor, a chemistry major in college, has been learning from our part-time wine chemist in the lab. Meanwhile, Aubree has been spearheading recruitment for next year and putting her art minor to good use building sculptures out of used corks. Working with our marketing manager on projects like this very blog post has been a highlight for me.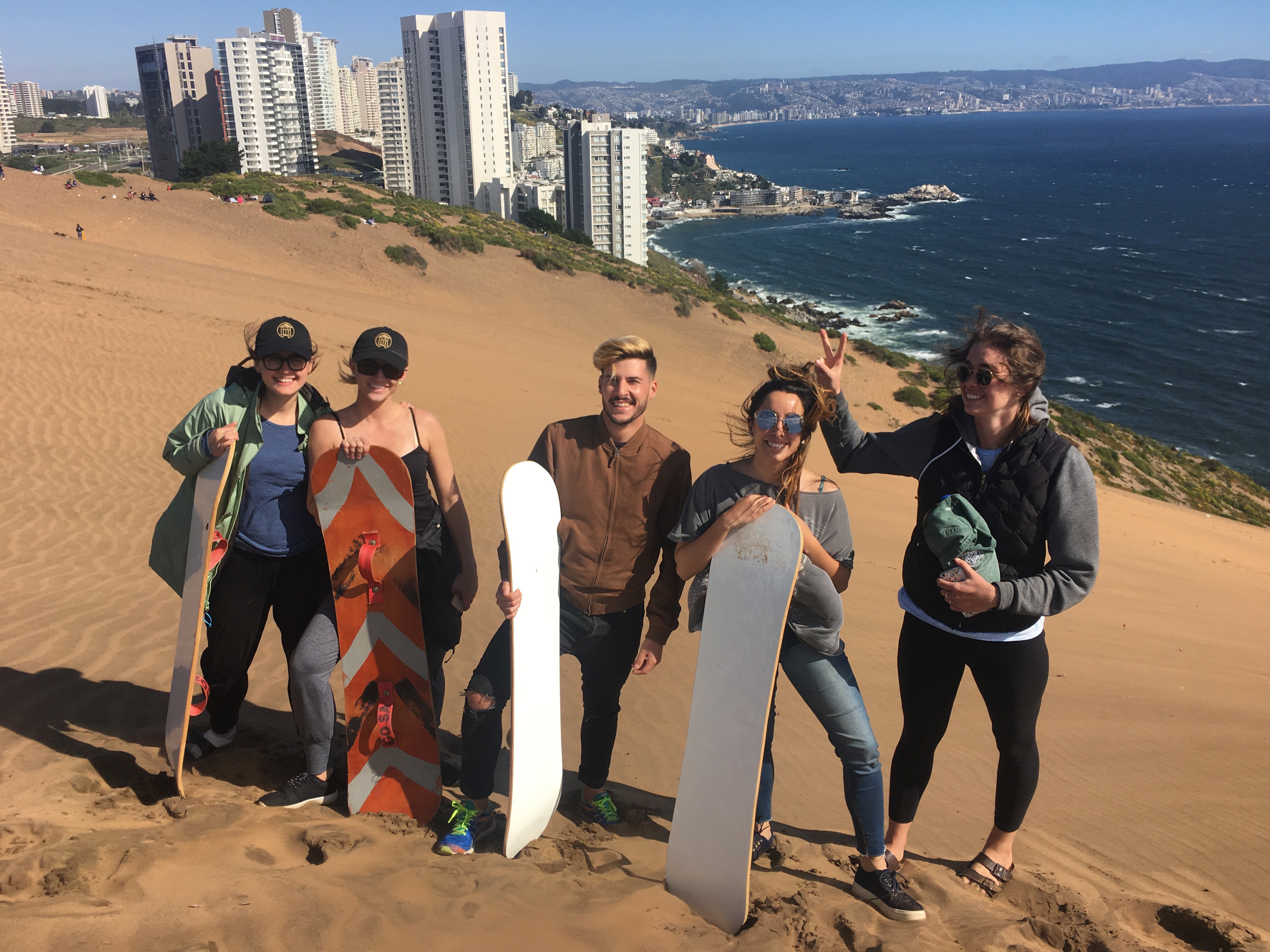 Life in Chile
After visitors learn about how on earth I ended up in Chile, they're often curious to know where we live, and what life is like for us here. The fellows share an apartment in Viña del Mar, a gem of a city on the ocean about forty minutes from the vineyard. Our building is full of Chilean families, and we are a short walk from the ocean and the lively local farmers market. We can practice our Spanish daily with everyone from our doormen to the attendants at the small museum across the street, and while we've had a couple of mishaps with the intricate network of local buses, for the most part we're figuring it out. It doesn't hurt that most of our Chilean team members live in Viña del Mar or nearby Valparaiso and are always willing to help. We carpool to the vineyard with them in the morning, too. Personally, I'm famous for sleeping in the car from the moment we hit the highway until we pull into the winery for our daily team breakfast in the kitchen.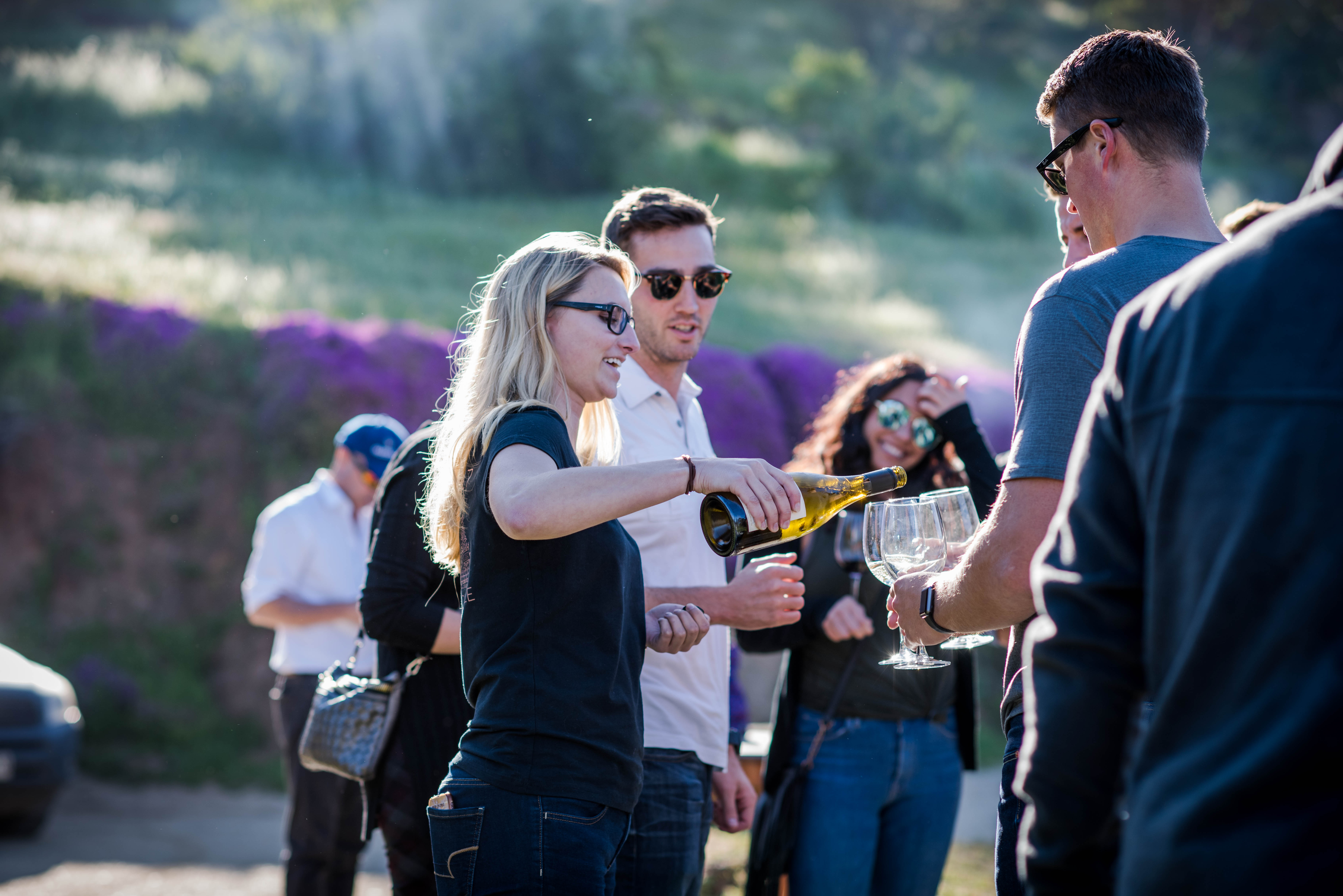 Sharing the Kingston Story
Fellows are daily stewards of the Kingston's family story on the Farm. I've been asked more than once if I am a member of the Kingston family, perhaps a great-great-great granddaughter of CJ Kingston or a cousin of Courtney Kingston. While the answer is no, I have been delighted to share the family's rich history on the Farm since arriving in early September. There are black and white photos of the family and farm everywhere in the winery, and Louise Kingston has been generous about sharing the stories of the photos and the generations of Kingstons pictured in them. The vineyard is just the latest chapter of the Kingston family's nearly 100-year story on their farm, and the fellowship opportunity, while only three years old, is an exciting addition to the constantly evolving and growing family business. Whether we're shoveling leaves, leading tours, or carefully placing the Kingston label on a new bottle of sparkling wine, we are grateful we ended up here.

We lived in a unique universe . . . There was a distinct bond between us because we were in it together. We were taught about school, work, animals, God, the Puritan ethic and baseball. And we seemed to miss out on bullies and hoods, dope peddlers and girls.
-CJ Kingston II describing growing up on the Farm

Times have changed a lot on our farm and in the surrounding Casablanca Valley since CJ Kingston settled there in 1918. Our family has passed along many stories and traditions over the years, but we get most of our perspective, history and understanding of the past from the third generation, which includes five siblings: CJ II (now deceased), Peter, Michael, Susan and Sally.
The Kingston children lived on the farm from birth until they turned 13, at which time they went to the United States to attend boarding school. Until that point they were homeschooled by their mother, Janet.
For this blog we've attempted to paint a picture of what life was like for them as children on the Farm, and in the US, in the 40s and 50s. We sent questions to each of the siblings, all of whom currently live in the States, with the exception of Sally who still resides on the Farm and in Santiago with her husband, Enrique. We also had an additional phone conversation with Michael, to clarify a few points.
We hope it provides you with a glimpse of what it was like for our family growing up in Casablanca, Chile.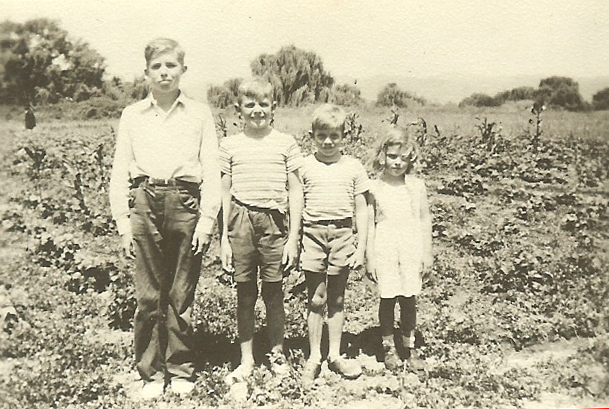 What did you do when you weren't homeschooling?
Michael: School was held in the morning and generally was over by lunch time, including homework. Mother was the teacher, she was pretty strict, and she followed a detailed course schedule laid out by Calvert, a correspondence school system from Baltimore, MD. The afternoons were free and we used to ride bicycles (mine was black, Peter's was red, and they had no gears) around the farm or ride horseback with Manuel Vega who was in charge of the animals on the farm: milking herd, beef herd, calves, bulls, oxen, etc. Peter's favorite horse was named Alazan de Paso (after which we named our flagship Pinot Noir), and my favorite horse was called Churin. We used Chilean saddles, which were lined with lambswool, making them very soft.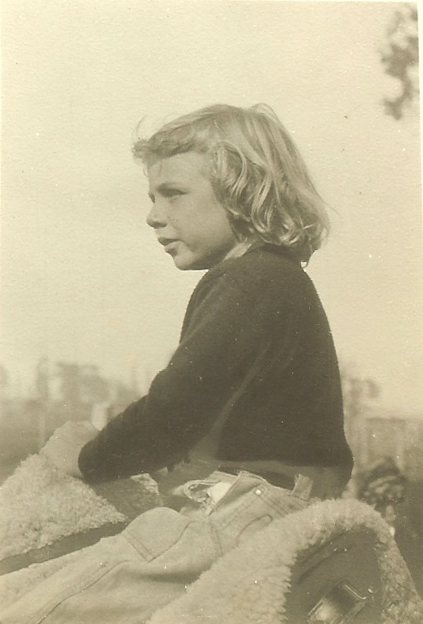 There was no heat in the house, so we would do our homework around the fireplace. Even now, we still have hot water bottles hanging on the door behind the kitchen. We listened to baseball games broadcast by the Armed Forces Radio Service after the news report, and we all had favorite teams. I was a Cleveland Indians fan because my brothers had the top two teams: Peter had the White Sox and CJ was a Red Sox fan. Every day, we would take the results and convert them into team standings.
Did you help out on the farm a lot? What was that like?
Susan: Yes, I was very busy. I'd get up at 4:45AM to help Manuel Vega bring the cows into the lechería and then stay and help milk them. I'd go home at 8:30 to shower and start school.
Peter: I had a bunch of rabbits. We all had our own cow which Gramps gave us after we learned to milk them.
Michael: My last few years on the farm before high school in the US included a focus on the pig business which Peter, CJ and I started with two sows and a boar, but which quickly grew to approximately 1,000 animals! Each sow would produce 12 to 14 piglets every time with approximately 1.5 litters per year. I put myself through a year of Princeton thanks to the pigs.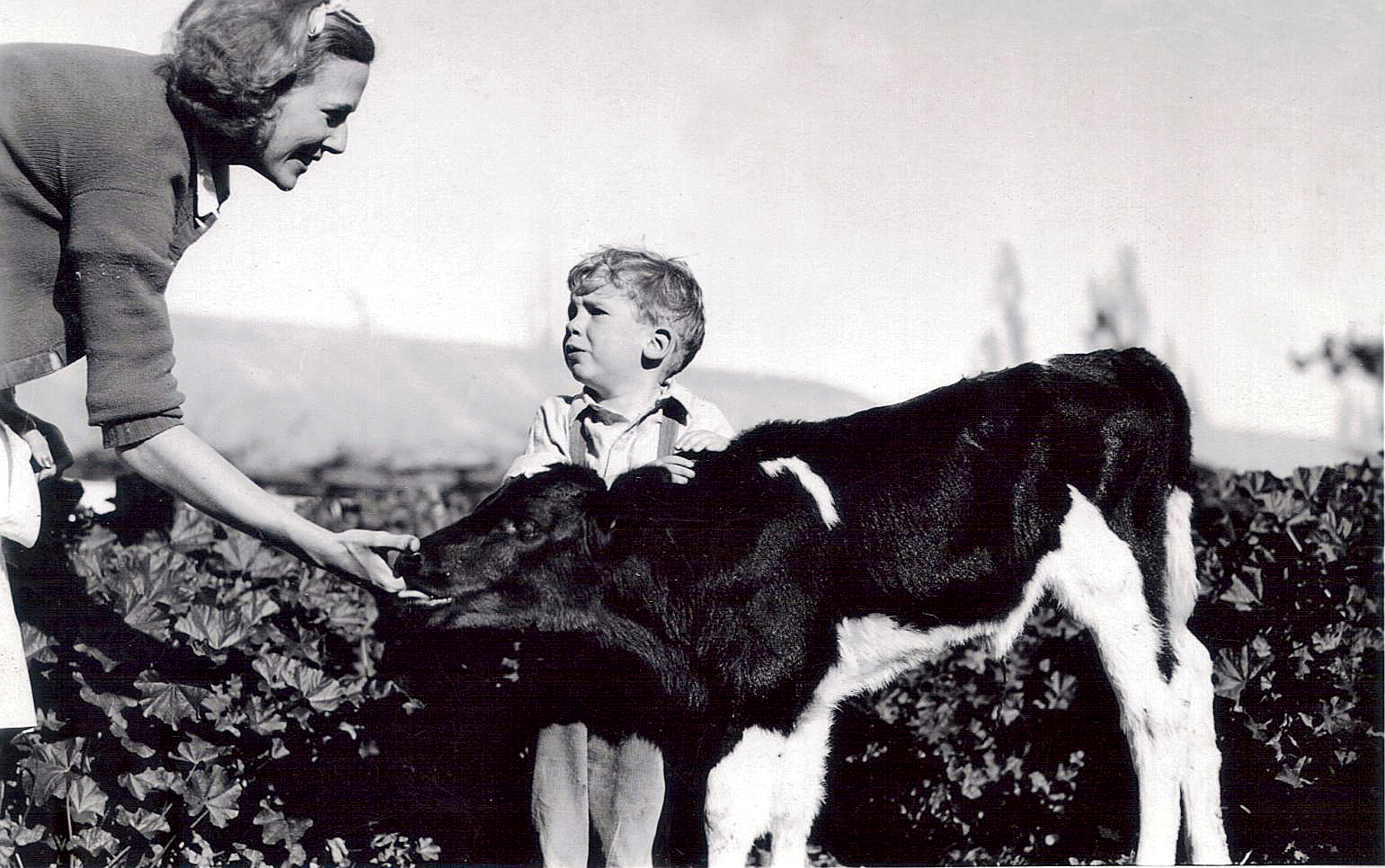 Who were your friends in the neighborhood?
Susan: We didn't really have a neighborhood; we were out in the country. I had one friend from Australia, about two hours away, and two more in the hills above Valparaiso about an hour away that I'd see a couple of times a year. Dominga, our maid, would bring her niece, Beña, to visit and we'd have a great time together.
Sally: My friends were Nancy and Eliana, Manuel Vega's daughters.
Peter: My only English-speaking friend was Pat Tracey, an American who lived two hours away – one valley over.
Michael: At the end of the day there were generally pick-up fútbol (soccer) matches with the kids from the families who lived and worked on the Farm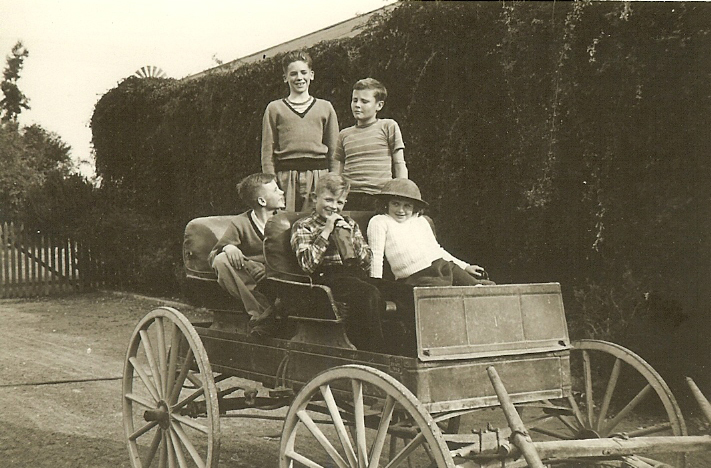 How is Casablanca today different than it was then?
Susan: Casablanca was less prosperous in the 50s and 60s. People walked or rode their bikes to town. Cars were scarce and considered a luxury. There were no supermarkets then, only small shops selling specific items. Houses were either grand (with surrounding acreage for horses, etc.) or shacks with no indoor plumbing. Today, Casablanca is a busy commercial center, with banks, supermarkets, restaurants, and more. Rental property is booming. People choose to live in Casablanca because they work in the valley's vineyards and wineries, restaurants, etc. In the 50s, farm work was the only work available, and landowners usually provided housing on the farms.
Michael: Casablanca always had dairy and beef cattle farms, and most people just passed through en route to Valparaiso or Santiago. When we were growing up, the highway was a narrow two-lane road with two winding "cuestas" or mountain passes—almost a five hour drive between the two cities. It's now a four-lane highway with two tunnels, and takes just over an hour. The smaller trucks have been replaced by 18-wheelers and many of the farms have been converted into vineyards as Casablanca has become known for producing premium wines, especially Pinot Noir, Chardonnay, Sauvignon Blanc and Syrah.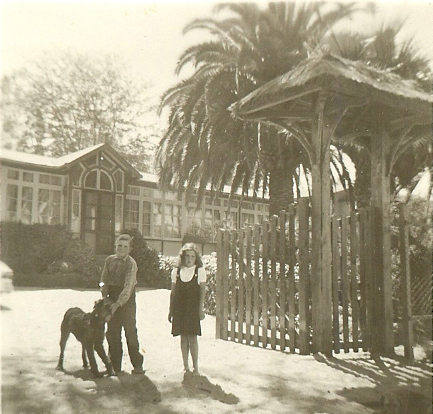 What were the celebrations of the 18 de Septiembre (Chile's biggest national holiday) like in Casablanca then? Did you attend them?
Peter: We usually went to the rodeo in Casablanca. Dad always loaned them our biggest steers which gave the horses a hard time.
Michael: The larger animals had less chance of being injured and generally would provide the greatest challenge to the vaqueros.
Susan: I dreamt I was going to be the best female rodeo rider, so I paid very close attention to the way the vaqueros handled the animals. Once the rodeo was over, the party started. That's when I'd go home.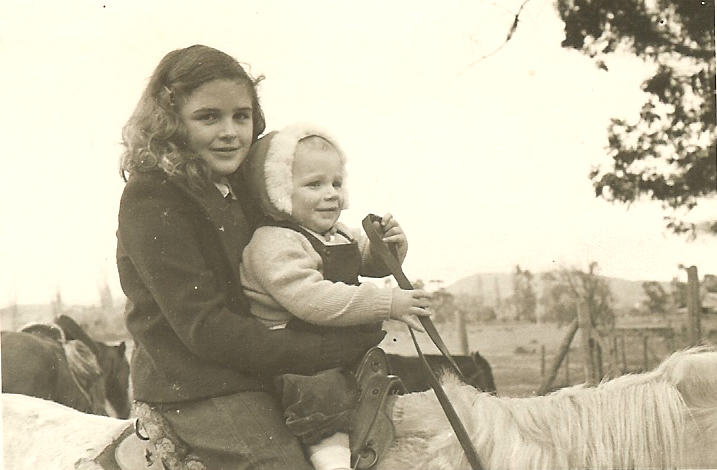 Did you take trips outside of Casablanca often? If so, where did you go?
Sally: Often, no. We went on some Sundays to Algarrobo and Viña del Mar to see Grandma and Gramps when they were around.
Susan: When Grandpa and Grandma were living in Viña del Mar, we'd have long [Sunday] lunches there. Sally and I would escape to Grandma's room and try on all her jewelry and makeup. About once a month we'd go to Santiago. It took four hours by car on a good day (assuming a truck hadn't broken down on one of the cuestas and blocked all traffic). Needless to say, I'd always try to avoid these trips. Once or twice a year we'd be invited to the Bowers for lunch. They lived north of Limache. [Which was about a two hour drive then.]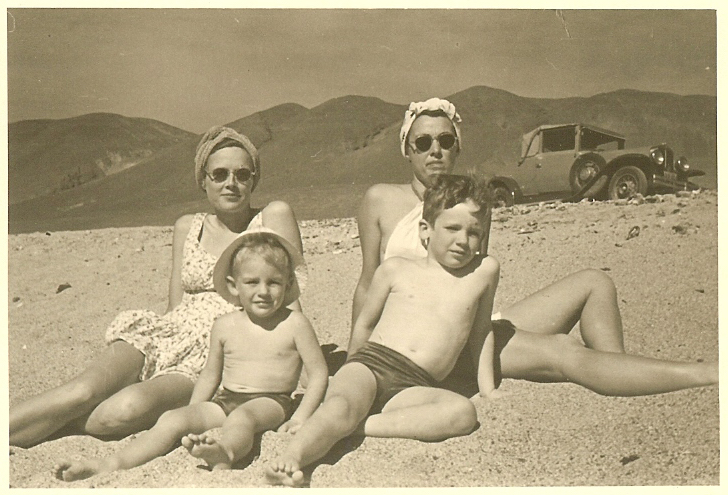 After graduating from college, did you think of moving back to Chile?
Michael: Yes, I did consider going back to Chile but in 1962 the country's economy was in terrible shape and would only get worse as it moved into the Allende years. The opportunities working for a US company in Latin America on regional economic development issues proved to be more compelling at the time.
Peter: I went back to Chile to help Grandma and Grandpa who had helped me with college tuition. After a year and a half, I had to go to the US to beat the draft and to go into the US Navy [as an officer, instead of enlisting] for 4 ½ years.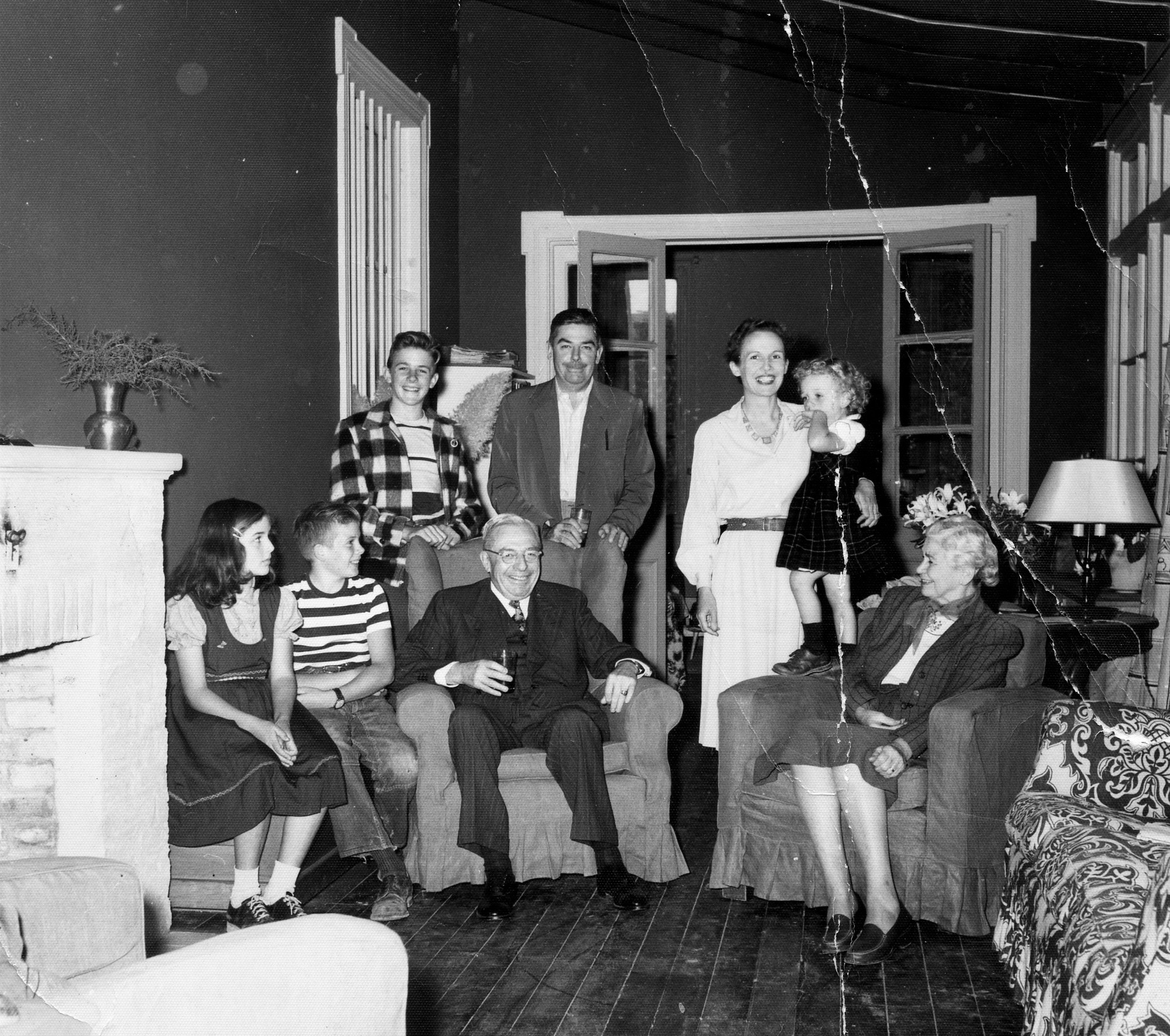 Are there still a lot of the same people/families living in Casablanca as when you grew up there or has it changed a lot?
Michael: Yes, many families who used to live on the farm now live in Casablanca or other smaller communities in the valley. It is not unusual to run into them at the grocery store.
Peter: Those who manage other farms in the valley are still around or have let the next generation take over. The biggest change is all of the vineyards which cover the valley.
Was it a shock to go live in the U.S. when you were 13 or were you really ready to go? Who did you stay with? Or did you go to a boarding school?
Susan: I was very homesick when we moved to the US. I spent idle moments plotting the best bus route back to Chile since I knew Mom wouldn't let me fly. I went to Cambridge High & Latin School in Cambridge for my junior and senior years of high school and adjusted when I got caught up in the college application process.
Peter: We all (CJ, Peter, and Michael) went to Holderness School where we lived from September to May. It was a small school (about 34 students in my class) and had some terrific teachers, especially Joe Abbey. We visited the Lenoxes (Mother's sister's family in NJ) at Thanksgiving and the Dwights (Father's elder sister's family in Ohio) at Christmas. We all got into student government and each became president of the school in our senior year.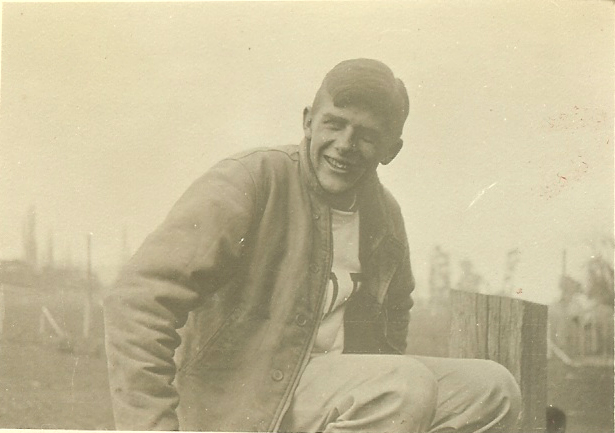 Had you been the U.S. much before that?
Michael: Early in World War II, Dad worked in Bolivia for the OSS, a CIA predecessor organization. During that period we lived in Antofagasta (Chile) because it was closer to Bolivia. The Germans were in Bolivia because they were interested in the metals available there to build military machinery. Dad had some mining connections dating back to my grandfather's mining interests in Bolivia so that worked as his cover while he spied on the Germans. But when Dad's OSS boss was poisoned, it became clear Dad's cover was also blown and that it was time to return to the States. That's when we went to live on Cape Cod with our grandparents (Mother's side). Then our parents purchased a home there as the war continued. Dad joined the Navy after that but was never shipped anywhere. We returned to the Farm as soon as the war was over.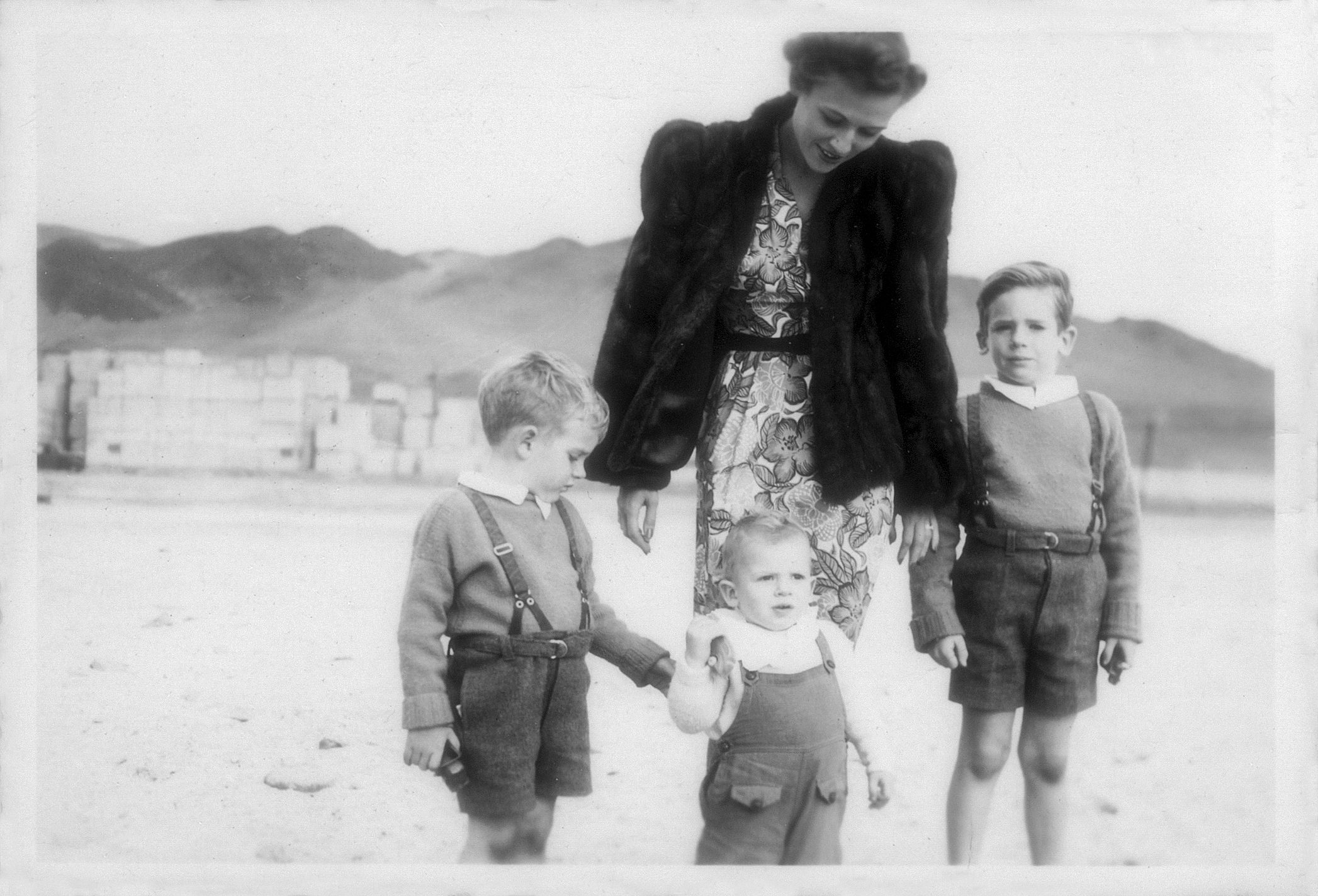 What surprised you about being in the U.S. versus Chile?
Michael: Life on the Farm and life in school in the US were very, very different, and I believe we all accepted those differences. Chile was the countryside, nature, animals, but also a relatively solitary life that required some inner resources and self-reliance. Holderness brought you together with other boys (no members of the opposite sex), so there was camaraderie, sports, as well as studies. So, they were very different worlds.
What did you miss the most about Casablanca when you were gone (apart from family)?
Susan: My horse, Manuel Vega, and riding with him.
Sally: I missed the Farm the most.

For most travelers to Chile, Santiago is both the starting and ending point. Whether you're heading to Patagonia, Atacama or - we hope - visiting us in the Casablanca Valley, you'll likely spend some time in Chile's dynamic capital city. Where you stay after a long international flight can make a big difference in your perception of the country, so we want to help you get your visit to Chile off to a good start.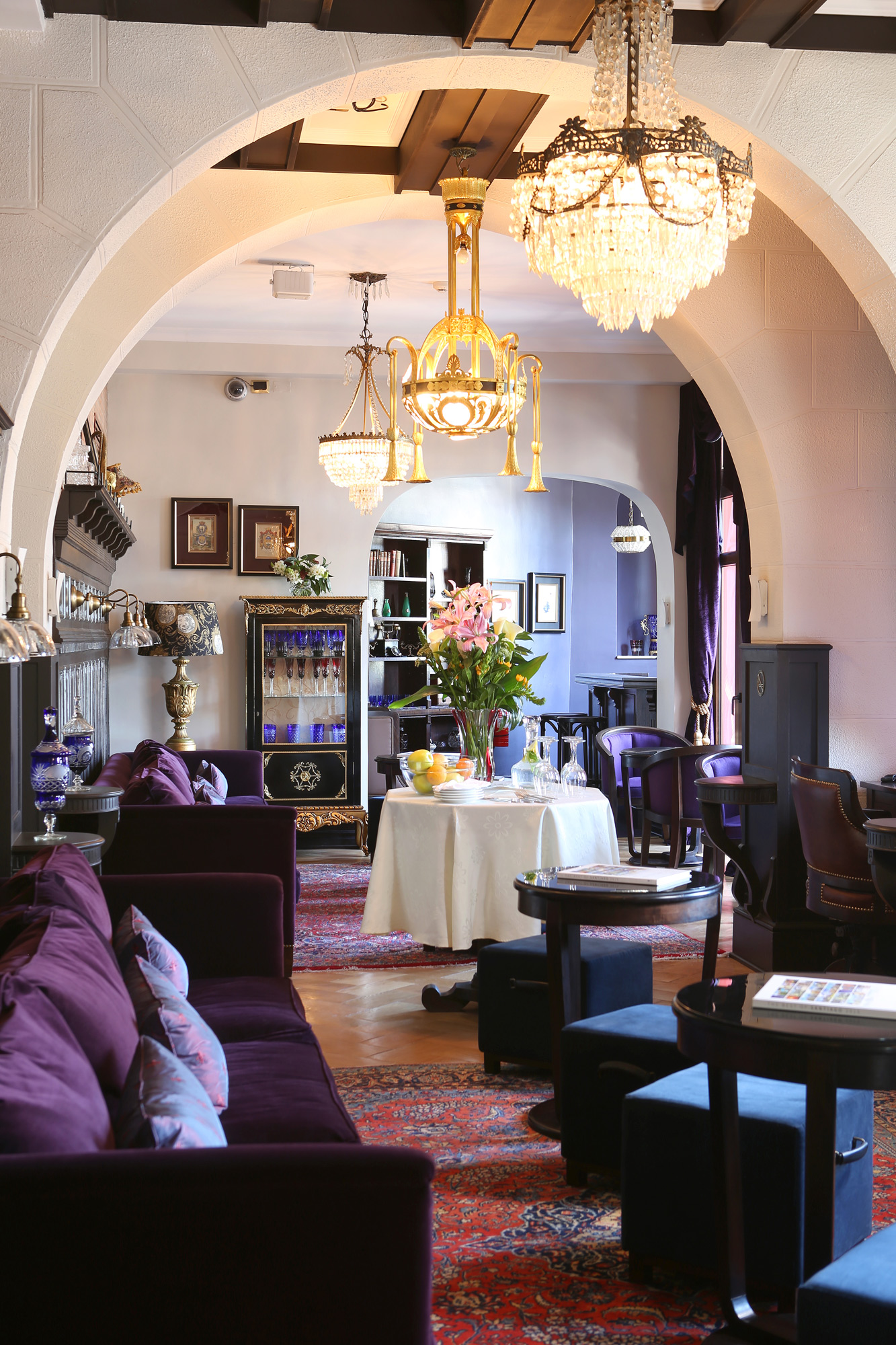 Our sense of the current hotel scene is that it's undergoing a subtle renaissance. It used to be that everyone we knew stayed in large international chain hotels for convenience. Lodging was basically utilitarian in nature, and there wasn't a lot of thought given to design or service. Over the past decade that has shifted. Now Santiago offers a number of great stylish boutique hotels and good service is an important part of the equation.
Whenever we write a post we try to incorporate our experiences, or those of our family members. We also try to ensure that we cover topics that reflect unique aspects of Chile's culture and history. This is a little difficult when it comes to lodging because we live nearby and don't frequently stay in Santiago hotels. Also, Chileans are subtle when it comes to touting their culture and history. Unlike a resort in Hawaii, for example, where you might find tiki-themed hotels with Asian-fusion fare served on palm fronds and spa treatments that leave you smelling like plumeria, Chileans are more refined. Their lodging offerings reflect this trait.
Below is our list of recommendations, based upon where we've stayed and where friends and extended family have reported are the best lodging options. When deciding where to stay we look at location and cleanliness first, then amenities, such as a pool (when traveling with the kids). We hope you find it helpful!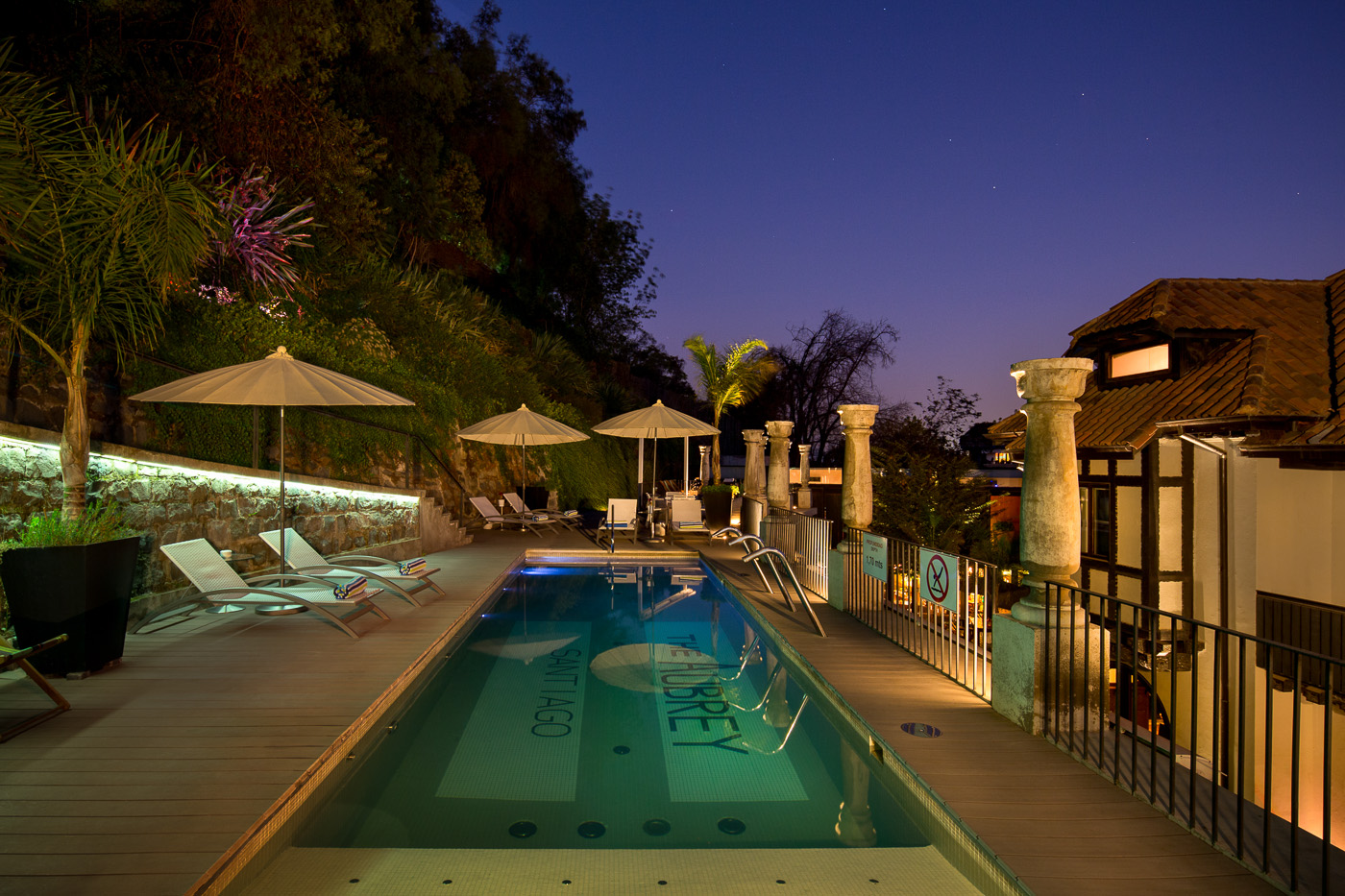 Lastarria
One of our current favorites is The Singular, a newer hotel located in a hip, up-and-coming part of town (the Lastarria neighborhood) near Parque Forestal, Bellas Artes and a great alley coffee shop called Colmado. It's classically styled and has all the modern amenities you need. We found the rooms to be generous, quiet and great for sleeping because of the hushed tones of the furnishings and the blackout shades. We also love the decor that mixes "old" and "new" Chile. The combined lobby/bar for example, contains modern furniture with antique framed art, traditional brass floor lamps and stocked bookshelves. It's cozy and inviting, yet sophisticated at the same time. They also have a spectacular sister hotel in Puerto Natales, in Patagonia, that was built in a restored mill.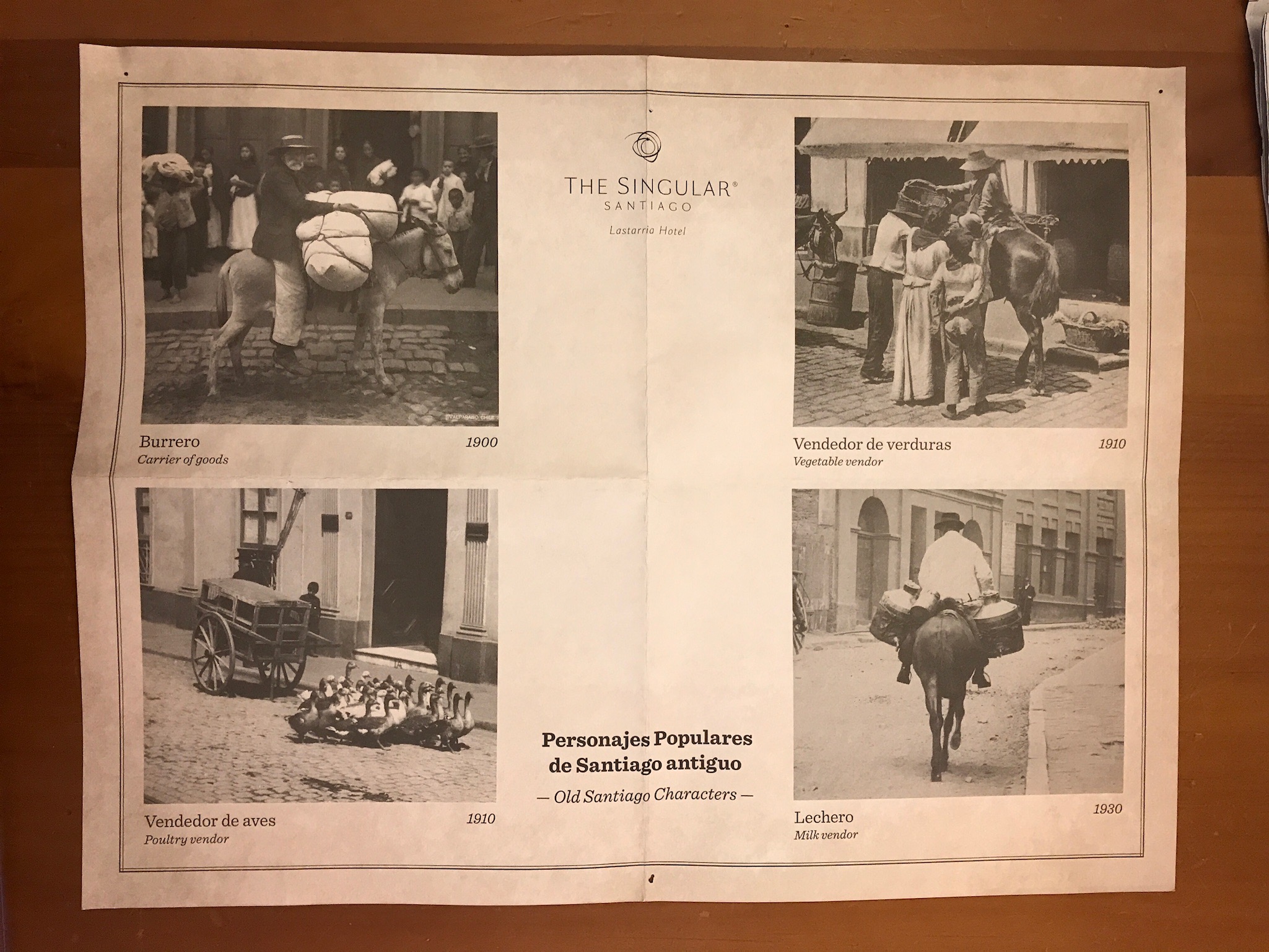 Another option is the Lastarria Boutique Hotel. Although we haven't actually stayed there, we mention it as an option because of its location near restaurants such as Bocanariz and La Moneda. In addition, a number of our friends have stayed the night, and give it rave reviews – especially the excellent service and the garden pool.
Bellavista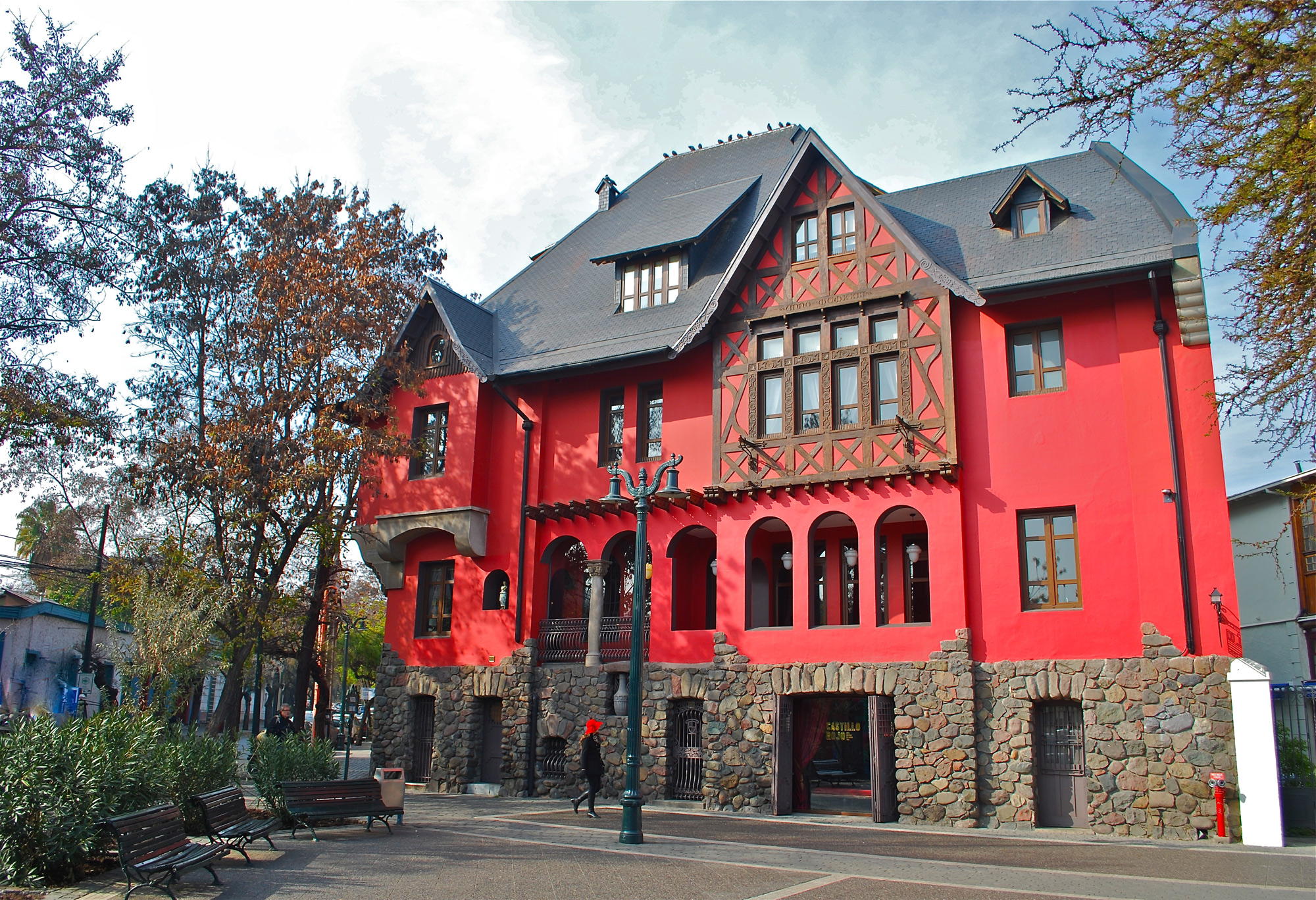 Many tourists who go to the bohemian Bellavista neighborhood are there because one of Pablo Neruda's funky homes, La Chascona, is situated there. Another unusual Bellavista landmark is a hotel called Castillo Rojo, which literally looks like a big red castle. It's actually a refurbished mansion, and the 19 rooms include historic details such as hardwood floors and original doors with stained glass panels. The lobby has a stylish old world feel complete with velvet curtains and cushions, Oriental rugs and candelabras. Breakfast is included at the Beppo Café, a cute restaurant with exposed brick walls, and the hotel is slated to open another restaurant specializing in Argentine fare soon. We can't attest to the food there (because it's not yet open), but we highly recommend the French bistro next door.
For the past decade The Aubrey was the only intimate boutique hotel in town. Once the home of a local politician, it has just 15 rooms. We like the interesting outdoor spaces including its beautiful hillside terraces, a streamlined pool and balconies with views. Each of the rooms is decorated differently, making it feel as though you are staying in someone's (fancy) house instead of a standard hotel room. The only drawbacks are that it's near the zoo and Bellavista has a few too many student bars for our taste.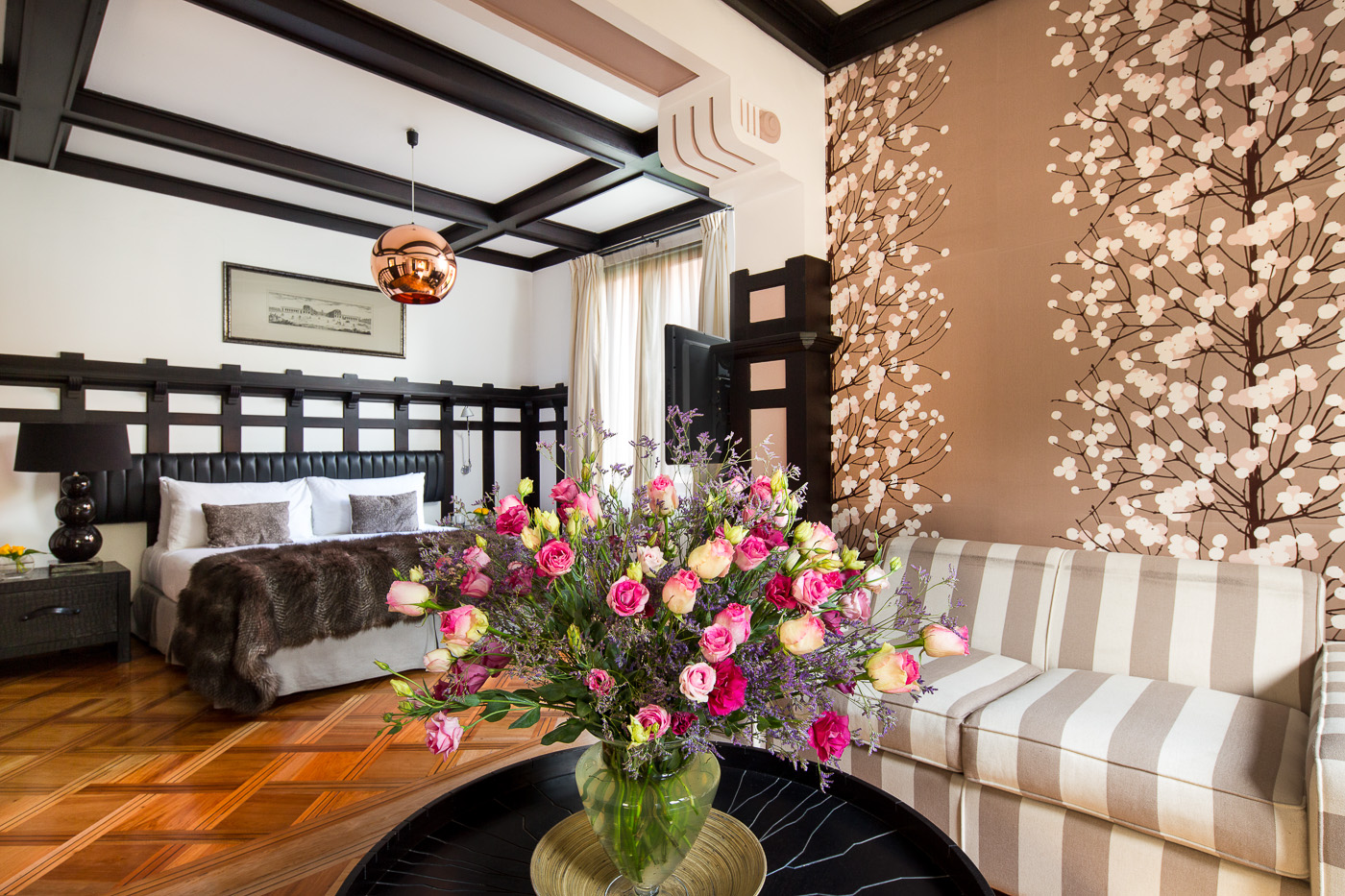 Providencia
If you are a fan of France and French traditional decor, La Reve might be a good choice for you. It's currently ranked first on TripAdvisor and friends from San Francisco who just visited thought the location was excellent. They told us they "enjoyed Chile all day and felt happy being French at night."
The family-run Vila Franca, also in Providencia, is a simpler and cheaper option to the other boutique hotels we've mentioned. We stayed here years ago and found the proprietors to be delightful; they tried very hard to make sure that everything was to our liking. We found the modest rooms to be clean and comfortable and breakfast is very Chilean - lots of fruit, bread and butter and cold cuts.
In the event that you'd prefer apartment-style lodging, we suggest the Hotel Orly, another one of Santiago's first boutique hotels that also happens to be housed in a former French-style mansion. They offer a variety of guest room layouts in the main building, as well as a separate building of family apartments with kitchens that will sleep up to five people. We like the generous buffet breakfast, and the hotel's commitment to the environment that it demonstrates through the use of LED lighting and thermopanel windows.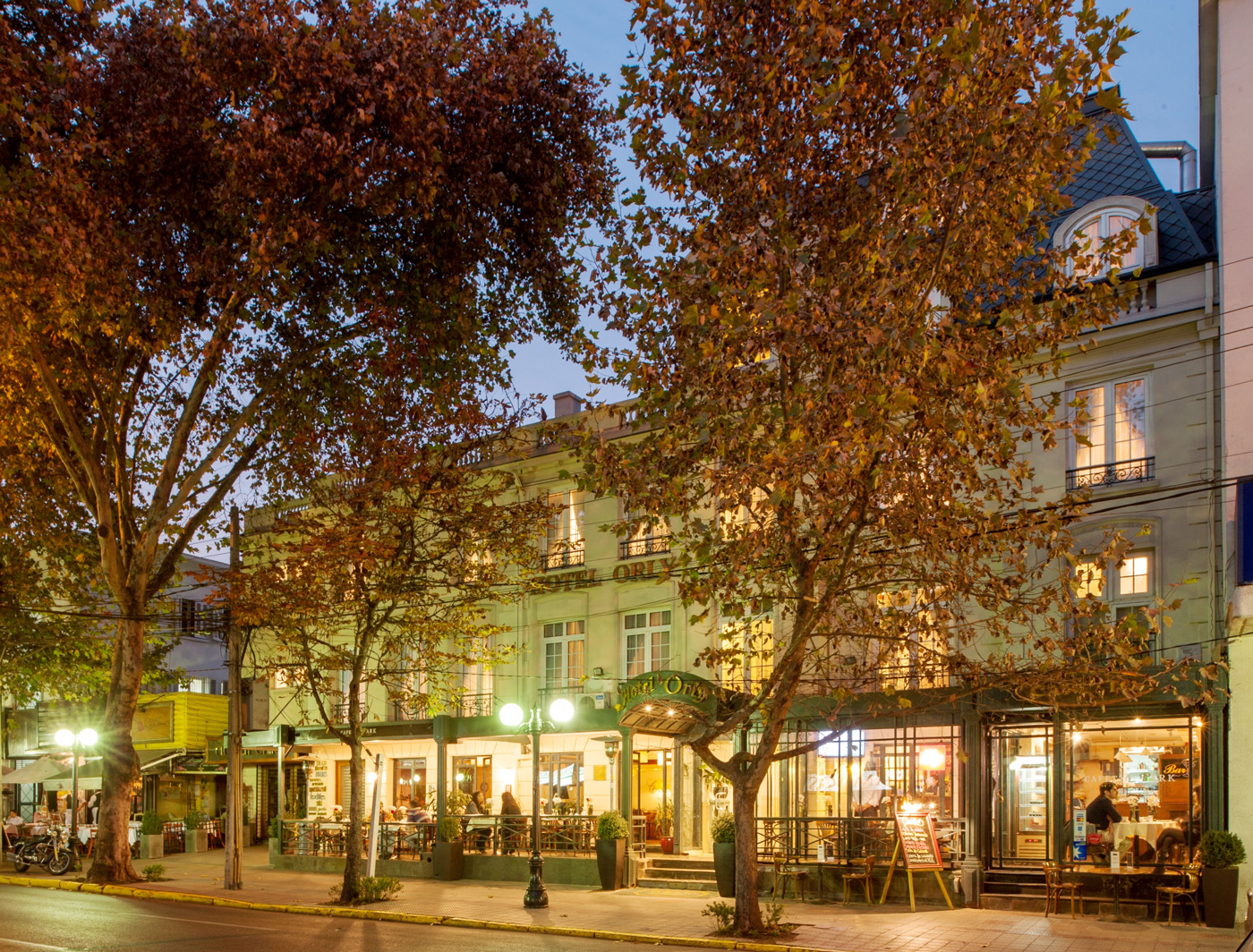 Tried and True International Chain Hotels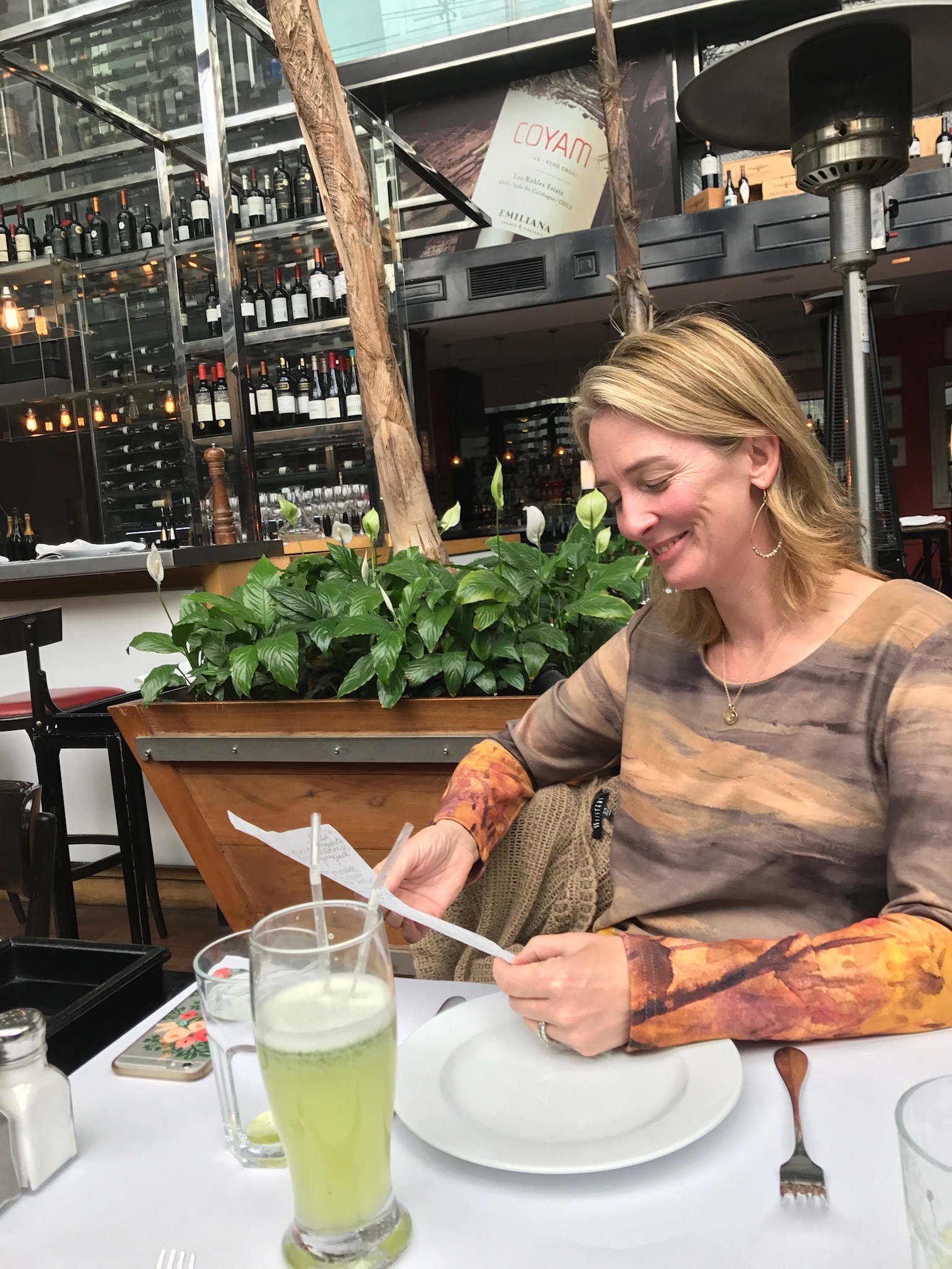 We used to live around the corner from the W and sometimes stayed there on weekends as a mini-getaway. Like most W hotels, this one is very hip (we recall the lobby music sounding like something you'd hear in a dance club) and the rooms were extremely comfortable. We loved the fabulously rich breakfasts consisting of lots of fresh Chilean fruit, as well as eating ceviche and sampling wines at KM 0, the hotel's chic basement restaurant that receives natural light from a stylish atrium above it.
As you would probably expect, The Ritz-Carlton radiates old-school charm and reliability. There are always beautiful fresh flower arrangements when you enter the foyer, and the concierge and staff are truly exceptional. We recently stayed there and discovered half of the floors had just been renovated, so make sure to ask for an updated room. You will often find many business travelers at the Ritz due to its location in the financial district, however it's a great fit for families, too. Our kids love the rooftop pool. And if you like to work out, the gym is a treat as well.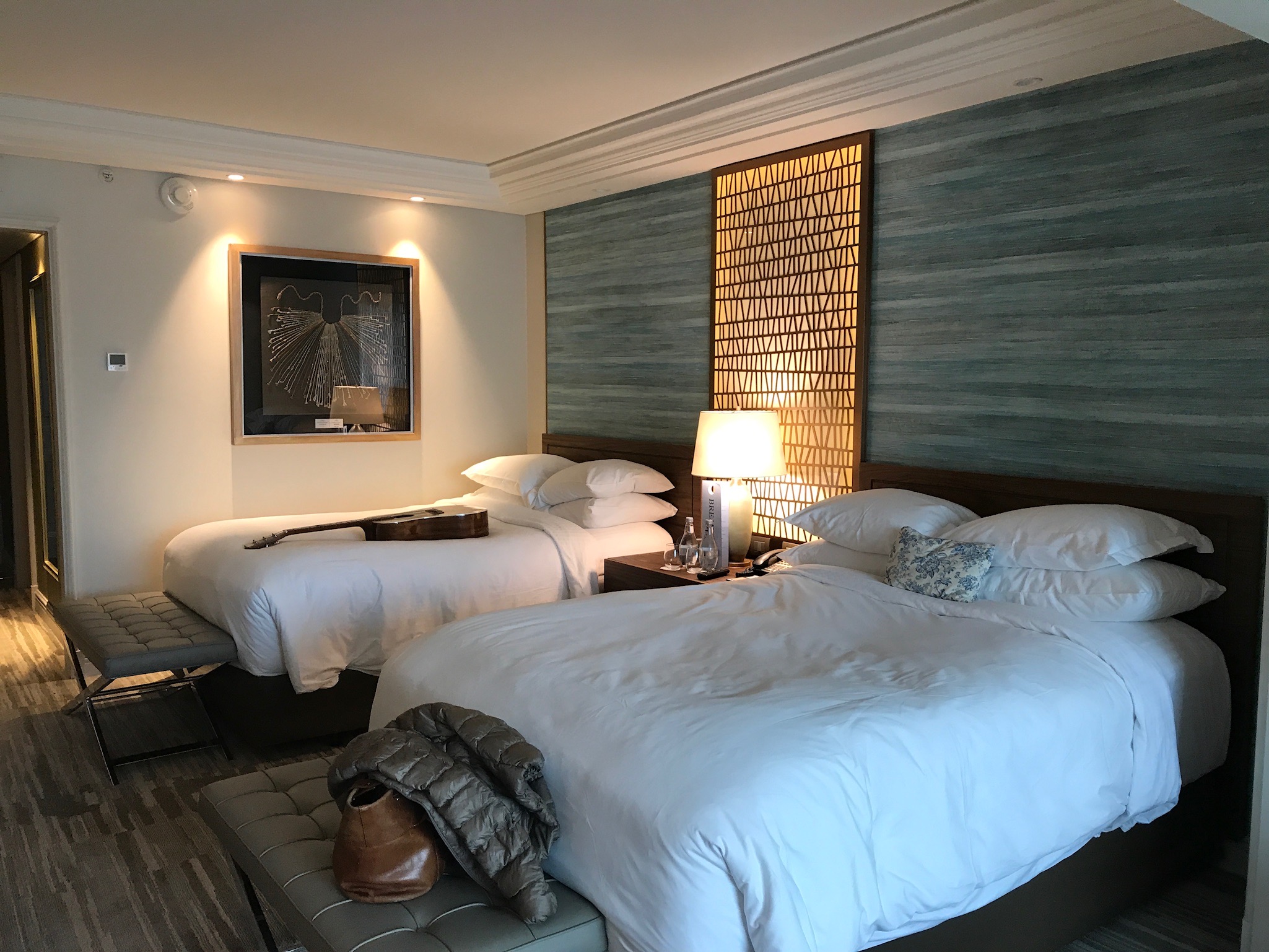 As always, we hope you find this information useful and will someday come stay with us at our vineyard. More about that to come soon! If you have questions or need more information about lodging, we're here to help. Feel free to give us a call at 1 (650) 854-4146 or e-mail us at guests@kingstonvineyards.com

Just about every craft cocktail lover we meet in the US attributes the pisco sour to Peru. But don't tell Chileans that. The heart of the slushy cold beverage, pisco, is actually the national spirit of both countries, and there's a long-standing rivalry between the nations over which country invented it — and whose version is better. Pisco serves as the base liquor for both Chilean and Peruvian pisco sours, but Peruvians add lime juice, bitters and frothy egg whites to the mix. Chileans make a simpler variety blended with the pure, fresh juice of the pica lime. Recently, you can also find trendier varieties supplemented with cucumbers or basil for added flair.
Our family ends many days and starts many evening meals year-round like most Chileans do – with a pisco sour. We even have a dedicated spot on the farm – affectionately dubbed Pisco Hill – where we drink them. For generations our family has been climbing to the top of the hill overlooking what is now the vineyard, with freshly made quesillo from our dairy cows and our pisco sours in tow. Some of our happiest family times take place here; while we watch the sun set, the kids have a blast running around getting thistles stuck in their socks.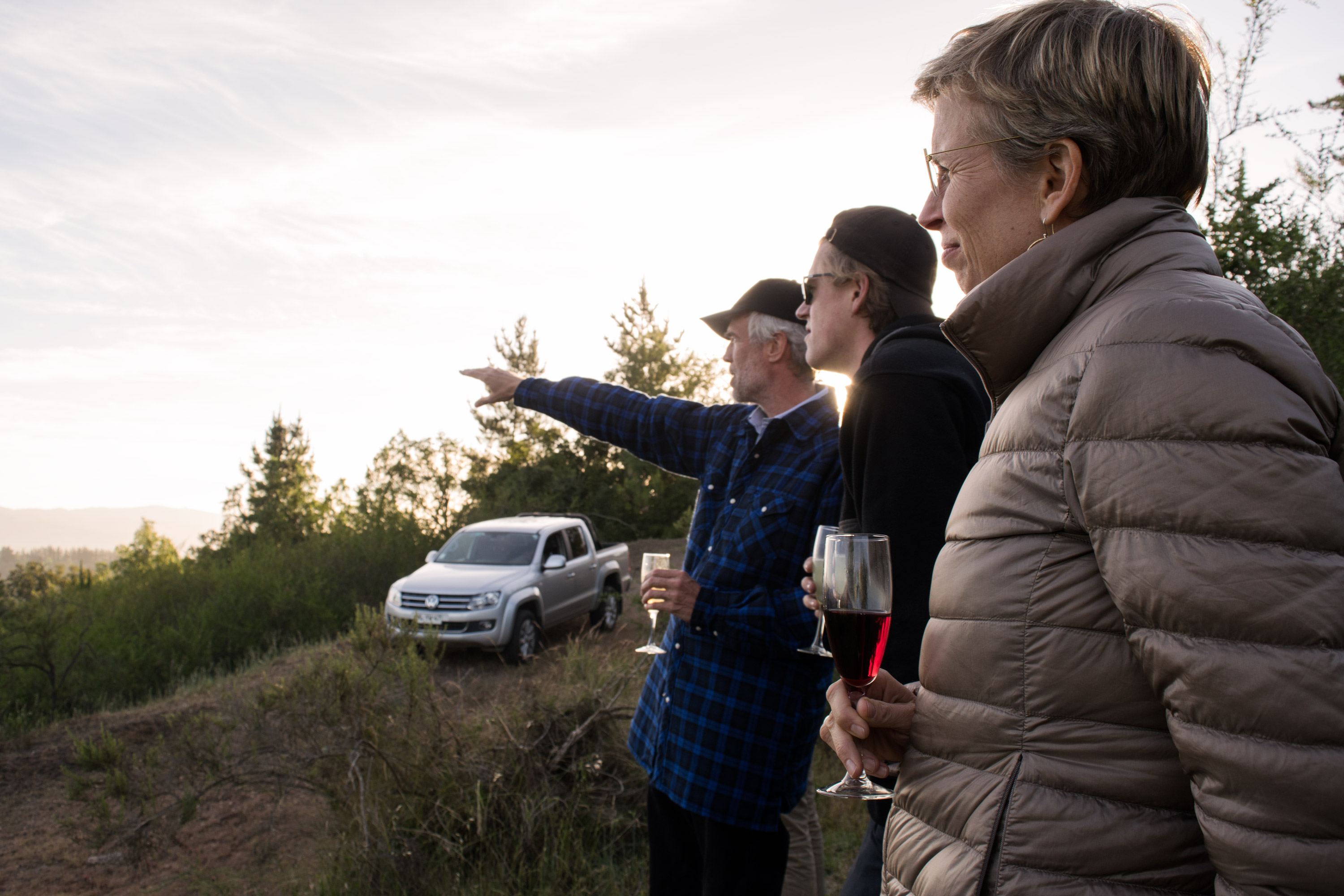 Although we love drinking pisco sours, we must admit something that might alarm you purists out there – we generally only make them from scratch for guests. We're usually just too tired to make that effort after a day on the farm. You can buy pre-made pisco sours in a bottle, much like the margaritas you get in the US with the alcohol already in them, so we do that instead. We store them in the freezer until we're ready to head for the hill. That way they're perfect level of slushiness when we get to the top. But for those of you who want to try your hand at making your own, here's our winemaker, Amael's, favorite recipe. It's a bit of a blend between what we think are the best parts of a pisco sour: Chilean pisco (of course), limón pica (you'll have to use lime if you can't find limón pica), and egg white – but none of the bitters on top.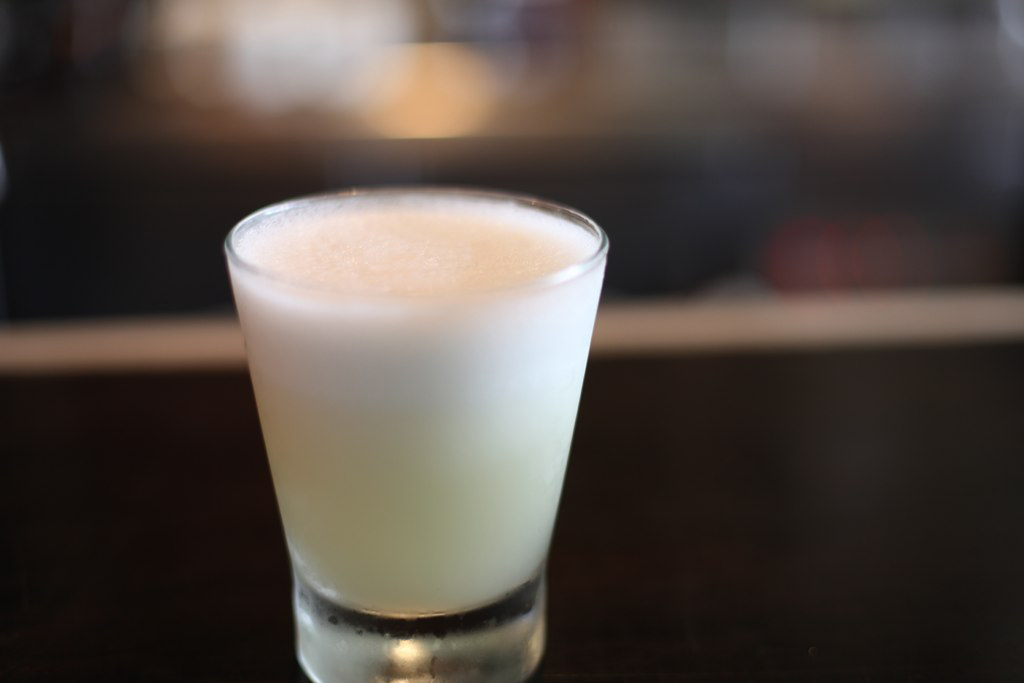 Amael's Pisco Sour Recipe
1 part limón de pica juice (or lime juice if you can't find limón de pica)
1 part simple syrup
2.5 parts pisco
1 egg white
Lots of ice
Combine all the ingredients in a blender and serve in a tall narrow glass, such as a champagne flute, or a short cocktail glass.
We should mention that these are very potent! We really don't recommend drinking more than one per evening.
The Asado
The asado is Chile's version of a BBQ and most hosts kick off the event by handing guests a pisco sour when they walk in the door. Unlike a typical American BBQ though, the asado is a marathon affair. They usually begin around 1 PM and can continue well past dessert, which in Chile may not be served until 10 PM. (We have distinct memories of our great-grandparents sitting under a wisteria-covered pergola trying to figure out how to get rid of guests who wouldn't go home long after dessert was finished.)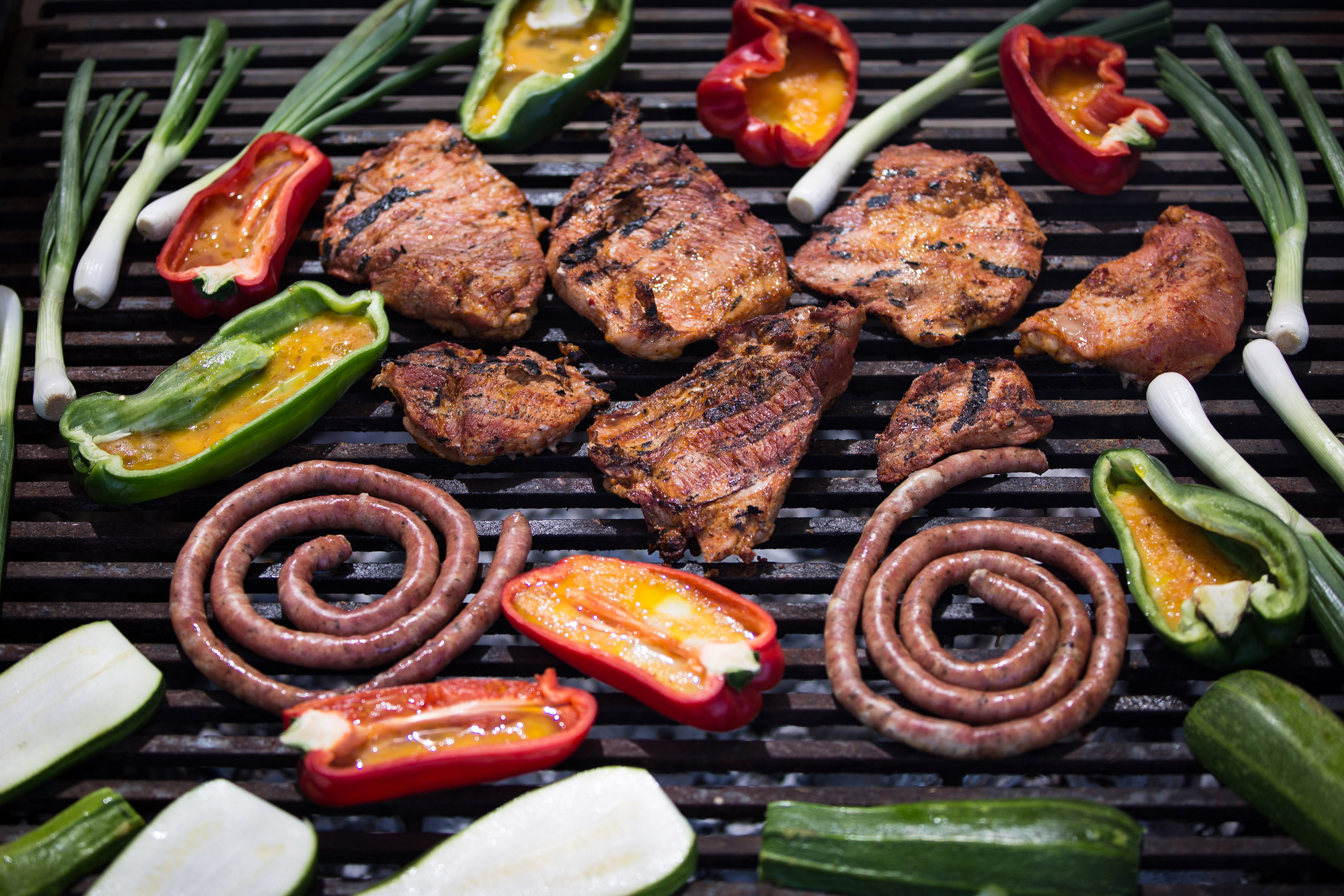 If you're ever invited to an asado, there are a couple of things you should know. First, it's a carnivore's delight. With nearly 2,700 miles of coastline, Chileans eat their fair share of fish, but the asado is all about the meat. Not long after you're served your pisco sour (the red wine comes out later) the "appetizer" course of meat appears. Often there are cheeses and a ceviche set out at this point, too. Then the meat just keeps coming. Although we'd been to asados as kids, we didn't remember this when we were invited to one as adults. So we ate the first offering as if it were the main course, and then had two or three full meals after that. This brings us to the second thing you need to know: arrive hungry.
Many kinds and cuts of meat are served at an asado, and vary depending upon where you are. But they're all cooked on a massive grill, called a parilla, and typically include large cuts of lamb or grass-fed beef. Entire lambs are grilled on a metal pole called an asadon. (We had a good chuckle when one of our wonderfully earnest Chilean winery employees translated the meal we were about to serve to a roomful of guests as "goat on a stick.") Generally you'll also find hearty servings of chorizo on buns, and anticuchos, which are like shish kebabs. Side dishes such as tomato salad and potatoes abound, too. The eating concludes with a super-sweet dessert, usually consisting of manjar, which you might also know as dulce de leche. Because Chile is a very family-friendly country, kids are always included in these festive gatherings. So if you plan to take yours to an asado you will want to plan accordingly.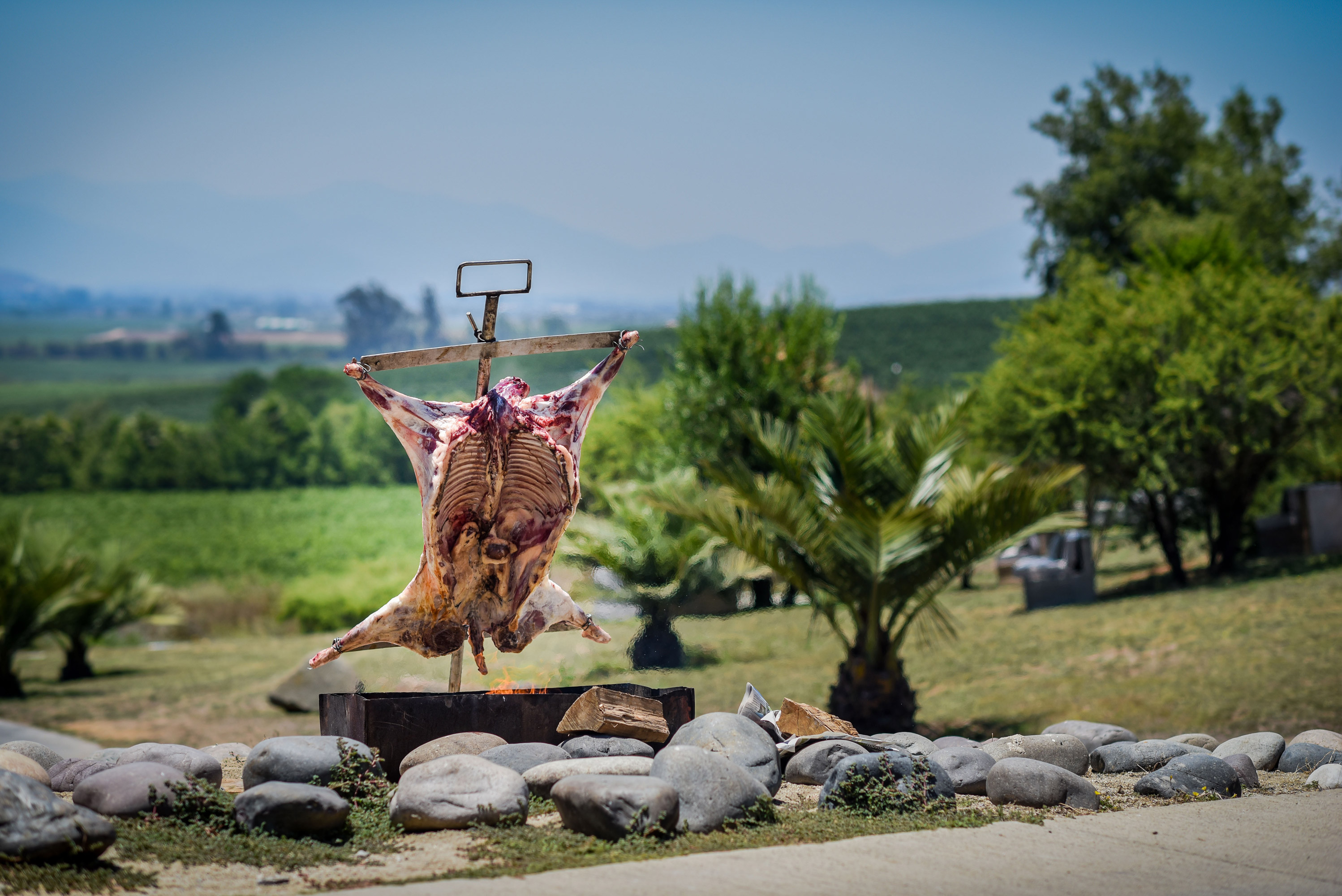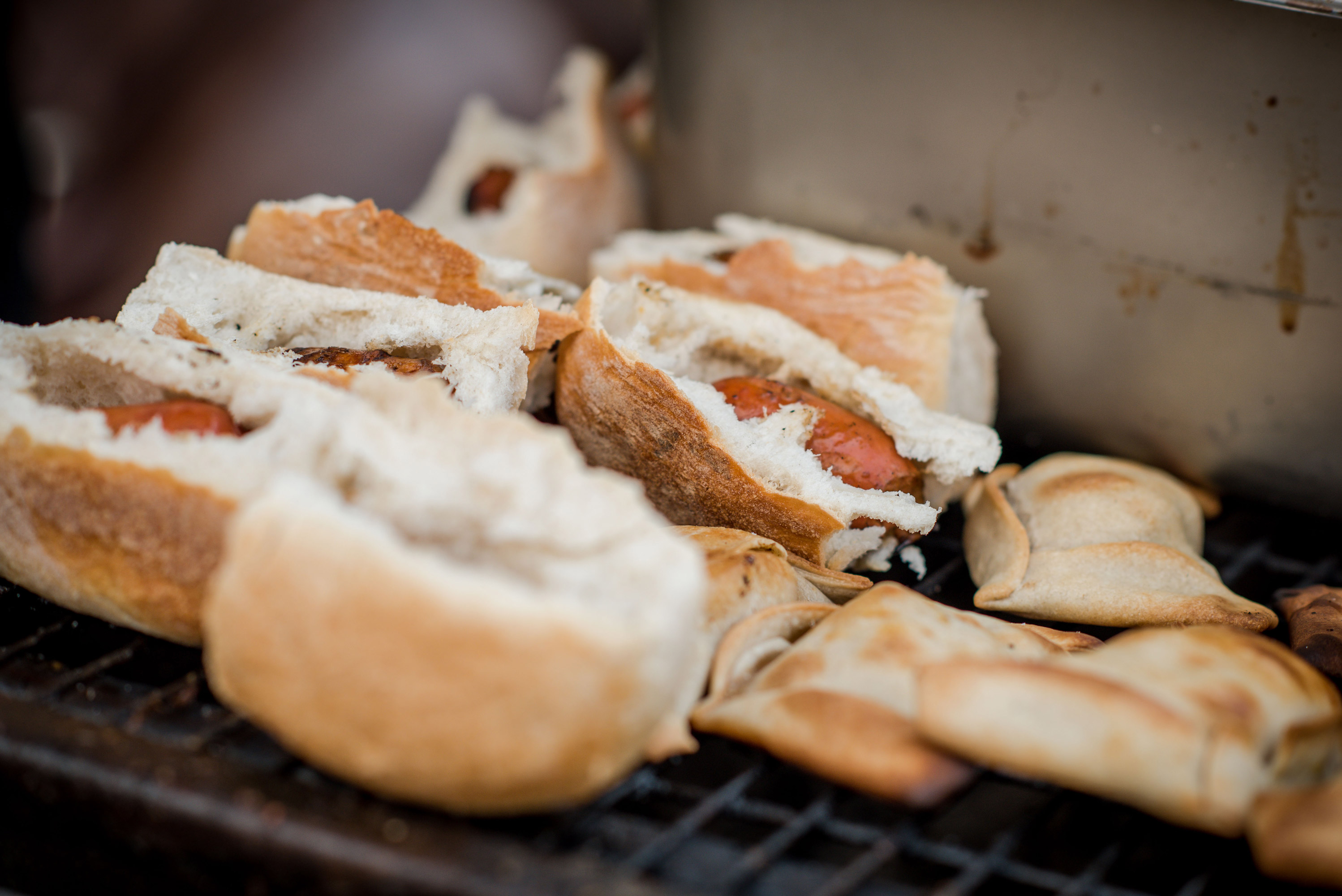 While most asados take place in the summer, the biggest celebration involving the traditional barbecue actually occurs in the spring. Starting around September 1, red, white and blue flags begin to emerge, marking the beginning of nearly a month of celebrations of Chile's Independence Day. Officially held on September 18, it marks the date that the Chilean people declared independence from Spain in 1810. However, they didn't actually break free from Spanish rule until eight years later, on February 12, 1818, after a long war. Although historians would probably disagree with us, we think they chose the September date (spring in Chile) to celebrate Fiestas Patrias because Chileans are too busy with other parties in the summer. That's when many people leave the cities and head to the coast or the lake district to relax by the beach and grill meat to their heart's content.
Come Visit! As always, we'd love to welcome you to our farm to sample our wines, have a meal in our tasting room, or even try a fresh pisco sour. (We promise to make it from scratch, not serve the pre-made version that we often drink.) Salud!

I'd like to first take this opportunity to introduce myself. My name is Ben Culver (or "Benja" as I'm sometimes called down here in Chile), and I'm a fellow at Kingston Family Vineyards. I graduated from Princeton University last year with a degree in Ecology & Evolutionary Biology and a certificate in Environmental Studies. The Kingston Family Fellowship is a year-long program working at the winery in Chile. In addition to hosting our guests at the vineyard, fellows have the freedom to pursue independent projects related to our own unique interests. Around the time of my arrival we began our transition to an organic vineyard, and I instantly wanted to get involved. Over the past 10 months, I have served as an ambassador between the winery and vineyard teams, learning all about the organic transition, and supporting in any way I can. I'd like to share here a little bit about what I've learned!
We officially started the transition of 50 of our total 140 hectares planted to organic farming in July 2016 (roughly 125 of 350 acres). You can see this transition area indicated on the vineyard map below. (Thanks to Iliana, Eliana, and Amael for helping me lead the charge on the map.) The certification process is based on existing guidelines in the U.S. and the E.U.. To earn full certification there is a 3-year transition period. We are transitioning a little more than a third of our vineyards in this first round, and our goal is to be 100% organic in a decade.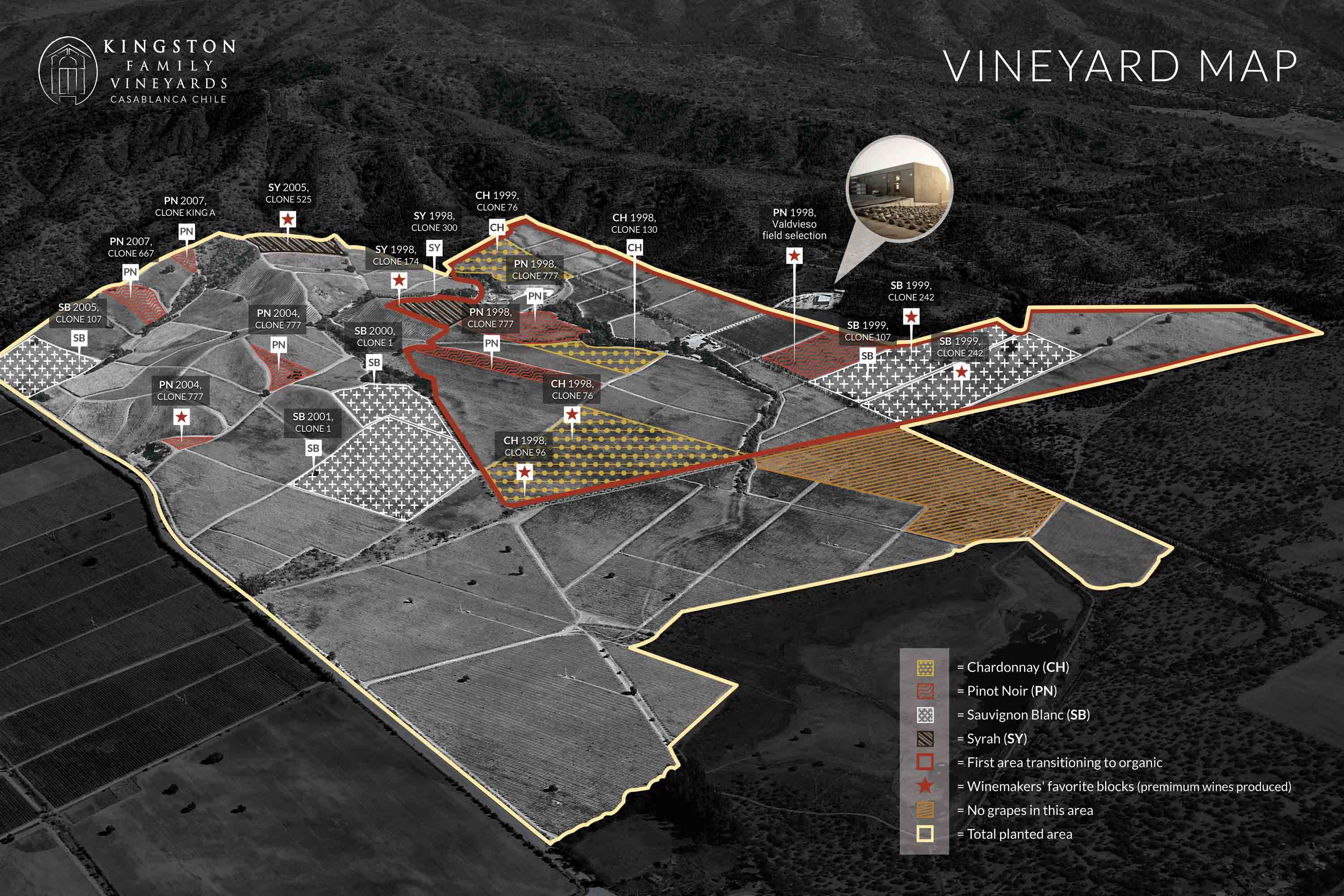 The first question on your mind might be "Why organic?" After all, we've been producing some pretty great wine (in my opinion) for nearly 15 years. As the old saying goes, "if it ain't broke, don't fix it," right? Well, this decision really stems from two major motivations. First of all, and arguably most importantly, we are determined to responsibly manage the Farm that has been in the family for almost a century. We feel a responsibility to manage this land in a way that will minimize its negative impacts on the environment and ensure its longevity for future generations. Secondly, we are convinced that organic farming in the long term will create a healthier, stronger vineyard that produces even higher-quality grapes for our Kingston Family wine.
Generally speaking, there is a different mindset in organic farming when compared to conventional farming. Conventional farming is a more reactive form of agriculture. If you have a problem with a pest or a weed, you throw a chemical on it and move on. Organic farming is more holistic. In organic farming, we try to work the problem into the larger interconnected system of which the grape vines are only a small part. Organic farming is more of a bottom-up approach. A major theme in organics is focusing more directly on soil health, creating a balanced ecosystem to cultivate strong, healthy plants. The idea is that these relatively stronger plants will be more capable of taking on diseases and pests without pesticides.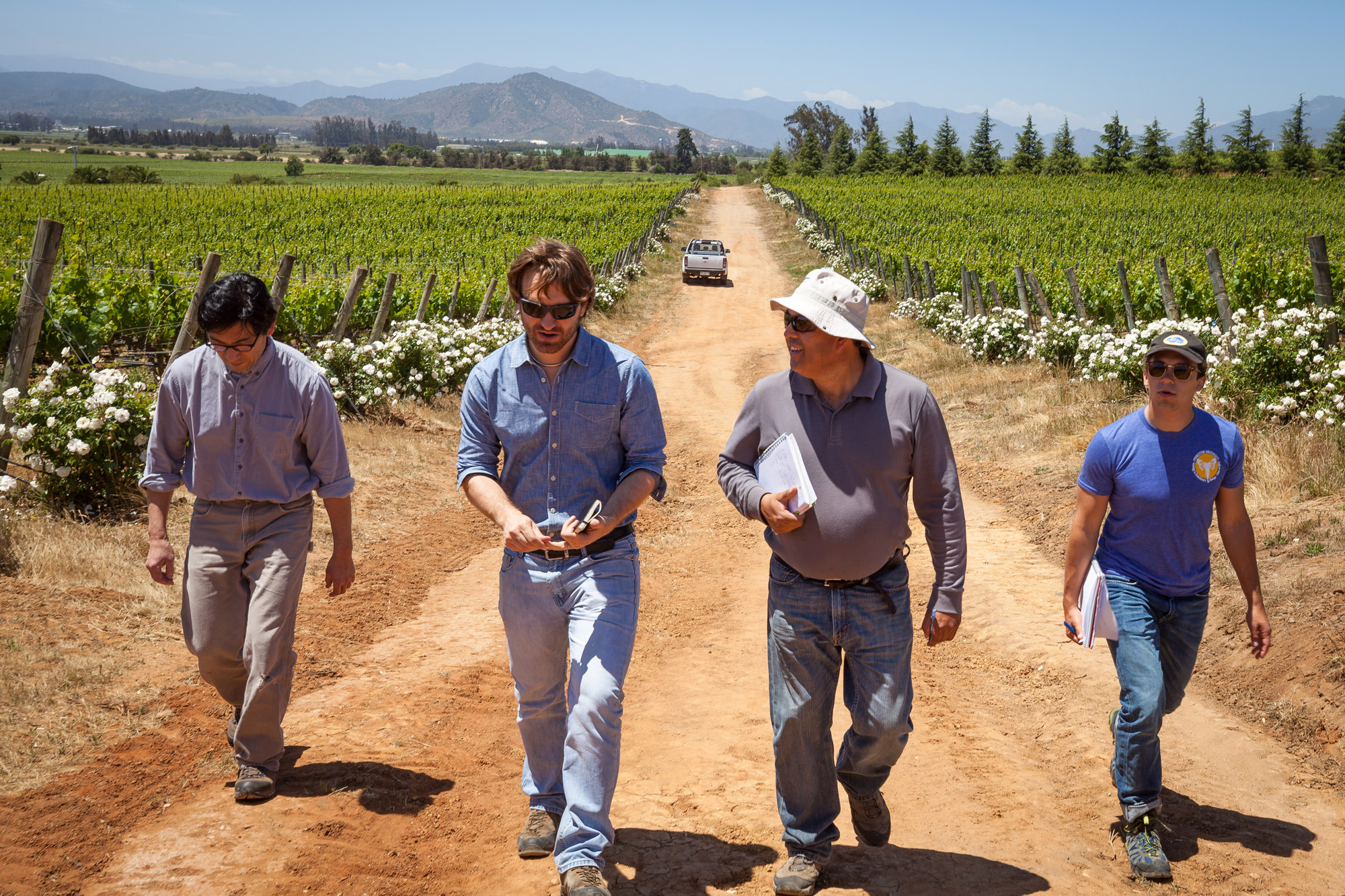 In managing this transition to organic vineyards, we have to change some of the products that we still use in our conventionally farmed plots. In order to become organically certified, we are only allowed to use organically certified products. While there are some organically certified pesticides and fungicides, there are no organically certified herbicides or synthetic fertilizers.
Unfortunately weeds and the need for nutrients do not just magically go away when you transition to organic. Instead of using herbicides, we now have a big new machine that we attach to the back of a tractor that mechanically removes weeds from underneath the rows – kind of like a complex weed whacker. We are also learning to cope with a vineyard that looks a little more messy (because, after all, not all the weeds are bad weeds!). Instead of artificial fertilizer, we apply compost, sourced primarily from our dairy farm with some of the left over skins and stems from the vineyard harvest mixed in too. Next year, we will also be using cover crops between each row.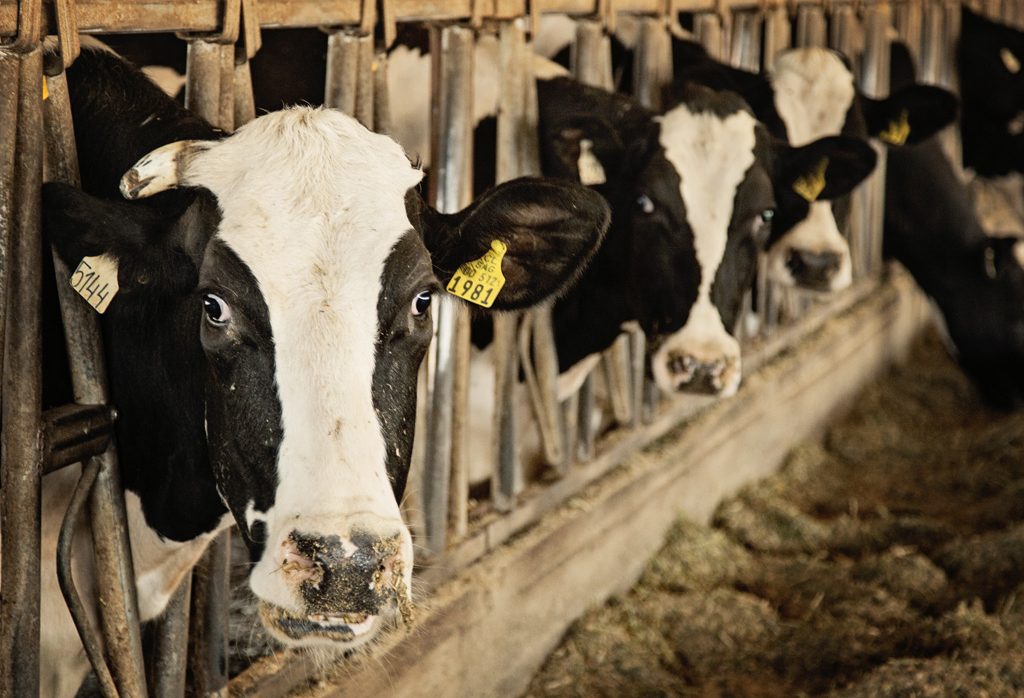 So how is this organic business going to make better grapes? It all circles back to the major theme of organic agriculture – soil health. Healthier soil will make healthier plants, which will more consistently produce better grapes. Compost acts as a soil builder, containing essential organic matter and microorganisms that will help to rebuild the soil, which was often depleted by herbicides. Our vines will gradually become less dependent on artificial chemicals and begin to strengthen their own immune systems. As a result, we expect our vines to be healthier and more resilient to variability in climate. We also expect the lifetime of our vines to significantly increase. Generally speaking (although I will admit, this is quite nuanced, have a look at this article for more), older vines produce better wines.
Organic and sustainable agricultural techniques are really interesting. It's a rapidly growing industry and science and I've just touched the tip of the iceberg with my experience here at Kingston Family Vineyards. If you'd like to hear a little more about our specific approach, please be sure to tune into my mini video series "Charla con Benja" on our Facebook, Instagram or Twitter. The first video is here. Feel free to reach out to me with any questions you might have. And thanks for your interest and support of what we're up to down in Chile's Casablanca Valley.

Just about everyone who visits Chile passes through Santiago at some point. Because the vast, eclectic city has so much to offer, we've decided to divide up our blog posts into three parts so that we can focus on different aspects of the thriving capital. In January we wrote about Santiago's imaginative food scene. Today we're sharing great ways to spend a day or two in the city. Here's our short list of our personal favorites. We hope you enjoy it!
What to do in Santiago
1. Explore Barrio Italia. We love this colorful area for its funky niches, secret passageways, unique shops, and creative flair.We think of it as a mini SOHO. About four blocks long, it's packed with artists refining their crafts — on one of our visits we peeked through a window and watched Senegalese dancers practicing to drums. Nearby, a man made petite wooden guitars by hand. The architecture feels European, yet the brightly painted storefronts carry everything from antique books to artisan shoes to baby bibs that are uniquely Chilean.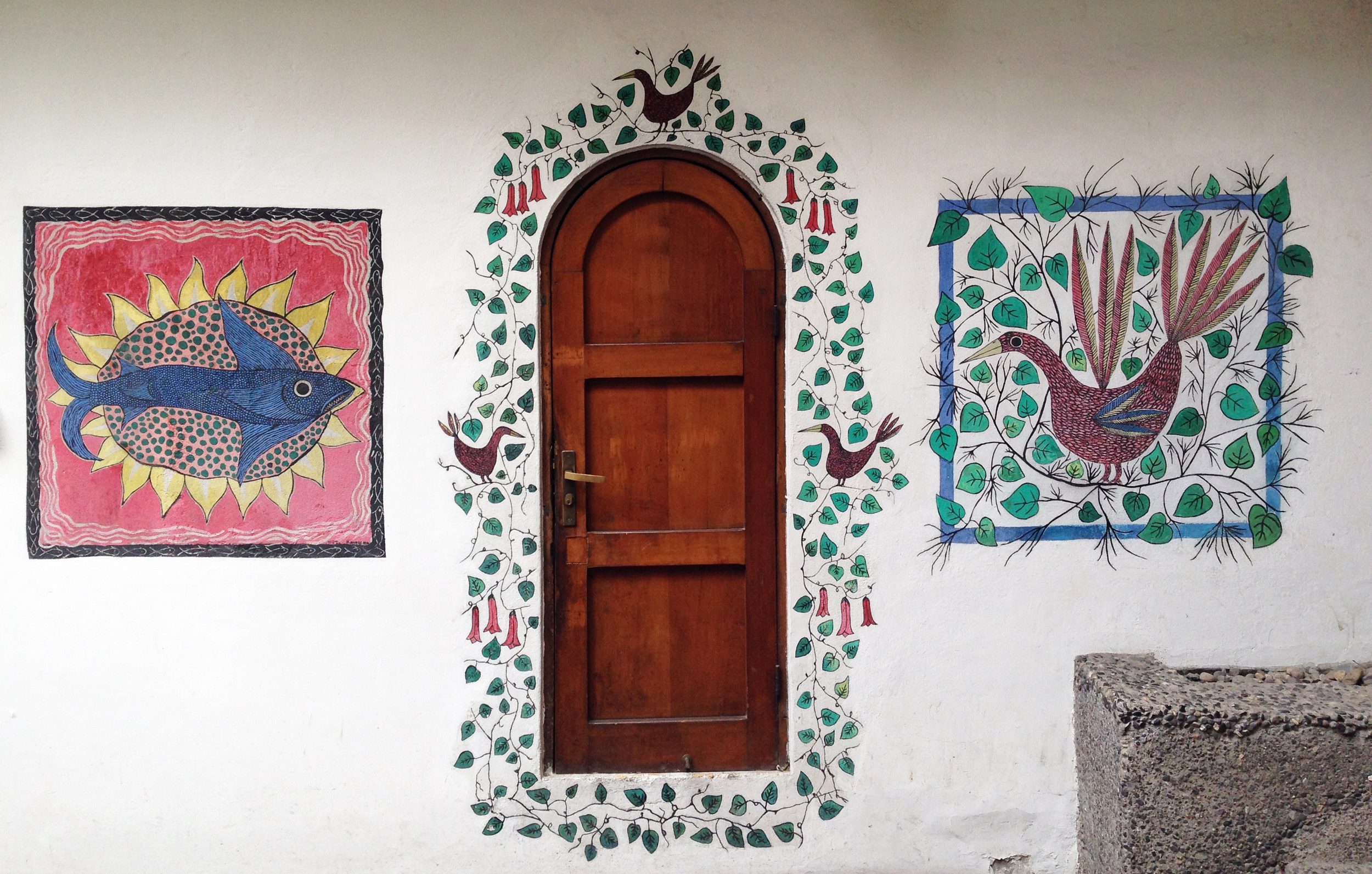 We recommend spending a few hours wandering around. If you happen to love chocolate as we do (there are some days when we have it with breakfast, lunch and dinner) stop by Xoco Por Ti, a teeny hot chocolate shop (which also sells coffee) located in a quaint hidden courtyard. Chileans love jazz, so you will always hear music coming from someplace. If you go at night, The Jazz Corner is fun for live music and a glass of wine.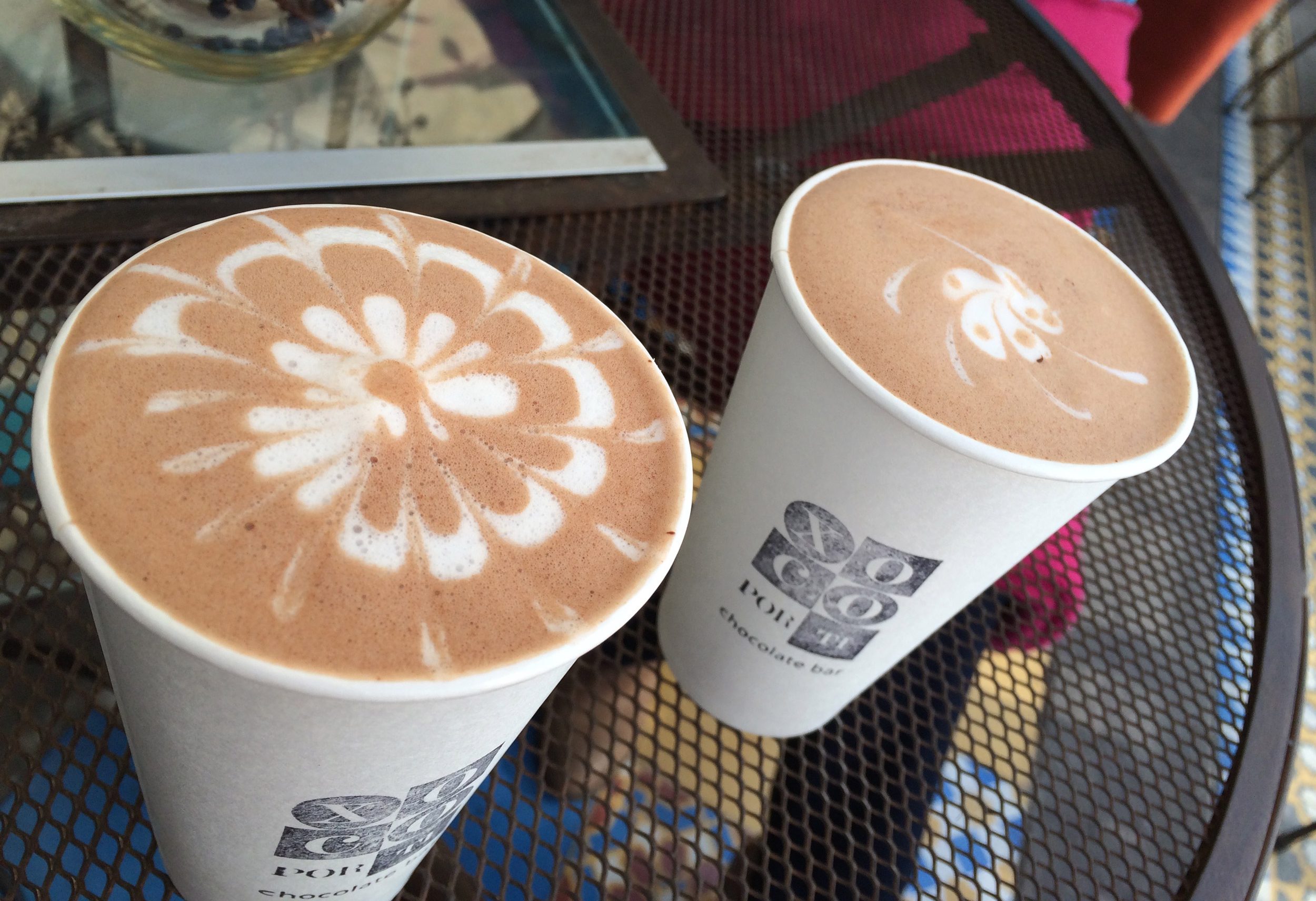 2. Visit a Park. Santiago's biggest common area, Parque Bicentenario, also happens to be its newest. Much like San Francisco's Crissy Field, the re-claimed, well-planned locals' open space is on the edge of a nice residential neighborhood, called Vitacura. A pleasant place for people watching, there are running and biking trails, the play structures are incredibly clever and unique, and it has clean bathrooms! Our kids love going because you can feed the flamingos and black necked swans; little gumball machines distribute the food for 100 pesos. Cool sculptures, such as a massive two-story bronze sculpture featuring larger-than life bicyclists looking through telescopes, are scattered throughout the park.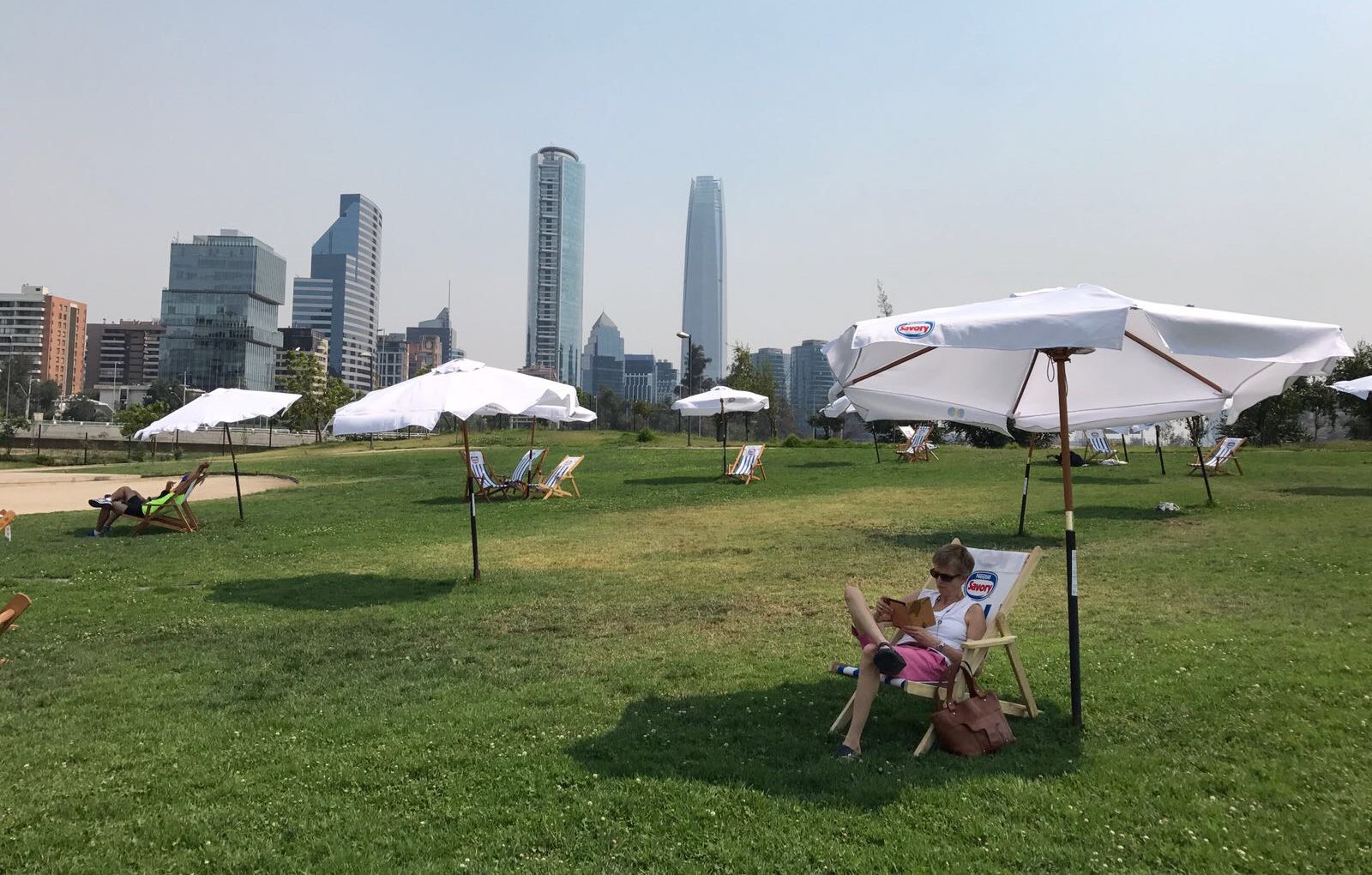 On weekends, you can also expect to find artists selling their works along the park perimeter. The park's January Festival de Cine Wikén shows large screen, open air movies at dusk. Throughout the park there are colorful beach chairs and umbrellas set up so it's easy to find a spot for taking in the scene. It's also a great place for a picnic with smoked Patagonian salmon from nearby La Pesca de Mekis, a whole wheat mushroom empanada from La Punta, or just grabbing una paleta de chocolate from the ice cream truck.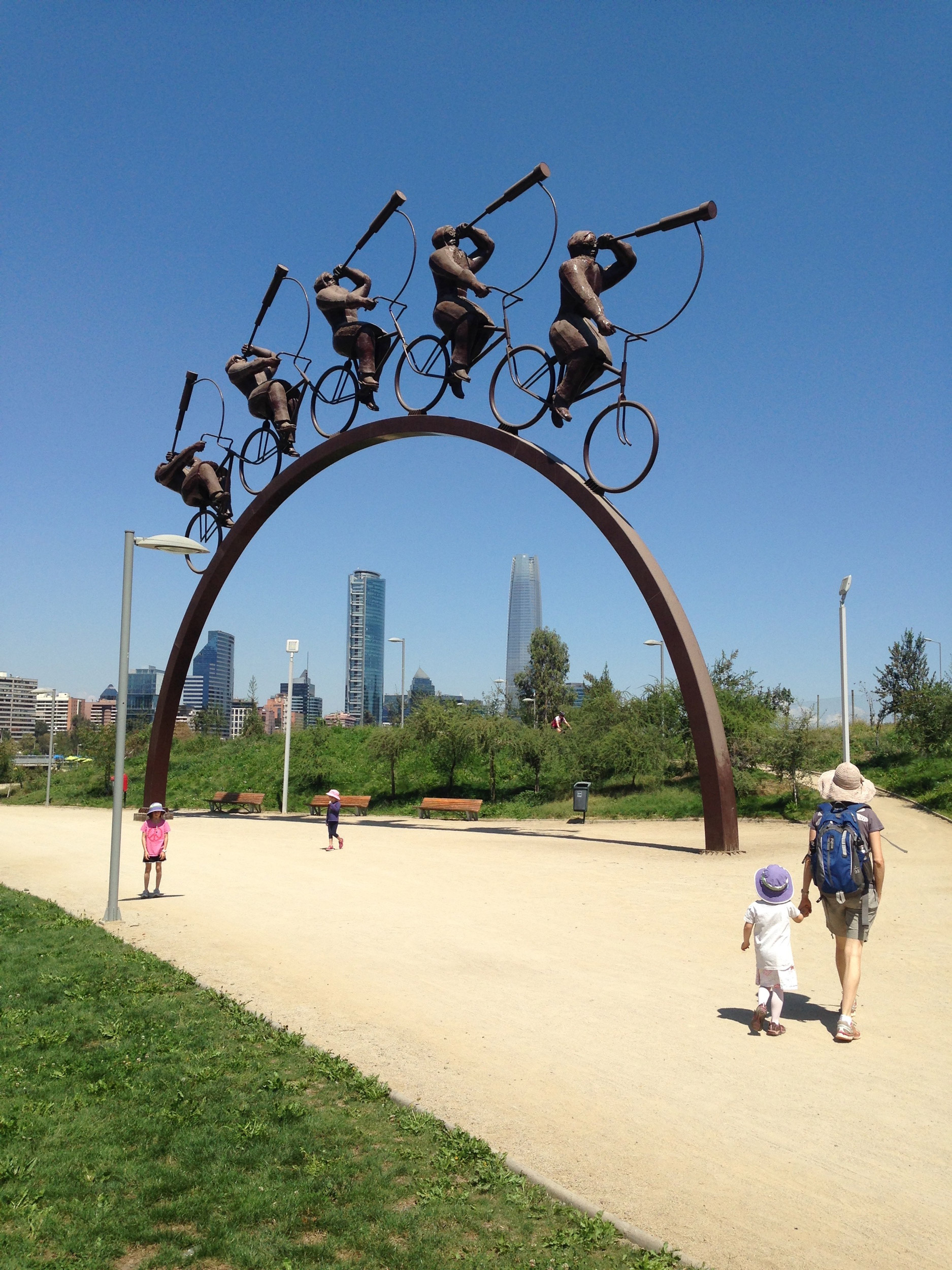 If you don't have much time but want to get outdoors, we recommend Parque Forestal, nestled downtown close to El Centro. Much smaller than Parque Bicentenario, the pretty tree-canopied park features antique streetlamps and stone fountains and feels like an urban oasis in the middle of the bustling city. It's a nice place for a stroll and is an easy walk from some of our favorite hotels, including the Singular, in the Lastarria neighborhood. We recommend stopping in Castillo Forestal for a basil lemonade.
3. Check out a Museum. Santiago has a number of great museums but the two that stand out for us are the Museo Chileno de Arte Precolombino and the Museo de la Memoria y los Derechos Humanos. As a college student at Princeton I adored Professor Griffin's Pre-Colombian art history class, so I always enjoy visiting the recently redone Museo Chileno de Arte Precolombino, located in the heart of downtown. The beautifully designed museum is a quiet sanctuary amid hectic surroundings. Small and purposely dark, the state-of-the art space showcases and preserves Incan and Mayan art in ingenious ways – you press a button, for example, that slowly opens a glass-topped drawer containing centuries old textiles in order to see them up close. All of the pieces are nicely curated (and captioned in both Spanish and English) so that you don't get overwhelmed. We find one of the most fascinating objects to be a "quipu", which looks like a sea creature made of knots, used for keeping track of finances; we think of it as an ancient version of Quicken.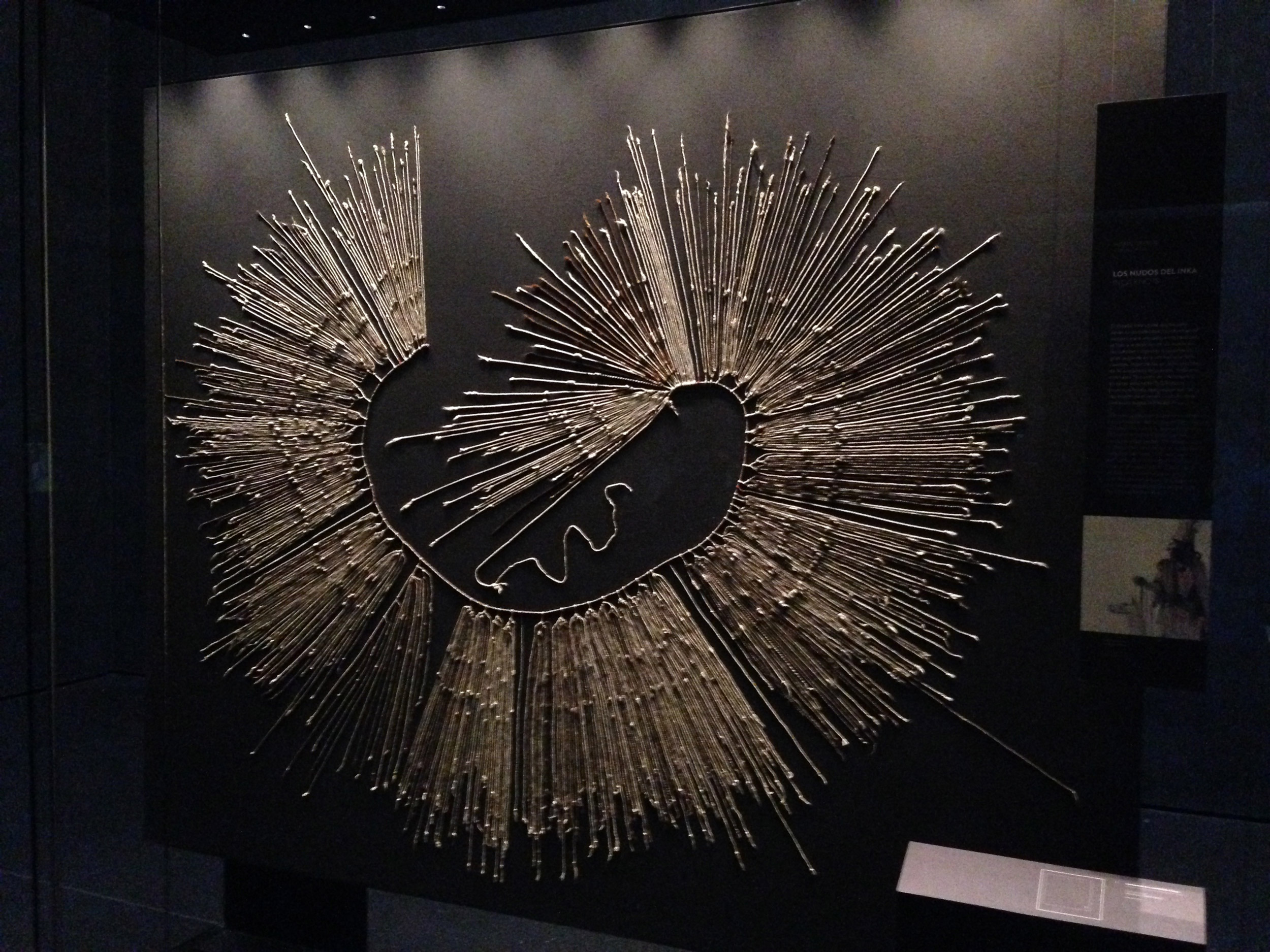 The Museo de la Memoria y los Derechos Humanos has a completely different vibe. A visit here is an emotional and sobering experience – it's much like going to the September 11 Memorial – and often elicits powerful, visceral reactions. The tour begins underground and guides you up three floors, each level representing different years in Chile's recent and traumatic history. Amazing videos of actual footage accompanied by English audio guides make you feel as though you're there, living the vivid history that leads to one of Chile's darkest hours. We highly recommend it if you're interested in learning about Chilean history and politics; we left the kids at home for this one.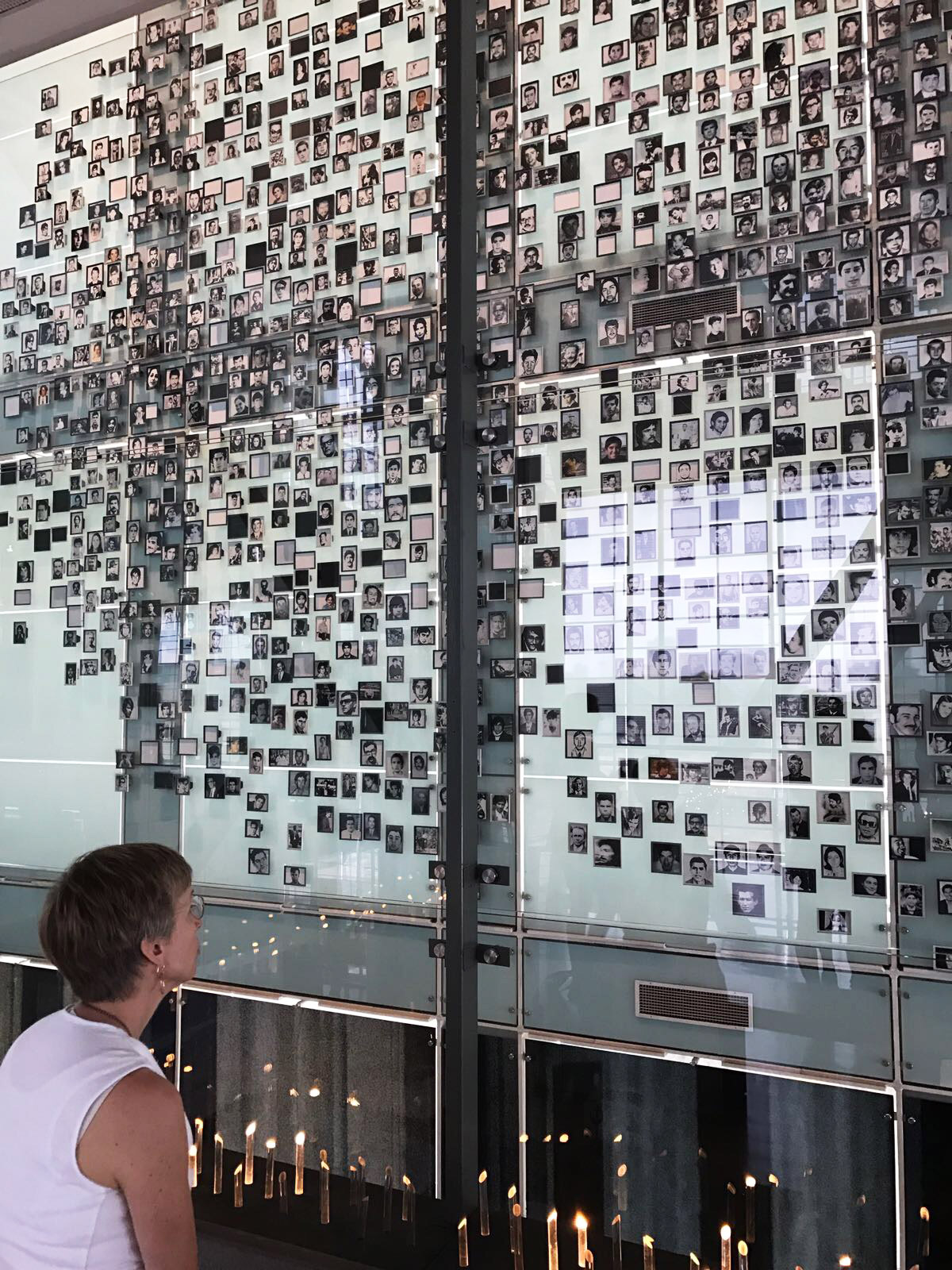 Afterwards, decompress at Parque Quinta Normal by riding a pedal-operated go kart or paddle boat (we laughed a lot while doing this because our boat only went in circles) or playing with old-school wind-up toys sold by park vendors. If you're looking for an off-the-beaten path spot for lunch, the quirky Peluqueria Francesa is a good bet. It's the only place in the world (that we know of) where you can walk through an active barbershop with men getting shaves in original barber chairs to reach a restaurant. Waiters wearing collared shirts, ties and vests serve food amid decorations including antique grooming sets, razors, and posters of "classic" hairstyles. While the ambiance is much of the fun, the food is good, too.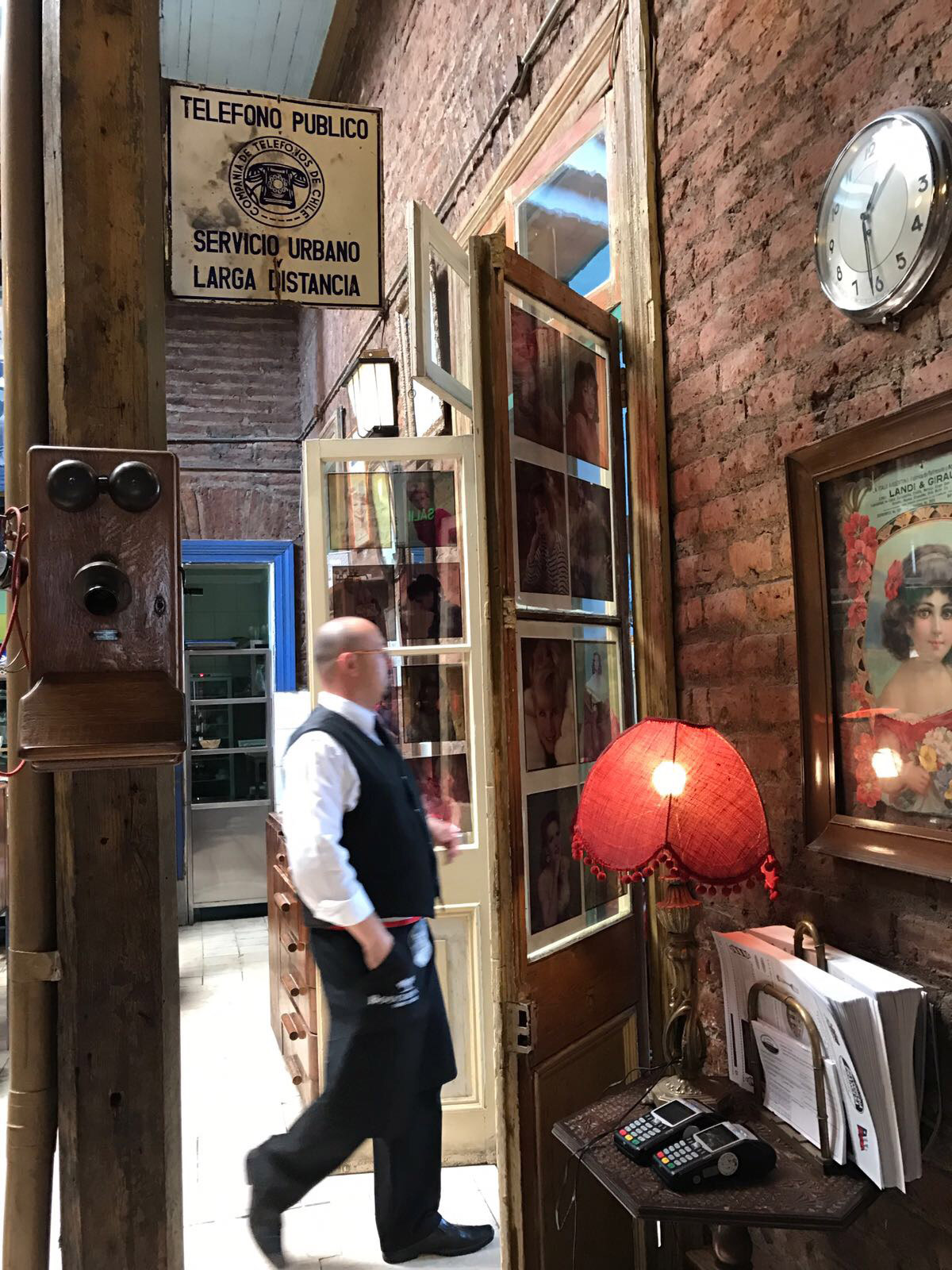 4. Stroll through Barrio Yungay. We recently explored this historic part of town after eating at Peluqueria Francesa and loved it. The eclectic neighborhood features quaint European architecture and cobblestone streets that make us think it's someplace our grandparents would have hung out, hidden behind a good amount of not-so-quaint graffiti. It's a small area, and like all of Santiago, it has its fair share of Chilean flair. Our favorite discovery was a literal "catwalk" two stories up where someone had created a suspended walkway from their window to a tree so their cat could get out for fresh air.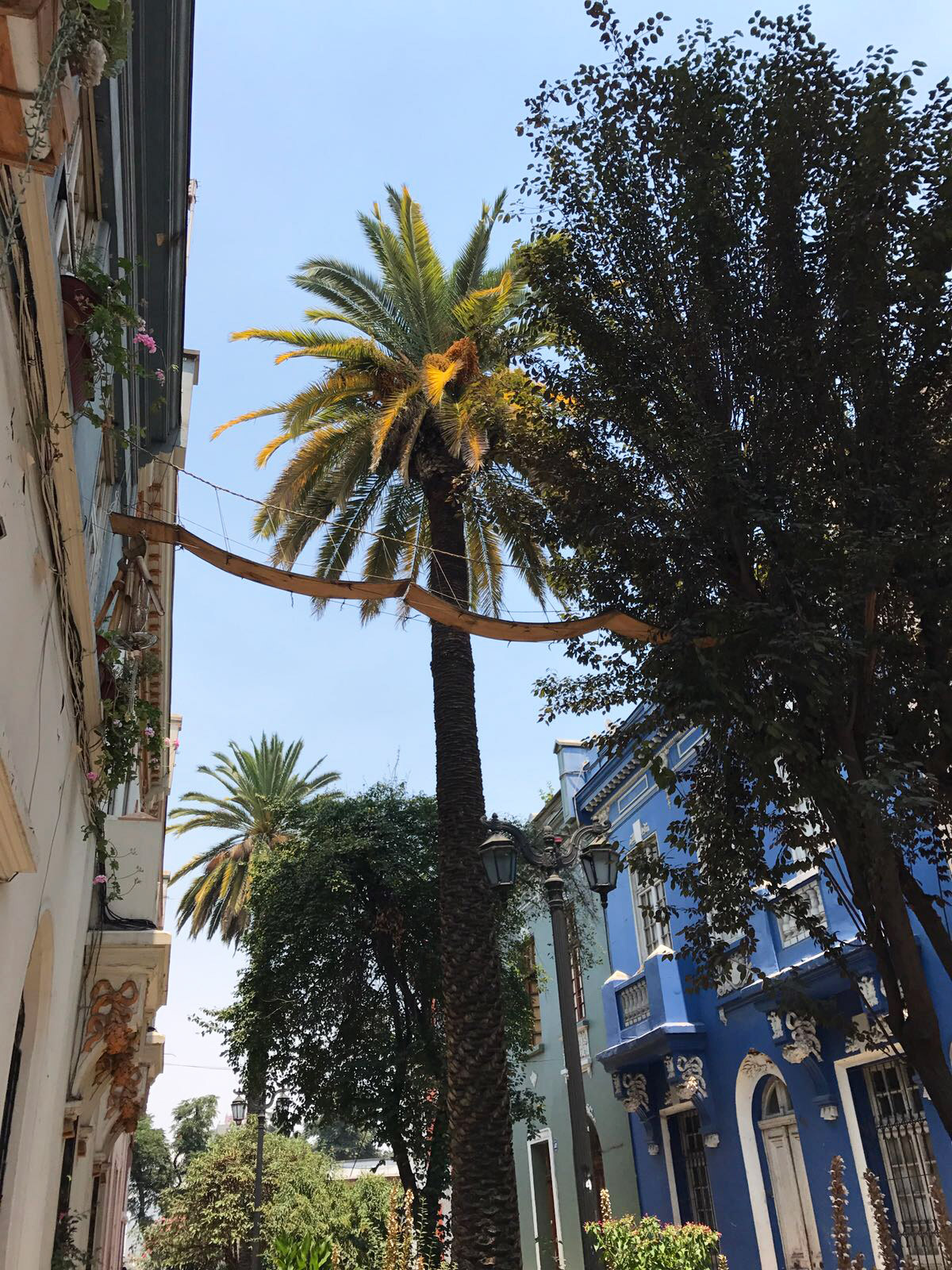 5. Hang out in Barrio Lastarria. Located near the Universidad Católica, this neighborhood is filled with young "heepsters" (as Chileans say it) sitting outside and enjoying life. Art fans might want to check out a show at the GAM, a performing arts center named for Chile's beloved poet Gabriela Mistral, or visit Interdesign, a super-cool design store. Known for its late night scene, we generally go to Lastarria in the daytime for coffee or ice cream and people watching. And speaking of ice cream...
6. Eat Ice Cream! We've alluded to this a number of times in previous posts, but Chileans LOVE ice cream. It's somewhat of a national passion – you can even buy it on buses. According to a 2010 USDA commodities study, Chile is the largest ice cream consumer in Latin America. We don't doubt it. People seem to eat it every day, at all times of day - we always smile at the sight of serious-looking businessmen in three-piece suits devouring a cone mid-afternoon. Shops specializing in traditional Chilean flavors such as manjar (dulce de leche) or chirimoya (custard apple) are all over town, and the city offers a number of artisanal shops selling flavors such as mild avocado or cantaloupe. You really can't go wrong with any of them, but we especially like El Toldo Azul, a newish artisanal shop in the El Golf neighborhood (our kids swear by the chocolate ice cream) or the original Emporio La Rosa near Lastarria.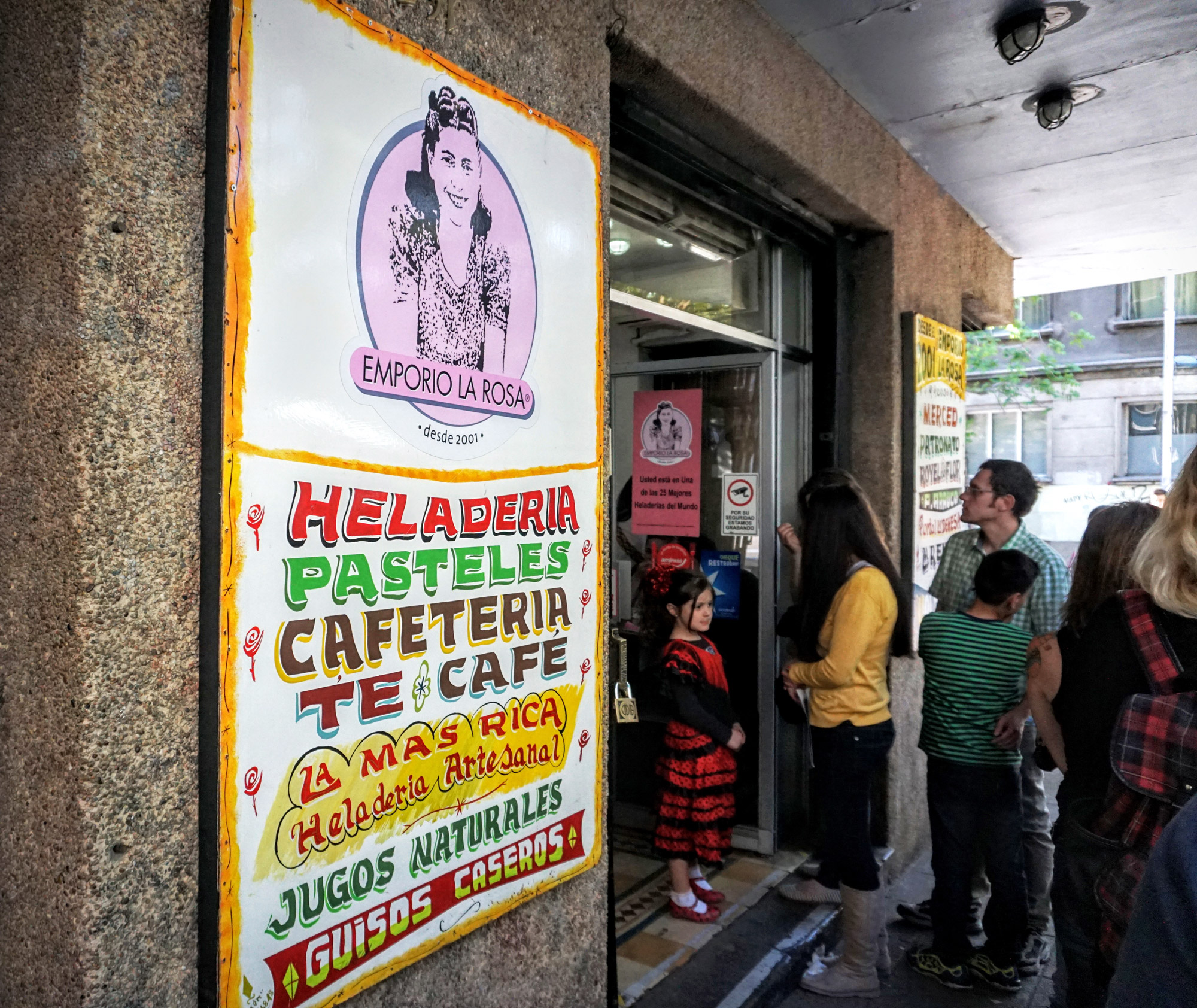 7. Tour Pablo Neruda's House. A great way to glimpse the life of Chile's most famous poet and also get a dose of history is to visit La Chascona Casa Museo, one of Pablo Neruda's three homes, located in the Bellavista neighborhood. An audio tour (available in both English and Spanish) follows a brief movie and takes you through the bright blue, quirky set of buildings connected by walkways that make up the home Neruda built for his mistress. Eclectic artwork gives you a sense of his aesthetic. The tour takes roughly an hour, but make sure to keep in mind there is often a line to get in and the stairs may pose challenges for those who are less mobile.
8. Go for a Guided Walk. One of the best ways to get an overview of Santiago is to take a walking tour. We highly recommend Tours 4 Tips, a company founded by our friends, a Kansan married to a Chilean. They offer a 3-hour "highlight" tour that takes you through the Bellas Artes neighborhood and by La Moneda (the presidential palace) and an "offbeat" version, which walks you through the Esmeralda neighborhood, the Mercado Central (which we referenced in our "Where to Eat" post), and the General Cemetery, a surprisingly relaxing place.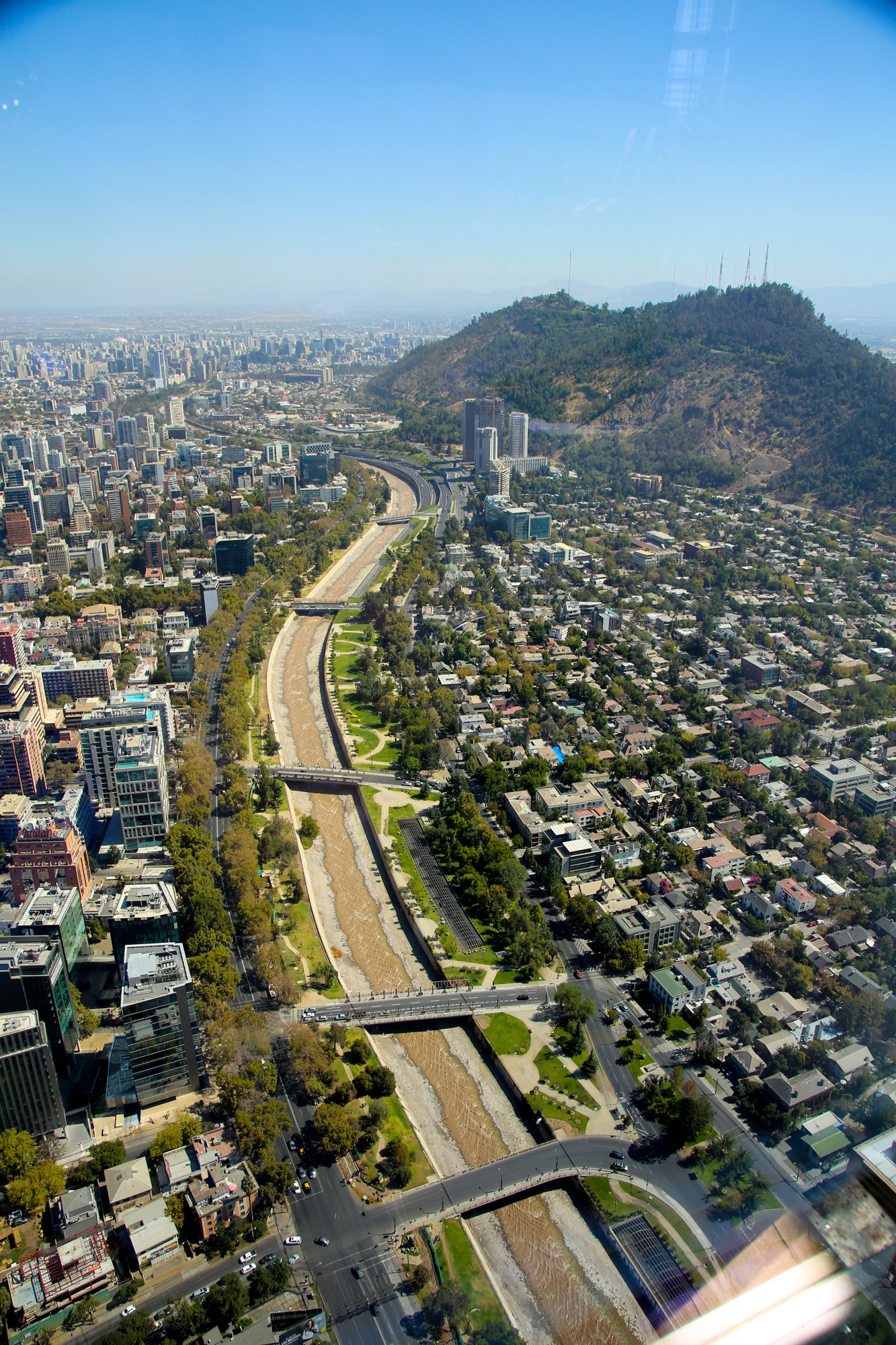 9. Take in the View. For a birdseye view of the city, go for a ride on the newly refurbished Teleferico Metropolitano to Cerro San Cristobal. The recently restored gondola floats above the city, making a fun experience for kids of all ages. A 22-meter statue of the Virgin Mary overlooks the Catholic city. While you can hike to the base of the statue if you want, we mostly enjoy going for the gondola ride and the view. This is a popular tourist destination so be aware of pickpockets.
10. Get out of Town. One of Santiago's most magnificent features is its backdrop: the Andes. If you're interested in heading for the mountains but don't have much time, we recommend Cajón del Maipo a beautiful canyon located about an hour's drive from Santiago. (We'd be happy to recommend drivers, should you decide to go.) There is a dam and a reservoir which can be viewed from numerous walking and hiking trails – some easy, some quite challenging – and there are also action-adventure opportunities. Cascada de las Ánimas, an ecotourism destination that has been run by our winemaker Amael's family for generations, offers zip lining over a canyon, horseback riding and soaking in thermal hot springs surrounded by the soaring Andes. There is also a wonderful lodge and cabins, should you want to stay for the night.

We're Here to Help
Recently someone asked us why we do this blog. It's because we feel Chile is such a special place that it deserves to be shared. As Chilean-Americans, we feel we offer a unique perspective on the country – we can view it as Chileans do, as well as see it through the eyes of Americans – which we hope is helpful for those considering a trip to Chile. Of course, we hope you'll come see us at our vineyard in Casablanca, too!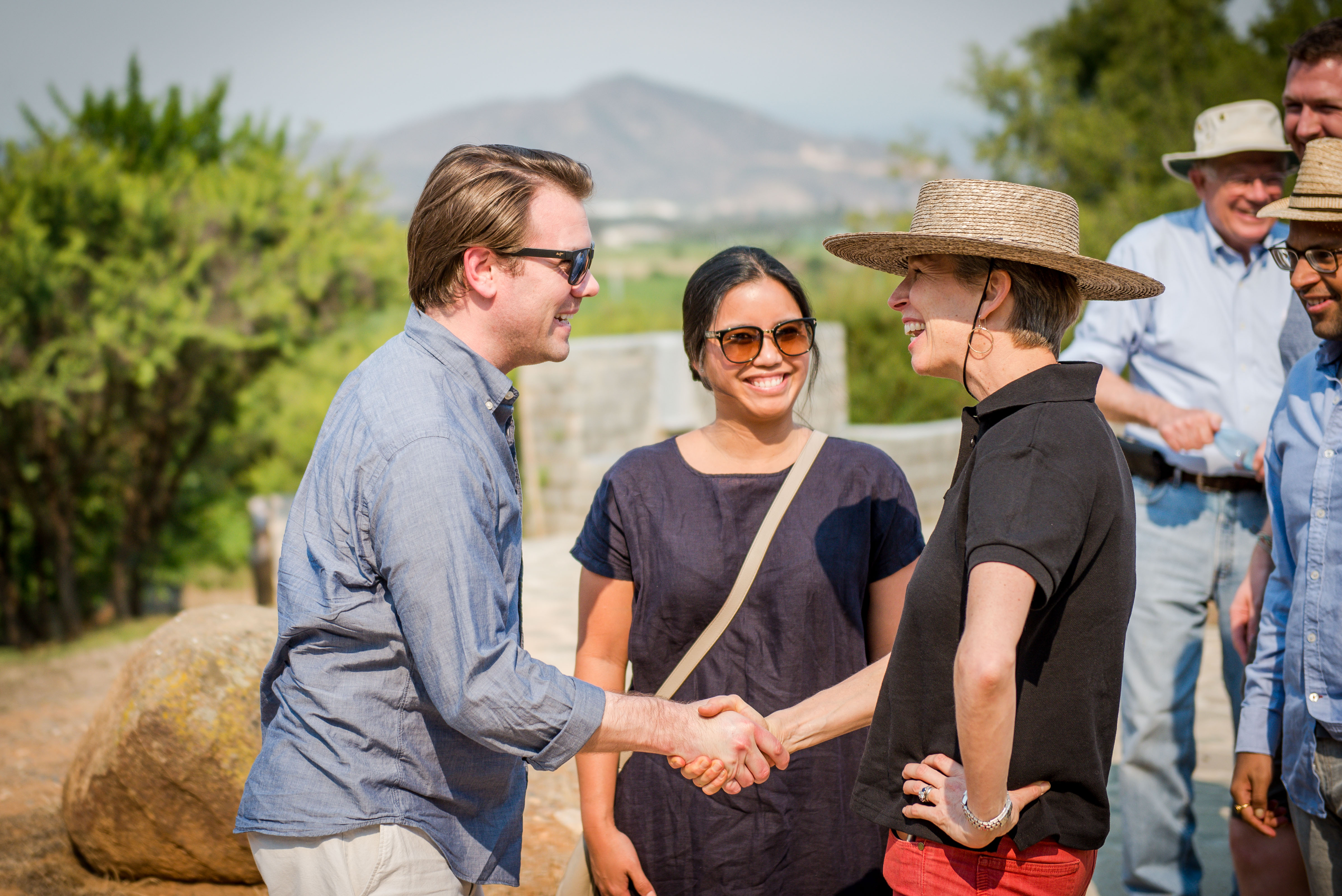 As always, feel free to contact us with questions. We'd be happy to provide additional suggestions based upon your itinerary and interests.