We have lots of eggs on our family's farm in the Casablanca Valley, but not any (yet) at the winery. We are accustomed to the fresh kind, that our chickens lay behind the casa patronal, so we can enjoy huevos del campo for breakfast.
But the eggs that our winemakers are intrigued by are a lot harder and a lot bigger---and are used to make wine! Byron and Alejandra got the idea to use a concrete egg to ferment our limited-edition Chardonnay when they visited our friend Anna Matzinger at Archery Summit in Oregon a few years ago. The benefits of the eggs are multiple and range from easier temperature control due to better circulation (there are no "dead corners" as in regular barrels) to preserving fruit flavors and aromas similar to stainless steel but without the risk of evaporation or "reduction". They're also quite versatile and can be used for both white and red wines. According to the drinks business, the only drawbacks include the need to treat the concrete with tartic acid before using and the cost and the difficulty of transportation.
In the past, when we've wanted to get some kind of kooky, artisanal winemaking equipment to Chile, we've been 100% on our own. French oak barrels once were hard to come by though we finally found them, and we brought our stainless steel punch down tools in ski bags. So we thought we were sunk when Byron said he wanted to import a giant concrete egg from France. But Chile has come a long way in the almost 10 years that we've been making wine, and there are many more small wineries interested in pushing the envelope with artisan winemaking techniques. We're thrilled to be collaborating with three to four other wineries who also want to import concrete eggs from Europe to play around with for the 2013 vintage. Great to have the company...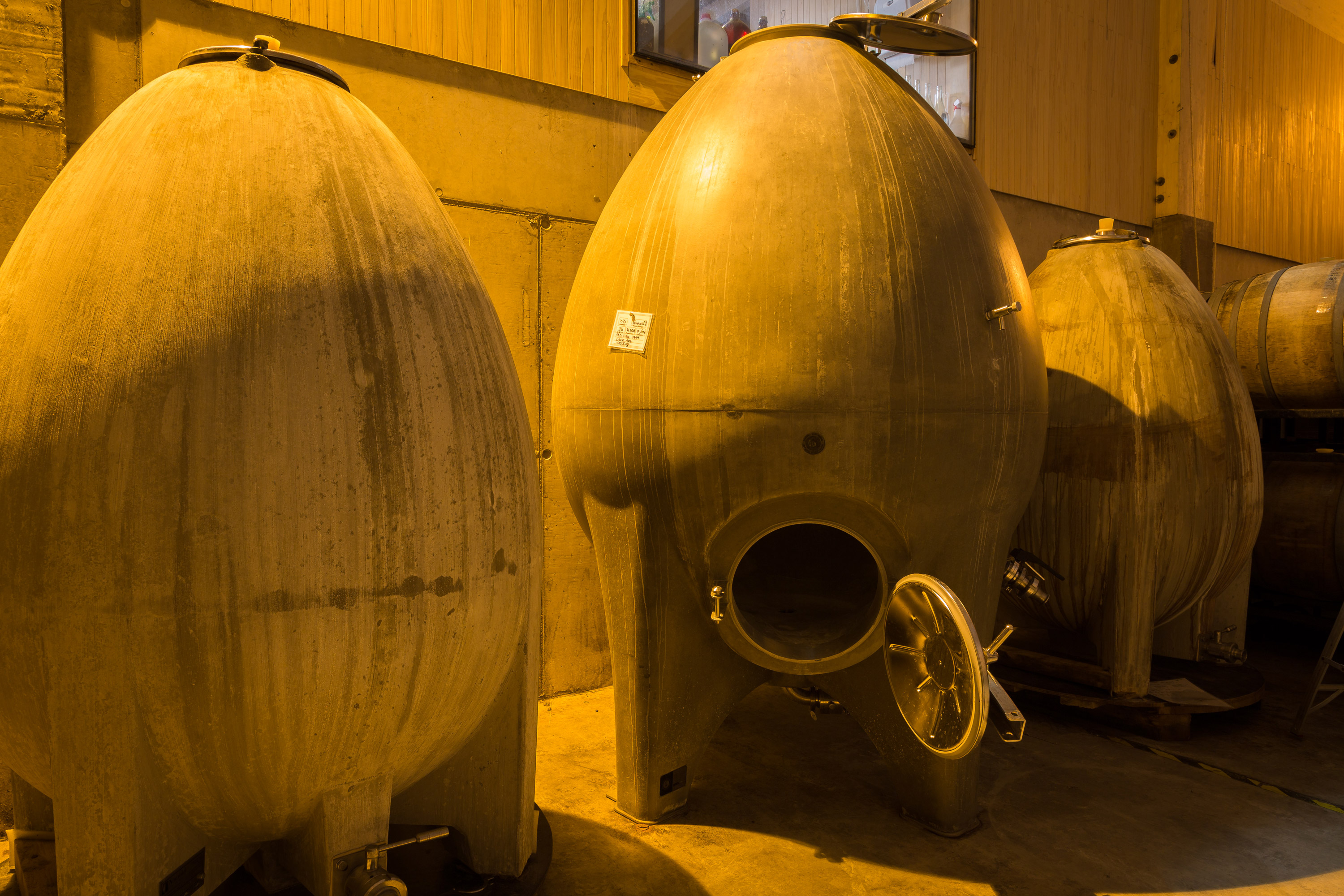 A few weeks ago, Byron (Kosuge) pressed off his last lot of pinot after a long 2012 harvest in California. And then a day later, he boarded a flight to Chile to join Courtney (Kingston) in Casablanca to barrel taste our 2012 Chilean pinots that were crushed six months earlier. Just 32 hours later he boarded a flight back to California. A grueling set of journeys all in the name of vinification, here are his notes on being a "Flying Winemaker" or winemaker who travels the world to craft wine.
"This summer I had the honor of speaking on a panel at the International Pinot Noir Celebration in McMinnville, Oregon. My assigned topic was "flying winemakers," a subject of course that I know a little bit about since I am one. Kingston Family Vineyards had a big presence on that panel because Courtney also spoke - about her family's story of living and working in two countries and two cultures. It occurred to me as I thought about what to say that the popular image of the consulting winemaker is one of a sort of magician who travels around the world sprinkling enological fairy dust, leaving good wine in his or her wake. I suppose there is marketing value to that, but the reality is that my job is mostly just the hard work of interpretation and nuance. I spend a lot of time pondering the best expression of fruit from the unique places where I make wine. Rather than put my personal stamp on it, I seek to let the vineyard reveal itself in the most compelling way." - Byron Kosuge

At the beginning of October, we at Kingston Family Vineyards were excited to receive ratings from wine magazine, Descorchados. The most famous wine magazine in Chile and well known throughout Latin America, Descorchados is authored by the well respected Chilean wine writer, Patricio Tapia. Author of countless wine books and magazines of wines all over the world, he is also an associate editor of Wine & Spirits Magazine and is featured on Argentina's food channel "ElGormet.com"
Given the respect for Patricio Tapia and Descorchados, Kingston was honored to receive 93 point ratings on both our 2011 Cariblanco Sauvignon Blanc and our 2010 Lucero Syrah. We also received 90 points on our 2009 Bayo Oscuro Syrah.
Along with being highly rating in Descorchados, members of the Kingston team were invited to pour our wines at the Descorchados Fifth Annual Luxury Wine Fair (Quinta feria de vinos de lujo) which took place at the Grand Hyatt Hotel in Santiago, Chile.
A fabulous all evening event, attended by an estimated 1000 wine lovers, attendees were given access to the 60 top Chilean wineries and the top three wines which they have to offer. Interspersed between the distinct wine tables were food stands where guests could try appetizers featuring ingredients from all 15 regions of Chile prepared by the Hyatt's executive chef, Yvan Didelot.
Highlighting the best of Chilean wines and foods, Kingston was excited to be in attendance at the event and showcase the best of our cool climate wines from the Casablanca Valley.