Blog

Our 2012 Cariblanco Sauvignon Blanc is here! Back in November our assistant winemaker, Alejandra, our tour guide, Judith and our marketing manager, Eliana, had the opportunity to present our 2012 Cariblanco Sauvignon Blanc in beautiful event organized by the Casablanca Valley Association. As members of the association, we play a part in Casablanca's efforts to promote the valley's wines both in Chile and other parts of the world.
The event, aptly named "Sauvignon Blanc by the Sea" was a sunny seaside affair where thirteen Casablanca Valley vineyards presented their 2012 Sauvignon Blancs to 50 members of the press. The all white affair included press members from TV programs to bloggers to photographers dressed in all white in honor of the Casablanca Valley white wines.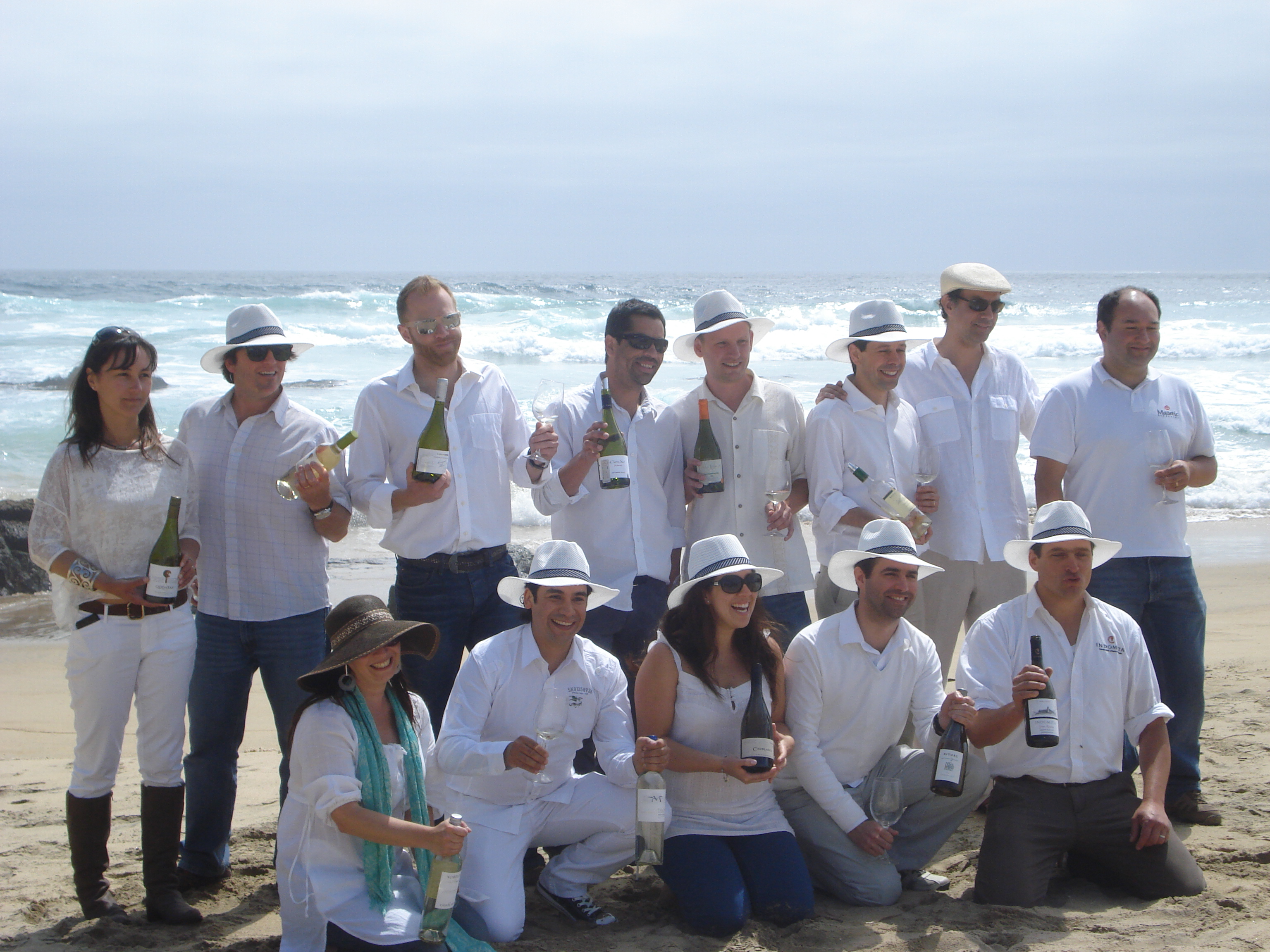 It was our first presentation of our 2012 Cariblanco Savignon Blanc and the results were overwhelmingly positive. Several press members touted our 2012 Cariblanco as extremely complex and refreshing and many came back for second and third tastes.
After the event, the Casablanca winemakers sat on the beach together tasting each others wine and commenting on the closeness and the unity of the valley's winemakers and wineries. Not seen in all other winemaking regions, it is this community of winemakers which critique each other, trade tips, and readily give advice to one another, that produces standout wines not just at Kingston, but throughout the valley.
Now, coming up in two weekends, if you're visiting Casablanca, be sure to come see us at the Casablanca Valley Association's latest, "Fiesta de la Vendimia" on April 13th and 14th in Casablanca's Plaza de Armas or town center. A harvest celebration, the festival will feature live folkloric music, a grape stomping contest, food from local restaurants and wines poured by at least fourteen different wineries from the valley.

Spring is in the air and we're excited to announce the Kingston Family Vineyards Spring Release with the arrival of our 2011 Lucero Syrah, 2012 Cariblanco Sauvignon Blanc, and 2011 Bayo Oscuro CJ's Barrel Syrah (for Old Corral members) plus limited time free shipping on all case orders. Here's the letter which we sent out to all the members of our mailing list to announce our Spring Release. If you'd like to be added to our mailing list, sign up here.
---------------------
Dear Friends,
We've just begun our tenth harvest at the Kingston vineyard. One might think that, after farming in Casablanca for almost a century, ten years would be just another notch on the old fence post. But I am amazed at the pace of change we've seen in Chilean wines over the past decade.
Ten years ago, we carried the first Kingston winemaking equipment down to Chile in ski bags. We bottled only 400 cases of pinot noir and syrah from our family's estate vineyard. At a time when there was little appreciation in Chile for small-lot winemaking or cool-climate reds, we instead focused on expressing the unique characteristics of our western Casablanca terroir through our estate-bottled wines.
Fast forward a decade, and we are delighted to be among a dedicated group of winemakers making Burgundy-like quantities of pinot noir and syrah along Chile's coastline. We're sharing space in our winery with other artisan winemakers, working side-by-side to delve into the world-class potential of handmade Chilean wines. Meanwhile, young Chilean winemakers to whom we gave Kingston fellowships to work harvest abroad – such as Matetic Vineyards' Julio Bastias and our own Evelyn Vidal – now make some of Chile's most acclaimed bottlings.
This spring, we're releasing our 2011 Lucero Syrah ($18), 2012 Cariblanco Sauvignon Blanc ($16), and 2011 Bayo Oscuro CJ's Barrel Syrah ($36, for Old Corral members). We hope you enjoy drinking these wines as much as we've enjoyed making them.
Sending our best from Casablanca.
¡Saludos!
Courtney Kingston

Amidst stories of the winery we thought it would be nice to leave you recipes with which to enjoy your wine and your loved ones, be it from Kingston or anywhere else, especially as Valentines day quickly approaches us!
Our friend Mariangela Sassi, a producer for Joanne Weir, passed along this great recipe and pairing for our Kingston Family Alazan Pinot Noir. (Joanne Weir is a James Beard award-winning cookbook author, cooking teacher, chef and public TV personality.)
"Thank you for the amazing Pinot - we enjoyed it with a herb-encrusted pork tenderloin roasted in a baguette! Recipe attached is divine. It was a perfect pairing! The one item you may not have is fennel pollen but if you don't have it the taste will still be excellent. Bakers of Paris baguettes are perfect for this since they will hold the tenderloin completely. Enjoy."---MS
Pork Roasted The Way The Tuscans Do
by Joanne Weir
Serves 4
2 teaspoons fresh chopped sage
2 teaspoons fresh chopped rosemary
1/2 teaspoon freshly ground black pepper
2 cloves garlic, minced Kosher salt and freshly ground black pepper
1/4 teaspoon fennel pollen
4 tablespoons extra virgin olive oil
1 pork tenderloin, trimmed
1 loaf crusty baguette
On a work surface, mince the sage, rosemary, pepper, garlic, 1 teaspoon salt, 1/4 teaspoon black pepper, and fennel pollen together.
Heat a frying pan over medium high heat. Add 1 tablespoon of the oil. Cook the pork, turning occasionally, until golden on all sides, 8 to 10 minutes. Roll the pork in the herb mixture and set aside. Cut the baguette in half the long way and scoop out the soft insides. Brush the inside of the baguette with the remaining 3 tablespoons olive oil. Place the pork on the inside of the baguette so that the pork is completely enclosed. Trim off the excess ends of the bread. Tie, at 1 to 2-inch intervals, with kitchen string.
Preheat an oven to 375° F. Place the pork on a baking sheet and roast until done, 155 to 160° F when an instant read thermometer is inserted into the thickest part, 20-25 minutes.
Remove from the oven, let rest 10 minutes. Remove the strings and cut into slices. Serve.

Our family is Chilean/American, and while our vineyard and farm is in Chile, I (Courtney Kingston) live in Northern California and travel back and forth to Casablanca. I am fortunate to feel at home in both places, and am often struck by the similarities. As Byron Kosuge, our consulting winemaker from Napa likes to say, Casablanca is like California with the "volume turned up". Instead of the Sierra Nevadas, you've got the Andes; instead of driving 3 hours from San Francisco to Lake Tahoe to ski, in Chile you can ski Portillo and swim in the Pacific (in a wetsuit, no doubt) in the same day. Byron works with vineyards up & down the California coast (from Hirsch Vineyards up in Sonoma, to Pisoni Vineyards in Santa Lucia Highlands, down to Talley Vineyards in Arroyo Grande), and he says western Casablanca reminds him most of California's Santa Rita Hills on south-central coast.
With a foot in both winemaking worlds, we thought it would make sense to facilitate an "intercambio" or exchange program between Chilean and Californian winemakers & vineyard managers, with a particular focus on pinot noir and small-lot winemaking. In some ways, the idea of Californians headed south or Chileans headed north was nothing new: each year, Chile sends the largest number of young winemakers to work harvest in California, and many Californians head south as well. But many end up working at larger wineries (working on the white wine press on the graveyard shift), and don't necessarily get the hands-on winemaking experience with cool climate reds that we are trying to foster at Kingston. (The same is often true for American winemakers headed south; most of the harvest jobs and experiences are with Chile's bigger wineries in the Central Valley making cabernet.)
So each year, we try to make the connection with someone going north or south, sharing and expanding their pinot winemaking or winegrowing knowledge. We've been a bit of the Harriet Tubman of pinot noir people headed either way, and we are happy to now have a small diaspora of alums from our exchange program. In addition to connecting young Chilean winemakers with California pinot "mentors" like Ken Bernards (Ancien), Michael Terrien (Acacia), and Bob Cabral (Williams Selyem), we've also welcomed California winemakers south to Casablanca including Leslie Mead Renaud (from Talley, now of Lincourt), Alex Beloz (Molnar Family), and Whitney Ulvestad (Hudson).
As we're gearing up for our 2013 harvest which will start next month, we're excited to welcome Morgan Hall to our team! Before working harvest with us she was at Archery Summit in Oregon, Burn Cottage in NZ, and Copain in CA where she met our California winemaker, Byron Kosuge.

Most people who have never been to the Kingston winery in Chile don't realize that our bodega, tucked into a corner of Western Casablanca, is not the easiest to find. To make sure our guests don't get lost on the way here, we like to provide some detailed directions which have received some notice from various writers. When Jim Weinrott from Wine Access wrote about his visit to Kingston and the directions with which we provided him, he commented that they read like a passage from On the Road with instructions like "turn right at the big eucalyptus trees, cross the bridge and hang a right when you see the cows." Though it sounds comical, he actually wasn't too far off the mark about our detailed instructions. With few street signs in Casablanca and no sign marking the entrance to our winery, landmarks lead the way.
When Rex Pickett, author of Sideways came to visit us, he too commented on the directions and said we were the first to provide such detail on how to arrive. On a 4 month tour of Chile and its distinct wine regions before he writes his next Sideways book, Rex stopped by to take a tour of Kingston and have lunch at the casa patronal, one beautiful spring day in Casablanca.
Beginning with a tour of the winery, assistant winemaker Alejandra Farfán gave Rex a background on our winemaking process. Having visited some of Casablanca in the last three weeks, he mentioned how much he had been enjoying the Sauvignon Blanc from our valley and was impressed by the tiny stainless steel barrels which we use to ferment our Cariblanco Sauvignon Blanc. He was also intrigued by our plan to purchase concrete wine eggs for the upcoming 2013 season.
With a a view of the Andes and Aconcagua off in the distance, from our terraza Alejandra led him through a tasting of our recently bottled 2012 Cariblanco Sauvignon Blanc our 2010 CJ's Alazan Pinot Noir as well as our 2008 CJ's Barrel Syrah. He very much enjoyed the wines and helped himself to several second tastes of our Cariblanco. What seemed to intrigue him most our about the wines and our winery, was the fact that we're quite a new winery making such great wines (the entire Casablanca is quite young in fact) and that the winery is predominantly run by a team of women. Two of our winemakers, Evelyn Vidal our head winemaker and Alejandra Farfán, our assistant winemaker are women, our chemist is a woman and the founder of the winery Courtney Kingston, is also a woman. While he said that he'd met other female winemakers in Chile, the fact that two out of three of our vintners were women really impressed him. He was also shocked that Alejandra could be a winemaker at such a young age.
After the tasting and tour was over, Rex hugged Alejandra goodbye and headed for lunch at the casa patronal with Sally Kingston and Enrique Alliende. Over lunch, Sally and Enrique shared further background on the winery and the family's history as well as Sally's famous lamb shanks. As he left to visit Casa Marín, Rex told Sally he would be back to cook lamb shanks with her before the end of his trip.

We have lots of eggs on our family's farm in the Casablanca Valley, but not any (yet) at the winery. We are accustomed to the fresh kind, that our chickens lay behind the casa patronal, so we can enjoy huevos del campo for breakfast.
But the eggs that our winemakers are intrigued by are a lot harder and a lot bigger---and are used to make wine! Byron and Alejandra got the idea to use a concrete egg to ferment our limited-edition Chardonnay when they visited our friend Anna Matzinger at Archery Summit in Oregon a few years ago. The benefits of the eggs are multiple and range from easier temperature control due to better circulation (there are no "dead corners" as in regular barrels) to preserving fruit flavors and aromas similar to stainless steel but without the risk of evaporation or "reduction". They're also quite versatile and can be used for both white and red wines. According to the drinks business, the only drawbacks include the need to treat the concrete with tartic acid before using and the cost and the difficulty of transportation.
In the past, when we've wanted to get some kind of kooky, artisanal winemaking equipment to Chile, we've been 100% on our own. French oak barrels once were hard to come by though we finally found them, and we brought our stainless steel punch down tools in ski bags. So we thought we were sunk when Byron said he wanted to import a giant concrete egg from France. But Chile has come a long way in the almost 10 years that we've been making wine, and there are many more small wineries interested in pushing the envelope with artisan winemaking techniques. We're thrilled to be collaborating with three to four other wineries who also want to import concrete eggs from Europe to play around with for the 2013 vintage. Great to have the company...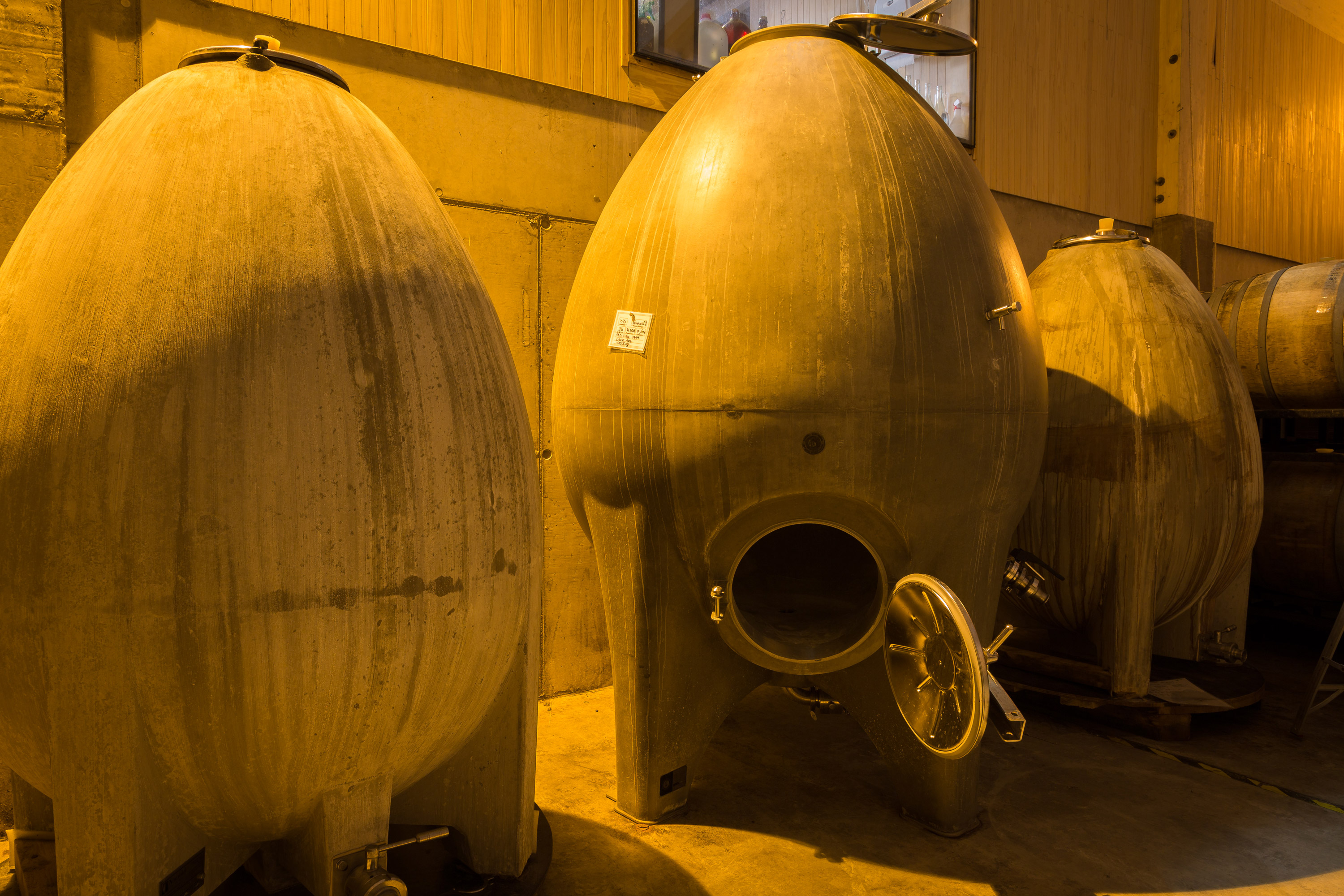 A few weeks ago, Byron (Kosuge) pressed off his last lot of pinot after a long 2012 harvest in California. And then a day later, he boarded a flight to Chile to join Courtney (Kingston) in Casablanca to barrel taste our 2012 Chilean pinots that were crushed six months earlier. Just 32 hours later he boarded a flight back to California. A grueling set of journeys all in the name of vinification, here are his notes on being a "Flying Winemaker" or winemaker who travels the world to craft wine.
"This summer I had the honor of speaking on a panel at the International Pinot Noir Celebration in McMinnville, Oregon. My assigned topic was "flying winemakers," a subject of course that I know a little bit about since I am one. Kingston Family Vineyards had a big presence on that panel because Courtney also spoke - about her family's story of living and working in two countries and two cultures. It occurred to me as I thought about what to say that the popular image of the consulting winemaker is one of a sort of magician who travels around the world sprinkling enological fairy dust, leaving good wine in his or her wake. I suppose there is marketing value to that, but the reality is that my job is mostly just the hard work of interpretation and nuance. I spend a lot of time pondering the best expression of fruit from the unique places where I make wine. Rather than put my personal stamp on it, I seek to let the vineyard reveal itself in the most compelling way." - Byron Kosuge

At the beginning of October, we at Kingston Family Vineyards were excited to receive ratings from wine magazine, Descorchados. The most famous wine magazine in Chile and well known throughout Latin America, Descorchados is authored by the well respected Chilean wine writer, Patricio Tapia. Author of countless wine books and magazines of wines all over the world, he is also an associate editor of Wine & Spirits Magazine and is featured on Argentina's food channel "ElGormet.com"
Given the respect for Patricio Tapia and Descorchados, Kingston was honored to receive 93 point ratings on both our 2011 Cariblanco Sauvignon Blanc and our 2010 Lucero Syrah. We also received 90 points on our 2009 Bayo Oscuro Syrah.
Along with being highly rating in Descorchados, members of the Kingston team were invited to pour our wines at the Descorchados Fifth Annual Luxury Wine Fair (Quinta feria de vinos de lujo) which took place at the Grand Hyatt Hotel in Santiago, Chile.
A fabulous all evening event, attended by an estimated 1000 wine lovers, attendees were given access to the 60 top Chilean wineries and the top three wines which they have to offer. Interspersed between the distinct wine tables were food stands where guests could try appetizers featuring ingredients from all 15 regions of Chile prepared by the Hyatt's executive chef, Yvan Didelot.
Highlighting the best of Chilean wines and foods, Kingston was excited to be in attendance at the event and showcase the best of our cool climate wines from the Casablanca Valley.