Blog

Dear Friends,
Early this morning, I went for a walk in Las Condes, our new neighborhood in Santiago. Our late summer mornings here are beautifully brisk and quiet. It's my favorite time of day to explore, and reminds me of walks I took at daybreak through the hills of San Francisco when I first moved to California 22 years ago.
My husband Andy and I have moved our family to Chile for the year. Our three daughters are attending a girls' primary school a few blocks away in Santiago, with their Chilean cousins. They dutifully (sometimes not so dutifully) wear their navy uniform dresses to school each day, and paso a paso are improving their Spanish on the playground and in their lenguaje class.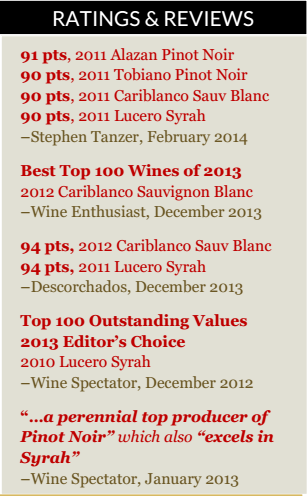 Our vineyard is an easy hour's drive west toward the coast. It will be a treat to watch summer fade into fall, fall fold into winter, winter burst into spring. Living in the US, I've "dropped in" every couple months to Casablanca for 10 days here, two weeks there—but rarely had the chance to watch the farm gradually shift with the seasons. 2014 will be an opportunity to explore and experience Chile in a new way.
This spring, we're releasing our 2012 Bayo Oscuro Syrah, our 2012 Lucero Syrah, our 2012 Bayo Oscuro CJ's Barrel Syrah and our newest 2013 Cariblanco Sauvignon Blanc. As always, they are 100% estate grown and bottled on our family's vineyard in the Casablanca Valley. And if you'd like to revisit our Pinot Noirs and Chardonnay released last fall, small quantities remain—just let us know.
How to Order Wine
To order wine, please visit our website. Old Corral Club members receive advance allocations of their personalized wine selection, a 10% discount on all orders, and complimentary tastings in Casablanca. To join the Corral, please call us to learn more or sign up online. We also offer free shipping on one case or more.
We only send release letters twice a year, but on our blog, Facebook, Twitter, Google+ and Pinterest you can get more frequent updates on Kingston. Read the latest on our harvest, hear the birds in the vineyard, and get travel recommendations for your next trip to Chile.
We hope you enjoy drinking these wines as much as we've enjoyed making them.
Sending our family's best from Chile.
¡Saludos!
Courtney Kingston

First in a series of posts by Courtney Kingston (Founder, Kingston Family Vineyards) about her year in Chile.
I write from a flight to Chile, embarking on a new adventure. For the past 10+ years, I've been traveling to our family's vineyard in Casablanca four to five times per year from the San Francisco Bay Area. I usually fly with Byron (Kosuge, our Napa-basedconsulting winemaker), and/or meet my father Michael in Dallas to continue the 10-hour flight down to Santiago. My trips usually last around a week to 10 days, and then I return home to my family in northern California. In many ways, this month's trip is like many others this time of year. Byron and I are headed south to check on the 2013 pinot noir and chardonnay blends before bottling. We'll also be surveying the vineyard in anticipation of the upcoming 2014 harvest in March. The big difference is this: Byron flies home midweek, and I'll stay to live in Chile for the balance of the year.
My husband Andy and our young daughters (ages 8, 6, and 4) arrive this weekend. We have rented an apartment in Santiago, where Annie, Louisa and Caroline will attend an all-girls' school nearby with their Chilean cousins. I brought back the girls' navy school uniforms after my November trip, which they eyed cautiously (especially Annie who "doesn't wear dresses"). They were more easily enthused when Andy and I talked up the ascensor in our El Golf apartment building. (Clearly an elevator is a bit of urban glamour for kids used to living the more rural and suburban setting of Portola Valley, California.) For the past two months, Andy and the older girls have been cramming Duolingo online Spanish lessons together. While Andy hopes the lessons will temper the girls' adjustment to an all-Spanish speaking school, the girls are clearly in it to spend time with their father on the sofa.
The vineyard will be an easy hour's drive on the Costanera Norte to Casablanca to visit the winery during the week. It will be a treat to watch summer fade into fall, fall fold into winter, winter burst into spring. Living in the US, I've always "dropped in" to Casablanca for 10 days here, 10 days there—rarely having the chance to watch the farm gradually shift with the seasons. Andy and I are planning a weekly date night to explore the food scene in Santiago, which has been coming of age lately. When we made our first Kingston Family wines over ten years ago, the local sommelier community was virtually non-existent. Now a connoisseurship of wine is developing in restaurants in Chile, and artisan wineries like ours are newly embraced.
We hope to spend many weekends at the farm as a family, gathering eggs from the chickens and hiking in the western Casablanca hills. When we're not on the farm, we hope to explore greater Chile—and discover it in a whole new way. I'm always struck by the fact that Chile is as long as the United States is wide. Given my family's five generations farming in Casablanca and my frequent trips south, many friends consider me to be quite knowledgeable about Chile. But in fact I know a lot more about our farm in Casablanca. My other travels to Patagonia were 15 years ago, before our vineyard's inaugural harvest in 2001. This year will be all about depth and discovery. I have much to see and learn. I can't wait to get started.

Horses are very important to the Kingston Family and have been on our farm for generations. Half working horses, half wild horses, the Kingston caballos are beloved by all on the Farm. Most of the time they're occupied with reducing our risk of wildfires by gobbling up all the dry grass in the hills. Other times we take them on rides around the Farm to soak in the natural landscapes of the Casablanca Valley, stirring them from their resting place down next to the Old Corral for which we named our Old Corral Club. Sometimes they surprise us, emerging from the fog, right above the winery. Allowing us a peek of them as they amble about the hills munching diligently.
While growing up on the farm, my uncle Peter had a favorite horse named Alazan de Paso, for the characteristic deep red--almost burgundy--color of his coat and mane. Years later, when we were deciding what to name our flagship wine, similarly deep red in color, we decided Alazan was the perfect fit. We soon discovered that other names inspired by our Chilean horses' coats worked for our other wines and embodied the Kingston farm and our love of horses. We continued the theme with all our wines, not just Alazan but also Bayo Oscuro, Tobiano, Lucero, Cariblanco and Sabino.
We're often asked by guests at our winery to point out a descendant of Alazan and other horses on our farm. Below are some pictures taken by our friend and photographer, Elisabeth Calmes. On the day Liz visited, a pack of our horses had come down from the hills and was grazing within a stone's throw of the winery.
Alazan - Referred to as a chestnut horse in English, it simply means the horse is brown in color and completely devoid of any black hairs, the Spanish meaning assumes a more copper or reddish color coat.
Bayo Oscuro - With the same characteristics of a bay horse, the Bayo Oscuro or Dark Bay in English, has the unique quality of a very dark red or dark brown coat.
Tobiano - A pinto or painted horse whose coat is a patchwork of large brown and white spots. Typical characteristics include legs which are white from about the knees and down, a brown face and a white tail.
Sabino - Sadly unphotographed at the time of this publishing, a Sabino is another variety of painted horse characterized by a relatively solid colored coat which is mottled or speckled in some places, especially the belly.
Lucero - Referring not to the color of the horse's coat in this instance, a Lucero is a horse which has a white star or diamond shaped marking on its forehead.
Cariblanco - As with the Sabino horse, unfortunately, we could not find a Cariblanco horse on the Farm the day Liz visited. Its name means "White faced horse".

At Kingston we're fortunate to have a small team, many of whom have worked on our vineyard or our farm for years if not decades. In many ways, everyone feels like an extended member of the Kingston family---some with stories that go back generations in Casablanca, and others who have called our small corner of Chile home more recently. We thought it would be fun to continue to share the stories of the people behind Kingston---this month telling you more about Pilar Jara, our enologist at the winery.
Pilar grew up in Concepción, Chile's second largest city after Santiago, located about a six hour drive south of Santiago. (Most recently, Concepción made national headlines in 2010 when an 8.8 magnitude earthquake hit nearby). When Pilar turned fifteen, her family moved north to the Casablanca Valley in search of work. They settled in Casablanca for a few years, but her parents ultimately returned to Concepción. Pilar chose to stay behind. In 2005, she came to Kingston to work harvest and pick wine grapes as part of our vineyard manager, Patricio Monsalva's team. Pilar made a name for herself with her dedication and can-do enthusiasm, and soon caught the eye of Evelyn Vidal, our winemaker.
In late 2005, we broke ground on our own small winery at Kingston. (Prior to that, we had been making our small-lot wines in a small rincón (corner) at our neighbor's winery, Casas del Bosque.) Evelyn asked Pilar to join the founding crew at the winery for the 2006 harvest. That year Pilar quickly learned to do every job from punch downs and pump overs to driving the forklift (which you can see her doing in the picture below if you look closely at the mirror). She learned almost every facet of winemaking through her hands-on experience in the vineyard and the winery. With Evelyn as her mentor, Pilar soon took on all the enology work in our winery's small laboratory. There she studied each vintage's fermentations and young wines in barrel, always keeping our team appraised of each tank or barrel's composition---an important and key part of top quality winemaking.
Three years ago, Pilar took the initiative to invest further in her career by studying in the evenings at the Universidad de Playa Ancha in Valparaíso. With our support, she's been pursuing a degree in Chemical Analysis and will graduate later this year. On top of her studies and full time work at the winery, Pilar has raised two boys, Felipe and Diego. We couldn't be more proud of Pilar. She is a treasured member of our family and team, and an inspiration for us all. When you come visit us in Casablanca, say a special hello to Pilar. Along with the rest of the team at Kingston, she'll look forward to welcoming you.

Dear Friends, Ten years ago, few friends would take me up the invitation to visit us in Casablanca. Admittedly, Chile is a long way away from much of the world. The flights to Santiago were barely half-full (this had its benefits: I depended on my "C" seat always becoming "C+D+E" for the overnight flight).
But in 2011, the New York Times named nearby Santiago #1 in its "Places to Go in 2011," and then National Geographic Traveler praised our neighboring Valparaíso in its "Best Trips 2013." Things changed.
Like our handmade wines, a visit to Kingston is still—and will always be—an intimate experience. All tastings and tours are private, by appointment only. Old Corral members are complimentary. Here's what a few guests have said on TripAdvisor about their time with us in Casablanca:
"A truly behind-the-scenes experience. I would highly recommend [Kingston] to anyone looking to go off the beaten path and experience something remarkable."
"Of all the places we visited in and around Santiago,our trip to Kingston was the highlight."
"A tour only surpassed by the wine."
How to Order Wine
To order wine, please visit our website. Old Corral Club members receive advance allocations of their personalized wine selection, a 10% discount on all orders, and complimentary tastings in Casablanca. To join the Corral, please call us to learn more or sign up online. We also offer free shipping on one case or more.
We only send release letters twice a year, but on our blog, Facebook, Twitter, Google+ and Pinterest you can get more frequent updates on Kingston. Read the latest on our harvest, hear the birds in the vineyard, and get travel recommendations for your next trip to Chile.
This fall, we're releasing our newest Pinot Noirs and Chardonnay, including the 2012 Alazan Pinot Noir ($32) and 2012 Tobiano Pinot Noir ($20). Old Corral members will also enjoy exclusive bottlings of the 2012 Alazan CJ's Barrel Pinot Noir ($38) and the much anticipated 2012 Sabino Chardonnay ($24). We hope you enjoy drinking these wines as much as we've enjoyed making them.
Sending our family's best from Casablanca, and we'll look forward to welcoming you south someday soon.
¡Saludos!
Courtney Kingston

One of the most common questions we get from our friends and guests to our family's winery is "what other wineries should I visit on my day trip to Casablanca?" We thought we'd do a post on our favorite recommendations of neighboring wineries---where we like to go ourselves on a day off. They all share our focus on handcrafted wines, and we can testify first-hand of their gracious hospitality. It's not an exhaustive list, but instead we hope a reliable short list of other Casablanca wineries you'll enjoy visiting as much as Kingston.
As a side note, like us, these wineries are small and usually unable to keep a full time visit staff so tours must be booked in advance by at least a day to ensure tour availability. For those tours with lunch options, even more time might be necessary to plan your visit. In general, the rule is the more in advance you book your tour, the better. We've also made sure that at all the wineries we mention here have tours in both English and Spanish and sometimes other languages. ---Eliana Arredondo
Loma Larga
A wonderful winery, you'll be warmly welcomed to Loma Larga by their tour guide, Alejandra Gutiérrez who will take you on a walk around the small family-owned winery that is doing great things with cool climate reds and whites. The winery, which sits far into the ranch owned by the Díaz family is a lovely setting with lots of fruit trees and a neat underground bodega which has grapevines growing on its roof. The tour ends in a tasting of five wines in one of the cosy little houses they have near the bodega and which have been converted into tasting rooms. One of my favorite things about the tour here was Alejandra's extensive knowledge of the winemaking process and of wines in general having taken several sommelier courses. Chilean, she's also trained as a translator and is fluent in at least three languages, Spanish, English and French and loves to practice her French with any of you francophones out there. Also, I'm a huge fan of their Chilean Malbec (named by Descorchados as the best Malbec in Chile) so when you're scheduling a visit, ask in advance if you can try it.
To make reservations, go to their website or you can email Alejandra at tienda@lomalarga.com
Bodegas RE
The latest winery to be opened by Pablo Morandé, the winemaker/"discoverer" of Casablanca as a winemaking valley, they not long ago opened for tours. More than just a winery, they also produce balsamic vinegar and flavored alcohols which are sold in their shop, reminiscent of a small Italian cantina filled with countless other products made in Chile. In terms of wine, however, one of the most unique things about the wine they produce is that it is fermented only in oak barrels, clay pots and even larger clay tanks, which makes for an exciting tour. You can even plan to have lunch inside their wine cave among the clay barrels which you won't find anywhere else in the stainless steel dominated Casablanca Valley. Even more interesting than the manner in which Bodegas RE produces its wines are the wines themselves. Full of strange and intriguing combinations, one of their most interesting wines, which I fell in love with, was their $25.000 CLP ($50 USD) white pinot noir called REvelation. Discovered by accident by the winemakers, this wine has gone on to win numerous awards in Chile and abroad. With the nose of a fine port, this white pinot noir tastes like you're drinking pinot noir with a rather strange but not unpleasant twist.
To make reservations, go to their website or you can email at contacto@bodegasre.cl
Quintay
Also somewhat new to the tourism scene in Casablanca Valley, Quintay opened its doors to guests in early 2012. A co-op of wineries throughout the Casablanca valley, Quintay blends of berries of the same varietal from their different vineyards to craft delicious wines and a diverse tour experience. The tours, which are planned by their young tour guide, Rocio, lead you on small circuit in and around the winery, so be sure to bring your walking shoes. You'll get to see some of their newest grape vines which are all organic and the unique architecture of the winery which lets in enough sun for them to use natural light most of the working day. You'll also get to step onto the winery floor and taste different wines straight from the barrel. Since Quintay sources their grapes from different growers all over the valley, you'll get to compare wines from distinct regions of Casablanca and see how much the micro climates within the valley affect the same grape varietal. After doing some barrel tasting, you'll get to try the wines themselves, from the bottle, and compare even further the final blends. Excitingly, at the end of this year they're slated to start building some new visitor installations with views over the valley.
To make reservations, go to their website or you can email Rocío at turismo@quintay.com
Casa Marín
This winery doesn't sit in the Casablanca Valley, rather the San Antonio Valley not too far away, but is worth the trip. With a beautiful bodega decorated with ceramic tiles made by the sister of the winery's founder and owner, Maria Luisa (Marilu) Marín. One of the first female winemakers in the area María Luisa resisted others protests that she was planting her vineyards too close to the sea and has survived to be a very successful winery Her son Felipe, is now the winemaker and year after year the winery continues to win awards for its outstanding wines. My favorite is their Sauvignon Blanc named by Descorchados as the best Sauvignon Blanc in Chile. Reminiscent of a New Zealand Sauvignon Blanc theirs is fruity and so aromatic that you can smell the orange blossoms before your nose even approaches the glass. In addition to the great wines you'll try at Casa Marín, another benefit of making the trip out to San Antonio is the restaurant, El Sauce, located in the tiny town of Lo Abarca where Casa Marín sits and Casa Marin's beautiful bungalow, which is, as mentioned in our blog post on hotels in Chile, a great place to stay if you're in wine country.
To make reservations, go to their website or you can email Isabel at hospitality@casamarin.cl
- - - -
To visit Kingston Family Vineyards, email us at guests@kingstonvineyards.com

This is the second post in our series which answers our friends and guests' FAQs about Chile. Most people want to know the best places to eat while they're here. However, since we're food lovers, this is a big list and we've decided to divide it into more specific FAQs like "Where should I eat when I'm in Valparaíso?" or "Where should I eat in Casablanca?" This particular post answers the question, "Where should I eat when I'm in Santiago?" In addition, if you're traveling to Chile you should know that dinner time is quite a bit later than in the U.S. It usually falls somewhere between 7:30PM and 10:00PM so if you go early to a restaurant, it might not even be open before 7PM or you can expect to be eating on your own.
Named one of the best restaurants in the world on multiple occasions, we have no qualms about suggesting this Peruvian restaurant in Chile. The restaurant, which can also be found in Peru and other places across the globe, has a great wine list, featuring our Cariblanco, and some of the best ceviche we've ever tried. While you're there, don't forget to try the Peruvian style pisco sours which differ a bit from Chilean pisco sours in that they contain egg white and a drop of bitters on top.
With its eccentric, eco friendly design and delicious traditional Chilean food, this is a must go if you're in Santiago. That is, except if you're there in February when the restaurant closes for the entire month. In every other month, however, Chile's national chef, Coco Pacheco, serves up delicious seafood and tasty pisco sours in addition to their extensive wine list containing a couple of the Kingston wines. We recommend trying the corvina or Chilean sea bass because after all, you're in Santiago de Chile!
A wine bar with delicious food, this restaurant is great for trying different Chilean wines but it's not on the high end. Many wineries from all around Chile and the Casablanca Valley are featured here along with delicious fare.
Located in one of Santiago's up-and-coming neighborhoods, Lastarria is filled with beautiful museums, architecture and gourmet food and drink. Of all the choices in the barrio, however, we particularly recommend Bocanariz. Owned by two Chilean sommeliers and a Frenchman, who is in charge of the food, this wine bar has probably the most extensive wine list of anywhere in Santiago. For appetizers to go with your wine, try the "candies" and if you like Malbec, go for Loma Larga's award-winning Chilean Malbec.
Located in three different places around Santiago, Bar Liguria is a great place to go to for traditional Chilean cuisine in a homey setting where the tables are dressed in red and white checkered tablecloths and the walls are adorned in classic Chilean posters. Along with a long list of Chilean wines, you'll also find some great Chilean beer which is becoming more popular with artisan breweries like Kross, Kunstmann and Guyacan appearing all across Chile.
One of our favorite restaurants in Santiago, our only regret is not going more often. In addition to gourmet Chilean food (try the ceviche!), they have some of the best cocktails we've ever tried. With strange and delicious combinations, Mestizo is worth going to if even for just the view and a nice drink. When you make reservations, be sure to ask for a table on the patio, you'll end up overlooking the small pond in front and a beautiful sunset over Parque Bicentenario where this restaurant is located.
*Always make reservations

Our family began the quest to make artisan, sustainable wines from Chile's Casablanca Valley almost twenty years ago. At the time, Chile's forte was producing large volumes of wine at very affordable prices. Our dream at Kingston was not to make large volumes of wine, but instead to produce artisan wines from one place---our family's farm in western Casablanca.
Back in the early 90's, many smart, young chilenos were graduating from Chile's top winemaking programs—la Pontifica Universidad Católica de Chile and la Universidad de Talca. Winemaking was a respected career in Chile, drawing on centuries of winemaking after the arrival of the Spaniards in the 1500s. The majority of young chilenos sought jobs at large wineries that promised respected corporate structures and senior management opportunities. Cabernet sauvignon and the Maipo Valley were king.
We hoped we were onto something in the cooler western hills of Casablanca, only 12 miles from the Pacific. Our family decided to make a bet on pinot noir and syrah, hoping that some of the most exciting wines on Chile's coast were still to come. But this new frontier needed an entrepreneurial, risk-taking winemaking culture---one that did not yet exist at the time in Chile.
I (Courtney) was in graduate school at Stanford University in the mid-1990's, and wondered if we could start an intercambio/exchange program for artisan winemakers between Chile and California. An impressive number of Chileans winemakers already worked abroad, even outnumbering the Australians training in the U.S. at the time. But again, everything was skewed toward big production----most chilenos worked on crews at large operations like Robert Mondavi or Kendall-Jackson making chardonnay or cabernet, preparing them well for similarly scaled wineries at home in Chile. A limited few got the opportunity to make artisan wines on the coast under some of California's best pinot noir winemakers.
Beginning in 2001, we started connecting winemakers both in Chile and California to create our own mini winemaker exchange program. We worked with Edmundo Bordeu and Yerko Moreno, the chairs of the enology departments at la Católica and Talca, to identify some of the up and coming young Chilean winemakers who would seize the opportunity to mentor under a Californian winemaker making small-lot pinot. Our hope was that these young winemakers would bring their hands-on knowledge back to Chile. Having known our family for years, Yerko understood what we were looking for immediately: "ustedes necesitan alguien cuatro a cuatro" (You need someone hands-on---with four-wheel drive). So we spread the word and looked for winemakers that were eager to learn, dive in and get their hands stained. We leveraged our Chilean-American family's contacts in both continents to facilitate the logistics, and created a Kingston "fellowship" to support top candidates who otherwise couldn't afford the trip.
Over the years, our exchange program and fellowship have supported Chileans to mentor under respected pinot noir winemakers such as Michael Terrien (then at Acacia), Ken Bernards at Ancien and Bob Cabral at Williams Selyem. We're thrilled to have returning Kingston fellows like Julio Bastias settle back in Chile, and now leading the way on the coast with Matetic Vineyards (a respected pinot producer in San Antonio Valley). Ana Salomó, another fellow, returned from Williams Selyem, and now makes wine for Porta. Along the way, we've also sent members of our own small team, including our own winemaker, Evelyn Vidal to Talley Vineyards and our vineyard manager, Patricio Monsalva, to Ridge Vineyards.
In 2013, we celebrated our 10th vintage at Kingston. Looking back, we're thrilled to see how far artisan winemaking has come in Chile. Hopefully the small seeds we began to plant years ago with our intercambio not only affected those individual winemaker's careers, but more importantly laid the foundation for world-class artisan wines from Chile.

Almost everyone coming to Chile flies in and out of Santiago, nearly guaranteeing you will spend at least a night or so in Chile's capital city or the surrounding area. Since we host many guests who are staying in the area, we receive a lot of questions about where to stay and what to do while in Chile. As a result, we've decided to start a series of blog posts which answer these questions. Here is the first post which responds to the Frequently Asked Question (FAQ): Where should I stay when I'm in Chile?
This is certainly not an easy answer,but since our team in Chile and the U.S. has had some experience with hotel stays, here are a few recommendations for staying in and around Santiago, Valparaíso/Viña del Mar and Casablanca Valley.
Santiago
With a great location at the foot of the Cerro San Cristóbal and just minutes away from Pablo Neruda's house, La Chascona, our friend, Liz Caskey, recommends The Aubrey as the perfect place to stay for a few nights in Santiago. Once home to the nation's leading political families it has been transformed into a beautiful boutique hotel with 15 rooms which vary in price and style.
Originally constructed in 1927 as a residence, it has been beautifully preserved as a hotel located in the now up and coming neighborhood of Lastarria. One of our favorite Santiago barrios due to its European style and amazing restaurants and wine bars like Bocanariz and city sites such as the Museo Nacional Bellas Artes, this neighborhood is a must see while you're in Santiago.
A French inspired, boutique hotel in the heart of barrio Providencia, Hotel Orly is located perfectly for close access to some of the city's best restaurants like the nearby, Aquí Está Coco. The hotel itself also comes highly recommended by another of our tour guide friends, Brian Pearson of Santiago Adventures.
Valparaíso
Located on Cerro Alegre, one of the most important and most visited hills in Valparaíso, Casa Higueras has perhaps the best terrace for finding a spectacular view of the city. A bonus is the delicious food at their restaurant which features Chilean nouveau cuisine.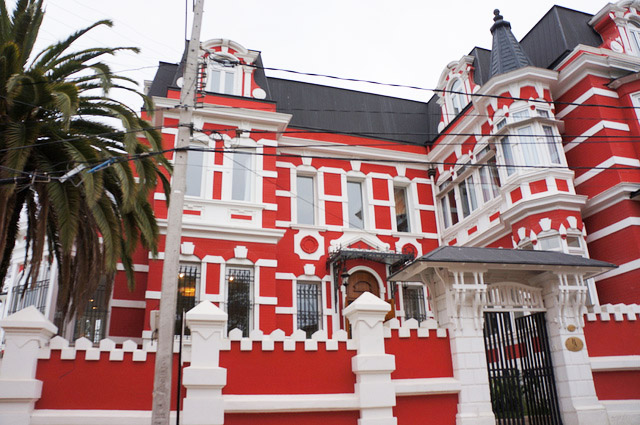 Also located on Cerro Alegre with great views of the city, this recently opened hotel, was built inside a palace and an old house both beautifully restored for the purpose. It is also the location of Restaurant Alegre home to Chef Sergio Barroso who worked for Ferran Adria at his famous El Bulli. His training at what was called the best restaurant in the world certainly shows in the quality of the food.
Wine Country
Located in San Antonio, just a few minutes from Casablanca, Matetic is not only a wonderful winery to visit, it's a beautiful place to stay for a couple of relaxing nights in the middle of nature as you explore the valley of Casablanca and its wines during the day.
Also located at a winery a bit outside of Casablanca, their award winning wines make Casa Marín, in our opinion, one of the best wineries to visit in and around Casablanca Valley, whether or not you decide to stay here. Though they only have one guest house, large enough for 4 people, it is at the highest point of their vineyards in Lo Abarca with a great view of the Pacific Ocean.
Hidden within the coastal city of Algarrobo, this 13 room hotel is a neat, modern enclave just minutes from the Casablanca Valley. One of its most wonderful features is the hotel's wine cellar which they call their honesty bar. You can simply walk into it, as though it's your own, and select a bottle from their large collection, including many MOVI wines. Once you've chosen a bottle you sign it out and take it to your room or to the restaurant to enjoy with your meal. La Mirage Parador This 5-room boutique hotel and restaurant is in the tiny community of Tunquen, only about a 20-minute drive from us, and 10 minutes from the coastal resort town of Algarrobo. Service is a strong focus for owner-operators Kim and Ricardo and you can be assured of a nice meal at the hotel's restaurant.
A bit further from Casablanca than Casa Marín and Matetic, Lapostolle is worth a stop for the wines and their four small villas named after the four wines produced at the Clos Apalta winery, Carmeneré, Petit Verdot, Cabernet Sauvignon and Merlot. Also located at the highest point of their vineyards, our visitors who have stayed there love the beautiful view of the Santa Cruz Valley. * Click the name of each hotel to see its website

Ten years ago, we bottled our first vintage of Kingston Family Pinot Noir and Syrah from the western hills of Chile's Casablanca Valley. We did not have our own winery. Instead we brought our essential winemaking equipment down in ski bags, and made our wine in a little rincón in the corner of our neighbor's winery, Casas del Bosque. We were among a handful of Chilean vineyards leveraging artisan winemaking and sustainable viticultural techniques to uncover the potential of coastal Chile.
We're pleased to have recently joined up with that "handful" of artisan winemakers to form MOVI. The Movimiento de Viñateros Independientes or the Movement of Independent Vintners (MOVI for short), is a group of Chilean garagiste winemakers who have teamed up to promote handcrafted Chilean wine both in Chile and abroad. We're excited to be joining other wineries who share our passion for grape growing and producing quality, small-lot wine.
MOVI members include a diverse group of winemakers from half a dozen countries. That even includes one of Byron's friends and former classmate at U.C. Davis, Ed Flaherty of Flaherty Wines. The international group, like our Chilean-American team, is committed to making great quality wines in Chile by any means possible. Sometimes that even means making wine at someone else's winery, just as we had to do only a few short years ago. We're glad to now be able to provide that space in our winery to other small vintners including our friends Felipe and Coni of Garcia + Schwaderer Co.(formerly Bravado Wines) and Ana María Pacheco, Villard's winemaker, both members of MOVI.
As we join MOVI, we're looking forward to being a part of the group which has, since its founding four years ago, grown from 12 members to 22 and along the way brought great international attention to Chile's independent wine movement. We'll soon be participating in even more events in Chile and abroad. Yesterday, for example, our assistant winemaker, Alejandra Farfán, traveled north to Antofogasta, Chile for La Feria de MOVI or the MOVI Wine Festival where she served Kingston wines, along with other MOVI wines for distributors there. Our hope is that through this festival and other events we can expand the presence of Kingston wines in Chile, a very competitive market.
In all, we're thrilled to be a part of the burgeoning movement in Chile which centers around food and wine, inspiring gourmet cuisine and sparking a growth in handcrafted, artisan wines.