Blog
March 18, 2014 | Winemaking | Courtney Kingston
Our 2014 Spring Release is Here

Dear Friends,
Early this morning, I went for a walk in Las Condes, our new neighborhood in Santiago. Our late summer mornings here are beautifully brisk and quiet. It's my favorite time of day to explore, and reminds me of walks I took at daybreak through the hills of San Francisco when I first moved to California 22 years ago.
My husband Andy and I have moved our family to Chile for the year. Our three daughters are attending a girls' primary school a few blocks away in Santiago, with their Chilean cousins. They dutifully (sometimes not so dutifully) wear their navy uniform dresses to school each day, and paso a paso are improving their Spanish on the playground and in their lenguaje class.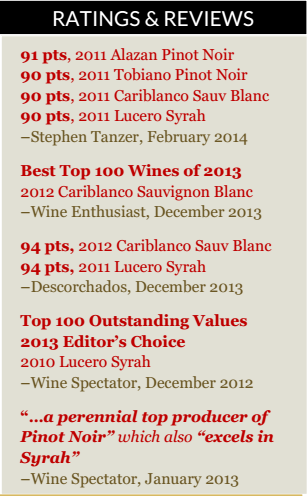 Our vineyard is an easy hour's drive west toward the coast. It will be a treat to watch summer fade into fall, fall fold into winter, winter burst into spring. Living in the US, I've "dropped in" every couple months to Casablanca for 10 days here, two weeks there—but rarely had the chance to watch the farm gradually shift with the seasons. 2014 will be an opportunity to explore and experience Chile in a new way.
This spring, we're releasing our 2012 Bayo Oscuro Syrah, our 2012 Lucero Syrah, our 2012 Bayo Oscuro CJ's Barrel Syrah and our newest 2013 Cariblanco Sauvignon Blanc. As always, they are 100% estate grown and bottled on our family's vineyard in the Casablanca Valley. And if you'd like to revisit our Pinot Noirs and Chardonnay released last fall, small quantities remain—just let us know.
How to Order Wine
To order wine, please visit our website. Old Corral Club members receive advance allocations of their personalized wine selection, a 10% discount on all orders, and complimentary tastings in Casablanca. To join the Corral, please call us to learn more or sign up online. We also offer free shipping on one case or more.
We only send release letters twice a year, but on our blog, Facebook, Twitter, Google+ and Pinterest you can get more frequent updates on Kingston. Read the latest on our harvest, hear the birds in the vineyard, and get travel recommendations for your next trip to Chile.
We hope you enjoy drinking these wines as much as we've enjoyed making them.
Sending our family's best from Chile.
¡Saludos!
Courtney Kingston
Comments
Commenting has been turned off.