This is the second post in our series which answers our friends and guests' FAQs about Chile. Most people want to know the best places to eat while they're here. However, since we're food lovers, this is a big list and we've decided to divide it into more specific FAQs like "Where should I eat when I'm in Valparaíso?" or "Where should I eat in Casablanca?" This particular post answers the question, "Where should I eat when I'm in Santiago?" In addition, if you're traveling to Chile you should know that dinner time is quite a bit later than in the U.S. It usually falls somewhere between 7:30PM and 10:00PM so if you go early to a restaurant, it might not even be open before 7PM or you can expect to be eating on your own.
Named one of the best restaurants in the world on multiple occasions, we have no qualms about suggesting this Peruvian restaurant in Chile. The restaurant, which can also be found in Peru and other places across the globe, has a great wine list, featuring our Cariblanco, and some of the best ceviche we've ever tried. While you're there, don't forget to try the Peruvian style pisco sours which differ a bit from Chilean pisco sours in that they contain egg white and a drop of bitters on top.
With its eccentric, eco friendly design and delicious traditional Chilean food, this is a must go if you're in Santiago. That is, except if you're there in February when the restaurant closes for the entire month. In every other month, however, Chile's national chef, Coco Pacheco, serves up delicious seafood and tasty pisco sours in addition to their extensive wine list containing a couple of the Kingston wines. We recommend trying the corvina or Chilean sea bass because after all, you're in Santiago de Chile!
A wine bar with delicious food, this restaurant is great for trying different Chilean wines but it's not on the high end. Many wineries from all around Chile and the Casablanca Valley are featured here along with delicious fare.
Located in one of Santiago's up-and-coming neighborhoods, Lastarria is filled with beautiful museums, architecture and gourmet food and drink. Of all the choices in the barrio, however, we particularly recommend Bocanariz. Owned by two Chilean sommeliers and a Frenchman, who is in charge of the food, this wine bar has probably the most extensive wine list of anywhere in Santiago. For appetizers to go with your wine, try the "candies" and if you like Malbec, go for Loma Larga's award-winning Chilean Malbec.
Located in three different places around Santiago, Bar Liguria is a great place to go to for traditional Chilean cuisine in a homey setting where the tables are dressed in red and white checkered tablecloths and the walls are adorned in classic Chilean posters. Along with a long list of Chilean wines, you'll also find some great Chilean beer which is becoming more popular with artisan breweries like Kross, Kunstmann and Guyacan appearing all across Chile.
One of our favorite restaurants in Santiago, our only regret is not going more often. In addition to gourmet Chilean food (try the ceviche!), they have some of the best cocktails we've ever tried. With strange and delicious combinations, Mestizo is worth going to if even for just the view and a nice drink. When you make reservations, be sure to ask for a table on the patio, you'll end up overlooking the small pond in front and a beautiful sunset over Parque Bicentenario where this restaurant is located.
*Always make reservations

Our family began the quest to make artisan, sustainable wines from Chile's Casablanca Valley almost twenty years ago. At the time, Chile's forte was producing large volumes of wine at very affordable prices. Our dream at Kingston was not to make large volumes of wine, but instead to produce artisan wines from one place---our family's farm in western Casablanca.
Back in the early 90's, many smart, young chilenos were graduating from Chile's top winemaking programs—la Pontifica Universidad Católica de Chile and la Universidad de Talca. Winemaking was a respected career in Chile, drawing on centuries of winemaking after the arrival of the Spaniards in the 1500s. The majority of young chilenos sought jobs at large wineries that promised respected corporate structures and senior management opportunities. Cabernet sauvignon and the Maipo Valley were king.
We hoped we were onto something in the cooler western hills of Casablanca, only 12 miles from the Pacific. Our family decided to make a bet on pinot noir and syrah, hoping that some of the most exciting wines on Chile's coast were still to come. But this new frontier needed an entrepreneurial, risk-taking winemaking culture---one that did not yet exist at the time in Chile.
I (Courtney) was in graduate school at Stanford University in the mid-1990's, and wondered if we could start an intercambio/exchange program for artisan winemakers between Chile and California. An impressive number of Chileans winemakers already worked abroad, even outnumbering the Australians training in the U.S. at the time. But again, everything was skewed toward big production----most chilenos worked on crews at large operations like Robert Mondavi or Kendall-Jackson making chardonnay or cabernet, preparing them well for similarly scaled wineries at home in Chile. A limited few got the opportunity to make artisan wines on the coast under some of California's best pinot noir winemakers.
Beginning in 2001, we started connecting winemakers both in Chile and California to create our own mini winemaker exchange program. We worked with Edmundo Bordeu and Yerko Moreno, the chairs of the enology departments at la Católica and Talca, to identify some of the up and coming young Chilean winemakers who would seize the opportunity to mentor under a Californian winemaker making small-lot pinot. Our hope was that these young winemakers would bring their hands-on knowledge back to Chile. Having known our family for years, Yerko understood what we were looking for immediately: "ustedes necesitan alguien cuatro a cuatro" (You need someone hands-on---with four-wheel drive). So we spread the word and looked for winemakers that were eager to learn, dive in and get their hands stained. We leveraged our Chilean-American family's contacts in both continents to facilitate the logistics, and created a Kingston "fellowship" to support top candidates who otherwise couldn't afford the trip.
Over the years, our exchange program and fellowship have supported Chileans to mentor under respected pinot noir winemakers such as Michael Terrien (then at Acacia), Ken Bernards at Ancien and Bob Cabral at Williams Selyem. We're thrilled to have returning Kingston fellows like Julio Bastias settle back in Chile, and now leading the way on the coast with Matetic Vineyards (a respected pinot producer in San Antonio Valley). Ana Salomó, another fellow, returned from Williams Selyem, and now makes wine for Porta. Along the way, we've also sent members of our own small team, including our own winemaker, Evelyn Vidal to Talley Vineyards and our vineyard manager, Patricio Monsalva, to Ridge Vineyards.
In 2013, we celebrated our 10th vintage at Kingston. Looking back, we're thrilled to see how far artisan winemaking has come in Chile. Hopefully the small seeds we began to plant years ago with our intercambio not only affected those individual winemaker's careers, but more importantly laid the foundation for world-class artisan wines from Chile.

Almost everyone coming to Chile flies in and out of Santiago, nearly guaranteeing you will spend at least a night or so in Chile's capital city or the surrounding area. Since we host many guests who are staying in the area, we receive a lot of questions about where to stay and what to do while in Chile. As a result, we've decided to start a series of blog posts which answer these questions. Here is the first post which responds to the Frequently Asked Question (FAQ): Where should I stay when I'm in Chile?
This is certainly not an easy answer,but since our team in Chile and the U.S. has had some experience with hotel stays, here are a few recommendations for staying in and around Santiago, Valparaíso/Viña del Mar and Casablanca Valley.
Santiago
With a great location at the foot of the Cerro San Cristóbal and just minutes away from Pablo Neruda's house, La Chascona, our friend, Liz Caskey, recommends The Aubrey as the perfect place to stay for a few nights in Santiago. Once home to the nation's leading political families it has been transformed into a beautiful boutique hotel with 15 rooms which vary in price and style.
Originally constructed in 1927 as a residence, it has been beautifully preserved as a hotel located in the now up and coming neighborhood of Lastarria. One of our favorite Santiago barrios due to its European style and amazing restaurants and wine bars like Bocanariz and city sites such as the Museo Nacional Bellas Artes, this neighborhood is a must see while you're in Santiago.
A French inspired, boutique hotel in the heart of barrio Providencia, Hotel Orly is located perfectly for close access to some of the city's best restaurants like the nearby, Aquí Está Coco. The hotel itself also comes highly recommended by another of our tour guide friends, Brian Pearson of Santiago Adventures.
Valparaíso
Located on Cerro Alegre, one of the most important and most visited hills in Valparaíso, Casa Higueras has perhaps the best terrace for finding a spectacular view of the city. A bonus is the delicious food at their restaurant which features Chilean nouveau cuisine.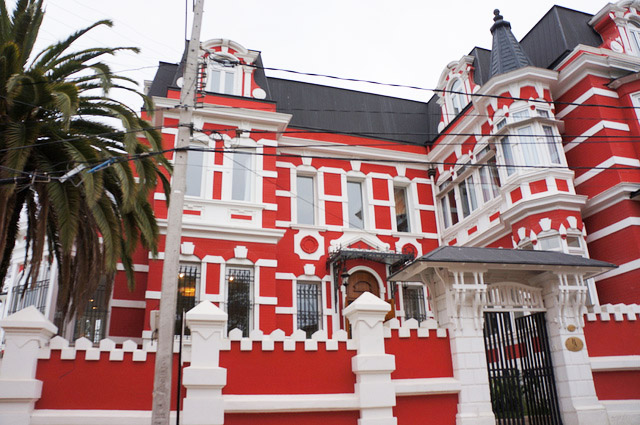 Also located on Cerro Alegre with great views of the city, this recently opened hotel, was built inside a palace and an old house both beautifully restored for the purpose. It is also the location of Restaurant Alegre home to Chef Sergio Barroso who worked for Ferran Adria at his famous El Bulli. His training at what was called the best restaurant in the world certainly shows in the quality of the food.
Wine Country
Located in San Antonio, just a few minutes from Casablanca, Matetic is not only a wonderful winery to visit, it's a beautiful place to stay for a couple of relaxing nights in the middle of nature as you explore the valley of Casablanca and its wines during the day.
Also located at a winery a bit outside of Casablanca, their award winning wines make Casa Marín, in our opinion, one of the best wineries to visit in and around Casablanca Valley, whether or not you decide to stay here. Though they only have one guest house, large enough for 4 people, it is at the highest point of their vineyards in Lo Abarca with a great view of the Pacific Ocean.
Hidden within the coastal city of Algarrobo, this 13 room hotel is a neat, modern enclave just minutes from the Casablanca Valley. One of its most wonderful features is the hotel's wine cellar which they call their honesty bar. You can simply walk into it, as though it's your own, and select a bottle from their large collection, including many MOVI wines. Once you've chosen a bottle you sign it out and take it to your room or to the restaurant to enjoy with your meal. La Mirage Parador This 5-room boutique hotel and restaurant is in the tiny community of Tunquen, only about a 20-minute drive from us, and 10 minutes from the coastal resort town of Algarrobo. Service is a strong focus for owner-operators Kim and Ricardo and you can be assured of a nice meal at the hotel's restaurant.
A bit further from Casablanca than Casa Marín and Matetic, Lapostolle is worth a stop for the wines and their four small villas named after the four wines produced at the Clos Apalta winery, Carmeneré, Petit Verdot, Cabernet Sauvignon and Merlot. Also located at the highest point of their vineyards, our visitors who have stayed there love the beautiful view of the Santa Cruz Valley. * Click the name of each hotel to see its website

Ten years ago, we bottled our first vintage of Kingston Family Pinot Noir and Syrah from the western hills of Chile's Casablanca Valley. We did not have our own winery. Instead we brought our essential winemaking equipment down in ski bags, and made our wine in a little rincón in the corner of our neighbor's winery, Casas del Bosque. We were among a handful of Chilean vineyards leveraging artisan winemaking and sustainable viticultural techniques to uncover the potential of coastal Chile.
We're pleased to have recently joined up with that "handful" of artisan winemakers to form MOVI. The Movimiento de Viñateros Independientes or the Movement of Independent Vintners (MOVI for short), is a group of Chilean garagiste winemakers who have teamed up to promote handcrafted Chilean wine both in Chile and abroad. We're excited to be joining other wineries who share our passion for grape growing and producing quality, small-lot wine.
MOVI members include a diverse group of winemakers from half a dozen countries. That even includes one of Byron's friends and former classmate at U.C. Davis, Ed Flaherty of Flaherty Wines. The international group, like our Chilean-American team, is committed to making great quality wines in Chile by any means possible. Sometimes that even means making wine at someone else's winery, just as we had to do only a few short years ago. We're glad to now be able to provide that space in our winery to other small vintners including our friends Felipe and Coni of Garcia + Schwaderer Co.(formerly Bravado Wines) and Ana María Pacheco, Villard's winemaker, both members of MOVI.
As we join MOVI, we're looking forward to being a part of the group which has, since its founding four years ago, grown from 12 members to 22 and along the way brought great international attention to Chile's independent wine movement. We'll soon be participating in even more events in Chile and abroad. Yesterday, for example, our assistant winemaker, Alejandra Farfán, traveled north to Antofogasta, Chile for La Feria de MOVI or the MOVI Wine Festival where she served Kingston wines, along with other MOVI wines for distributors there. Our hope is that through this festival and other events we can expand the presence of Kingston wines in Chile, a very competitive market.
In all, we're thrilled to be a part of the burgeoning movement in Chile which centers around food and wine, inspiring gourmet cuisine and sparking a growth in handcrafted, artisan wines.

Imagine walking up to someone's house for lunch. You stroll past their garden, continue up the front sidewalk and steps which are shaded by avocado trees and arrive in a house with a lovely shaded porch of wooden tables and a welcoming wooden front door. Sounds dreamy, right? That's Macerado.
With a beautiful huerta or garden from which they take their fresh produce, you feel almost timid walking into the small restaurant which looks like it could be someone's home. Add to that a focus on local ingredients, freshness, beautiful presentation and relaxed atmosphere and Macerado made me feel as if I were at home in California but with a Chilean twist. They also had local products for sale, such as beautiful shrunken wool shawls and pieces of clothing for your perusal as you waited for your next course. They are also another supporter of one of the local products we provide for our tastings at Kingston, Izaro olive oil.
In addition to being fresh, it is slow food, perfect for a relaxing lunch especially in the warm summer afternoon as the shady restaurant, felt cool and airy under the protective shade of all those fruit trees even on a hot day in Casablanca summer.
As mentioned before, not only was the food delicious but the presentation of the dishes is beautiful as well and the place has the feel of an even more upscale restaurant, despite the casual atmosphere. On the day we were there they served us a little appetizer, complements of the kitchen, using cherry tomatoes from the garden and fresh basil for our tiny taste of cherry tomato, basil and a small square of fresh local cheese.
Macerado also has a wonderful wine selection that includes Kingston wines, which we didn't try for lunch, but would have paired wonderfully with the the Cebiche Mixto with pescado por Juan Fernández (e.g. fish from Robinson Crusoe Island) or the San Jéronimo lamb which my mother-in-law enjoyed from our friends, the Larrain family, and their nearby ranch. The fish of the day was creatively paired with a mote salad, (mote are something like wheat berries and used in Chile's famous and refreshing drink called mote con huesillo), and we shared machas a la parmesana (clams baked with parmesan cheese) as an appetizer. The meal was topped off with a lovely Leche quemada (sort of like panna cotta, Chilean style) plated with fresh berries.
Altogether a tasty lunch with a great atmosphere, perfect for a full day of wine tastings in Casablanca. Bravo to our friend and Macerado's owner, Gonzalo.
Address: Avenida Portales 1685, Casablanca.
Phone: +56-32-274-1453

When we planted our first rows of pinot noir and syrah in the far hills of our family's ranch in the mid-1990's, we were building upon Chile's long history of winemaking beginning with the Spaniards' arrival in 15th century. But much of what we decided to do in Casablanca Valley's western hills was entirely new. At the time, chardonnay and sauvignon blanc were king in coastal Casablanca, and most vineyards were planted on the valley floor for ease of farming. Our Chilean/American family watched closely as exceptional vineyards were developed on parts of California's Pacific coast, and wondered if Casablanca might mirror that potential south of the equator.
We studied years of weather information from our farm. I'll never forget immersing myself one afternoon in fifty+ years of daily rainfall statistics that my great-grandfather and grandfather diligently recorded with their dramatic, sweeping penmanship in an old weathered, leather book. The book is still gingerly kept in an old mueble in front hall of the casa patronal, not far from the old dusty binders of cow milking records from the 1950's. As my grandfather neared the end of his life in the late 80's, my Aunt Sally's hand recorded the milimetros of rainfall.
We searched in the hills of our farm for attractive soil to plant pinot noir and syrah despite our Casablanca neighbor's skepticism. Doubtful family members humored us, after recalling my great-grandfather Carl John Kingston's search for gold in the same hills generations before. To study the soil, we dug small ditches high up in the hills where our cattle weren't interested in the uphill trek. And thanks to a referral by our California vineyard friend Ann Kraemer, a respected PhD nicknamed "Dr. Dirt" spent a few days with us studying soil samples from our farm.
Dr. Dirt was a tall man with a long grey beard that's probably grown in my memory. He reveled in being lowered down with little brown paper bags into small calicatas we dug 6-feet deep. There he would study the soil, and evaluate its potential as a future home for a grapevine. My uncle Enrique and I (Courtney Kingston) would wait above ground with the back-hoe driver for the early verdict. The occasional "wow" would erupt from the soil (Dr. Dirt's pithy version of a compliment), and our hopes for the future of our farm would rise.
Ultimately, you can dig lots of ditches and analyze lots of raindrops, but the decision to plant a vineyard on the Chilean coast is part art, part folly, and part luck. This is where my great-grandfather's search for gold comes in. Generations of Kingstons trying to figure out "what's next for the farm" led us to lean forward. Thankfully the bet on cool climate reds in the western Casablanca hills appears to have been a good one with Wine Spectator Magazine recently referring to Kingston Family as "a perennial top producer in pinot noir" that also "excels in syrah." With ten vintages under our belt, we believe we're just getting started. Come visit us in Casablanca, and we will walk with you through our hillside blocks and proudly point out "ésto es un 'wow' lugar."

While Casablanca may seem like quite a small rural town with little to boast, we've tried to dig a little deeper to discover all the hidden gems that this valley has to offer. Aside from the wines and a sprinkling of top-notch restaurants, we've found there are many local products which are not to be missed when visiting this rural municipality. As such, we've recently been trying to incorporate those products into our tour offerings to give an even broader taste of Chile in our tours.
One of the producers which we looked at to provide top quality goods was Ízaro. Supposedly the first olive grove in Casablanca, they make their olives into oil in their tiny factory situated at the outskirts of the valley. Past vineyards and down curvey roads, difficult to find and with no marked entry point, much like Kingston, its largest landmark is its location next to a famous old pond, just a dry hole in the ground. Committed to selling from their factory and other small local retailers, (including Kingston) their olive oil is exquisite and we're excited to be serving it to our guests at the winery.
The second producer of our local goods is Carnicería Don Lolo. With a modest butcher shop located in the center of Casablanca, walking into the tiny place you would never know of his fame. With just one small case for meat and a wall of a few wine bottles, the shop is bare bones and attended only by one old man, Don Lolo. As we explained to him we wanted to feature his pernil and --- as part of or wine tastings, only then did he launch into his story of having his handmade --- served at House of Morandé by Pablo Morandé the valley's founder for wine. He also handed over a couple of wine magazines with full page spreads of him and his business. Trying his wares makes it easy to see how he has earned such a good name.
Our next local producer is of cheese. Located on the curve of a narrow road leading away from Casablanca, there sits a small red house which would be easily passed by if not for its large signs advertising its hot empanadas. There they use queso chanco or a locally made type of white cheese similar to meunster cheese, to make their range of empanadas. Sold in huge hunky blocks, we like to take it and cut it into small chunks and sprinkle it with merkén, the Chilean spicy pepper. Together, the cheese's light flavor is perfect for tasting with wine.
The closest of our local producers actually sits just yards down the road from the palm-lined entrance to Kingston. Located in a small yellow house with a small wooden gate, we have only a tiny way to go in order to pick up our delicious queso fresco or fresh cheese which we use for our wine tastings. A very white cheese, it is made using milk from the lechería on the other side of the winery. Also part of the Kingston family farm it's great to know that the dairy provides milk for our neighbors to turn into tasty cheese!

Our 2012 Cariblanco Sauvignon Blanc is here! Back in November our assistant winemaker, Alejandra, our tour guide, Judith and our marketing manager, Eliana, had the opportunity to present our 2012 Cariblanco Sauvignon Blanc in beautiful event organized by the Casablanca Valley Association. As members of the association, we play a part in Casablanca's efforts to promote the valley's wines both in Chile and other parts of the world.
The event, aptly named "Sauvignon Blanc by the Sea" was a sunny seaside affair where thirteen Casablanca Valley vineyards presented their 2012 Sauvignon Blancs to 50 members of the press. The all white affair included press members from TV programs to bloggers to photographers dressed in all white in honor of the Casablanca Valley white wines.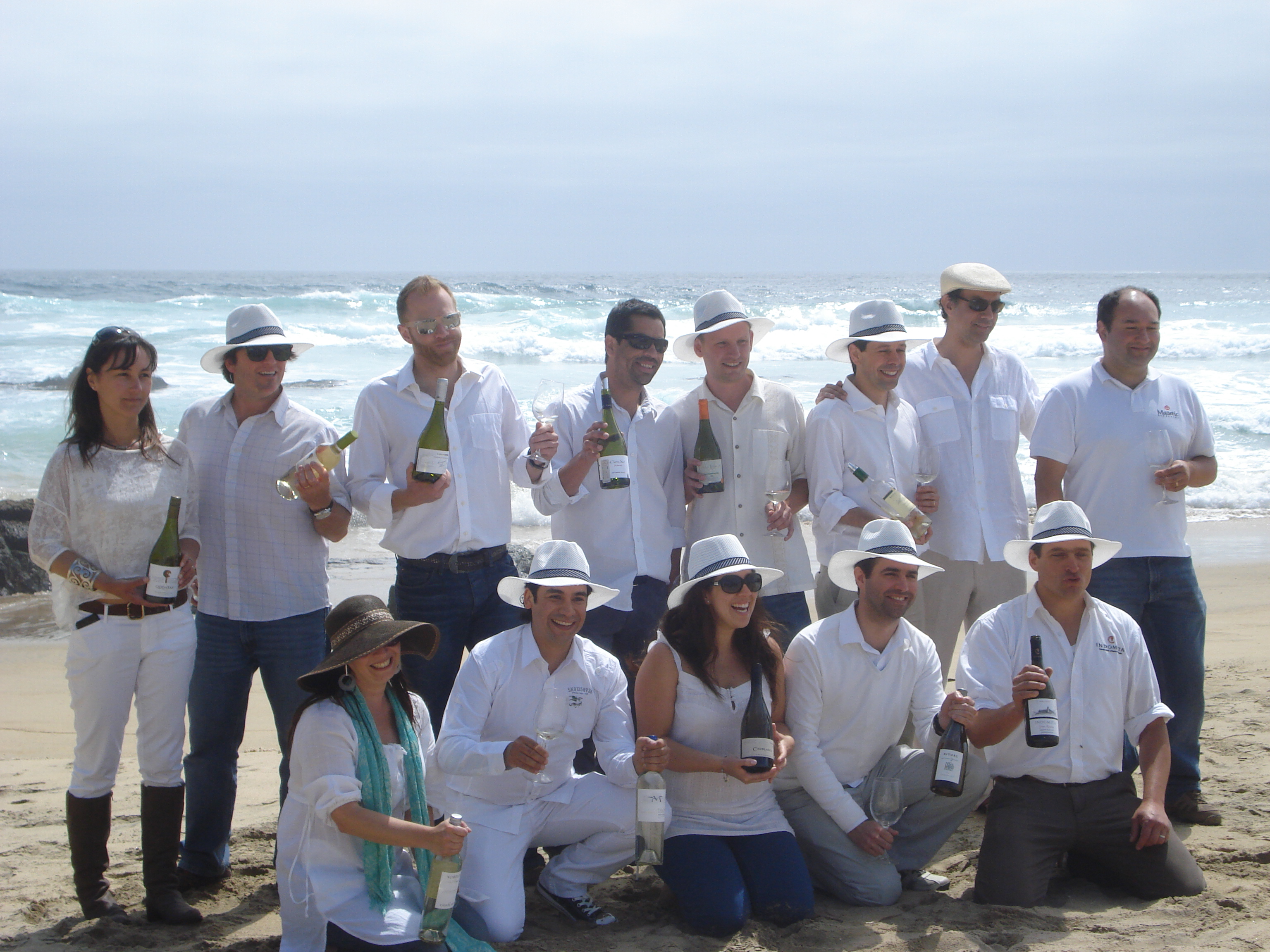 It was our first presentation of our 2012 Cariblanco Savignon Blanc and the results were overwhelmingly positive. Several press members touted our 2012 Cariblanco as extremely complex and refreshing and many came back for second and third tastes.
After the event, the Casablanca winemakers sat on the beach together tasting each others wine and commenting on the closeness and the unity of the valley's winemakers and wineries. Not seen in all other winemaking regions, it is this community of winemakers which critique each other, trade tips, and readily give advice to one another, that produces standout wines not just at Kingston, but throughout the valley.
Now, coming up in two weekends, if you're visiting Casablanca, be sure to come see us at the Casablanca Valley Association's latest, "Fiesta de la Vendimia" on April 13th and 14th in Casablanca's Plaza de Armas or town center. A harvest celebration, the festival will feature live folkloric music, a grape stomping contest, food from local restaurants and wines poured by at least fourteen different wineries from the valley.

Spring is in the air and we're excited to announce the Kingston Family Vineyards Spring Release with the arrival of our 2011 Lucero Syrah, 2012 Cariblanco Sauvignon Blanc, and 2011 Bayo Oscuro CJ's Barrel Syrah (for Old Corral members) plus limited time free shipping on all case orders. Here's the letter which we sent out to all the members of our mailing list to announce our Spring Release. If you'd like to be added to our mailing list, sign up here.
---------------------
Dear Friends,
We've just begun our tenth harvest at the Kingston vineyard. One might think that, after farming in Casablanca for almost a century, ten years would be just another notch on the old fence post. But I am amazed at the pace of change we've seen in Chilean wines over the past decade.
Ten years ago, we carried the first Kingston winemaking equipment down to Chile in ski bags. We bottled only 400 cases of pinot noir and syrah from our family's estate vineyard. At a time when there was little appreciation in Chile for small-lot winemaking or cool-climate reds, we instead focused on expressing the unique characteristics of our western Casablanca terroir through our estate-bottled wines.
Fast forward a decade, and we are delighted to be among a dedicated group of winemakers making Burgundy-like quantities of pinot noir and syrah along Chile's coastline. We're sharing space in our winery with other artisan winemakers, working side-by-side to delve into the world-class potential of handmade Chilean wines. Meanwhile, young Chilean winemakers to whom we gave Kingston fellowships to work harvest abroad – such as Matetic Vineyards' Julio Bastias and our own Evelyn Vidal – now make some of Chile's most acclaimed bottlings.
This spring, we're releasing our 2011 Lucero Syrah ($18), 2012 Cariblanco Sauvignon Blanc ($16), and 2011 Bayo Oscuro CJ's Barrel Syrah ($36, for Old Corral members). We hope you enjoy drinking these wines as much as we've enjoyed making them.
Sending our best from Casablanca.
¡Saludos!
Courtney Kingston

Amidst stories of the winery we thought it would be nice to leave you recipes with which to enjoy your wine and your loved ones, be it from Kingston or anywhere else, especially as Valentines day quickly approaches us!
Our friend Mariangela Sassi, a producer for Joanne Weir, passed along this great recipe and pairing for our Kingston Family Alazan Pinot Noir. (Joanne Weir is a James Beard award-winning cookbook author, cooking teacher, chef and public TV personality.)
"Thank you for the amazing Pinot - we enjoyed it with a herb-encrusted pork tenderloin roasted in a baguette! Recipe attached is divine. It was a perfect pairing! The one item you may not have is fennel pollen but if you don't have it the taste will still be excellent. Bakers of Paris baguettes are perfect for this since they will hold the tenderloin completely. Enjoy."---MS
Pork Roasted The Way The Tuscans Do
by Joanne Weir
Serves 4
2 teaspoons fresh chopped sage
2 teaspoons fresh chopped rosemary
1/2 teaspoon freshly ground black pepper
2 cloves garlic, minced Kosher salt and freshly ground black pepper
1/4 teaspoon fennel pollen
4 tablespoons extra virgin olive oil
1 pork tenderloin, trimmed
1 loaf crusty baguette
On a work surface, mince the sage, rosemary, pepper, garlic, 1 teaspoon salt, 1/4 teaspoon black pepper, and fennel pollen together.
Heat a frying pan over medium high heat. Add 1 tablespoon of the oil. Cook the pork, turning occasionally, until golden on all sides, 8 to 10 minutes. Roll the pork in the herb mixture and set aside. Cut the baguette in half the long way and scoop out the soft insides. Brush the inside of the baguette with the remaining 3 tablespoons olive oil. Place the pork on the inside of the baguette so that the pork is completely enclosed. Trim off the excess ends of the bread. Tie, at 1 to 2-inch intervals, with kitchen string.
Preheat an oven to 375° F. Place the pork on a baking sheet and roast until done, 155 to 160° F when an instant read thermometer is inserted into the thickest part, 20-25 minutes.
Remove from the oven, let rest 10 minutes. Remove the strings and cut into slices. Serve.