Blog
March 10, 2016 | Travel | Courtney Kingston
Atacama: A Desert Oasis

If you're a looking for a spectacular vacation destination where you can simultaneously recharge your batteries and explore an other-worldly natural habitat, we think the Atacama Desert is an excellent choice. Atacama is one of Chile's "travel trifecta", along with Patagonia and The Lake District, and is home to a natural marvel, the San Pedro oasis.
Surrounded by a dramatic landscape that looks like the surface of Mars, the colorful oasis consists of the Incan town of San Pedro, active volcanoes, salt flats, and hot springs. It also has geysers that rival Old Faithful (minus the crowds) and geological formations that make us wish we'd taken "Rocks for Jocks" instead of "Physics for Poets" to fulfill our science requirement in college. And Atacama's clear blue skies, low humidity and high altitude make for incomparable stargazing.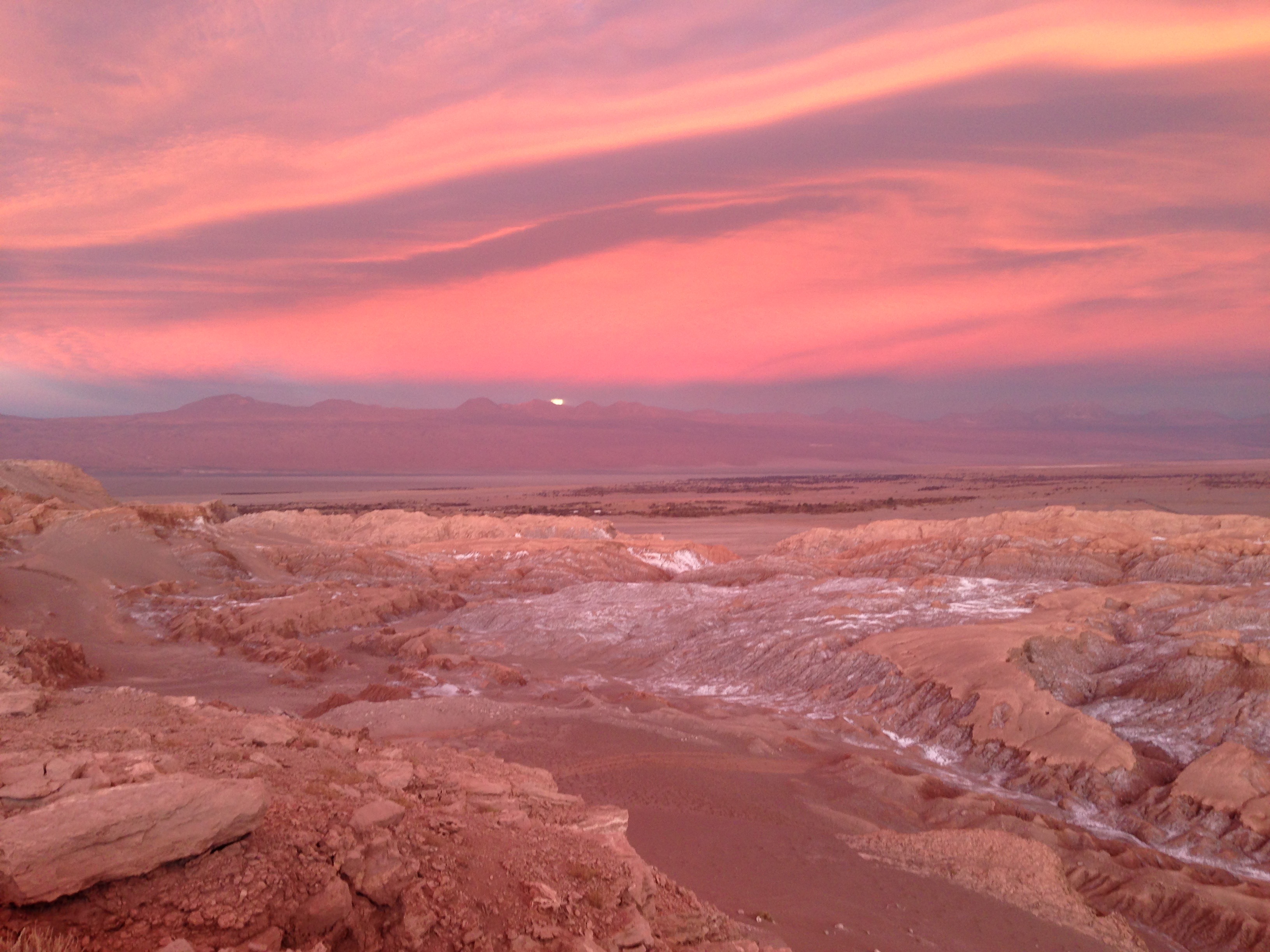 Unlike Patagonia and The Lake District, Atacama is relatively easy to access, and the presence of an actual town with restaurants and a pharmacy make it feel less remote than Patagonia's Torres del Paine. Widely recognized as a wonderland for adventure travelers, the majority of visitors go for the hiking and mountain biking, wildlife viewing, or because they are driving across South America and it's a really cool place to stop. However, there are also a number of luxury resorts featuring top-notch spas, unparalleled scenery, and delicious food and wine, so in recent years it has become much more desirable for families with young children and travelers who are simply looking for peace and quiet.
We visited Atacama twice in 2014 – once with our kids – and our Chilean relatives (ranging in age from 10 months to mid-70s) returned in 2015. Below is a sample itinerary we've put together based on the Kingston family's experiences. We hope you find it useful as you consider a trip south to Chile.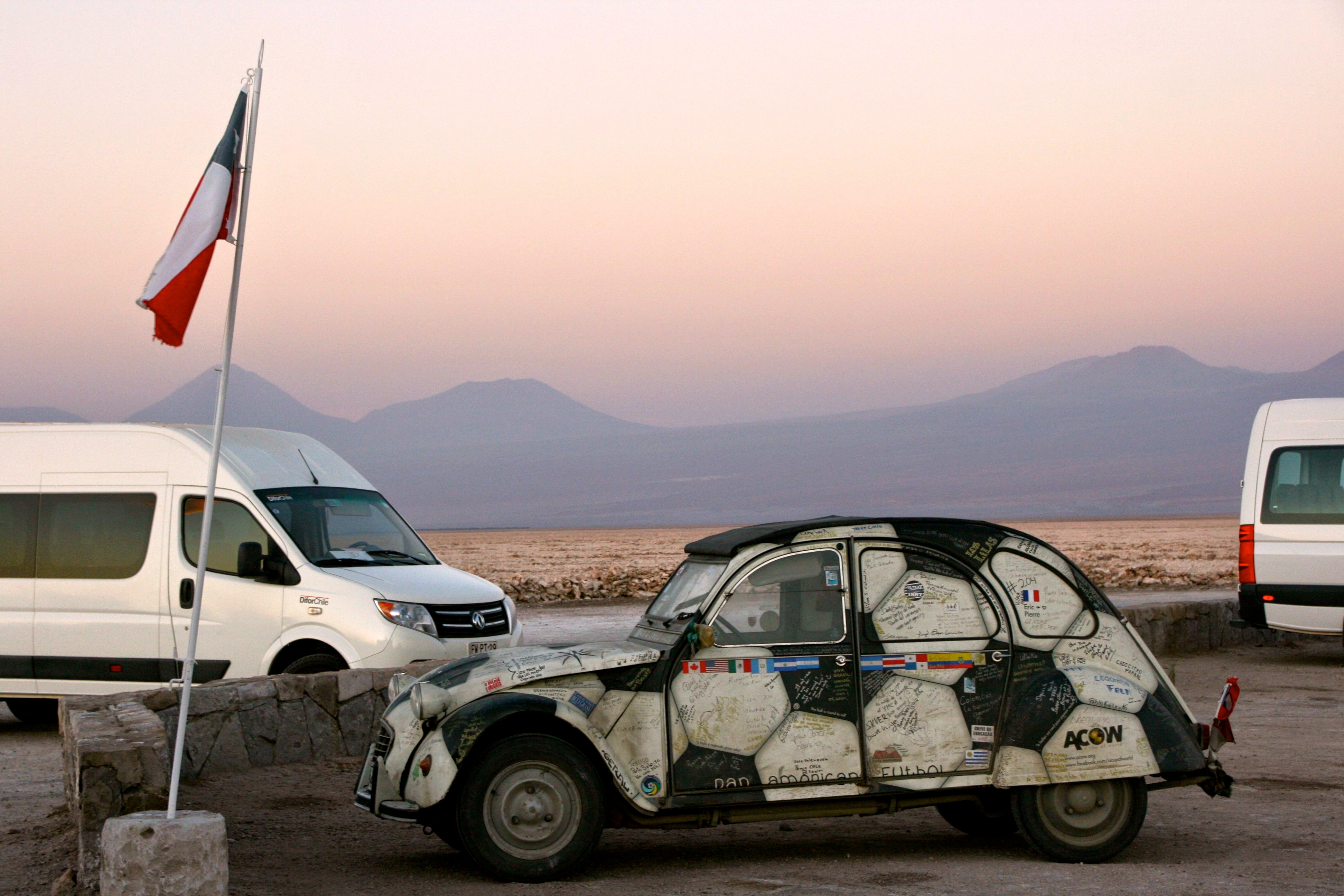 Getting There
The most direct way to get to Atacama is to fly into Calama, a two-hour flight from Santiago, and then drive roughly an hour to your hotel in San Pedro. Three airlines access the airport: Sky, Lan Chile and AeroDesierto. Most of your fellow passengers will likely be miners (30 percent of the Chilean economy is based upon mining and the world's largest open pit copper mine, Chuquicamata, is located just outside of the city), astronomers (don't accidentally call them astrologers!) and tourists, many of whom will already be dressed in sensible hiking gear, including boots.
Flying into Calama may cause you to feel a bit like Matt Damon in the recent movie "The Martian." As you descend, all you will see for miles and miles is reddish brown earth accented by tumbleweed, out-sized wind turbines and maybe a small sand storm. We advise against renting a car for safety reasons, some of which we'll explain later, but most hotels offer airport pick-up, and all of the tour operators have their own well-equipped vehicles so you really do not need a car of your own.
Once on the road, you'll travel along a flat, straight highway for what seems like forever. You may begin to question what you're doing there. It's pretty bleak. You'll spot few other cars on the highway, except for an occasional turismo van or massive mining truck.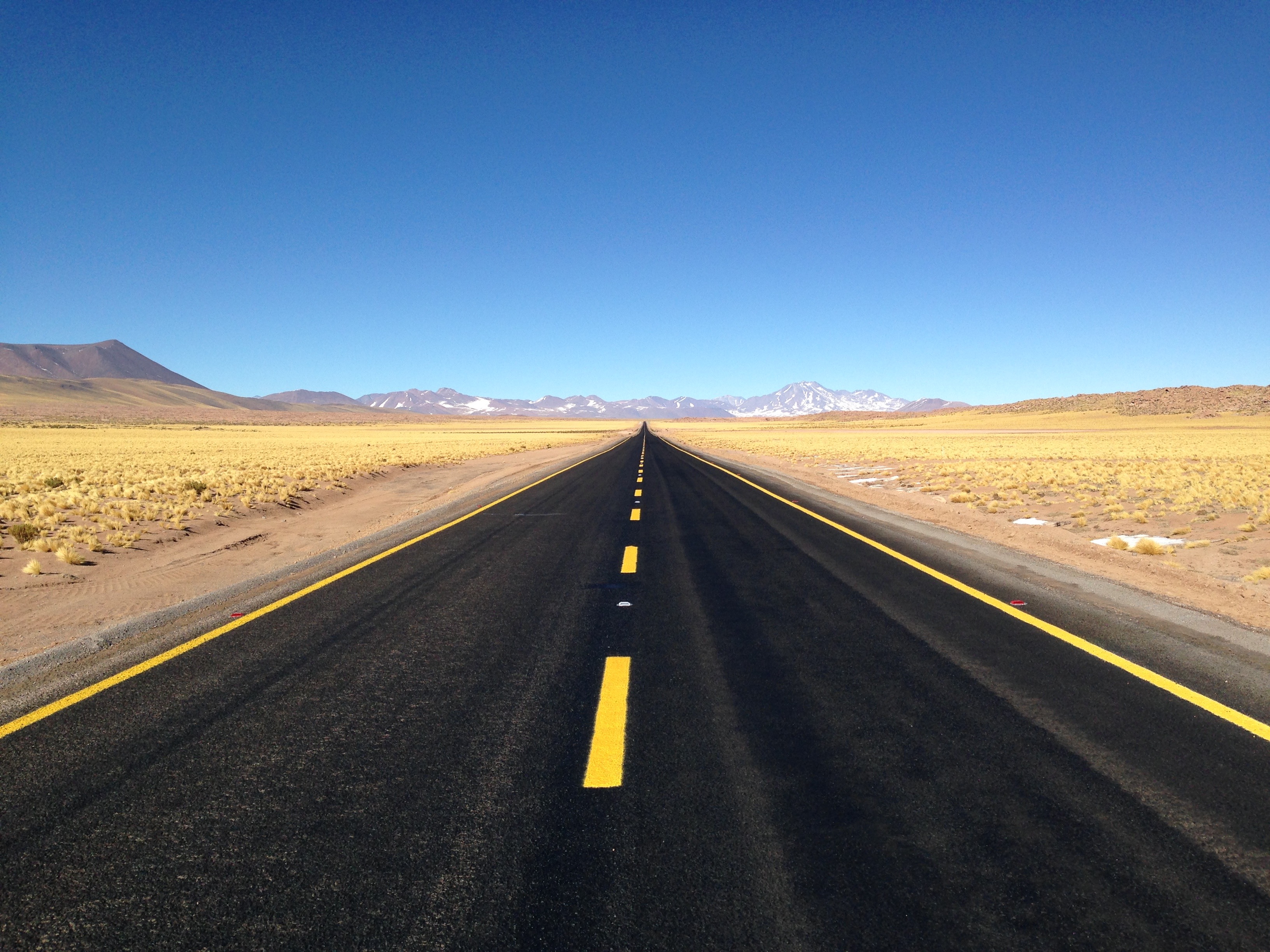 After some time you'll realize you've been gradually ascending a mountain. You're almost there when you reach the crest, peek over the edge, and see the oasis down below. We were blown away the first time we reached this point. No longer flat, barren and isolated, the red landscape suddenly features all hues of blues, purples and greens backed by massive volcanoes that mark the border between Chile, Argentina and Bolivia. As we drove toward the oasis, we saw vicuñas, a dainty version of alpacas, romping along the hillside. The experience was like cartoon characters witnessing a mirage; the scene was Sedona on steroids.
Four Days in the Desert
We recommend at least three full days to see Atacama's highlights. As with all travel to South America, we suggest that you pad your trip with an extra day at either the beginning or end of the vacation. All of the U.S. cities that offer flights to Santiago operate only one per day, so it's generally a good idea to have a back-up plan in case of a delay.
Day 1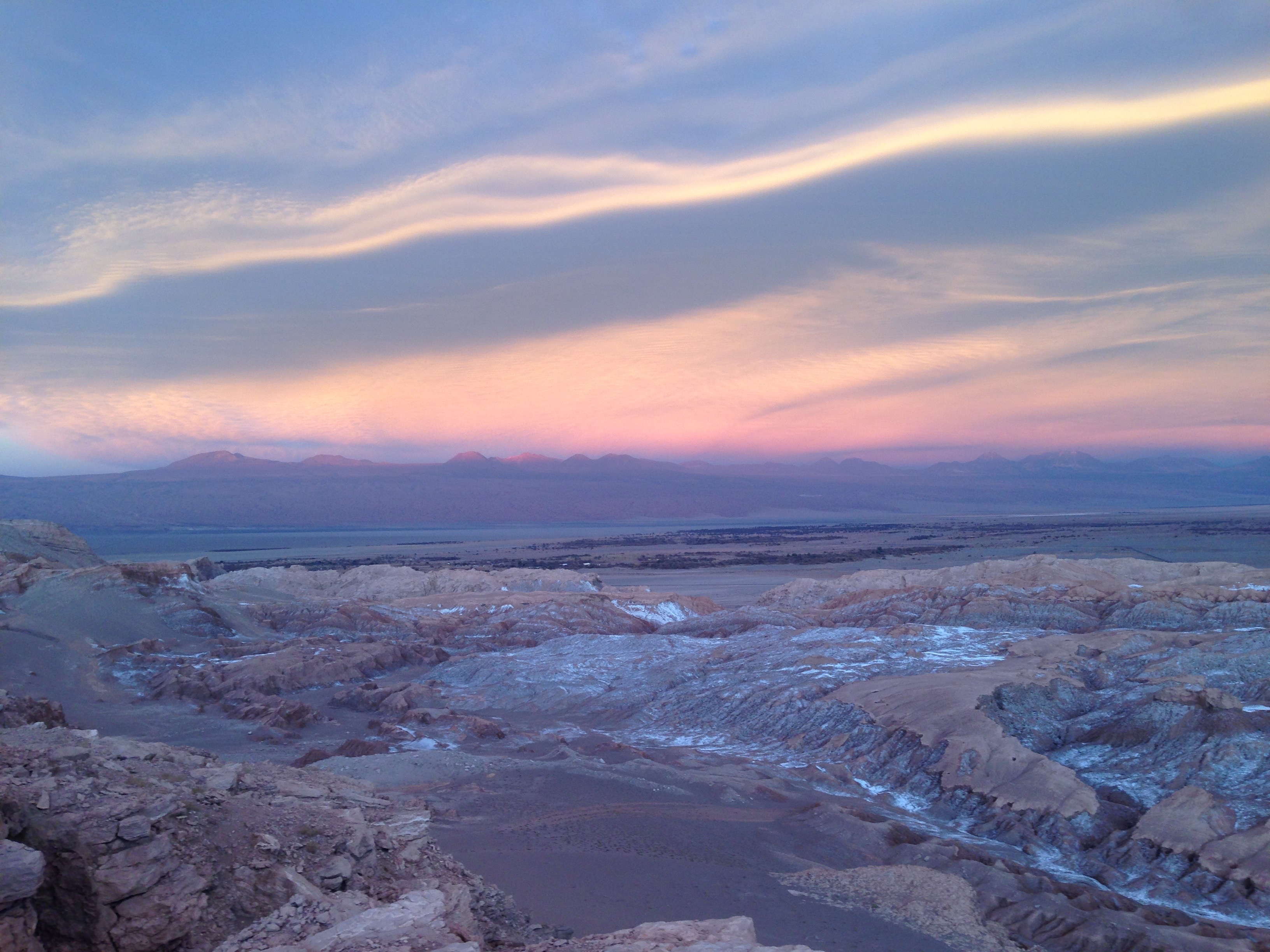 The town of San Pedro is located at 7,900 ft., so you'll want to make sure to give yourself time to acclimate before undertaking any strenuous activities, many of which take place at even higher altitudes. One good way to do this is to arrange for a guide (before you arrive) and go to the Valle de la Luna (Valley of the Moon) on the day of your arrival. Assuming you get to Atacama mid-day, this is an easy activity located about 15 minutes from town.
On our second trip we hired Gustavo Bustamente (gustavobustamante@gmail.com) for the duration of our vacation. Gustavo previously led excursions for two of San Pedro's top resorts, and took us first to this surreal area that becomes even more remarkable when the sun sets. (The terrain is so much like that of the moon that it was once used to test a Mars rover prototype.) He was extremely knowledgeable about the crazy striped rock and sand formations that make up the dramatic landscape; it was at this point that we wished we knew more geology.
If Gustavo is not available when you need him, we also highly recommend an outfitter based in Santiago called Upscape Travel, which is owned by Brian Pearson, originally from Vermont. A third tour operator, Cielo Norte, gets rave reviews as well. Regardless of whom you work with, we definitely suggest hiring a guide because they are prepared for all types of desert situations.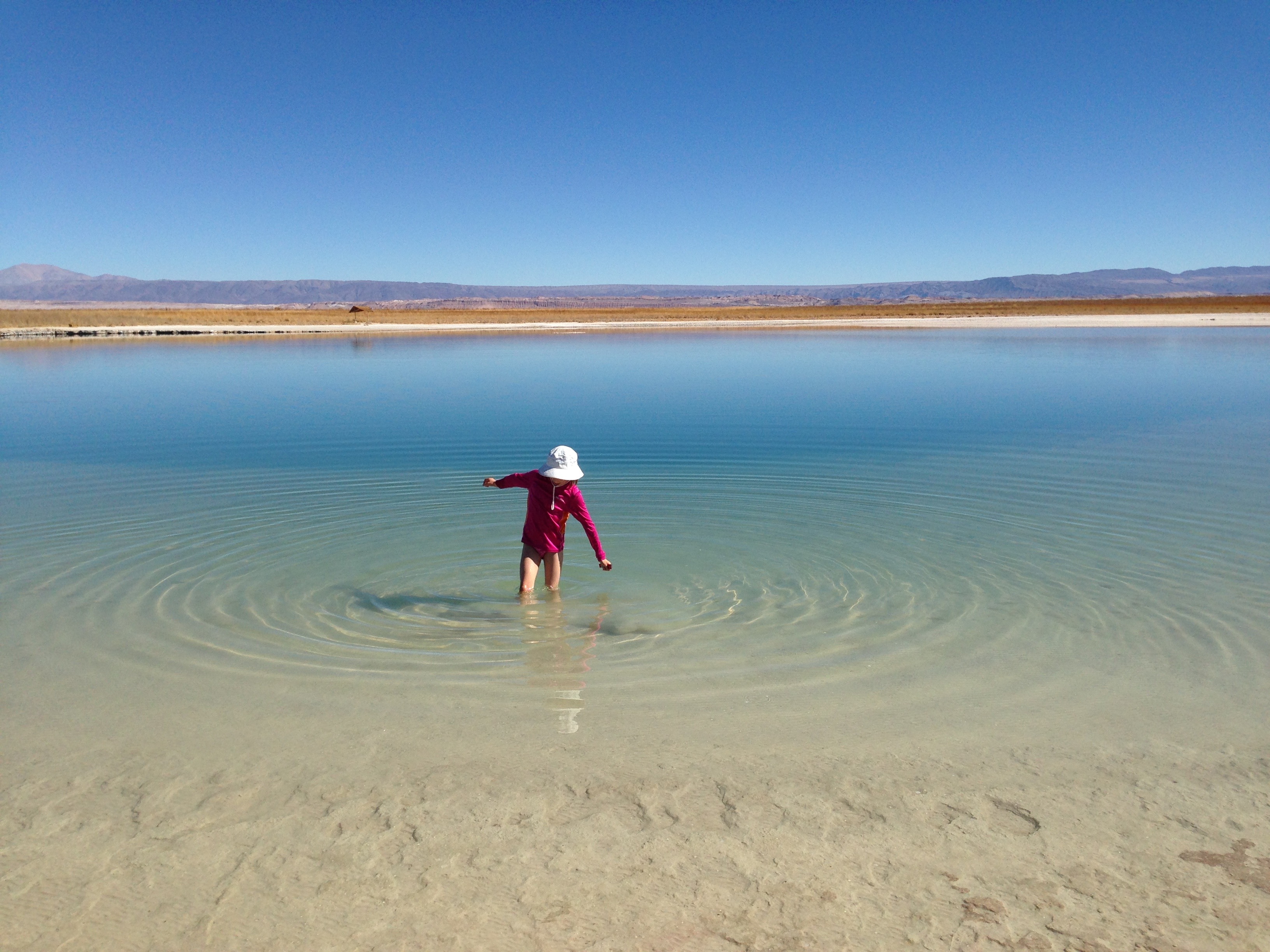 Day 2
Another adventure that is suitable for all ages is a visit to Laguna Cejar, a beautiful turquoise lagoon that meanders among a hard, dry salt flat. It is about an hour's drive south of San Pedro, and some people ride bikes to it and have a picnic. We went to this area with guides from the hotel. They brought along lounge chairs and libations, including lots of water, while we relaxed and explored by the lagoon. Our kids had a great time wading in the buoyant water, and they quickly learned the reason that you need to rinse off upon getting out: the salt burns your skin as it dries! Speaking of burning, there is no shade here, so you definitely want to have adequate sun protection.
We visited Laguna Cejar in the morning and returned to our hotel for lunch. On this trip we stayed at Alto Atacama, a beautiful, eco-friendly resort that blends seamlessly into the hillside. It has seven (!) pools and our kids spent the afternoon swimming in as many of them as they could access.
Before sunset, we took another guided trip to Laguna Chaxa and Los Flamencos National Reserve. The terrain here differs from that of Laguna Cejar in that it features areas where melon-sized chunks of salt coat the earth. We think it looks like city snow after it's become hard and grey. You will want hiking boots as opposed to regular sneakers for this activity; it can be challenging to walk on the rocky salt.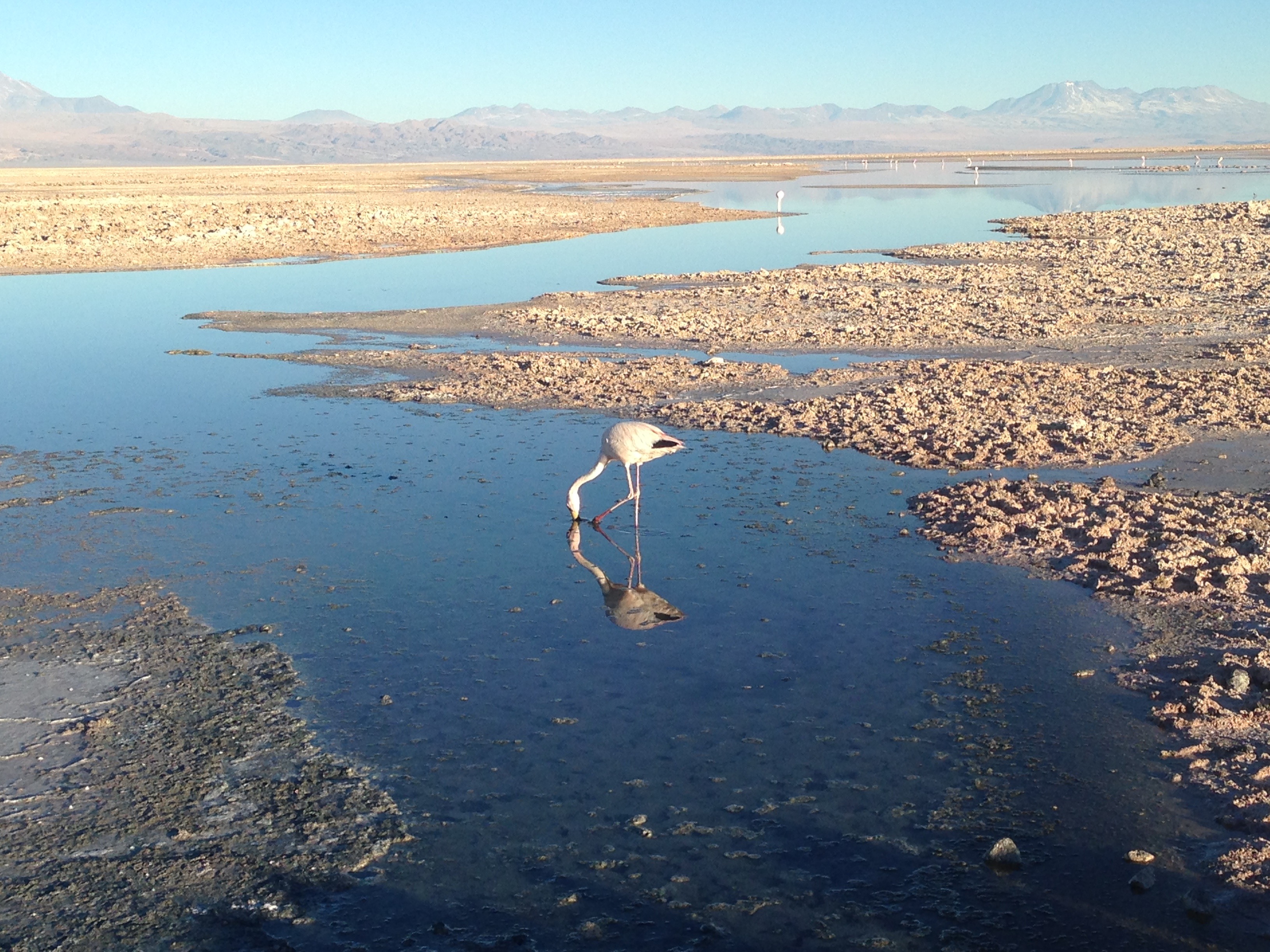 A number of endangered species including the southern viscacha (a rodent that resembles a squirrel with bunny-like ears) and vicuñas roam freely here and the three types of flamingos found in Chile also live in this area. The awe-inspiring image of hundreds of flamingos in their natural habitat at sunset is a memory we will have forever.
One of the reasons we do not recommend renting a car is because of the wildlife – and sometimes livestock – in the area. On our dark ride home from Laguna Chaxa our driver slowed to a near stop at one point because there are often donkeys sleeping in the middle of the road; the asphalt retains the heat from the sun so they snooze in the street because it's the warmest place at night.
Although this day did involve a fair amount of driving and effort (everything is spread out and there isn't really a logical "route" you can use to access these places in order), the drives are stunningly beautiful so everyone enjoyed them.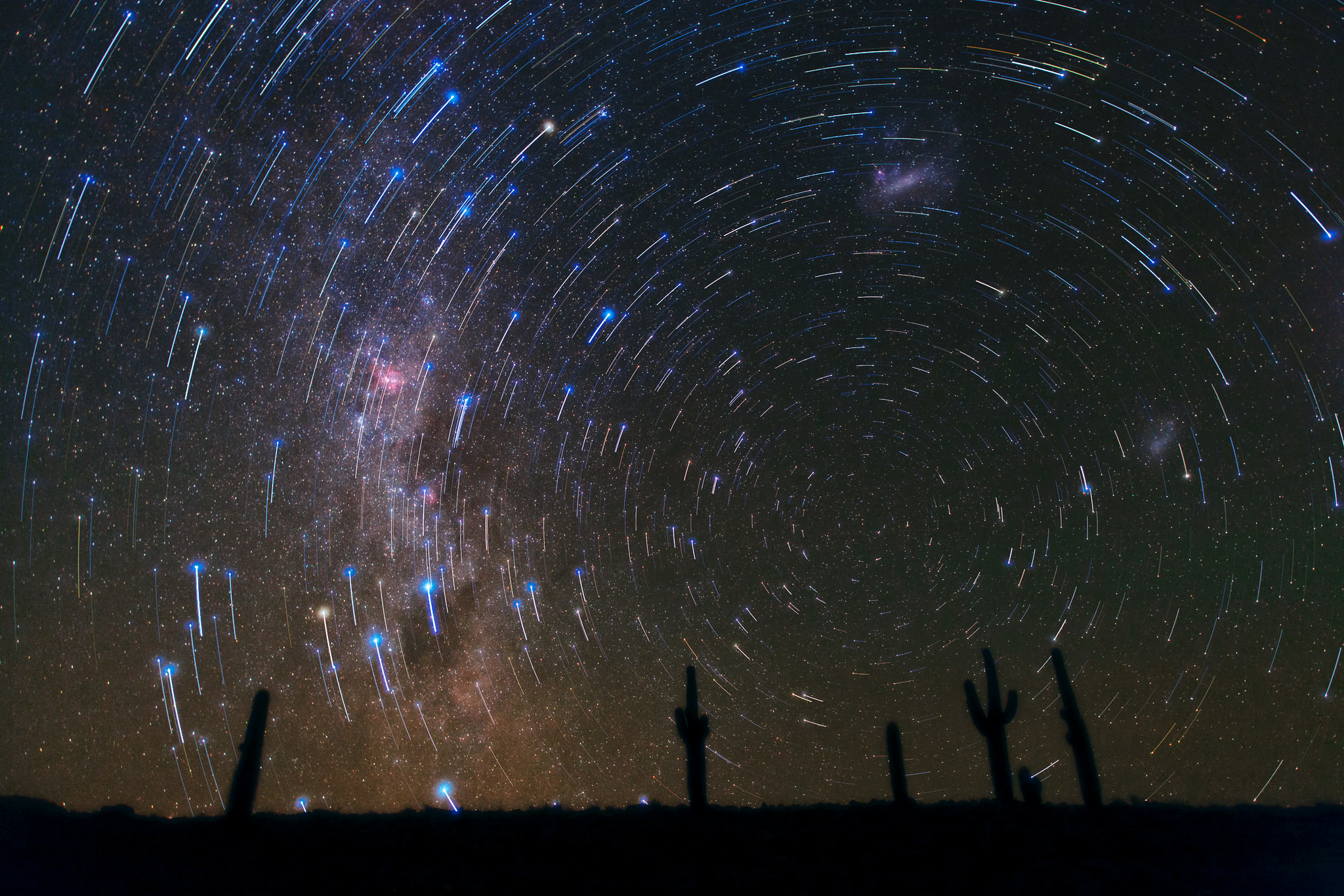 An alternative evening activity involves a visit to one of the mini observatories in the area. Atacama is well known worldwide as an astronomer's nirvana, which is why the internationally-renowned ALMA Observatory is located there. ALMA is not open to the public, but a number of companies provide "star tours," which usually involve driving to various telescopes in the desert or going to one of the observatories. We went to an observatory near our hotel and found it mesmerizing.
Upon entering a pitch black room, the roof opened and the "show" began. Using a red laser pointer, our guide pointed out stars, planets and constellations in galaxies that seemed far, far away. There were also telescopes through which we could see everything "up close." The experience was very similar to a planetarium field trip, except that these were real stars, real planets and real constellations as opposed to those you see in a pre-recorded movie.
Day 3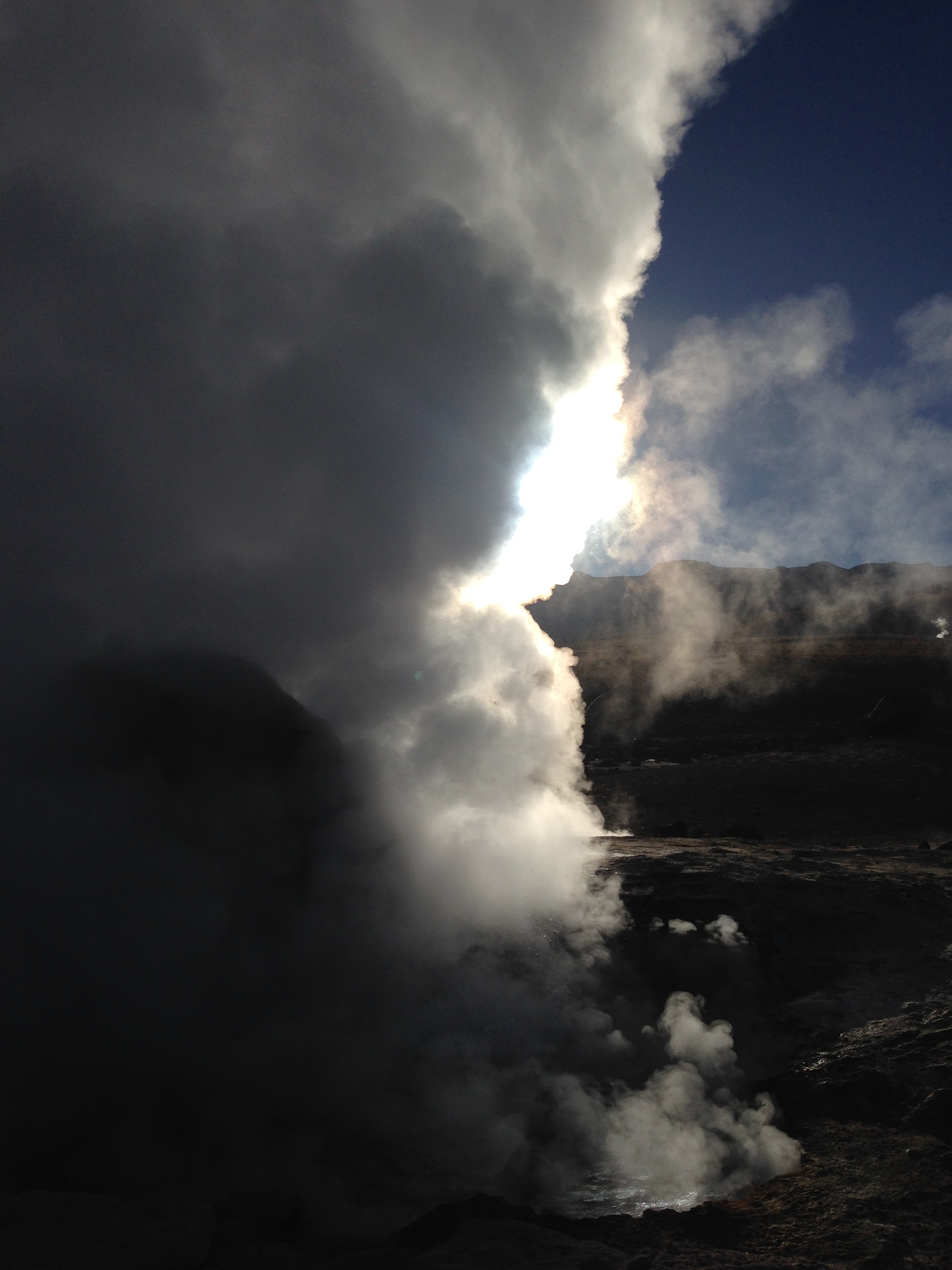 One of the most popular spots to explore is El Tatio, a geyser field consisting of more than 80 active geysers. Many people (and we do mean many) take sunrise tours to see them. To do this, you typically get up at 5 a.m., drive about an hour and watch the sun rise around 6. The golden sunlight behind the white plumes of steam is absolutely striking and unlike anything you're likely to see anywhere else. Also unlike other places with boiling geysers surrounded by unstable ground, there are no signs or barriers to keep you away from them. So you need to watch your step, especially with kids. We highly recommend staying on the paths.
El Tatio is located in an area called the Altiplano, which translates to "foothills" of the Andes. Starting at 14,170 ft., these are not ordinary "foothills." Altitude sickness is a serious concern and needs to be considered. It's cold at sunrise – very cold – so you definitely need warm clothing, including hats and gloves, for the early morning tours.
Most tourists leave El Tatio around 9 a.m. after swimming in the hot springs and having a picnic breakfast, but we recommend staying for a hike in the area after the crowds depart. The terrain is very different than the desert floor, as are the plants and animals. We saw some beautiful ducks and exotic birds, as well as more vicuñas and guanacos, which are all in the llama/alpaca family but range in size and elegance.
After our breakfast, which included some amazing high-altitude and high-test coffee made by Gustavo, he led us on the seven-mile Copa Coya hike. It's challenging, but mostly because of the altitude – it starts at 13,000 feet and finishes at 14,000. Some of us tried it in preparation for the extreme Volcán Lascar hike the next day, but had to quit due to headaches, disqualifying us for the volcano trek. While the friends who were not affected by altitude summited Lascar on our last day, the rest of us were inspired by some Russian tourists we saw at the El Tatio hot springs and hung out in the Explora Hotel's Purisima hot springs instead.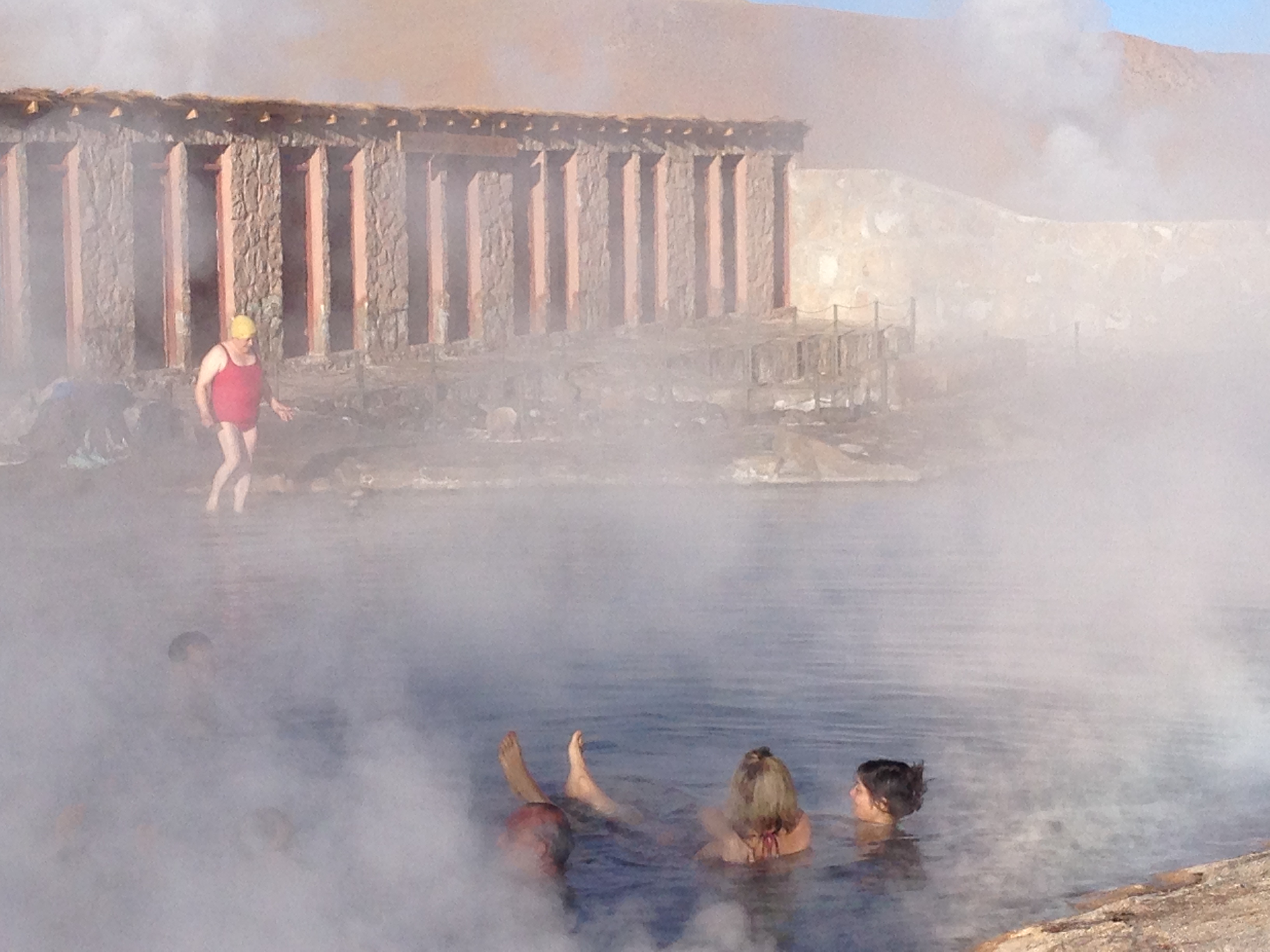 Day 4
In recent years, Atacama has become a destination for extreme athletes. The Atacama Crossing, for example, is a seven-day 155-mile footrace that takes place every year in October. Another popular activity is sandboarding, which is similar to snowboarding, and can be practiced on the dunes near San Pedro in the Valle de la Muerte (Valley of Death). We had heard it helps to know how to snowboard before trying it, so we opted to leave the boards behind and run down the dunes instead. The kids couldn't have been happier, and the adults equally enjoyed the carefree feeling of running uninhibited downhill. If you do this, make sure to go in the morning because the sand gets too hot on your feet in the afternoon.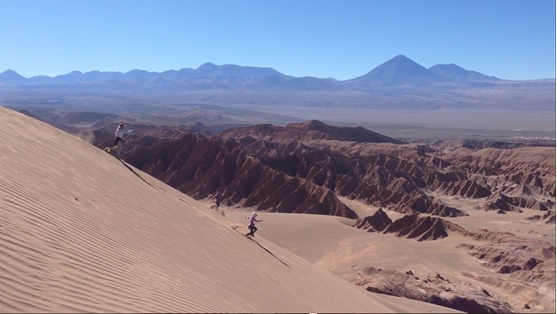 For those interested in hiking, one of our favorite routes is the "cactus hike." Beginning at nearly 10,000 ft., this hike originates where the warm thermal springs of the Rio Puritama meet the icy waters of the Andes' fed Rio Purifica. The two- to three-hour excursion takes you past waterfalls, rocky outcroppings and humungous Candelaria cactuses. This trek is ranked "medium" in terms of difficulty and is another striking example Atacama's amazingly varied scenery.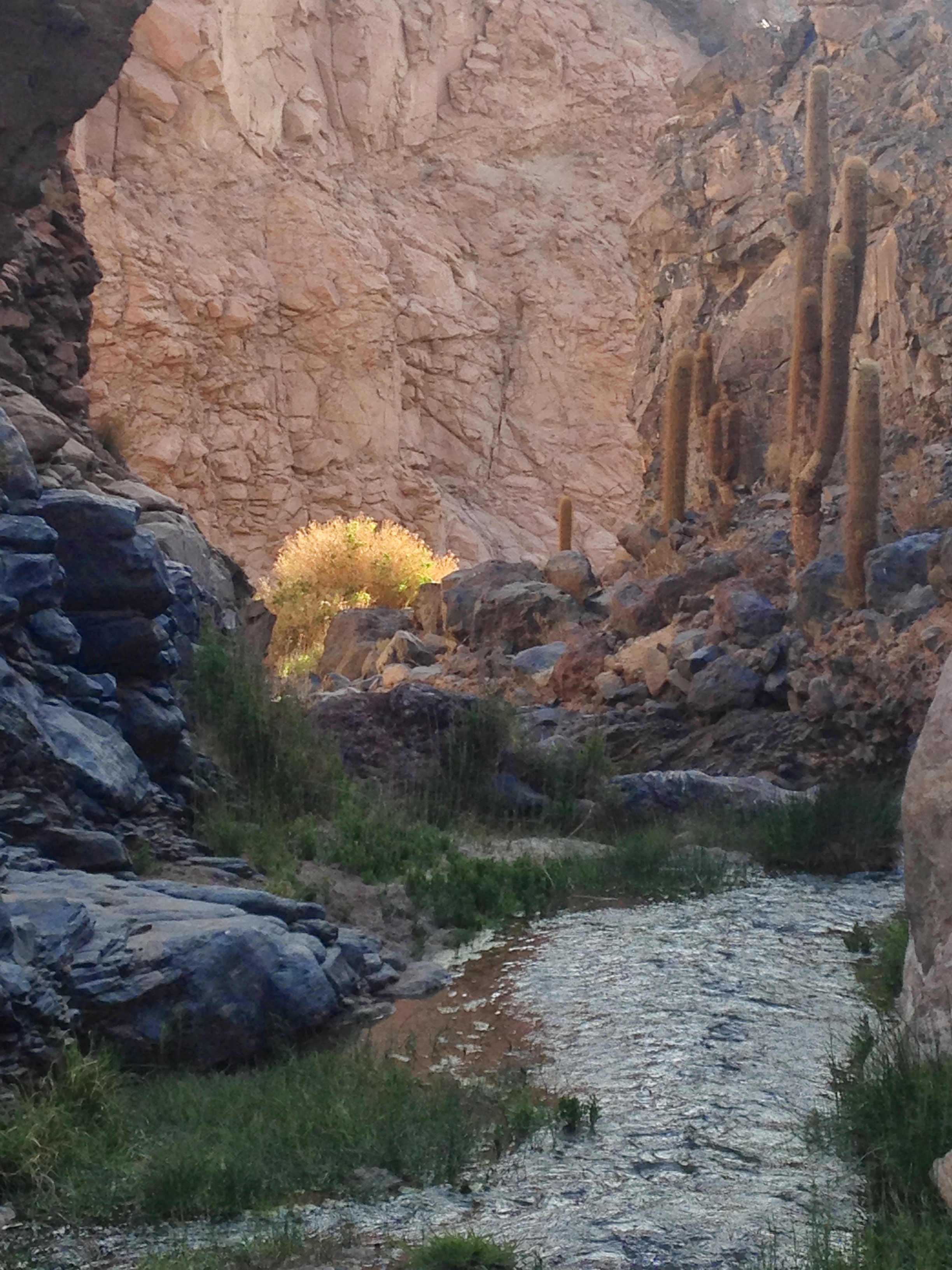 If extreme challenges are up your alley, there is the Volcán Lascar trek. This hike is not offered by any of the local hotels because it starts at 15,912 feet. To do it, you need to be in excellent physical shape, and most of the local guides will not take you unless you've demonstrated you can handle the altitude. (As we mentioned, we failed the test the day before.) The three to four-hour hike is not technical and bad weather is rarely a factor.
Although altitude sickness prevented us from even attempting this trek, our friends who did it reached the 18,346-foot summit where they saw smoke rising from the crater of the most active volcano in the Chilean Andes. To a certain degree, we see this hike as a metaphor for Chile itself. It's not easy getting there, and not everything always goes as planned, but the experience is well worth the effort.
When to Go
Most people go to Atacama in the spring (November) because of the lengthening days. There is also the greatest chance of seeing El Flor, an amazing natural phenomenon that only occurs in years when it rains more than normal and causes hundreds of species of desert wildflowers to bloom all at once. We went in winter, however, (June) and thoroughly enjoyed it. It is considerably less crowded. Daytime temperatures reach about 70 degrees and nights drop to the mid-thirties. If you are interested in seeing the Southern Cross and other constellations, plan your trip around a new or blue moon. When the moon is full, you cannot see the stars.
Where to Stay
Scattered in and around San Pedro are a variety of hotels, ranging in price and quality from hostels to luxury properties. We highly recommend the following resorts and inn.
Alto Atacama. Situated on the far side of a small river in its own valley about 10 minutes outside of town, this adobe-style, energy efficient resort melds into the landscape. We stayed here with our kids and loved it. The property has a rustic, mountain lodge-feel to it, like something you would find in Jackson Hole, Wyoming. It is very family friendly and, as we mentioned earlier, has seven pools! Our Chilean relatives also stayed here during their November 2015 vacation and, despite the remarkable surroundings, a number of them never left the premises.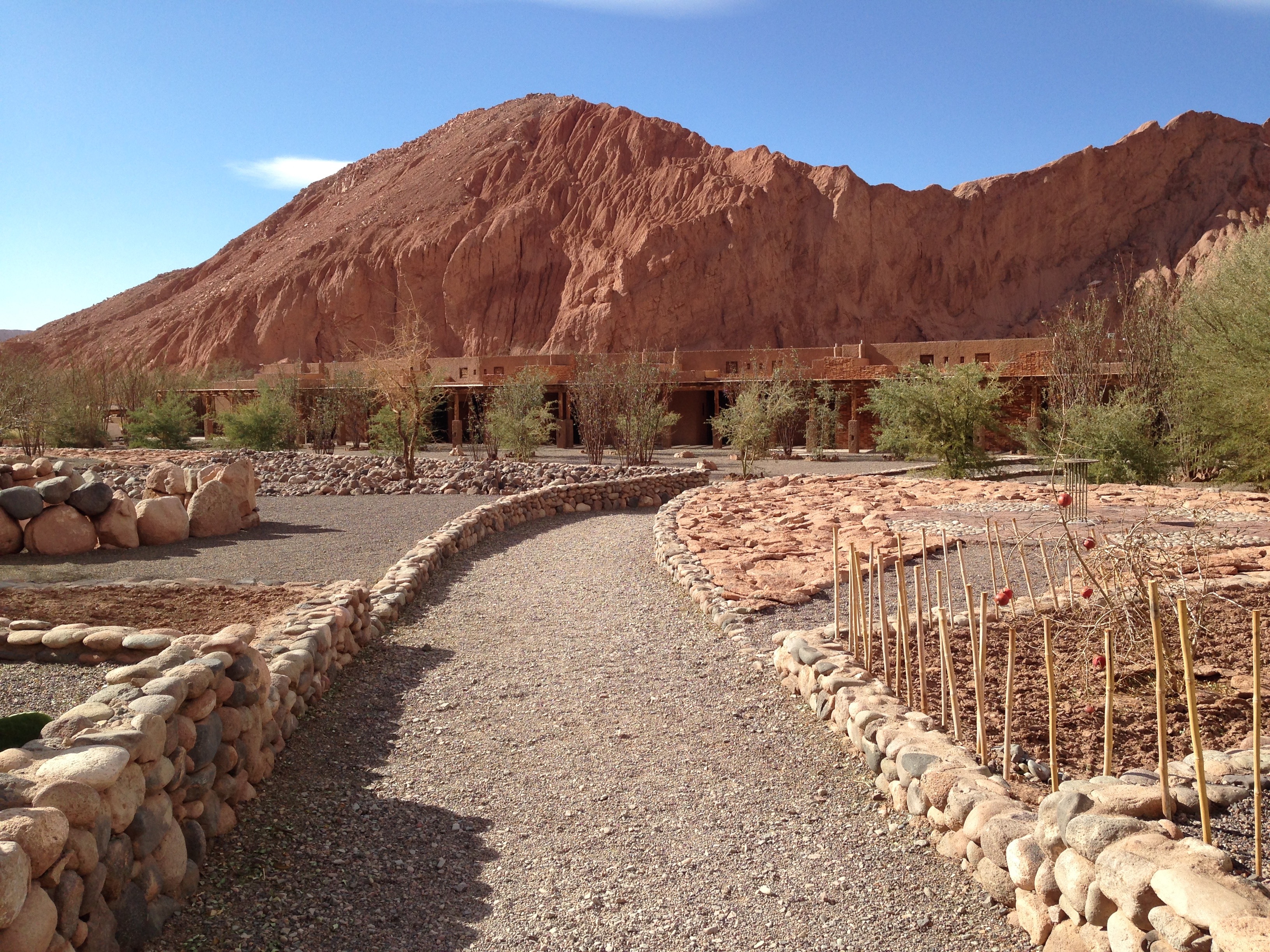 Explora Atacama. Originally built in 1998, Explora was the first luxury hotel in the region and is currently undergoing a major renovation. It is slated to reopen in January 2017. Explora has its own private hot springs (which you can use for a fee, even if you're not a hotel guest) and offers 40 full- and half-day excursions.
Tierra Atacama. Located on the edge of town, Tierra Patagonia is a beautifully-designed hip boutique hotel owned by the Purcell family, who also own the Portillo ski resort. The modern property features a gorgeous spa and offers a variety of marvelous excursions. The restaurant serves creative, local fare and offers drop dead views from many parts of the property. We stayed here once (without kids) and hope to return.
Pasqual Andino. This is a small bed and breakfast in town with eight rooms. We stayed here for a few nights when Tierra was booked. It's more reasonably priced than the resort properties, and is very comfortable, clean and nice.
One final note: Should you be visiting Patagonia, The Lake District and/or Atacama during one trip to Chile, Tierra and Explora often offer discounts if you stay at more than one of their hotels.
What to Know and Bring
Packing for the desert is much like packing for the mountains. You will need to bring – and use – sunscreen, sunglasses and a sunhat. You'll also want layers including a winter hat and gloves for when the sun goes down. You definitely want to bring hiking boots because some of the terrain is difficult to walk on and regular tennis shoes won't cut it. Plan on drinking lots of water to stay hydrated.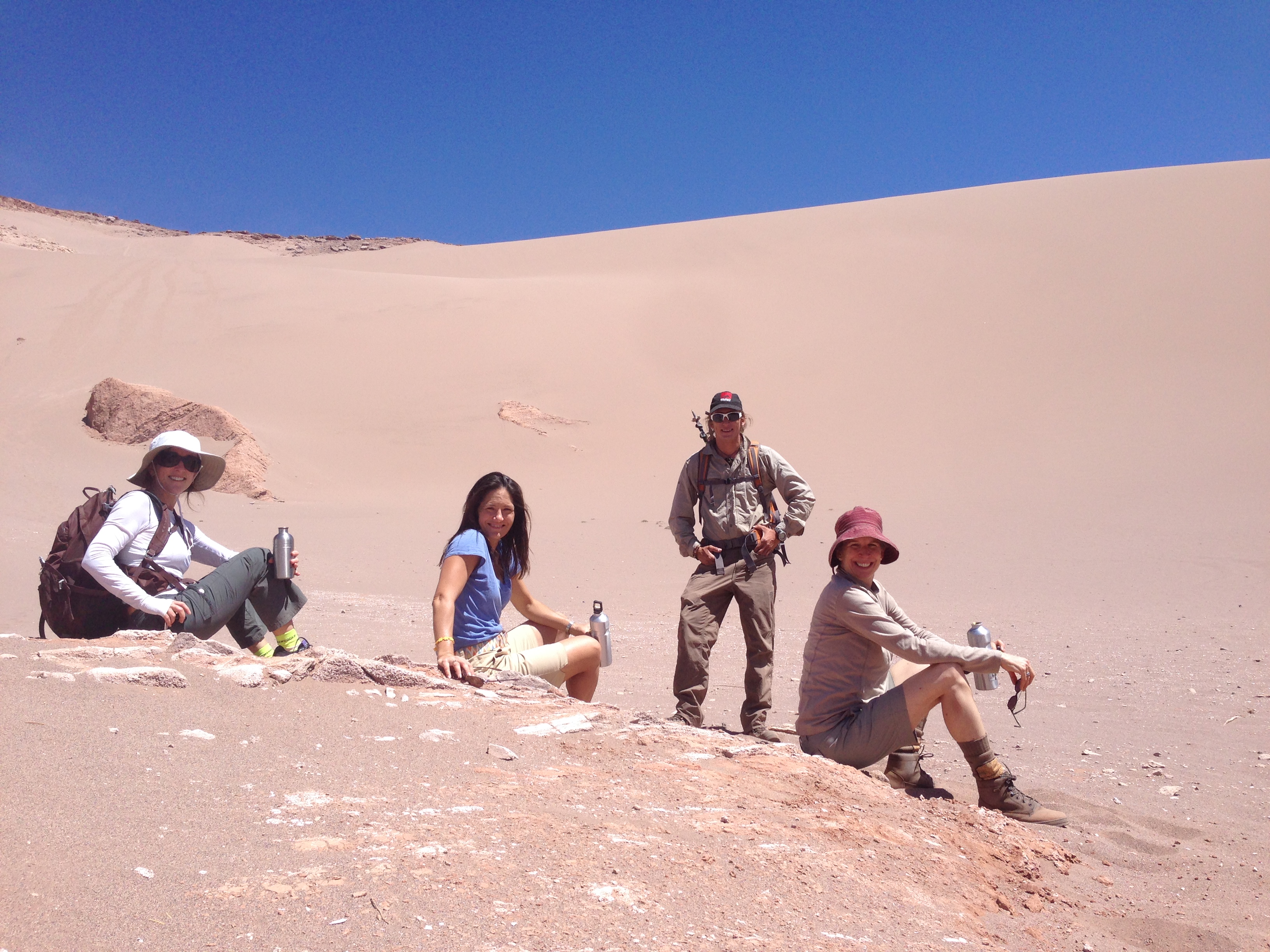 How Can We Help?
Should you be considering a trip to Chile, we would be more than happy to help you with planning assistance or additional travel tips. Feel free to e-mail us at guests@kingstonvineyards.com.
We would also like to welcome you to visit our family's farm and vineyard only an hour outside of Santiago en route to Valparaiso and the coast, another popular destination. We offer private tours and tastings year-round at our vineyard overlooking the picturesque Casablanca Valley.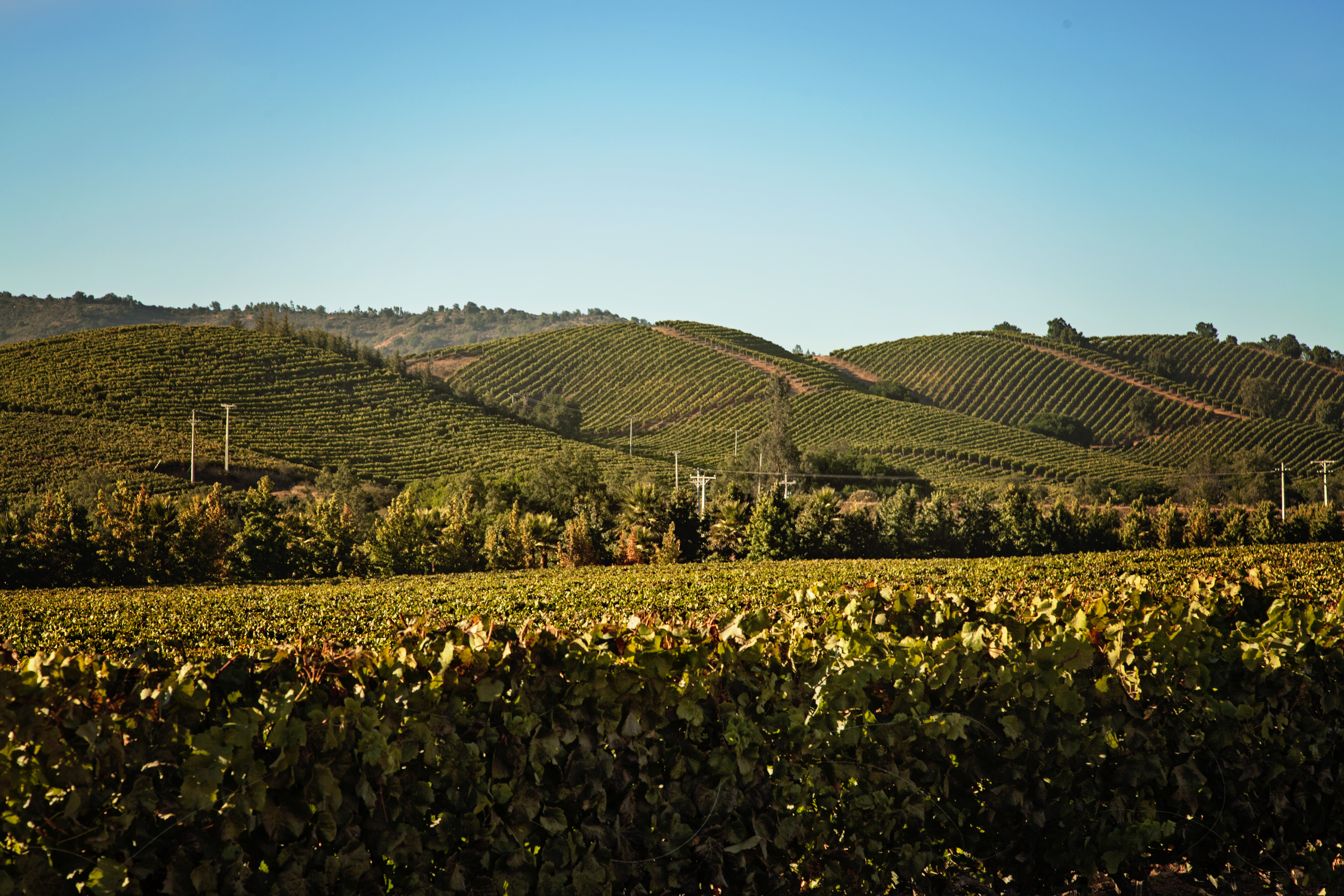 Comments
Commenting has been turned off.