Blog
January 21, 2016 | Wine & Food | Courtney Kingston
Wine and Chocolate: Creative Pairings

Over the past few years we've had the great fortune to travel around the U.S. hosting wine dinners at top restaurants such as the James Beard House in NYC, La Mar in San Francisco, and the Amangani Resort in Jackson Hole, Wyoming. Through these experiences we've enjoyed how some of the country's best chefs pair our wines with exceptional food in novel, imaginative and often surprising ways.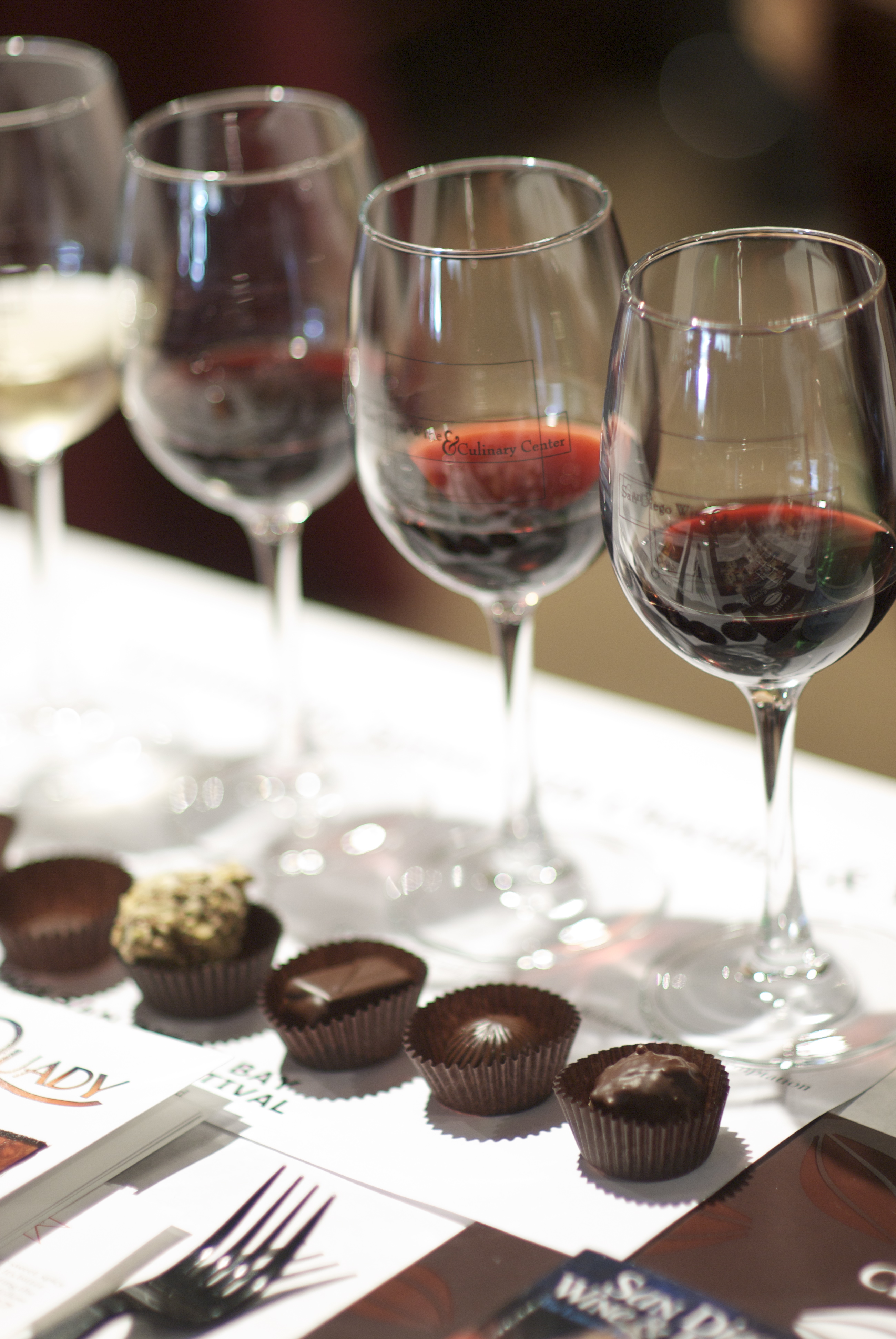 One of the most exciting side benefits of these dinners is meeting great people, many of whom share our passions for travel, innovation – and chocolate! It was in Chicago, for example, where we met Katrina Markoff, the pioneering founder of Vosges Haut-Chocolat, who was one of the first chocolatiers to incorporate unexpected ingredients (such as bacon) into her creations. And in Bozeman, Montana, we met Parisian-born Wlady Grochowski, who with his wife, started La Châtelaine Chocolat Co. after moving to the U.S. and struggling to find high-quality, artisan chocolate.
After getting to know these entrepreneurs who have pushed the boundaries of their crafts in inventive — and sometimes wacky — ways, we started to think about different means of intermingling our wines with chocolate. We began serving one of our all-time favorites, Esther Price's dark chocolate, with our Syrah at the end of our winery tours. We arranged a tasting event with Vosges in Chicago. Our marketing manager, Eliana, got into the fun by baking cupcakes using our Bayo Oscuro Syrah and blogging about it. Maybe not coincidentally, a great chocolate shop in Santiago contacted us about blending our Lucero Syrah into its chocolate liqueur.
And then we began experimenting with pairings on our own.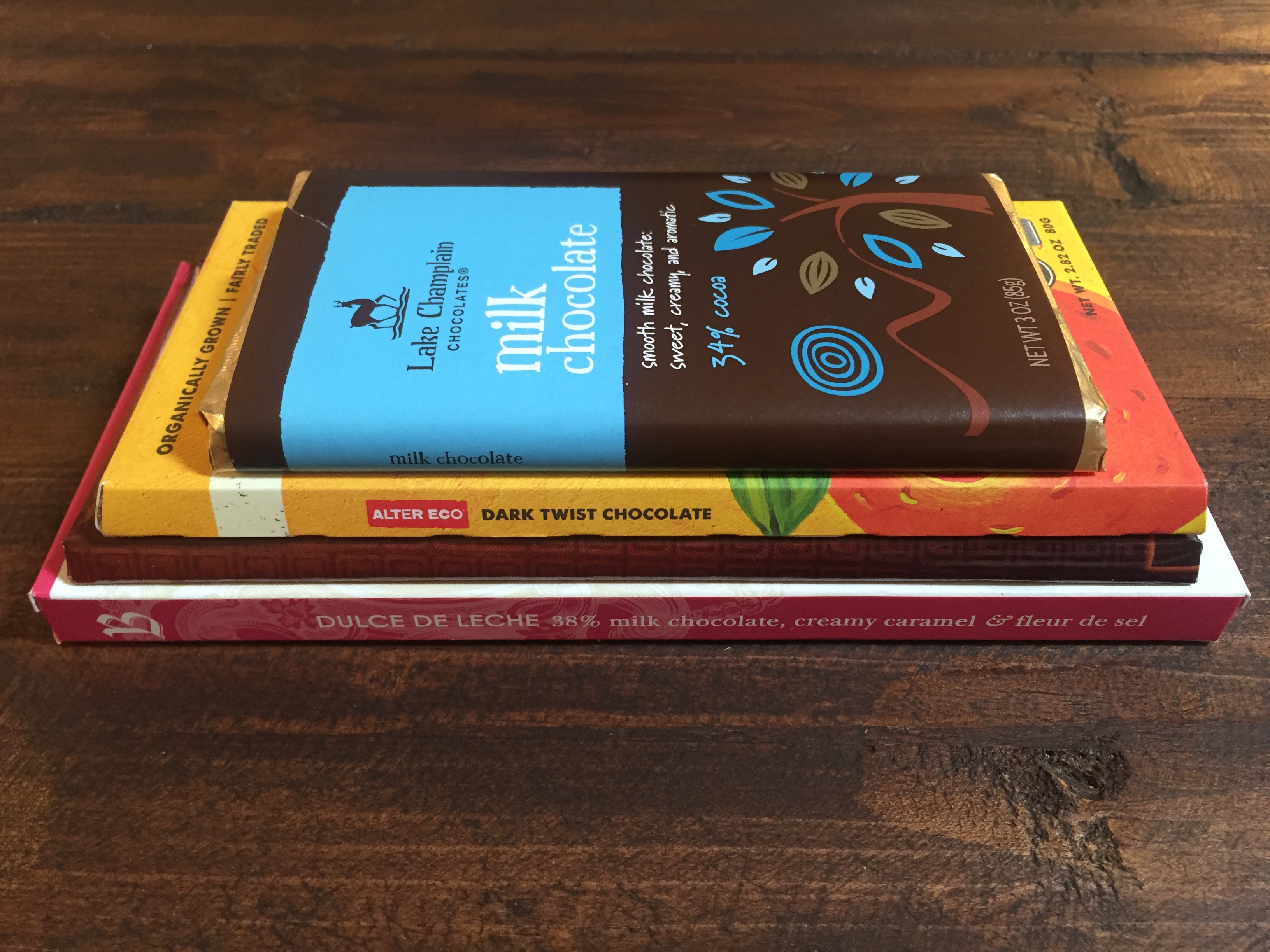 As Valentine's Day quickly approaches, we thought it would be fun to inspire our friends and family to try some wine and chocolate pairings. There are lots of guidelines on this topic (light wine/light chocolate, dark wine/dark chocolate), but we firmly believe that there are really no "rights" or "wrongs"— ultimately what you put together and enjoy is a matter of personal taste. Below we outline some combinations that worked for us; we hope that you will come up with some of your own.
Getting Started
We set out to find a citrus-flavored dark chocolate, a chili-infused dark, a caramel-filled variety and a milk chocolate at our local specialty market. We had some specific brands in mind, but ended up with completely different ones. We also came home with some extras: a rich dark chocolate, a nutty-flavored dark and a white chocolate.
Just as our shopping didn't go exactly as planned, our tasting session didn't, either. We had imagined our event to be an elegant and well-organized affair, with the chocolate nicely displayed on china, and a white tablecloth background. We were going to do a photo shoot. But tight schedules and unexpected travel forced us to adjust our plans. Ultimately, we did the tasting at the kitchen table. And it included a five-year-old. We took photos with our phones — and tried to take better ones later in the day — only to discover that our friend's dog had sneaked into the pictures.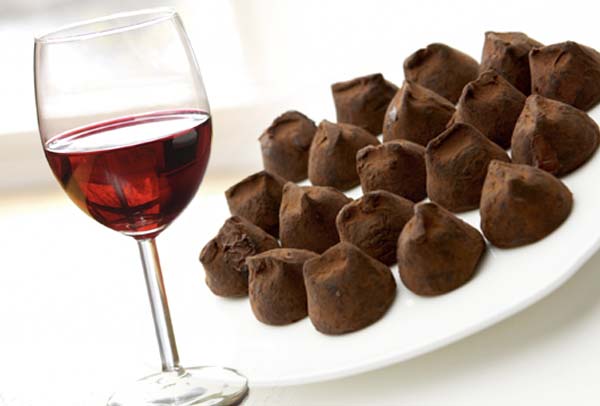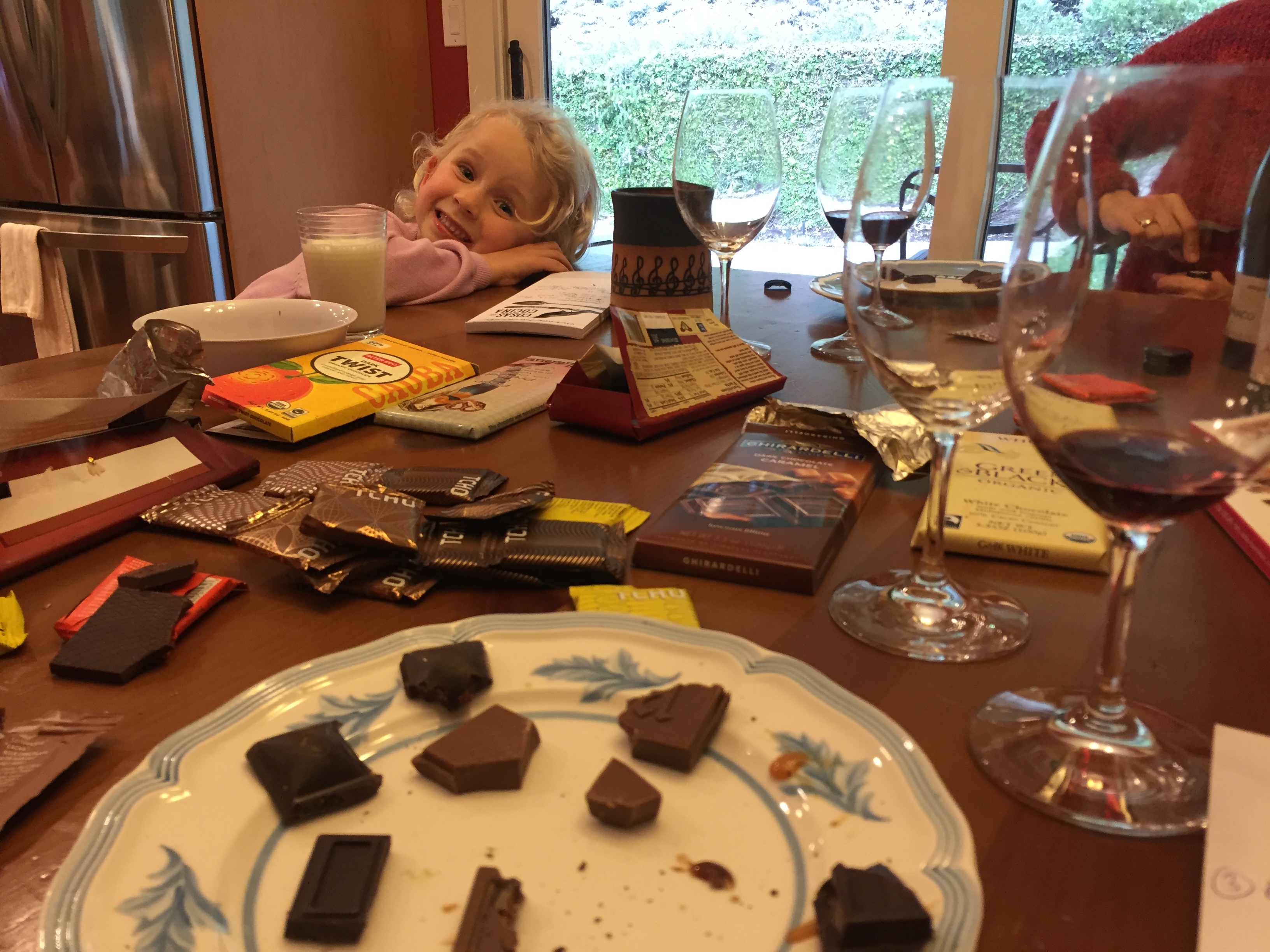 Despite our missteps, the tasting yielded some fun surprises and unexpected results. Everyone loved the pairing of citrus-flavored chocolate with Cariblanco Sauvignon Blanc. We thought the spicy chili-flavored chocolate would couple nicely with the spice notes of our Lucero Syrah, but it didn't — the wine intensified the chili flavor causing our throats to temporarily burn. We didn't expect to enjoy the white chocolate with anything — and we didn't.
Our Favorites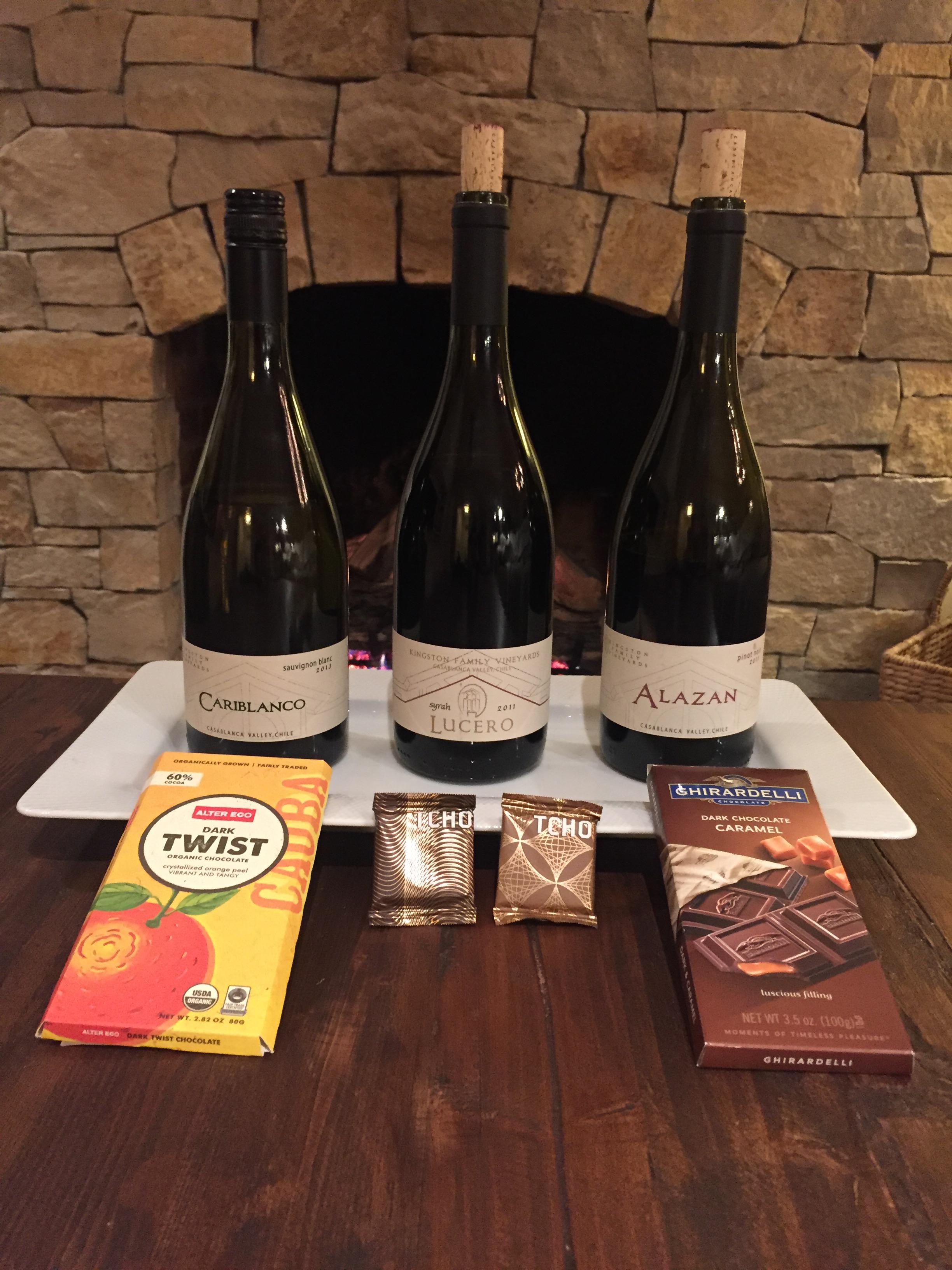 2013 Cariblanco Sauvignon Blanc with Citrus-Flavored Chocolate
For our first pairing, we matched the citrus elements of our 2013 Cariblanco with citrus-flavored chocolate. We started with Alter Eco Dark Twist, a vibrant and tangy chocolate made with crystallized orange peel. We also sampled TCHO PureNotes Dark Fruity chocolate. Both paired nicely with the crisp notes of the Sauvignon Blanc, offering bright and refreshing combinations. Yet ultimately we preferred the intense orange flavor of the Alter Eco to the more subtle citrus hints of the TCHO. (The five-year-old did not care for either of these chocolates with her milk.)
2011 Alazan Pinot Noir with Caramel-Filled Dark Chocolate
Perhaps it's just that there's something irresistible and indulgent about a gooey, buttery caramel and dark chocolate combo, but we can't help but recommend it. For this pairing we sampled Ghirardelli Dark Chocolate Caramel with our popular 2011 Alazan Pinot Noir. Known for its sweet cherry core and slow reveal, our shy Pinot Noir offers hints of earthiness. When coupled with the caramel-filled chocolate, the wine's finish was drawn to a decadent length. It's possible that we just love caramel, but we found this duo to be a great match.
2011 Lucero Syrah with Dark Chocolate
With its meaty notes, traces of blackberry and hints of Mediterranean spices, our 2011 Lucero Syrah demands a complex dark chocolate. We found TCHO's PureNotes Dark "Chocolatey" to be just the ticket. Made from 70 percent Ghana cacao, the rich chocolate held up to the energetic wine making for an extremely nice pairing. For a nuanced alternative, we also enjoyed TCHO's "Nutty" chocolate, an organic and fair trade treat made with cacao from Ecuador.
Now It's Your Turn
We hope we've motivated you to get creative and try some out-of-the-box pairings. We encourage you to be flexible and open your mind to new flavors when picking your chocolate. As we've learned, they might not work out as planned, but it's fun to see what happens.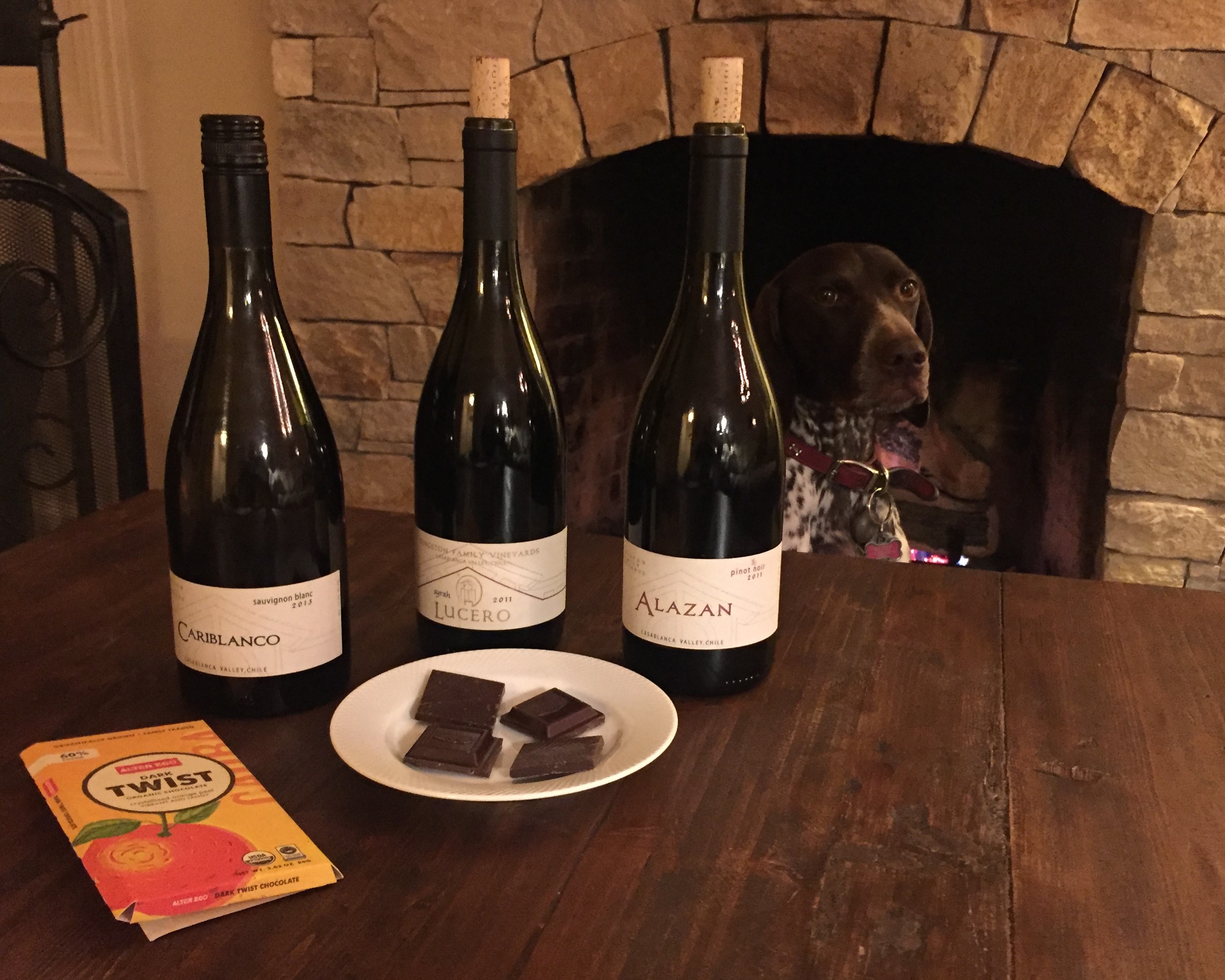 To make it easier for you to hold a chocolate and wine pairing event of your own, we've put together this set of 6 wines including 2 bottles of each of the wines we tried in our pairing. After you've done your own experimentation with your favorite chocolates, we'd like to hear about your discoveries! Please e-mail us if you come up with a "must-try" combination.
Finally, if you happen to find yourself in Chile, we would gladly welcome you to our family's vineyard and farm in Casablanca. And because most trips to Chile generally begin and end in Santiago, we wanted to recommend these chocolatiers there: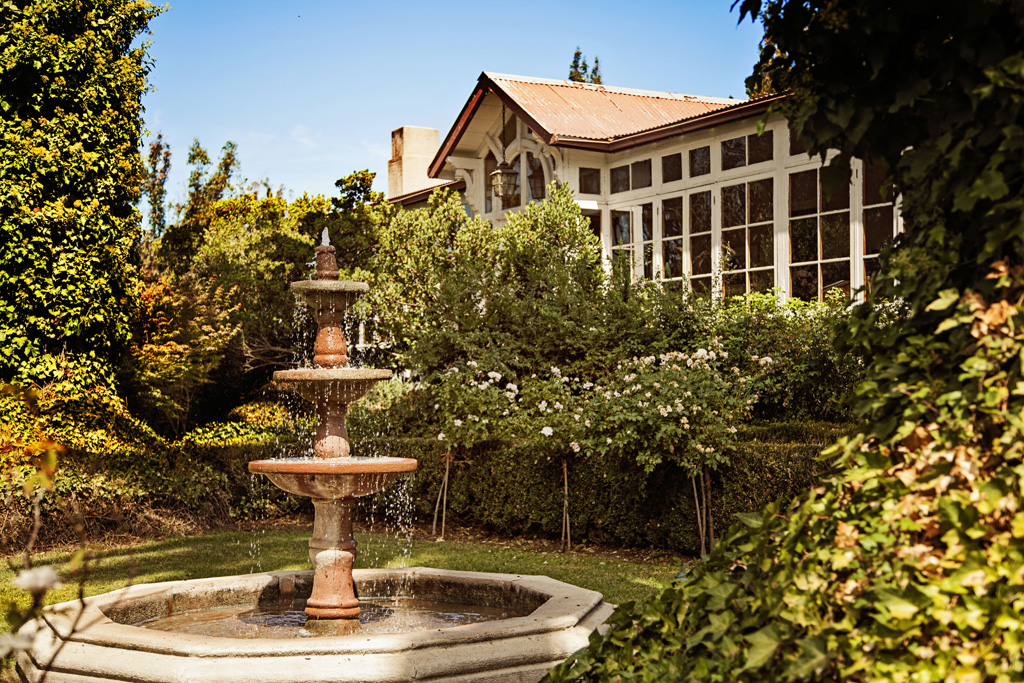 Salud!
Comments
Commenting has been turned off.