Blog
June 9, 2016 | Travel | Courtney Kingston
Cats on Hot Tin Roofs: A Visit to Valparaíso

When deciding which travel destinations to write about for this blog, we've chosen to focus on those that are uniquely Chilean and unlike anywhere else in the world. Valparaiso is one such place. With its brightly painted buildings, abundant street art, crazy steep hills, Bohemian vibe, wiring that would cause a U.S. building inspector to go weak in the knees, cats everywhere, and lately, a hip food scene, "Valpo" (as some people call it) has originality and character oozing from its historic rainbow-colored seams.
Located just thirty minutes from our family's winery in the Casablanca Valley, we often go for the day and sometimes spend the night. Here are our recommendations for what to see, do and expect in this eclectic city by the sea.
Getting There
If you're visiting Valparaiso from Santiago, we suggest arriving mid-morning and staying at least through dinner so that you can have two full meals and experience the city lights at night. One of the most common comments we hear from guests at our winery is that they wish they had allotted more time in Valparaiso, so if your schedule allows, it might be worth it to stay longer.
We suggest hiring a driver to get you from Santiago and back (we'd be happy to provide some names) instead of renting a car because rentals are only available in stick shift. If you haven't driven one for a while – or ever – practicing on roads that are steeper, curvier and narrower than San Francisco's Lombard Street might not be the kind of adventure you're seeking.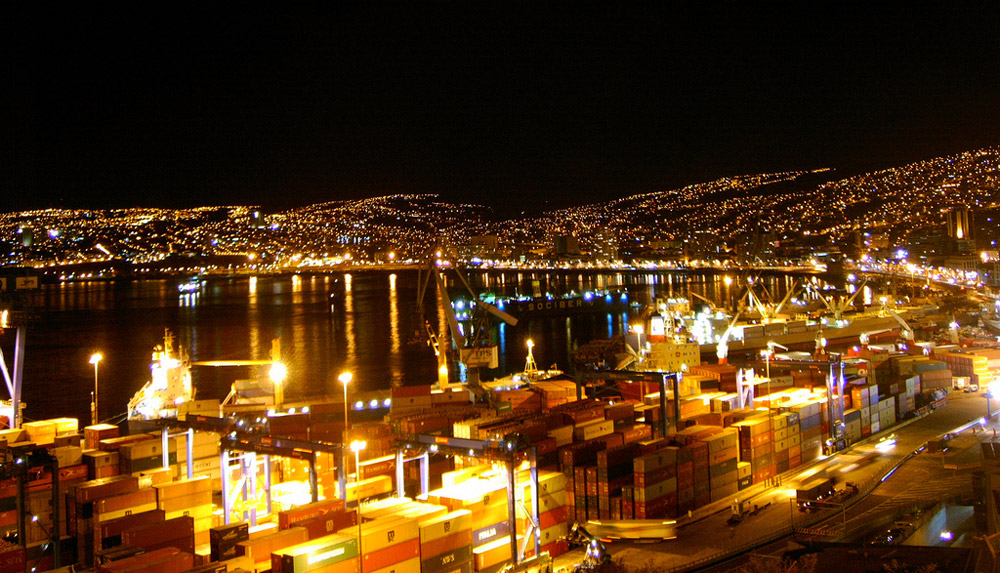 Finding Your Way
You'll likely notice something unusual about Valparaiso the instant you look at a map. The area closest to the water appears to be a traveler's dream: The streets are neatly delineated in traditional grid fashion. But then, emerging from the tidy grid and closely resembling a plate of spaghetti are oodles of interconnecting squiggly lines. These are the roads snaking up the city's sheer hillsides. Unlike places that take advantage of a waterfront location for tourism, Valparaiso's low, flat "plano" represents the working port section of town. This makes sense because of the city's history – before the Panama Canal existed Valparaiso was the largest port between Europe and the west coast of the Americas – and until recently Valparaiso wasn't really a tourist "destination" at all. But you're going to want to head for los cerros (the hills).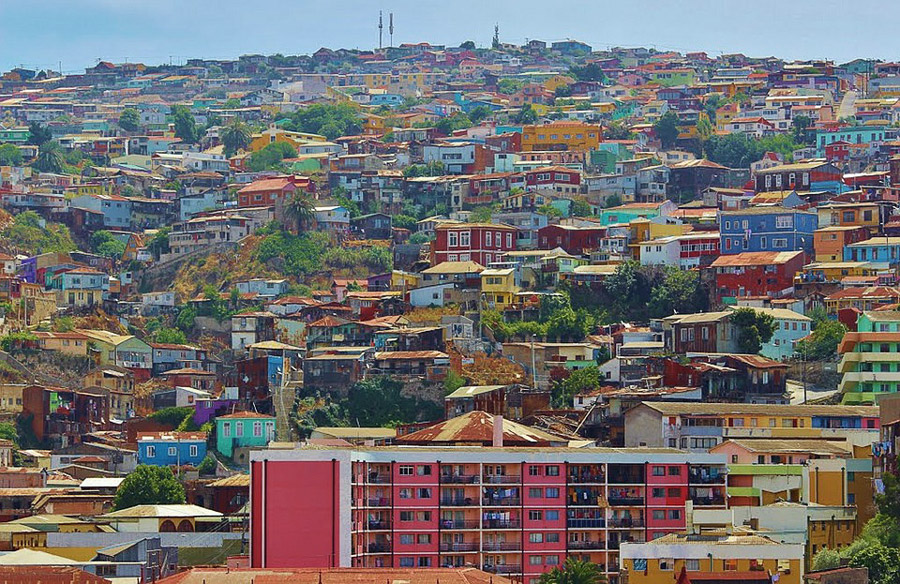 The two most visited cerros of Valparaiso are Cerro Concepción and Cerro Alegre. Both make up part of the area that was designated a Unesco World Heritage Site in 2003. If you are in decent shape, it's fun to explore them on foot. Like London or any old city that grew organically, the streets go every which way and are dictated by the topography. Sometimes they change names, and direction, so it's easy to get lost. We find this part of the allure.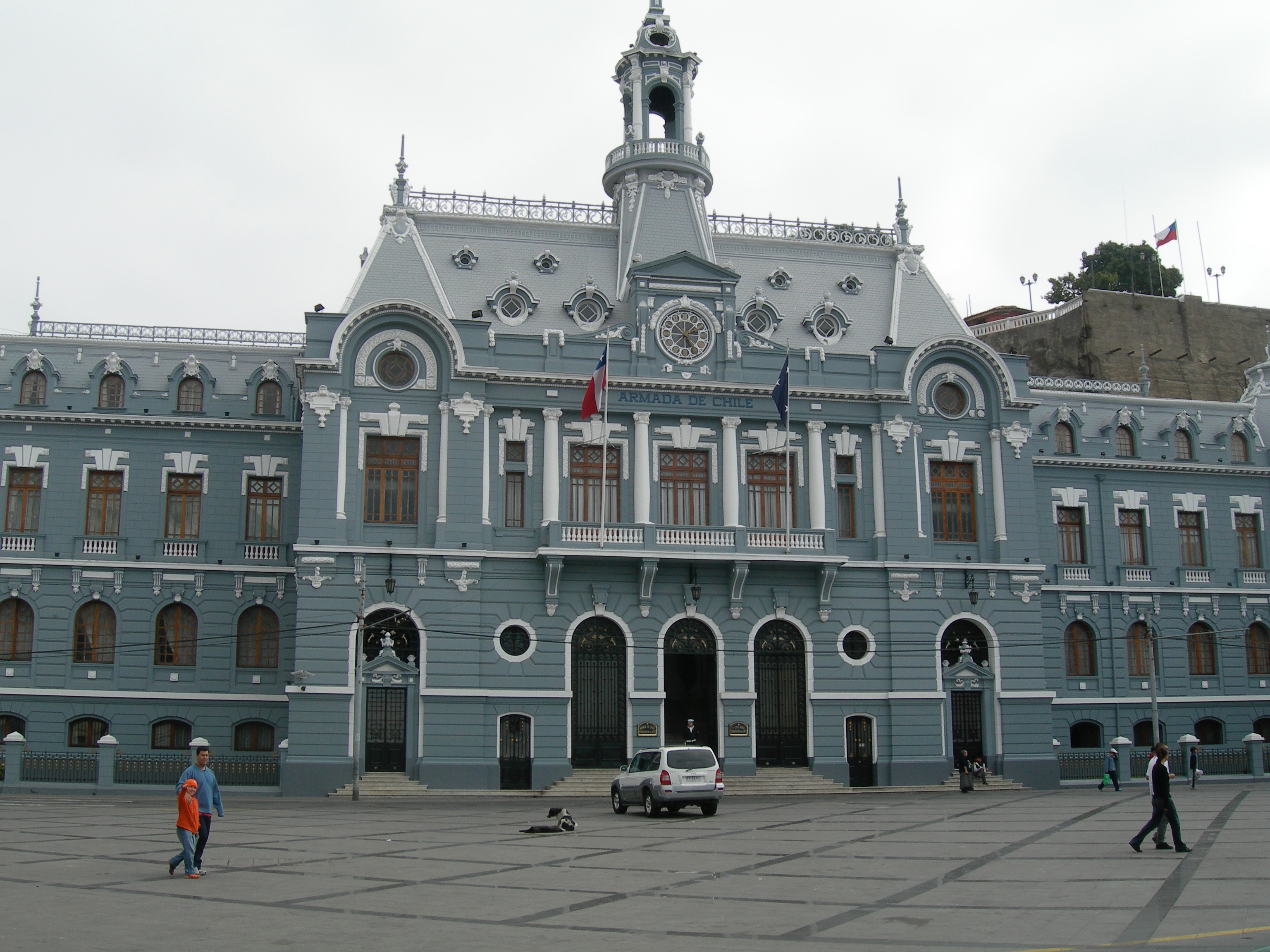 If you prefer to have more structure to your visit, a number of companies offer guided walking tours. We highly suggest one of the three-hour "Tours 4 Tips" tours that leave from Plaza Sotomayor every day at 10 a.m. and 3 p.m. Alternatively, there are do-it-yourself routes indicated by markers in the pavement. These take you up and down a number of narrow staircases and along the paseos that provide views of the city and sea. If you're interested in getting a better feel for the hills and the staircases, and you're not subject to motion sickness, the annual Valparaiso Cerro Abajo mountain bike race provides an extreme example of a way to get downhill.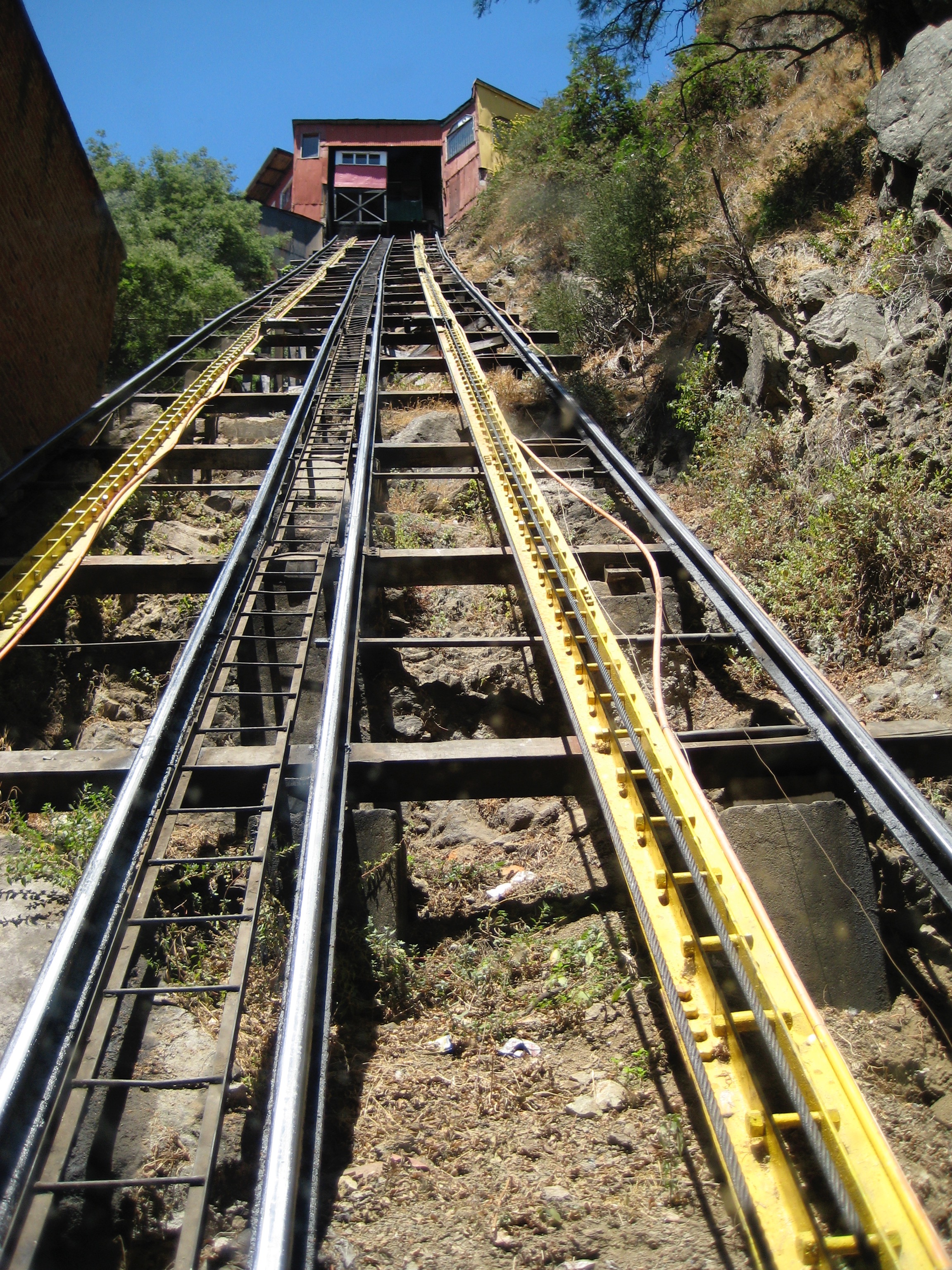 In our opinion, a slightly safer way of getting down (or up) the hills is on one of the city's famous ascensores, which are funicular elevators that cost 100 pesos (less than 15 cents) per person. The first one, built in 1883 and still in operation, is located on Cerro Concepción. When on it we're reminded that our great-grandfather rode the same one a century ago. Going up (or down) the rickety elevators may cause you to pause and hope you've had a good life – that is, until you look out and consider the colorful hodgepodge of art and activity that makes Valparaiso so fascinating.
What to See
For most people, Valparaiso is not a "love at first sight" type of place. Many of the brightly painted buildings are old and weathered and there is graffiti everywhere. As we mentioned, it's not easy to get from place to place, and to be honest parts of the city are gritty and dirty. But once you study the street art, or take note of the funky new buildings cropping up among the ancient Victorian homes, or bump along the insanely steep streets, or try to count all of the cats hanging out on tin roofs and in windowsills, you may start to like it. At least that's been our experience. For us, Valparaiso is a city that grows on you. If you compare it to Santiago, the capital is mature and sophisticated; Valparaiso, though old, is still young at heart, free-spirited, and doesn't take itself too seriously.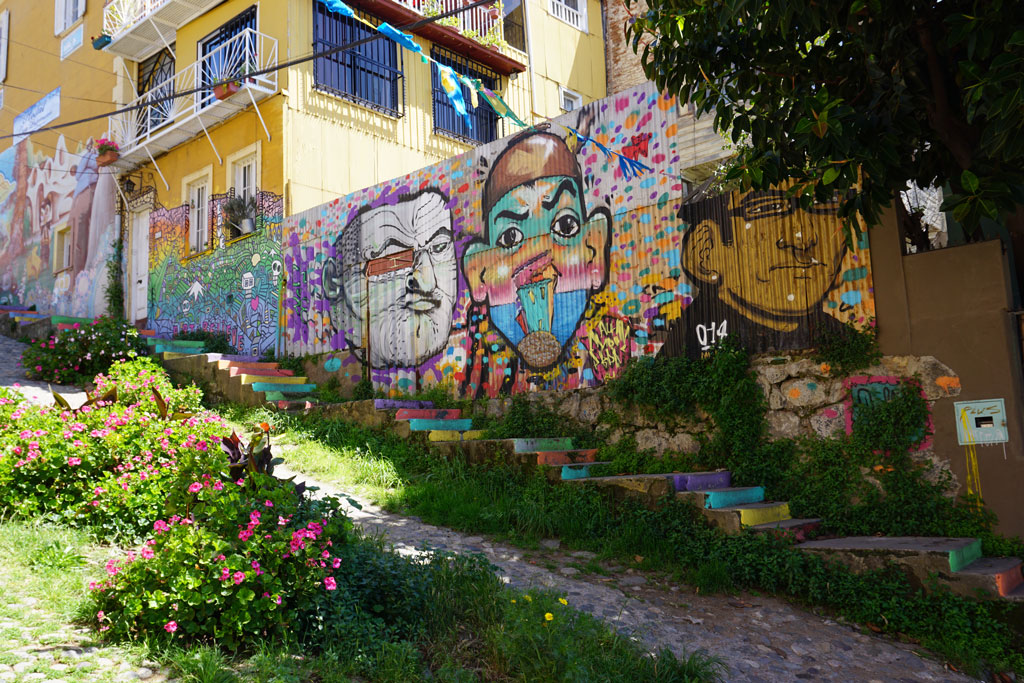 Nowhere is this more evident than in the street art, which decorates a large percentage of the city's walls and can be divided into two categories: murals and graffiti. While it's often hard to distinguish the two, murals are legal and commissioned by homeowners to prevent unwelcome tagging. Graffiti, which is everywhere, is illegal. But graffiti "artists" respect the muralists' work and won't scribble on top of it. Because a clean wall is essentially a blank canvas, porteños pay muralists to paint their homes instead of leaving it up to the bombers (as they're now called in the U.S).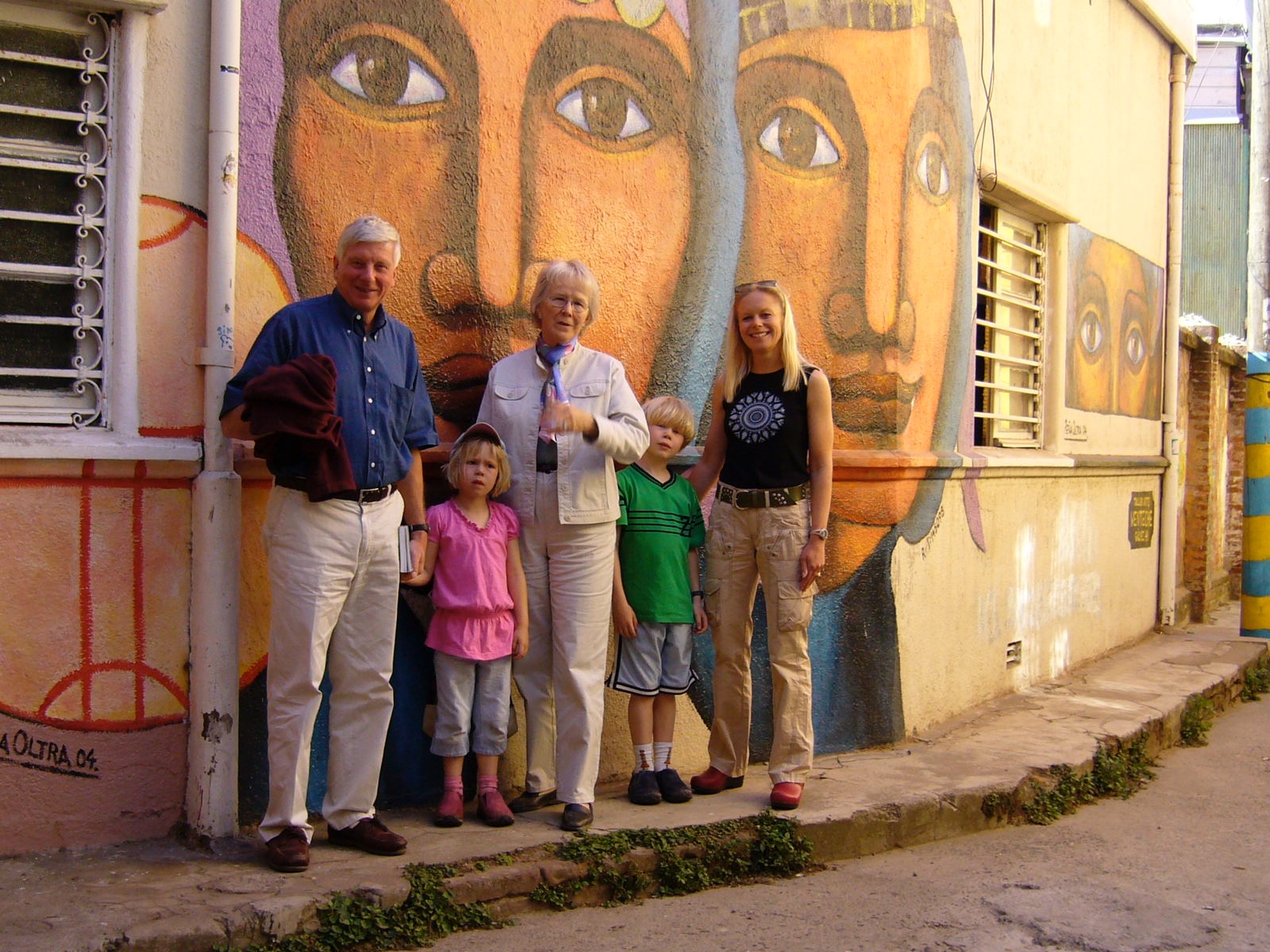 In addition to street art, you'll find lots of hidden alleyways, shops, restaurants and unusual sightings on the hills that provide glimpses of the happy-go-lucky nature of Valparaiso. Recent visits have revealed a "store" that someone set up outside a kitchen window on a street in the 30-degree gradient range. Sale items included an egg carton containing cracked egg shells planted with delicate little flowers and a cast-iron skillet, also filled with planted eggs.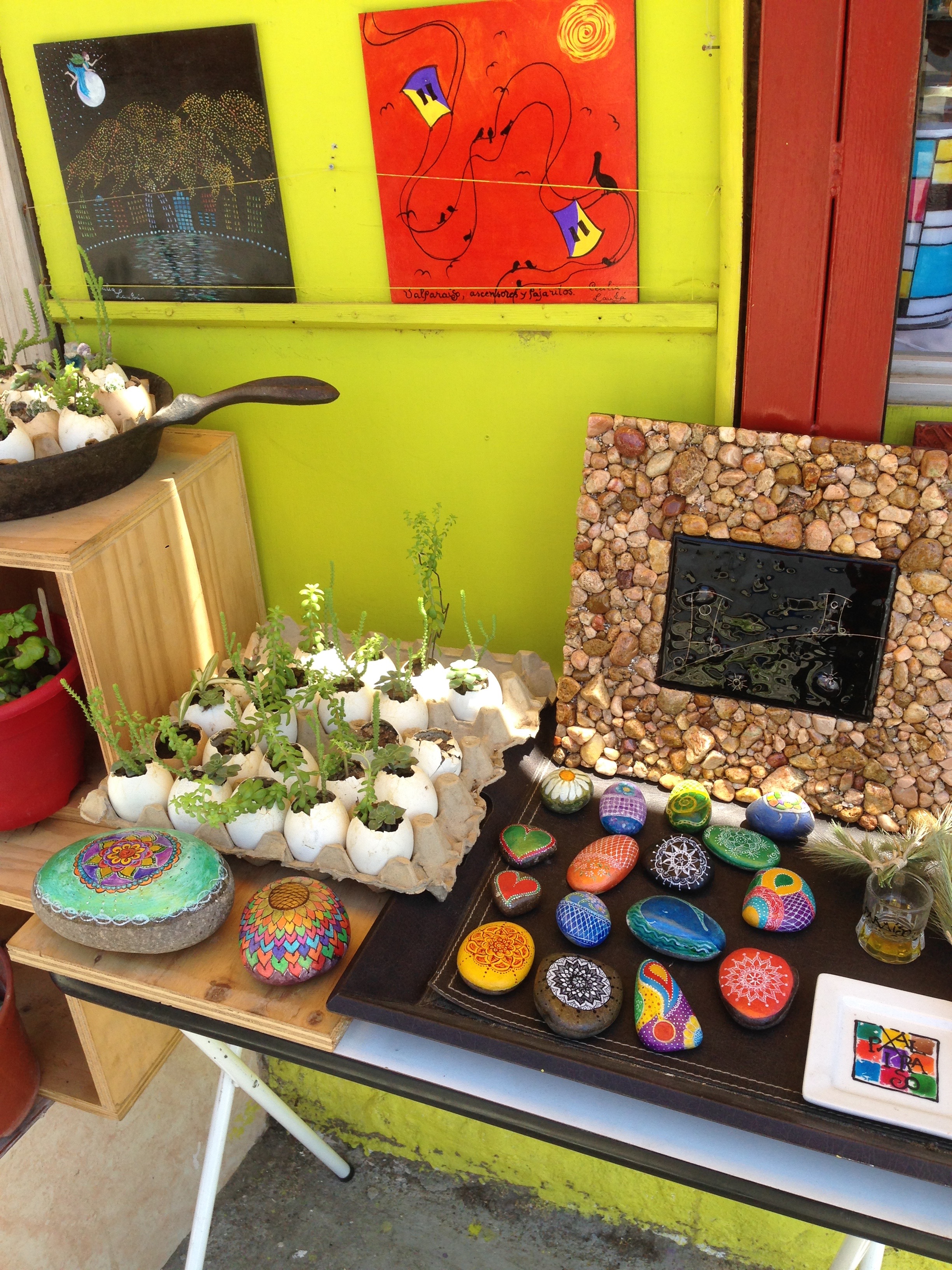 Another sighting involved a street performer, for lack of a better term, who was operating a finger puppet show. To view the show you had to sit in a chair and cover your head with a black sheet. The puppeteer then draped the other end of the sheet over his head and the performance began. We can't think of anyplace else where someone would consider sitting on a sidewalk, with their head waist-level under a sheet, to see a puppet show; yet we witnessed a mother who dutifully stood next to her young daughter as she took in a performance.
We also saw lots of cats (seven from one vantage point) and at least three of them were hanging out on corrugated tin roofs. If you happen to prefer dogs, don't worry, there are a fair amount of scruffy mutts roaming around, too. Unlike some of the dogs in Santiago, they're not wearing sweaters. Also, it's good to keep in mind that picking up after your pet is definitely not Chilean, so you generally need to watch where you step.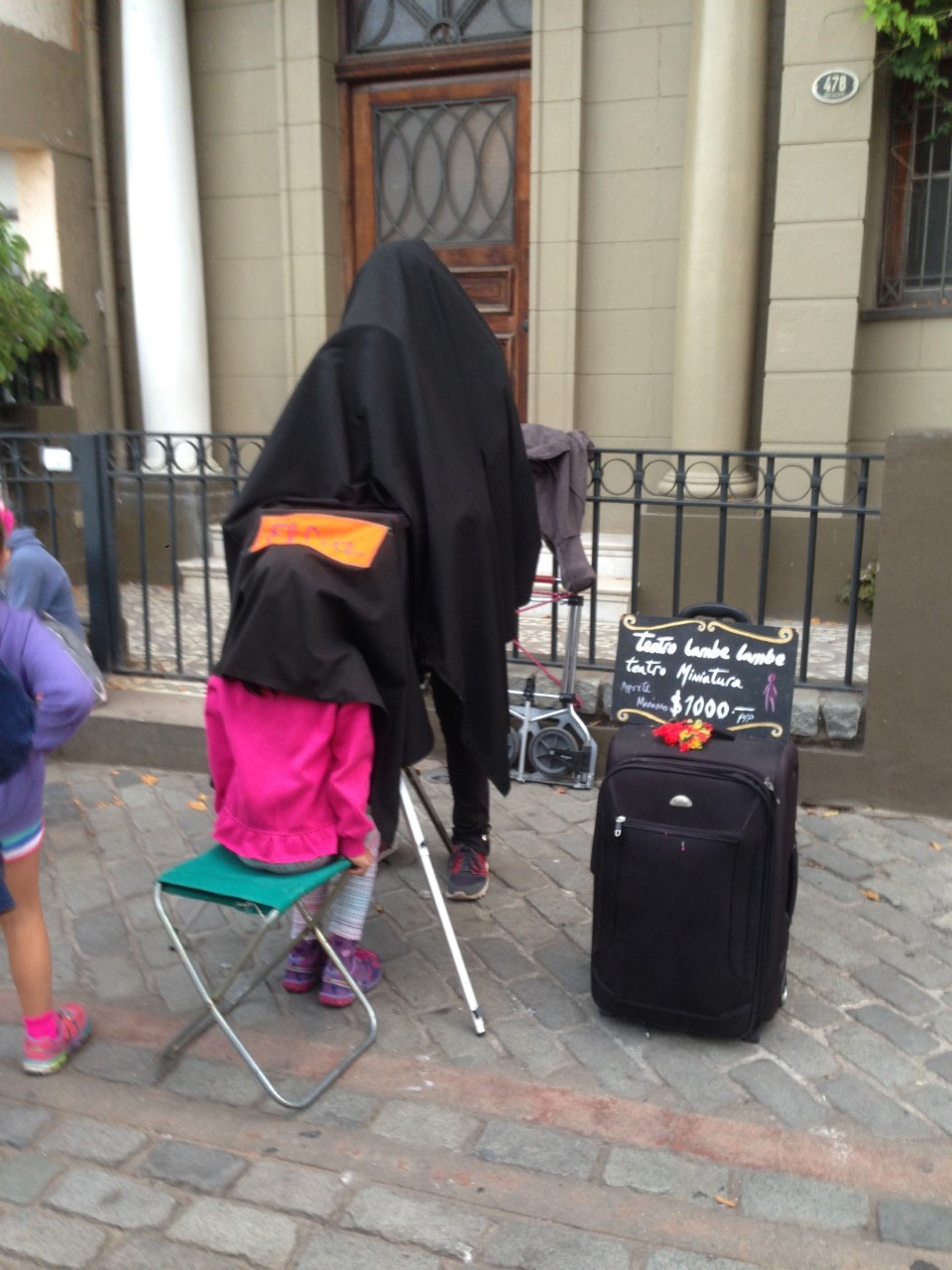 One gray morning we strolled around the city and were struck by all the seagulls squawking overhead. Maybe this is why a restaurant was playing the entire "Flock of Seagulls" album when we stopped in for lunch. On another day we listened to a man walk the streets as he beat a gas canister, over and over and over again, to alert people that he was in the neighborhood. He was selling gas for estufas, which are essentially space heaters, that many people use to warm their homes in the winter. And just about every time we head outside we stop to wonder about the tangle of wires emerging from power poles – it seems miraculous that the electricity works at all.
If you happen to be in Valparaiso on a Sunday at noon, one of our favorite things to do is attend the organ concert at St. Paul's Church. We like sitting in the historic wooden pews while listening to the beautiful organ that was made in England and donated by a British resident in 1903. Not only is the music lovely (most of the time – the organists are volunteers), but the church provides a cool respite on hot days. It also serves as a great example of the city's diverse history and its ties to Europe. On the back wall is a list of British soldiers who died fighting for England during both World Wars. And down the hill from the church are two fire stations: one formed by Germans and one by English ex-pats. Called bomberos, the all-volunteer fire departments still fight the city's fires today.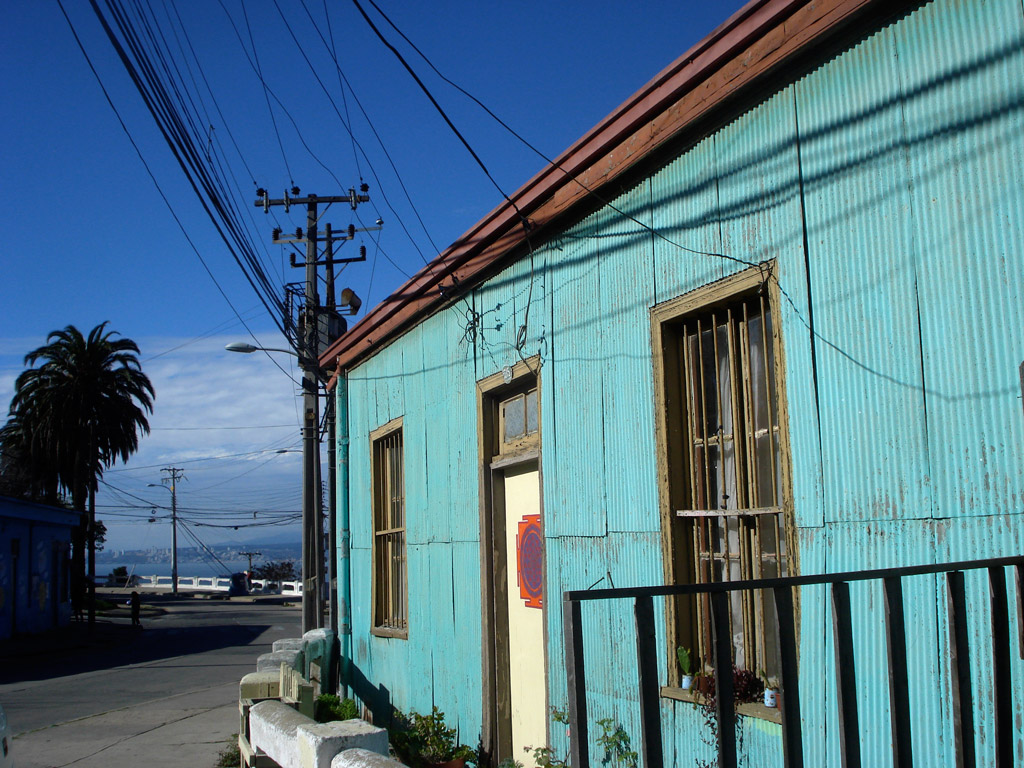 Where to Eat
One of the top reasons to visit Valparaiso these days is for the food – and the ice cream. After walking the city you'll probably want to eat. Porteños generally don't sit down for lunch until at least 1:30, so you'll need to plan for that. We really like Café Turri, Pasta e Vino and Café Vinilo. Other popular spots are Almacén Nacional, a newish restaurant that serves Chilean classics, and Restaurant Montealegre, in the boutique hotel Casa Higueras, which has an outdoor terrace with views of the Pacific. On Cerro Concepción Restaurant La Concepción serves a mouth-watering ceviche and a dangerously delicious pisco sour. But our absolute favorite spot – and our consulting winemaker Byron Kosuge's "happy place" – is Espiritu Santo.
Located on Cerro Bellavista, the minimalist restaurant and hosteria is owned by our new friend, Doña Laura, and her son, Manuel. Tastefully decorated, we think Espiritu Santo typifies the city itself; aged and worn on the outside, warm and welcoming inside. The innovative menu features fresh, locally-caught fish and organic vegetables. Some recent meals we've loved there include octopus with miso sauce and rock fish perched upon polenta, olives and roasted vegetables. Our winemaker, Amael Orrego, and a few of our guides are also fans of the house cocktail made with freshly squeezed grapefruit juice.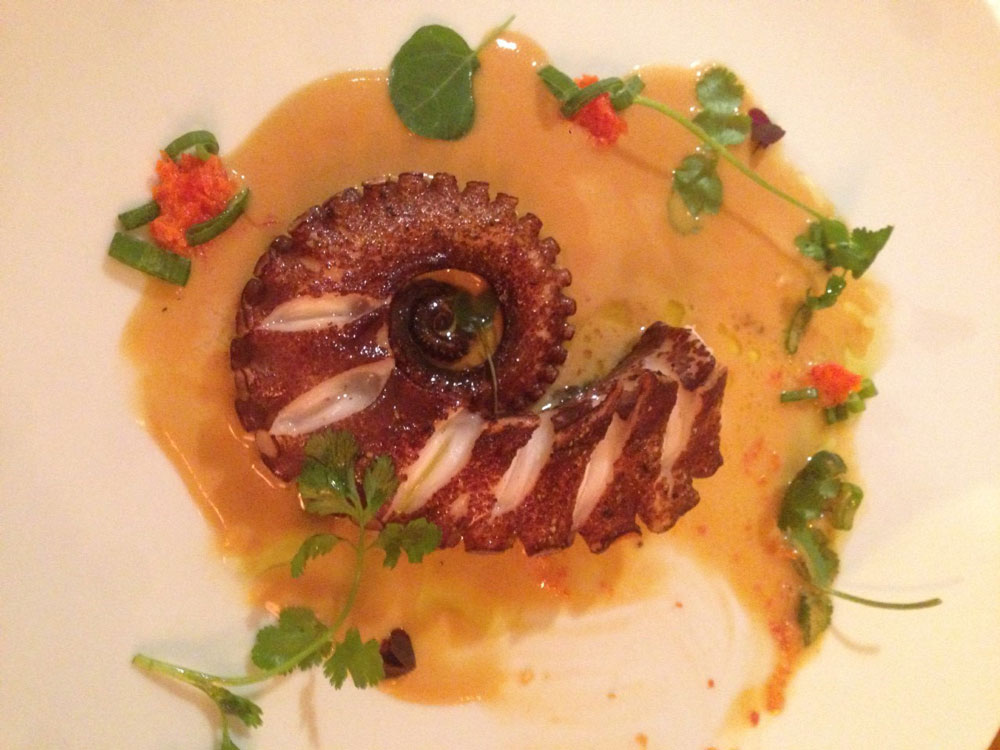 If you're spending the night, we might suggest trying someplace else for lunch and saving dinner for Espiritu Santo. However, one of the advantages of eating there at lunchtime is that it is located just a few blocks from La Sebastiana, one of Pablo Neruda's three homes. (The other two are located in Santiago and Isla Negra.) The five-story house offers an audio tour, and provides insight into the life of Chile's most famous poet. It's a must see if you're into poetry, literature or Chilean history.
Earlier we made a reference to ice cream. While in general porteños don't take themselves too seriously, they mean business when it comes to ice cream! We find it makes a great afternoon snack because dinner comes late, at 9 p.m. Lots of little shops sell inventive and ever-changing flavors; we stopped in a dulceria during our last visit and had a hard time deciding between pears and wine, pistachio, and limon de pica, which is a special kind of green lemon found throughout Chile and commonly used in pisco sours.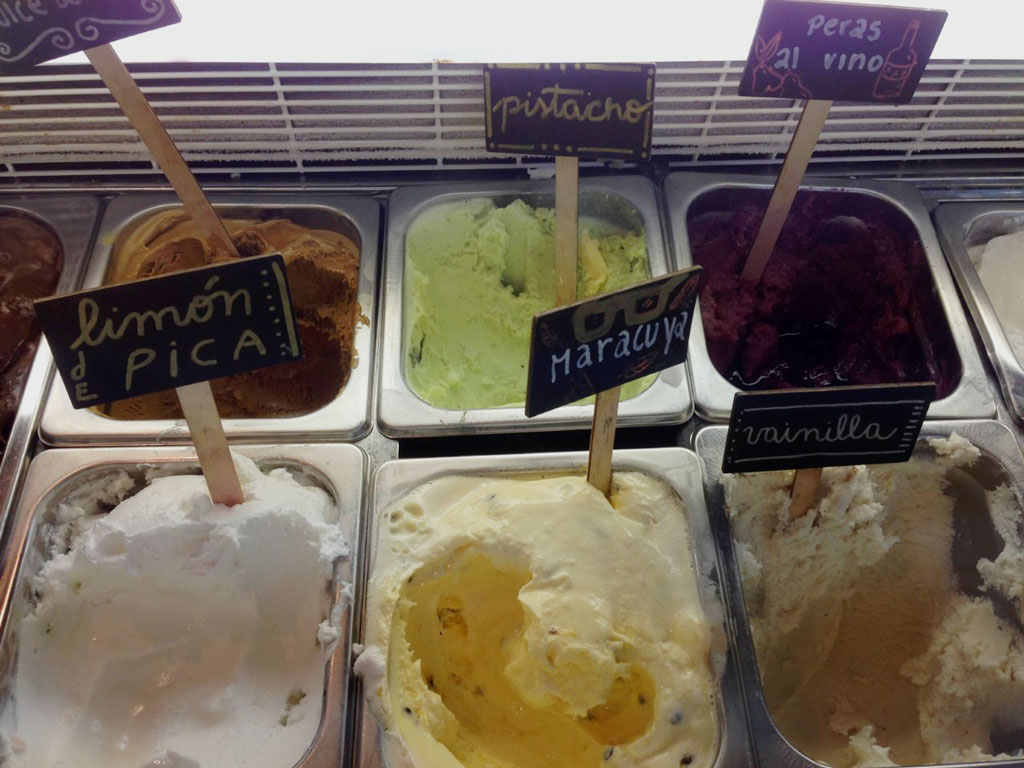 Where to Stay
We recommend a number of lodging options, all of which are quite different from each other. We love Hosteria Espiritu Santo – it's simple, clean, quiet and comfortable. Zero Hotel, a B&B located in a huge historic Victorian house, is also a great choice. It has unobstructed views of the city and the ocean in the distance. For a sophisticated yet cozy option, we suggest Casa Higueras. Palacio Astoreca opened in 2012 in a restored national monument, and has a spa. The trendiest option, Hotel Fauna, has really cool architecture, but it can be noisy. Next door is Via Via, an excellent boutique hotel with arguably the best Belgian beer selection in the city, and a delicious lunch menu.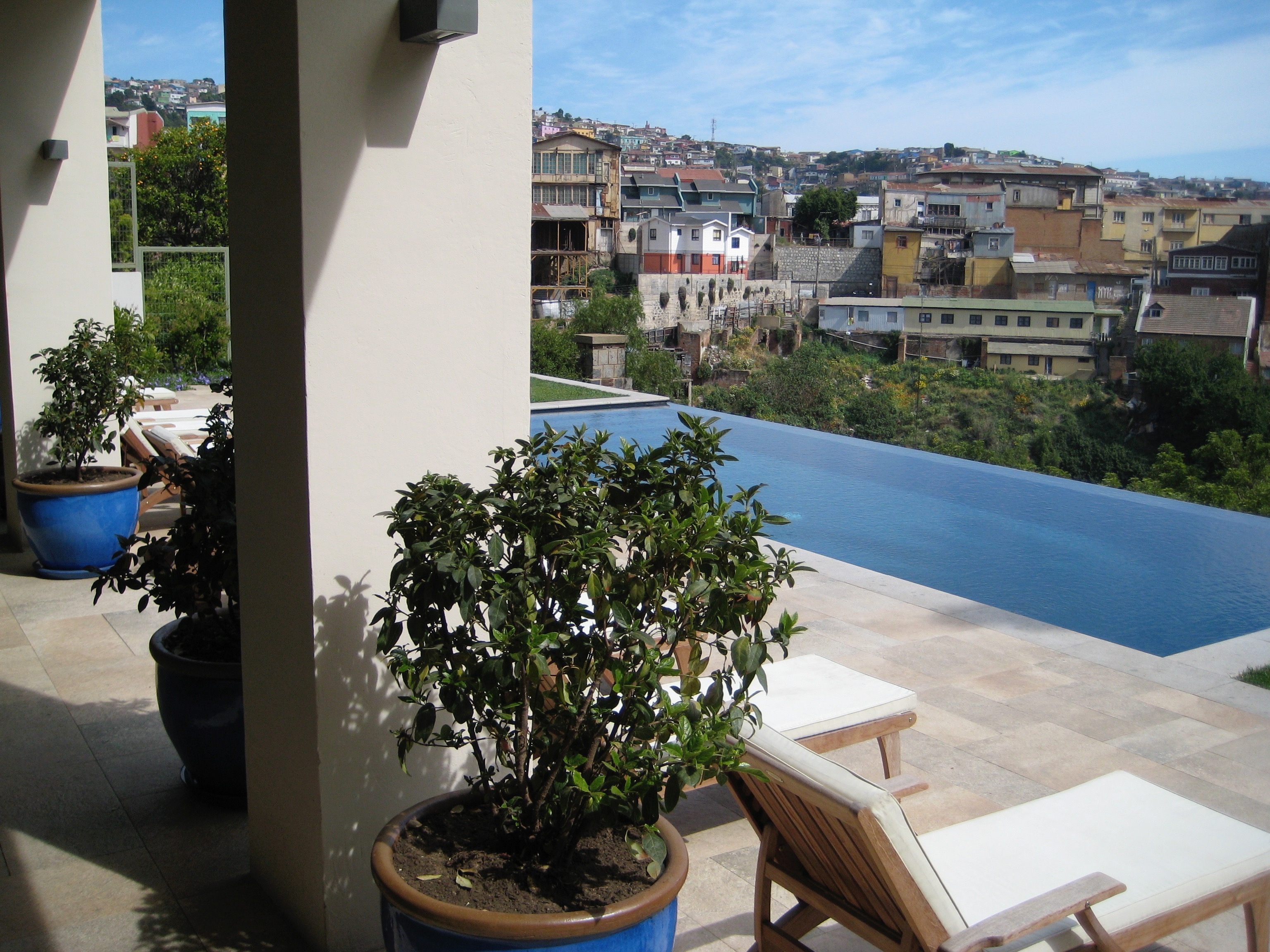 Morning in Valpo
If you happen to spend the night and need something to do in the morning, we suggest heading over to Mercado El Cardonal to check out the piles of local produce. We think it's fun to see the mountains of cheap avocados, barrels of olives and variety of local fruits and seafood that you won't find in the U.S. Upstairs you'll discover a smorgasbord of mom and pop lunch spots, all serving the same classic Chilean sandwiches: barros Luco (a beef and cheese sandwich named after a past president), barros jarpo (ham and cheese), a completo (a hot dog covered with tomato, avocado, and sauerkraut), or the completo's more popular brother, a completo italiano (hot dog smothered with tomato, avocado and mayonnaise).
An alternative is to stop by our winery for lunch and a tour on your way back to Santiago. With advance notice, we'd be happy to arrange a private, catered meal (minimum of four people), that pairs three courses with our wines.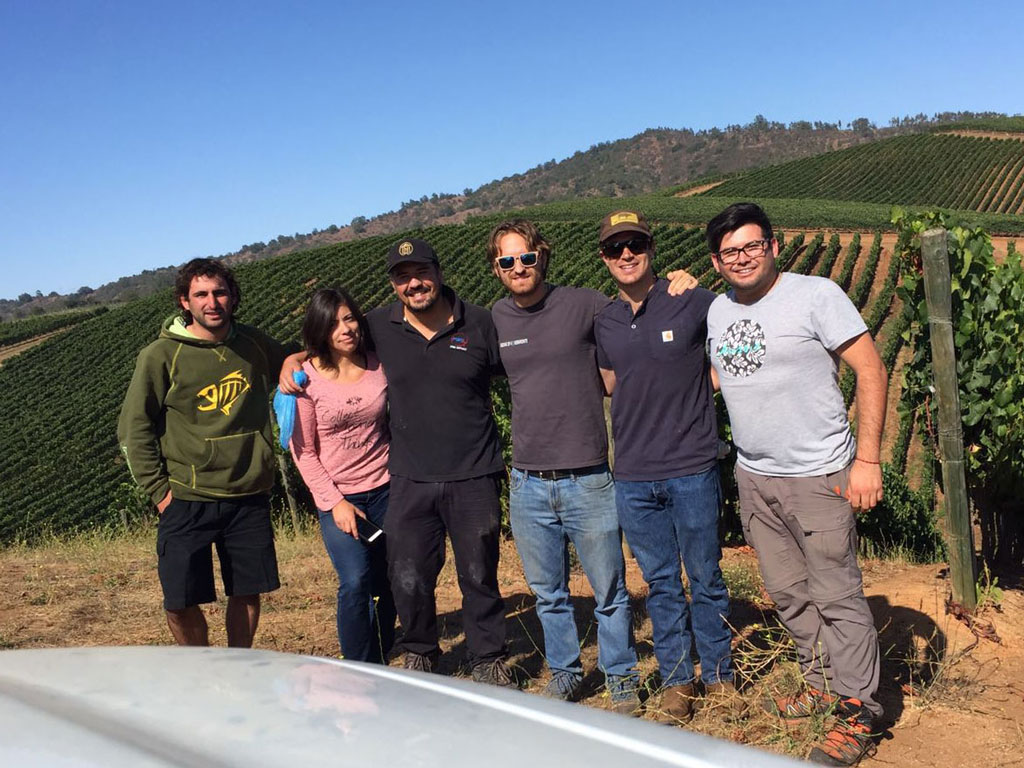 How Can We Help?
Many of our crew at the winery live in Valparaiso. Should you be looking for additional tips about the city, feel free to e-mail us at guests@kingstonvineyards.com with questions. We're happy to help!
¡Saludos!
Comments
Commenting has been turned off.