Dear Friends,
Early this morning, I went for a walk in Las Condes, our new neighborhood in Santiago. Our late summer mornings here are beautifully brisk and quiet. It's my favorite time of day to explore, and reminds me of walks I took at daybreak through the hills of San Francisco when I first moved to California 22 years ago.
My husband Andy and I have moved our family to Chile for the year. Our three daughters are attending a girls' primary school a few blocks away in Santiago, with their Chilean cousins. They dutifully (sometimes not so dutifully) wear their navy uniform dresses to school each day, and paso a paso are improving their Spanish on the playground and in their lenguaje class.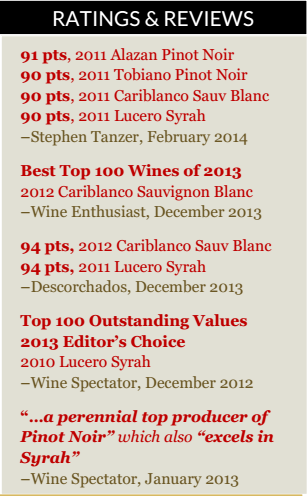 Our vineyard is an easy hour's drive west toward the coast. It will be a treat to watch summer fade into fall, fall fold into winter, winter burst into spring. Living in the US, I've "dropped in" every couple months to Casablanca for 10 days here, two weeks there—but rarely had the chance to watch the farm gradually shift with the seasons. 2014 will be an opportunity to explore and experience Chile in a new way.
This spring, we're releasing our 2012 Bayo Oscuro Syrah, our 2012 Lucero Syrah, our 2012 Bayo Oscuro CJ's Barrel Syrah and our newest 2013 Cariblanco Sauvignon Blanc. As always, they are 100% estate grown and bottled on our family's vineyard in the Casablanca Valley. And if you'd like to revisit our Pinot Noirs and Chardonnay released last fall, small quantities remain—just let us know.
How to Order Wine
To order wine, please visit our website. Old Corral Club members receive advance allocations of their personalized wine selection, a 10% discount on all orders, and complimentary tastings in Casablanca. To join the Corral, please call us to learn more or sign up online. We also offer free shipping on one case or more.
We only send release letters twice a year, but on our blog, Facebook, Twitter, Google+ and Pinterest you can get more frequent updates on Kingston. Read the latest on our harvest, hear the birds in the vineyard, and get travel recommendations for your next trip to Chile.
We hope you enjoy drinking these wines as much as we've enjoyed making them.
Sending our family's best from Chile.
¡Saludos!
Courtney Kingston

At Kingston we're fortunate to have a small team, many of whom have worked on our vineyard or our farm for years if not decades. In many ways, everyone feels like an extended member of the Kingston family---some with stories that go back generations in Casablanca, and others who have called our small corner of Chile home more recently. We thought it would be fun to continue to share the stories of the people behind Kingston---this month telling you more about Pilar Jara, our enologist at the winery.
Pilar grew up in Concepción, Chile's second largest city after Santiago, located about a six hour drive south of Santiago. (Most recently, Concepción made national headlines in 2010 when an 8.8 magnitude earthquake hit nearby). When Pilar turned fifteen, her family moved north to the Casablanca Valley in search of work. They settled in Casablanca for a few years, but her parents ultimately returned to Concepción. Pilar chose to stay behind. In 2005, she came to Kingston to work harvest and pick wine grapes as part of our vineyard manager, Patricio Monsalva's team. Pilar made a name for herself with her dedication and can-do enthusiasm, and soon caught the eye of Evelyn Vidal, our winemaker.
In late 2005, we broke ground on our own small winery at Kingston. (Prior to that, we had been making our small-lot wines in a small rincón (corner) at our neighbor's winery, Casas del Bosque.) Evelyn asked Pilar to join the founding crew at the winery for the 2006 harvest. That year Pilar quickly learned to do every job from punch downs and pump overs to driving the forklift (which you can see her doing in the picture below if you look closely at the mirror). She learned almost every facet of winemaking through her hands-on experience in the vineyard and the winery. With Evelyn as her mentor, Pilar soon took on all the enology work in our winery's small laboratory. There she studied each vintage's fermentations and young wines in barrel, always keeping our team appraised of each tank or barrel's composition---an important and key part of top quality winemaking.
Three years ago, Pilar took the initiative to invest further in her career by studying in the evenings at the Universidad de Playa Ancha in Valparaíso. With our support, she's been pursuing a degree in Chemical Analysis and will graduate later this year. On top of her studies and full time work at the winery, Pilar has raised two boys, Felipe and Diego. We couldn't be more proud of Pilar. She is a treasured member of our family and team, and an inspiration for us all. When you come visit us in Casablanca, say a special hello to Pilar. Along with the rest of the team at Kingston, she'll look forward to welcoming you.

Dear Friends, Ten years ago, few friends would take me up the invitation to visit us in Casablanca. Admittedly, Chile is a long way away from much of the world. The flights to Santiago were barely half-full (this had its benefits: I depended on my "C" seat always becoming "C+D+E" for the overnight flight).
But in 2011, the New York Times named nearby Santiago #1 in its "Places to Go in 2011," and then National Geographic Traveler praised our neighboring Valparaíso in its "Best Trips 2013." Things changed.
Like our handmade wines, a visit to Kingston is still—and will always be—an intimate experience. All tastings and tours are private, by appointment only. Old Corral members are complimentary. Here's what a few guests have said on TripAdvisor about their time with us in Casablanca:
"A truly behind-the-scenes experience. I would highly recommend [Kingston] to anyone looking to go off the beaten path and experience something remarkable."
"Of all the places we visited in and around Santiago,our trip to Kingston was the highlight."
"A tour only surpassed by the wine."
How to Order Wine
To order wine, please visit our website. Old Corral Club members receive advance allocations of their personalized wine selection, a 10% discount on all orders, and complimentary tastings in Casablanca. To join the Corral, please call us to learn more or sign up online. We also offer free shipping on one case or more.
We only send release letters twice a year, but on our blog, Facebook, Twitter, Google+ and Pinterest you can get more frequent updates on Kingston. Read the latest on our harvest, hear the birds in the vineyard, and get travel recommendations for your next trip to Chile.
This fall, we're releasing our newest Pinot Noirs and Chardonnay, including the 2012 Alazan Pinot Noir ($32) and 2012 Tobiano Pinot Noir ($20). Old Corral members will also enjoy exclusive bottlings of the 2012 Alazan CJ's Barrel Pinot Noir ($38) and the much anticipated 2012 Sabino Chardonnay ($24). We hope you enjoy drinking these wines as much as we've enjoyed making them.
Sending our family's best from Casablanca, and we'll look forward to welcoming you south someday soon.
¡Saludos!
Courtney Kingston

Our family began the quest to make artisan, sustainable wines from Chile's Casablanca Valley almost twenty years ago. At the time, Chile's forte was producing large volumes of wine at very affordable prices. Our dream at Kingston was not to make large volumes of wine, but instead to produce artisan wines from one place---our family's farm in western Casablanca.
Back in the early 90's, many smart, young chilenos were graduating from Chile's top winemaking programs—la Pontifica Universidad Católica de Chile and la Universidad de Talca. Winemaking was a respected career in Chile, drawing on centuries of winemaking after the arrival of the Spaniards in the 1500s. The majority of young chilenos sought jobs at large wineries that promised respected corporate structures and senior management opportunities. Cabernet sauvignon and the Maipo Valley were king.
We hoped we were onto something in the cooler western hills of Casablanca, only 12 miles from the Pacific. Our family decided to make a bet on pinot noir and syrah, hoping that some of the most exciting wines on Chile's coast were still to come. But this new frontier needed an entrepreneurial, risk-taking winemaking culture---one that did not yet exist at the time in Chile.
I (Courtney) was in graduate school at Stanford University in the mid-1990's, and wondered if we could start an intercambio/exchange program for artisan winemakers between Chile and California. An impressive number of Chileans winemakers already worked abroad, even outnumbering the Australians training in the U.S. at the time. But again, everything was skewed toward big production----most chilenos worked on crews at large operations like Robert Mondavi or Kendall-Jackson making chardonnay or cabernet, preparing them well for similarly scaled wineries at home in Chile. A limited few got the opportunity to make artisan wines on the coast under some of California's best pinot noir winemakers.
Beginning in 2001, we started connecting winemakers both in Chile and California to create our own mini winemaker exchange program. We worked with Edmundo Bordeu and Yerko Moreno, the chairs of the enology departments at la Católica and Talca, to identify some of the up and coming young Chilean winemakers who would seize the opportunity to mentor under a Californian winemaker making small-lot pinot. Our hope was that these young winemakers would bring their hands-on knowledge back to Chile. Having known our family for years, Yerko understood what we were looking for immediately: "ustedes necesitan alguien cuatro a cuatro" (You need someone hands-on---with four-wheel drive). So we spread the word and looked for winemakers that were eager to learn, dive in and get their hands stained. We leveraged our Chilean-American family's contacts in both continents to facilitate the logistics, and created a Kingston "fellowship" to support top candidates who otherwise couldn't afford the trip.
Over the years, our exchange program and fellowship have supported Chileans to mentor under respected pinot noir winemakers such as Michael Terrien (then at Acacia), Ken Bernards at Ancien and Bob Cabral at Williams Selyem. We're thrilled to have returning Kingston fellows like Julio Bastias settle back in Chile, and now leading the way on the coast with Matetic Vineyards (a respected pinot producer in San Antonio Valley). Ana Salomó, another fellow, returned from Williams Selyem, and now makes wine for Porta. Along the way, we've also sent members of our own small team, including our own winemaker, Evelyn Vidal to Talley Vineyards and our vineyard manager, Patricio Monsalva, to Ridge Vineyards.
In 2013, we celebrated our 10th vintage at Kingston. Looking back, we're thrilled to see how far artisan winemaking has come in Chile. Hopefully the small seeds we began to plant years ago with our intercambio not only affected those individual winemaker's careers, but more importantly laid the foundation for world-class artisan wines from Chile.

Ten years ago, we bottled our first vintage of Kingston Family Pinot Noir and Syrah from the western hills of Chile's Casablanca Valley. We did not have our own winery. Instead we brought our essential winemaking equipment down in ski bags, and made our wine in a little rincón in the corner of our neighbor's winery, Casas del Bosque. We were among a handful of Chilean vineyards leveraging artisan winemaking and sustainable viticultural techniques to uncover the potential of coastal Chile.
We're pleased to have recently joined up with that "handful" of artisan winemakers to form MOVI. The Movimiento de Viñateros Independientes or the Movement of Independent Vintners (MOVI for short), is a group of Chilean garagiste winemakers who have teamed up to promote handcrafted Chilean wine both in Chile and abroad. We're excited to be joining other wineries who share our passion for grape growing and producing quality, small-lot wine.
MOVI members include a diverse group of winemakers from half a dozen countries. That even includes one of Byron's friends and former classmate at U.C. Davis, Ed Flaherty of Flaherty Wines. The international group, like our Chilean-American team, is committed to making great quality wines in Chile by any means possible. Sometimes that even means making wine at someone else's winery, just as we had to do only a few short years ago. We're glad to now be able to provide that space in our winery to other small vintners including our friends Felipe and Coni of Garcia + Schwaderer Co.(formerly Bravado Wines) and Ana María Pacheco, Villard's winemaker, both members of MOVI.
As we join MOVI, we're looking forward to being a part of the group which has, since its founding four years ago, grown from 12 members to 22 and along the way brought great international attention to Chile's independent wine movement. We'll soon be participating in even more events in Chile and abroad. Yesterday, for example, our assistant winemaker, Alejandra Farfán, traveled north to Antofogasta, Chile for La Feria de MOVI or the MOVI Wine Festival where she served Kingston wines, along with other MOVI wines for distributors there. Our hope is that through this festival and other events we can expand the presence of Kingston wines in Chile, a very competitive market.
In all, we're thrilled to be a part of the burgeoning movement in Chile which centers around food and wine, inspiring gourmet cuisine and sparking a growth in handcrafted, artisan wines.

When we planted our first rows of pinot noir and syrah in the far hills of our family's ranch in the mid-1990's, we were building upon Chile's long history of winemaking beginning with the Spaniards' arrival in 15th century. But much of what we decided to do in Casablanca Valley's western hills was entirely new. At the time, chardonnay and sauvignon blanc were king in coastal Casablanca, and most vineyards were planted on the valley floor for ease of farming. Our Chilean/American family watched closely as exceptional vineyards were developed on parts of California's Pacific coast, and wondered if Casablanca might mirror that potential south of the equator.
We studied years of weather information from our farm. I'll never forget immersing myself one afternoon in fifty+ years of daily rainfall statistics that my great-grandfather and grandfather diligently recorded with their dramatic, sweeping penmanship in an old weathered, leather book. The book is still gingerly kept in an old mueble in front hall of the casa patronal, not far from the old dusty binders of cow milking records from the 1950's. As my grandfather neared the end of his life in the late 80's, my Aunt Sally's hand recorded the milimetros of rainfall.
We searched in the hills of our farm for attractive soil to plant pinot noir and syrah despite our Casablanca neighbor's skepticism. Doubtful family members humored us, after recalling my great-grandfather Carl John Kingston's search for gold in the same hills generations before. To study the soil, we dug small ditches high up in the hills where our cattle weren't interested in the uphill trek. And thanks to a referral by our California vineyard friend Ann Kraemer, a respected PhD nicknamed "Dr. Dirt" spent a few days with us studying soil samples from our farm.
Dr. Dirt was a tall man with a long grey beard that's probably grown in my memory. He reveled in being lowered down with little brown paper bags into small calicatas we dug 6-feet deep. There he would study the soil, and evaluate its potential as a future home for a grapevine. My uncle Enrique and I (Courtney Kingston) would wait above ground with the back-hoe driver for the early verdict. The occasional "wow" would erupt from the soil (Dr. Dirt's pithy version of a compliment), and our hopes for the future of our farm would rise.
Ultimately, you can dig lots of ditches and analyze lots of raindrops, but the decision to plant a vineyard on the Chilean coast is part art, part folly, and part luck. This is where my great-grandfather's search for gold comes in. Generations of Kingstons trying to figure out "what's next for the farm" led us to lean forward. Thankfully the bet on cool climate reds in the western Casablanca hills appears to have been a good one with Wine Spectator Magazine recently referring to Kingston Family as "a perennial top producer in pinot noir" that also "excels in syrah." With ten vintages under our belt, we believe we're just getting started. Come visit us in Casablanca, and we will walk with you through our hillside blocks and proudly point out "ésto es un 'wow' lugar."

Spring is in the air and we're excited to announce the Kingston Family Vineyards Spring Release with the arrival of our 2011 Lucero Syrah, 2012 Cariblanco Sauvignon Blanc, and 2011 Bayo Oscuro CJ's Barrel Syrah (for Old Corral members) plus limited time free shipping on all case orders. Here's the letter which we sent out to all the members of our mailing list to announce our Spring Release. If you'd like to be added to our mailing list, sign up here.
---------------------
Dear Friends,
We've just begun our tenth harvest at the Kingston vineyard. One might think that, after farming in Casablanca for almost a century, ten years would be just another notch on the old fence post. But I am amazed at the pace of change we've seen in Chilean wines over the past decade.
Ten years ago, we carried the first Kingston winemaking equipment down to Chile in ski bags. We bottled only 400 cases of pinot noir and syrah from our family's estate vineyard. At a time when there was little appreciation in Chile for small-lot winemaking or cool-climate reds, we instead focused on expressing the unique characteristics of our western Casablanca terroir through our estate-bottled wines.
Fast forward a decade, and we are delighted to be among a dedicated group of winemakers making Burgundy-like quantities of pinot noir and syrah along Chile's coastline. We're sharing space in our winery with other artisan winemakers, working side-by-side to delve into the world-class potential of handmade Chilean wines. Meanwhile, young Chilean winemakers to whom we gave Kingston fellowships to work harvest abroad – such as Matetic Vineyards' Julio Bastias and our own Evelyn Vidal – now make some of Chile's most acclaimed bottlings.
This spring, we're releasing our 2011 Lucero Syrah ($18), 2012 Cariblanco Sauvignon Blanc ($16), and 2011 Bayo Oscuro CJ's Barrel Syrah ($36, for Old Corral members). We hope you enjoy drinking these wines as much as we've enjoyed making them.
Sending our best from Casablanca.
¡Saludos!
Courtney Kingston

Our family is Chilean/American, and while our vineyard and farm is in Chile, I (Courtney Kingston) live in Northern California and travel back and forth to Casablanca. I am fortunate to feel at home in both places, and am often struck by the similarities. As Byron Kosuge, our consulting winemaker from Napa likes to say, Casablanca is like California with the "volume turned up". Instead of the Sierra Nevadas, you've got the Andes; instead of driving 3 hours from San Francisco to Lake Tahoe to ski, in Chile you can ski Portillo and swim in the Pacific (in a wetsuit, no doubt) in the same day. Byron works with vineyards up & down the California coast (from Hirsch Vineyards up in Sonoma, to Pisoni Vineyards in Santa Lucia Highlands, down to Talley Vineyards in Arroyo Grande), and he says western Casablanca reminds him most of California's Santa Rita Hills on south-central coast.
With a foot in both winemaking worlds, we thought it would make sense to facilitate an "intercambio" or exchange program between Chilean and Californian winemakers & vineyard managers, with a particular focus on pinot noir and small-lot winemaking. In some ways, the idea of Californians headed south or Chileans headed north was nothing new: each year, Chile sends the largest number of young winemakers to work harvest in California, and many Californians head south as well. But many end up working at larger wineries (working on the white wine press on the graveyard shift), and don't necessarily get the hands-on winemaking experience with cool climate reds that we are trying to foster at Kingston. (The same is often true for American winemakers headed south; most of the harvest jobs and experiences are with Chile's bigger wineries in the Central Valley making cabernet.)
So each year, we try to make the connection with someone going north or south, sharing and expanding their pinot winemaking or winegrowing knowledge. We've been a bit of the Harriet Tubman of pinot noir people headed either way, and we are happy to now have a small diaspora of alums from our exchange program. In addition to connecting young Chilean winemakers with California pinot "mentors" like Ken Bernards (Ancien), Michael Terrien (Acacia), and Bob Cabral (Williams Selyem), we've also welcomed California winemakers south to Casablanca including Leslie Mead Renaud (from Talley, now of Lincourt), Alex Beloz (Molnar Family), and Whitney Ulvestad (Hudson).
As we're gearing up for our 2013 harvest which will start next month, we're excited to welcome Morgan Hall to our team! Before working harvest with us she was at Archery Summit in Oregon, Burn Cottage in NZ, and Copain in CA where she met our California winemaker, Byron Kosuge.

Most people who have never been to the Kingston winery in Chile don't realize that our bodega, tucked into a corner of Western Casablanca, is not the easiest to find. To make sure our guests don't get lost on the way here, we like to provide some detailed directions which have received some notice from various writers. When Jim Weinrott from Wine Access wrote about his visit to Kingston and the directions with which we provided him, he commented that they read like a passage from On the Road with instructions like "turn right at the big eucalyptus trees, cross the bridge and hang a right when you see the cows." Though it sounds comical, he actually wasn't too far off the mark about our detailed instructions. With few street signs in Casablanca and no sign marking the entrance to our winery, landmarks lead the way.
When Rex Pickett, author of Sideways came to visit us, he too commented on the directions and said we were the first to provide such detail on how to arrive. On a 4 month tour of Chile and its distinct wine regions before he writes his next Sideways book, Rex stopped by to take a tour of Kingston and have lunch at the casa patronal, one beautiful spring day in Casablanca.
Beginning with a tour of the winery, assistant winemaker Alejandra Farfán gave Rex a background on our winemaking process. Having visited some of Casablanca in the last three weeks, he mentioned how much he had been enjoying the Sauvignon Blanc from our valley and was impressed by the tiny stainless steel barrels which we use to ferment our Cariblanco Sauvignon Blanc. He was also intrigued by our plan to purchase concrete wine eggs for the upcoming 2013 season.
With a a view of the Andes and Aconcagua off in the distance, from our terraza Alejandra led him through a tasting of our recently bottled 2012 Cariblanco Sauvignon Blanc our 2010 CJ's Alazan Pinot Noir as well as our 2008 CJ's Barrel Syrah. He very much enjoyed the wines and helped himself to several second tastes of our Cariblanco. What seemed to intrigue him most our about the wines and our winery, was the fact that we're quite a new winery making such great wines (the entire Casablanca is quite young in fact) and that the winery is predominantly run by a team of women. Two of our winemakers, Evelyn Vidal our head winemaker and Alejandra Farfán, our assistant winemaker are women, our chemist is a woman and the founder of the winery Courtney Kingston, is also a woman. While he said that he'd met other female winemakers in Chile, the fact that two out of three of our vintners were women really impressed him. He was also shocked that Alejandra could be a winemaker at such a young age.
After the tasting and tour was over, Rex hugged Alejandra goodbye and headed for lunch at the casa patronal with Sally Kingston and Enrique Alliende. Over lunch, Sally and Enrique shared further background on the winery and the family's history as well as Sally's famous lamb shanks. As he left to visit Casa Marín, Rex told Sally he would be back to cook lamb shanks with her before the end of his trip.

We have lots of eggs on our family's farm in the Casablanca Valley, but not any (yet) at the winery. We are accustomed to the fresh kind, that our chickens lay behind the casa patronal, so we can enjoy huevos del campo for breakfast.
But the eggs that our winemakers are intrigued by are a lot harder and a lot bigger---and are used to make wine! Byron and Alejandra got the idea to use a concrete egg to ferment our limited-edition Chardonnay when they visited our friend Anna Matzinger at Archery Summit in Oregon a few years ago. The benefits of the eggs are multiple and range from easier temperature control due to better circulation (there are no "dead corners" as in regular barrels) to preserving fruit flavors and aromas similar to stainless steel but without the risk of evaporation or "reduction". They're also quite versatile and can be used for both white and red wines. According to the drinks business, the only drawbacks include the need to treat the concrete with tartic acid before using and the cost and the difficulty of transportation.
In the past, when we've wanted to get some kind of kooky, artisanal winemaking equipment to Chile, we've been 100% on our own. French oak barrels once were hard to come by though we finally found them, and we brought our stainless steel punch down tools in ski bags. So we thought we were sunk when Byron said he wanted to import a giant concrete egg from France. But Chile has come a long way in the almost 10 years that we've been making wine, and there are many more small wineries interested in pushing the envelope with artisan winemaking techniques. We're thrilled to be collaborating with three to four other wineries who also want to import concrete eggs from Europe to play around with for the 2013 vintage. Great to have the company...